Get a jump start on your holiday planning with this free Printable Holiday Menu Planner. A little advanced prep work can go a long way to relieve the stress of the holidays so we are providing a little help to make it a bit smoother. Print out these free planners and use them to jot down your holiday menu and shopping list.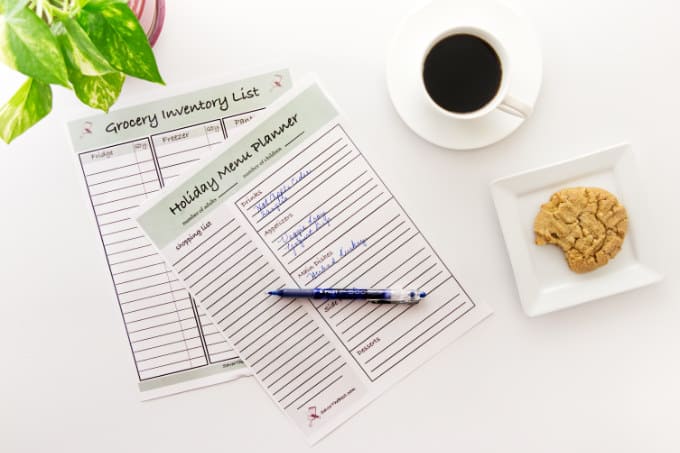 We included a shopping list on the printable to help you figure out what you need to buy.
Printable Holiday Menu Planner with a shopping list
After you plan out your menu, use the printable grocery inventory list to get an inventory of your pantry, refrigerator, and freezer. The inventory list will help you plan your shopping list so you don't buy unnecessary duplicates.
This might be a good time to do a little organizing in the pantry. It is easy for items to get lost on deep shelves as they get pushed toward the back. If you take some extra time to organize before a big event, it will make the plan roll out smoother. It can also save you some money if you find some shelf stable foods that got lost in the pantry.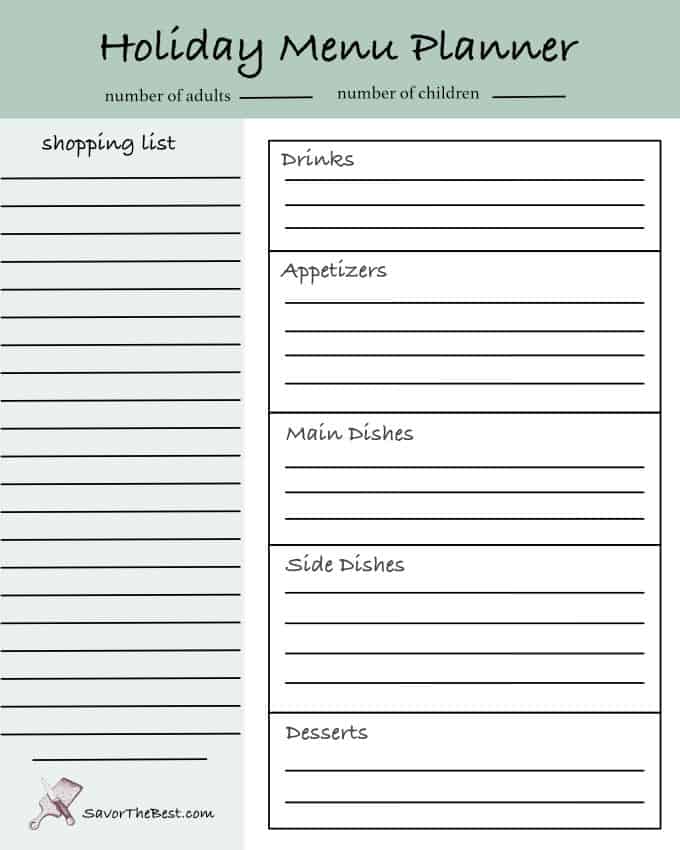 Download your planner now
Fill out the form below to have the menu planner delivered to your inbox.
What's for dinner?
We have listed some ideas below to help you plan your menu. Pick a couple of items from each section for drinks, appetizers, main dishes, side dishes, and desserts. Before you know it, your entire meal will be planned out.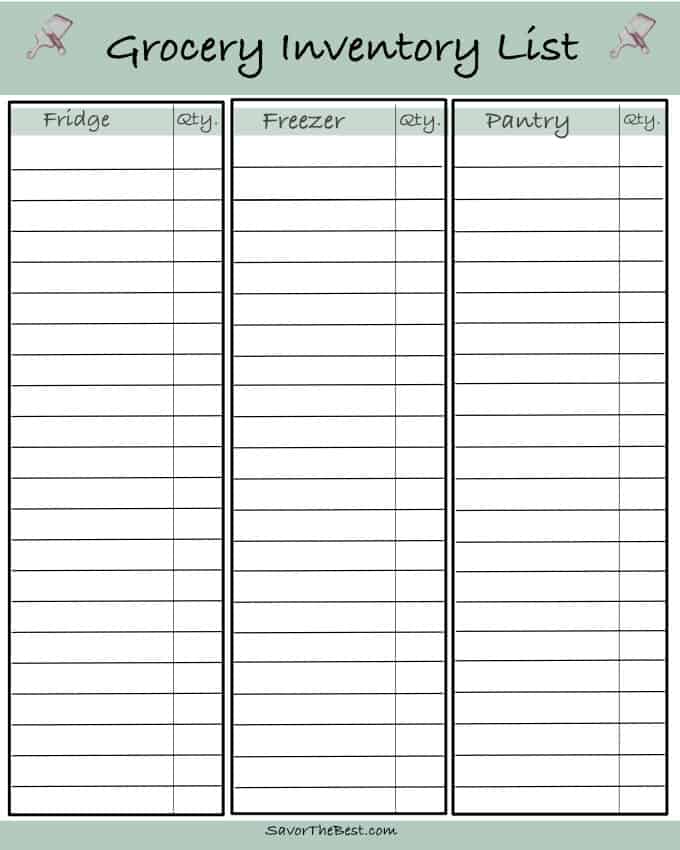 Download your planner now
Fill out the form below to have the menu planner delivered to your inbox.
Keep reading for menu planning ideas!
Drinks
In our house, we keep it pretty simple. A glass of water at each place setting, a selection of wine for the adults, and some sparkling cider for the kids. Occasionally, we add a few other drinks or ask guests to bring something which helps make the plan even easier.
A selection of wine (white, red, sparkling) and beer.
Selection of soda and water.
Make a quick party punch by mixing pineapple juice, cranberry juice, and Sprite.
Sparkling apple cider.
Appetizers
Appetizers can be tricky. You don't want your guest filling up on snacks before you serve dinner. But you also don't want everyone complaining that they are hungry. Everyone loves to snack and a big part of entertaining is all about the appetizers. They lighten the mood and keep everyone happy and mingling while the cook finished dinner.
If we have guests arrive several hours before dinner, there will always be a large selection of appetizers. However, if the main meal is going to be served soon after they arrive, we will usually just set out a few light snacks.
Main Dishes
Most of the time we choose one main meal item that is the centerpiece at the table. If we have a larger crowd, we may have a couple of main dishes. Sometimes we include vegetarian options such as a tomato ricotta tart or malfatti dumplings.
Side Dishes
It isn't a full meal without the sides. Choose at least two sides for a small group. We recommend starting with a starch such as potatoes or stuffing and a vegetable then build out from there depending on how many people are coming.
Desserts
The grand finale deserves something amazing but a great dessert usually takes a bit of time. Every dessert on the list below can be made up to two days in advance. Making your dessert in advance is a definite life-saver and guarantees that you will have time to focus on the last minute plans for your holiday dinner.
Download your planner now
Fill out the form below to have the menu planner delivered to your inbox.
CONNECT WITH SAVOR THE BEST!
Be sure to follow us on our social media accounts
Facebook * Instagram * Pinterest * Twitter * Youtube
Did you use this holiday menu planner? We would love to hear from you. Drop us a comment below.