How are things where you are? With the current state of uncertainty that I know many of us are experiencing at the moment, we figured many of you might be thinking ahead, stocking up on some shelf-stable foods, and we don't blame you.
So we hope this list of shelf-stable food to stock up on, is helpful. It is all about pantry essentials that will last a long time. All of the items can be found either on Amazon or at a local grocery store (many offer delivery or pick-up service, which we encourage you to use). We've also included a few fresh produce options that have a long shelf life.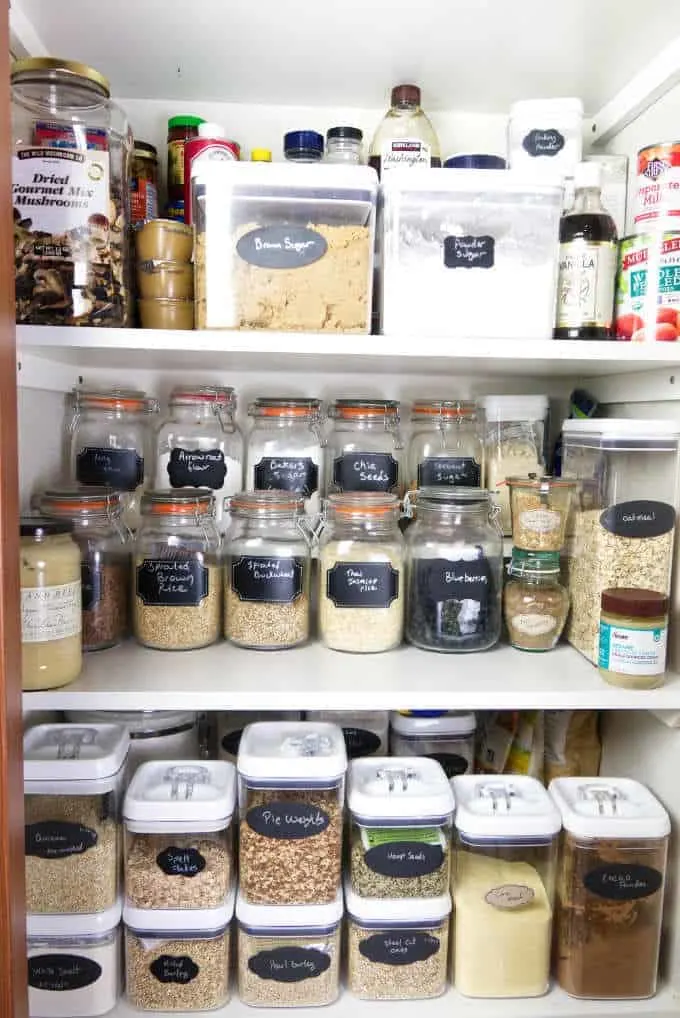 It's unsettling, to see bare grocery store shelves and not know if, when, and how long this might last. If you're someone who can rest a bit easier with a solid plan and stocked pantry, this list of pantry essentials is for you.
Non-Perishable Food Items.
Everything on this list lasts for 6 months to a year without refrigeration (with the exception of some of the fresh produce). The produce we listed can last up to 4 weeks. You may not be cooking gourmet meals but this list will keep you out of the grocery store for several weeks.
Along with a well-stocked freezer, this emergency food list will help you hunker down and feed your family. However, if the power goes out and you lose everything in your freezer, you can still make a full meal out of this essential food pantry list. At the bottom, we condensed this list into a table if you prefer to view it that way.
Stay well, friends. Keep cooking, baking, and whatever else sets your mind at ease. We'll still be here, sharing enjoyable recipes to help you feed your loved ones well.
Meat:
Beef jerky, chicken jerky, salmon jerky
Canned salmon
Pepperoni sticks
Canned chicken
Canned tuna
Sardines
Spam
Dairy:
Evaporated milk
Sweetened condensed milk
Dry milk powder
Dry buttermilk powder
Creamer singles for coffee
You can even purchase shelf-stable milk in convenient single-serve pouches.
Non-dairy milk*:
Canned coconut milk
Oat milk
Almond milk
Hemp milk
Macadamia milk
*Any milks that are sold in the carton and are not stored in the refrigerated section of the grocery store are shelf-stable.
Rice, Pasta, Legumes, and Bread:
White, brown, and wild rice
Dry pasta: spaghetti, macaroni, fettuccini, penne
Tortillas
Panko bread crumbs
Crackers
Polenta
Dried beans and lentils
Grits
Quinoa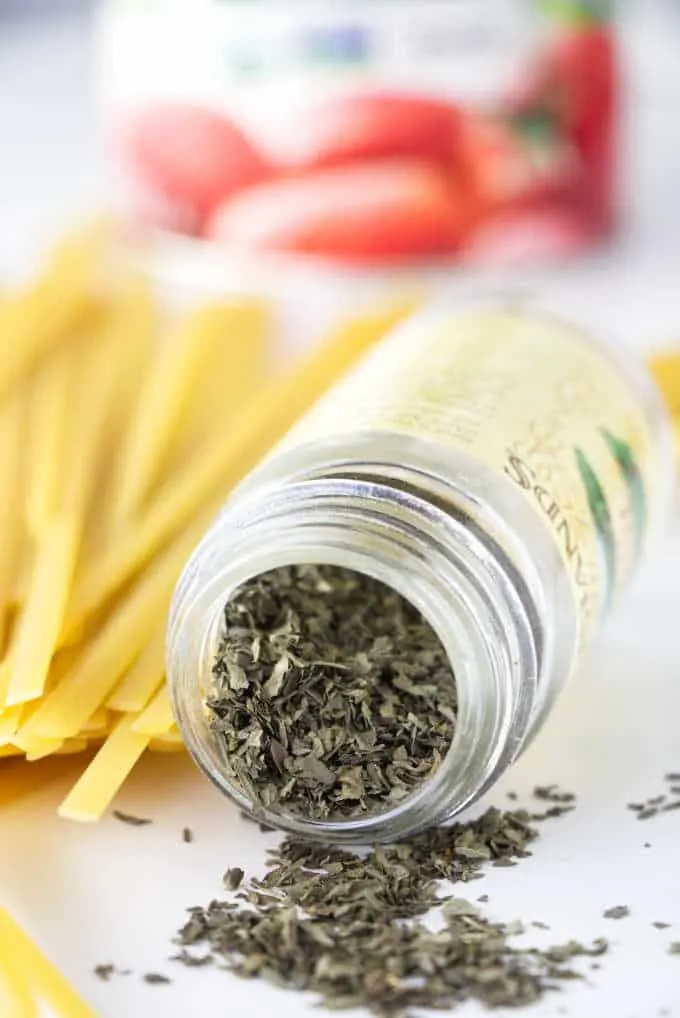 Spices and seasonings:
Salt
Pepper
Powdered garlic
Powdered onion
Dried minced onion
Cumin
Curry
Chili powder
Oregano
Thyme
Sage
Cinnamon
Ginger
Nutmeg
Allspice
Baking items:
Powdered eggs (use in place of fresh eggs in baking)
Flour
Nut flours, flaxseed meal, hemp seeds, chia seeds (nutrient-dense and filling)
Sugar
Brown sugar
Vanilla extract
Baking powder and baking soda
Yeast (make your own bread!)
Cocoa powder
Chocolate chips. Troubles fade when you have cookies.
Ghee* (shelf-stable replacement for butter, an opened jar of Ghee lasts up to 3 months on the counter.)
Honey
* Butter lasts for up to 3 months in the fridge or a year in the freezer but it is always nice to have a substitute in case the power goes out for an extended period.
Using dried eggs in baking—- According to TheSurvivalMom, you can use powdered eggs in place of fresh eggs in baking. I haven't tried it yet but it might turn into a fun experiment soon.
Breakfast items:
Old fashioned rolled oats
Dry cereals
Granola
Peanut butter
Nut and grain bars
Pancake mix
Maple syrup
Coffee, tea, hot cocoa
Canned vegetables, stock, and sauces:
Tomatoes
Tomato sauce
Marinara sauce
Tomato paste
Salsa
Chiles (green chiles and chipotles)
Canned beans (kidney, cannellini, black beans)
Chicken or beef broth
Canned corn
Green beans, canned
Canned artichokes
Non-perishable, cartoned or canned soup
Other items:
Olive oil
Vegetable oil
Coconut oil
Rice vinegar
Apple cider vinegar
Balsamic vinegar
Soy sauce
Bouillon cubes
Dried mushrooms
Ketchup packets (don't require refrigeration after opening)
Snacks:
Peanut butter
Almond butter
Applesauce (in individual packets that don't need refrigeration)
Pretzels
Popcorn kernels
Dried fruit (raisins, cranberries, apples, etc.)
Nuts and seeds (almonds, walnuts, cashews, peanuts, macadamia nuts, pecans, sunflower seeds, pumpkin seeds)
Corn chips
Crackers
Rice cakes
Fresh produce with a long-lasting shelf life:
Cabbage
Onions
Garlic
Beets
Butternut squash
Spaghetti squash
Carrots
Potatoes
Sweet potatoes
Apples
Oranges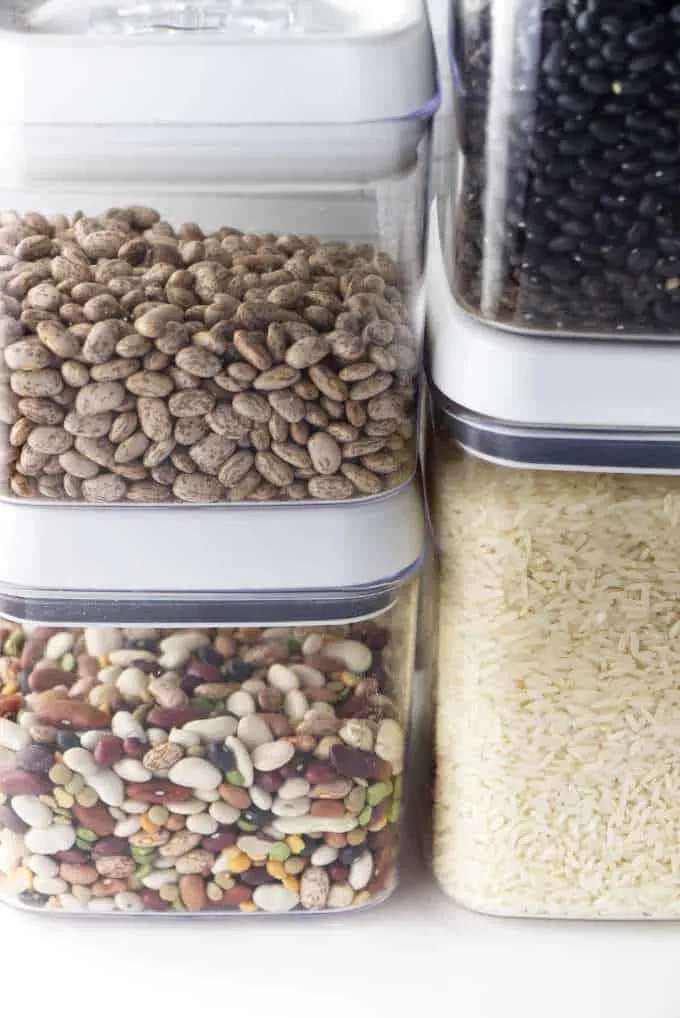 SOME RECIPES YOU CAN MAKE WITH PANTRY ITEMS:
Our favorite chocolate cake has plenty of options for ingredient substitutions. Check out the post and use what you have on hand.
This salmon and pasta salad uses spelt pasta but you can substitute any pasta you have. Use canned salmon or even canned tuna if you don't have any salmon in the freezer. Substitute the fresh herbs for dried herbs.
If you have a ham in the freezer, it makes an inexpensive dinner. The leftovers can be used for red beans and ham or our Instant Pot version of red beans and ham.
Split pea and ham soup is another great option to make with leftover ham. It's a forgiving recipe. If you don't have celery or fennel, don't use them. Carrots last up to 4 weeks if stored correctly in the fridge and onions will last for up to 4 months. These are great staples for soups so make sure you stock up on them.
Make a large batch of black beans then cook some rice. Beans and rice combine complementary proteins to make a balanced meal. If you want to get fancy then serve the beans with Spanish rice or sprouted brown rice.
Connect With Savor the Best:
Please follow us on our social media accounts
Facebook * Instagram * Pinterest * Youtube * Twitter
Did you make this recipe? We would love to hear from you. Drop us a comment below.
Tell us how you are doing? We would love to hear from you. What kinds of non-perishable food items are you stocking up on? Drop us a comment below.
| | | |
| --- | --- | --- |
| NON-PERISHABLE MEAT | SHELF STABLE DAIRY | SPICES AND SEASONINGS |
| Jerky (beef, chicken, salmon) | Evaporated milk | Salt and pepper |
| Canned salmon | Sweetened condensed milk | Garlic powder |
| Canned tuna | Dry milk powder | Onion powder |
| Canned chicken | Dry buttermilk powder | Dried minced onions |
| Sardines | Creamer singles | Cumin |
| Spam | Shelf-stable milk | Curry |
| NON-DAIRY MILK | RICE, PASTA, LEGUMES, BREAD | Chili |
| Canned coconut milk | Rice (white, brown, wild) | Oregano |
| Oat milk | Dry pasta (all kinds) | Thyme |
| Almond milk | Tortillas | Sage |
| Hemp milk | Panko bread crumbs | Cinnamon |
| Macadamia milk | Crackers | Ginger |
| BAKING ITEMS | Polenta | Nutmeg |
| Powdered eggs | Dried beans, lentils and peas | Allspice |
| Flour and nut flour | Quinoa | BREAKFAST ITEMS |
| white and brown sugar | Grits | Rolled oats |
| Vanilla extract | CANNED VEGETABLES, STOCK, AND SAUCES | Dry cereal |
| Baking powder and baking soda | Tomatoes | Granola |
| Cocoa powder | Tomato sauce | Peanut butter |
| Chocolate chips | Marinara sauce | Nut and grain bars |
| Ghee | Salsa | Pancake mix |
| Honey | Green chilis, chipotles | Maple syrup |
| OTHER ITEMS | Canned beans (kidney, cannelloni, black beans) | Protein |
| Olive oil, vegetable oil | Chicken or beef broth | Coffe, tea, hot cocoa |
| Vinegar (rice, apple cider, balsamic) | Canned corn | SNACKS |
| Soy sauce | Canned green beans | Peanut butter |
| Boullion cubes | Canned artichokes | Almond butter |
| Dried mushrooms | FRESH PRODUCE THAT KEEPS FOR A LONG TIME | Applesauce (in individual cartons) |
| Ketchup packets | Cabbage | Pretzels |
| ADDITIONAL ITEMS NOT ON THIS LIST: | Onions and garlic | Popcorn kernels |
| | Beets | Dried fruit |
| | Butternut and spaghetti squash | Nuts and seeds |
| | Carrots | Corn Chips |
| | Potatoes and sweet potatoes | Crackers |
| | Apples and oranges | Rice cakes |