Navajo Tacos are an easy and delicious spin on steak tacos featuring tender strips of meat and our crisp-yet-airy Navajo Fry Bread. While most Navajo taco recipes typically call for venison, beef is equally yummy and a bit more economical. Loaded with all of the fixings, these fry bread tacos make a quick, flavorful, and family-friendly dinner!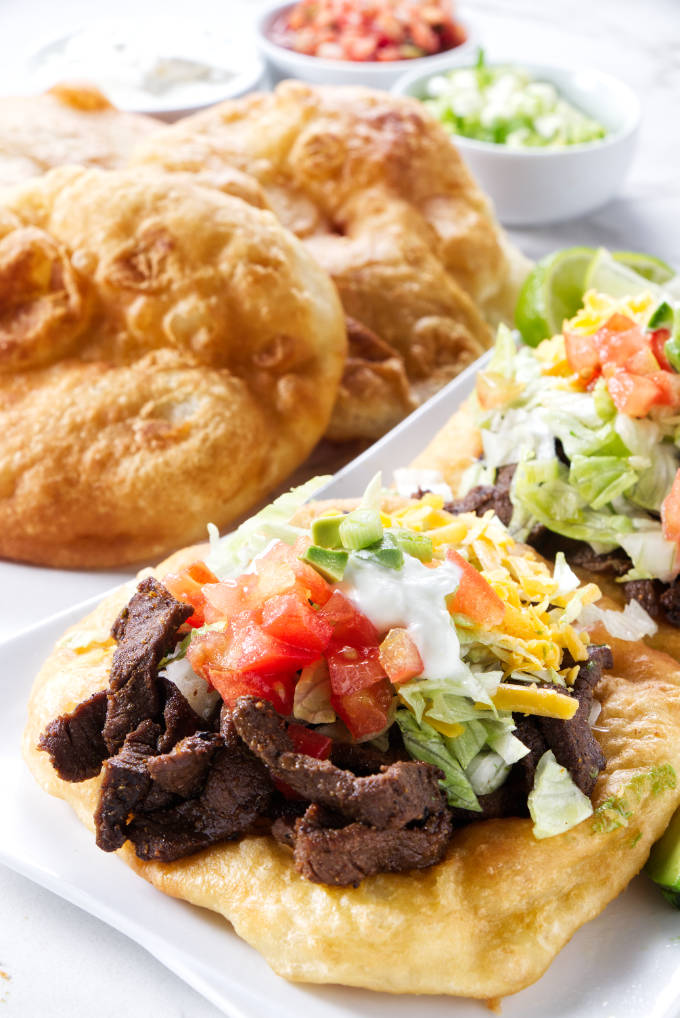 What are Navajo Tacos made of?
Have you tried our Navajo Fry Bread? It's a Native American flatbread that is often found at county fairs, usually topped with a sweet berry compote or powdered sugar. Depending on where you live, they may be called elephant ears or beaver tails.
Navajo fry bread is a light and airy flatbread with a crisp outside and gets fried like a donut. It works well with both sweet and savory toppings. These Navajo fry bread tacos have all of the ingredients we love about traditional tacos, but swap the tortilla for that pillowy soft and tender fry bread.
Traditionally, Navajo fry bread tacos are made with venison. If you have a lean venison steak you're in luck! And if you don't, you can easily substitute beef steak and still get results you'll love.
Why this Recipe Works
Tacos make us happy, whether they're fresh Blackened Shrimp Tacos or a spin-off of some sort, like our Taco Baked Potatoes.
These Navajo tacos- sometimes called Indian tacos or fry bread tacos (or a combination of the two)- are no different.
Regardless of what you call them, one thing is for sure– you'll be amazed at the incredible textures and flavors in every bite.
These are:
simple to prepare and perfect for weeknights
tender, meaty and flavorful
easy to customize with your favorite taco toppings
We're also sharing a special trick to getting ultra-tender meat for these tacos, whether you're using beef or venison. It will allow you to use an economical cut of beef and still get great results! And if you have extra meat, you will love our venison goulash and venison stir fry with broccoli.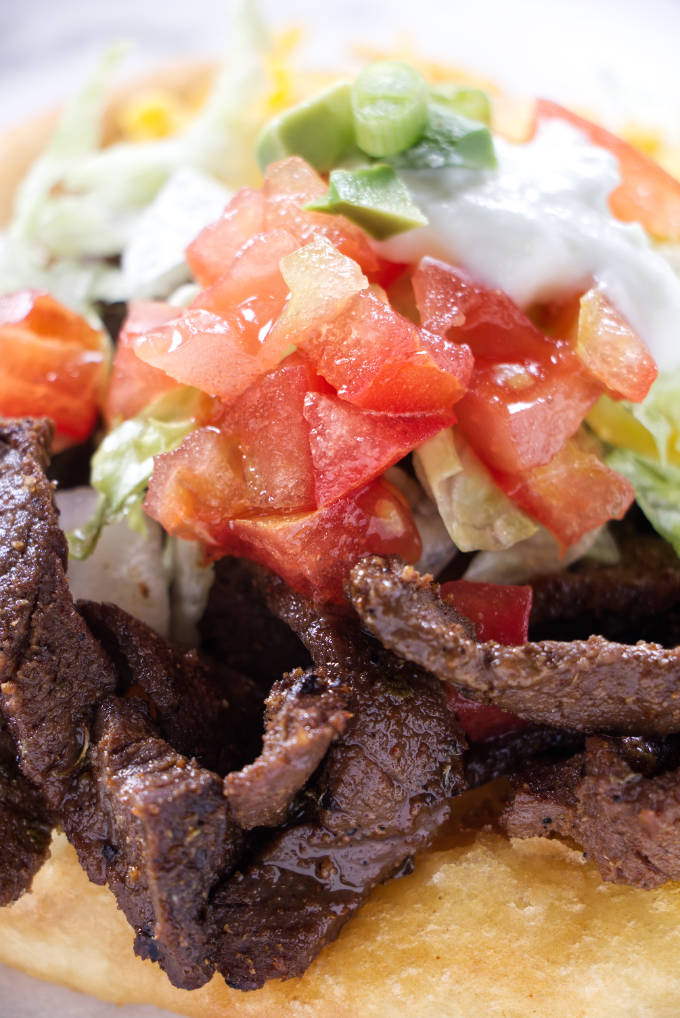 Ingredients for Navajo Tacos
To make Indian fry bread tacos, you will need the following ingredients:
iceberg lettuce, shredded
How to Make Navajo Fry Bread Tacos
To prep these Navajo tacos quickly and with minimal effort, we recommend making the fry bread ahead of time. That way, all that's left is cooking the meat and assembling the fry bread tacos.
(For the full, printable recipe card and all of the details, scroll to the bottom of the page).
The process goes like this:
Tenderize the steak: Slice the steak against the grain into thin strips. Combine the baking soda and water. Add the steak to the mixture and let it marinade for 10-20 minutes. The baking soda helps tenderize the steak. When done marinading, rinse the steak strips in cold water and pat the pieces dry.

Cook the fry bread taco meat: Toss the steak strips with the taco seasoning until they are well coated, then sear the steak in a hot skillet set over medium-high heat. Cook until browned, about 4 minutes. Transfer the meat to a bowl.

Assemble the Navajo tacos: Top each of the fry breads with taco meat, lettuce, cheese, and other taco fixings of choice. Enjoy!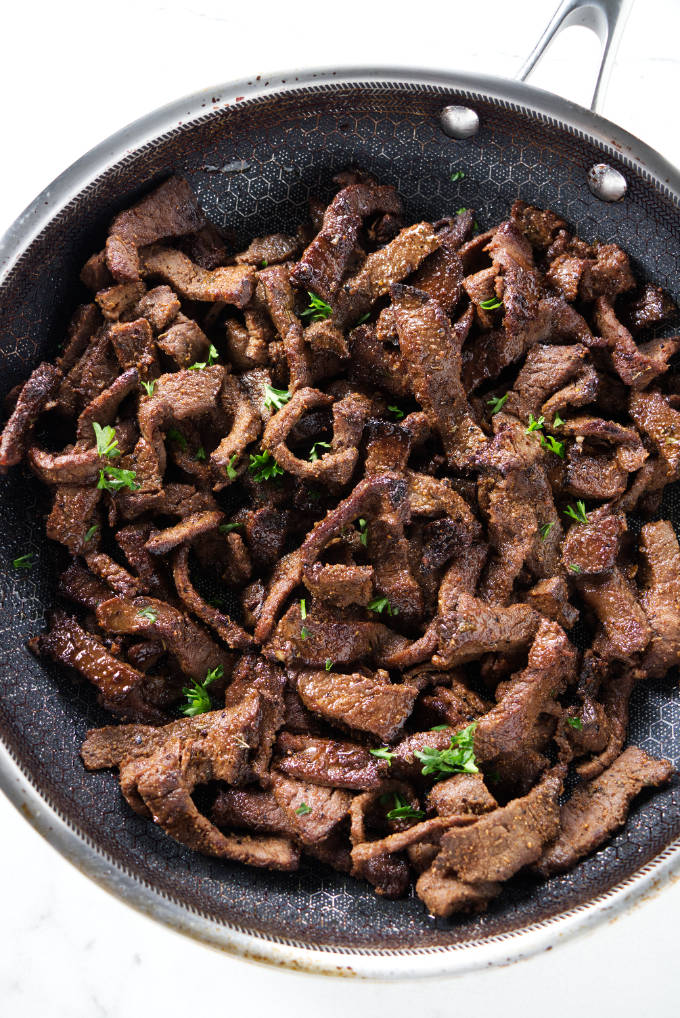 Tips for our Navajo Taco Recipe
The baking soda is our "secret" trick to getting the meat extra tender, quickly. It works for both steak and venison so don't skip that step! If you're using a budget-friendly cut of steak, we know you'll be amazed at how well this tenderizes the meat.

For best results, slice the steak against the grain.
What to Serve with Fry Bread Tacos
Looking for some side dish inspiration? Here are a few delicious dishes that will go well with Navajo tacos: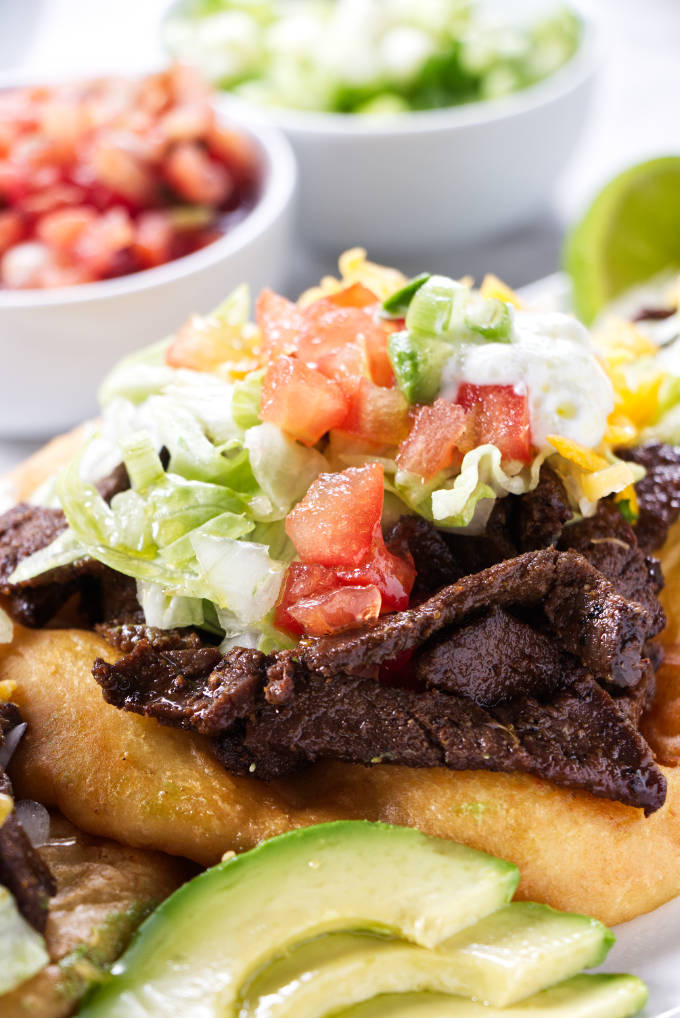 With tender, seasoned steak or venison and a crispy-puffy fry bread base to load up all of those flavorful toppings, these Navajo tacos have all the goodies we love. And they're a fresh and fun spin on Taco night!
If you like these flatbreads, try our sweet potato flatbreads or kamut flour tortillas.
Enjoy!
Helpful Tools
Some of the following are affiliate links. If you click on these links and purchase something, we may receive a small commission. You don't pay any extra but it will help us keep the lights on.
Some Other Recipes We Are Sure You Will Love:
The bold flavors of tacos, all meld together in this cozy, hearty Instant Pot taco soup. It's a comforting meal packed with flavor and made easy by using the Instant Pot.
Try our Stuffed Poblano Peppers for a change from ordinary dinners. Roasted poblano peppers make the perfect vessel for a cheesy, hearty filling in this stuffed pepper recipe. Chicken, veggies and loads of herbs and spices are stuffed into the poblanos and it's all served alongside our homemade mole sauce.
Our Einkorn Naan with Garlic and Onion is a dream and this recipe has all the savory extras. Garlic and onion bring so much flavor while Einkorn flour adds a wholesome richness to the flatbread.
Connect With Savor the Best:
Please follow us on our social media accounts
Facebook * Instagram * Pinterest * Youtube * Twitter
Did you make this recipe? We would love to hear from you. Drop us a comment below.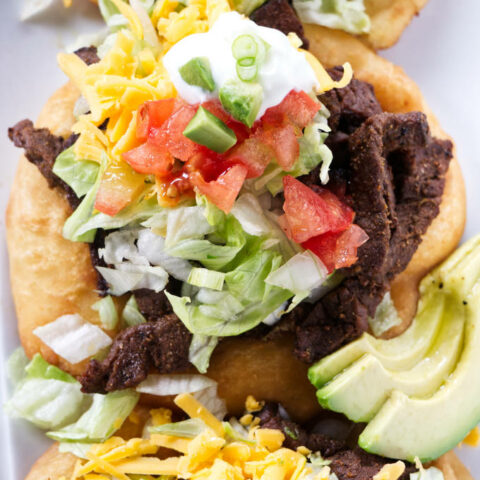 Navajo Tacos
Additional Time:
25 minutes
If you're looking for an easy and flavorful way to enjoy steak tacos, look no further than this Navajo taco recipe. Venison is traditionally used in Navajo tacos but beef steak is equally delicious.
The secret to getting the steak strips incredibly tender is with the baking soda. You can use an economical cut of beef or a lean venison steak and get amazing results.
Ingredients
For the Steak Taco Meat
1 pound beef steak or venison steak
1 tablespoon baking soda
1 cup water
2 tablespoons taco seasoning (homemade or store-bought)
1 tablespoon vegetable oil
For the Fry Bread Tacos
1 iceberg lettuce, shredded
2 cups shredded cheddar cheese
2 large tomatoes, diced
2 sliced avocados or guacamole
1/2 onion, diced
Sour cream
Pico de Gallo or salsa
Instructions
Tenderize the Steak
Slice the steak against the grain into thin strip.
Mix the baking soda with the water. Add the steak strips to the baking soda mixture and let it sit for 10 to 20 minutes to tenderize.
Rinse the steak strips in cold water then pat dry.
Cook the Steak Taco Meat
Toss the steak strips with the taco seasoning until well coated.
Heat the oil in a large skillet over medium-high heat.
When the skillet is hot, add the steak strips in and even layer. Let them sit for 2 minutes without stirring to let them get a good sear.
Stir the steak strips and continue cooking for 1 to 2more minutes until browned. Transfer to a bowl and place it next to the rest of the taco fixings.
Assemble the Tacos
Top the fry bread with the taco meat followed by lettuce, cheese, and any taco fixings of choice.
Notes
Soaking the steak in baking soda and water is an incredibly quick and effective way to tenderize meat. You can use more economical cuts of beef when you use this recipe and it works wonders if you use venison.
Make sure you slice the steak against the grain.
Nutrition Information:
Yield:

8
Serving Size:

1
Amount Per Serving:
Calories:

916
Total Fat:

49g
Saturated Fat:

18g
Trans Fat:

0g
Unsaturated Fat:

24g
Cholesterol:

104mg
Sodium:

1429mg
Carbohydrates:

83g
Fiber:

5g
Sugar:

6g
Protein:

37g
Nutrition information is a guideline only, is calculated automatically by third-party software, and absolute accuracy is not guaranteed.