Ready to elevate your dinner game with some Slow Cooker Elk Stew? This dish is the ideal blend of comforting flavors and simple preparation, perfect for busy days or when you just want to relax while dinner takes care of itself.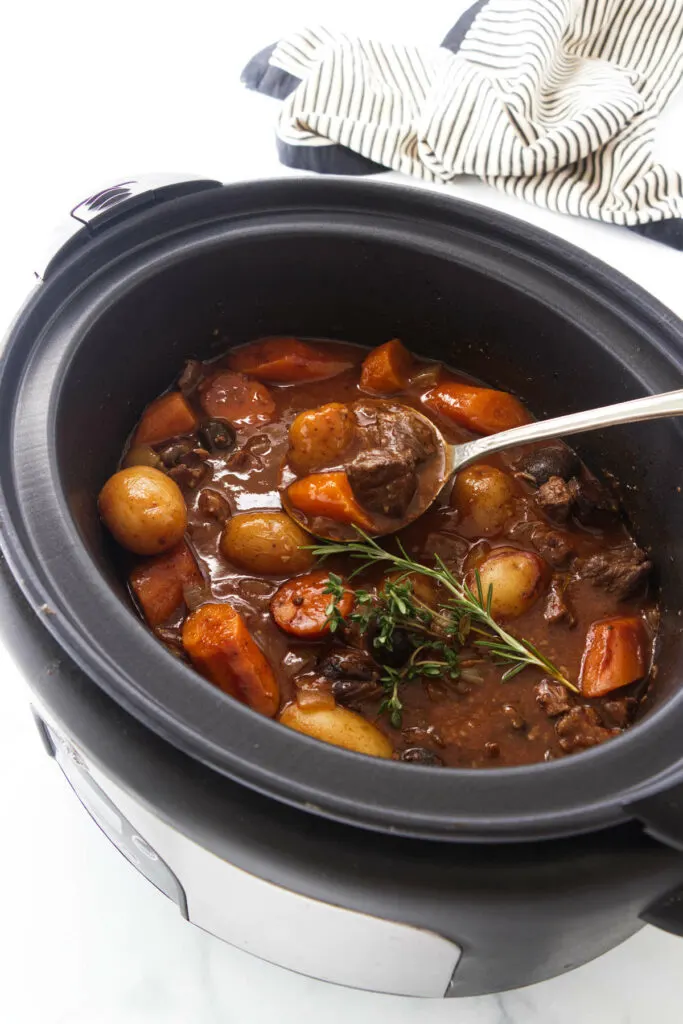 Picture a wintry evening at home, your slow-cooker working its magic, transforming lean elk meat, wholesome veggies, and a medley of spices into a delicious, soul-warming meal.
Whether you're new to cooking with game meats or you're a seasoned kitchen veteran, this recipe is a no-fuss way to create something special. Convenient crockpot technology meets good old-fashioned cooking in a stew that's as tasty as it is effortless.
Why This Elk Stew Recipe Works
Rich Flavor Profile: The combination of elk meat, aromatic spices, and hearty vegetables results in a stew that's deeply satisfying and unique. It's a perfect way to explore the potential of game meat, which offers a richer, more complex flavor than your typical meat.

Ease of Preparation: The electric pot does most of the work, making this a low-fuss recipe. Once the initial prep is done, you can essentially set it and forget it. It is great for busy weeknights.

Nutritional Benefits: Elk meat is leaner than most red meats and is packed with protein and essential nutrients like iron and vitamin B12. Paired with a medley of veggies, this stew is not just delicious but also nourishing.

Versatility: The stew is incredibly adaptable when it comes to meal planning and we have a few variations listed below. Plus, the flavor is even better the next day, making it ideal for leftovers.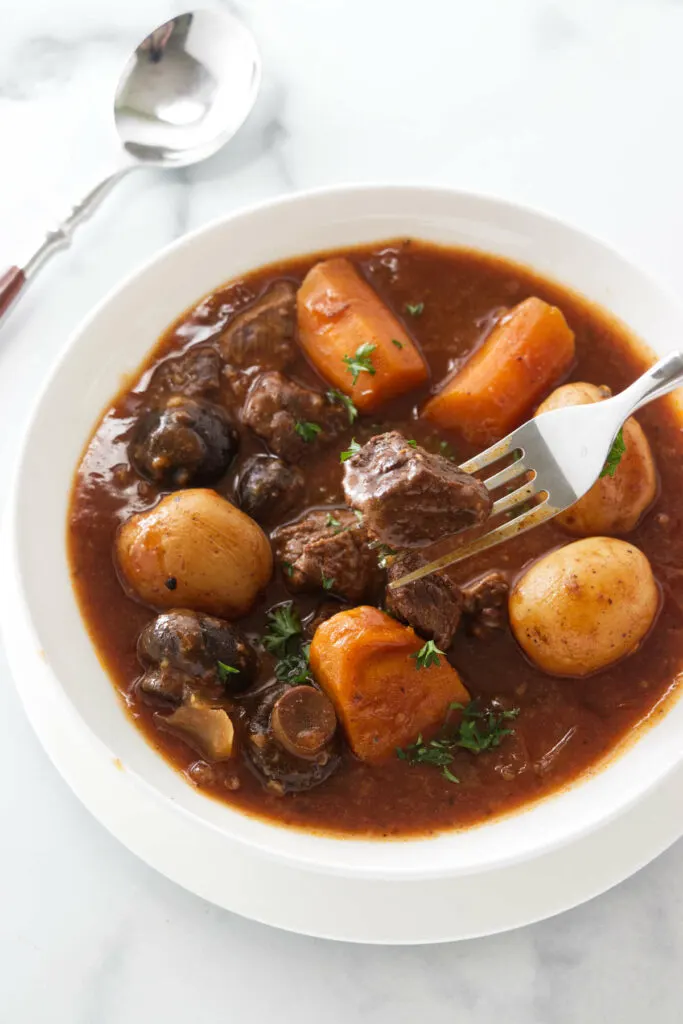 Ingredients for This Crockpot Stew
Here is a list of the ingredients you will need for this recipe. Scroll down to the printable recipe card for all the details.
Meat: Elk stew meat
Pantry: Flour, cornstarch, vegetable oil, tomato paste, beef stock.
Pantry seasonings: Paprika, dried oregano, salt, pepper.
Produce: Onion, Yukon Gold potatoes, carrots, mushrooms, garlic cloves.
Condiments and sauces: Dijon mustard, Worcestershire sauce.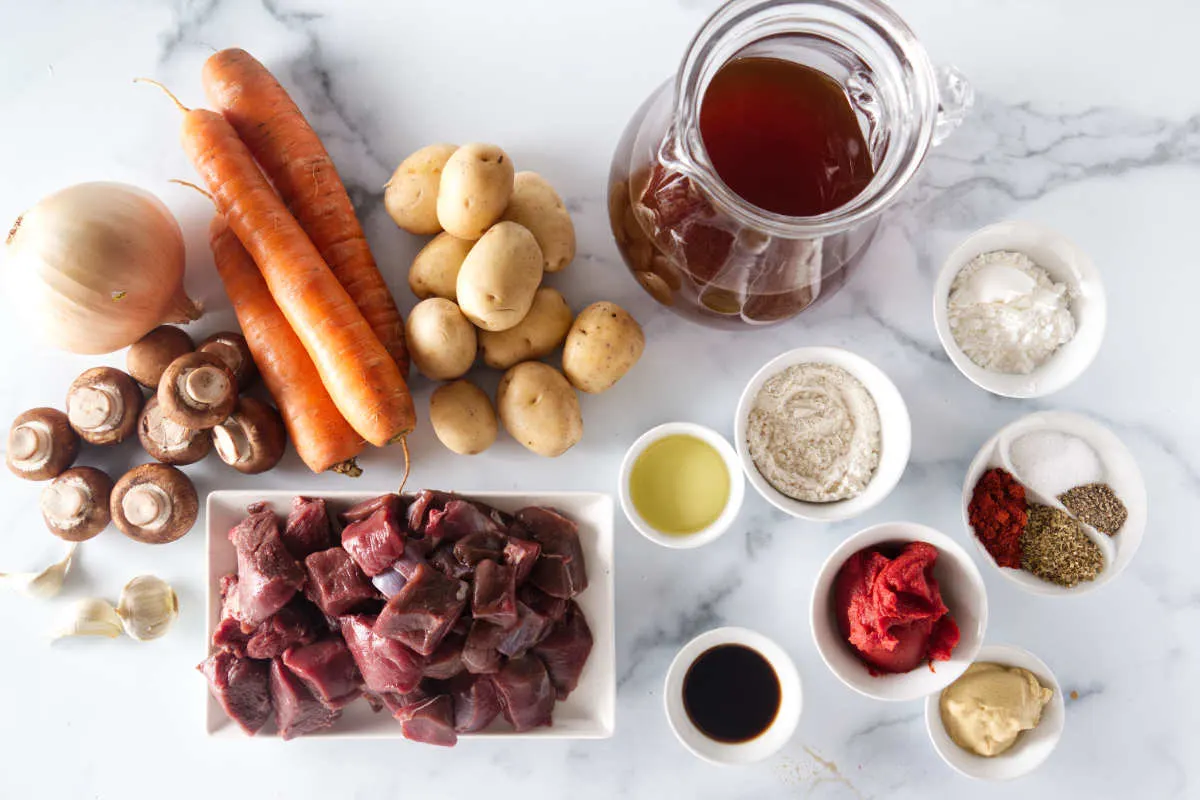 How Cook Game Meat in the Slow Cooker
Here is a brief overview to get an idea of what to expect with the recipe. Scroll down to the printable recipe card for all the details.
Toss elk or venison meat in flour, then brown in a skillet with salt, and pepper. Move to the crock pot.
Mix half the beef stock with tomato paste, mustard, and Worcestershire. Add to the slow-cooker with remaining broth, spices, and garlic.
Add the veggies (except for mushrooms) and cook on low for 6 hours or high for 3 hours.
Add mushrooms and adjust the seasoning. Cook 1 more hour.
Thicken with the cornstarch slurry and cook for 15 more minutes.
The long slow cooking process helps develop flavor and texture. Plus, with the slow-cooker, you don't have to worry about babysitting the elk stew while it cooks.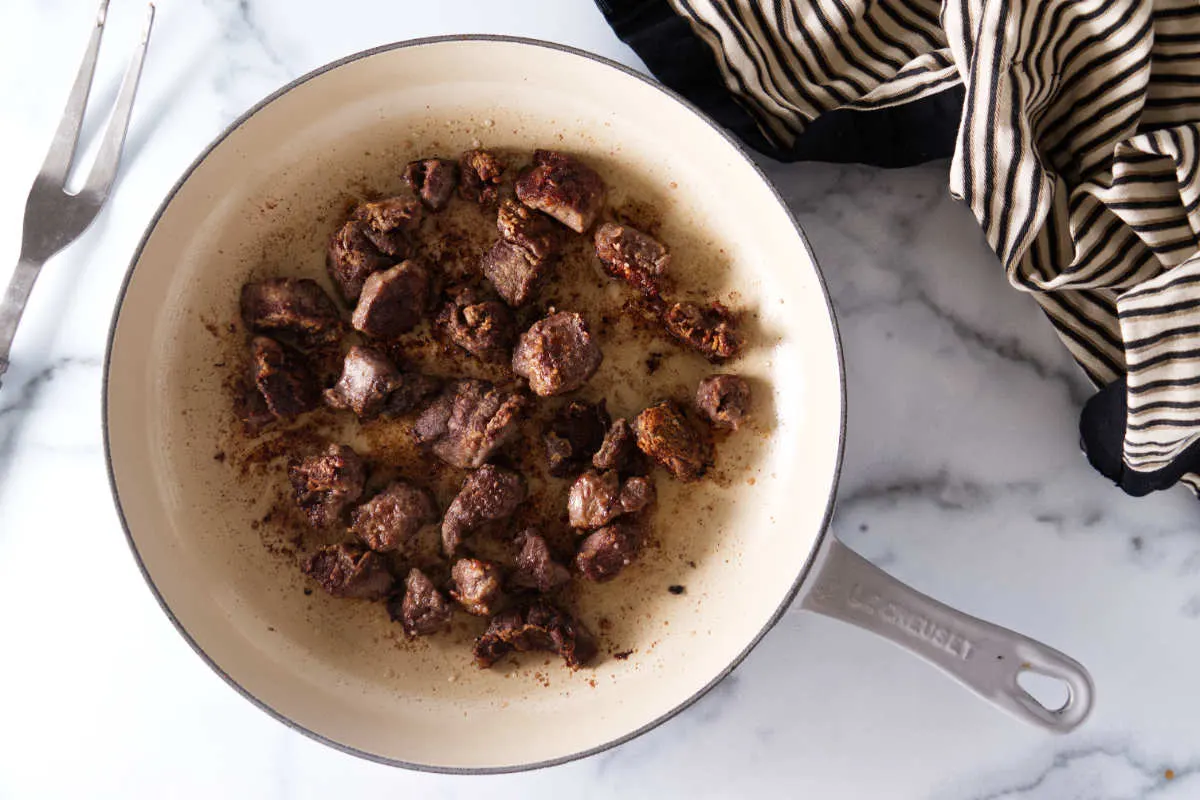 Searing the elk meat is an extra step, but it adds a lot more flavor to the stew.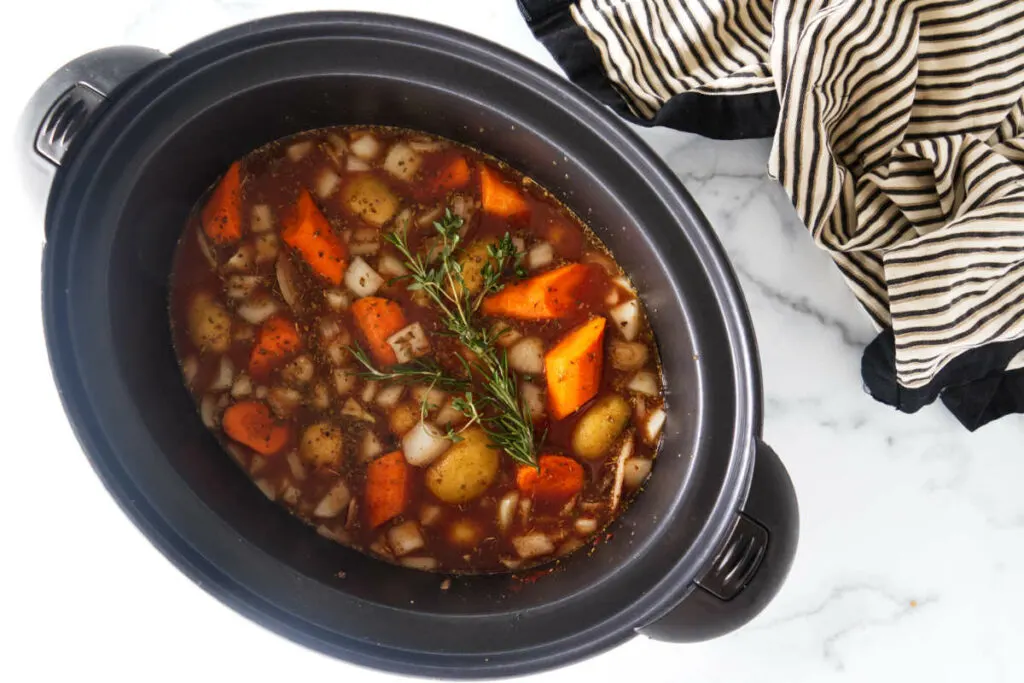 The flavors meld together in this hearty elk stew.
Variations for this Crock Pot Recipe
Root Vegetable Elk Stew: Toss in cubed parsnips and sweet potatoes to the stew along with, or in place of the other veggies.
Herbed Red Wine Elk Stew: Encorporate 1 tablespoon each of fresh rosemary and fresh thyme and 2 teaspoons of fresh sage. Replace 1 cup of broth with 1 cup of dry red wine.
Harissa-Spiced Elk Stew: Add 1-2 tablespoons of harissa spice paste or dry spice blend, 1-1/2 teaspoons Ras el Haout, and 1/2 cup raisins or chopped dates. Adjust the harissa based on your heat tolerance.
You can also easily swap out the elk meat for venison because both types of game meat cook similarly. The crockpot is the perfect way to take advantage of these lean meats and all of their flavor potential!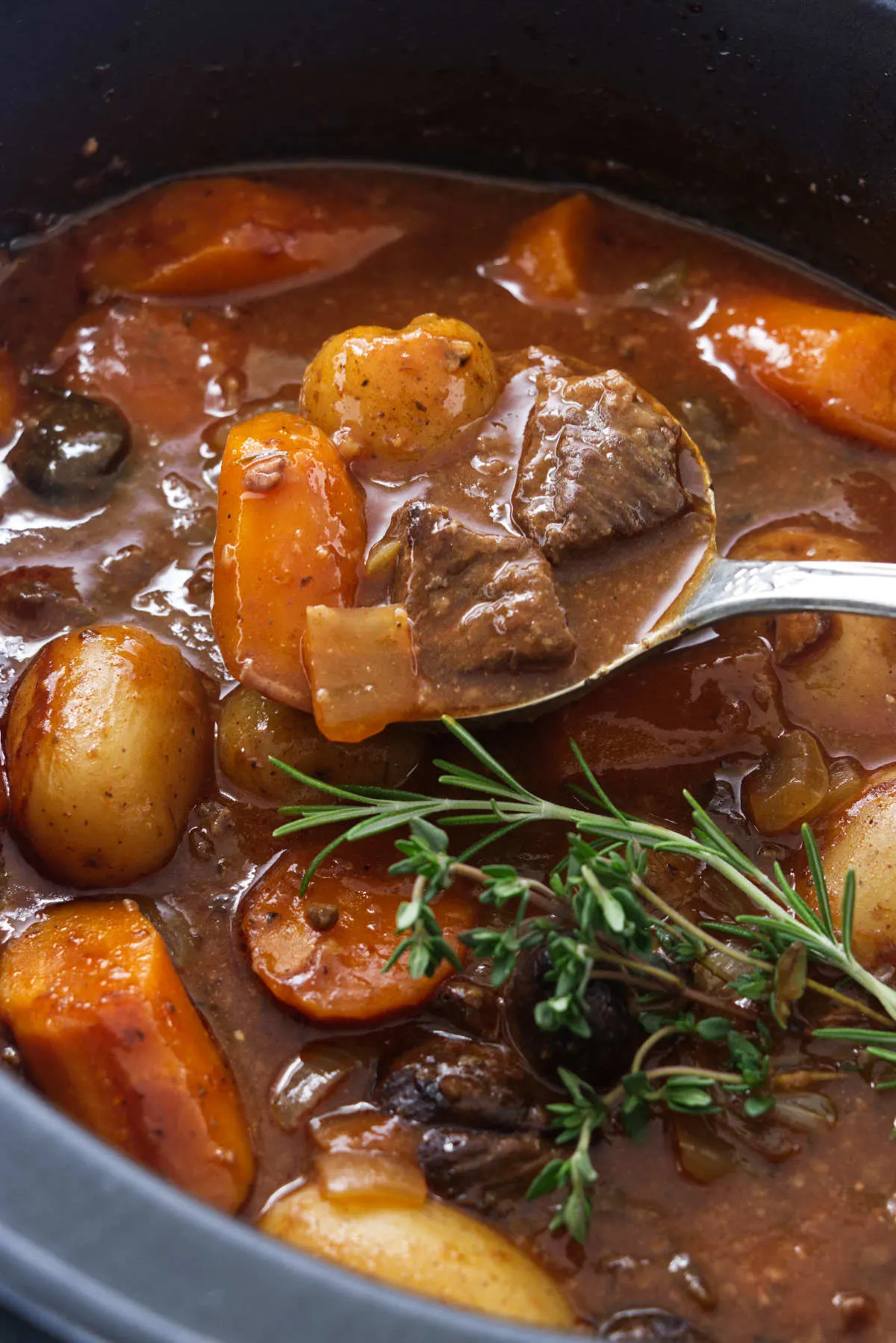 Tips for Success
When it comes to making a mouthwatering elk stew, a few insider tips can turn your dish from good to extraordinary. Whether you're a seasoned cook or new to preparing wild game, these guidelines will help you master the nuances of creating a robust elk roast soup that's as comforting as it is flavorful.
Browning is Key: Don't skip the browning step for the elk meat. This Maillard reaction adds depth to the flavor of the stew.

Deglaze the Pan: After browning the meat, consider deglazing the pan with a splash of broth or beer and adding that liquid to the crock-pot. Those little browned bits are flavor gold.

Layering: You can layer the veggies on top or under the meat. If you like them cooked softer, add them to the bottom of the cooker. They will also absorb more of the juices if they are on the bottom. Do what you like.

Spice Check: If you're going for variations that include new spices like harissa or Ras el Hanout, start with a smaller amount and taste as you go. You can always add more, but you can't take it out!

Cornstarch Slurry: Make sure the water is cold when you mix it with cornstarch for thickening. This prevents lumps and ensures a smooth texture. And don't add the cornstarch until the last 15 minutes.

Leftover Magic: This elk stew recipe is one of those dishes that tastes even better the next day. If you have leftovers, consider yourself lucky!

Cut against the grain: If you are cutting up your own stew meat, make sure you slice the elk roast against the grain.

Tenderizing wild game: If you want to to tenderize the elk meat, sprinkle a couple of teaspoons of baking powder on the meat. Let it sit for 15 minutes, then rinse it off. This is the same method we used to tenderize the venison in our venison stew goulash.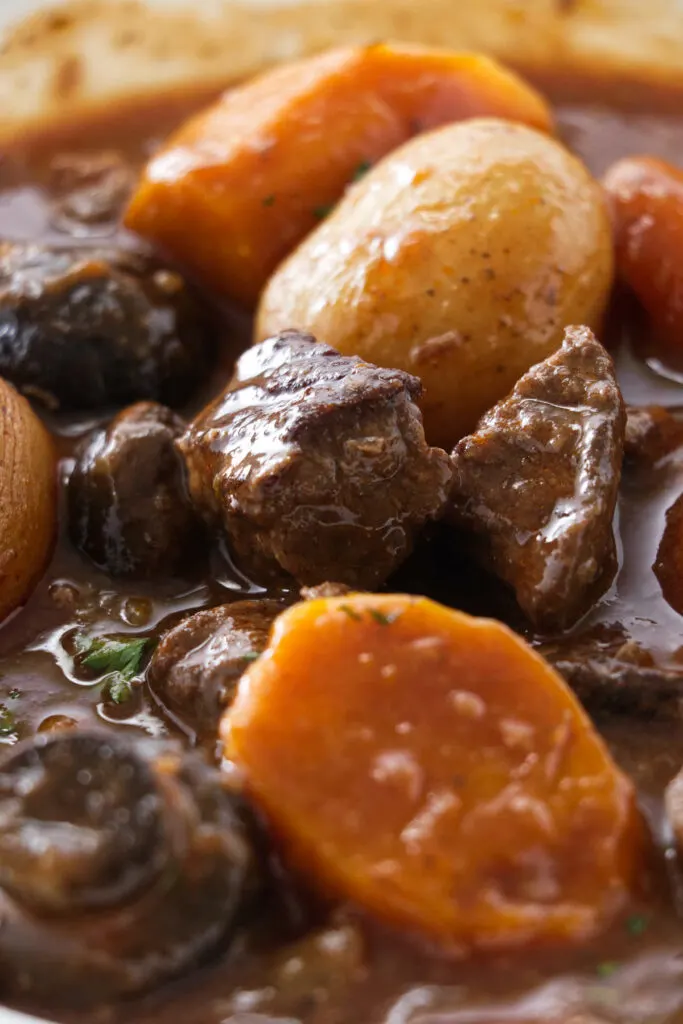 Serving Suggestions
Enjoy this Elk Stew ladled over velvety polenta, truffle mashed potatoes, or nutty wild-blend rice. Garnish with a sprinkle of fresh parsley and a touch of sour cream.
Here are some more suggestions to complement the meal
Storage and Reheating
In the fridge: Store in an airtight container for up to 3 days.
In the freezer: Allow to cool completely before ladling into airtight freezer-safe containers. Keeps for up to 3 months.
Reheating: Reheat in a pot on the stove over medium heat, stirring occasionally until heated through. Alternatively, microwave individual portions on high for 2 minutes or until hot.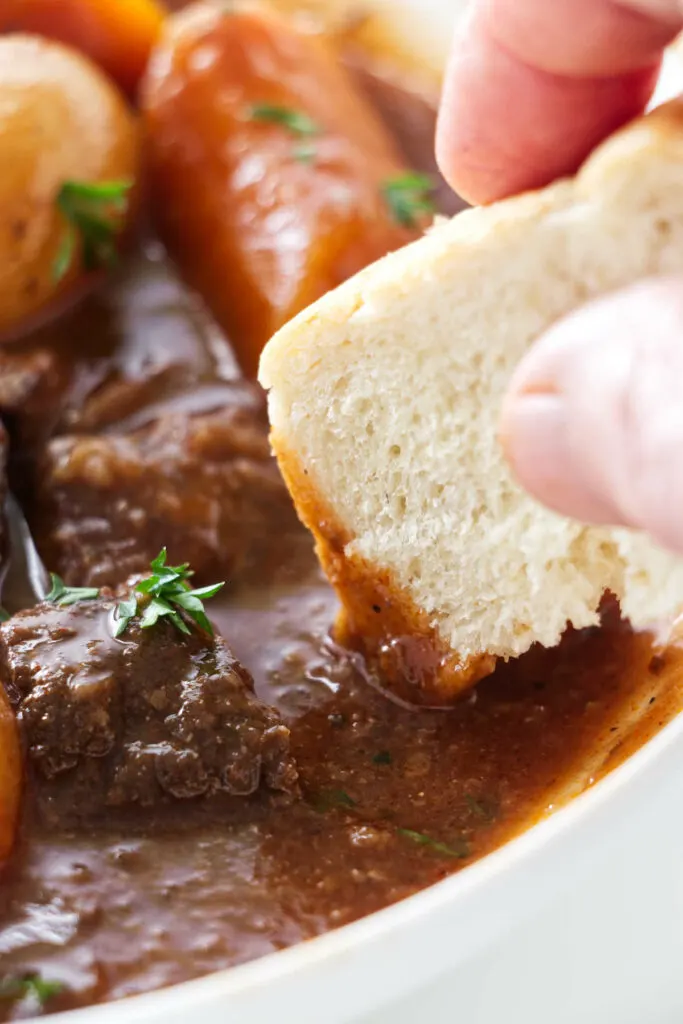 More Game Meat Recipes
Helpful Tools
Some of the following are affiliate links. We may receive a small commission if you click on these links and purchase something. You don't pay any extra, but it will help us keep the lights on.
More Recipes You Will Love:
Connect With Savor the Best:
Please follow us on our social media accounts
Facebook * Instagram * Pinterest * Youtube * Twitter
Did you make this recipe? We would love to hear from you. Drop us a comment below.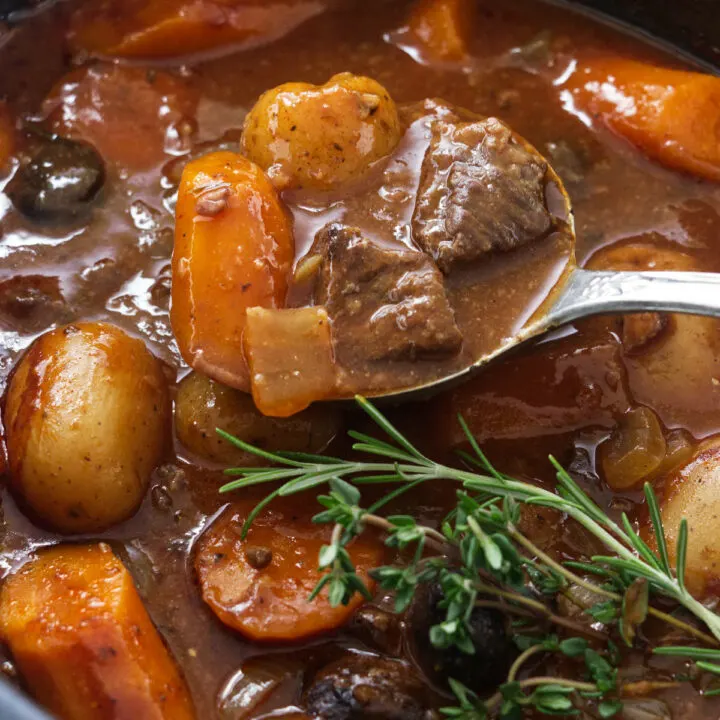 Slow Cooker Elk Stew
Total Time:
8 hours
30 minutes
This recipe for crockpot elk stew is simmered in a rich, flavorful broth with tender chunks of elk meat, potatoes, onions and mushrooms. At the end of the cooking the savory broth is slightly thickened.
Ingredients
2 pounds elk stew meat
¼ cup flour
2 tablespoons vegetable oil
1 teaspoon salt
½ teaspoons black pepper
4 cups beef stock
3 tablespoons tomato paste
2 tablespoons Dijon mustard
1 tablespoon Worcestershire sauce
3 garlic cloves, finely chopped
1 teaspoon paprika
1 teaspoon dried oregano
1 large onion, chopped
4 carrots, cut into 1-inch chunks
1 pound small Yukon Gold potatoes
8 oz. small mushrooms
3 tablespoons cornstarch combined with ¼ cup cold water
Instructions
Add the stew meat to a shallow dish or pie plate and toss with the flour.
Coat the bottom of a large skillet with oil and heat over medium-high heat. Working in batches, add the stew meat, sprinkle with salt and pepper and sear to a rich brown on all sides. Transfer the meat to the slow cooker.
In a large pitcher combine half of the beef stock with the tomato paste, mustard and Worcestershire sauce. Pour over into the slow cooker and add the remaining broth. Stir in the garlic, paprika and dried oregano.
Add the onions, carrots and potatoes to the slow cooker, cover with the lid and set the slow cooker on low and cook for 6 hours.
Remove the cover and add the mushrooms, taste the sauce and adjust the seasoning if needed, and cook for an additional 1 hour.
Increase the temperature to high and cook for 15 minutes.
Combine the cornstarch with ¼ cup of cold water whisking until smooth. Scoop 1 cup of the stew sauce from the slow cooker and whisk with the cornstarch mixture, then gently stir the mixture into the stew.
Cook for an additional 15 minutes to thicken.
Serve hot with crusty bread.
Notes
Making wild game tender: If you're looking to tenderize your elk meat, try sprinkling a couple of teaspoons of baking powder on it. Let it sit for 15 minutes, then rinse it off and pat it dry before searing the meat.
Work in batches to sear the meat and do not crowd the skillet. Crowding the skillet will cause the meat to steam and not brown properly.
Adding the mushrooms at the end of the cooking time will keep them from overcooking.
Nutrition Information:
Yield:

8
Serving Size:

1
Amount Per Serving:
Calories:

338
Total Fat:

7g
Saturated Fat:

2g
Trans Fat:

0g
Unsaturated Fat:

5g
Cholesterol:

93mg
Sodium:

934mg
Carbohydrates:

25g
Fiber:

4g
Sugar:

4g
Protein:

42g
Nutrition information is a guideline only. It is calculated automatically by third-party software, and absolute accuracy is not guaranteed.