Ah, the magical combo of cheese and beer—These two culinary besties unite in our recipe for a crockpot beer cheese dip.
This blend of rich, gooey cheddar and Gruyère gets seasoned to perfection and smoothed out with your favorite brew.
But this isn't just any cheese dip. This is a set-it-and-forget-it wonder made possible by the humble crock pot. It's easy, versatile, and a guaranteed crowd-pleaser, whether you're hosting game day or just want to elevate your snack game.
Serve it warm with some crunchy baguette slices, pretzels, or a bowl of tortilla chips, and watch it disappear in an instant.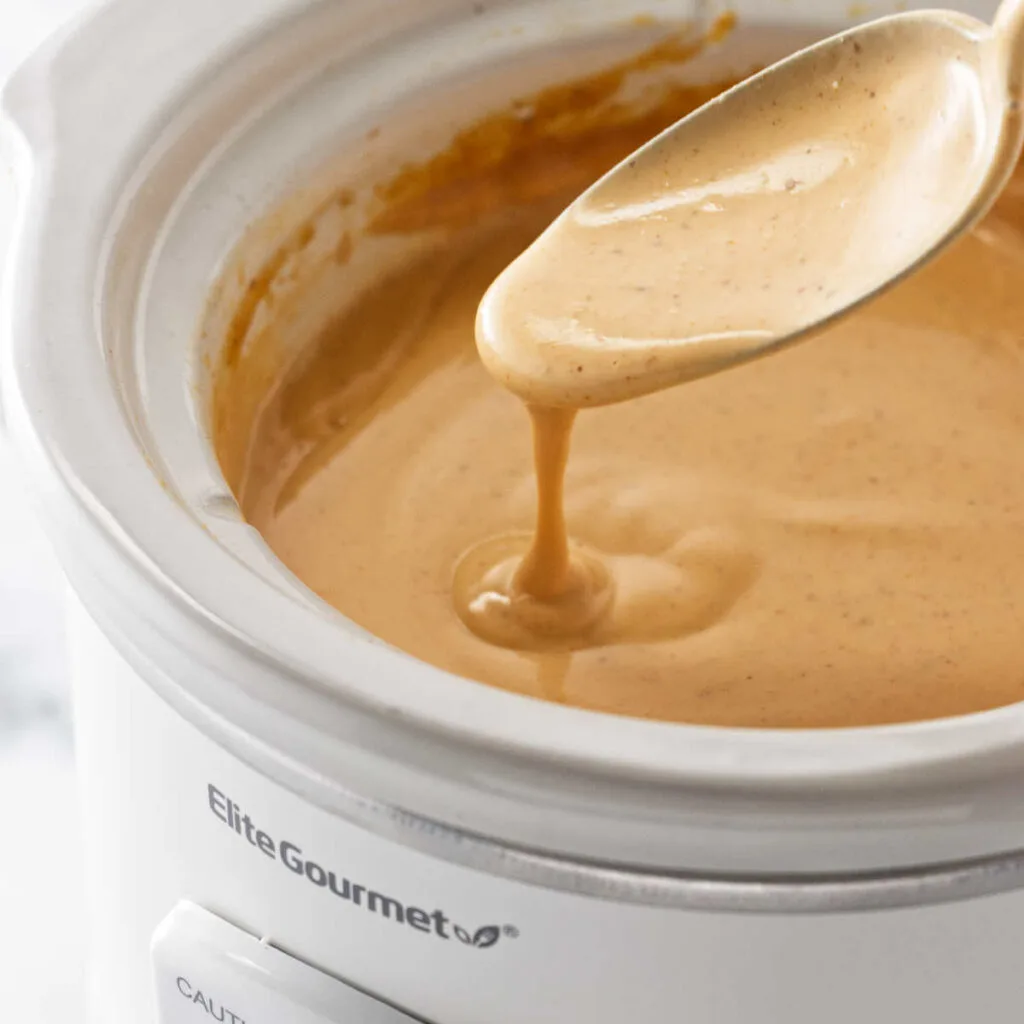 With the invention of the slow cooker, the traditional beer cheese dip has become even easier to prepare – no more standing and stirring over a hot stove. Add all the ingredients to the pot and let it do its magic. Serve this hot beer cheese dip with soft pretzels or pretzel bites, spicy sausage chunks, naan bread, chips, or raw veggies.
Everyone loves a party, and an appetizer table with a variety of choices is one of the main highlights! If you are planning a party and looking for some appetizer ideas, let us help!
Depending on your guest list's size, you might want to offer more than one warm dip. Try our sizzling bacon bean dip, fresh from the oven, or our delectable warm chile relleno dip, a great alternative for those following a gluten-free diet. And our hot crab dip is always a crowd favorite!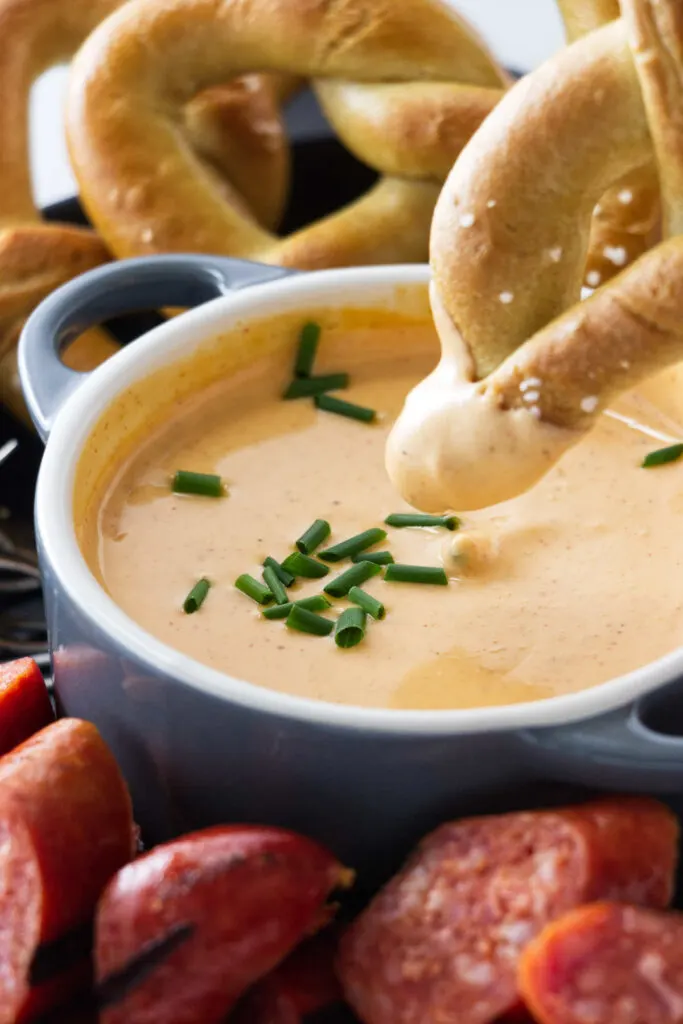 Ingredients For Our Beer Cheese Dip:
Here is a list of the ingredients you will need for this recipe. Scroll down to the printable recipe card for all the details.
Cream cheese
Butter
Milk
Brown mustard or Dijon
Garlic
Spices: onion powder, smoked paprika, salt, black pepper, cayenne pepper
Beer
Cheese: Cheddar cheese and Gruyère cheese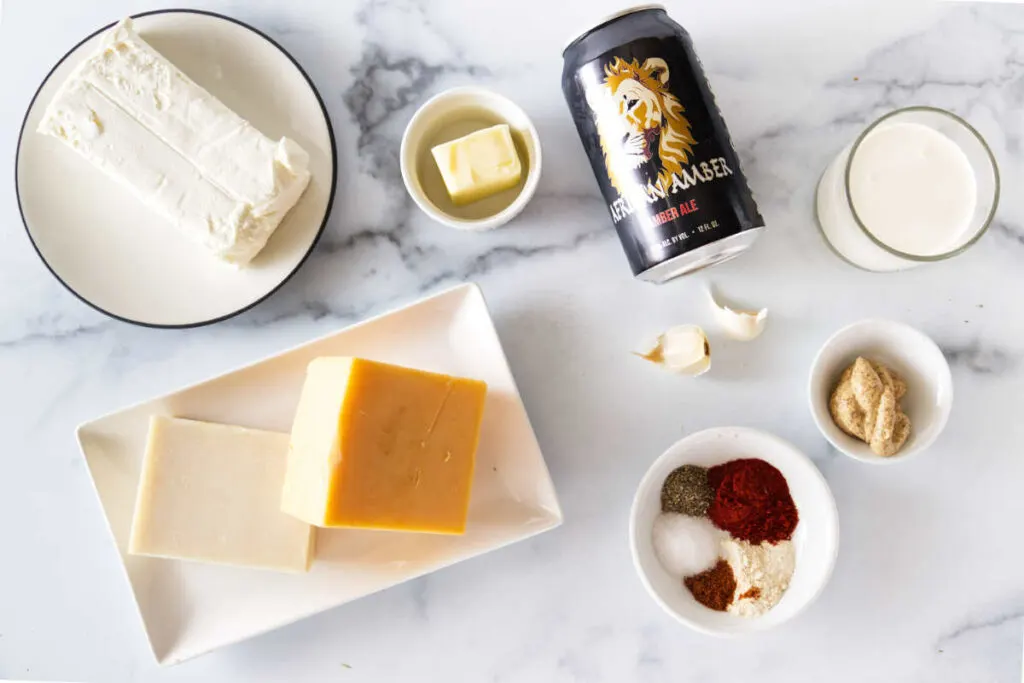 How To Make This Easy Cheesy Dip Recipe:
Here is a brief overview to get an idea of what to expect with the recipe. Scroll down to the printable recipe card for all the details.
Place the cream cheese, butter, milk, mustard, garlic, spices, and seasoning in the bottom of a 1-½ quart mini crock-pot.
Pour the beer over the top.
Add the grated cheese and cover the pot with the lid.
Set the slow cooker to "high". Stir occasionally while everything melts together.
When the cheese has fully melted, whisk until smooth, then reduce the temperature to the warm setting until ready to serve.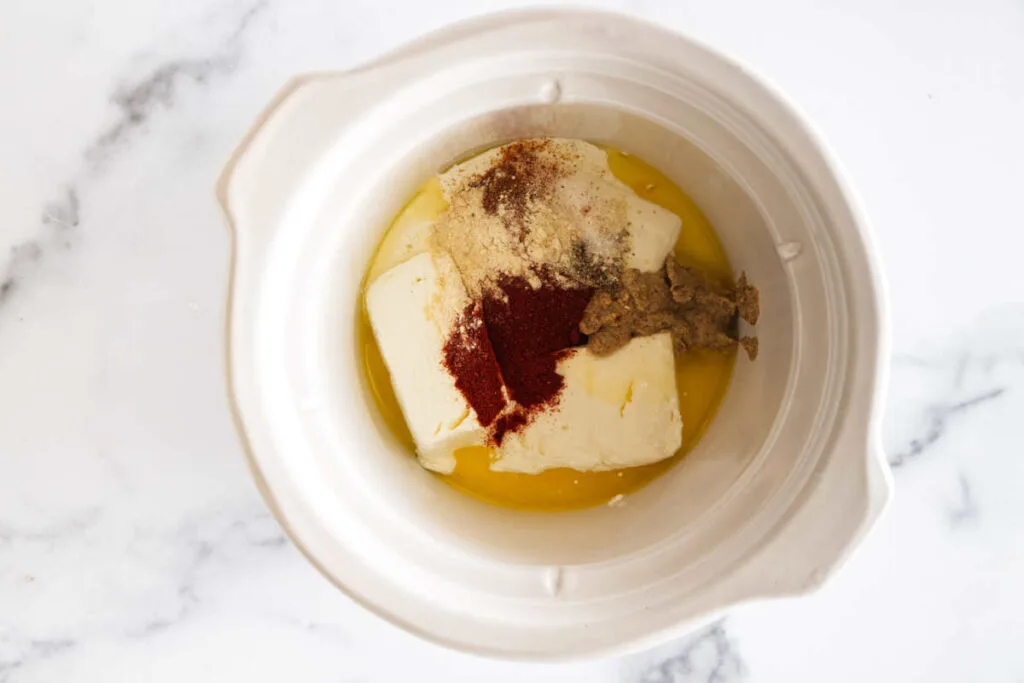 The Best Pot For Beer Cheese Dip:
We used a 1-1/2 qt. mini-sized slow cooker for this beer cheese dip and the recipe yields about 2 cups of dip. If you have an extensive guest list you may want to use a larger 4 qt. slow cooker and double or triple the recipe, keeping in mind that you will be serving additional appetizers.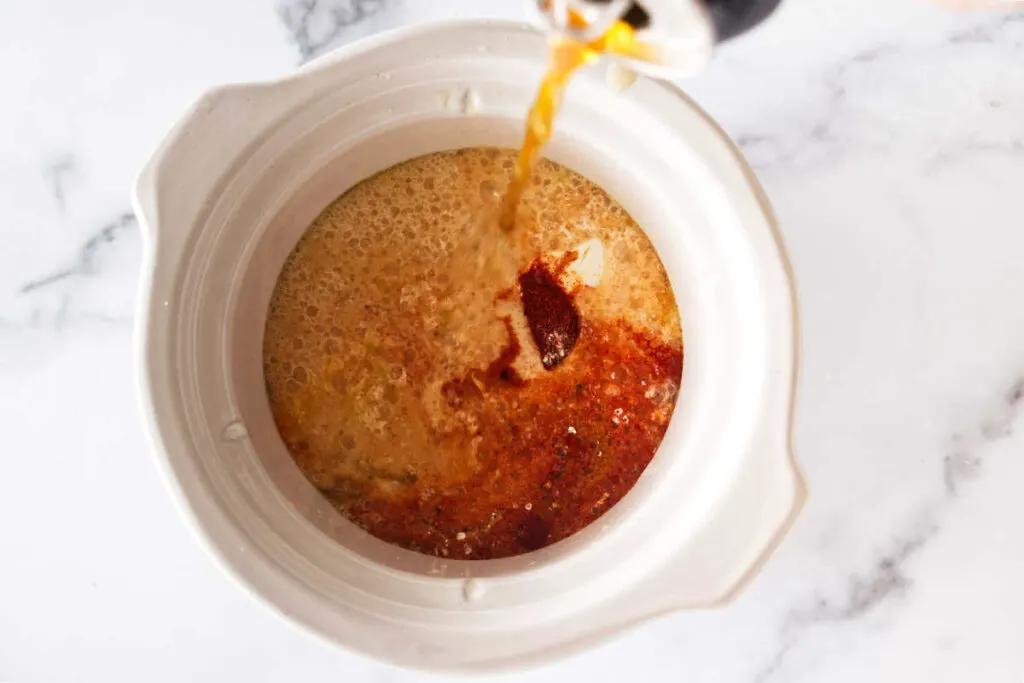 Best Beers For The Cheese Dip Sauce:
We used an ale beer for its mild taste. Choose a beer you like, although a dark or stout may dominate the cheese flavor.
A non-alcoholic beer is also an option, making it possible for any non-drinkers to enjoy the dip.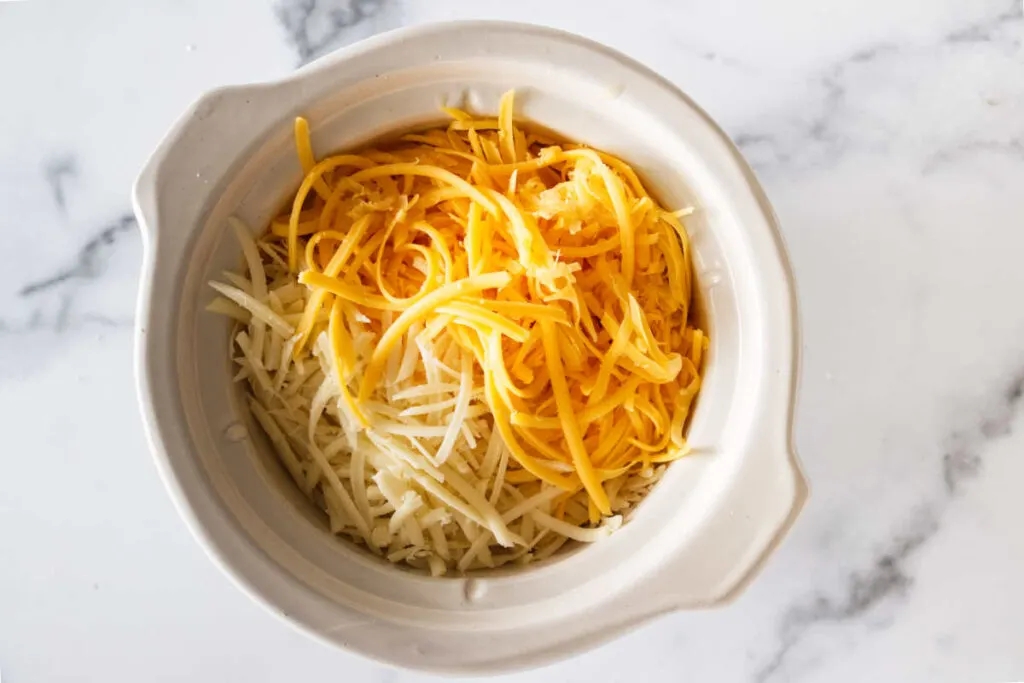 Cheese Choices For Great Dip:
Cheese: Cheddar is the traditional cheese used in a beer cheese dip. For a milder flavor you can combine it with Monterey Jack or Fontina, which both cheeses have excellent melting properties. Gouda is also an option, and the Smoked Gouda would add another layer of flavor.
Recipe Variations
Hot Jalapeño and Cayenne Cheese Dip
Kick up the heat by adding 2 seeded and minced jalapeños and an extra 1/4 teaspoon of cayenne powder to the recipe. Perfect for those who like to turn up the temperature on their dip experience.
Crock Pot Bacon and Chive Beer Cheese Dip
Who can resist the allure of bacon? Fry up 5 to 6 strips of bacon until crispy, then crumble them into the pot along with a tablespoon or two of fresh chives. This one's for the bacon lovers.
Slow Cooker Beer and Triple Cheddar Dip
Incorporate a blend of sharp cheddar, mild cheddar, and white cheddar for a diverse cheese profile that cheddar enthusiasts will absolutely love.
Tips for Success:
Grate the cheese from a block. Store-bought grated cheeses are coated with preservatives to keep them from clumping, and they do not melt well.
Avoid a darker beer, as it will add a bitter flavor to the dip.
Use whole milk or half and half. A reduced-fat milk will make a thin dip.
Keep the dip hot by serving it in the pot while set on low.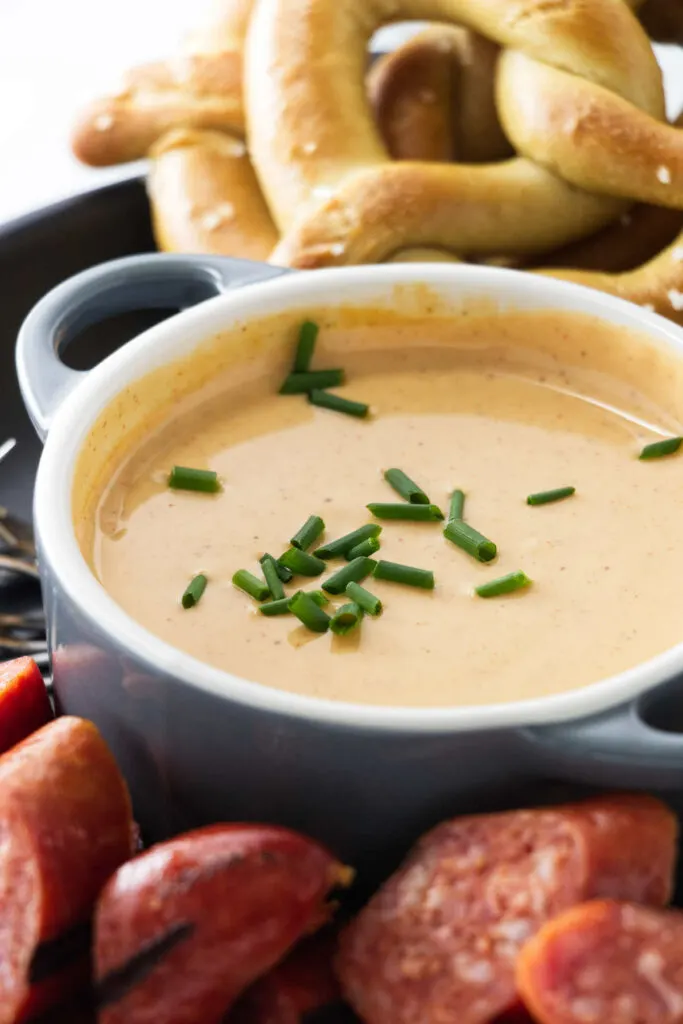 Serving Suggestions:
You can serve the cheese dip directly from the mini crock-pot while keeping it on the warm setting. Alternatively, scoop out a portion to a small dish and set it on one of those electric coffee mug warmers so it will stay warm and gooey.
Set the mug warmer and dish of dip on a serving platter and arrange your dippers around the dip. Here are a few dipper suggestions to add to the platter or the pot with the hot dip:
Soft pretzels
Pretzel sticks
Crusty bread chunks
Spicy sausages
Meatballs
Raw vegetables
Chips
Crackers
Frequently Asked Questions
Does the alcohol cook off the beer in the slow cooker?
No, there will be a little alcohol remaining in the dip. For minors and non-drinkers, consider using a non-alcoholic beer.
Can I serve the dip from the slow-cooker pot?
Absolutely, however, this recipe is best made in a mini slow cooker. You can use a larger pot and remove a portion of the dip to a small dish and serve it on a platter with the condiments while keeping the remainder warm in the pot.
How do I store any leftover dip?
Transfer any leftovers to an airtight container, such as a pint wide-mouth Mason jar, and store in the refrigerator for three to five days. Reheat the dip in a saucepan set over low heat, stirring occasionally to loosen. You may also need to add a small amount of milk while it is reheating.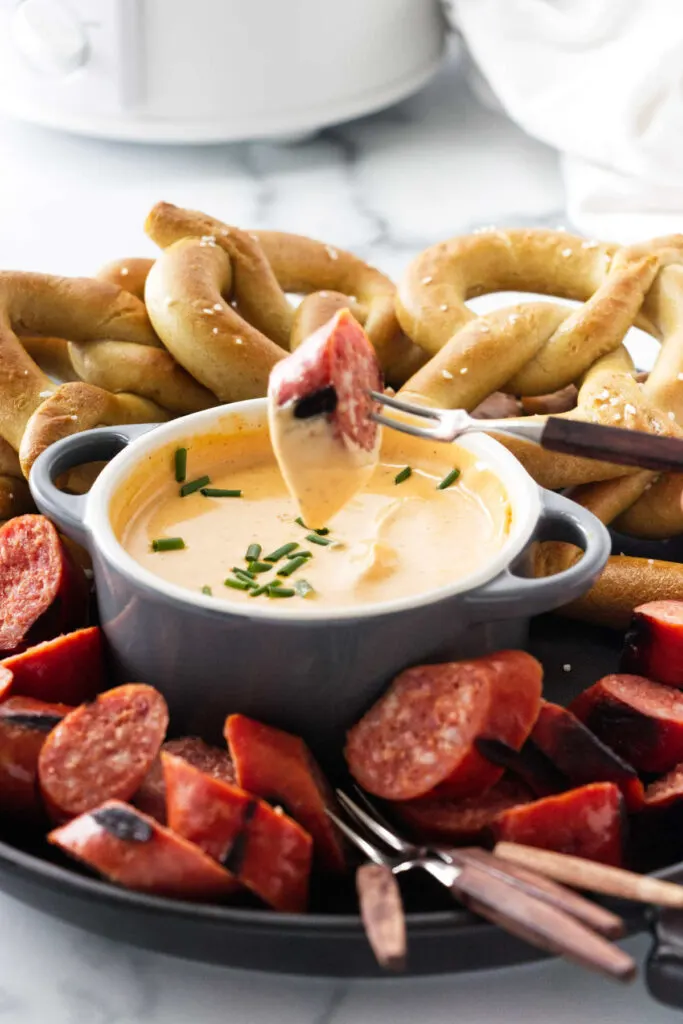 And that, my friends, is our recipe for an amazing beer cheese dip. This pub-style beer cheese dip is a surefire crowd-pleaser at any gathering and an effortless appetizer to add to your snack table.
Helpful Tools
Some of the following are affiliate links. We may receive a small commission if you click on these links and purchase something. You don't pay any extra, but it will help us keep the lights on.
Mug warmer (another great way to keep the dip warm)
Some Other Recipes We Are Sure You Will Love:
A warm Baked Brie in a Bread Bowl is a quick and easy appetizer. Garlic butter, sourdough bread, Brie and fresh thyme all baked to a gooey goodness. The bread bowl is cut for pull-apart dippers.
This make-ahead Roasted Garlic Spread and Garlic Oil will not last long, serve with bread toasts or crisp crackers.
Herbed Olive Oil Dip is made with a mix of fresh herbs, garlic and quality olive oil. Serve this dip with crusty sourdough bread chunks for easy dipping.
Connect With Savor the Best:
Please follow us on our social media accounts
Facebook * Instagram * Pinterest * Youtube * Twitter
Did you make this recipe? We would love to hear from you. Drop us a comment below.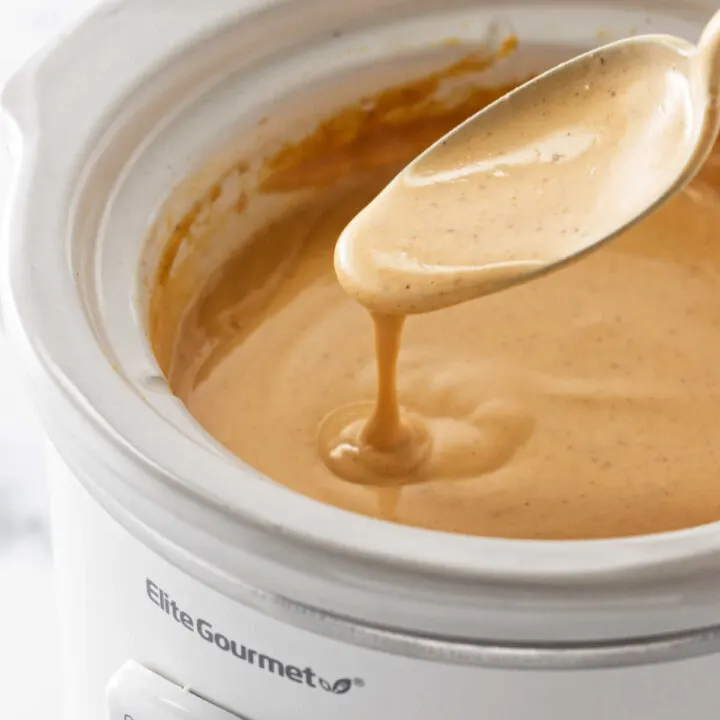 Crock Pot Beer Cheese Dip
Total Time:
1 hour
5 minutes
This beer cheese dip is smooth, creamy, and the perfect party-pleasing treat to add to your snack table! It is easy to make in a mini slow cooker, and you can use the same pot to keep the dip warm while you serve it to the crowd.
Ingredients
8 ounces cream cheese
2 tablespoons butter, melted
½ cup whole milk
1 teaspoon brown mustard or Dijon
1 garlic clove, minced
½ teaspoon onion powder
¼ teaspoon smoked paprika
½ teaspoon salt
½ teaspoon black pepper
⅛ teaspoon cayenne powder
8 ounces beer, your favorite
8 oz. cheddar cheese, grated
4 oz. Gruyère cheese, grated
Fresh snipped chives or parsley for garnish
Instructions
Place the cream cheese, butter, milk, mustard, garlic, spices and seasoning in the bottom of a 1-½ quart mini crockpot. Pour the beer over the top. Add the grated cheese and cover the crock pot with its lid.
Set the pot to "high" and cook for 1 hour, stirring occasionally.
When the cheese has fully melted, whisk until smooth then reduce the temperature to the warm setting and serve as an appetizer with an assortment of pretzels, sausages and tortilla chips to dip into the sauce.
Notes
The alcohol will not completely cook out of this dip. A non-alcohol beer can be substituted if desired.
Any cheese or assortment of cheeses may be used.
Nutrition Information:
Yield:

16
Serving Size:

1
Amount Per Serving:
Calories:

161
Total Fat:

14g
Saturated Fat:

8g
Trans Fat:

0g
Unsaturated Fat:

4g
Cholesterol:

41mg
Sodium:

281mg
Carbohydrates:

2g
Fiber:

0g
Sugar:

1g
Protein:

7g
Nutrition information is a guideline only. It is calculated automatically by third-party software, and absolute accuracy is not guaranteed.