Are you in the mood for something comforting, flavorful, and hands-off? Say hello to Slow Cooker Green Chile Chicken—a dish that brings warmth to your table without monopolizing your time in the kitchen. Imagine tender chicken infused with smoky paprika, aromatic cumin, and the zing of green chiles. All simmered together in your slow cooker, making your home smell like a haven of good cooking.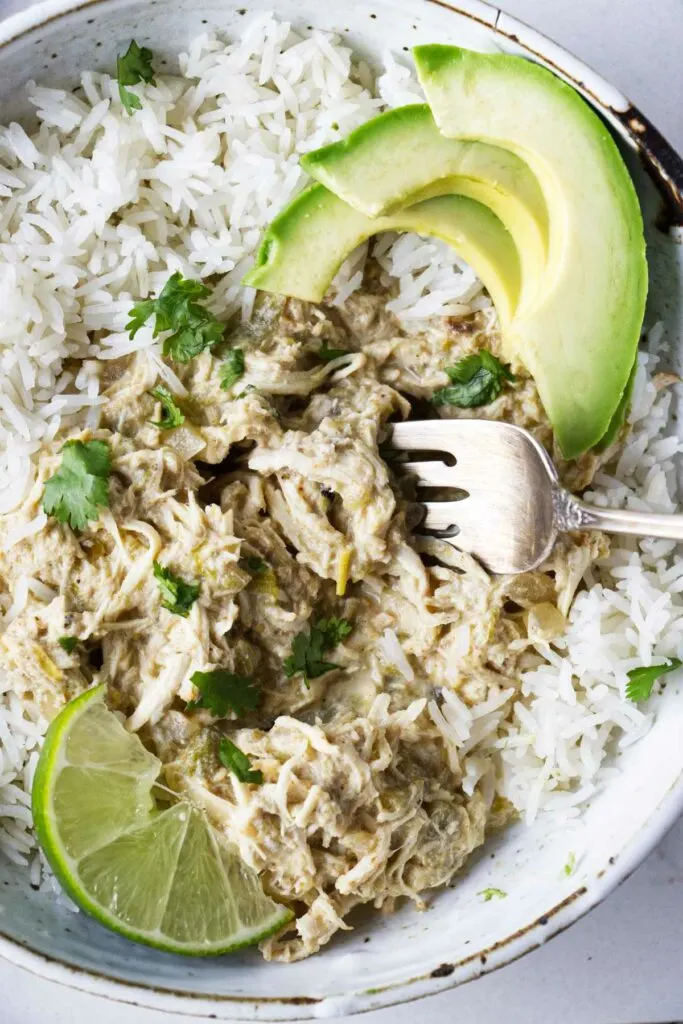 Healthy Green Chile Chicken Crockpot Recipe
What I love about this recipe is its versatility. Want to keep it lean and healthy? Stick to the basics and let the green chiles and spices shine. Craving a touch of indulgence? Stir in some creamy cheese for a velvety finish that's oh-so satisfying.
This is a dish that understands the different rhythms of our lives—sometimes we're all about those whole foods and scratch-made spices, and other times we just need a little help from store-bought salsa and canned chiles.
Don't worry about compromising on flavor. With ingredients like fire-roasted green chiles and optional add-ins like smoked garlic jalapeño lager seasoning, we're paying homage to traditional cooking with a twist of flavor. Whether you serve it over a fluffy bed of rice or wrapped in a warm tortilla, this is a meal that feels both timeless and entirely of the moment.
So, let's slow things down and savor the simple joys of a home-cooked dinner with a modern twist. Time to break out the slow cooker and let it do the hard work for you!
Here is Why This Green Chile Chicken Recipe Works
Convenience: The slow cooker handles the hard work for you—all you need to do is toss in the ingredients and let it be!
Flavorful Add-Ins: With bold ingredients like fire-roasted green chiles, paprika, cumin, and optional add-ins like smoked garlic jalapeño lager seasoning, this dish packs a lot of flavor!
Versatility: Whether you prefer to keep it light or indulge in a creamy rich sauce, this is a meal that can easily be adjusted to fit your tastes and dietary needs.
Homey Comfort: Get ready for your home to smell like the perfect blend of comforting spices and smoky chiles!
Meal Prep Potential: This dish can easily be portioned into separate containers and stored in the fridge or freezer for easy meal-prepping throughout the week or month.
Ingredients for Slow Cooker Green Chile Chicken
Here is a list of the ingredients you will need for this green chile chicken recipe in the slow cooker. Scroll down to the printable recipe card for all the details.
Produce: Onion, cilantro
Protein: Chicken
Pantry: Fire roasted green chiles, green salsa
Pantry Spices and Seasonings: Ground cumin, smoked paprika, oregano, salt, pepper, chili powder, and optional smoked garlic jalapeno lager seasoning.
Fridge: Cream cheese (optional).
You can purchase bone-in or boneless chicken, but boneless chicken is easier to work with in this recipe. You can also use either chicken breast or thighs. Chicken breasts are leaner but tend to dry out easier, while chicken thighs will stay more moist when cooked in the slow cooker.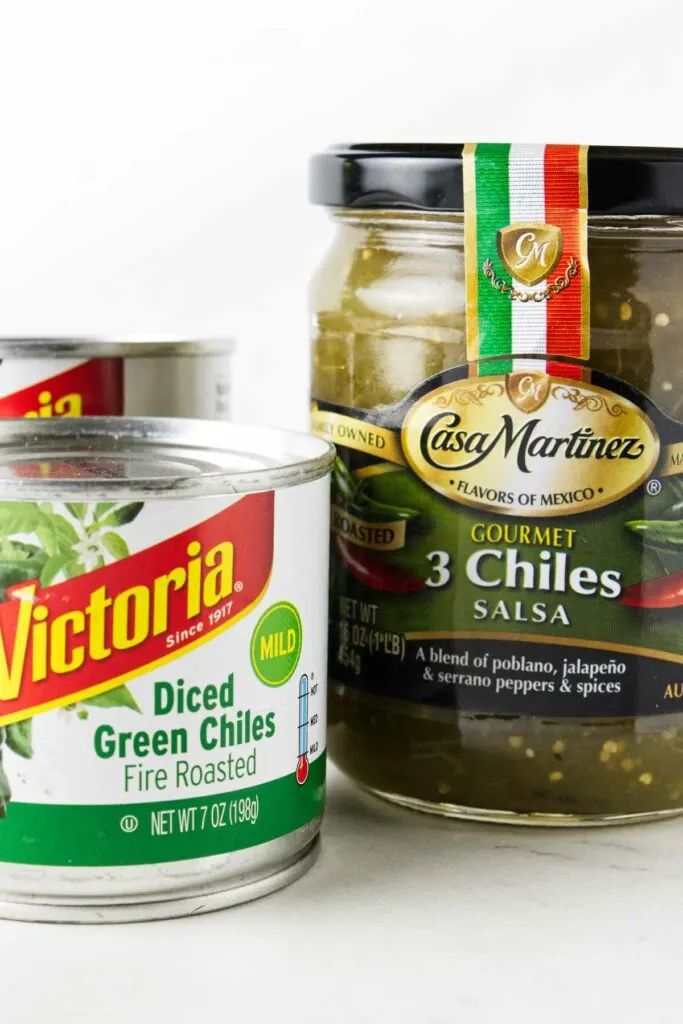 You can find cans of roasted chile peppers in the canned food section. They are typically located in the Mexican food section.
How to Make Slow Cooker Chicken with Green Chiles
Here is a brief overview to get an idea of what to expect with the crock pot chicken recipe. Scroll down to the printable recipe card for all the details.
Layer onion, chicken, green chiles, salsa, and spices in the slow cooker.
Cook on low for 6-8 hours or High for 3-4 hours.
Shred the chicken in the pot.
Optional: Stir cream cheese into the chicken mixture until melted.
Stir in cilantro and lime juice.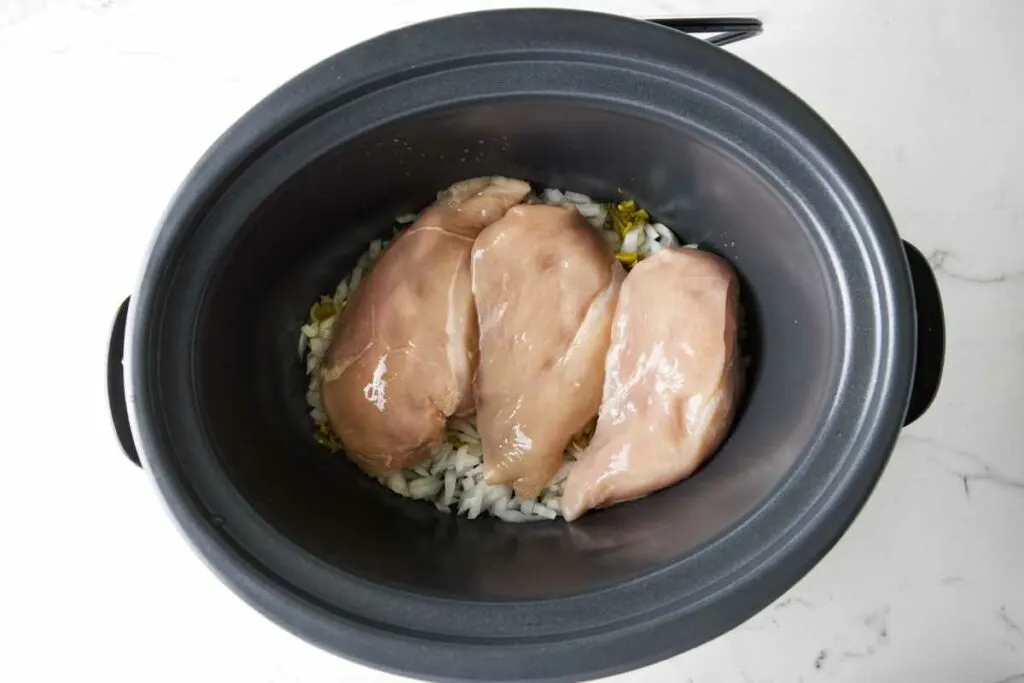 I like to layer the onion on the bottom of the chicken. If you have time, sautee the onions in a skillet so they get sweet and caramelized.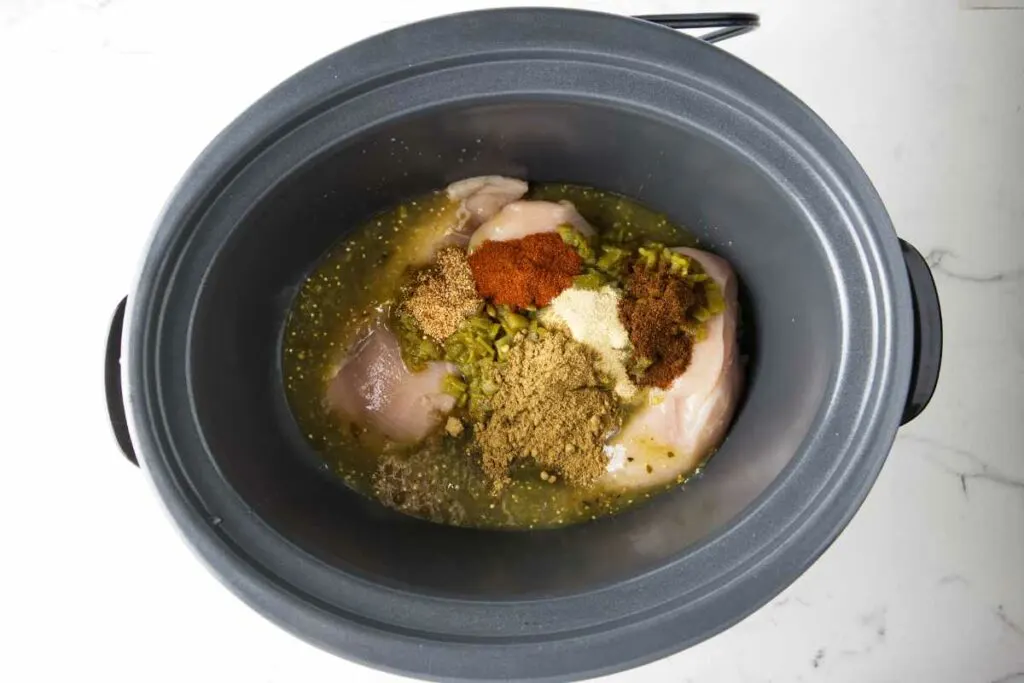 Toss everything in and give it a stir.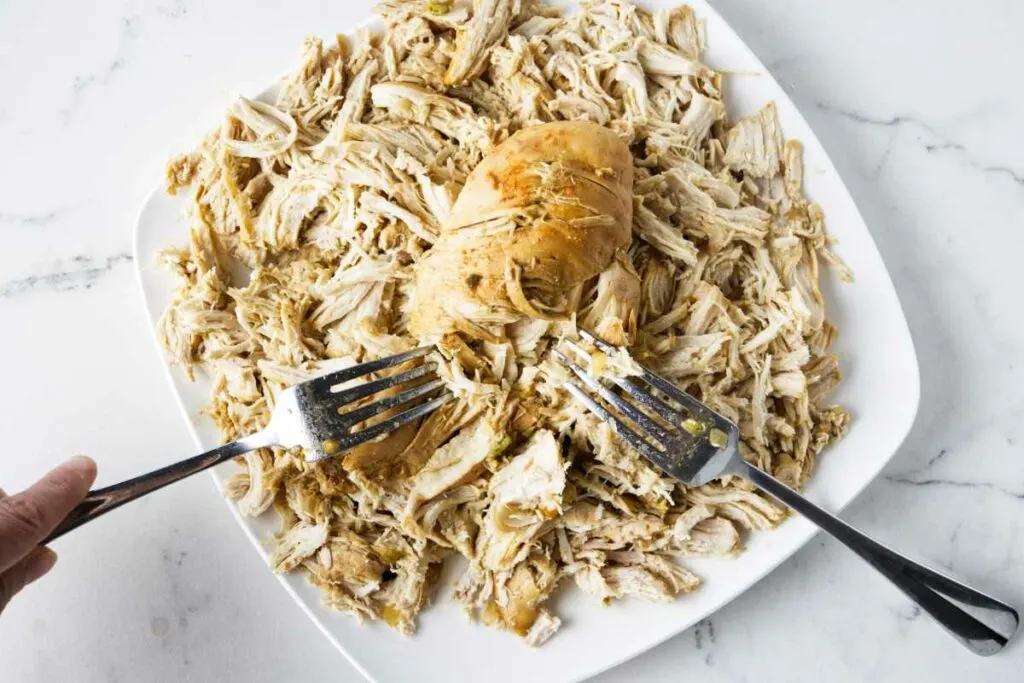 You can shred the chicken right in the crockpot or remove it to a plate so you can see how well it gets shredded.
Recipe Variations
Coconut Lime Shredded Chicken
Replace the cheese with one can of full-fat coconut milk. For an extra burst of flavor, incorporate the juice and zest of one lime into the chicken. Green chiles, lime, and coconut create a harmonious blend for this shredded chicken.
Veggie-Packed Green Salsa Chicken
Toss in a diced bell pepper, zucchini, and a cup of frozen corn to the chicken during the last hour of the cook time. Skip the cheese to let the veggies and chicken truly shine. Don't use the hand mixer to shred the chicken or it will puree the veggies.
Chicken with Black Beans and Chile Verde
Toss in a can of drained black beans and a cup of frozen corn during the last hour of cooking. When it is time to shred the chicken, remove it from the slow cooker so you don't break up the beans when you shred it.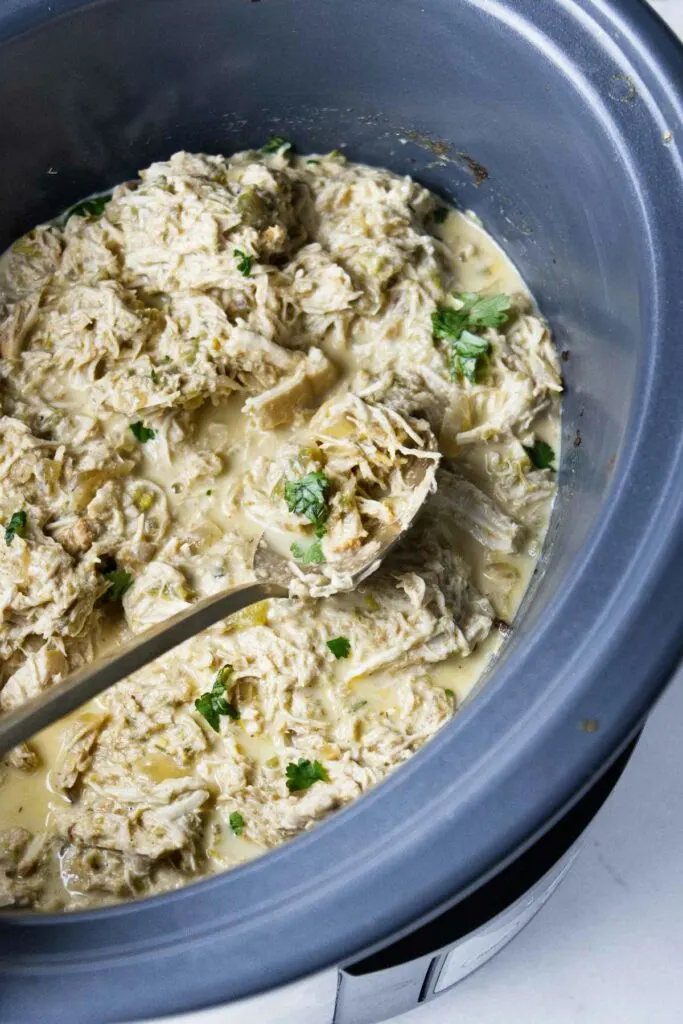 Tips for Slow Cooker Success
Chicken Choice: We used boneless, skinless chicken breasts in the photos but, dark meat is more forgiving and result in juicier, more flavorful chicken. They will also contribute to a higher calorie count in the recipe.
Spice Level: To adjust the heat, consider adding the chili powder and jalapeño seasoning at the end. Taste as you go to get the right level of spiciness for you.
Cilantro substitute: If this green veggie tastes like soap to you, swap it with fresh basil or parsley.
Batch Cooking: This recipe is perfect for meal prep. You can easily double it and store portions in the fridge or freezer.
To thicken the sauce: If you want the sauce thicker, remove the lid during the last hour of the cooking time.
Slow Cooker Liners: For an easier cleanup, consider using a slow cooker liner or greasing the inside of the cooker before adding your ingredients.
Shredding Trick: You can use a hand mixer to shred the chicken right in the slow cooker—just be gentle to avoid over-shredding. I actually don't care for this short cut because I like larger chunks of shredded chicken, but it's a great option if you need to save time.
Make-Ahead Tips for a Busy Week
One of the joys of this crockpot recipe is its flexibility. Need to prep for a busy week ahead? No problem. You can easily make this chicken recipe in advance and keep it on hand for quick, nutritious dinners.
The spiciness of chiles can intensify over time. So if you're not a fan of super-spicy meals, you might want to go easy on the chile initially and adjust later when you reheat the dish.
If you're adding extra green veggies like zucchini, remember that some veggies can release water as they sit. To avoid a watery dish, you might want to toss these in closer to serving time. Alternatively, you can sauté them first to reduce their water content before adding them to the chicken.
How to Serve Shredded Green Chili Chicken
This crockpot chicken recipe is infused with the bold flavors of fire-roasted chile peppers and a vibrant green salsa, creating a meal that's both comforting and flavorful. The chicken turns out tender and easily shreddable, ideal for serving over rice or tucked into tortillas.
Use the shredded chicken in tacos, burritos, chimichangas, on top of nachos, or even on a bed of coconut rice. It's also an excellent topping for taco salad, and you can stuff it in quesadillas, sandwiches, and wraps.
Storing and Reheating
In the fridge: Leftovers will keep for up to three days in an airtight container.
In the freezer: Store in freezer-safe containers for up to three months.
Reheating: To reheat, you can use a microwave or stovetop over low heat until it's completely warmed through. Alternatively, you could place it back in the slow cooker on low heat.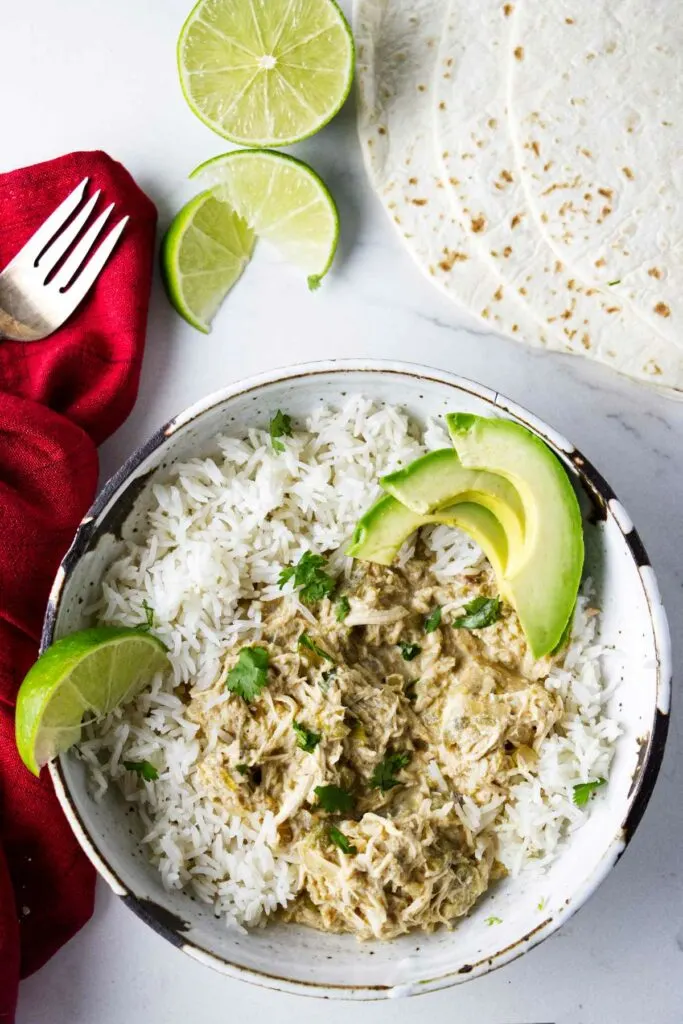 More Chicken Recipes
We've got a chicken dish to fit any occasion and cooking style. Here are just a few chicken recipes to try out. Dig in and find your next go-to chicken dinner!
Frequently Asked Questions
Can I use frozen chicken?
According to USDA guidelines, it's best to thaw the chicken before putting it into a slow cooker to ensure it reaches a safe internal temperature and to prevent foodborne illness.
Is this dish spicy?
The green chile peppers are very mild and the rest of the spices are adjustable. Omit or reduce the amount of chili powder and jalapeño seasoning for a milder flavor.
What type of green salsa do you recommend?
Any green pepper salsa or salsa verde will work well. If you can't find what your looking for, you can use green chili enchilada sauce.
How can I thicken the sauce?
If you find the sauce too thin, you can use a cornstarch slurry (mix 1 tablespoon cornstarch with 1-2 tablespoons cold water) and stir it in during the last 30 minutes of cooking. You can also remove the lid of the crockpot during the last hour of the cook time which will let some of the liquid evaporate as it cooks.
There's something deeply satisfying about coming home to a meal that's practically made itself. This Crockpot Green Chile Chicken recipe delivers just that—effortless cooking but with a heap of flavor.
Helpful Tools
Here is some equipment to help make this slow cooker recipe. Some of the following are affiliate links. We may receive a small commission if you click on these links and purchase something. You don't pay any extra, but it will help us keep the lights on.
More Recipe Favorites:
Connect With Savor the Best:
Please follow us on our social media accounts
Facebook * Instagram * Pinterest * Youtube * Twitter
Did you make this recipe? We would love to hear from you. Drop us a comment below.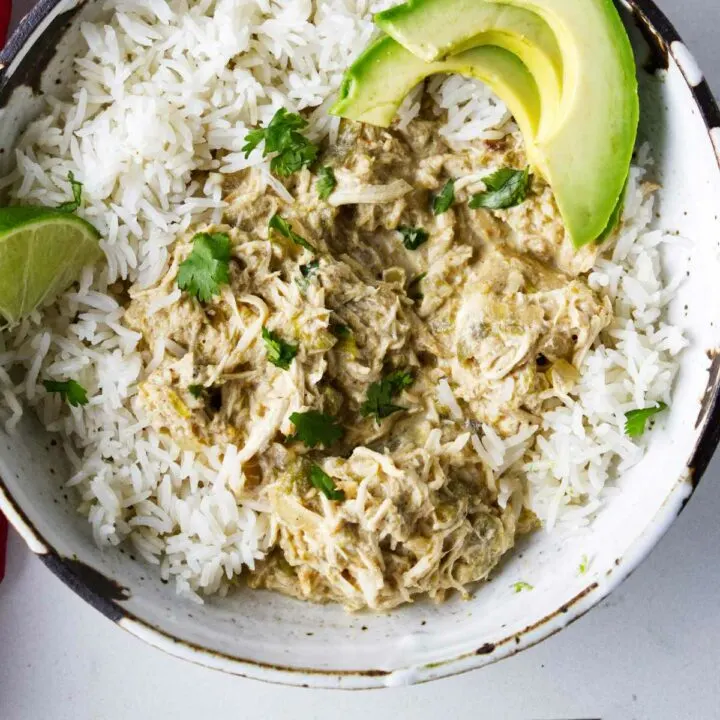 Slow Cooker Green Chile Chicken
Total Time:
4 hours
5 minutes
Fire roasted green chiles and a handful of spices give this crockpot chicken recipe instant flavor. Use skinless chicken breasts and skip the cream cheese for a healthy, low fat dinner. If you want to splurge, use chicken thighs and add the cream cheese at the end for a rich, creamy sauce.
This green chile chicken makes an easy dinner served on rice or nachos or stuffed in tacos and enchiladas.
Ingredients
1 onion, finely chopped
2 pounds boneless chicken breasts or thighs
2 cans (7 ounces each) fire roasted green chiles
1-½ cups green chile salsa
2 teaspoons ground cumin
2 teaspoons smoked paprika
1 teaspoon oregano
½ teaspoon each of salt and pepper
Optional but good
1 teaspoon chili powder (more if you like spicy food)
Instructions
Place the diced onion in the bottom of the slow cooker.
Top with the chicken, green chiles, fire roasted salsa and the rest of the spices and seasonings. Do not add the cream cheese yet. If you are using chili powder and the smoked jalapeno seasoning, adjust the amount to your preference for spiciness*.
Place the lid on the slow cooker and cook on low for 6 to 8 hours or high for 3 to 4 hours.
Shred the chicken with two forks. You can do this right in the slow cooker or transfer the chicken to a plate so you can see the pieces better.
If you want to make a rich, creamy sauce, add the cream cheese and stir for 5 minutes or until melted.
Stir in chopped cilantro and lime juice just before serving.
Serve over rice or wrapped in tortilla shells.
Notes
You can also use bone-in chicken if that is what you have on hand. Just discard the bones when you shred the chicken.
If you prefer less intense spiciness to your food, omit the chili powder and jalapeno seasoning or start with ¼ teaspoon of each.
Nutrition is calculated without the cream-cheese. If you use the cheese, it will contribute to an additional 120 calories and 6 grams of fat per serving.
Nutrition Information:
Yield:

8
Serving Size:

1
Amount Per Serving:
Calories:

242
Total Fat:

7g
Saturated Fat:

2g
Trans Fat:

0g
Unsaturated Fat:

4g
Cholesterol:

117mg
Sodium:

231mg
Carbohydrates:

4g
Fiber:

1g
Sugar:

2g
Protein:

40g
Nutrition information is a guideline only. It is calculated automatically by third-party software, and absolute accuracy is not guaranteed.