Cooking dinner can be stressful, especially after a hectic day. With the help this 19 Favorite Family Crockpot Meals round up, you can make flavorful, nutritious meals a breeze – even on the busiest nights!
With some simple preparation in the morning, you can come home to a hot meal that's already cooked and ready for the whole family to enjoy. From one-pot stews to slow-cooked roasts, learn how you make crockpot magic happen – without ever having to stress over what's for dinner.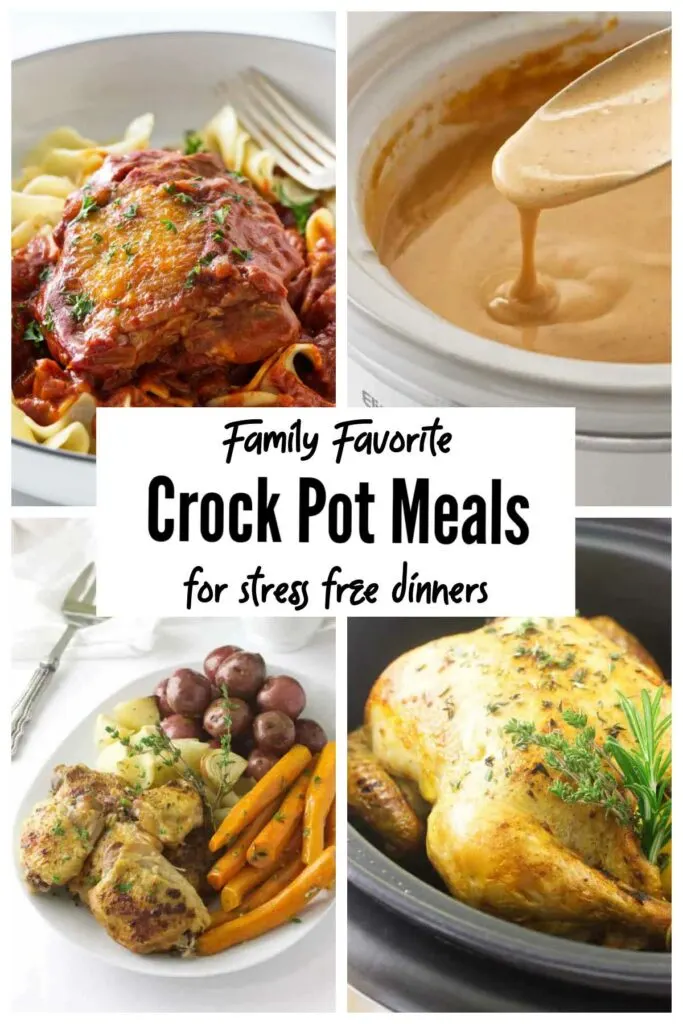 Why You'll Want To Try These Family Favorite Crockpot Meals
Slow cooker dinner recipes are a great way to make delicious and hearty meals without having to spend hours in the kitchen. They're easy to make, hands-off, healthy, versatile, and affordable. So next time you're looking for a quick and easy meal, give a slow cooker recipe a try!
Easy to make. Crockpot meals are easy! Once the ingredients are in the slow cooker, let it do its thing.
Hands-off. Once you set the slow cooker, you can forget about it until dinnertime.
Versatile. You can use them to make a variety of dishes, from soups and stews to chili and pulled pork.
Affordable. Slow cooker meals are typically very affordable to make.
Healthy. Slow cooking helps to preserve the nutrients in food, making it a healthier option than many other cooking methods.
Perfect for busy families. Family crockpot meals are a great way to get a delicious, home-cooked meal on the table even when you're short on time.
What Size Of Crockpot Should I Use?
Choose a 1.5 to 2.5 quart slow cooker for two people, a larger 4 to 4.5 quart will feed four, and 5 to 7 quart crockpot is ideal for six to eight people. For family events, or large quantities for meal prep, you'll want a larger slow cooker, such as a 8 to 10 quart.
It's convenient to have two sizes of slow cookers also. Use a 2 to 3 quart for side dishes and a larger 6 to 8 quart for main dish or family events.
18 Favorite Family Crockpot Meals
Connect With Savor the Best:
Please follow us on our social media accounts
Facebook * Instagram * Pinterest * Youtube * Twitter
Did you make this recipe? We would love to hear from you. Drop us a comment below.
Ways To Serve Easy Crockpot Meals
These slow cooker dinner recipes are popular all year round, but they're especially good during the fall and winter months. This is because they're hearty and comforting, and they're perfect for warming up on a cold day.
Many family crockpot meals go well served with or over rice, mashed potatoes, crusty breads, and side salads. Whether you're making slow cooker meals for meal prepping or the family dinner while you're at work, you'll love the fix and forget cooking method!
Related Recipes
Substitutions and Variations
There are many ways to customize these family crockpot meal recipes. Here are a few ideas:
Use different types of meat, such as chicken, pork, or beef.
Add different vegetables, such as carrots, potatoes, or zucchini.
Use different spices and herbs to change the flavor of the dish.
Storage, Freezing, and Reheating Options
Slow cooker meals can be stored in the refrigerator for up to 3 days. They can also be frozen for up to 3 months. To reheat a frozen slow cooker meal, thaw it overnight in the refrigerator and then reheat it in the slow cooker on low heat, or in the microwave.
Tips for Success
Don't overcrowd the slow cooker. This will prevent the food from cooking evenly.

Add a little liquid to the slow cooker. This will help to prevent the food from drying out.

You can brown the meat before adding it to the slow cooker. This will give crockpot meals more flavor.

If you're making a soup or stew, you can add a little bit of cornstarch or flour towards the end of cooking to thicken it up.
More Recipes To Serve With Crockpot Meals
Frequently Asked Questions
How long do I cook a slow cooker meal?
The cooking time for a slow cooker meal will vary depending on the recipe. However, most slow cooker meals cook for 6-8 hours on low heat.
What size slow cooker do I need?
The size of the slow cooker you need will depend on the number of people you're cooking for. A good rule of thumb is to get a slow cooker that's about 1 quart larger than the number of people in your family. For instance a 5 quart crockpot is perfect for a family of 4. This gives head space in the crockpot as well as leftovers.
Can I use a slow cooker to cook frozen food?
Yes and no. It depends on the type of recipe and food you are cooking. The USDA states that it is not safe to cook frozen food in a slow cooker. However, sometimes a recipe will call for things like frozen peas to be added toward the end of the cook time. Small items that cook quickly, like frozen peas, are usually safe to cook in a crockpot.
What can I do if my slow cooker burns my food?
If your slow cooker burns your food, it is usually because the heat setting is too high. Try reducing the heat setting or cooking the food for a shorter amount of time.