In late February, Don and I jetted off to Phoenix, AZ for a long weekend. We had been planning this trip for several weeks and both of us were greatly anticipating the Mexican food in that area. I am particularly fond of Shredded Beef Chimichangas while Don's favorite is a fat chili relleno made with fresh chilies.
Our plane got off to a late start just before noon, it was nearly a three-hour flight and their food service consisted of pretzels and peanuts so we were a little hungry when we arrived in Phoenix. It was another two-and one-half hours getting a rental car and driving to Surprise, AZ where we had booked a room for our stay.
We found a restaurant near the hotel for a fast meal. It wasn't what we had in mind but when you are really, really hungry it doesn't always matter.
The next day we had more time to explore our options for lunch and since we were not familiar with the area we just chose one at random. It was an excellent choice, I did order my shredded beef chimichangas and enjoyed every single bite as did Don with his yummy chili relleno. That meal was so delicious that we went back again two days later and ordered a repeat.
I very carefully, picked at my shredded beef chimie, analyzing and inspecting it so I could do a remake when we got back home. I didn't find any beans in there but it was packed with shredded beef, green chilies, onions and cheese in a spicy sauce all wrapped up in a flour tortilla and deep fried to a golden brown. They served this with three sauces on the side, avocado-cilantro cream sauce, sour cream and salsa. Believe me when I say, it was good!
So, this is my version of their shredded beef chimichanga but rather than deep-frying it I am going to bake them in the oven to a crisp golden brown. It will save a few calories anyway.
I like to put the chuck roast in the oven the night before and let it cook low and slow until morning, then after breakfast is over I shred the beef, prepare the filling, roll the chimies and refrigerate them to bake later for dinner. This will make ten servings and they can be frozen and baked as you need them.
The purpose of our visit to Phoenix was three-fold. First, we planned to visit with our good friends, Jerry and Doris Knox. Second was to attend the wedding of their son Brian Knox and his beautiful fiancé, Jennifer. Thirdly, we planned meeting up with our 20-year old grandson, Travis, who is living in Surprise, AZ and will be attending Arizona State University in the Fall.
Jerry and Doris lived next door to us for five years when we lived in Subic Bay, Philippines. Brian graduated from high school the year the volcano, Mt. Pinatubo blew it's top.
All military and civilian dependents had to be evacuated from the naval base, and let me tell you, it was an adventure! Doris, Brian and I stuck together like glue through this evacuation. We, as well as several thousand others, were shuffled from Subic to the island of Cebu, on the huge carrier ship, USS Abraham Lincoln and then, hours later, flown to Guam.
Finally, what seemed like many days later, we were flown to Washington State. Both Jerry and Don had to stay in Subic Bay as they were considered 'essential personnel' and needed in their respective commands.
Ironically, Jerry and Doris were being relocated to Bremerton, Washington where Don and I would be returning to. So, we were able to continue a close friendship with these good friends, especially since we were still 'almost' neighbors…..our homes being within eight miles distance. A few years later they relocated to Arizona.
The wedding Saturday evening was at a beautiful country club in Surprise, AZ and the weather was perfect. Brian and Jennifer both looked spectacular and happy.
I loved their wedding 'cake' which was about 150 individual, mini bundt cakes of six varieties. They were so unique, and naturally, I had to taste each flavor but the red velvet and lemon cream were my favorites.
The next day we met up with our grandson, Travis, and his friend Kara. We all went to dinner but it was Italian food this time. It was so good to see Travis again, we have been missing him as he grew up here in Washington where we saw him often. Travis left Washington last June to live in Arizona with plans to go to the university.
We returned to Washington the following day having had a wonderful mini-vacation. Sadly, our good friend, Jerry, lost his 12-year battle with cancer two weeks after our visit. We will miss Jerry but our hearts are glad that he is now pain-free and rejoicing with the angels.
Yield: 12 servings
Shredded Beef Chimichangas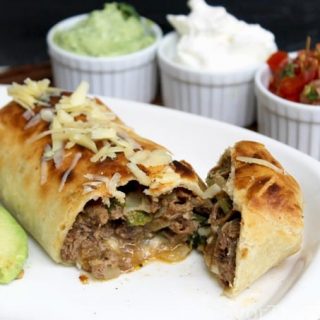 A crisp, oven baked shredded beef chimichanga, filled with beef, chilies, cheese and spices and served with condiments.
Prep Time 1 hour
Cook Time 6 hours 30 minutes
Total Time 7 hours 30 minutes
Ingredients
For the Shredded Beef:
2-1/2 pound chuck roast
1 cup red wine
3 cups beef stock
1/2 teaspoon sea salt
1/4 teaspoon freshly ground black pepper
2 bay leaves
2 tablespoons chopped fresh oregano
For the Filling:
2 tablespoons oil
2 large onions, chopped
4 or 5 garlic cloves, minced
4 cans, 7­ ounces each, whole green peppers, cut in 1/2-inch pieces
2 teaspoons dried oregano
2 teaspoons cumin
2 teaspoons chili powder
2 tablespoons butter
2 tablespoons all-purpose flour
1 cup reserved beef liquid from the beef roast
16 ounces monterey jack cheese, shredded
12 Tortillas
2 tablespoons olive oil
Cilantro sprigs for garnish
Instructions
Preheat the oven to 275°F
Add the beef chuck roast to a Dutch oven, add the wine and enough beef stock to cover the meat halfway. Sprinkle the salt and pepper on the top of the meat, add the bay leaves and oregano. Put the lid on the pot and transfer to the middle rack of the oven. Roast for 6 to 7 hours, or longer, to the point the meat is so tender it is falling apart when pierced with a fork.
Remove the pot from the oven and transfer the beef to a plate. Reserve one cup of the cooking liquid in the pot. Shred the meat with two forks. It will shred easily while it is still warm. Measure the shredded beef and add it to a large bowl, you should have about 4 cups, cover the bowl with plastic wrap and reserve while preparing the filling.
Heat the oil in a large skillet, add the onions and cook until they are translucent, add the garlic and cook an additional one minute. Remove the skillet from the heat and add the green peppers, oregano, cumin and chili powder. Transfer the filling to the reserved bowl of shredded beef.
Add the butter to the same skillet over medium-high heat and when it has melted add the flour, cook and stir for two minutes, then add the reserved roast beef liquid, whisking and cooking to a smooth sauce. Remove from heat and allow to cool slightly, then add to the bowl with the shredded beef mixture and combine thoroughly.
To Assemble the Chimichangas:
Preheat the oven to 425°F
Line a baking sheet with parchment paper and oil or spray with non-stick
Unwrap the warm tortillas and working with one tortilla at a time, place about 3/4 cup of the meat mixture in the center of the tortilla. Add 2 or 3 tablespoons of the cheese. Fold the ends inwards and roll the tortilla up. Place seam side down on the parchment-lined baking sheet. Continue with the remaining tortillas. With a pastry brush, lightly brush oil over each chimichanga and place the baking sheet in the preheated oven. Bake for 15-20 minutes, or until golden brown. To serve, top each chimichanga with additional cheese and provide condiments of salsa, avocado slices and sour cream to guests.


Notes
The chuck roast could also be cooked in a slow-cooker.
Nutrition Information
Yield
12
Serving Size
1
Amount Per Serving
Calories 706
Total Fat 41g
Saturated Fat 18g
Trans Fat 1g
Unsaturated Fat 21g
Cholesterol 142mg
Sodium 786mg
Carbohydrates 34g
Fiber 3g
Sugar 2g
Protein 46g
Nutrition information is a guideline only, is calculated automatically by third party software, and absolute accuracy is not guaranteed.