You don't need a messy vat of hot frying oil to make amazing shredded beef chimichangas. These baked chimis are seriously delicious and the oven gets them golden brown and crunchy. You won't miss the extra calories or the mess of deep fat frying.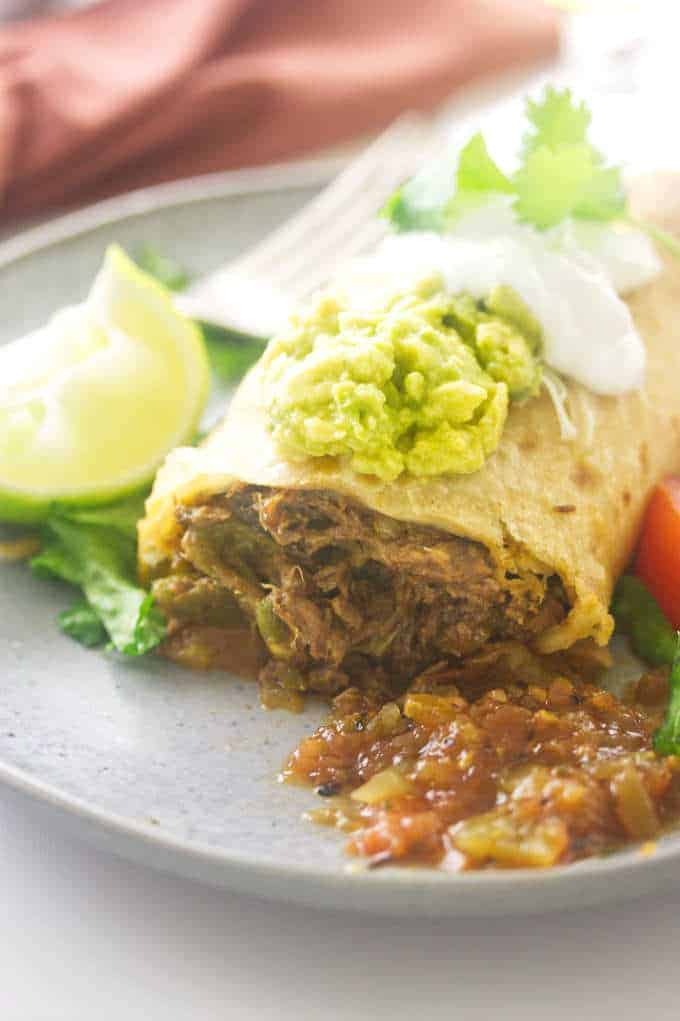 The filling is a delicious blend of seasoned shredded beef, onions, green peppers, and cheese. Serve them up with salsa, guacamole, and some sour cream. Make these for an amazing home-cooked meal tonight and freeze some of them for a different night.
What is a chimichanga?
A chimichanga is basically a deep-fried burrito. It is a fusion of Mexican and Southwest U. S. cuisines that has its roots in Arizona. Traditionally, it is filled with meat but variations include vegetables, beans, and rice. The crisp, fried exterior sets it apart from a standard burrito and makes the wrapped tortilla extra delicious.
There is some controversy over who invented the chimichanga but the most compelling claim comes from El Charro Cafe in Tucson, Arizona. The legend has it that Tia Monica Flin accidentally dropped a burrito into some hot oil.
She started to utter a Spanish cuss word but in an effort to spare the innocent ears of the children around her, she exclaimed "chimichanga", the Spanish slang for 'thingamajig'.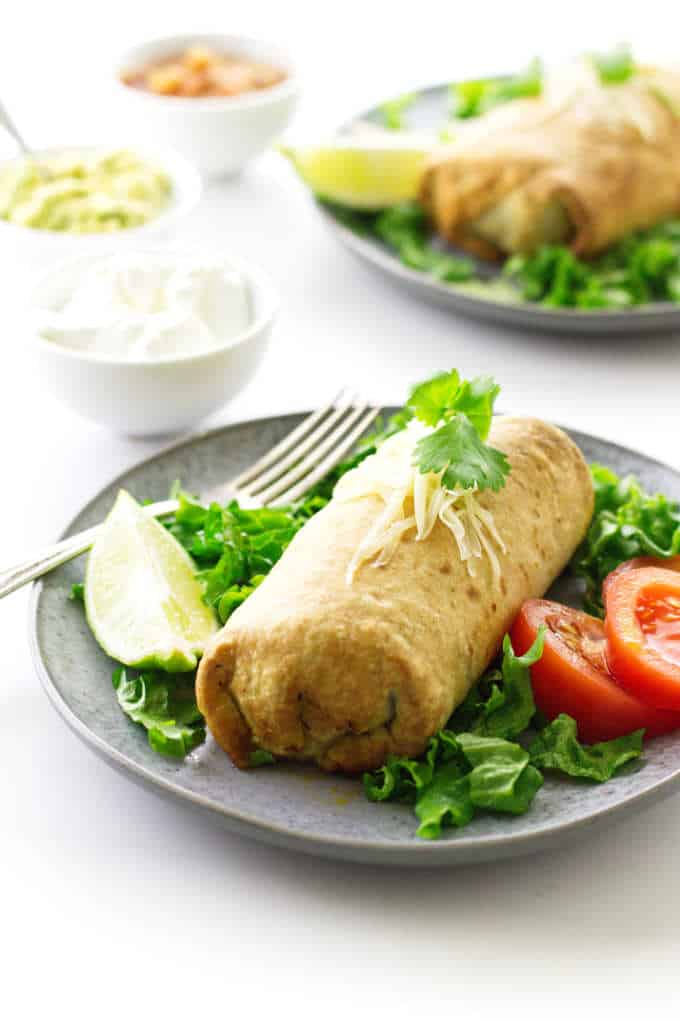 Baked chimichanga.
This version of shredded beef chimichanga is baked and not deep-fried. There is no need to heat up a large vat of oil, just brush a light coat of oil on them and stick them in the oven. The coat of oil helps the chimichanga get extra crispy in the oven. It is a slightly healthier version of the original chimichanga and it is much less messy to cook since you don't have to deal with deep frying.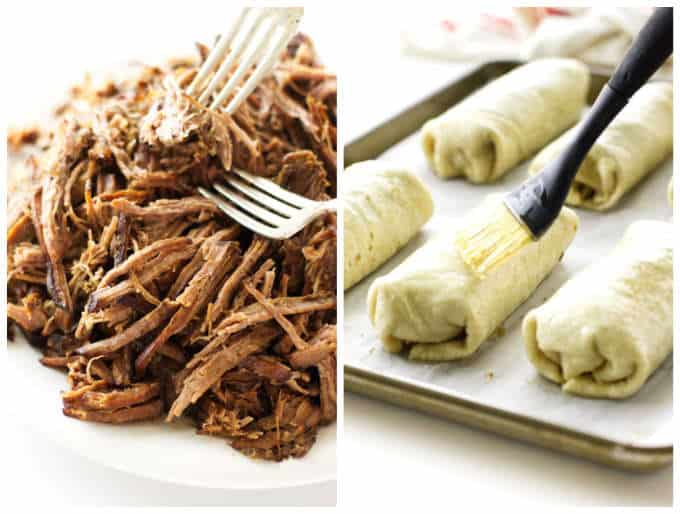 What goes in shredded beef chimichangas?
First, you will want to make the shredded beef. We used a chuck roast which is a very economical cut of beef. It has a lot of fat marbled into it so you want to give it plenty of time to cook and render down the fat. A long, slow cook will also break down the connective tissues which will make the meat super tender.
Now, if you are looking for ideas to have for dessert, we think this chocoflan cake is perfect. Another great dessert that goes perfectly with a chimichanga meal is Flan Napolitano. You won't be dissapointed.
Here are the ingredients for the shredded beef:
Chuck roast.
Salt and pepper.
Red wine.
Beef stock.
Herbs for extra flavor. We used bay leaves and oregano.
After you cook and shred the beef, start making the filling for the chimichangas.
Here are the ingredients for the filling.
Onions.
Garlic.
Spices: oregano, cumin, chili powder.
Butter and flour.
Beef broth. We used the leftover broth when the beef was finished cooking.
Cheese. We used Monterey Jack cheese. Another excellent choice is Pepper Jack cheese.
Tortillas.
Olive oil.
How to make shredded beef chimichangas.
It will take a while to cook the beef until it is tender and shreddable so plan ahead. Once you cook the beef, the chimichangas come together pretty quickly. Make sure to scroll all the way down to the printable recipe card for detailed instructions.
Cook the chuck roast and shred it while it is still warm.
Prepare the rest of the filling ingredients and combine with the shredded beef.
Spread the filling onto tortillas and wrap them up like a burrito.
Coat the chimichangas in some cooking oil and bake until crispy.
Serve with salsa, sour cream, and avocados.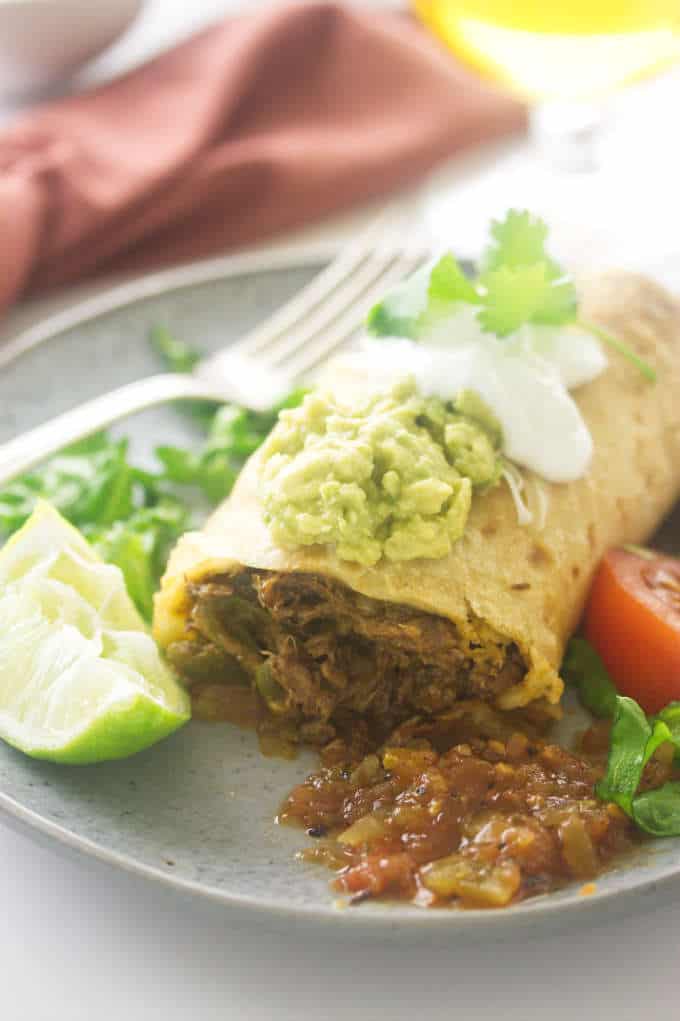 Tips for making shredded beef chimichangas.
Sear the chuck roast before you stick it in the oven. A good sear will help develop flavor.
You can cook the beef a day in advance if you want.
Shred the beef while it is still warm. If it cools down it will not shred as easily.
A light coat of oil will help the chimichangas get crisp when you bake them.
You can assemble the chimichangas up to 3 days in advance and bake them just before serving.
SOME OTHER RECIPES WE ARE SURE YOU WILL LOVE:
Serve the shredded beef chimichangas with a tossed green salad to round the meal out.
If you like these beef chimi's we are sure you will like our flank steak fajitas. Make the week all about Mexican cuisine!
A tri-tip roast makes for an easy family dinner that won't break the bank. It is an economical cut of beef that keeps well for leftovers.
Can you freeze shredded beef chimichangas?
These chimichangas can be frozen either prior to baking them or after you bake them. If you know you will be saving some for another day then freeze them before you bake them. When you want to serve them for dinner, thaw them in the fridge overnight and bake them according to the recipe.
If you already baked them and want to freeze the leftovers, make sure they cool down before you pack them in a freezer-proof container. After you thaw them out stick them in the oven to get crispy again.
CONNECT WITH SAVOR THE BEST!
Be sure to follow us on our social media accounts
Facebook * Instagram * Pinterest * Twitter * Youtube
Did you make this recipe? We would love to hear from you. Drop us a comment below.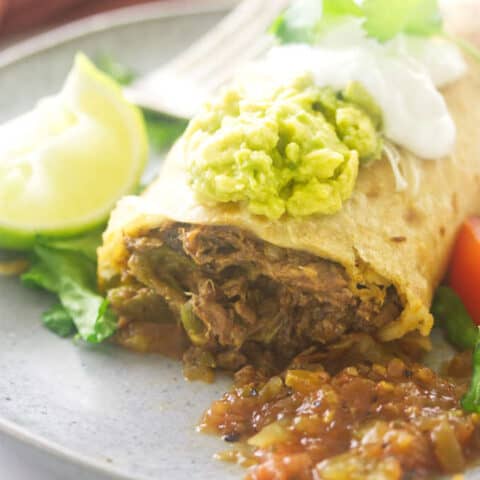 Shredded Beef Chimichangas
Cook Time:
6 hours
30 minutes
Total Time:
7 hours
30 minutes
A crisp, oven baked shredded beef chimichanga, filled with beef, chilies, cheese and spices and served with condiments.
Ingredients
For the Shredded Beef:
2-1/2 pound chuck roast
1/2 teaspoon sea salt
1/4 teaspoon freshly ground black pepper
1 cup red wine
2-1/2 to 3 cups beef stock
2 bay leaves
2 tablespoons chopped fresh oregano (or 1 Tbs. dried)
For the Filling:
2 tablespoons oil
2 large onions, chopped
4 or 5 garlic cloves, minced
4 cans (7­ ounces each) diced green peppers
2 teaspoons dried oregano
2 teaspoons cumin
2 teaspoons chili powder
2 tablespoons butter
2 tablespoons all-purpose flour
1 cup reserved beef liquid from the beef roast
12 Tortillas
16 ounces Monterey jack cheese, shredded
2 tablespoons olive oil
Instructions
Preheat the oven to 275°F
Sprinkle both sides of the chuck roast with the salt and pepper. Heat some cooking oil in a large oven-proof pot over medium heat. When the oil is hot, brown the roast for 2 to 3 minutes on each side. Set the roast aside on a plate.
Add the wine to the pot and scrape the brown bits off the bottom of the pot. Place the browned roast back in the pot. Add enough beef stock to cover the meat halfway. Toss in the bay leaves and oregano. Put the lid on the pot and transfer to the middle rack of the oven. Roast for 6 to 7 hours, or longer, to the point the meat is so tender it falls apart when pierced with a fork.
Remove the pot from the oven and transfer the beef to a plate. Reserve one cup of the cooking liquid in the pot.
Shred the meat with two forks. It will shred easily while it is still warm. Place the shredded beef in a covered bowl while you prepare the filling.
Heat the oil in a large skillet, add the onions and cook until they are translucent, add the garlic and cook an additional one minute. Remove the skillet from the heat and add the green peppers, oregano, cumin, and chili powder. Transfer the filling to the reserved bowl of shredded beef.
Add the butter to the same skillet over medium-high heat and when it has melted add the flour, cook and stir for two minutes, then add the reserved roast beef liquid, whisking and cooking to a smooth sauce. Remove from heat and allow to cool slightly, then add to the bowl with the shredded beef mixture and combine thoroughly.
To Assemble the Chimichangas:
Preheat the oven to 425°F
Line a baking sheet with parchment paper and oil or spray with non-stick cooking spray.
Working with one tortilla at a time, place about 3/4 cup of the meat mixture in the center of the tortilla. Add 2 or 3 tablespoons of the cheese. Fold the ends inwards and roll the tortilla up. Place seam side down on a parchment-lined baking sheet. Continue with the remaining tortillas.
Brush oil over each chimichanga and place the baking sheet in the preheated oven. Bake for 15-20 minutes, or until golden brown. Sprinkle a bit more cheese over the top of the chimichangas and bake for 2 minutes to melt the cheese on the top.
Serve with additional cheese and provide condiments of salsa, avocado slices and sour cream.


Notes
Browning the chuck roast before it goes in the oven will help develop more flavor.
Adding the wine to the hot pot after browning the roast will deglaze the pot. If you don't want to use wine then use some extra beef broth to deglaze the pot.
The chuck roast could also be cooked in a slow-cooker.



Recommended Products
As an Amazon Associate and member of other affiliate programs, I earn from qualifying purchases.
Nutrition Information:
Yield:

12
Serving Size:

1
Amount Per Serving:
Calories:

706
Total Fat:

41g
Saturated Fat:

18g
Trans Fat:

1g
Unsaturated Fat:

21g
Cholesterol:

142mg
Sodium:

786mg
Carbohydrates:

34g
Fiber:

3g
Sugar:

2g
Protein:

46g
Nutrition information is a guideline only, is calculated automatically by third party software, and absolute accuracy is not guaranteed.
This recipe was originally written on March 30, 2015. We added a video and wrote more helpful content in the post related to the recipe. We left the original photo and diary entry below.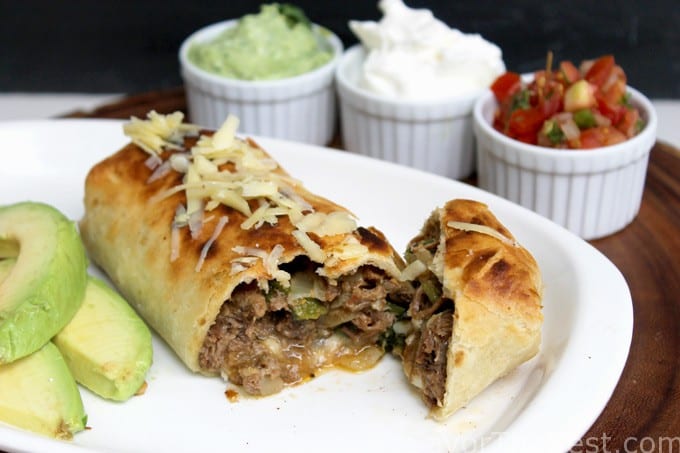 In late February, Don and I jetted off to Phoenix, AZ for a long weekend. We had been planning this trip for several weeks and both of us were greatly anticipating the Mexican food in that area. I am particularly fond of Shredded Beef Chimichangas while Don's favorite is a fat chili relleno made with fresh chilies.
Our plane got off to a late start just before noon, it was nearly a three-hour flight and their food service consisted of pretzels and peanuts so we were a little hungry when we arrived in Phoenix. It was another two-and-one-half hours getting a rental car and driving to Surprise, AZ where we had booked a room for our stay.
We found a restaurant near the hotel for a fast meal. It wasn't what we had in mind but when you are really, really hungry it doesn't always matter.
The next day we had more time to explore our options for lunch and since we were not familiar with the area we just chose one at random. It was an excellent choice, I did order my shredded beef chimichangas and enjoyed every single bite as did Don with his yummy Chili Relleno. That meal was so delicious that we went back again two days later and ordered a repeat.
I very carefully, picked at my shredded beef chimi, analyzing and inspecting it so I could do a remake when we got back home. I didn't find any beans in there but it was packed with shredded beef, green chilies, onions and cheese in a spicy sauce all wrapped up in a flour tortilla and deep-fried to a golden brown. They served this with three sauces on the side, avocado-cilantro cream sauce, sour cream and salsa. Believe me when I say, it was good!
So, this is my version of their shredded beef chimichanga but rather than deep-frying it, I am going to bake them in the oven to a crisp golden brown. It will save a few calories anyway.
I like to put the chuck roast in the oven the night before and let it cook low and slow until morning, then after breakfast is over I shred the beef, prepare the filling, roll the chimis and refrigerate them to bake later for dinner. This will make ten servings and they can be frozen and baked as you need them.
The purpose of our visit to Phoenix was three-fold. First, we planned to visit with our good friends, Jerry and Doris Knox. The second was to attend the wedding of their son Brian Knox and his beautiful fiancé, Jennifer. Thirdly, we planned meeting up with our 20-year old grandson, Travis, who is living in Surprise, AZ and will be attending Arizona State University in the Fall.
Jerry and Doris lived next door to us for five years when we lived in Subic Bay, Philippines. Brian graduated from high school the year the volcano, Mt. Pinatubo blew it's top.
All military and civilian dependents had to be evacuated from the naval base, and let me tell you, it was an adventure! Doris, Brian and I stuck together like glue through this evacuation. We, as well as several thousand others, were shuffled from Subic to the island of Cebu, on the huge carrier ship, USS Abraham Lincoln and then, hours later, flown to Guam.
Finally, what seemed like many days later, we were flown to Washington State. Both Jerry and Don had to stay in Subic Bay as they were considered 'essential personnel' and needed in their respective commands.
Ironically, Jerry and Doris were being relocated to Bremerton, Washington where Don and I would be returning to. So, we were able to continue a close friendship with these good friends, especially since we were still 'almost' neighbors…..our homes being within eight miles distance. A few years later they relocated to Arizona.
The wedding Saturday evening was at a beautiful country club in Surprise, AZ and the weather was perfect. Brian and Jennifer both looked spectacular and happy.
I loved their wedding 'cake' which was about 150 individual, mini bundt cakes of six varieties. They were so unique, and naturally, I had to taste each flavor but the red velvet and lemon cream were my favorites.
The next day we met up with our grandson, Travis, and his friend Kara. We all went to dinner but it was Italian food this time. It was so good to see Travis again, we have been missing him as he grew up here in Washington where we saw him often. Travis left Washington last June to live in Arizona with plans to go to the university.
We returned to Washington the following day having had a wonderful mini-vacation. Sadly, our good friend, Jerry, lost his 12-year battle with cancer two weeks after our visit. We will miss Jerry but our hearts are glad that he is now pain-free and rejoicing with the angels.