What is your favorite fajita protein, beef, chicken or pork? I have to say that mine is beef and these flank steak fajitas are the best! The beef is tender and juicy with a spicy taste from the chipotle. The colorful sautéed vegetables are cooked perfectly, all stuffed into a warm flour tortilla.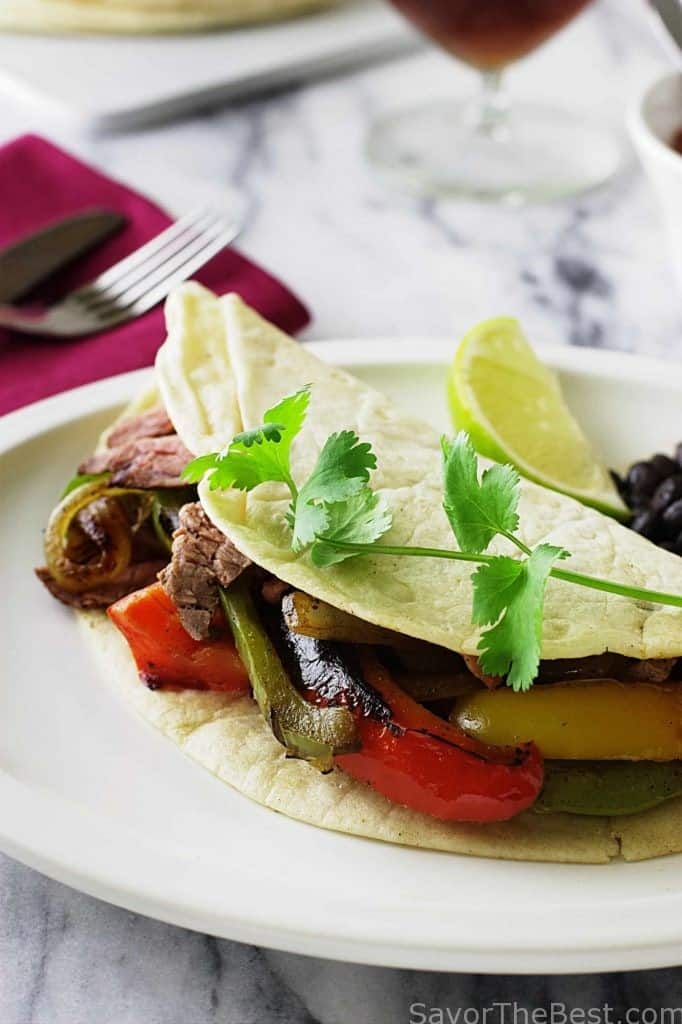 In Mexico, flank steak is known as arrachera, it is one of their favorite cuts of beef, it is packed with flavor and perfect for fajitas. We usually soak any fajita protein in a marinade whether it is beef, pork or chicken and flank steak takes a marinade well, tenderizing it and adding great flavor. Skirt steak is also a delicious option that marinates well and finishes tender and juicy.
This spicy marinade of beer, lime and chipotle is easy to make. The beef is marinated for a few hours or overnight, then broiled or grilled to a medium rare.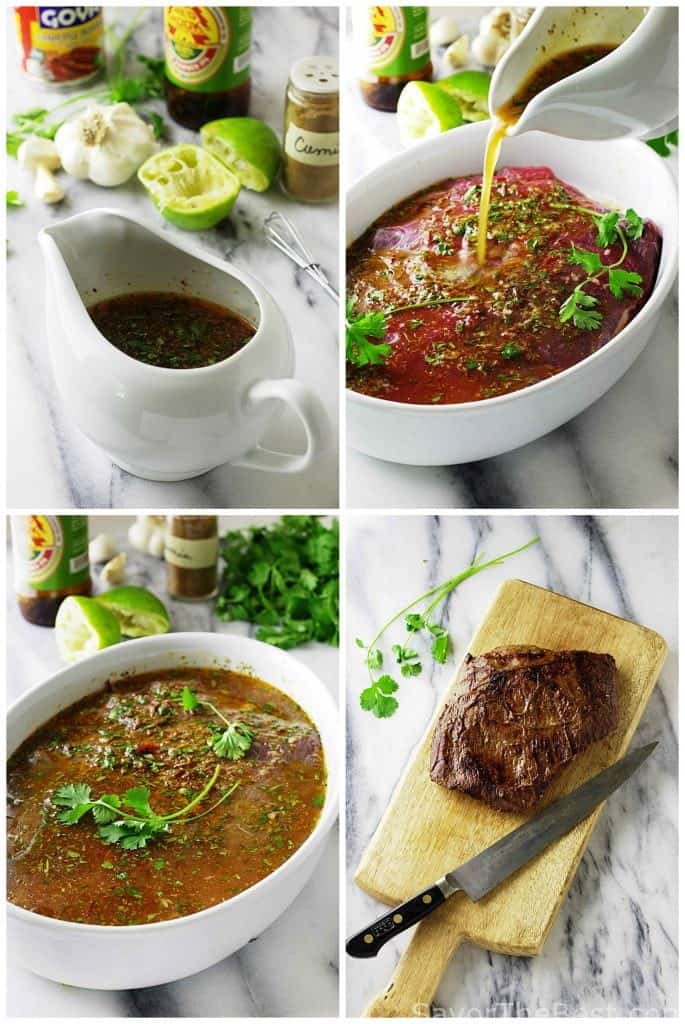 To make the marinade we processed the ingredients in a blender, then poured it over the steak. I put this in the fridge to marinate about mid-morning so it had a good soak by dinner time. The marinade has a little smokiness and bite to it from the chipotle which also adds a nice flavor to the steak. Plus, the beer and lime work together to tenderize the steak. There is something about the beer that enhances the flavor and tenderness of the flank steak.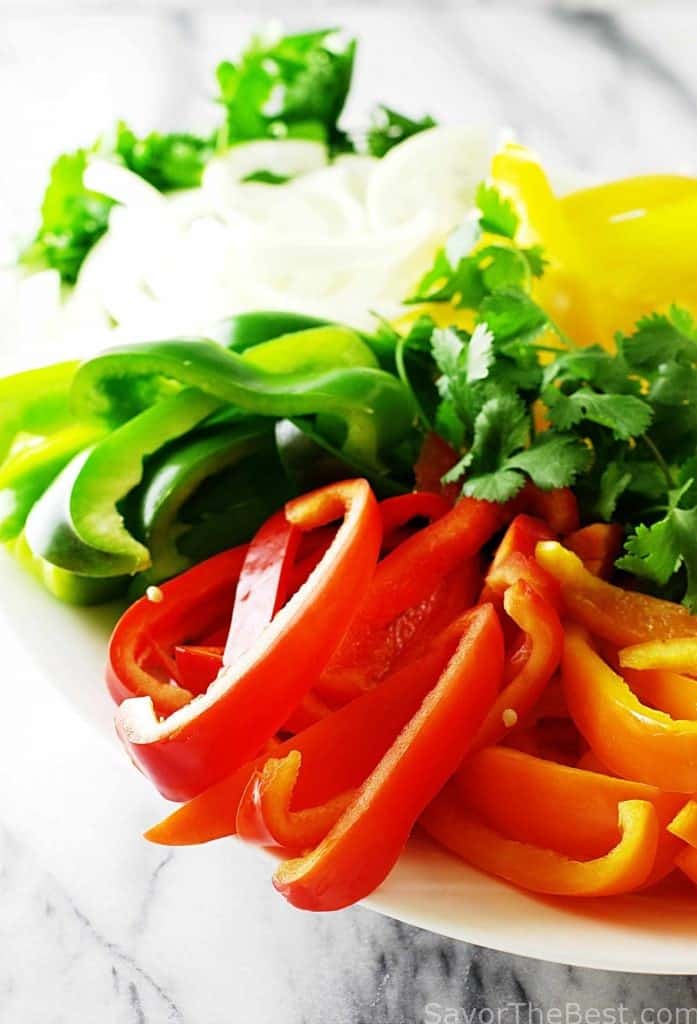 The sautéed onions and colorful bell peppers are perfectly cooked with still a little crunch to them. We served the flank steak fajitas on soft, warm flour tortillas, juicy wedges of fresh lime, sour cream, salsa and a side of spicy black beans…. Yum 🙂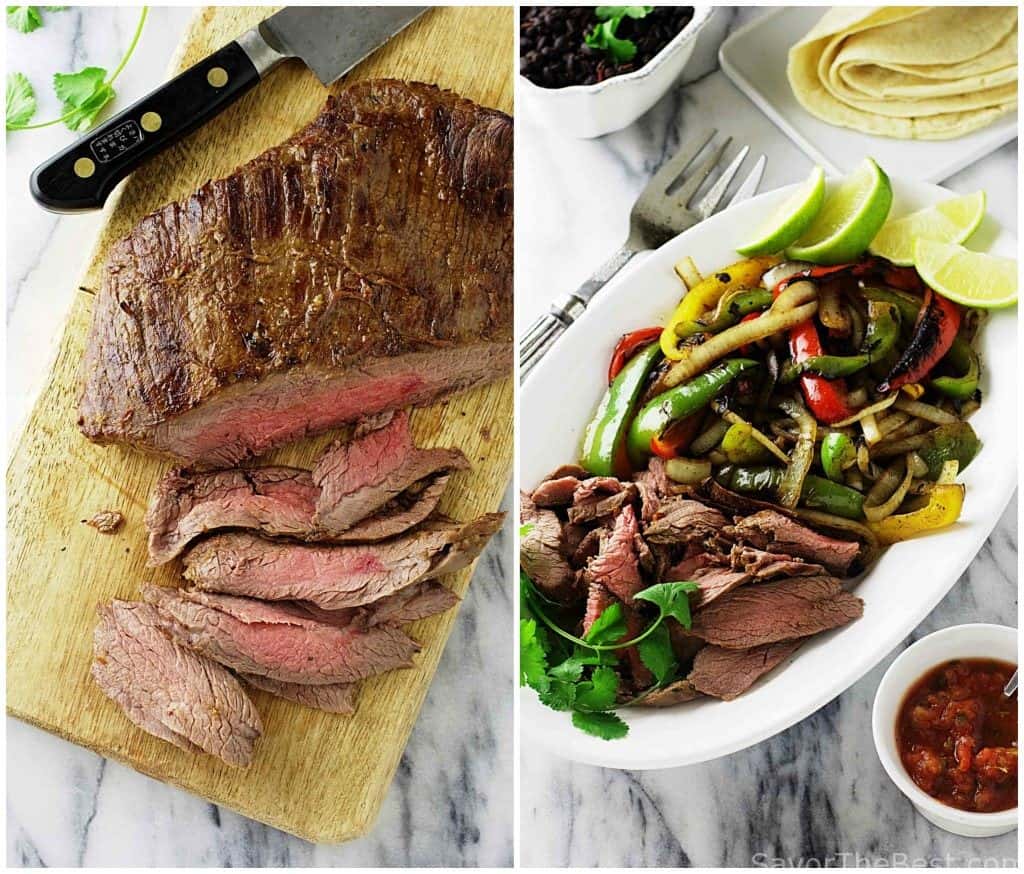 You can make an entire meal with these fajitas, the marinade with the steak can be made in advance, then it is just a matter of slicing and cooking the veggies, broiling or grilling and slicing the meat and heating the tortillas.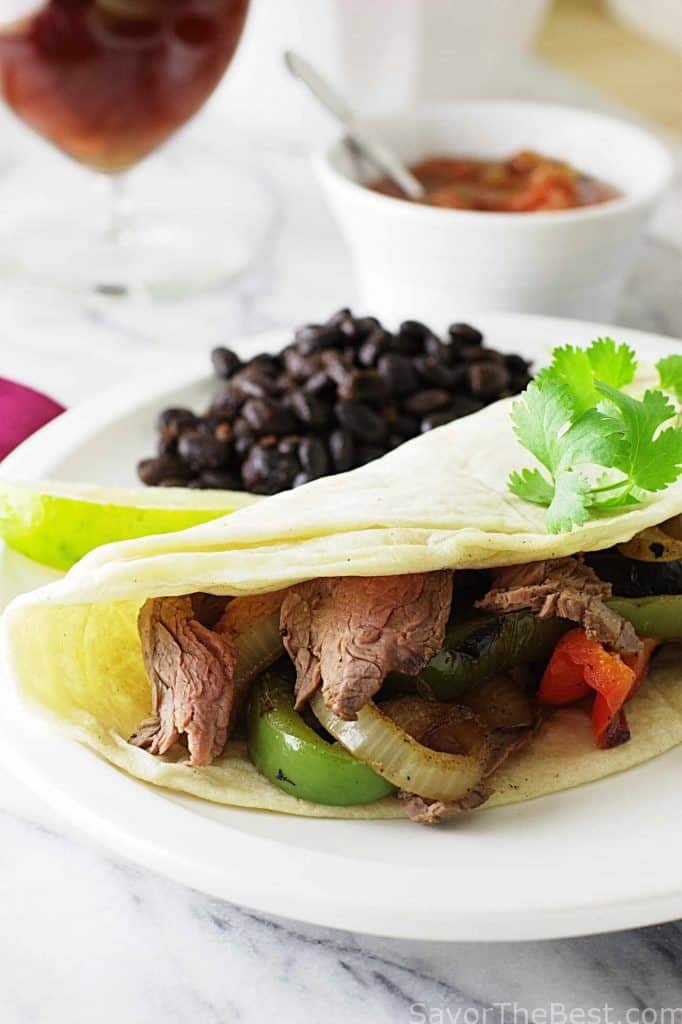 When ready to serve, set out an array of small dishes filled with toppers for the fajitas. We used wedges of fresh lime, sour cream, spicy salsa, Cotija cheese crumbles and cilantro. You could also provide avocado slices or guacamole, sliced olives, jalepeno peppers or whatever you can dream up. Anything goes here. 🙂
Check out these recipes: Chipotle Pulled Pork, Tex-Mex Fish Tacos with Chipotle Slaw Kamut Flour Tortillas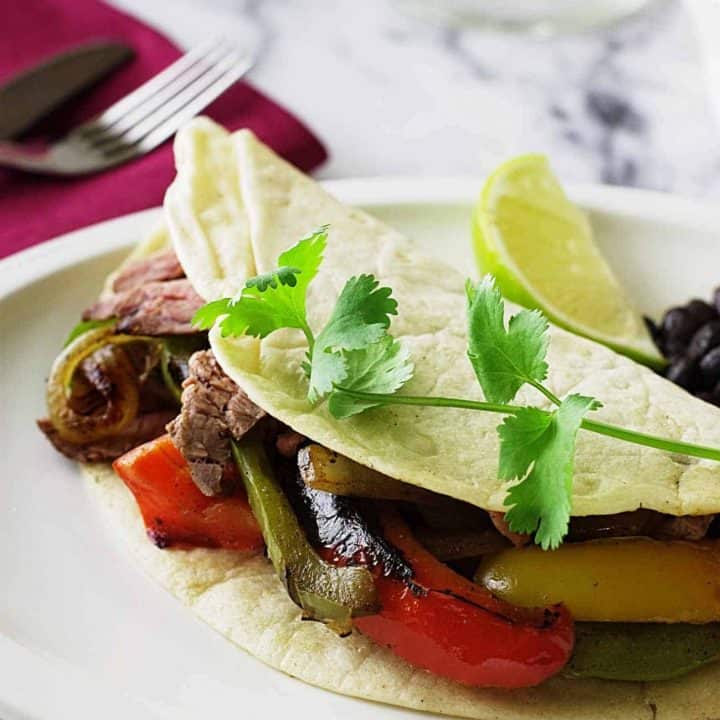 Flank Steak Fajitas
Flank steak fajitas made with a beer-lime marinade is tender and so flavorful. Sautéed onions and colorful strips of bell pepper are stuffed into flour tortillas and topped with sour cream, cheese and salsa.
Ingredients
For the Marinade:
1 bottle of beer, your choice
1 cup fresh cilantro leaves, divided
1/2 cup fresh lime juice
1/2 cup vegetable oil
2 Chipotle peppers
6 cloves garlic, grated
2 tablespoons honey
1 tablespoon cumin
1/2 teaspoon sea salt
1/4 teaspoon black pepper
2 pounds flank steaks
1 tablespoon olive oil
For the Sautéed Vegetables:
2 tablespoons olive oil
1 large onion, sliced
1 red bell pepper, sliced
1 orange bell pepper, sliced
1 yellow bell pepper, sliced
1 green bell pepper, sliced
For Assembling:
12 flour tortillas
Optional Add-in:
Fresh cilantro sprigs
Sour Cream
Spicy Salsa
Cotija cheese
Lime wedges
Instructions
Add the beer, half of the cilantro leaves, lime juice, oil, chipotle peppers, garlic, honey, cumin salt and pepper to a food processor or blender and process until ingredients are finely chopped. Place steak in a shallow dish and pour the marinade over the steak. Cover with plastic wrap and refrigerate for at least 4 hours, turning the steak occasionally.
Preheat the broiler for 5 minutes.. Remove the flank steak from the marinade and blot dry with a paper towel, brush lightly with olive oil on both sides. Place the steak on a baking sheet and transfer to the upper rack of the oven about 4-inches from the broiler unit. Broil for 6-8 minutes, flip and broil for 4-6 additional minutes for medium rare. If you want the steak to be medium or well done, add an additional 2 to 4 minutes of cook time. Transfer the broiled steak to a cutting board, cover to rest while cooking the vegetables.
In a large skillet heat the oil, add the onion and cook for about 1 minute; add the sliced peppers and cook until tender and crisp. Add the remaining 1/2 cup of the cilantro leaves and toss with the vegetables. Transfer to a serving platter. Thinly slice the flank steak and add to the platter with the vegetables.
Serve with warm tortillas, lime wedges, sour cream, salsa, Cotija cheese and cilantro sprigs.
Notes
Nutrition values do not include the marinade or optional add-in items.
Nutrition Information:
Yield:

12
Serving Size:

1
Amount Per Serving:
Calories:

383
Total Fat:

18g
Sodium:

396mg
Carbohydrates:

28g
Sugar:

2g
Protein:

25g