Oh, Yum! Tex-Mex fish tacos with chipotle slaw is what's for dinner tonight! There should be a blue-ribbon award for the person that started the fish taco craze as they are addictive and have replaced the ordinary fat-filled beef tacos in my life.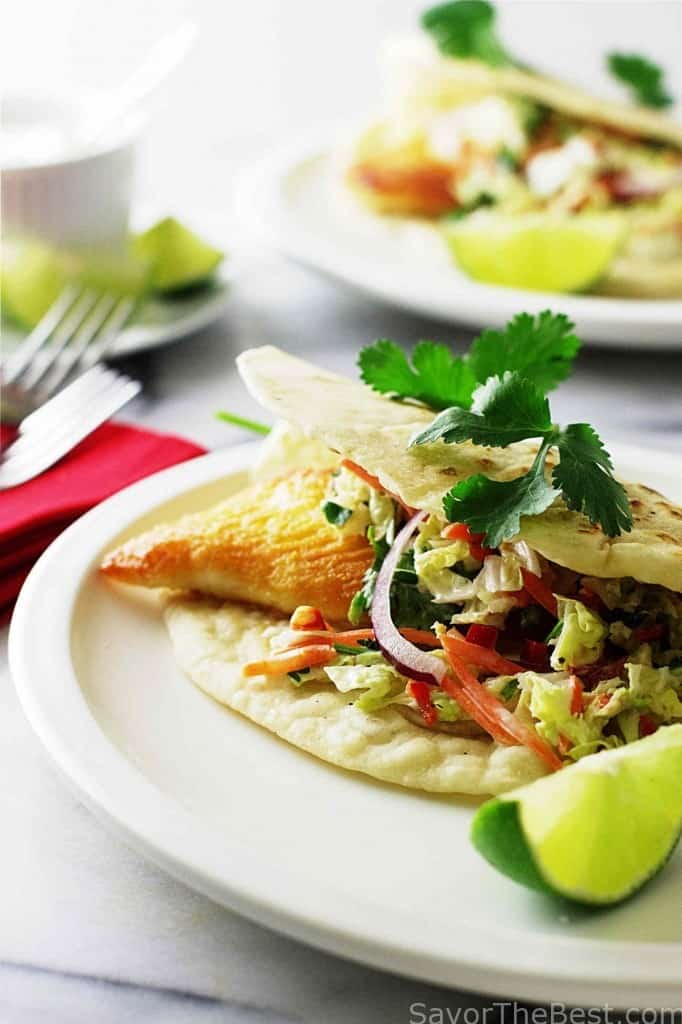 Fish of some sort makes it to our table two or three times a week in one form or another and fish tacos are a good choice. They are fast to put together, filling and delicious wrapped with a warm tortilla. This recipe for Tex-Mex fish tacos with chipotle slaw is just too delicious not to share with you. Tilapia is the fish of choice in this recipe but feel free to try other kinds of firm fish. Cod works well as does hake. I have not used salmon for tacos but, why not?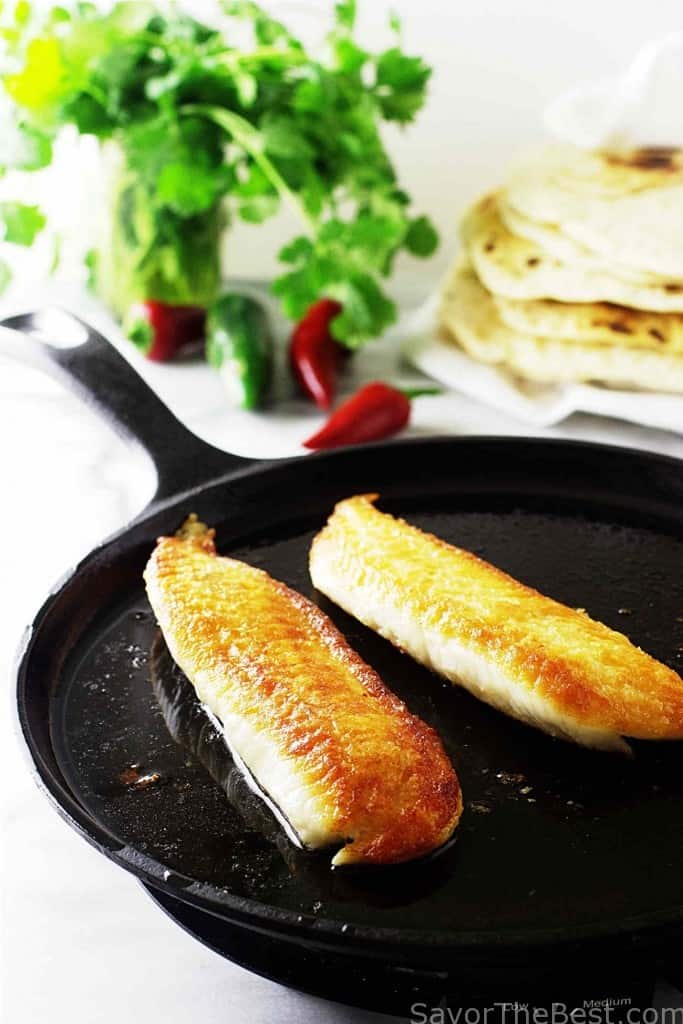 Tex-Mex Fish Tacos with Chipotle Slaw For Dinner:
It takes a good five minutes and a lot of patience when it comes to getting golden brown, crusty fish. If you try to flip the fillet before it is ready it will stick and tear to pieces. Patience is not one of my virtues, I have to force myself not to flip it too soon. I poke it and prod it to see if it is releasing it's grip on the skillet, until finally, I win and it flips over and is perfectly crispy. Yes!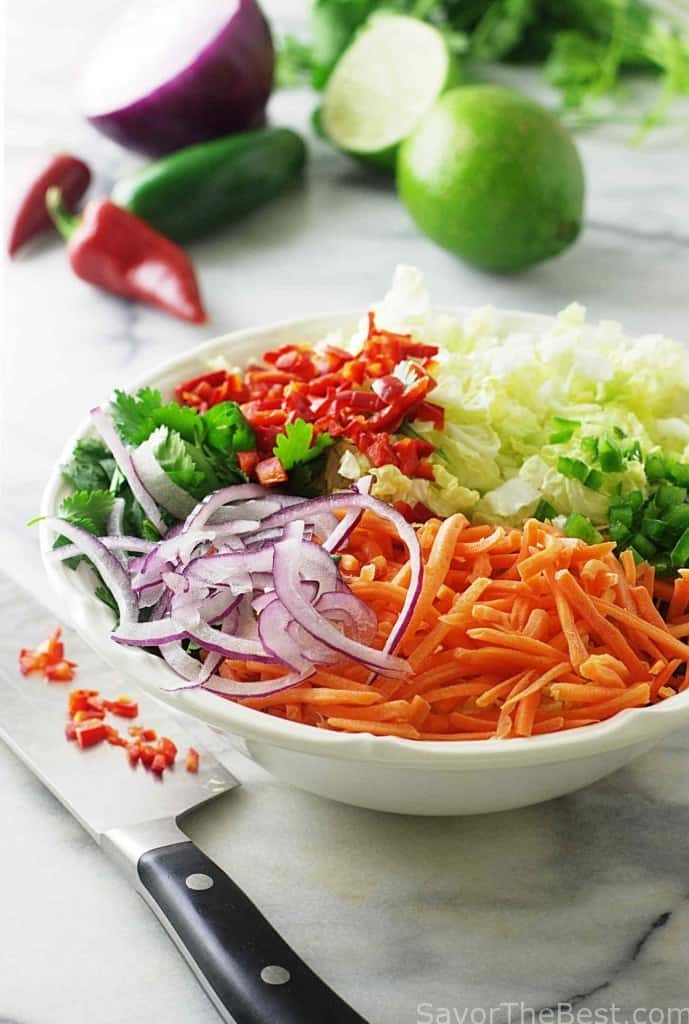 Let me tell you about these fish tacos! The fish is crispy and flakey, the slaw has a lot of crunch from the cabbage, carrots and onions with flavor from the peppers and cilantro. But that slaw dressing! WooHoo!
Spicy Fish Tacos: Make it as Spicy as you Like.
The mashed chipotle pepper is powerful and my suggestion is to add it cautiously. Just add a little at a time to your taste preference, you don't want it to blow your head off with too much heat. Also, it is important to not add too much of the dressing to the slaw ingredients making it sloppy wet, just enough to bind things together. Reserve part of the dressing to add when assembling the tacos.
Use store-bought tortillas or make your own.
I used homemade Kamut® flour tortillas that I rolled a little on the thicker side so everything would be contained inside it without breaking through. When assembling the tacos, first spread a thin portion of the dressing on what will be the bottom half of the tortilla. Next, add a fish fillet and a portion of the slaw, squeeze on a lime wedge, fold it up and chow down! Delicious!
These Tex-Mex fish tacos with chipotle slaw are fast becoming my favorite! They will be on our table for the Cinco de Mayo feasting, along with a really cold beer.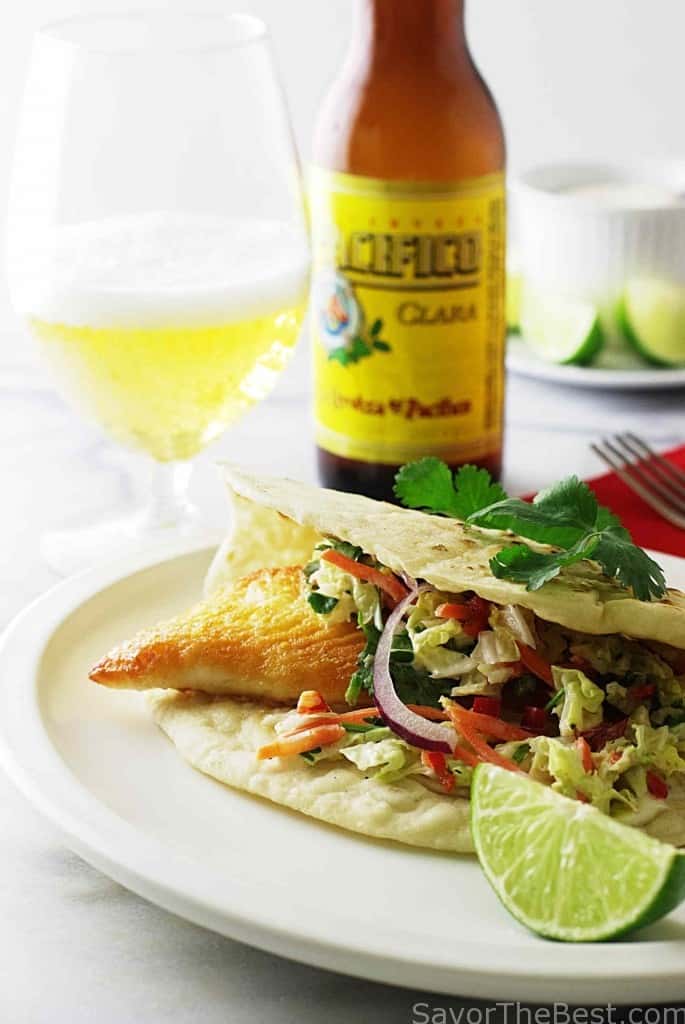 More ideas for Cinco de Mayo: Kamut® Chip Spicy Nachos, Red Snapper Veracruz Chicken Relleno Casserole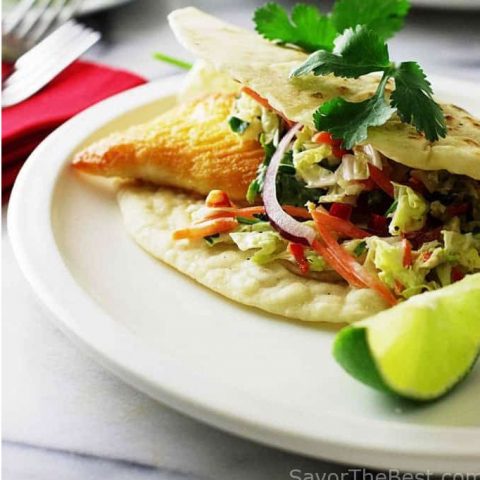 Tex-Mex Fish Tacos with Chipotle Slaw
Yield: 4 servings
Prep Time: 15 minutes
Cook Time: 10 minutes
Total Time: 25 minutes
Tex-Mex fish tacos with chipotle slaw in a warm tortilla. The fish is crisp and flakey, the slaw is crunchy with chopped cabbage, carrot, onion, jalepeno peppers and cilantro. The slaw is mixed with a spicy chipotle dressing that enhances all the flavors
Ingredients
For the Slaw
2 cups finely shredded Chinese Napa cabbage
1/2 cup shredded carrots
1/2 cup chopped red onion
1/2 red bell pepper, stemmed, seeded and chopped
1/2 jalepeno pepper, stemmed, seeded and finely chopped
1/4 cup chopped cilantro
For the Slaw Dressing
1 cup mayonnaise
1/2 cup sour cream
4 tablespoons fresh lime juice (1 fresh lime)
1/4 teaspoon sea salt
Pinch of freshly ground white pepper
1 canned chipotle pepper, mashed
For the Tilapia:
4 Tilapia fillets of 4-5 ounces each
Salt and Pepper
2 tablespoons olive oil
To Assemble:
4 flour tortillas
Fresh cilantro sprigs
Fresh lime quarters
Instructions
Add the shredded cabbage, carrots, onion, peppers and cilantro to a medium-size mixing bowl.
In a separate dish, whisk together the mayonnaise, sour cream, lime juice, salt, pepper and chipotle.
Mix a few tablespoons of the dressing with the cabbage mixture, adding additional dressing a tablespoon at a time just to moisten the ingredients, being careful to not make it sloppy wet. Reserve the remaining dressing in a dish. Set the slaw aside while cooking the fish.
To cook the Tilapia:
Season the fish with salt and pepper. In a skillet or griddle, set over medium heat, add the oil and when it is hot but not smoking, add the fish and cook for 2-3 minutes per side, until golden brown. It may be necessary to cook the fish in two batches for easy flipping. As the fish is cooked, transfer to a plate lined with paper towels to absorb any oil.
To assemble the tacos:
Warm the tortillas in the skillet or microwave, place one tortilla on each of four plates, a teaspoon of the reserved chipotle sauce to the bottom half of the tortilla. Place a fish fillet on the sauced portion of the tortilla and add 1/2 cup of the slaw over the top of the fish, spreading it out. Garnish the taco with sprigs of cilantro and add fresh lime wedges to the plate. Pass the dish of reserved dressing to be added as needed.
Notes
Add the fish to the skillet and do not touch them, be patient as when a crust forms they will release from the skillet and you can flip them over and cook for another three (3) minutes.----
Nutrition value includes 1/2 cup of the slaw dressing
Nutrition Information:
Yield: 4
Serving Size: 1 taco
Amount Per Serving:
Calories: 425
Total Fat: 15g
Sodium: 408mg
Carbohydrates: 42g
Fiber: 5g
Protein: 29g