Our chicken taco pizza recipe is a unique fusion of Mexican flavors in an Italian-inspired dish. You can never go wrong with a pepperoni pizza, but this Mexican chicken pizza is a great way to mix things up.
With juicy seasoned chicken taco meat and a Mexican-inspired pizza sauce, this taco pizza is a hit.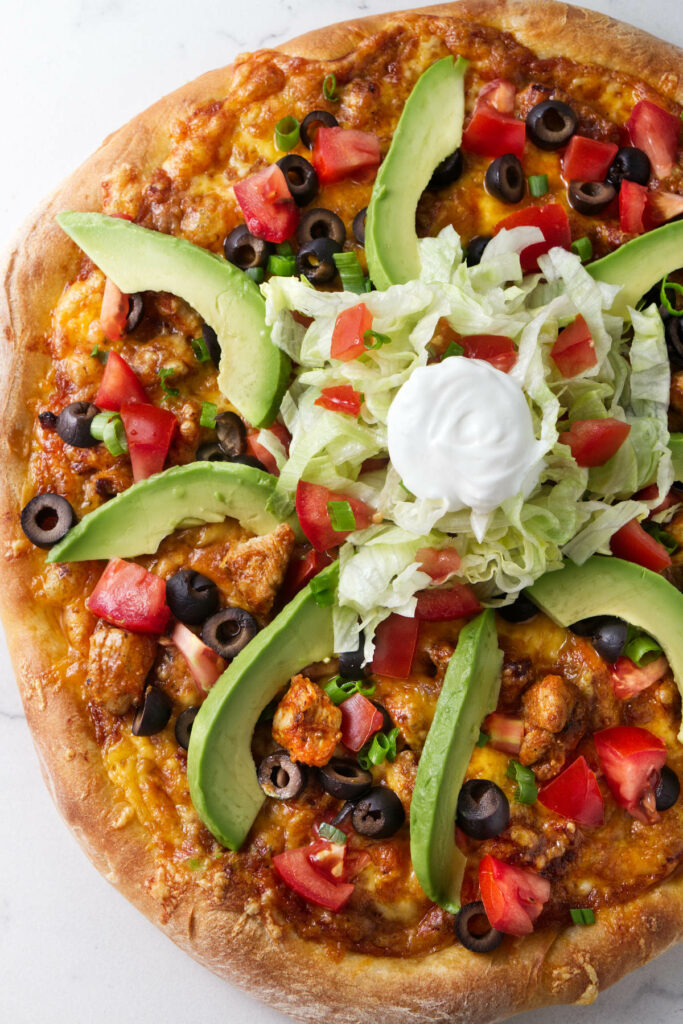 If you have time to make homemade pizza dough, just do it. A good dough makes all the difference when it comes to homemade pizzas. Learn how to make our fast pizza dough recipe. You only need six ingredients, and the dough rises in just ten minutes. It couldn't be easier. Or if you have an outdoor pizza oven, make our ooni pizza dough.
If you want to change things up a bit try our sourdough pizza dough or our einkorn pizza dough.
Why This Recipe Works
We love this unique take on pizza. Picture all the fixings for a regular taco night, replacing the ground beef with shredded chicken.

If all those flavors work so well rolled up in a taco, there's no reason they wouldn't also work on a pizza.

We combined refried beans and spicy taco sauce to make a pizza sauce that complements the Mexican flavors.

Taco seasoning (storebought or homemade) and all the taco fixings make this recipe a great twist on a favorite classic.

Customize it to your liking – add your favorite toppings, switch up the sauce, or use a different type of cheese.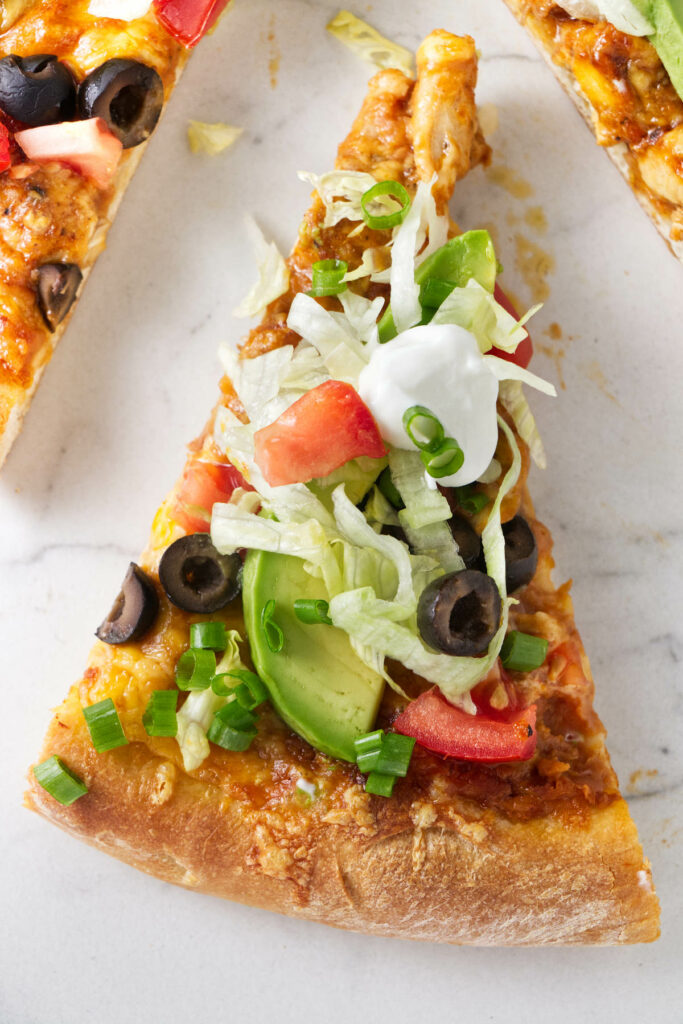 Ingredients Needed
Here is a list of the ingredients you will need for this chicken taco pizza. Scroll down to the printable recipe card for all the details.
Pizza dough – A must-have for homemade pizza. It can be storebought or homemade.
Chicken breasts – We started with raw chicken but you can use leftover roasted chicken or baked chicken quarters.
Taco seasoning – It is easy to make your own blend if you don't have a store-bought brand.
Taco or enchilada sauce – Further enhancing the Mexican flavor profile. You can also use mole sauce.
Refried beans – Makes a thick, Mexican-style pizza sauce. If you want to make your own, our recipe for Instant pot refried beans is easy.
Cheese – No pizza is complete without cheese. We used Monterey Jack but any good melty cheese will work.
Lettuce – What taco isn't complete without crunchy lettuce?
Tomatoes – Diced up finely so you can scatter it over the top when the pizza is finished cooking.
Black olives – Adds a salty, briny flavor.
Avocado – Gives a creamy, rich texture to the pizza.
Green onions – You can substitute with a diced yellow onion if you like.
Salsa and sour cream – These toppings are perfect with just about any Mexican dish.
How to Make the Pizza
Here is a brief overview to get an idea of what to expect with the recipe. Scroll down to the printable recipe card for all the details.
We started with raw chicken breasts and cooked them in a taco seasoning blend. If you want to take a shortcut, you can use leftover chicken and shred it. A rotisserie chicken works great as well.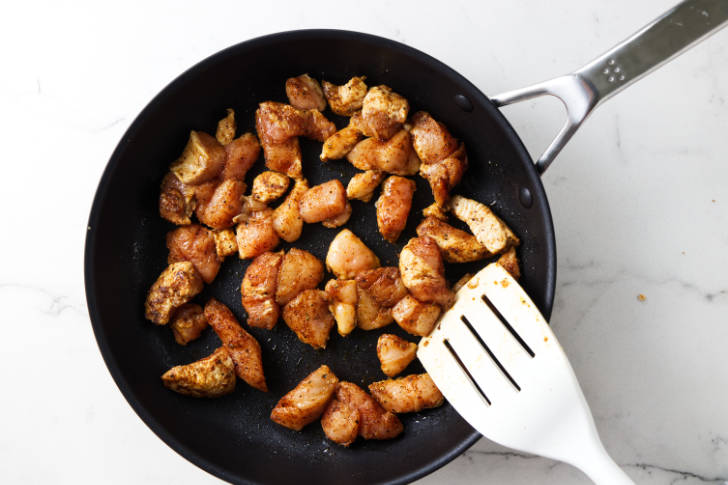 Slice the chicken into bite-size pieces and season it with taco seasoning. Saute in a skillet until browned.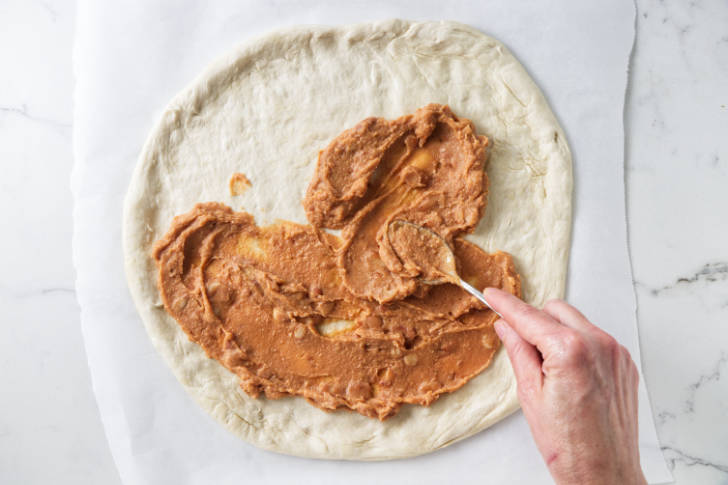 Combine the refried beans and the taco sauce (or enchilada sauce), then spread it on the dough.
If you don't like refried beans you can use just the taco sauce as the pizza sauce.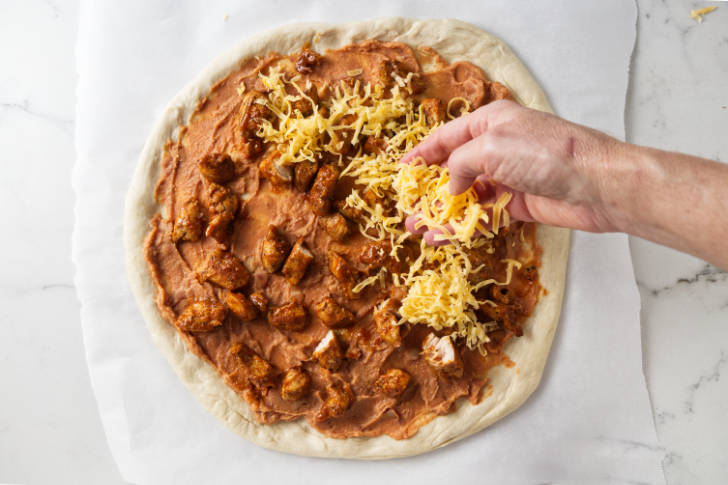 Top the pizza with the cooked chicken and shredded cheese. Bake until the crust is brown and the cheese is bubbly.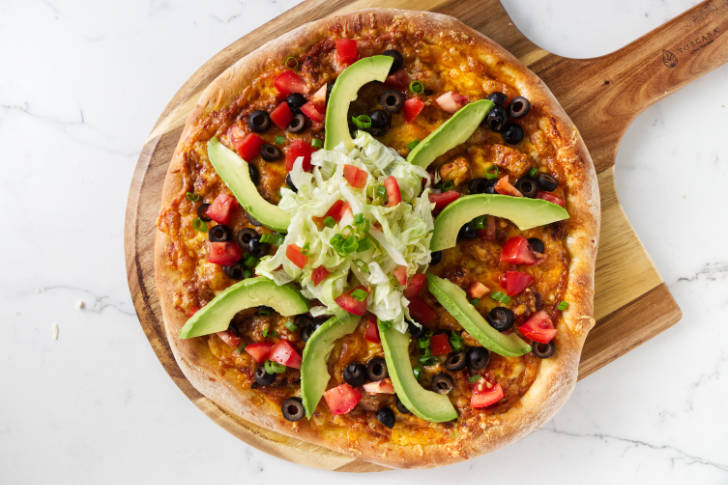 Remove the pizza from the oven and add all the taco fixings. Serve with dollops of sour cream and salsa.
Tips for success
Shape the homemade dough into two 12-inch pizzas, placing them on parchment paper for easy transfer onto a pizza stone or pan.

Alternatively, spread the dough onto a single sheet pan to make one large pan pizza.

Cook the chicken before adding it to the pizza. The thin crust pizza does not cook long enough to thoroughly cook raw chicken.

For an alternative pizza sauce, use our white pizza sauce.

If you make thicker pizza crust, you will need to increase the baking time.
Frequently Asked Questions
What is taco sauce?
Taco sauce is a condiment that is frequently used on tacos. It is a spicy red sauce similar to enchilada sauce but it is a bit thicker. You can find it in the Mexican section in the grocery store, near the salsa and enchilada sauce.
Can I use salsa instead of taco sauce?
Sure. This recipe is pretty versatile. Salsa or pico de Gallo work just fine.
Helpful Tools
Some of the following are affiliate links. If you click on these links and purchase something, we may receive a small commission. You don't pay any extra but it will help us keep the lights on.
Some Other Recipes We Are Sure You Will Love:
After making our chicken taco pizza, this buffalo chicken pizza is another fun recipe to try. The homemade buffalo sauce brings it all together.
Our sausage onion pizza or chicken spinach pizza are more great recipes for you to try at home.
If you're in the mood for a taco night, try our blackened shrimp taco or Tex-Mex fish taco recipes. Lastly, our taco baked potatoes and taco salad tortilla bowls are perfect ways to use leftover beef taco meat.
Connect With Savor the Best:
Please follow us on our social media accounts
Facebook * Instagram * Pinterest * Youtube * Twitter
Did you make this recipe? We would love to hear from you. Drop us a comment below.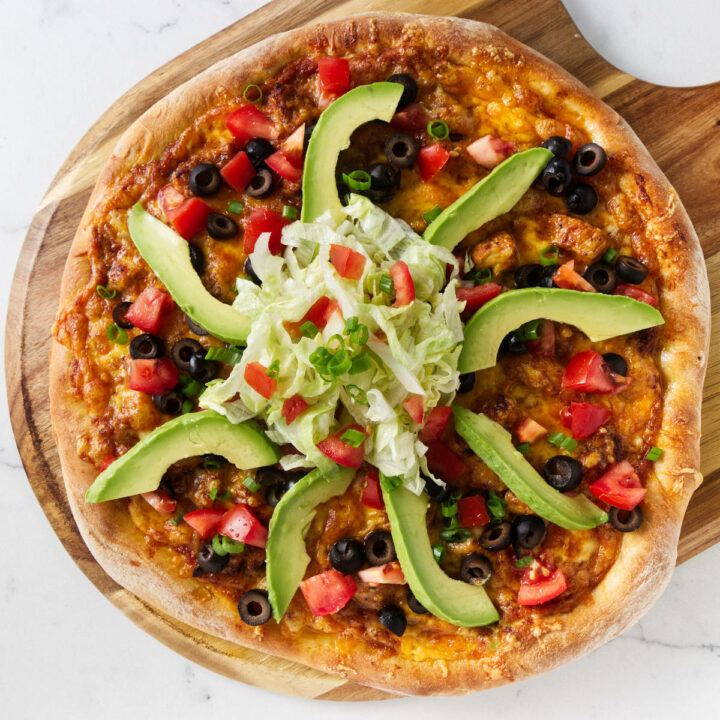 Chicken Taco Pizza
This chicken taco pizza is a simple recipe that comes together quickly, and it's always a hit with the family. The combination of seasoned chicken, spicy bean sauce, and gooey cheese is irresistible. The best part is that you can easily customize it to your liking – add your favorite toppings, switch up the sauce, or use a different type of cheese.
Ingredients
2 pounds pizza dough (homemade or store-bought)
2 boneless chicken breasts
2 tablespoons olive oil, divided
2 tablespoons taco seasoning
2/3 cup taco or enchilada sauce
1 can (15 ounces) refried beans, (or 1-1/2 cups homemade)
3 cups shredded cheese (Cheddar, Monterey Jack, or a blend)
1/2 head of lettuce, shredded
2 tomatoes, diced
1/2 cup sliced black olives
1 avocado, sliced
4 green onions, sliced
1/4 cup salsa
1/4 cup sour cream
Instructions
If you are making homemade pizza dough, prepare the dough and shape it into two 12-inch circles. It is helpful to put the pizza dough on some parchment paper. The parchment paper will make it easier to transfer the pizza. Alternatively, spread the dough in a full-sized sheet pan.
Pre-heat the oven to 475°F. (See below if you have an outdoor pizza oven).
Dice the chicken into bite-size pieces and coat them in 1 tablespoon of olive oil. Toss the chicken with taco seasoning until well coated.
Heat a tablespoon of olive oil in a large skillet over medium-high heat. Add the chicken and cook until lightly brown, about 5 to 8 minutes.
Scoop the refried beans into a bowl and add the taco sauce or enchilada sauce. Stir until well blended. Spread the beans over the pizza dough leaving a 1-inch border. If you don't care for refried beans, omit it and spread the taco sauce on the dough
Scatter the cooked chicken over the beans then sprinkle with cheese.
Slide the pizza into the oven and bake for 12 to 18 minutes or until the crust is brown and the cheese is bubbly. (Refer to the notes below if you have an outdoor pizza oven).
Top the pizza with crisp lettuce, tomatoes, olives, avocado slices, and green onions.
Serve with salsa and sour cream.
Notes
Bake one pizza at a time for even cooking.
If you use the pizza dough to make smaller pizzas with a thicker crust, you will need to increase the baking time.
If you want to cook the pizzas in an outdoor pizza oven like an Ooni, make four small thin-crust pizzas. Heat the pizza oven to 750°F to 850°F and bake the pizzas for 2 to 3 minutes, turning every 30 seconds for even cooking.
We spread the pizza dough out on a sheet of parchment paper and then assemble the pizza. You can slide a pizza peel under the parchment and transfer it directly into the oven.
If you cook the pizza in an outdoor pizza oven, do not put the parchment paper in the oven. Outdoor pizza ovens get too hot for parchment paper.
Nutrition Information:
Yield:

16
Serving Size:

1
Amount Per Serving:
Calories:

345
Total Fat:

16g
Saturated Fat:

6g
Trans Fat:

0g
Unsaturated Fat:

9g
Cholesterol:

38mg
Sodium:

633mg
Carbohydrates:

35g
Fiber:

4g
Sugar:

4g
Protein:

15g
Nutrition information is a guideline only, is calculated automatically by third-party software, and absolute accuracy is not guaranteed.