This New Mexico red chile sauce is a delicious and authentic Mexican sauce for meat, vegetables, or recipes like enchiladas. This simple sauce starts with dried chile peppers, similar to mole sauce, but it is much easier to make.
Use it as an enchilada sauce or a tamale sauce. It makes the best sauce for tamale filling when mixed with pulled pork or shredded beef. If you are looking for an easy way to add some spice to your next meal, give this red tamale sauce a try!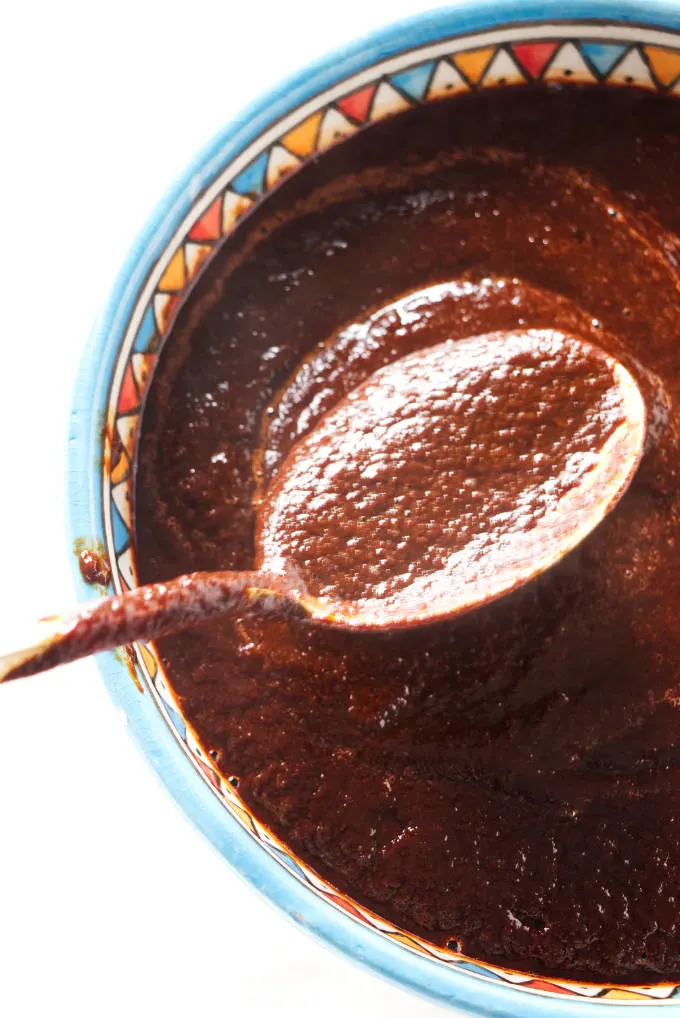 You can add this sauce to the meat mixture in taco salads, smother it over enchiladas, spice up a chile Relleno casserole, and chimichangas, or add it to our Mexican cornbread casserole. It will add an authentic Mexican flavor to anything you make.
Here is Why This Recipe Works
A blend of different dried chile peppers adds complexity and depth of flavor.

Soaking the chile peppers in water will draw out any bitterness from the peppers.

The sauce is mildly spicy, yet you can adjust the seasonings if you prefer a spicier sauce.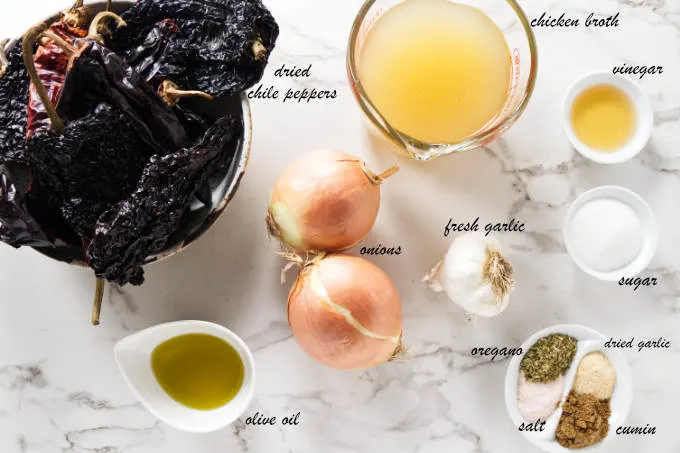 Ingredients for Homemade Enchilada Sauce
Here is a list of the ingredients you will need for this recipe. Scroll down to the printable recipe card for all the details.
Dried chile peppers. We used ancho and guajillo chiles.

Boiling water. The boiling water for soaking the chile peppers to get the bitterness out. You will toss the water out after you soak the chiles.

Chicken broth. We use chicken broth for extra flavor, but use vegetable broth if you want a vegetarian chile sauce.

Onions and fresh garlic.

Cumin powder. If you purchase whole cumin seeds, toast them before you grind them. Otherwise, toast it with the rest of the grounds spices.

Garlic powder. Garlic powder and fresh garlic give this sauce extra depth of flavor.

Dried oregano

Sugar. The sugar does not make the sauce sweet. It enhances the flavors in the chile peppers and balances any bitterness that they can have.

Apple cider vinegar. The vinegar will brighten the flavor and makes this recipe taste like an authentic Mexican red chile sauce.
If you like extra spicy enchilada sauce, you can add chile powder. Taste the sauce first, then adjust the heat with extra seasoning.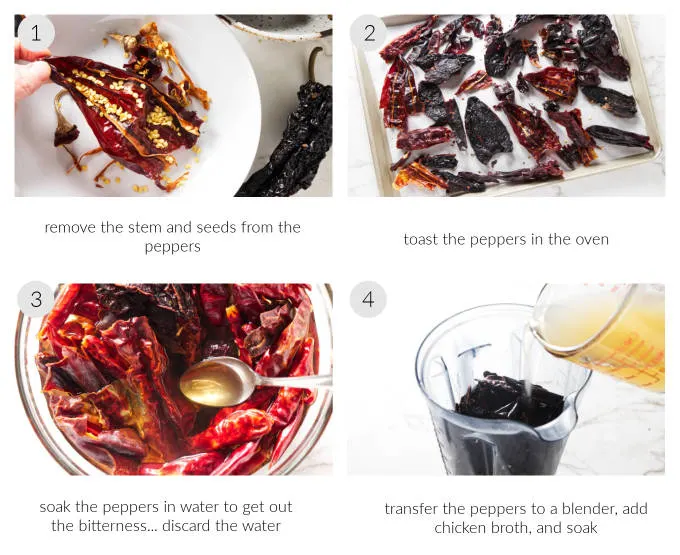 How to Make It
Here is a brief overview to so you can see how easy it is to make an authentic Mexican red chile sauce. Scroll down to the printable recipe card for all the details.
Remove the stem and seeds from the chile peppers.
Bake the peppers in the oven until lightly toasted.
Soak the chile peppers in hot water to draw out any bitterness, then drain the water.
Place the chile peppers and hot broth in a blender.
Saute the onions, garlic, and spices, then add them to the blender and puree well.
Taste and season as desired.
For some more ideas, use the red chile sauce for tamales, our enchilada casserole, roasted pork shoulder, or chicken. You can cook frozen chicken breast in the Instant Pot then shred the chicken and stir this spicy red sauce into the chicken. It makes a fast dinner when you forget to thaw meat in advance.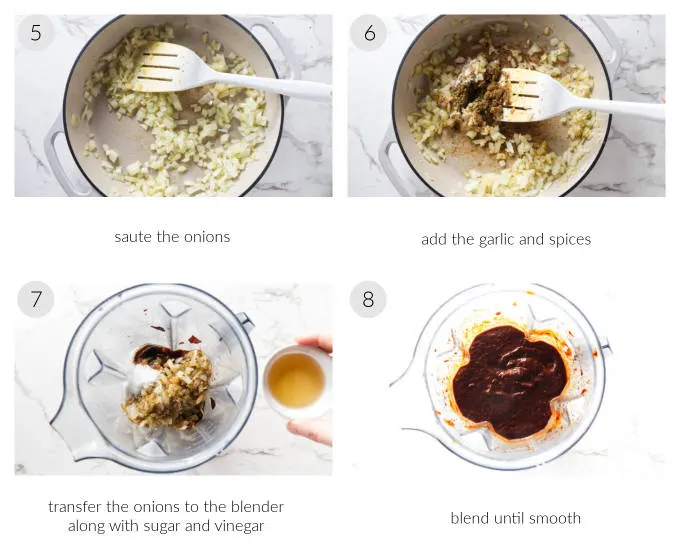 More Condiment Recipes
Tips for Success
Dried chile peppers can sometimes have a bitter after-taste. Soaking them in hot water helps draw out the bitterness. If the soaking water tastes exceptionally bitter, drain the water and soak the chiles a second time.

Don't toast the chile peppers too long, or it can enhance the bitter flavor.

For a smoother sauce, strain it through a fine-mesh strainer. You may not need to strain the sauce if you have a high-speed blender.

If you want a thicker sauce, cook it on the stovetop until it reduces and thickens.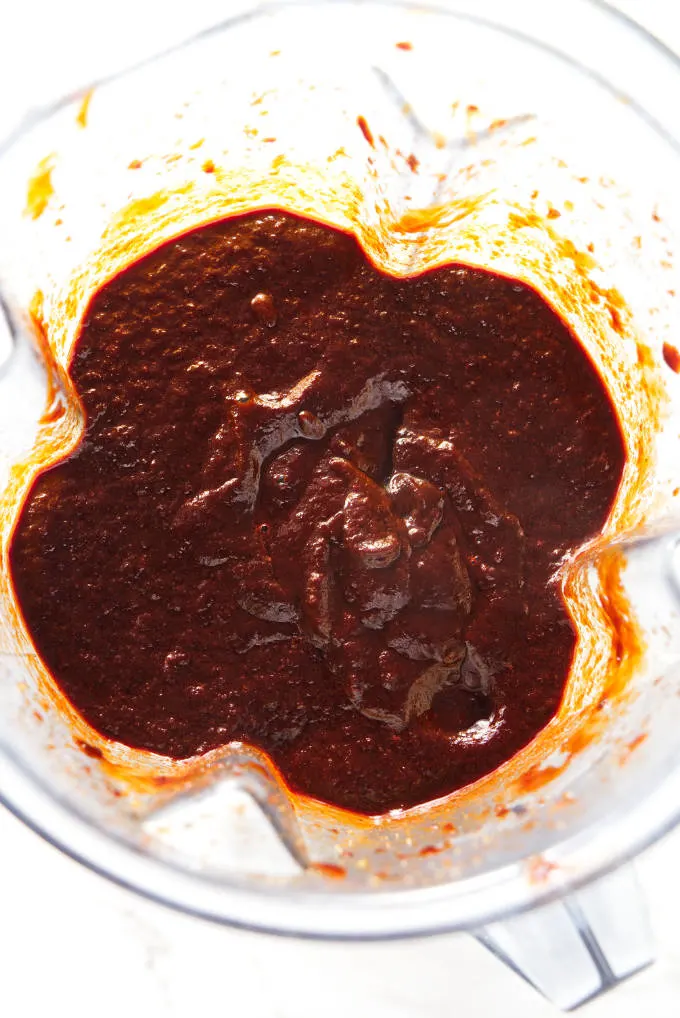 Frequently Asked Questions
Is there a difference between enchilada sauce and tamale sauce?
The two sauces are very similar and you can use them interchangeably. Sometimes enchilada sauce has tomatoes or tomato sauce added to the recipe. This red chile sauce is versatile and you can add tomatoes, extra chile powder, or additional seasonings.
How can I make this sauce less spicy?
If the chile sauce is too spicy for you, add some heavy cream. The cream will mellow the spiciness and make it extra delicious.
How can I make the sauce thicker?
Cook the sauce on the stovetop until it reduces a bit. The more you reduce the sauce, the thicker it will get.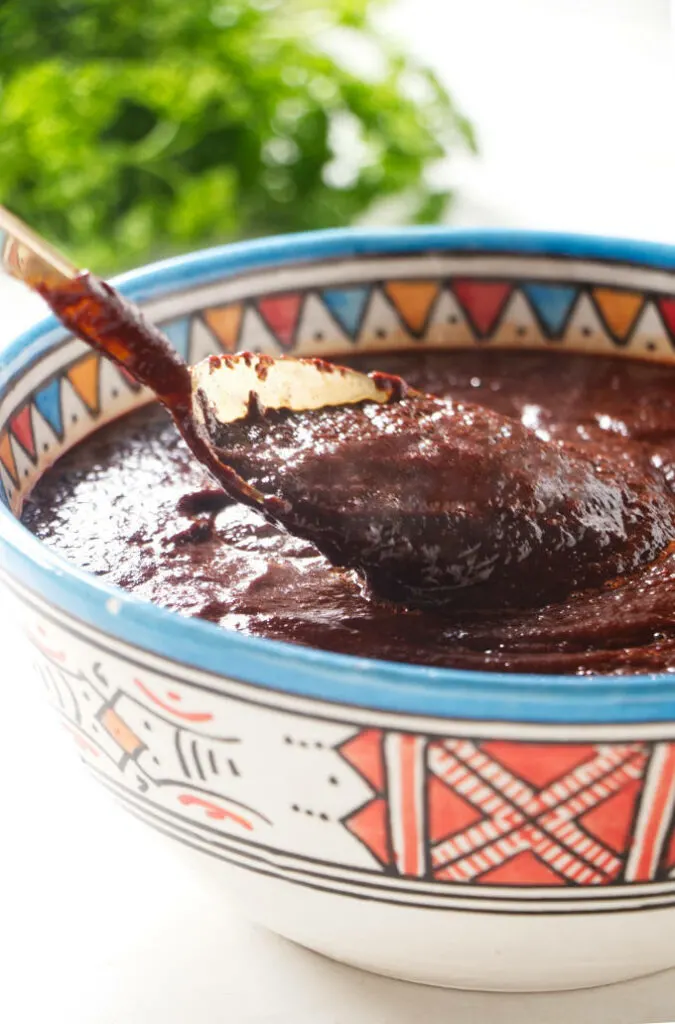 Helpful Tools
Some of the following are affiliate links. If you click on these links and purchase something, we may receive a small commission. You don't pay any extra but it will help us keep the lights on.
Some Other Recipes We Are Sure You Will Love:
Use this red tamale sauce in our chipotle pork tamale pie or salsa verde tamale pie for an extra layer of flavor. The sauce blends well with salsa verde or the smokiness of chipotle peppers.
You can use our raspberry chipotle sauce as a flavorful glaze or sauce. It will make the most delectable chicken, ribs, or pork chops. You can also use it as a dip for chicken tenders.
Our quinoa and black bean casserole is a quick and easy dinner that is perfect for busy weeknights. Top it off with our Chipotle corn salsa for extra crunch.
Connect With Savor the Best:
Please follow us on our social media accounts
Facebook * Instagram * Pinterest * Youtube * Twitter
Did you make this recipe? We would love to hear from you. Drop us a comment below.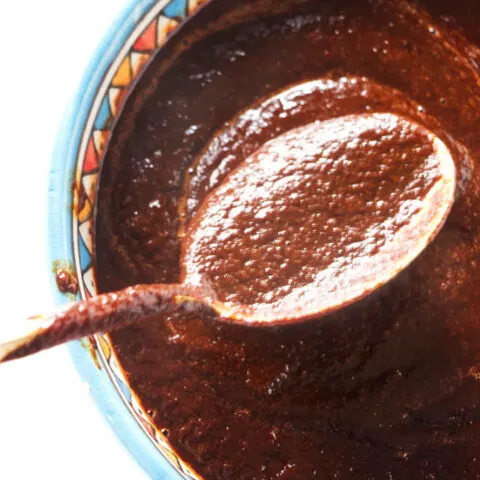 Red Chile Sauce (Enchilada Sauce)
Additional Time:
15 minutes
This New Mexico red chile sauce is a rich, flavorful enchilada sauce that gets its red color from dried red chile peppers. Smother enchiladas, add it to pulled pork or beef for an amazing tamale filling or stir it into rice or soups for an amazing flavor.
Ingredients
6 ounces dried chile peppers (we used ancho and guajillo chiles)
3 to 4 cups boiling water
3-1/2 cups chicken broth, heated
2 tablespoons vegetable oil
2 onions, chopped
8 garlic cloves, minced
2 teaspoons cumin powder
1 teaspoon salt
1 teaspoon garlic powder
1 teaspoon dried oregano
3 tablespoons sugar
2 tablespoons cider vinegar
Optional: 2 teaspoons chile powder
Instructions
Preheat the oven to 350°F.
Remove the stems from the chile peppers. Slice the peppers open and remove the seeds.
Place the dried chiles on a baking sheet and spread them out.
Bake the peppers for 3 to 6 minutes or until they get lightly toasted. Toss the peppers half way through the baking time. Don't toast them too long or they will develop a bitter flavor.
Transfer the chile peppers to a large bowl and pour boiling water over them. Let them soak for 10 to 15 minutes. Soaking the peppers in water will draw out any bitterness that may be in the peppers.
Drain the water from the peppers and transfer them to a high-speed blender.
Pour the hot chicken broth over the chiles and let them continue to soak in the broth while you saute the onions.
Heat the oil in a large skillet. Add the onions and cook until soft and translucent. Add the fresh garlic, cumin, salt, garlic powder, and oregano. Cook for 60 seconds or until the spices become fragrant.
Remove from heat and transfer to the blender with the peppers. Add the sugar and vinegar to the blender and puree until smooth.
Taste and season with salt, sugar, or more vinegar if desired. If you want the sauce spicier, add 1 to 2 teaspoons of chile powder.
Use the red chile sauce for tamales, enchiladas, pulled pork, or shredded beef.
Notes
Dried chile peppers can have a bitter flavor. The bitterness will range from batch to batch but soaking them in water (and discarding the water) will draw out the bitter flavor. If the soaking water tastes exceptionally bitter, drain the water and soak the chiles a second or third time.
Charring the peppers too much will increase the bitter flavor so just give them a light toast in the oven.
If you end up with a sauce that tastes too bitter you can add a bit more salt, vinegar, and sugar to the finished sauce. You can also add honey or a couple of tablespoons of tomato paste to counteract any bitterness.
If you are not using a high-speed blender, strain the sauce through a sieve to get out any chunks.
If you want a thinner sauce, add more chicken broth. If you want a thicker sauce, pour the sauce into a saucepan and cook over medium heat until reduced and thickened to your liking.
For a spicier sauce, add extra chile powder. If the sauce is too spicy for you, you can make a creamy red chile sauce by adding 1/4 cup to 1/3 cup of heavy cream. The cream will cut the heat and give the sauce a rich, silky flavor.
Nutrition Information:
Yield:

18
Serving Size:

1/4 cup
Amount Per Serving:
Calories:

62
Total Fat:

2g
Saturated Fat:

0g
Trans Fat:

0g
Unsaturated Fat:

2g
Cholesterol:

1mg
Sodium:

236mg
Carbohydrates:

11g
Fiber:

3g
Sugar:

7g
Protein:

1g
Nutrition information is a guideline only, is calculated automatically by third-party software, and absolute accuracy is not guaranteed.