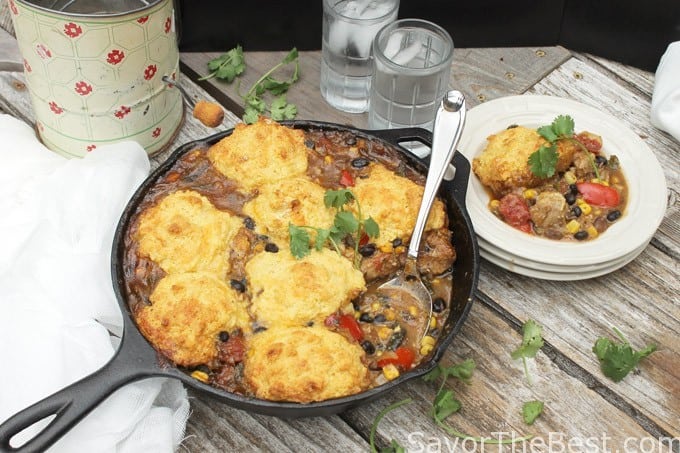 Right now I have a super busy schedule and I just don't have a lot of time for meal preparation. But, I can whip this chipotle-pork skillet dinner together and it is going to be our dinner for several nights and save me a lot of time! Just re-heat and eat, one-pot warm-ups, easy peasy. 🙂
I used a pork tenderloin as it was what I had handy but chops or another cut will work just as well. The filling is made with poblano chiles, red bell pepper, black beans, corn and a few spices including a healthy helping of chipotle.
The final touch is a cornbread-cheddar topping and it is baked to a golden brown.
The chipotle-pork skillet dinner is a complete meal and goes directly from oven to table for serving so it is an easy clean-up as well. I used a cast iron skillet but you could use any deep 10-inch oven proof dish for this recipe.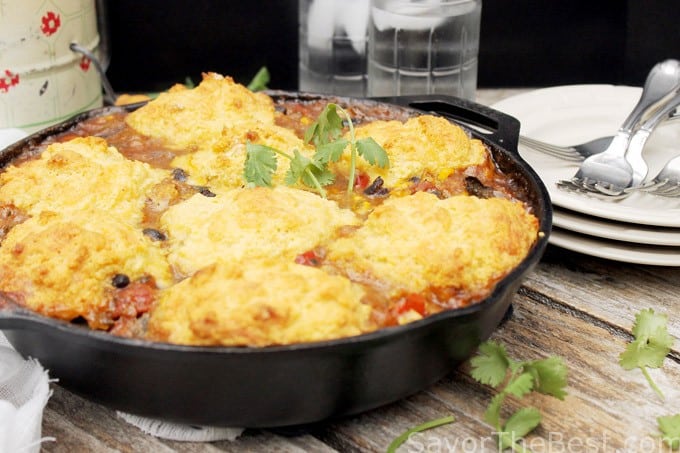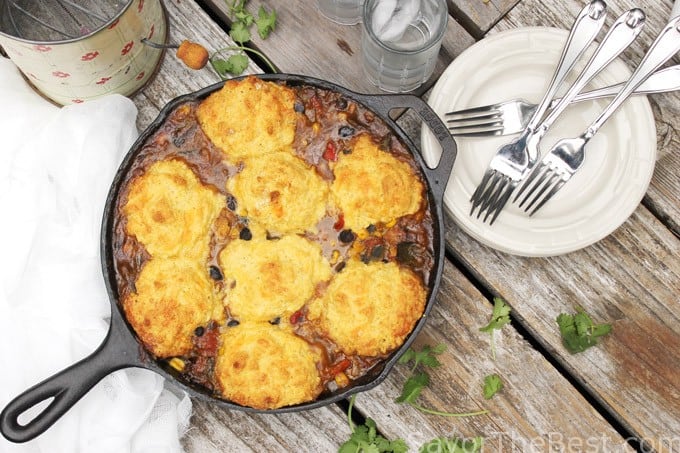 Last weekend Don and I celebrated our 50th wedding anniversary. It was a beautiful day full of love from our friends and family. I am feeling so blessed to have so many loved ones in our lives.
As I was driving home from the grocery store I was thinking back to August 7, 1965 and that exciting day. Don and I drove from Vallejo, California to Reno, Nevada and met up with a small group of family and friends for the big event. On the way, Don's car broke down and we ended up two-plus hours later than we expected.
Everyone was at the hotel waiting and wondering what happened to us. That was long, long before cell phones and texting. There was a big rush to get changed into our 'getting married' clothes and gathering at the little chapel. That was stress, even before the word stress became so well used.
I think I was in a kinda daze during the short ceremony but I do remember Don trying to get the ring on my finger but because of the heat my hands and fingers were swollen and it was a struggle.
His comment to me was "you have a fat finger"…..ha, ha words for a divorce, right? His love and good humor has kept us together through good times, hard times and a few bad times but we made it to the big Five-0. God has been good to us!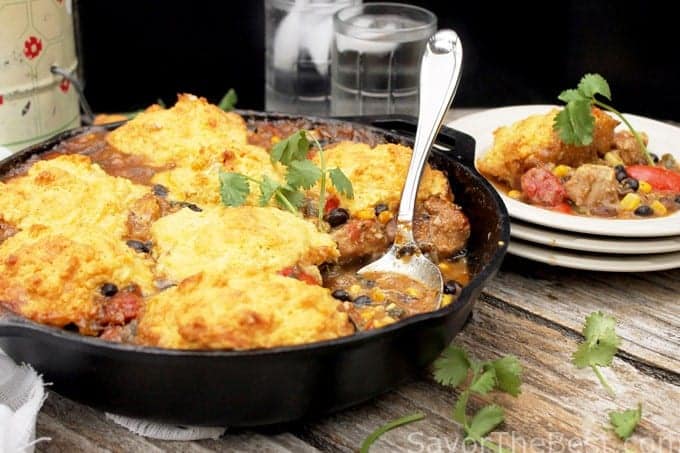 Useful Items for your kitchen: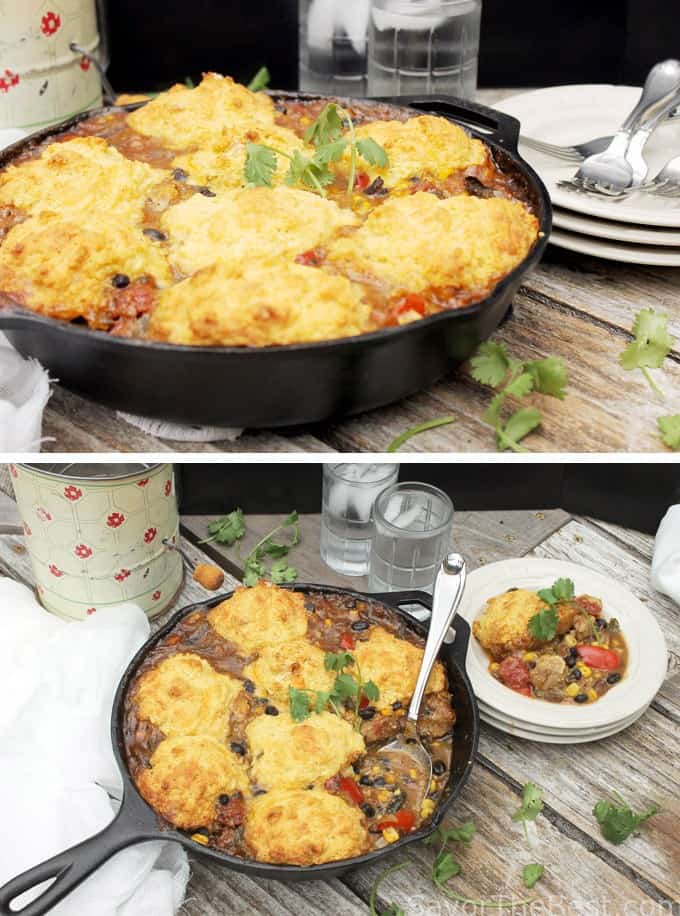 CONNECT WITH SAVOR THE BEST!
Be sure to follow us on our social media accounts
Facebook * Instagram * Pinterest * Twitter * Youtube
Did you make this recipe? We would love to hear from you. Drop us a comment below.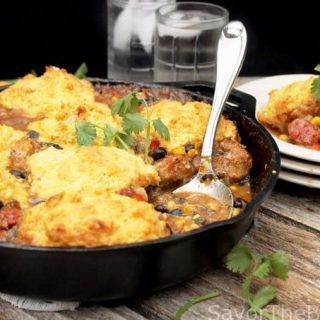 Chipotle Pork Skillet Dinner
Yield: 8 servings
Prep Time: 40 minutes
Cook Time: 20 minutes
Total Time: 1 hour
An easy to prepare skillet dinner of spicy chipotle pork, poblano chilies, corn and black beans. Finished off with a crisp cornbread-cheddar topping.
Ingredients
For the Filling:
1/2 cup flour
1 teaspoon chipotle
1 teaspoon salt
1 pounds pork tenderloin, cut in 1/2-inch cubes 2-4 tablespoons coconut oil
3-4 tablespoons coconut or olive oil (as needed for browning pork cubes)
1 onion, chopped
2 coves garlic, chopped
2 Poblano chilies, roasted, skins and seeds removed and cut into 1/2-inch pieces
1 red bell pepper, core removed, seeded and cut into 1/2 inch pieces
1 cup whole kernel corn, fresh or frozen
1 can (14.5 ounces) black beans, drained and rinsed
1 can (14.5 ounces) diced stewed tomatoes
1 1/2 cups chicken broth
1 teaspoon cumin
1 teaspoon Mexican spice
1/4 cup chopped cilantro (optional)
For the Cornbread Topping:
1/2 cup cornmeal
3/4 cup all-purpose flour
2 tablespoons sugar
1 1/2 teaspoons baking powder
1/2 teaspoon kosher salt
1 cup milk
2 tablespoons oil
1 large egg
1 cup grated cheddar cheese
Instructions
For the Filling:
In a shallow dish or pie plate, add the flour, chipotle, salt and chili powder and stir to combine. Add the pork cubes and toss to coat each piece with the flour mixture.
In a large 10-inch skillet set over medium-high heat, add the oil and when it is hot add one-half of the pork cubes and brown on all sides. Remove to a paper-towel lined plate and proceed with the remainder of the pork cubes. Set aside.
Reduce the heat to medium and in the same skillet, add the onion and cook until the onion is translucent, add the garlic and cook for another minute. Add the chiles and red pepper and cook for 3-5 minutes. Stir in the reserved browned pork cubes, corn, black beans, tomatoes and chicken broth. Increase the heat to medium-high and bring the mixture to a boil then reduce to a simmer and cook for 5 minutes. Add the cumin and Mexican spice, taste for seasoning and adjust if necessary. Remove the skillet from the heat and place it on a baking sheet. Stir in the chopped cilantro and smooth out the top of the mixture.
Preheat the oven to 350°F
For the Cornbread Topping:
In a medium-size bowl, add the cornmeal, flour, sugar, baking powder and salt. Whisk together to combine well.
In a separate bowl, add the milk, oil and egg, whisk together and add to the dry cornmeal mixture. Add the cheese and stir just until blended.
Drop heaping tablespoons (8) of the batter to the top of the mixture in the skillet. Bake for 20 to 25 minutes, or until the topping is nicely browned. Serve at the table from the skillet.
Nutrition Information:
Yield: 8
Serving Size: 1
Amount Per Serving:
Calories: 494
Total Fat: 23g
Saturated Fat: 11g
Trans Fat: 0g
Unsaturated Fat: 10g
Cholesterol: 91mg
Sodium: 900mg
Carbohydrates: 43g
Fiber: 5g
Sugar: 8g
Protein: 29g
Nutrition information is a guideline only, is calculated automatically by third party software, and absolute accuracy is not guaranteed.