Chipotle Chicken Enchiladas! Spiced up with chilies and chipotle and smothered in a white sauce of sour cream and yogurt and topped with cheese.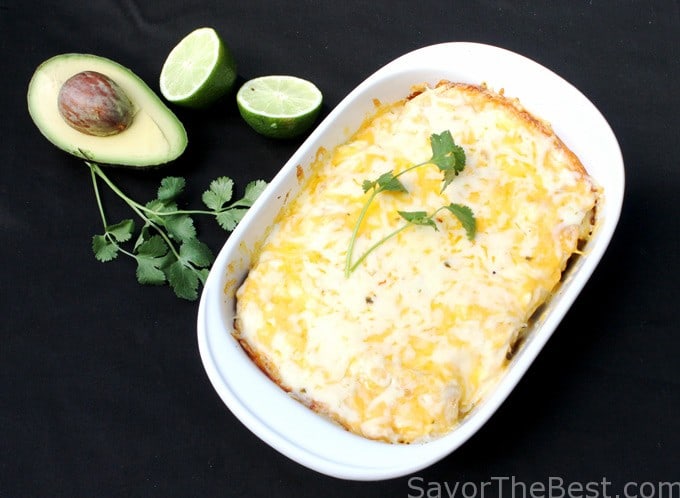 This recipe for chipotle chicken enchiladas is a blast from the past with some new-fangled upgrades.
My friend and co-worker, Maria, gave me her recipe for chicken enchiladas way back in 1978 when we both worked as aids for the U.S. government school (DODDS) in Subic Bay, Philippines.
Whenever there was a pot-luck at the school, the dish Maria brought was always the first one to be empty.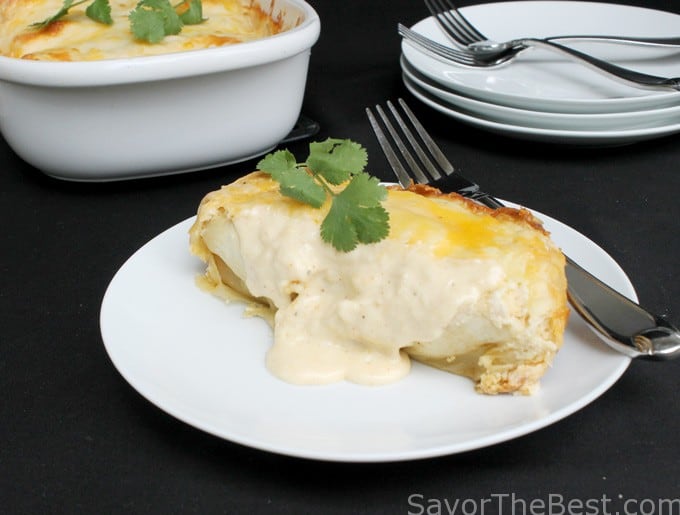 This chipotle chicken enchilada recipe uses fresh roasted poblano chilies but the canned variety works fine.
There is a great tutorial from Julie of 'This Gal Cooks' on how to roast your own poblano chilies .
Maria's chipotle chicken enchiladas recipe used the canned green chilies and a can of cream of chicken soup for the creamy sauce. That is how I always prepared it. Until recently 🙂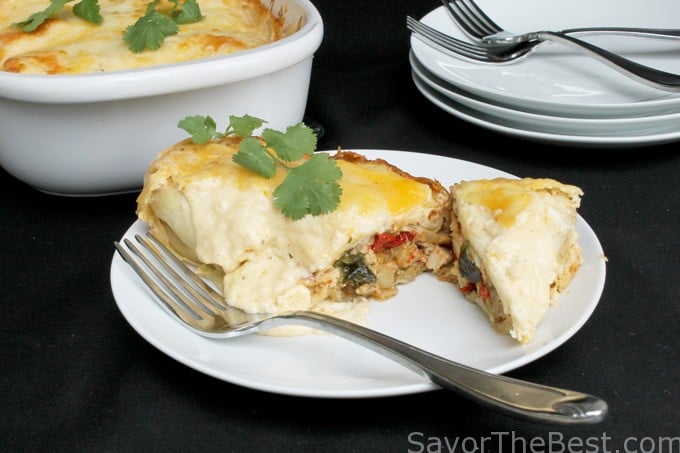 How is this Chipotle Chicken Enchiladas Casserole Made?
My new version uses fresh roasted chiles. But, the canned chilies will make this chipotle chicken enchiladas casserole a quick weeknight dinner. This is also a great way to use some of that left-over rotisserie chicken in the fridge.
Traditionally, enchiladas are made with corn tortillas which are great for pork or beef. Corn tortillas are a little heavy for chicken.
Flour tortillas are a better choice for these chipotle chicken enchiladas. The filling is made of chicken, onions, chilies, herbs, spices and three kinds of cheese. We rolled them up in eight-inch tortillas and lined up in a baking dish.
We poured a creamy mixture of sour cream, yogurt, chicken broth over the top. More grated cheese was sprinkled on top, then the casserole baked until hot and bubbly.
How Many Will This Chipotle Chicken Enchiladas Casserole Serve?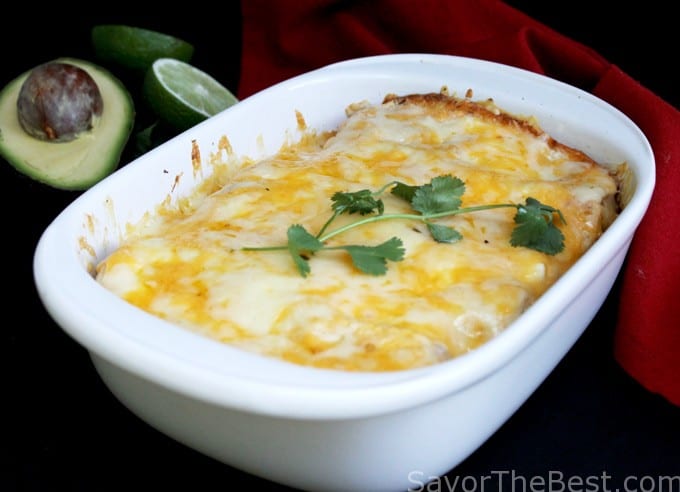 This one-pot casserole bakes up delicious and creamy. Just add a nice salad, warm tortillas and a dessert to complete the meal.
You Might Also Like:
CONNECT WITH SAVOR THE BEST!
Be sure to follow us on our social media accounts
Facebook | Twitter | Youtube | Pinterest | Instagram
If you make one of our recipes, snap a photo and tag it @savorthebest on Instagram and hashtag it #savorthebest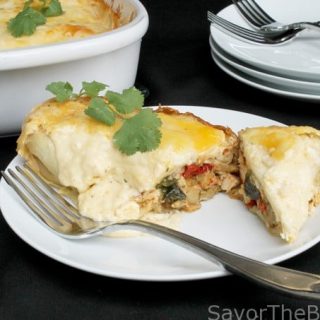 Chipotle Chicken Enchiladas
Yield: 8 servings
Prep Time: 30 minutes
Cook Time: 45 minutes
Total Time: 1 hour 15 minutes
Chicken enchiladas that are spiced up with chilies and chipotle and smothered in a white sauce of sour cream and yogurt and topped with three kinds of cheese.
Ingredients
2 tablespoons coconut or olive oil
1 medium onion, chopped
1/2 red bell pepper, diced
2-3 Poblano chilies, roasted, skinned and chopped or 2-3 cans (7 ounce) of whole green chilies
3 cups cooked and chopped chicken
1 tablespoon cumin powder
1 teaspoon dry oregano
1/4 to 1/2 teaspoon chipotle powder (depending on your taste preference)
1/2 teaspoon sea salt
1 cup Monterey jack cheese, grated
1/2 cup pepper jack cheese, grated
1/2 cup cheddar cheese, grated
1 cup sour cream
1/2 cup Greek yogurt
1 cup low-sodium chicken broth
1/4 teaspoon chipotle powder
8 medium soft flour tortillas
Cilantro sprigs for garnish
Instructions
Preheat oven to 350 degrees
Coat an oven-proof 9x13 casserole dish with oil or non-stick spray
Heat the oil in a large skillet over medium-high heat and add the onion and red bell pepper and cook until the onion is translucent. Remove from the heat and add the green chilies, chicken, cumin, oregano, chipotle and salt. Toss to combine and set aside.
In a medium size bowl combine the three types of grated cheese; reserve one cup and mix the remainder into the chicken mixture. Toss to combine well.
In a small bowl combine the sour cream, yogurt, chicken broth and the additional chipotle powder, stirring to mix well.
Place 1/2 to 3/4 of a cup of the chicken mixture in the center of each tortilla and tucking in the sides, roll up and place in the casserole dish. When all the tortillas have been rolled, spoon the sour cream/yogurt mixture over the top, place the casserole dish on the middle rack of the oven and bake the for 30 minutes, until the cheese is bubbly on top. Transfer from the oven, add the garnish and serve hot.
Nutrition Information:
Yield: 8
Serving Size: 1
Amount Per Serving:
Calories: 441
Total Fat: 26g
Saturated Fat: 12g
Trans Fat: 0g
Unsaturated Fat: 12g
Cholesterol: 93mg
Sodium: 535mg
Carbohydrates: 25g
Fiber: 2g
Sugar: 4g
Protein: 26g
Nutrition information is a guideline only, is calculated automatically by third party software, and absolute accuracy is not guaranteed.