This Flan Napolitano is a cream cheese flan. It is smooth, soft and creamy with an incredibly rich flavor. The caramel sauce sets over the top and makes an impressive dessert.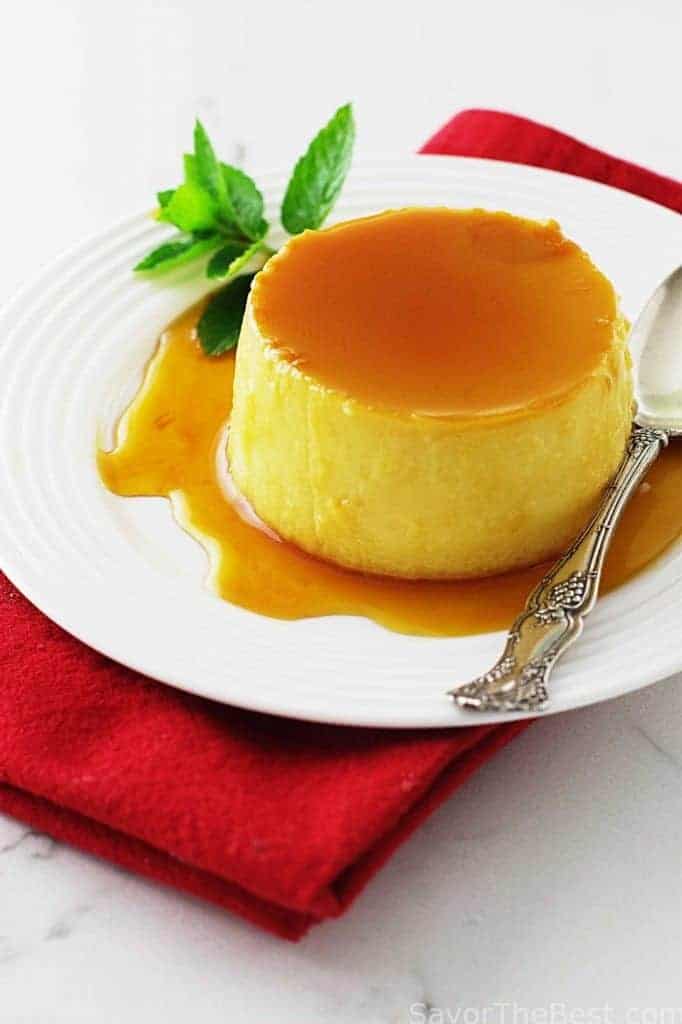 What is Flan Napolitano?
Flan Napolitano is an egg-based custard usually cooked in a shallow dish that has a layer of caramel on the bottom. When it is inverted onto a serving plate the caramel is on top creating a delightful sauce of deliciousness.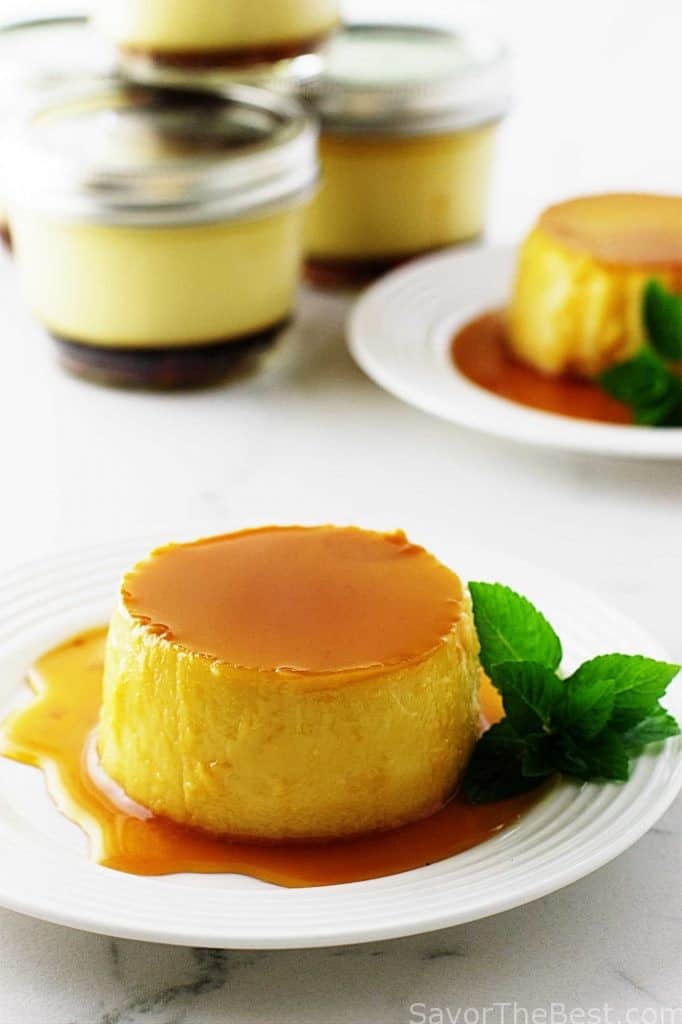 Flan Napolitano is one of the traditional desserts in Mexico, Spain, Latin and Caribbean countries. Also, it is very similar to the French creme brûlée which is so well known in America.
In Mexico, Flan Napolitano is made with the addition of cream cheese to the egg mixture giving the custard a firmer and creamier texture.
When we lived in the Philippines our family loved the dessert called Leche Flan which was made with eggs, condensed milk and evaporated milk.
I watched our friend, Naty, as she put this dessert together and one day she wrote the recipe down for me. I have adapted her recipe and added cream cheese to make Mexico's Flan Napolitano.
Ingredients needed to make Flan Napolitano:
sugar
egg yolks
cream cheese
sweetened condensed milk
evaporated milk
vanilla extract
I used half-pint wide mouth mason jars to make these delectable desserts. I love how easy and transportable the mason jars are. Screw the lids on and stack them in the fridge until you're ready for dessert.
As long as you use the jars that have a wide mouth shape to them then the flan will slide out of the jars easily.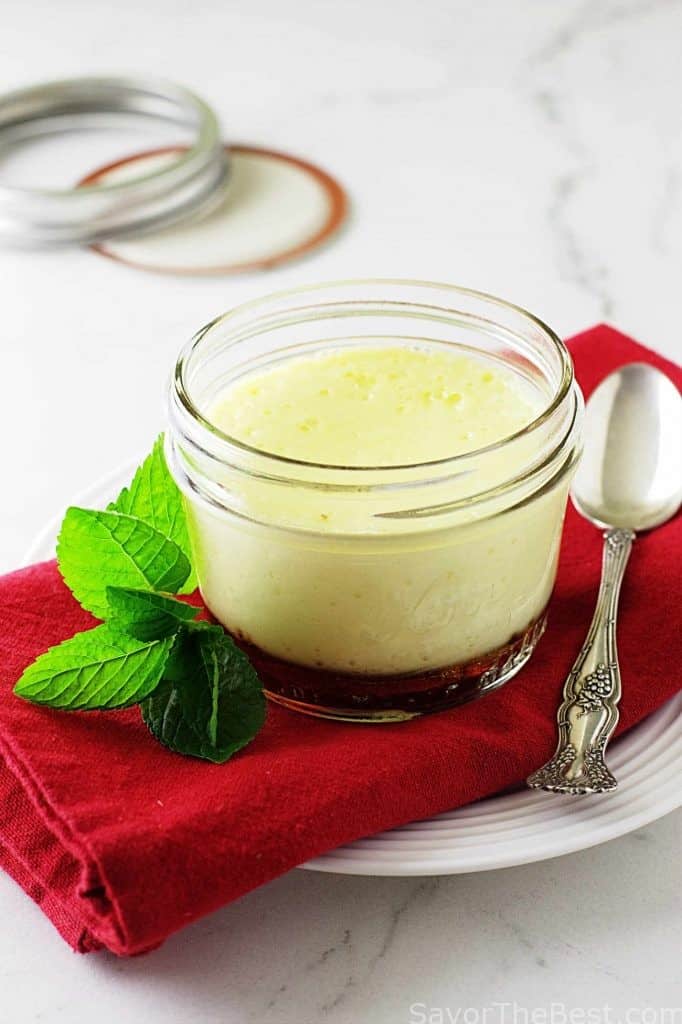 The mason jars are heatproof and durable which makes them a great choice for this recipe. If you don't have mason jars then other choices are:
Be certain to have your dishes warm before adding the hot caramel syrup to them. Even though these dishes are heat-proof they can sustain thermal shock if they sustain extreme temperature changes.
If you pour the hot caramel sauce into a cold glass dish, the sudden change in temperature will cause the dishes to break. You can run hot tap water over the dishes to get them warmed up then dry them before placing the hot caramel in them.
Why use a hot water bath when cooking the Flan
The hot water bath is an essential step. The water will insulate the custard and prevent it from cooking too fast which will cause the egg-based custard to curdle and give it a rubbery texture. Slow, even heating is the key to a perfectly creamy flan.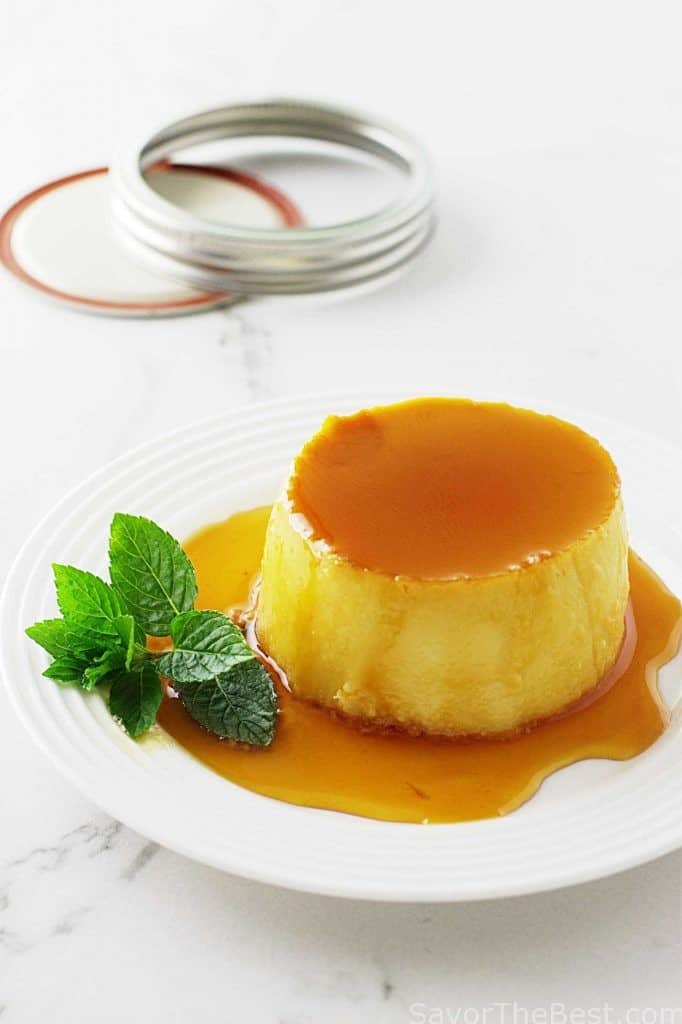 This is a dessert you will want to keep bookmarked. Once you serve it to guests, you will get repeat requests to make more.
More desserts to check out:
Don't forget to let the flan sit for at least six hours after it bakes. That will help get the caramel sauce soft and liquidy so it can drizzle out all over the custard.
Connect With Savor the Best:
Please follow us on our social media accounts
Facebook * Instagram * Pinterest * Youtube * Twitter
Did you make this recipe? We would love to hear from you. Drop us a comment below.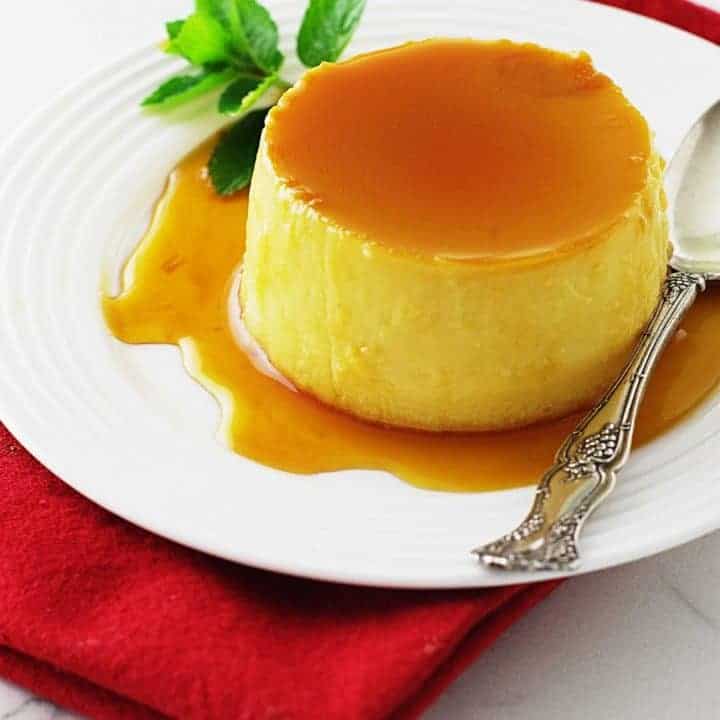 Flan Napolitano
A creamy, sweet flan custard with a caramel sauce. Flan Napolitano is a traditional dish in Mexico.
Ingredients
Caramel Syrup:
1 cup granulated sugar
1/3 cup water
For the Custard:
8 ounces cream cheese, softened
1 (14 ounce) can sweetened condensed milk
1 (12 fluid ounce) can evaporated milk
1/2 cup white sugar
6 egg yolks, whisked briefly with a fork
1 tablespoon vanilla extract
Instructions
Preheat oven to 325°F
Make the caramel syrup:
Fill a tea kettle with water and bring to a boil, reduce to a simmer while preparing the syrup and custard.
In a small saucepan over medium heat, mix the sugar and water together. Stir gently until the sugar has melted. Once the sugar has melted only stir occasionally to make sure there are not hot spots. Cook until it is light amber in color.
Carefully spoon 2-3 tablespoons of hot syrup into each of 6 individual small oven-proof dishes. An example would be pyrex custard dishes. I used the half-pint, wide mouth Mason jars.
Make the custard:
In a medium size bowl, add the cream cheese and slowly, in increments, add the condensed milk, stirring to keep the mixture smooth. Add the evaporated milk, the egg yolks, sugar and vanilla then mix together. Pour the custard mixture through a fine mesh strainer that has been set over a large bowl and strain out any egg particles or lumps.
Place the individual dishes into a 13 x 9 inch baking dish. Ladle the custard mixture into the prepared dishes. Set the pan with the custards in the oven and pour hot water into the pan so it comes half-way up the sides of the custards.
Bake for 40 minutes, (check after 30 minutes and cover with a sheet of foil if custards begin to brown) until a knife inserted into the center of one custard comes clean. Do not over cook. Remove from the oven and allow to cool in the hot water, then remove from the water and refrigerate to cool completely.
Allow the flan to sit in the refrigerator for at least 6 hours which will give time for the caramel sauce to liquify into the custard.
To serve, insert a knife between the custard and the dish to loosen the custard. Carefully invert the dish onto serving plates and garnish if desired.
These custards will keep for 3 to 5 days refrigerated.
Notes
It is a good idea to have the custard dishes warm/hot prior to adding the hot caramel syrup. This step will help prevent your dishes from cracking.
Do not cook the sugar syrup too long, only cook it until it is the color of light honey. It will continue to cook after you take it off the heat. In order to pour the caramel syrup into the dishes easier you can transfer it to a heat proof glass measuring cup with a spout but you need to work fast or the caramel will get too thick to pour.
Allow the cooked flan to sit in the refrigerator for at least 6 hours which will give time for the caramel sauce to liquify into the custard. Un-molding sooner will leave a hard layer of caramel on the bottom of the dish but you will still have a delicious flan.
When mixing the custard, do not use the blender, mixer or food processor as it will add air bubbles to the mixture.
Recommended Products
As an Amazon Associate and member of other affiliate programs, I earn from qualifying purchases.
Nutrition Information:
Yield:

6
Serving Size:

1
Amount Per Serving:
Calories:

551
Total Fat:

28.2g
Cholesterol:

292mg
Sodium:

271mg
Carbohydrates:

61g
Sugar:

59g
Protein:

15g
Have you made this Flan Napolitano? We would love to hear from you.
Drop us a comment below.