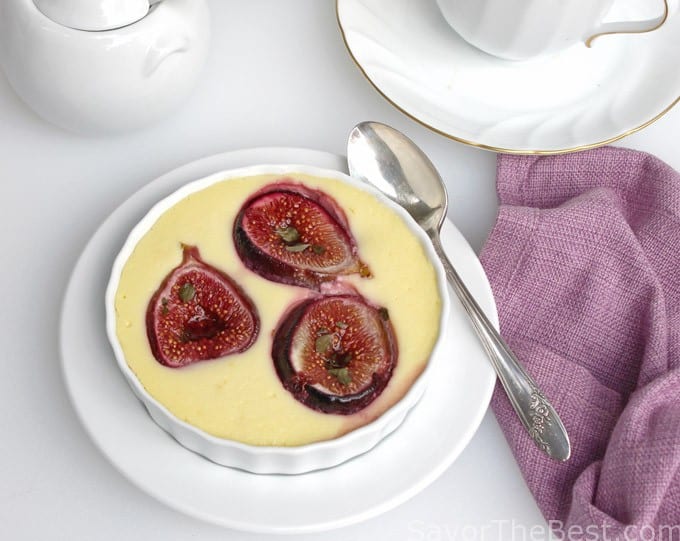 The figs are just beginning to appear in the farmers' markets and stores and I am lovin' it. I see the dark mission figs and a green variety but my favorite figs are the big Brown Turkeys.
I bought a pound of them to make this dessert of roasted figs in goat cheese custard but Don and I munched them all before I even got started. Back to the store I went for another supply.
Figs were so plentiful when we lived in California that if you knew someone with a fig tree you could have all the free figs you wanted. Here in Washington I just paid five dollars for a pint of fresh figs. It isn't cheap but they are just too good to resist.
The figs have a delicate thin skin, a soft sweetness inside and I don't even mind when the crunchy seeds get caught between my teeth. I like to buy them when they are just slightly soft and I can see a bit of juice barely oozing from the bottom.
Dried figs are also really good and I remember growing up how much I loved those Fig Newtons that mom would bring home. Last year I bought a bag of dried figs and cooked them up into the most delicious fig and lemon jam that I served on bruschetta toast with mascarpone.
I am thinking that while the season is still on maybe I will try my hand at making some fresh fig jam. Don has been making some strong hints about that.
In the meantime, I was inspired by a recipe in my Fresh and Light cookbook by Donna Hay to make this roasted fig in goat cheese custard.
I cut the figs in half, put them on a baking sheet lined with parchment paper and drizzled honey on them, then added a sprinkle of fresh time to each one. I roasted them for just 15 minutes and let them cool before adding to my custard.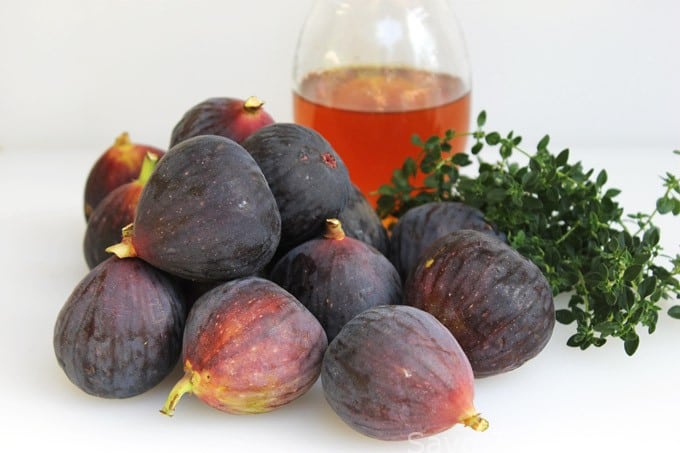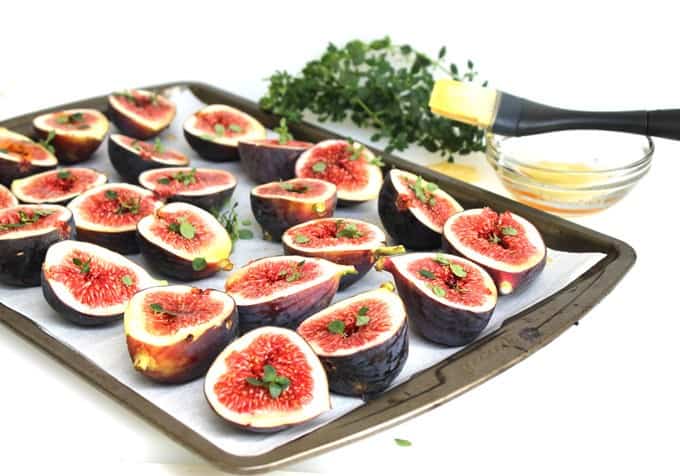 Goat cheese is so versatile and I love it as a custard in this lightly sweet and creamy delicacy. It has a touch of lemon zest and a little squeeze of lemon juice.
Each of these individual serving dishes is topped off with some honey-thyme roasted fresh figs then I baked them in a water bath at a slow temperature of 300°f for 20 minutes and served them slightly chilled. I enjoyed every sweet bite!
This recipe for roasted fig and goat cheese custard makes an elegant dessert for a special dinner and your guests will be delighted.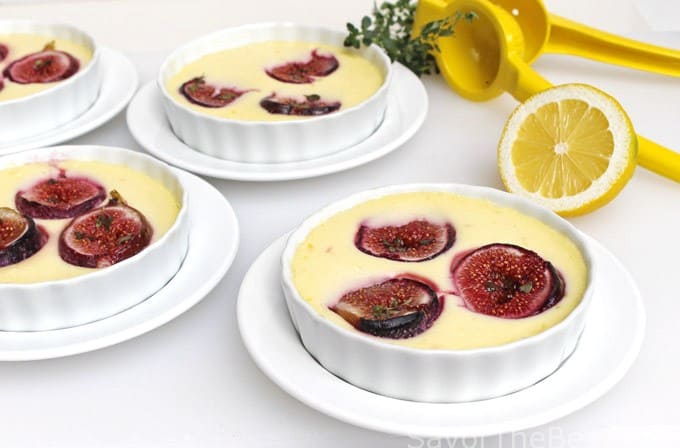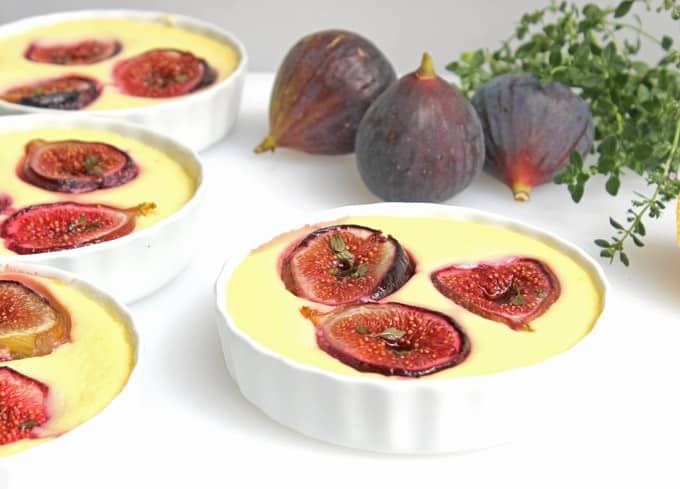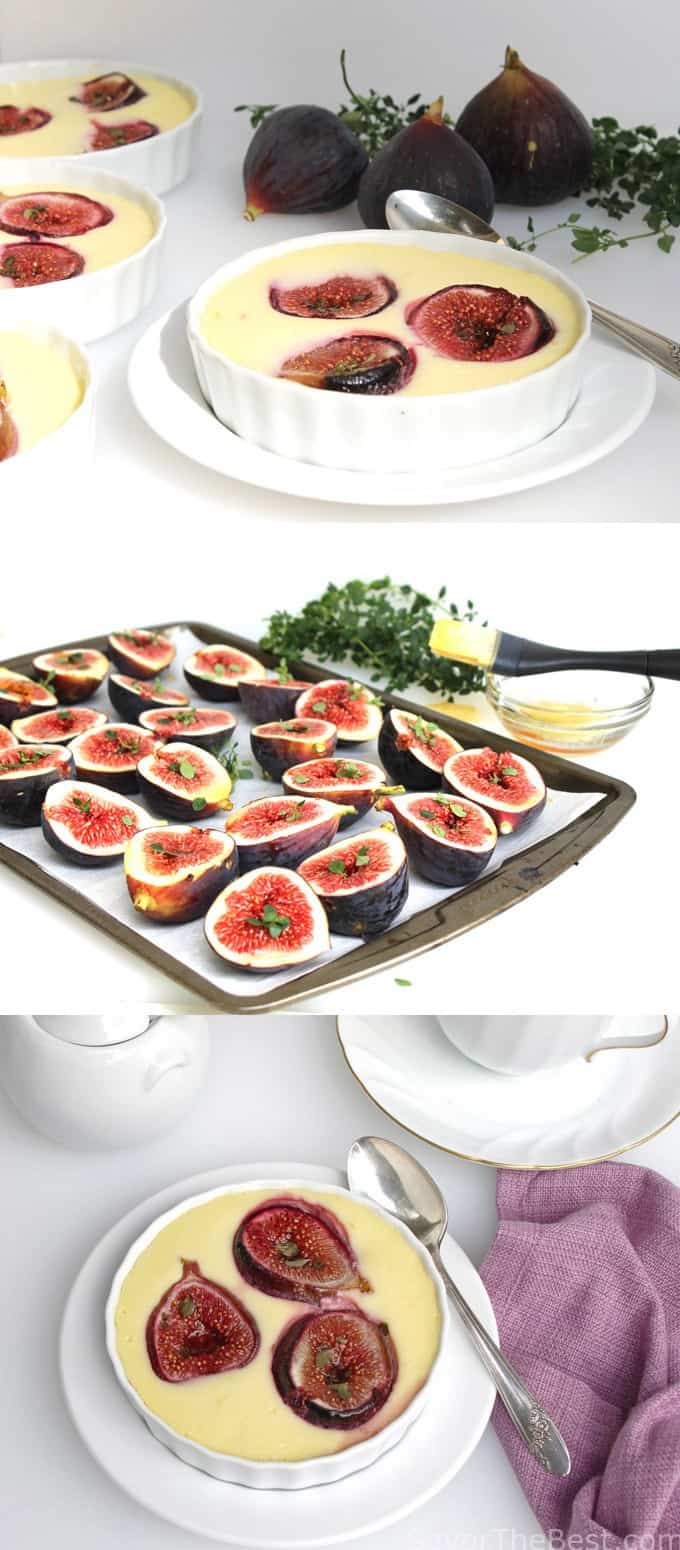 SOME OTHER RECIPES WE ARE SURE YOU WILL LOVE:
CONNECT WITH SAVOR THE BEST!
Be sure to follow us on our social media accounts
Facebook * Instagram * Pinterest * Twitter * Youtube
Did you make this recipe? We would love to hear from you. Drop us a comment below.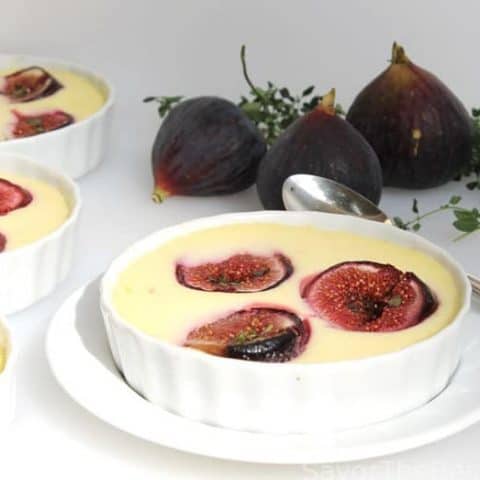 Roasted Figs in Goat Cheese Custard
Yield: 6 servings
Prep Time: 20 minutes
Cook Time: 25 minutes
Total Time: 45 minutes
Figs roasted with thyme and honey in a creamy goat cheese custard is an elegant and impressive dessert for your special dinner guests.
Ingredients
For the Roasted Figs:
8-10 ripe fresh figs, any variety
1/4 cup honey
1 tablespoon thyme leaves
For the Custard:
8-ounce log soft goat cheese (room temperature)
1/2 cup sugar
2 egg yolks
1 cup heavy cream
1/4 cup fresh squeezed lemon juice (about 1/2 of a large lemon)
2 tablespoon lemon zest
pinch of salt
Instructions
For the Figs:
Preheat the oven to 400°F
Line a small baking sheet with parchment paper
Use non-stick spray to coat 6 individual 8-ounce oven-proof baking dishes and place them in a shallow pan.
Wash the figs in cold water and pat them dry with a paper towel. Remove the stems, (optional) and cut each fig in half; place on the parchment lined baking sheet. Add the honey to a small dish and microwave for 10 seconds, brush the figs with the warm honey and sprinkle with the thyme leaves. Transfer the baking sheet to the middle of the oven and roast them for 15 minutes. Allow to cool.
Goat Cheese Custard
Add the soft goat cheese and sugar to a mixing bowl, and using the paddle attachment, mix for 1-2 minutes to combine. With the mixer running, add the eggs, one at a time, blending well between each addition. Stop the mixer and add the cream. Add the lemon juice, lemon zest and salt. Continue to blend on medium speed for 1 minute, stop the motor and scrape down the sides and bottom of the bowl. Continue mixing for an additional 30 seconds.
Fill each dish with 1/2 cup of the goat cheese cream and add 3 halves of cooled roasted figs to the top of each dish. Place the dishes in the larger pan and transfer to the oven. Carefully pour hot water into the larger pan to reach half-way up the sides of the dishes.
Bake the custards for 20 minutes, transfer from the oven to the counter-top and allow the custards to cool slightly before removing from the hot water.
This custard dessert is best served chilled.
Nutrition Information:
Yield: 6
Serving Size: 1
Amount Per Serving:
Calories: 426
Total Fat: 24g
Saturated Fat: 15g
Trans Fat: 0g
Unsaturated Fat: 7g
Cholesterol: 124mg
Sodium: 211mg
Carbohydrates: 47g
Fiber: 3g
Sugar: 43g
Protein: 10g
Nutrition information is a guideline only, is calculated automatically by third party software, and absolute accuracy is not guaranteed.