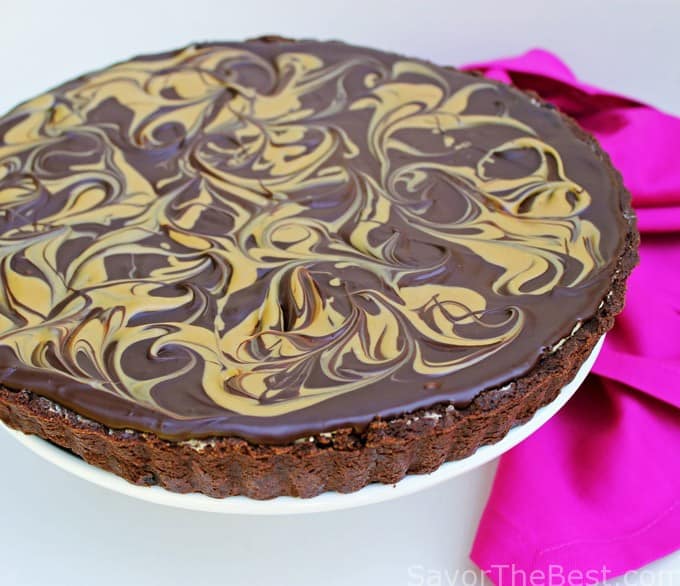 You are going to love this peanut butter tart but I have to warn you, it is sinfully and delectably delicious! I do not make this very often but we will be having a bunch of people visiting soon and I can make this today, freeze it and have a dessert to serve on short notice.
The first time I ate peanut butter pie was in the quaint little town of St. Helena, California in 1988. Don and I had stopped for a late lunch at this lovely old Victorian home that had been converted into a restaurant.
I still remember the Cobb salad that I ordered as it was assembled on a plate in different sections rather than your typical salad with everything mixed together. The presentation was lovely and it was wonderful.
We enjoyed a long leisurely lunch with a bottle of chardonnay wine and when the waiter brought our dessert menu we declined. However, when he delivered a dessert to our table-neighbors it looked spectacular!
We had to flag down the waiter and ask what that wonderful looking pie was that he served and was told it was a peanut butter pie. Up to that point we had not yet heard of peanut butter pie and it didn't sound very exciting…..of course, we are thinking peanut- butter-and-jelly sandwiches.
But that pie just looked so good and after that bottle of wine we were feeling adventurous so we ordered dessert. Naturally, I had to ask for the recipe.
I ended up losing my recipe but recently, when I mentioned it to my sister, Mary Ellen, she said that I had given her a copy of it. Happily, she sent it back to me.
Originally, this recipe was made in a deep-dish pie plate with an Oreo cookie crust but I am not an Oreo fan and that deep-dish makes such a hefty serving so I did a change-up.
The crust is a chocolate shortbread press-in adapted from the crust in my Chocolate-Mint Tart. I added a creamy layer of chocolate-peanut butter to the top with pretty swirls that I saw on Ella's Home Cooking Adventure video.
I recommend not using the chocolate chip morsels that you probably have in your cupboard, as the manufacturer has included additives in the chocolate that keep the chips together in cookies but it does distort the flavor.
I didn't believe this when I was told and had to do a side-by-side tasting and that convinced me. There is a huge difference in taste. I suggest using a good high-quality bitter sweet or semi-sweet chocolate such as Callebaut or Ghirardelli.
Even Baker's semi-sweet works well. Save the chocolate chip morsels for your cookies.
This is a really decadent dessert and I have chosen to use an 11-inch tart pan rather than a deep-dish pie plate as the original recipe listed.
You can make this peanut butter tart with either the crunchy or creamy peanut butter but I have not made it with the natural peanut butter. Maybe I will try it another time….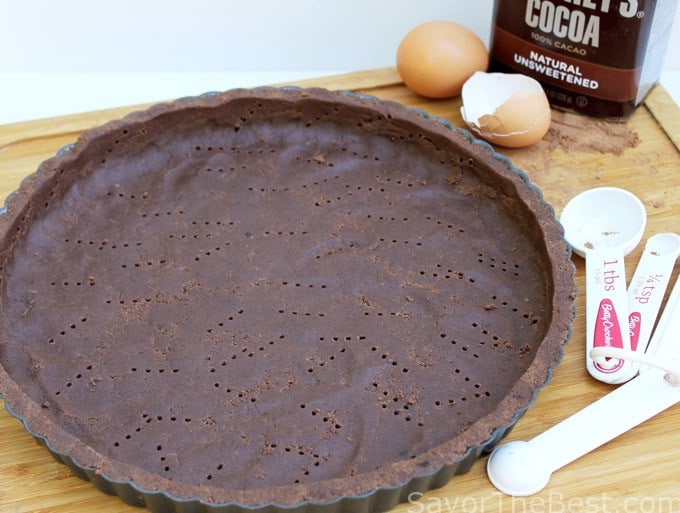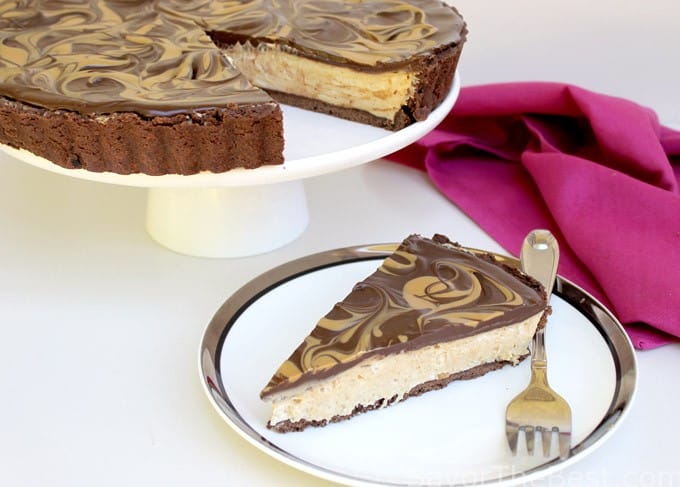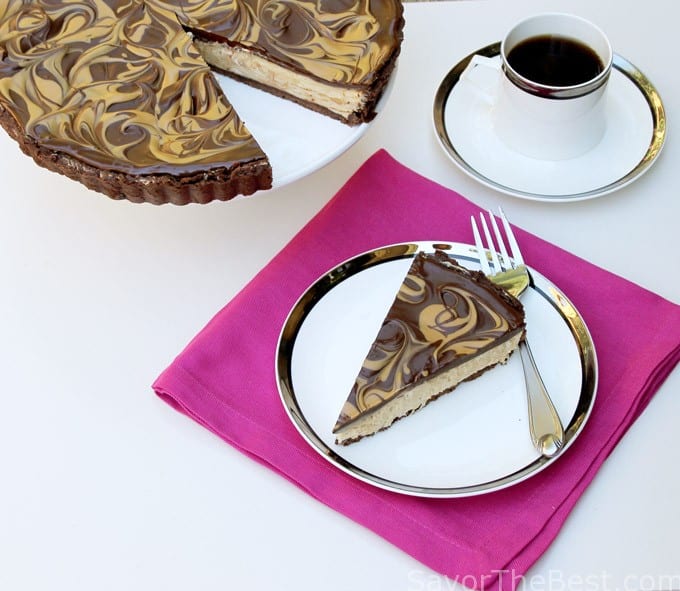 CONNECT WITH SAVOR THE BEST!
Be sure to follow us on our social media accounts
Facebook * Instagram * Pinterest * Twitter * Youtube
Did you make this recipe? We would love to hear from you. Drop us a comment below.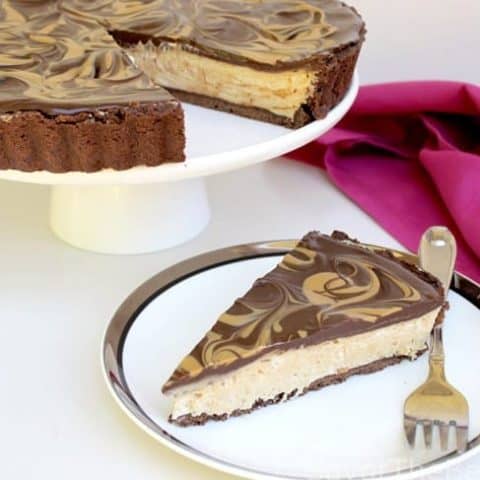 Peanut Butter Tart
Yield: 10-12 servings
Prep Time: 30 minutes
Cook Time: 30 minutes
Total Time: 1 hour
A chocolate peanut butter sensation of creamy peanut butter filling over a chocolate shortbread crust. A decadent layer of chocolate is added to the top with swirls of creamy peanut butter.
Ingredients
For the Chocolate Shortbread Crust:
½ cup powdered sugar
1 teaspoon vanilla
2 egg yolks, whisked lightly with a fork
¼ teaspoon sea salt
1 cup butter, melted and cooled
1 1/2 cups all-purpose flour
1 tablespoon espresso powder
1/2 cup cocoa powder
1 tablespoon cornstarch
For the Peanut Butter Filling:
1 cup whipping cream
1 cup sugar-(divided 1/4 & 3/4)
2 teaspoon vanilla
12 ounces cream cheese, softened
1 cup peanut butter
For the Swirl Topping:
10 ounces good quality semi-sweet chocolate, chopped
1/4 cup (60g) creamy peanut butter, divided
Instructions
For the Shortbread Crust:
Preheat the oven to 350°F
In a medium-size bowl, mix with a spatula or wooden spoon, the powdered sugar, vanilla, egg yolks and sea salt. Add the butter and mix to a smooth consistency. Add the flour, cocoa and cornstarch and stir until the dough forms a smooth ball.
Transfer the dough to an 11-inch tart pan with removable bottom. With your fingers and a tablespoon, press the dough evenly across the bottom and up the sides of the pan. I also used the bottom of my metal measuring cup. Prick the crust, bottom and sides, with a fork set the tart pan on a baking tray and transfer to the freezer for 30 minutes.
Remove the baking sheet with the crust from the freezer, spray a piece of aluminum foil with non-stick spray and press the sprayed side of foil very tightly against the bottom and up the sides of the crust. Add pie weights and transfer to the middle rack of the oven.
Bake for 15 minutes. Carefully remove foil and pie weights. Continue to bake uncovered for another 15 minutes. Remove from the oven and allow to cool on a wire rack before filling.
For the Peanut Butter Filling:
In a medium mixing bowl whip the cream, 1/4 cup sugar, and the vanilla until firm peaks form; set aside. In a large mixing bowl beat cream cheese and peanut butter till light and fluffy. Add 3/4 cup sugar and beat till smooth and creamy. Fold the reserved whipped cream mixture into the peanut butter mixture and spoon it evenly into the cooled crust and smooth the top.
For the Swirl Topping:
Melt chocolate and 2 tbsp of creamy peanut butter over low heat. Stir until smooth. In a small saucepan, add the other 2 tbsp of peanut butter and over low heat, stir until melted and smooth. Carefully spread the chocolate over the peanut butter filling, an off-set spatula works best. Spoon and drizzle the melted peanut butter on top of the filling and with a knife-tip create swirls on the surface by dragging the knife-tip through and around in the chocolate.
Refrigerate for 2-4 hours to set. Let it sit 10 minutes at room temperature before cutting.
Nutrition Information:
Yield: 12
Serving Size: 1
Amount Per Serving:
Calories: 741
Total Fat: 54g
Saturated Fat: 27g
Trans Fat: 1g
Unsaturated Fat: 21g
Cholesterol: 122mg
Sodium: 393mg
Carbohydrates: 60g
Fiber: 4g
Sugar: 38g
Protein: 12g
Nutrition information is a guideline only, is calculated automatically by third party software, and absolute accuracy is not guaranteed.