Bookmark this graham cracker crust recipe, because it's the only one you'll ever need! It's easy, versatile, and is delicious as both a bake and no-bake crust! This one's a keeper, friends, because a good graham cracker crust recipe is a staple for bakers.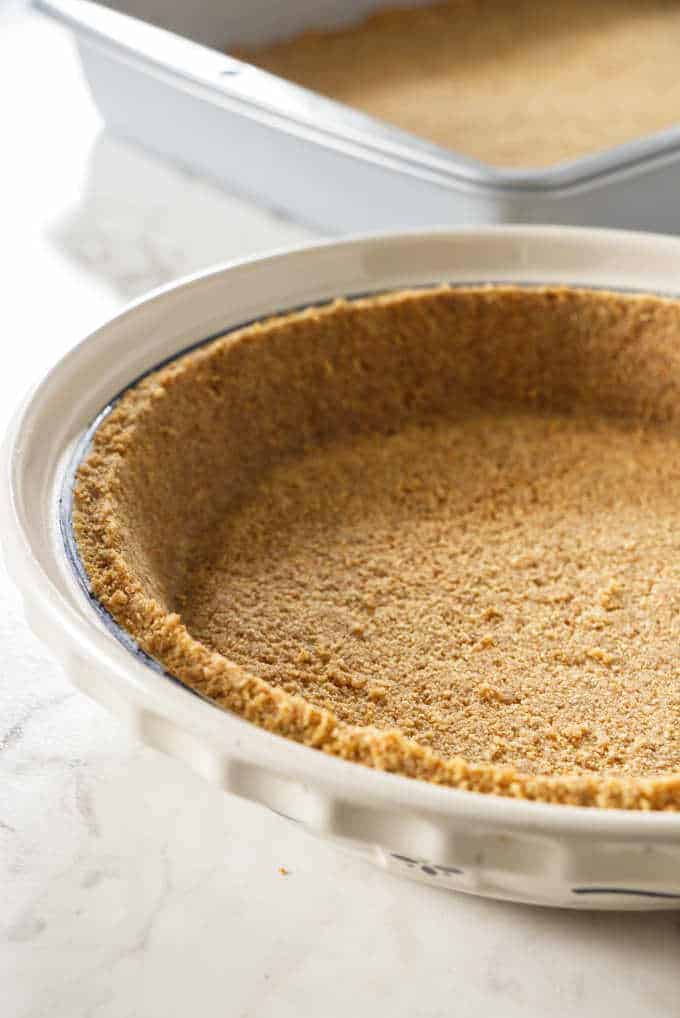 Our trusty, go-to recipe is sweet but not too sweet, has a non-crumbly texture that holds, plus a couple of size options to fit all your graham cracker crust needs!
how do you make a graham cracker crust from scratch?
It's quite simple to make a tasty graham cracker crust from scratch! And I guarantee it tastes better than any store-bought crust. Our graham cracker crust recipe for cheesecake, pie, dessert bars, etc., only requires 4 ingredients:
whole graham crackers
melted butter
brown sugar
salt
cinnamon (optional)
We have a table below the recipe card to give you a quick glance at the different amounts of ingredients you will need.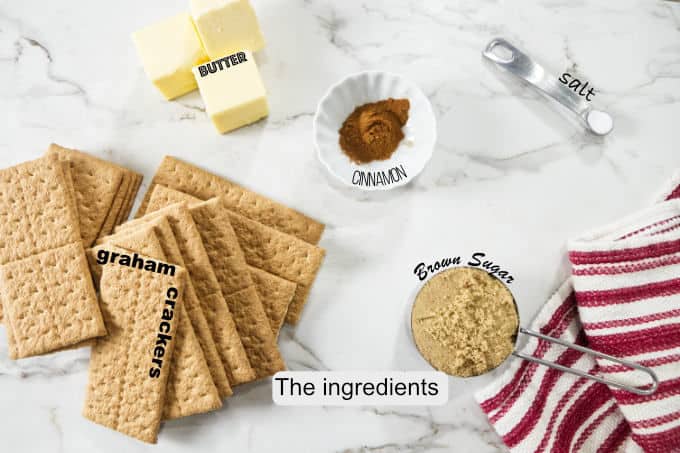 This recipe is sort of a two-for-one, because we're including two different portion sizes. You know how sometimes you need a graham cracker crust for a pie dish and later would like to use that same, perfect recipe for a large pan? Well, we're sharing ingredient portions to make a small and large crust!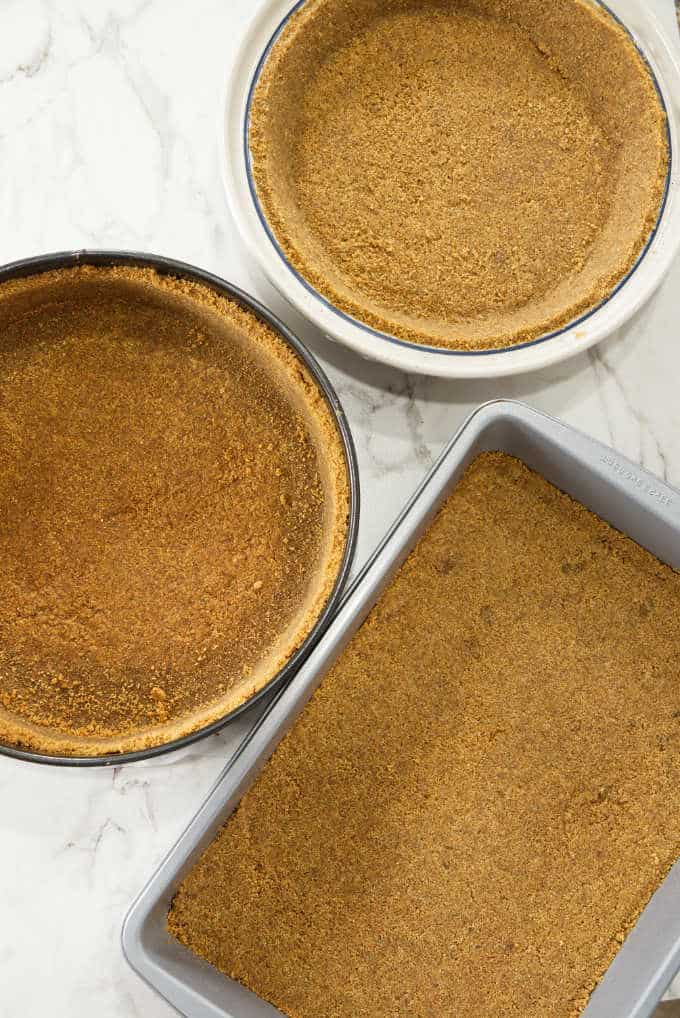 The small graham cracker crust recipe is perfect for a pie dish and square baking pan;
While the large graham cracker crust recipe is what you'll need to make a cheesecake (with a crust that goes up the sides) or fit a crust into a 13 x 9 baking pan.
Here are some suggested pan sizes for the small or large recipe.
how do you make a graham cracker crust stick together?
The trick to ensuring you have a graham cracker crust that holds and doesn't crumble, is BUTTER. Well, I should say the right butter-to-graham-cracker ratio. Our small and large crust recipes maintain the same butter ratio that results in a pressed crust that stays pressed. Plus, you can't go wrong with that rich, buttery flavor!
The second tip that helps the crust stick together is to make sure your graham cracker crumbs are crumbled very fine. Large chunks of crackers will not hold together and your crust will crumble even with the butter. So make sure you get those crackers crushed well.
Here are the steps to making the crust (but be sure to check out the full recipe at the bottom of the page!):
Pulse the graham crackers in a food processor until they're very fine (or place in a sealed plastic bag and pound with a rolling pin to break them up).
Add the butter, sugar and salt, then pulse (or stir in a bowl) until the mixture is well combined.
Firmly press the mixture into the bottom of your pan.
For a no-bake crust, chill in the fridge for 30 minutes. If you're baking the crust, bake at 350°F for 7-10 minutes.
A quick note about the no-bake crust. We suggest using an extra tablespoon of butter to help the crust firm up as it chills! However, don't use any extra butter if you plan to bake the crust. Too much butter will make the crust slump down the sides of your pan when it bakes.
How to make crumbs for your crust.
The best way to make crumbs for a graham cracker crust is a food processor. It will make super fine crumbs out of the crackers. And, like I mentioned above, finely ground crumbs will help your crust hold together along with all that butter.
If you don't have a food processor you can use a blender but it will take a little more patience and you will need to shake the crackers around a bit.
Now, if you just don't want to clean an extra appliance then stick the crackers in a re-sealable bag and pound the heck out of them as I did for these pumpkin cheesecake bars. This is by far, the most time-consuming technique and you will be more likely to have large chunks of crackers.
Can I use pre-packaged graham cracker crumbs?
Yes! You can use pre-packaged crumbs. Go ahead and save a little time and trouble by purchasing the graham crackers already ground. We left measurements in the recipe card if you have pre-packaged crumbs.
How many graham crackers make a cup of crumbs?
It takes about 7 full graham cracker sheets to make a cup of crumbs. It takes just a bit more if you crush them super fine. For what it's worth, a full graham cracker sheet has perforated marks dividing the sheet into 4 small rectangles.
how do you keep a graham cracker crust from sticking to the pan?
Even with all that butter, the crust can sometimes stick. To take extra, non-stick precautions, you can spray the pan with a baking spray, or line it with parchment for easy removal.
how long does graham cracker crust last?
This crust can be made in advance up to two days, and stored in the fridge. Additionally, if you want to freeze the crust, you can, and as long as it's tightly wrapped and sealed, it will keep in the freezer for up to three months.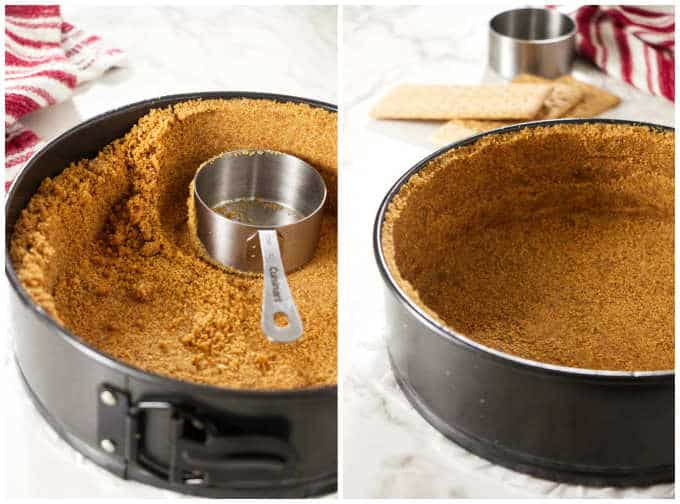 how to use graham cracker crust
Now that you have perfected this simple graham cracker crust, oh do we have some recipe ideas for you! This crust can be used in pies or cheesecake or dessert bars or you can even break it up for a tasty, crumble topping! Here are a few of our favorites recipes:
Get creative and layer some blondie brownie bars or oatmeal bars on top of a graham cracker crust. It will transform a dessert instantly.
Hope you enjoy this easy recipe! It's a goodie, and a keeper for sure.
SOME OTHER RECIPES WE ARE SURE YOU WILL LOVE:
Our Shredded Beef Chimichangas are a baked, healthier version of the traditional Mexican dish. It's easy to make and you get to skip all that messy frying!
Our homemade chocolate syrup is velvety smooth and decadent. Make this easy topping at home with minimal effort!
This lemon cake roll is lemon-y and luscious and works as a mid-day snack or an elegant, after-dinner dessert.
Connect With Savor the Best:
Please follow us on our social media accounts
Facebook * Instagram * Pinterest * Youtube * Twitter
Did you make this recipe? We would love to hear from you. Drop us a comment below.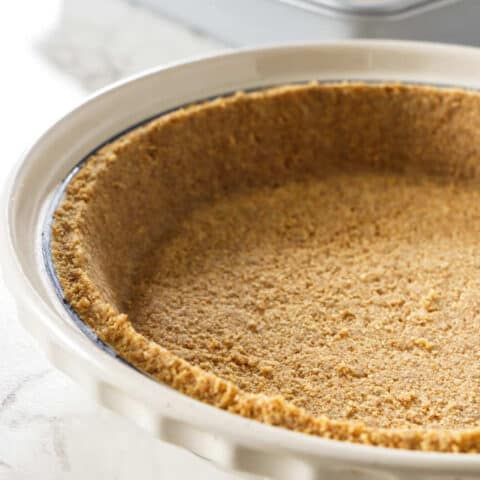 Graham Cracker Crust Recipe
Yield:
1 large crust or 1 regular size crust
This is the only recipe you will need for a graham cracker crust. Instructions are included for a no-bake crust or a crispy baked crust.
There are two portion sizes. The regular size fits into a pie dish or a square baking pan. The larger size makes enough to go up the sides of a cheesecake pan or fits in a 13 x 9 baking pan.
Ingredients
large crust (fits up the side of a cheesecake pan)
14 whole graham crackers (about 2 cups crumbs)
10 tablespoons butter, melted (use 11 Tbls. for no-bake crusts)
1/2 cup brown sugar
3/4 teaspoon cinnamon (optional)
1/4 teaspoon salt
Small/standard sized crust (fits a standard pie pan)
11 whole graham crackers (1-1/2 cups crumbs)
8 Tablespoons butter (use 9 Tbls. for no-bake crusts)
1/3 cup brown sugar
1/2 teaspoon cinnamon (optional)
pinch of salt
Instructions
If you plan to bake the crust, pre-heat the oven to 350°F.
Toss the graham crackers into a food processor and pulse until they are very fine. (Optionally you can place the graham crackers in a sealable bag and pound them with a rolling pin then pour them into a bowl.)
Add the butter, sugar, and salt then pulse the food processor (or stir them) until well combined.
Spread the mixture evenly into the bottom of your pan and press it down firmly. The mixture will seem dry but press it very firmly and it will stick together.
For a crisp baked crust:
Bake for 7 to 10 minutes or until light golden brown.
For a no-bake crust:
Place in the fridge for 30 minutes to chill and firm up.

Notes
The large recipe makes enough crust to go up the sides of a cheesecake pan or makes a thick crust in a 13x9 inch baking pan.
The smaller recipe makes enough crust for a standard size pie pan or an 8x8 square baking pan.
For a no-bake crust, add an extra tablespoon of melted butter. The extra melted butter will help the no-bake crust hold up better. Do not use extra butter if you plan to bake the crust or it will slump down the sides while it bakes.
If you plan to bake the crust do not add the extra tablespoon of butter or the crust will slip down the edge of the pie shell. The mixture will seem dry. The key to success is to press the crumbs in very firmly.
Nutrition Information:
Yield:

10
Serving Size:

1/10th
Amount Per Serving:
Calories:

176
Total Fat:

11g
Saturated Fat:

6g
Trans Fat:

0g
Unsaturated Fat:

4g
Cholesterol:

24mg
Sodium:

164mg
Carbohydrates:

19g
Fiber:

1g
Sugar:

10g
Protein:

1g
Nutrition information is a guideline only, is calculated automatically by third-party software, and absolute accuracy is not guaranteed.
At-A-Glance reference for portion sizes
| Ingredient | Smaller size | Larger size |
| --- | --- | --- |
| Graham crackers | 11 crackers | 14 crackers |
| Butter | 8 Tablespoons | 10 Tablespoons |
| Brown sugar | 1/3 cup | 1/2 cup |
| Salt | just a pinch | 1/4 teaspoon |
| Cinnamon | 1/2 teaspoon | 3/4 teaspoon |