These no-bake chocolate Nutella oatmeal bars are a beautiful marriage between a crunchy oatmeal granola and a creamy chocolate Nutella filling.
No-Bake Chocolate Nutella Oatmeal Bars
This is an effortless and quick way to get your Nutella fix and might even turn into your favorite way to enjoy Nutella.
These no-bake dessert bars are a brilliant combination of a granola bar and the oh-so-popular hazelnut-chocolate spread, Nutella. With just a few ingredients and minimal effort, you will have the perfect dessert for potlucks, school lunches or even a midnight snack. And you will never have to turn on the oven.
How do you make No-Bake Chocolate Nutella Oatmeal Bars?
This is such an easy recipe that it is hard to believe anything spectacular could come from it. But trust me! You have to make this recipe.
The hardest part about this recipe is waiting for it to cool and firm up so you can slice it. The top and bottom layer of the bars consist of a delicious granola-like cookie. The middle layer is a rich and thick chocolate-Nutella indulgence.
The granola layer:
The sweet oatmeal granola layer has only 5 ingredients. Start by melting the butter and sugar in a saucepan. Cooking the sugar mixture for a few minutes will help hold the granola layers together.
If you don't cook the sugar mixture, the base and top of the cookie bars will tend to crumble and fall apart fairly quickly. However, if you cook the mixture too long, the cookie bars will be quite hard, and difficult to slice. Regardless of how long you cook the sugar mixture, these dessert bars will be delicious. So don't overthink the directions, just dive in and start making them.
Making the middle layer:
The middle layer is indescribably easy. One bowl, two ingredients, and a microwave. Seriously! Just place the chocolate and creamy Nutella in a bowl and blast them in the microwave until it is melted. How easy is that?
Press half of the granola mixture into the bottom of the pan. Next, pour the chocolate-Nutella mixture over the base layer. If you reserve a small amount of the Nutella mixture for later, you can drizzle it on top of the cookie bars for a finished look.
Press the second half of the oatmeal granola mixture on top then drizzle the reserved chocolate-Nutella mixture over the whole thing.
These easy no-bake dessert bars were inspired by Tip Hero's no-bake chocolate oat bars which uses peanut butter in the recipe. I highly recommend that version as well. As a matter of fact, these dessert bars are so easy and fast to make, you could make two flavors without breaking a sweat.
Watch our video: How to make No-Bake Chocolate Nutella Oatmeal Bars
You might also like these recipes: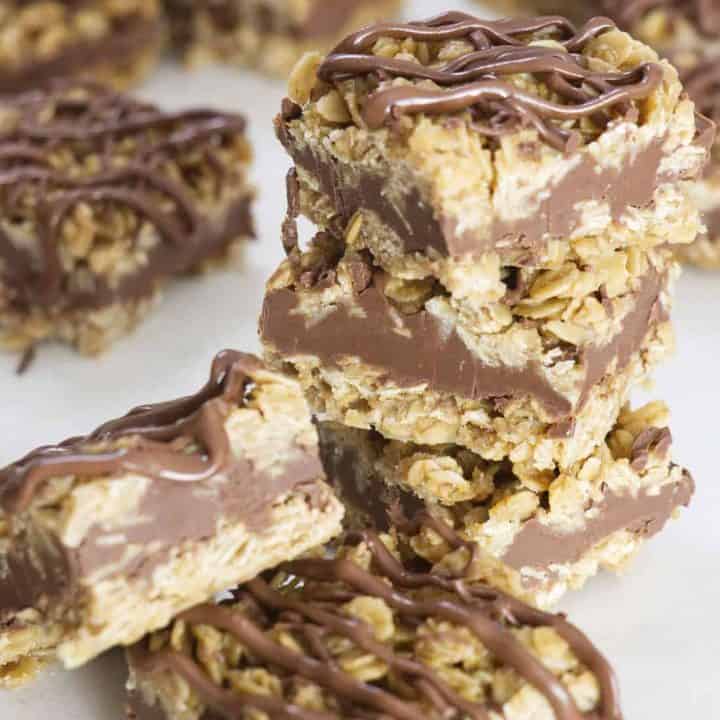 No Bake Chocolate Nutella Oatmeal Bars
Yield: 12 bars
Prep Time: 10 minutes
Cook Time: 5 minutes
Total Time: 15 minutes
These no-bake chocolate Nutella oatmeal bars are a beautiful marriage between a crunchy oatmeal granola and a creamy chocolate Nutella filling.
Ingredients
Oatmeal Granola Crust
1 cup butter (2 sticks)
3/4 cup packed brown sugar (158 grams)
1/4 teaspoon salt
1 teaspoon vanilla extract
3-1/2 cups rolled oats (340 grams)
Chocolate Nutella Layer
1-1/4 cup semisweet chocolate chips (210 grams)
3/4 cup Nutella (240 grams)
Instructions
For the Granola Layer
Line a 9-inch square pan with parchment paper and set aside.
Melt the butter and brown sugar in a large saucepan over medium heat.
Turn the heat down to medium-low and cook the sugar mixture for 2 to 3 minutes then remove from heat and stir in the vanilla, salt, and oats.
Pour half of the oat mixture into the prepared baking dish and press it down evenly. Reserve the other half for the second layer.
For the Filling:
Place the Nutella and chocolate chips in a small microwave-safe bowl and cook until melted (stop the microwave every 15 seconds to stir well).
Set aside a few tablespoons of the melted Nutella for later. Pour the rest of the Nutella mixture over the crust in the pan and spread it evenly.
Scatter the remaining oat mixture over the Nutella layer, pressing in gently. Drizzle with the reserved Nutella mixture on top.
Refrigerate 1 to 2 hours or overnight. Bring them to room temperature before slicing.
Notes
The final texture of these bars depends on how long you boil the sugar mixture. If it doesn't cook for very long, the bars will soft and tend to fall apart, if you boil too long, they could turn out hard and be difficult to slice.
Nutrition Information:
Yield: 12
Serving Size: 1
Amount Per Serving:
Calories: 434
Total Fat: 27g
Saturated Fat: 17g
Trans Fat: 1g
Unsaturated Fat: 8g
Cholesterol: 41mg
Sodium: 178mg
Carbohydrates: 48g
Fiber: 4g
Sugar: 29g
Protein: 5g
Nutrition information is a guideline only, is calculated automatically by third party software, and absolute accuracy is not guaranteed.