Our Miso Glazed Sea Bass is a fusion of Japanese and Chinese culinary flavors. We used the savory, sweet-salty flavors of Japanese miso paste and the tongue-tingling taste of Chinese green Sichuan pepper oil to create a delicious marinade for these moist, buttery fillets.
A simple marinade of white miso paste, honey, lime juice and the zing of green Sichuan pepper oil magically packs a layer of flavor on these fillets. The glazed fillets are baked to perfection with moist, flaky fish beneath the caramelized crust.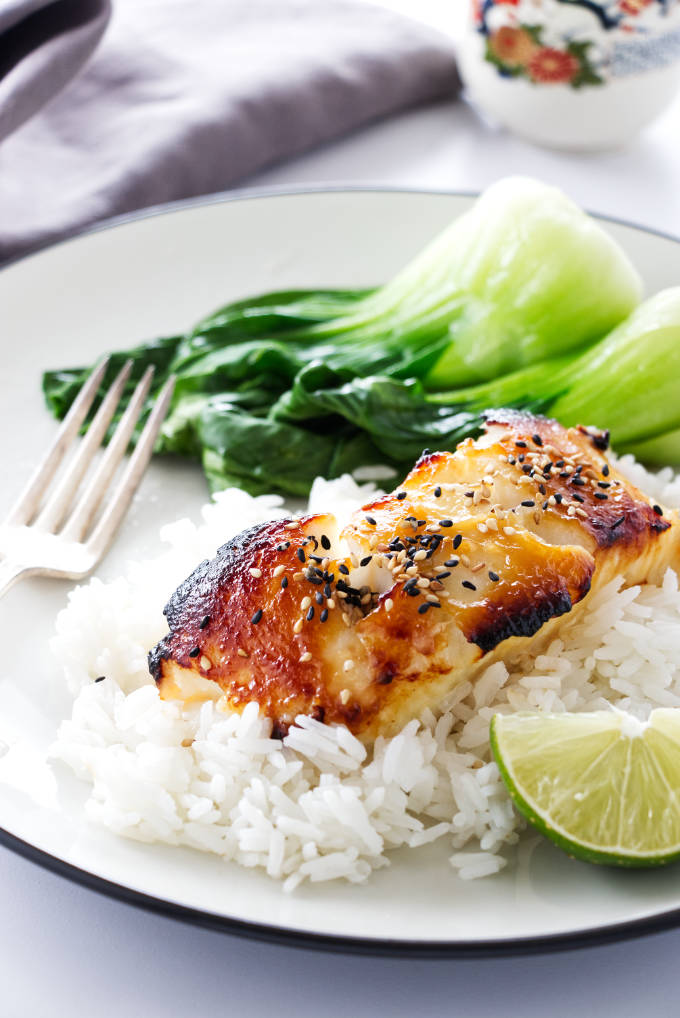 If you have never tried using miso in your culinary creations, this easy recipe is a great place to start. We like using miso paste with our fish as you can see with our miso teriyaki black cod and our ginger-miso glazed salmon. Another recipe I recommend for a special event dinner is sake-red miso glazed sablefish with wasabi emulsion, it takes a little advance prep work but well worth the extra time and guaranteed to WoW your dinner guests.
What is Miso Paste?
Miso paste is a Japanese seasoning made from fermented soybeans blended with a mold called koji. Salt barley or rice are also included. Rice produces a somewhat sweet white miso. Barley produces a darker, more intense red miso.
This savory paste adds an umami flavor to anything from fish, poultry, salad dressings, soups, marinades and even desserts. I hear tell that a touch of miso in a batch of brownies is awesome! We used white miso in the marinade for these Chilean sea bass fillets and added a measure of green Sichuan pepper oil that adds a unique element to the filets. We added a finishing drizzle of the pepper oil over the top of each fillet at serving.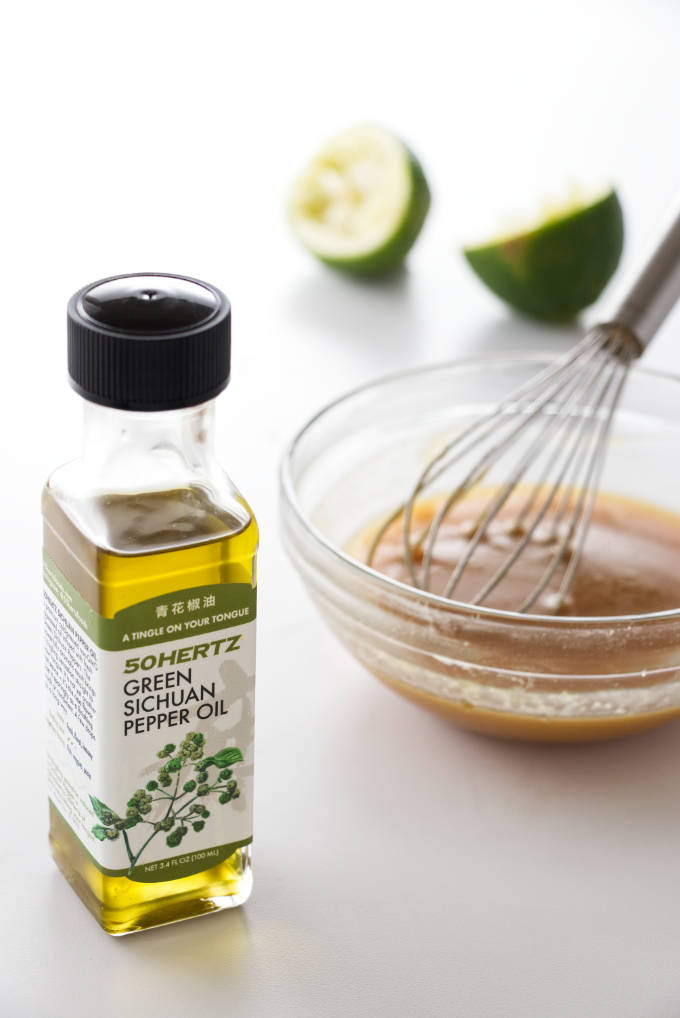 What is Green Sichuan Pepper Oil?
This zesty pepper oil is used extensively in Chinese cuisine in the province of Sichuan. The Chinese make this spicy oil from the seed husks of the pink ash shrub. The fragrant oil is an essential ingredient in many Sichuan dishes. The oil is not chili-hot but gives a slight mouth-numbing and tough-tingling sensation.
The oil can also be used as a finishing oil. Try drizzling a few drops on the top of a bowl of pumpkin soup for instance. The Sichuan peppercorn is one of the ingredients in the Chinese five-spice powder.
Where To Purchase Green Sichuan Pepper Oil:
Green Sichuan pepper oil is a specialty seasoning ingredient and most likely not in your neighborhood grocery stores. This unique oil was a gift to me by my daughter, Kelly, and she purchased it from the website 50Hertzfoods.com. Additional brands are available at amazon.com. It may also be available in the Asian markets, although I have not checked that out.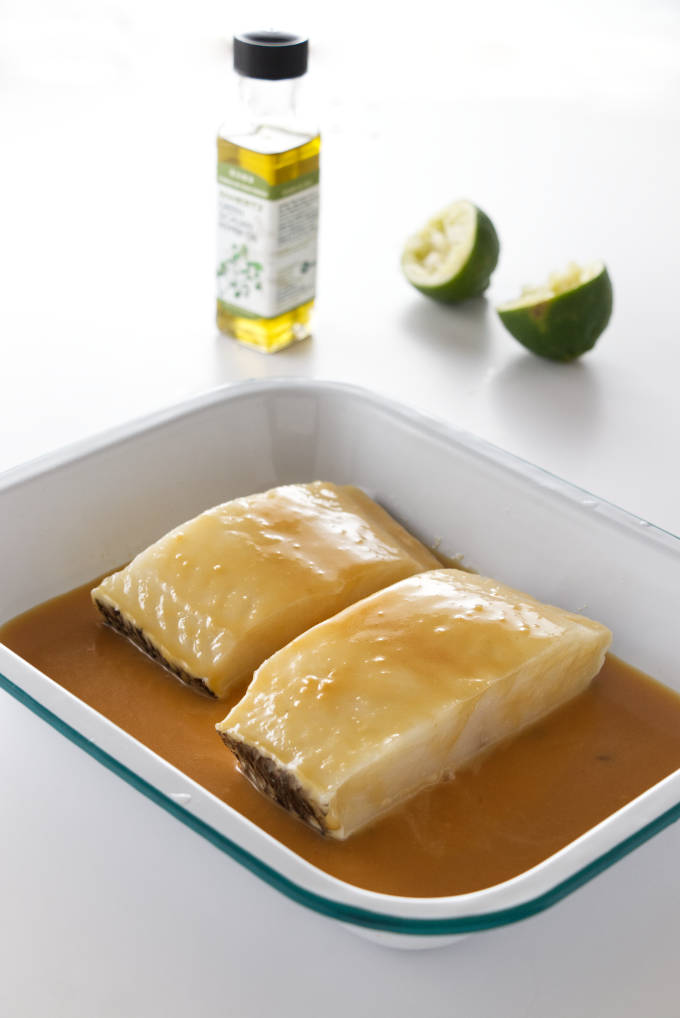 How to Prepare Miso Glazed Sea Bass:
This is a brief run-down of the recipe. The marinade is easy and pretty straightforward, be sure to scroll to the bottom of the post for the recipe card and full instructions. If you are using more than two fish fillets just increase the measurements accordingly.
Combine the white miso paste, honey, fish sauce, pepper oil and lime juice.
Add the fish to a dish and pour the marinade over them. Refrigerate for 30 minutes.
Place the fillets on a parchment-lined, rimmed baking pan and spoon additional marinade on them.
Bake until the fish becomes flaky when pierced/twisted with a fork (see recipe card for details).
Drizzle additional pepper oil and a sprinkle of sesame seeds on top of the caramelized fillets at serving.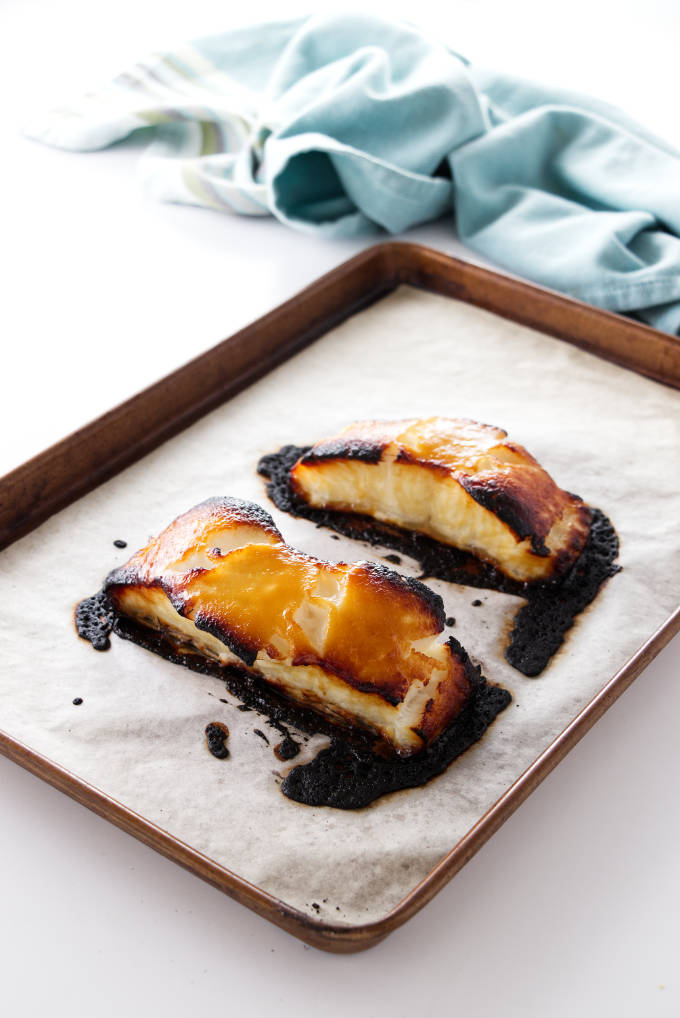 One caveat….the miso will begin to caramelize within 8-10 minutes and the marinade surrounding the fillets will begin to burn, no problem, just turn on the vent fan. lol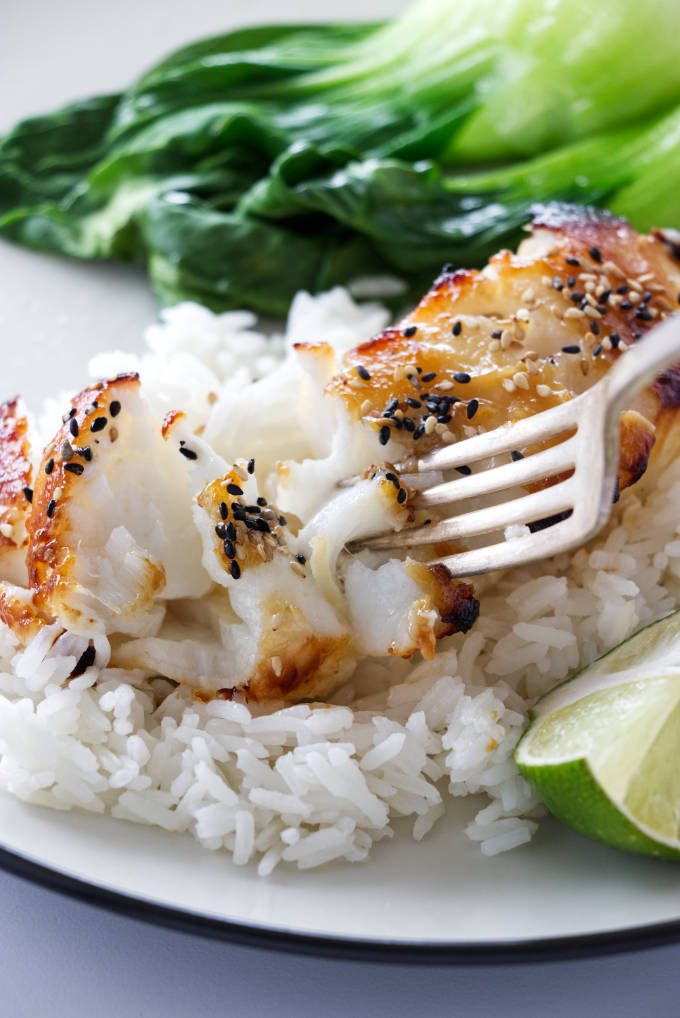 How To Check The Miso Glazed Sea Bass For Doneness:
Sea bass is a rich, fatty fish and very forgiving if a little overcooked. I test one of the fillets by piercing it in the thickest part with a fork and giving a little twist.
When done it will flake easily and be opaque in appearance. A meat thermometer will register 140-145°F. This one from ThermoWorks will register in one second so you don't have to hold the oven door open for long.
Some Other Recipes We Are Sure You Will Love:
Wild-caught Pacific cod, one of the healthiest fish in the sea and so easy to prepare this entrée of Broiled Cod with Chive Butter.
Pan Fried Cod with Lemon-Garlic Sauce A zesty lemon-garlic sauce spooned over a delicately coated, pan-fried cod fillet enhances the flavor of this flaky fish. The delicious lemon-garlic sauce gives this simple entrée a deep elegance.
As this Spicy Blackened Tilapia cooks, the cajun spices develop a wonderful dark caramelized color. This is a simple and quick dish that will become a favorite in no time.
Connect With Savor the Best:
Please follow us on our social media accounts
Facebook * Instagram * Pinterest * Youtube * Twitter
Did you make this recipe? We would love to hear from you. Drop us a comment below.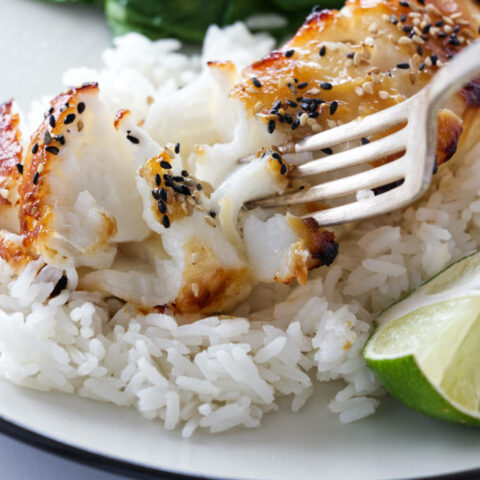 Miso Glazed Sea Bass
Additional Time:
30 minutes
Our Miso Glazed Sea Bass is a fusion of Japanese and Chinese culinary flavors. We used the savory, sweet-salty flavors of Japanese miso paste and the tongue-tingling taste of Chinese green Sichuan pepper oil to create a delicious marinade for these moist, buttery fillets.
Ingredients
For the Glaze
2 tablespoons white miso
2 tablespoons honey
2 tablespoons fish sauce
1 teaspoon Sichuan pepper oil, plus more at serving
3 tablespoons freshly squeezed lime juice
2 sea bass fillets, 8-oz. each
2 teaspoons sesame seeds
Instructions
For the Marinade/Glaze:
In a small dish, whisk together the miso, honey fish sauce, pepper oil and the lime juice.
Place the sea bass fillets in a shallow dish and spoon the marinade over them. Cover and refrigerate for 30 minutes.
To Bake the Fish:
Heat the oven to 400°F
Remove the fish from marinade and place on a parchment-lined rimmed baking sheet. Spoon additional marinade over each fillet. Bake for 15-18 minutes.
To Serve:
Place a fillet on a mound of hot jasmine rice and drizzle with a few drops of pepper oil and a sprinkling of sesame seeds.
Notes
If using thinner fillets adjust the bake time accordingly.
To test if your fish is done, pierce it with a fork at an angle, at the thickest part of the fillet and give it a little twist. If it is done it will flake easily and its appearance will be opaque.
We like our sea bass cooked to an internal temperature of 135°F. The USDA recommends an internal temperature of 145°F. Remember that there will be some carry-over heat and the fish will continue to cook a few degrees more when you remove it from the heat.
Nutrition Information:
Yield:

2
Serving Size:

1
Amount Per Serving:
Calories:

375
Total Fat:

11g
Saturated Fat:

1g
Trans Fat:

0g
Unsaturated Fat:

9g
Cholesterol:

60mg
Sodium:

2154mg
Carbohydrates:

40g
Fiber:

2g
Sugar:

33g
Protein:

30g
Nutrition information is a guideline only, is calculated automatically by third-party software, and absolute accuracy is not guaranteed.