With only five ingredients, this pan seared Chilean sea bass recipe may look simple, but it has a deep, rich flavor that is worthy of fine dining. The sea bass is topped with a fresh thyme compound butter that seeps into every crevice of the fish for a luxurious taste.
This sea bass recipe takes less than 15 minutes to cook and is perfect for busy weeknights or lazy weekends. It is a meal that is much less effortless than our gourmet Chilean sea bass recipe but equally worthy of chef status.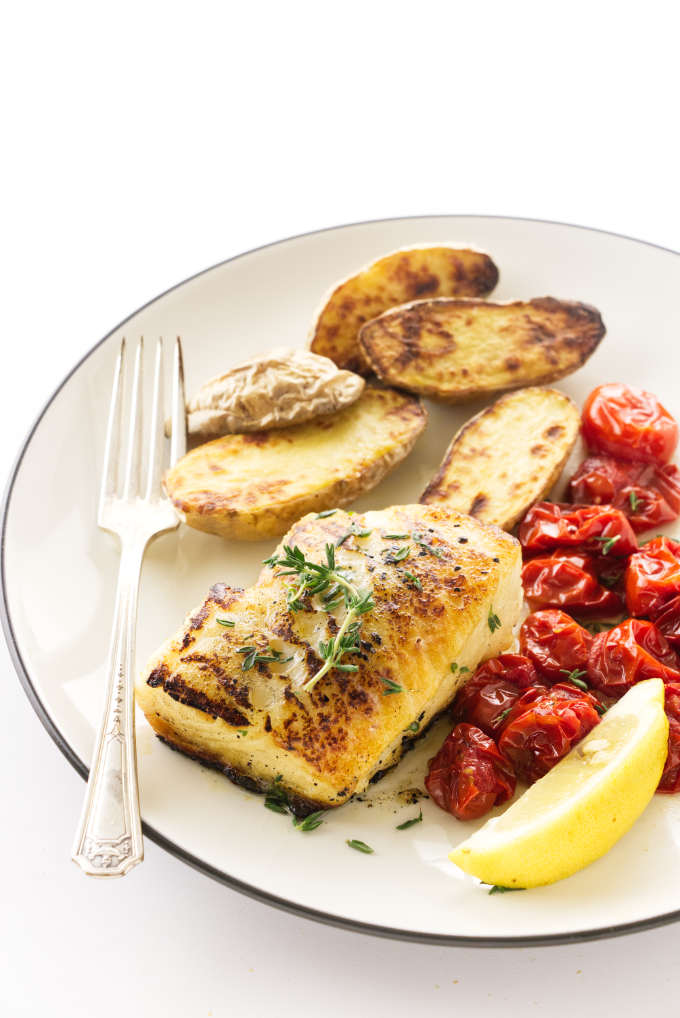 Pan searing is an excellent method to prepare Chilean sea bass as it lets the flavors of the fish shine. The snow-white flesh has a smooth, buttery texture that highlights the subtle sweetness and mild flavor Chilean sea bass is known for. And if you love this recipe I'm sure you will enjoy our pan fried cod or broiled cod recipes.
Pan Seared Sea Bass:
Don't let the simplicity of this recipe fool you, it is a fantastic way to prepare fish and it lets the flavor of the sea bass stand out.
When you sear the sea bass in a hot skillet, a chemical process called the Maillard reaction occurs and the bass develops additional layers of flavor and complexity.
Pan searing is an easy cooking method that is perfect for delicate fish like sea bass. But unless you know how to do it correctly, your efforts can fall flat. We have some tips to help you make this the best sea bass recipe you can make.
The Ingredients
I mentioned that this Chilean sea bass recipe only uses five ingredients. It's a super quick dinner and you can use this same technique on other fish like pan seared salmon, a wolffish recipe, or sablefish. The list of fish is endless. Here are the ingredients you will need.
Chilean sea bass. You can use fresh or frozen sea bass. If you use frozen fish then make sure you let it thaw completely before you begin the recipe.
Thyme. We used fresh thyme but you can change up the flavor by substituting any fresh herb you have on hand. Some great ideas are rosemary, sage, dill, chive, and tarragon.
Butter. You can use salted or unsalted butter. Whichever one you have on hand.
Salt.
Pepper.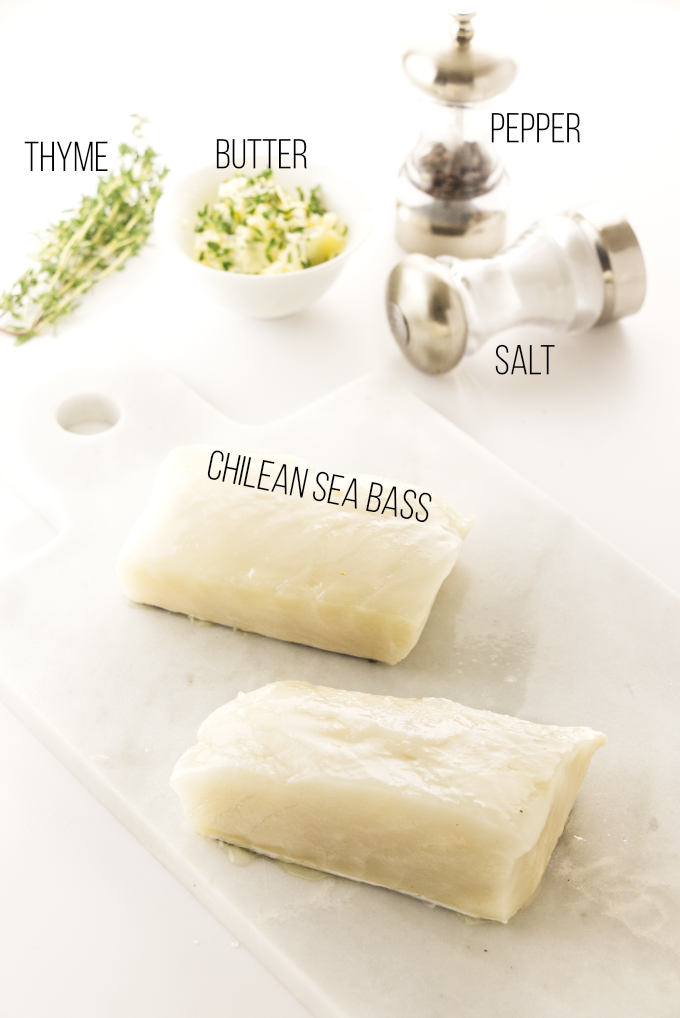 Here's How to Prepare our Chilean Sea Bass Recipe:
Here's the simplified version of the recipe. You will see how easy it is with just five simple steps. But please scroll to the recipe card at the bottom of the post so you get all the details.
Heat a skillet over medium heat. Season the sea bass with salt and pepper.
Add the fish fillets to the hot skillet, flesh side down. Cook until golden brown.
While the fish is cooking, make the compound butter.
Flip the fish and cook skin-side down. Add a knob of the butter mixture to the top of each filet. Continue cooking for 2 additional minutes while spooning the melting butter over the top.
Check for doneness. It should flake easily and be opaque in color (not translucent).
Tips for the Best Sea Bass Recipe
We prefer our cast iron skillet because it is heavy and distributes heat evenly. A stainless steel or non-stick skillet also works but heavy pans work the best.
Make sure you blot the fish dry before you season and cook them. If the fish have moisture on the surface of them then they will steam instead of sear and you won't get a golden crust.
If the sea bass fillets stick to the pan when you try to flip them, let them cook a bit longer until they release easily.
To check for doneness, insert a fork into the thickest part of the fillet and give the fork a twist. It will flake easily when it is done.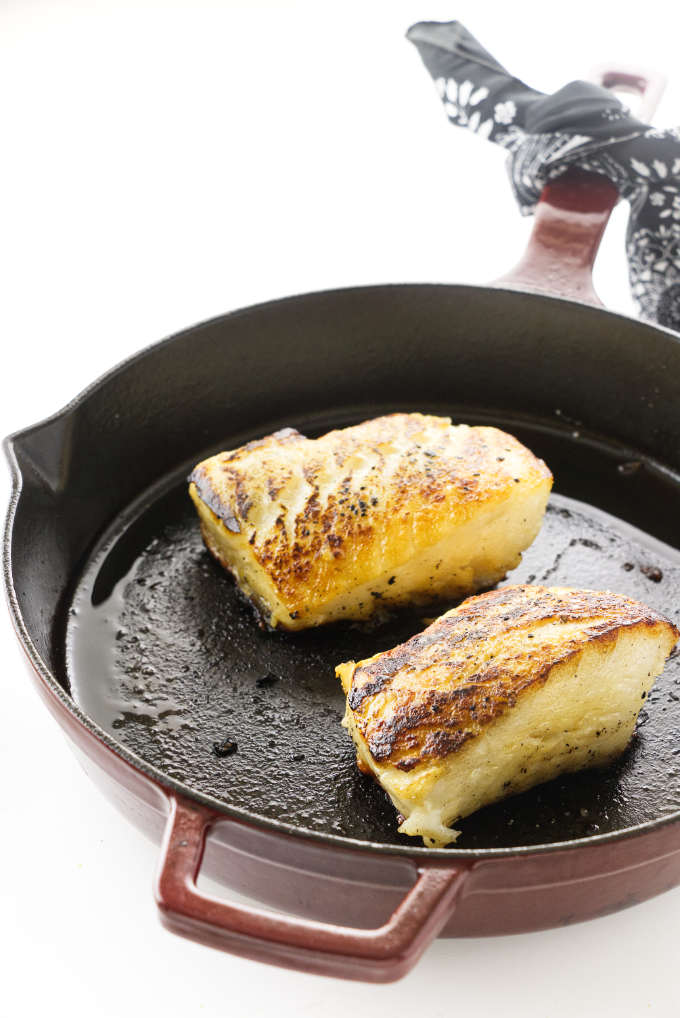 Remove the skillet from the heat, transfer the filets to dinner plates and enjoy with a squeeze of lemon juice.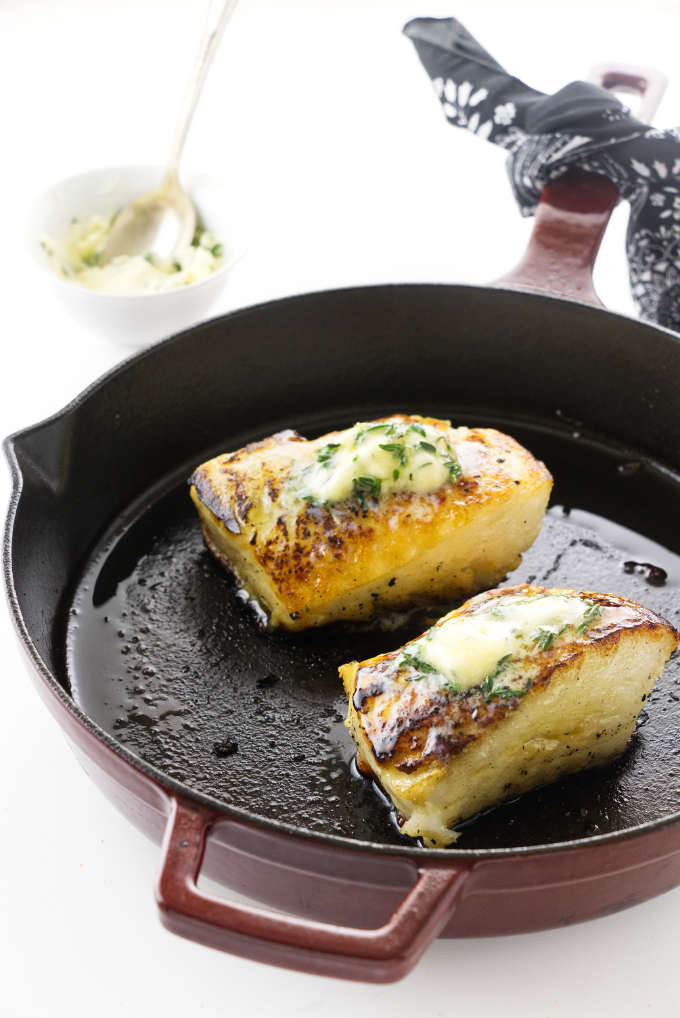 What to Serve with Pan Seared Chilean Sea Bass:
We served this with roasted fingerling potatoes and a heap of grape tomatoes as they roasted while the fish was cooking. Other options are roasted sweet potatoes, with fresh asparagus. And….a crisp make-ahead beet salad would be lovely.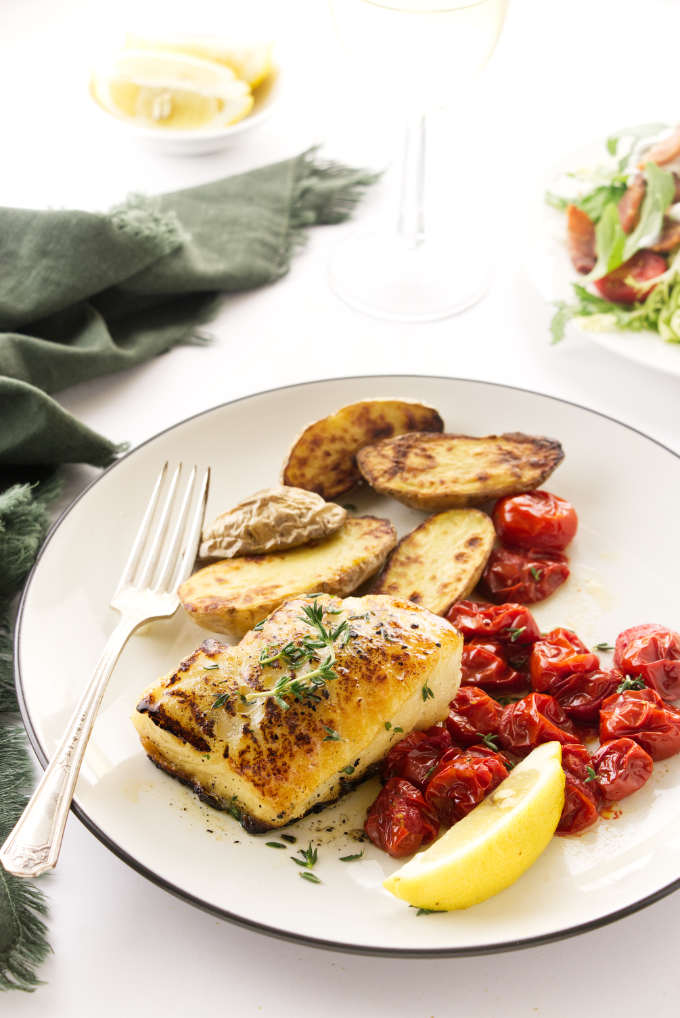 Did You Know?
Chilean sea bass is fished from the waters near Chile but is actually a fish by the name of Patagonian Toothfish and not really a sea bass. The fish has a buttery, white, flaky flesh and tastes similar to bass when cooked.
Because the Patagonian Toothfish was a rather unappetizing name for a fish and was not selling well the name was changed to Chilean sea bass in 1977.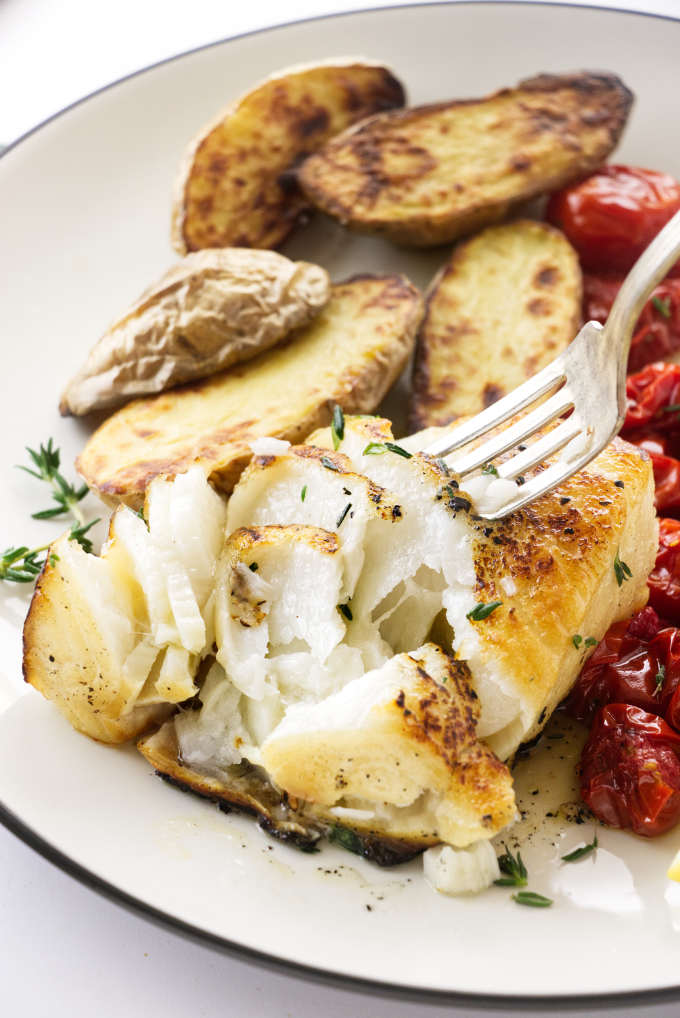 Frequently Asked Questions:
What makes Chilean sea bass so special?
Chilean sea bass has a luxurious flavor and texture. It's high fat content gives it a silky, buttery taste and makes it difficult to over-cook. Even if you leave it in the skillet a bit too long, it will still retain some moisture and taste great.
Is Chilean sea bass from Chile?
Chilean sea bass is caught in the waters of Australia, Chile, South Africa and Argentina.
What fish is similar tasting to the Chilean sea bass?
The sablefish, which is also known as black cod has the same rich, buttery-smooth texture to its flesh as the Chilean sea bass. If you see this at the fish market, buy it, it is delicious! Try our black cod recipe if you find this fish.
What is the best tasting fish in the world?
Well, that's really a personal preference and depends on your taste. Here is a list of our favorites (in no particular order). Chilean sea bass, cod, sole, halibut, trout, salmon
What internal temperature do you cook sea bass to?
Sea bass is finished cooking when the internal temperature reaches 145°F (per USDA recommendations). We like our sea bass cooked to an internal temperature of 135°F. You can use an instant-read thermometer to check the temperature. We like using the Thermopen One because it reads an accurate temperature in only 1-second.
Some Other Recipes You Will Love:
Spicy blackened tilapia: Tilapia is a tender, flaky fish with delicate flesh. The spice blend that cooks on the fish is a perfect balance and compliments every bite.
Bourbon Glazed Salmon: We served this tender, buttery salmon fillet with a luscious bourbon glaze that doubles as a marinade. This makes an elegant meal that is simple to prepare and ready in under 30 minutes!
Grilled swordfish steak: If you have never cooked swordfish before, this grilled swordfish recipe is the place to start. Swordfish is a firm textured fish with a meaty texture and mild flavor. This recipe is one of our favorites. The lemon dill aioli sauce elevates this recipe to chef status.
Connect With Savor the Best:
Please follow us on our social media accounts
Facebook * Instagram * Pinterest * Youtube * Twitter
Did you make this recipe? We would love to hear from you. Drop us a comment below.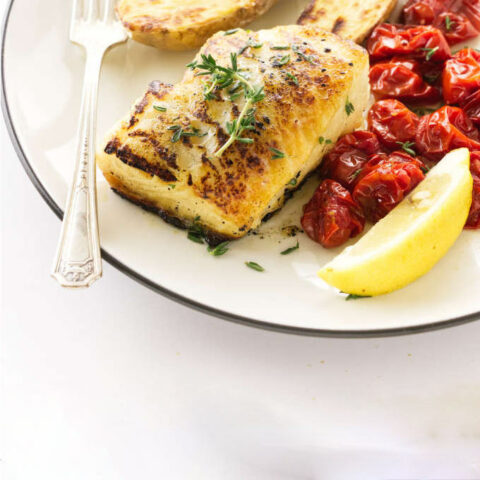 Chilean Sea Bass Recipe
This skillet-seared Chilean sea bass recipe is fast, easy and an excellent choice for either a special dinner or whenever you need a fast and easy weeknight entrée. These thick filets have a rich, flaky flesh that we basted with a thyme compound butter.
Ingredients
2 Sea Bass filets, 1-inch thick (6 oz. each)
Salt and pepper
2 tablespoons butter, softened
2 tablespoons fresh thyme leaves
Lemon wedges for serving
Instructions
Heat an 8-inch cast iron or stainless steel skillet over medium heat.
Blot the moisture from the filets with a paper towel, brush lightly with oil, and season with salt and pepper.
Add the butter and thyme leaves to a small dish, blend together. and set aside.
Pace the filets, flesh side down into the hot skillet.
Cook the filets for 4-5 minutes, do not move the filets. Flip the filets over and cook for another 6 minutes.
Add a knob of the thyme butter to the top of each filet, basting them as the butter melts. Continue to cook for another 2 minutes, until the filets are cooked through and flakes appear when tested with a fork. (see notes on how to test for doneness)
Remove the filets from the heat, plate and serve.
Notes
We recommend buying wild sea bass if possible
Let the fish cook, undisturbed, flesh side down until a crust forms on the bottom of the filet. To test if ready to turn, gently nudge the fish with a spatula and if it moves, it is ready to flip over.
Cook time should be adjusted if using thinner fish filets.
We used fresh thyme for the compound butter, other options are rosemary, parsley or chives.
To test for doneness, slide a fork into the thickest area of the filet and give it a slight twist. If done, the flesh will be opaque and there will be visible flaking of the fish
We like our sea bass cooked to an internal temperature of 135°F. The USDA recommends an internal temperature of 145°F. Remember that there will be some carry-over heat and the fish will continue to cook a few degrees more when you remove it from the heat.
Recommended Products
As an Amazon Associate and member of other affiliate programs, I earn from qualifying purchases.
Nutrition Information:
Yield:

2
Serving Size:

1
Amount Per Serving:
Calories:

352
Total Fat:

22g
Saturated Fat:

11g
Trans Fat:

0g
Unsaturated Fat:

8g
Cholesterol:

125mg
Sodium:

351mg
Carbohydrates:

3g
Fiber:

1g
Sugar:

1g
Protein:

36g
Nutrition information is a guideline only, is calculated automatically by third-party software, and absolute accuracy is not guaranteed.