Turn your leftover tri tip roast into a hearty and filling salad. This tri-tip salad is made with crisp salad greens, crunchy vegetables, roasted beets, and blue cheese. Toss it with a tangy Dijon balsamic dressing for a loaded salad that is fit for a meal.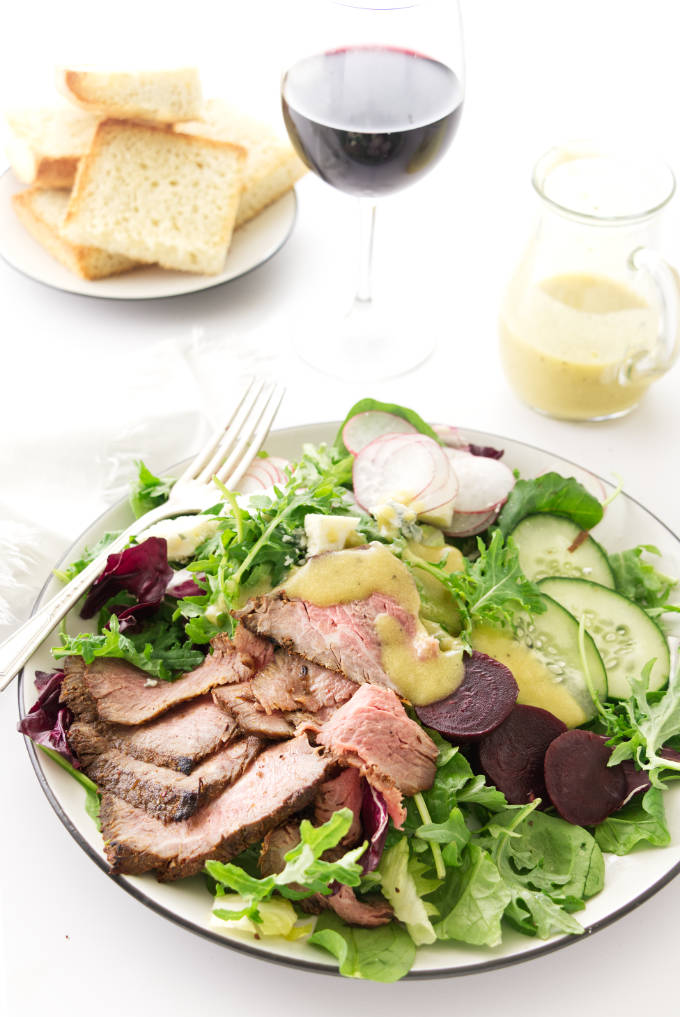 We love salads and it isn't unusual for me to fix a substantial salad to serve as a full meal. This steak salad doesn't fall short and it is a great way to turn a small amount of leftover steak into a full-meal dinner.
Seriously, you can take a small portion of steak that would barely fill one person and stretch it into at least two generous servings. When you add plenty of crunchy vegetables, meaty roasted beets, and a salty, assertive blue cheese, you will have the best steak dinner salad.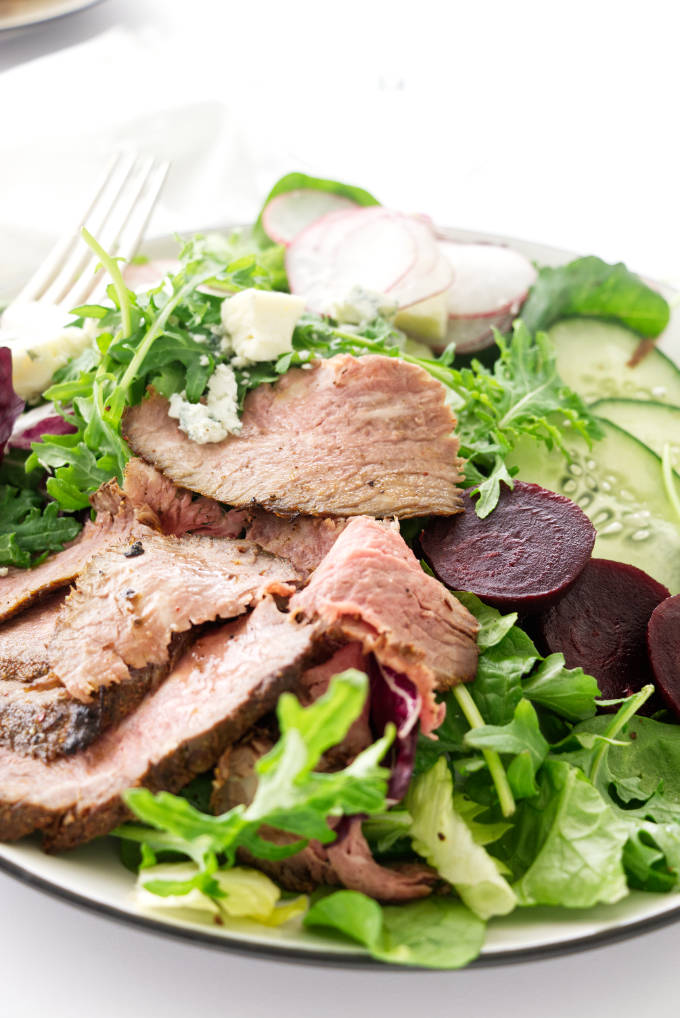 Ingredients for Tri-Tip Salad:
This is a great recipe that uses all the leftovers in your fridge. Not only does it make use of leftover steak, it's a great way to use up small amounts of produce. Feel free to add any other veggies you have in your fridge. Also, a few salty olives would be delicious to our tri-tip salad.
Leftover tri tip (or leftover ribeye steak, Tomahawk steak, even bison)
Radishes. You only need 3 or 4 radishes. Slice them thin and they will go a long way.
Cucumber. Half a cucumber will do but if you have more, use it all.
Red onion. A few thin slices of crisp red onion adds texture and color.
Roasted beets. We used red beets but roasted golden beets are also fantastic.
Blue cheese. Rich and creamy bits of cheese adds a layer of extra flavor.
Crisp salad greens. Try to choose hearty greens that will stand up to the steak. Great choices are arugula, romaine, radicchio and spinach. Try to avoid the softer, thin-leaf greens such as the delicate Butter lettuce or the Oakleaf lettuce.
And for the vinaigrette
Dijon.
Garlic.
White balsamic.
Olive oil.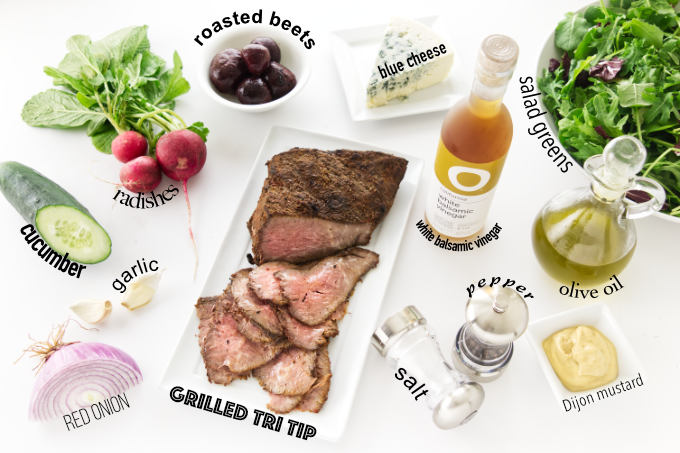 Tips for a Great Tri Tip Salad:
Slice the tri-tip across the grain. Our post for grilled tri tip shows where the grain lines are and how to slice the tri tip.
If you used our recipe for slow cooker tri tip or Instant Pot tri tip, you can shred the meat and add a generous portion to the salad.
As mentioned above, use sturdy salad greens that won't wilt under the weight of the beef.
You will have extra vinaigrette, just store it in a sealed container in the fridge.
This salad works with warm or cold tri tip.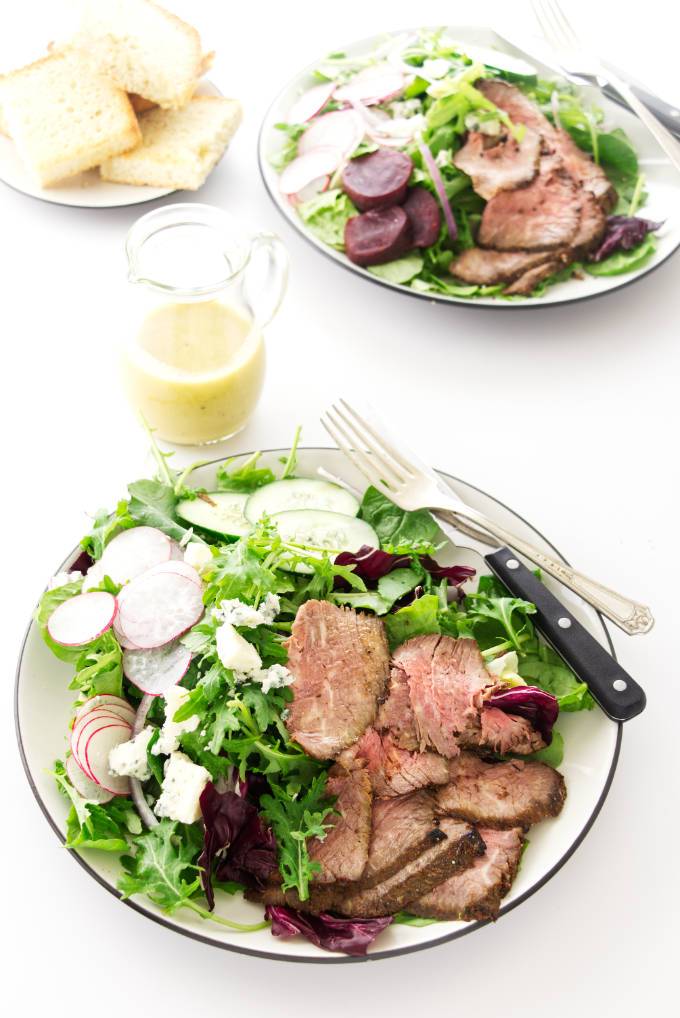 Helpful Tools:
Some of the following links are affiliates. If you click on these links and purchase something, we may receive a small commission. You don't pay any extra but it will help us keep the lights on.
Some Other Recipes You Will Love:
Salade Lyonnaise with Poached Duck Egg: This French classic salad is a complete meal in itself! Crisp, fluffy frisée lettuce, salty pancetta, crunchy croutons and a nutritious poached duck egg!
Salmon Caesar Salad: A crisp Salmon Caesar Salad with chunks of cold grilled salmon and crunchy homemade sourdough croutons and a homemade Caesar salad dressing.
Italian Caprese Salad: This salad is perfect for lunch on the patio on a warm summer day! The bright red tomatoes, creamy white cheese and sweet green basil leaves represent the colors of the Italian flag. A simple oil and vinegar dressing is all that is needed.
Connect With Savor the Best:
Please follow us on our social media accounts
Facebook * Instagram * Pinterest * Twitter * Youtube
Did you make this recipe? We would love to hear from you. Drop us a comment below.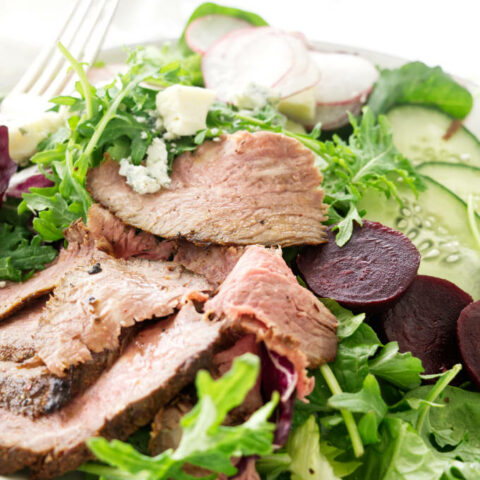 Tri-Tip Salad
Yield: 2 to 4 servings
Prep Time: 20 minutes
Total Time: 20 minutes
Tender slices of grilled tri-tip top off an assortment of crisp salad greens, blue cheese and garden vegetables. The salad is finished off with a tangy white balsamic vinaigrette
Ingredients
5 cups mixed salad greens
1/4 medium red onion, thinly sliced
1 /2 small cucumber, thinly sliced
4 radishes, sliced
3 ounces blue cheese, crumbled
2 medium roasted red beets
12 ounces (350g) cold, leftover grilled Tri-Tip beef
For the Salad Dressing:
1 teaspoon Dijon mustard
2 garlic cloves, grated
1/4 cup white balsamic vinegar
1/2 cup olive oil
Instructions
For the Salad:
Rinse the salad greens under cold water and spin dry, then tear into pieces and add to a large salad bowl. Toss to combine.
Divide the tossed greens to each of 2 dinner plates and arrange equal portions of the cucumber, radishes, blue cheese, and beets on each plate.
Slice the tri-tip as thinly as possible and place about 6 ounces on each salad.
For the Salad Dressing:
Add all the ingredients to a small pitcher and whisk to combine. Alternatively, add the ingredients to a Mason or jelly jar and shake to combine.
Notes
You will not use all of the salad dressing, store remaining portion in a lidded jar in the refrigerator for up to 2-weeks.
We suggest avoiding the tender-type greens such as a Spring mix and to choose crisp, hearty greens and lettuce, such as romaine, spinach, baby kale, radicchio or arugula. The firmer, crisp greens hold up better to the weight of the beef.
Cheese is a great addition to this salad, feel free to substitute with your favorite…A Maytag blue cheese or Gorgonzola are our choices, try a smoky Gouda or tangy, creamy goat cheese.
Nutrition Information:
Yield: 2
Serving Size: 1
Amount Per Serving:
Calories: 1077
Total Fat: 71g
Saturated Fat: 12g
Trans Fat: 0g
Unsaturated Fat: 27g
Cholesterol: 268mg
Sodium: 778mg
Carbohydrates: 20g
Fiber: 4g
Sugar: 10g
Protein: 87g
Nutrition information is a guideline only, is calculated automatically by third-party software, and absolute accuracy is not guaranteed.