This is how to roast beets without making a mess. Roasted beets develop a rich, sweet flavor in the oven and the skin slides right off after they finish cooking. It is our favorite way to cook beets. You can cook a large batch and store them in the fridge or freezer to use in your recipes or as a side dish with tonight's meatloaf.
Our recipe shows you how to roast beets without tin foil but the process is exactly the same if you want to use tin foil instead of a baking dish. If you wrap them in tin foil then stick the foil pouch on a baking sheet before placing them in the oven.
Do you need to peel beets before roasting?
Don't worry about peeling the beets before cooking them. As a matter of fact, they will be much easier to peel AFTER you roast them. When you take them out of the oven let them cool down so you can handle them then push the skin off with a paper towel.
The skin will literally slide off. Start at the pointy end of the beet and push the skin down toward the stem end. When you gather all the skin at the base of the stem, you can hold the skin and the stem in your hand and twist it off. Watch our video to see how easy it is to peel a roasted beet.
Not only are beets easier to peel after they are roasted, but there is also less mess than peeling raw beets.
About the red beet stains.
The bright red juices from red beets will stain just about anything including your hands. Do not place them on a wooden cutting board or any porous surface for that matter. Some countertops will get stained red as well. I like to use a non-porous cutting board like this because they clean off easily.
When I peel the skin off the beets, I usually use gloves to keep my hands stain-free. If I don't have gloves then I use a fresh paper towel for each beet and that will limit the staining. You can also peel them under a stream of running water but that will rinse away some of the nutrients and sweet roasted juices.
How to remove beet stains from your hands.
If you don't use gloves you might end up with red beet stains on your hands when you peel the beets. Soap and water do not do a very good job of removing beet stains from your hands. I have three different methods that work pretty good to get the stains off your hands.
Lemon juice and salt. The acid in the lemon juice will help remove the red stains. The salt acts as an abrasive and gets the job done faster.
A sliced potato and salt. Cut a raw potato in half and rub it over your stained hands. Use some salt as an abrasive.
Baking soda and water. Add a little baking soda to wet hands and scrub vigorously. This is my favorite method.
How to select beets:
Unless you're plucking the beets out of your backyard garden you won't know how fresh they are.
Look for smooth hard, beets
Avoid beets with cuts or bruises or soft spots
Avoid beets with wrinkled skin.
If the leaves are attached, they should look fresh, healthy, and dark green
How to store beets.
Cut the leaves and stems off (leave 1 to 2 inches of the stem intact)
Store raw beets for 3 weeks in a produce bag in the fridge.
Store cooked beets for 1 week in an airtight container in the fridge.
Freeze cooked beets for 3 to 4 months in a freezer-proof container.
When I store produce in these green produce bags it stays fresh much longer in the fridge. I haven't tried other produce bags yet but I'm sure there are others that work well.
Can you eat beet greens?
Save the beet greens when you cut them off the beets. You can eat the greens raw or cooked. They taste great sautéed with a little garlic and olive oil. You can also just chop the raw greens up and add them to a tossed salad.
How to roast beets.
Cut the stems 1 to 2 inches above the beet. Leaving part of the stem will keep you from cutting into the beet and prevent them from bleeding and making a mess.
Scrub the dirt off the beets. Leave the skin intact and don't slice into it.
Place the beets in a baking dish and coat them with olive oil. The olive oil will keep them from drying out while they roast.
Cover the baking dish and roast the beets until they are tender. If some of the beets are smaller, check on them sooner and remove them partway through the baking time if they are tender.
Remove the skins. When the beets cool down, rub the skin off with a paper towel. The skin will slide right off. If they are stubborn in a spot or two use a table knife to scrape it. If the entire beet is difficult to peel, give it another 10 minutes in the oven then try peeling again.
Season the beets. You don't need to use salt or any other seasoning before you roast the beets. The seasoning would only be on the skin which you will remove after they are roasted. Season the beets after they finish roasting.
How to roast beets so they are sweet and not bitter.
Roasting beets is the best way to concentrate all the sugars in them and make them rich and sweet. However, if you cook them too long they can get bitter. If they overcook, the sugars in the beets will burn which is what makes them bitter.
Make sure you only cook them until they are tender. Test them by sliding a toothpick or skewer into the upper part of the largest beet. If it has resistance give it another 10 minutes of oven time. If some of the beets are smaller than others, remove the smaller ones as they finish cooking.
How to use roasted beets.
Beets are delicious as a simple side dish. Slice them up and drizzle them with a little olive oil and a sprinkle of salt and pepper. They make a healthy side dish that goes with any meal.
We love them in salads like this roasted baby beet salad with feta or our watercress and roasted beet salad.
Try them in red beet Labneh or in roasted beet hummus. Use them in Borscht soup or pair them with cheese.
Beets pair well with these cheeses:
Feta
Goat cheese
Blue cheese
Parmesan
Ricotta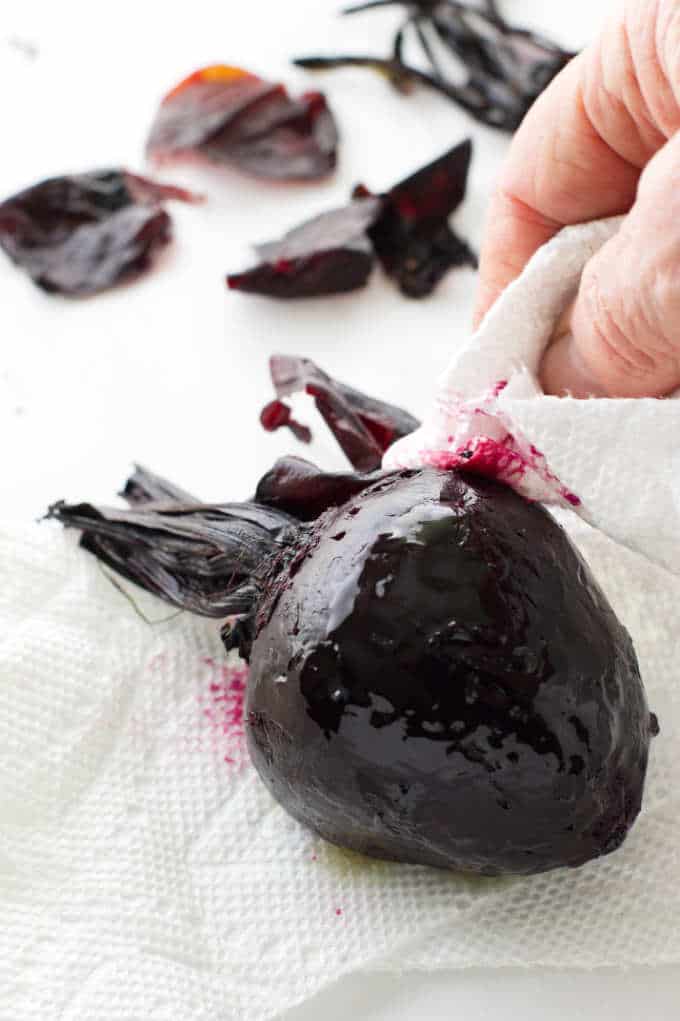 SOME OTHER RECIPES WE ARE SURE YOU WILL LOVE:
CONNECT WITH SAVOR THE BEST!
Be sure to follow us on our social media accounts
Facebook * Instagram * Pinterest * Twitter * Youtube
Did you make this recipe for Roasted Beets? We would love to hear from you. Drop us a comment below.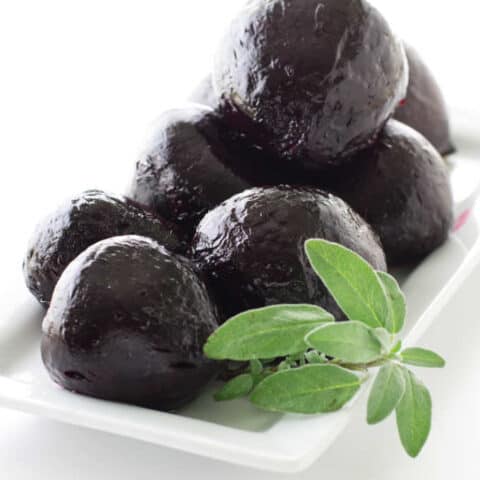 Roasted Beets
Yield: 6-8 servings
Prep Time: 5 minutes
Cook Time: 45 minutes
Total Time: 50 minutes
Easy, nutritious roasted beets! These naturally sweet beets have a delicious earthy flavor. Sliced into salads, served as a side dish or pickled are just a few ideas for this versatile vegetable.
Ingredients
2 to 2-1/2 pounds of fresh beets
4 tablespoons olive oil
Instructions
Preheat the oven to 400°F
Cut off the beet leaves down to 1/2-inch from the top of the beets. Trim the tail to a nub. Do not cut into the top or tail of beet.
Scrub the beets gently with a soft vegetable brush to remove any soil.
Brush oil on each beet and place in an oven-proof, lidded pot such as a Dutch oven. Add the lid to the pot, or cover with foil, and transfer to the oven. Bake for 45 to 60 minutes, depending on their size.
Begin checking for doneness after 45 minutes by piercing one of the largest beets, close to the stem, with a skewer or toothpick. If their is resistance, continue to cook for another 10-15 minutes. Any smaller beets should be checked at the 45-minute checkpoint and if they are tender remove them from the pot and set aside to cool while the larger beets continue to cook!
When all the beets are tender, transfer the pot from the oven, remove the lid and allow to cool for 20-30 minutes until comfortable to handle.
Place a folded paper towel in one hand with a cooled beet. With another paper towel, pinch off the tip end of the beet and push the skin up, all around the beet, toward the top of the beet then give the top a twist to remove the peeling and the stem together.
Season with salt, pepper and use as needed in your recipes.
Notes
Do not cut into the flesh of the beet at the top or end of the beet.  This will prevent the beets from 'bleeding' all their juice while they roast.
An oven-proof casserole dish or cast iron skillet may be substituted for a Dutch oven.  Cover tightly with foil.
To minimize clean up, a piece of parchment paper or foil may be added to the bottom of the pot.
The beets will stain a wooden cutting board, protect it with a folded pad of paper towels or a plastic, non-porous cutting mat.
Peeling roasted beets under running cold water will wash off some of the sweet juices and nutrients.
Nutrition Information:
Yield: 8
Serving Size: 2 beets
Amount Per Serving:
Calories: 110
Total Fat: 7g
Saturated Fat: 1g
Trans Fat: 0g
Unsaturated Fat: 6g
Cholesterol: 0mg
Sodium: 87mg
Carbohydrates: 11g
Fiber: 2g
Sugar: 9g
Protein: 2g
Nutrition information is a guideline only, is calculated automatically by third-party software, and absolute accuracy is not guaranteed.