A couple weeks ago I posted a recipe for making labneh, which is a Middle Eastern cream cheese made from fresh yogurt. We promptly gobbled that up and I have made another batch and used a portion of it to make this red beet labneh.
When the roasted and pureed red beets are mixed with the snowy white cream cheese it turns a vibrant pink color and it looks almost too beautiful to eat but, oh… is it delicious!
Labneh is so easy to make and adapts well to many dishes. It is a simple process to make as you will see in the labneh-making post.
It can be served plain after it has been drained, or, after drained it can be flavored with different herbs, chopped vegetables and spices. I especially like it with some of the Lebanese garlic sauce stirred into it along with some fresh chopped thyme or rosemary.
This red beet labneh is also easy to make by adding a portion of the prepared creamy-white labneh with roasted, pureed red beets.
You can control the color by the amount of beets you add but the typical proportions are two-thirds cheese to one-third beets. The flavor is well-balanced and delicious.
Use this red beet labneh for a spread on naan bread or a dip with fresh vegetables, and it is especially delicious served with grilled or roasted lamb.
SOME OTHER RECIPES WE ARE SURE YOU WILL LOVE:
CONNECT WITH SAVOR THE BEST!
Be sure to follow us on our social media accounts
Facebook * Instagram * Pinterest * Twitter * Youtube
Did you make this recipe? We would love to hear from you. Drop us a comment below.
Yield: 6 to 8 servings
Red Beet Labneh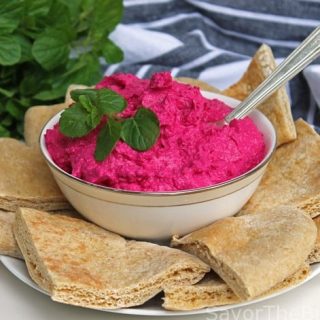 A creamy, delicious fresh cheese made from Yogurt, mixed with cooked, pureed red beets. Serve with naan or pita bread, raw veggies or chips. Especially good with grilled or roasted lamb and fish.
Prep Time 10 minutes
Cook Time 50 minutes
Total Time 1 hour
Ingredients
2-3 medium-size beets, roasted and pureed
1/2 cup beet puree made from the roasted beets
2 tablespoons olive oil
1-1/2 cups of prepared Labneh
2 tablespoons tahini sauce (optional)
Instructions
Preheat the oven to 400°F
Rinse the beets under cold running water to remove any soil, trim the top greens off but leave a one-inch stub remaining. To keep the beets from 'bleeding' while cooking, do not cut into the top of the beet or cut the rat-tail root off.
Drizzle a little olive oil over the beets and wrap them in foil. Transfer to a baking sheet or oven-proof dish and roast for 45-60 minutes, checking after 45 minutes for doneness. To test, use a wooden skewer to insert into the upper portion of the beet and if there is little or no resistance they are done. If some of the beets are larger than others they may take a little longer to roast, remove the ones that test done.
When the beets test done, transfer them from the oven and remove the foil from the roasted beets, transfer to a plate to cool, then trim the top and root-tail off. Peel the beets by rubbing with a folded paper towel or scraping the skin off with the dull side of a table knife.
Cut the beets into quarters and place them in a blender and process them to a thick puree.
In a medium-size bowl add the prepared labneh to a bowl and stir in 1/2 cup of the beet puree and the tahini sauce if you are using it. Stir the mixture until it is smooth, then transfer to a serving dish and serve with pita or naan bread, pita chips or vegetable sticks.
Notes
This recipe can easily be adjusted to make a smaller portion of red beet labneh. The usual proportions are 2/3 labneh cheese to 1/3 beet puree.
Nutrition Information:
Yield:
8
Serving Size:
1
Amount Per Serving:
Calories: 159
Total Fat: 14g
Saturated Fat: 6g
Trans Fat: 0g
Unsaturated Fat: 7g
Cholesterol: 25mg
Sodium: 43mg
Carbohydrates: 6g
Fiber: 1g
Sugar: 4g
Protein: 4g
Nutrition information is a guideline only, is calculated automatically by third party software, and absolute accuracy is not guaranteed.