Lebanese Garlic Sauce is a thick, creamy sauce with an intense garlic flavor. It is wonderfully delicious served on grilled meats, falafel and shawarma but it can be used on practically anything. Try it on pasta, pizza, stirred into steamed veggies or as a spread for sandwiches. It also makes a to-die-for dip for french fries. The possibilities are endless. Watch our video to see how to make it.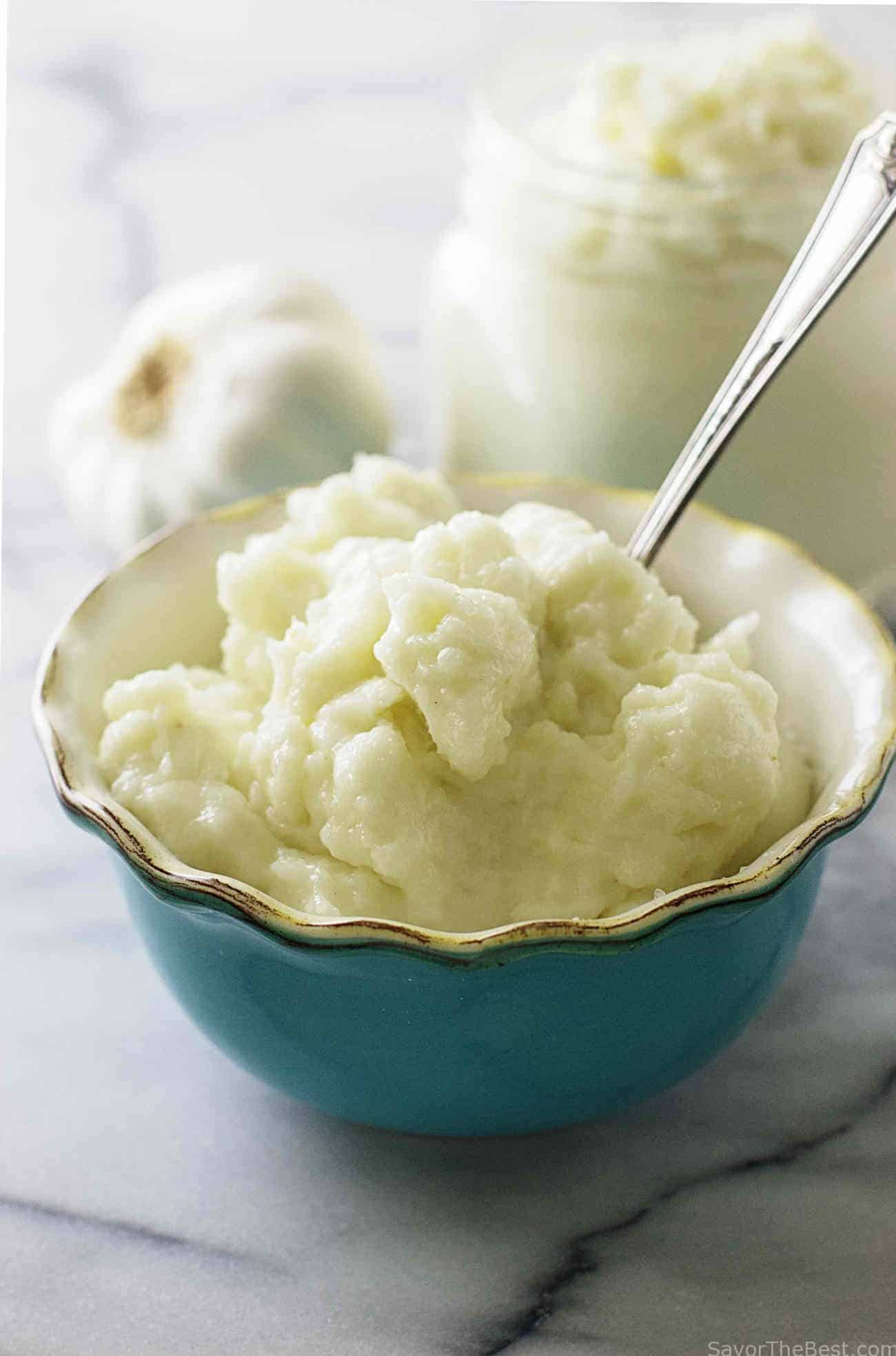 I have been buying a Lebanese garlic sauce at Central Market occasionally, and I stress the 'occasionally' as it is almost six dollars for a dinky little 8-ounce container.
So, I was excited when I saw a garlic sauce recipe in my new cookbook entitled, Comptori Lebanais by Tony Kitous, There are some great sounding Lebanese recipes in this book and I have already picked out a few that I want to try.
This garlic sauce is also known as toum which happens to be the Lebanese word for garlic.
During a recent trip to Costco, I purchased a huge bag of peeled garlic with the intention of making my own garlic sauce.
The whole bag of garlic cost less than seven dollars so my homemade Lebanese garlic sauce is very economical compared to the commercial container.
The garlic sauce will use a good cupful but this bag of garlic will keep in the fridge for a long time.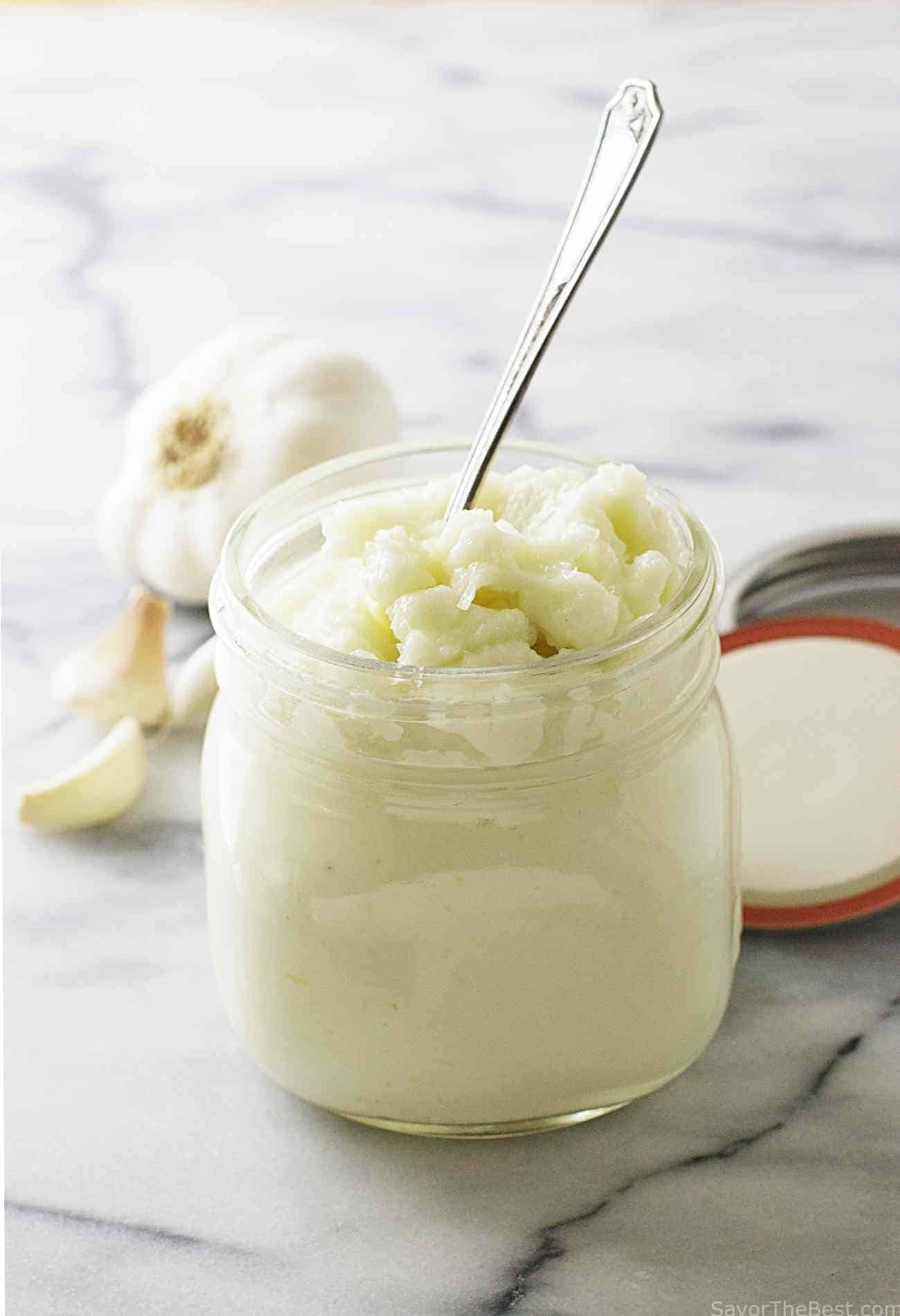 Homemade Lebanese garlic sauce is very similar to making mayonnaise and you just have to take your time drizzling in your oil and lemon juice.
Patience is the key to this recipe… don't rush. It eventually comes together into a thick, creamy delicious sauce.
HOW DOES LEBANESE GARLIC SAUCE TASTE?
This Lebanese Garlic sauce has a nice creamy texture with a lemony tang and an intense garlic flavor. It is addictive but a little goes a long way.
Did I say it has an intense garlic flavor? This is the real deal! This sauce is not for the faint of heart.
It packs a powerful punch but if you love garlic you will LOVE this sauce. Plus, it will keep in the refrigerator for at least a month.
HOW CAN YOU USE LEBANESE GARLIC SAUCE?
This sauce is great as a dip, a spread, a pizza sauce or a pasta sauce. It can be used like a mayonnaise on sandwiches.
As a matter of fact, the texture and consistency of this sauce is very much like mayonnaise but with the bonus of being egg-free for anyone with egg allergies.
You will love the versatility of the sauce.
Ideas to use this sauce:
Stir into cooked pasta
Spread on salmon steaks and bake
Bake or grill it with chicken, lamb, beef or pork
Stir into sautéed vegetables
Spread on sourdough bread then toast it under the broiler
Stir it into rice or quinoa
Top it on a baked potato
Spread it on a pizza crust instead of traditional pizza sauce
Use it as a dip for french fries
I mixed several tablespoons of this sauce with additional lemon juice to thin it out and used it with our grilled lamb kabobs. That! was really delicious!
HOW TO MAKE LEBANESE GARLIC SAUCE:
As mentioned earlier, you must take your time when you make this sauce.
If you rush the process the mixture will not emulsify and you will end up with a thin marinade.
That wouldn't be so bad actually but what we are after this time is a thick, fluffy, creamy, delicious spread with somewhat of a mayonnaise consistency.
So take your time with this process and give the mixture time to emulsify.
It should take you 7 to 8 minutes to add all of your oil. Watch our video below to see the process.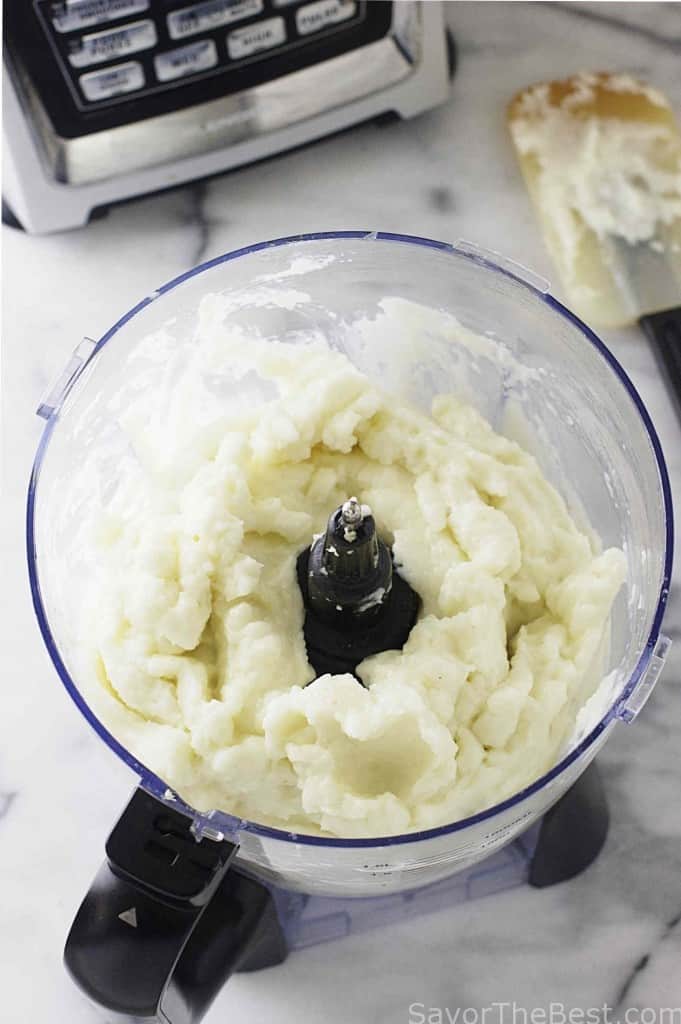 You also want to start with dry equipment. If your spatula, food processor or measuring cups have even a drop of water it could prevent the mixture from emulsifying.
Now that I have said that, if you do happen to get water in the mixture, all is not lost. You can still recover.
Water and oil actually can emulsify but if water gets in the mixture, the process will be greatly lengthened and you may feel like giving up and using the mixture as a marinade.
So, make this process easier and start with dry equipment and add the oil VERY SLOWLY. You will love the results.
How many calories are in Lebanese garlic sauce?
One tablespoon of Lebanese garlic sauce has 95 calories, 10 grams of fat, and only 1.5 grams of carbs. Since this garlic sauce is a stable emulsion of oil then the calories come from all the oil.
Lebanese garlic sauce is not a low-calorie sauce but it is a low carbohydrate sauce. Are you watching your carbs?
You will love this sauce. If you're worried about all the calories then remember that a little bit goes a very long way.
One teaspoon only has 31 calories and that's all you need for a sandwich or to spread on these grilled lamb kabobs.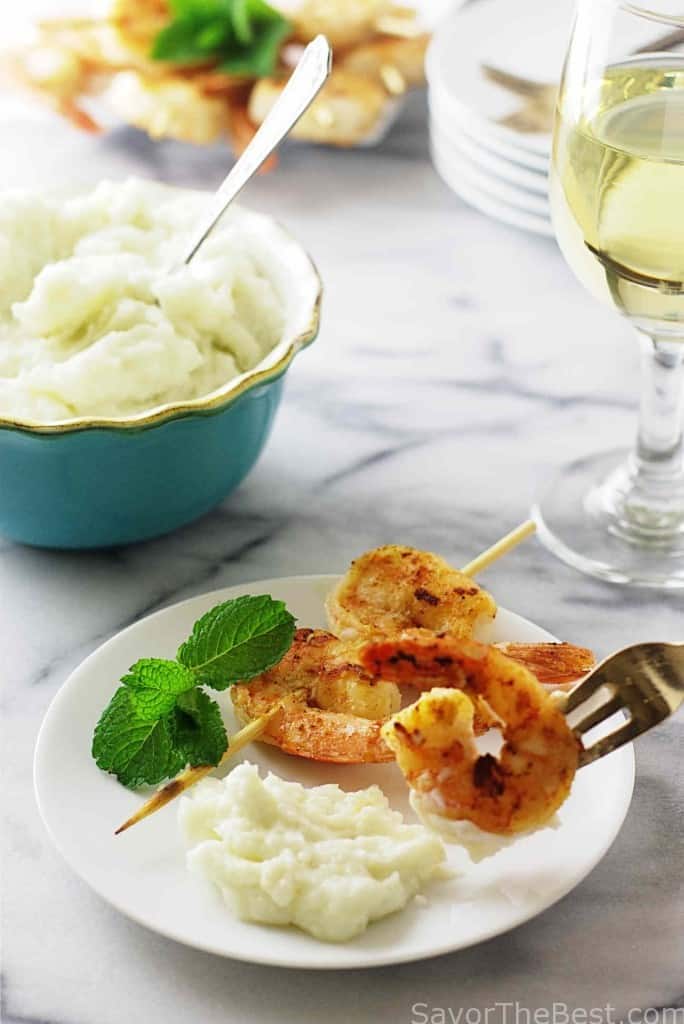 MORE GREAT SAUCE RECIPES: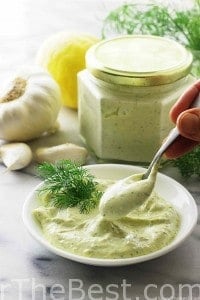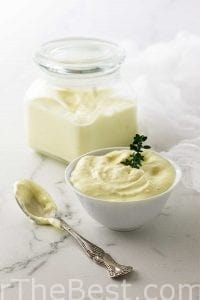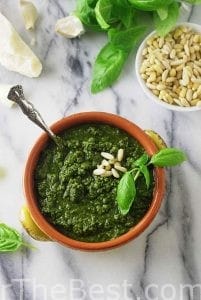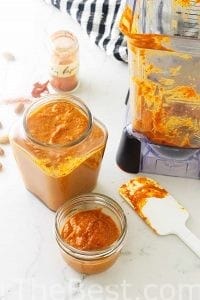 CONNECT WITH SAVOR THE BEST!
Be sure to follow us on our social media accounts
Facebook * Instagram * Pinterest * Twitter * Youtube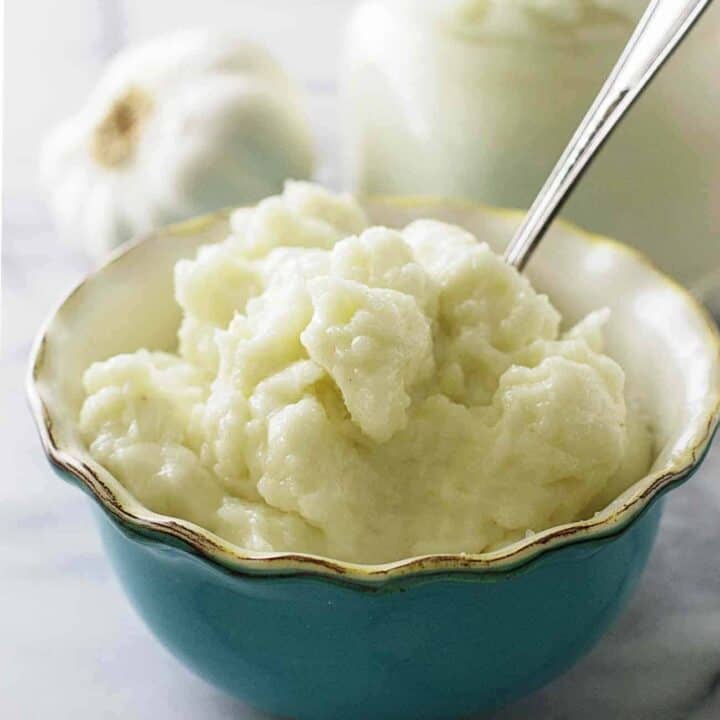 Lebanese Garlic Sauce
Yield: 2 pintes
Prep Time: 10 minutes
Cook Time: 10 minutes
Total Time: 20 minutes
A thick creamy garlic sauce that has an intense garlic flavor. Wonderfully delicious served with grilled lamb kabobs and quinoa or rice. Try it on pasta, pizza or stirred into steamed veggies.
Ingredients
30 large garlic cloves, about 1 cup
1 teaspoon salt
1/4 cup lemon juice
3 cups neutral-flavored oil, avocado, grapeseed, or canola (do not use peanut, olive oil or sesame oil)
Instructions
Add the garlic and salt in a food processor and puree until smooth, stopping several times to scrape down the sides.
With the motor running, slowly drizzle 1/2 cup of the oil through the opening in the lid in a thin stream. Then, with the motor still running, pour in a teaspoon of the lemon juice. The mixture will begin to thicken a little.
Continue alternating between ½ cup of the oil and a teaspoon of the lemon juice, waiting a few seconds between additions to give the mixture time to absorb, until you've added all of the oil and lemon juice. Do not rush, this is a process that will take about 15 minutes. The sauce will become thick, creamy and look like mayonnaise.
Alternating between the oil and lemon juice is the secret to proper emulsification which creates the light and fluffy garlic sauce.
Store in an air-tight container in the refrigerator for up to 1 month.
Notes
It is important to make sure that all your equipment is dry. If even a drop of water is on your measuring cups, spatula or food processor the water will prevent emulsification.
Adding the oil or lemon juice very slowly is also important to the success of this recipe. When you add the oil it should be in a very slow and thin stream, especially in the beginning. The entire process should take about 10 to 15 minutes.
If the mixture breaks while adding the oil, stop adding the oil and continue pulsing until it comes together again then continue adding oil in a very thin and slow stream.
Recommended Products
As an Amazon Associate and member of other affiliate programs, I earn from qualifying purchases.
Nutrition Information:
Yield: 32
Serving Size: 2 tablespoons
Amount Per Serving:
Calories: 190
Total Fat: 20g
Saturated Fat: 3g
Sodium: 74mg
Carbohydrates: 3g