I love food on a stick and these Grilled Lamb Kabobs are one of our favorites. Lean bits of lamb, infused with a herby, garlicky marinade and grilled over hot charcoal. The rich, juicy marinated lamb combined with the charred flavor from the grill makes this a big winner at our house.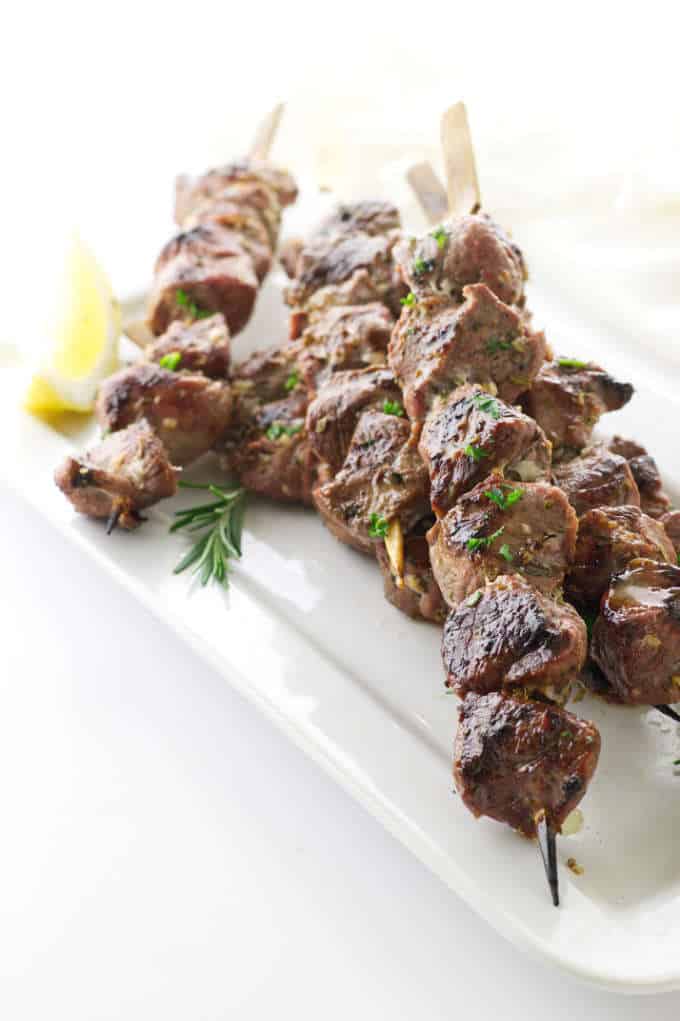 Spring is in the air, the sun is shining and we are doing our first outdoors barbecue on the deck. I just couldn't resist whipping up these grilled lamb kabobs. So much better than grilling them on my indoor grill!
The Marinade for our Grilled Lamb Kabobs:
It only takes a short 30-minute soak in this simple, straight-forward marinade to impart a magical flavor to the lamb chunks. Here is a list of the ingredients we used.
Garlic
Oregano
Thyme
Rosemary
Lemon juice
Olive oil
Salt
Pepper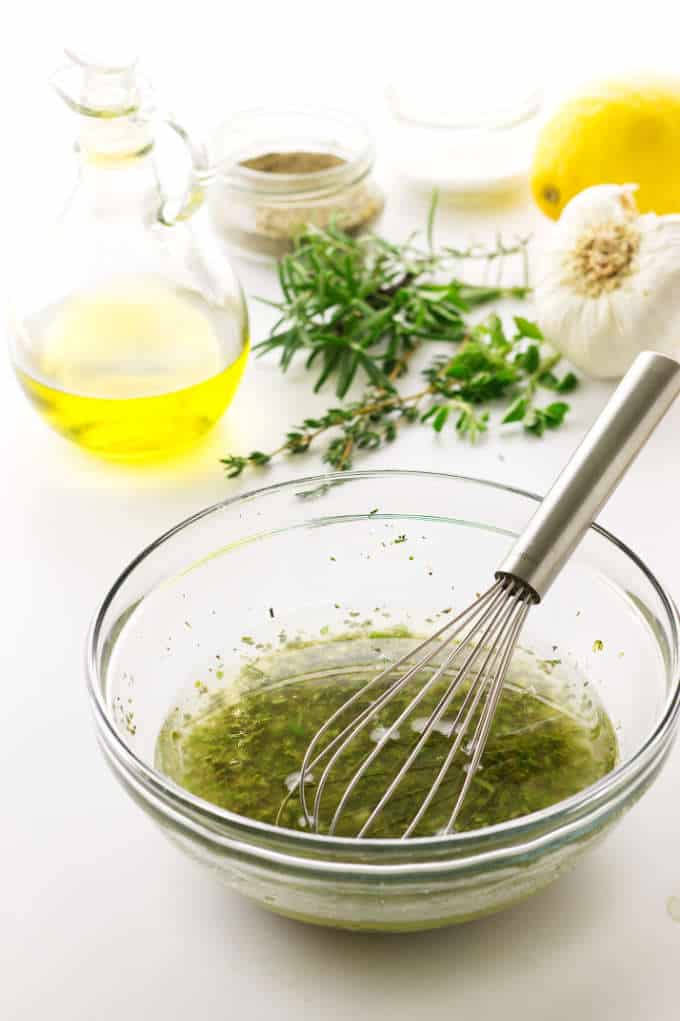 Those wooden skewers you see in the grilling section of most grocery stores works perfectly for these grilled lamb kabobs. They are disposable so you do not even have to bother washing them. However, they will need to be soaked in water to keep them from catching fire during the grilling. Just put them in a pan of water to soak while the lamb is doing its thing in the marinade.
If you plan to use metal skewers, your lamb kabobs will cook a little quicker than if using wooden skewers. Metal skewers get hot from tip to handle and cause the lamb chunks to begin cooking inside as well as from the grill.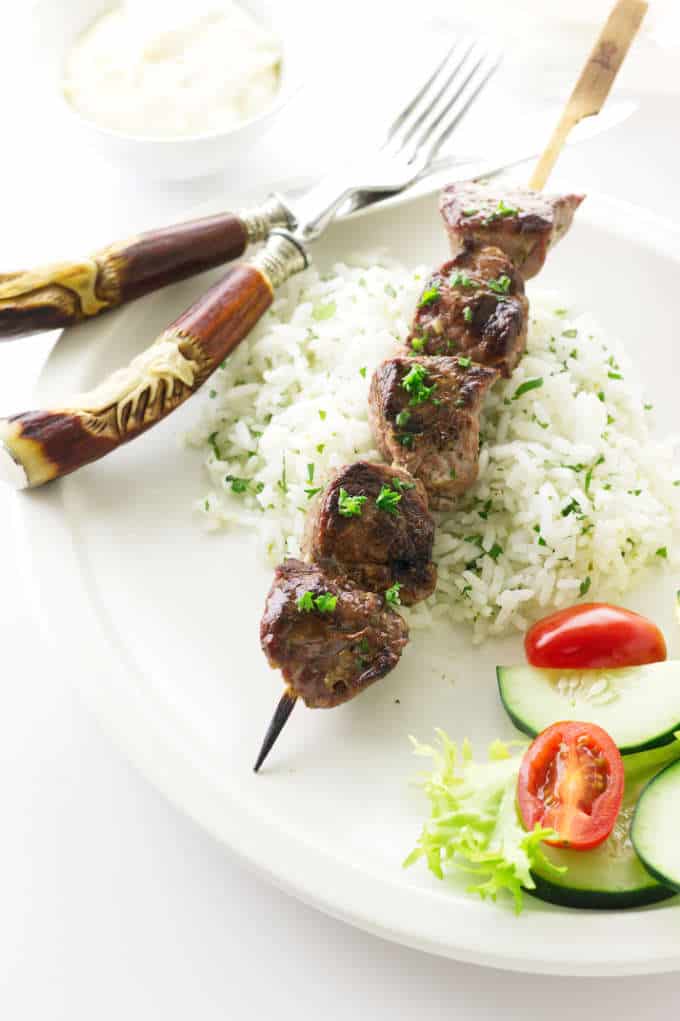 Everything gets whisked together in a dish and the lamb cubes are added. No need to mix and wash a separate jar or dish for the marinade.
Grilling the Lamb Kabobs:
We prefer to use a charcoal grill for these lamb kabobs for the rich smoky flavor. You can also use a gas grill or broil them in the oven. Please scroll to the bottom of the post for the recipe and instructions.
Set up and light a charcoal chimney for the charcoal grill or preheat a gas grill to medium. While the grill is heating prepare the marinated lamb kabobs.
Thread the cubes on the pre-soaked wooden skewers and place on a plate. Cover with plastic wrap until the grill is ready.
Spread out the hot coals and adjust the grill to about 4-inches from the heat. Grill the lamb kabobs, rotating to char lamb on all sides, until cooked to desired doneness, about 7-8 minutes for medium-rare.
How to make a Garlic Aioli Sauce:
If you can make a homemade mayonnaise, you can make this garlicky aioli sauce. Here is how to do it:
In a blender or food processor, drop the garlic cloves into the machine and process until minced. Add the egg yolks, mustard, salt and pepper.
While the machine is running, drizzle the oil into the top opening/feed tube very slowly. When the mixture begins to thicken you can drizzle the oil a little faster. Continue to process until all the oil has been incorporated.
There is a lot of garlic in this aioli, 12 cloves to be exact, so if you are not a garlic lover feel free to reduce the amount according to your taste.
I love my mini-food processor, it is just the right size for this aioli sauce). It didn't take long to grill these lamb kabobs and I served them with fragrant jasmine-cilantro rice, sliced tomatoes and cucumbers. The garlic aioli is very similar to my Lebanese garlic sauce and you may want to give that a try someday. What a delicious dinner!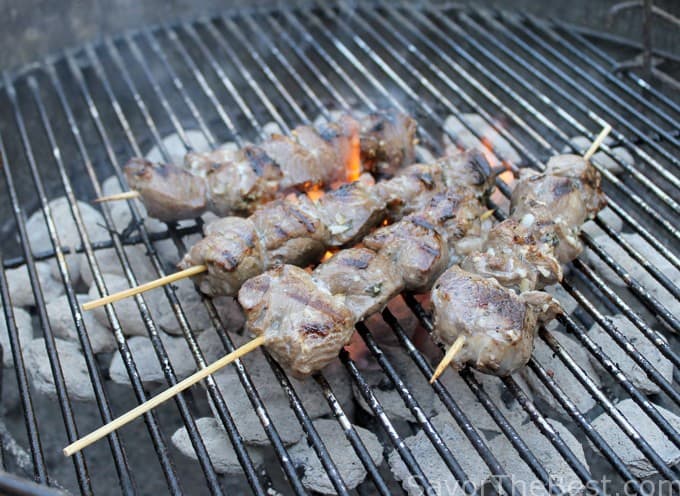 More Recipes We Are Sure You Will Love
Grilled Pineapple Chicken Kabobs: Fresh pineapple and juicy, tender chicken get cut into bite-sized pieces and placed on kabobs then cooked on the grill It is a sweet and savory combination.
Lemongrass Chicken Satay: Lemongrass chicken satay has all the complex flavors of Thailand, sweet, sour salty and spicy. Grilled over hot coals or stove-top grill pan and served with a spicy peanut sauce.
Thai Pork Satay with Peanut Dipping Sauce: Bits of pork marinated in a mix of garlic, ginger, soy sauce, and sugar along with whatever the cook decides to add to create a sweet and savory flavor. Marinated pork, threaded on skewers and grilled over hot coals. Street vendors usually serve these grilled pork satay skewers with sticky rice and a dipping sauce
Connect With Savor the Best:
Please follow us on our social media accounts
Facebook * Instagram * Pinterest * Youtube * Twitter
Did you make this recipe? We would love to hear from you. Drop us a comment below.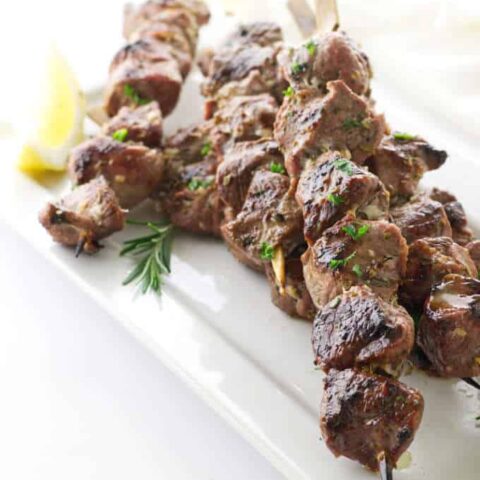 Grilled Lamb Kabobs
Additional Time:
30 minutes
Grilled lamb kabobs that have been marinated in fresh herbs, garlic and lemon juice.
Ingredients
4-long bamboo skewers
2 pounds lamb, cut into 2-inch pieces. (I used leg of lamb)
For the Marinade:
3-4 garlic cloves, minced
1 tablespoon fresh oregano, finely chopped
1 tablespoon fresh thyme, finely chopped
1 tablespoon fresh rosemary, finely chopped
1/2 cup freshly squeezed lemon juice
1/2 cup olive oil
1/2 teaspoon kosher salt
1/4 teaspoon freshly ground black pepper
For the garlic aioli:
12 large garlic cloves, peeled
2 egg yolks
1/2 teaspoon Dijon mustard
1/4 teaspoon sea salt
pinch of white pepper
1 cup olive or vegetable oil
Instructions
Soak the bamboo skewers in water for at least 30 minutes.
Prepare a hot charcoal grill
For the Marinade:
Add the garlic, fresh herbs, lemon juice, oil salt and pepper to a 8x8 dish and whisk to combine. Add the lamb chunks and toss to coat completely. Refrigerate for 30 minutes. When the lamb is well marinated, thread the chunks of meat onto the bamboo skewers, brush the lamb skewers with additional olive oil and transfer them to the hot grill when it is ready. Cook for 5 minutes and turn the skewers. Continue to cook and turn every 5 minutes until done to your likeness, about 12-15 minutes for medium-rare.
For the Garlic Aioli:
Add the garlic to a small food processor and process until finely minced, stop the machine and add the egg yolks, mustard, salt and pepper. Process for 30 seconds. With the motor still running, slowly, add the oil and as the mixture starts thickening, add the oil a little more quickly and continue processing until all the oil is incorporated.
Recommended Products
As an Amazon Associate and member of other affiliate programs, I earn from qualifying purchases.
Nutrition Information:
Yield:

4
Serving Size:

1 kabob
Amount Per Serving:
Calories:

919
Total Fat:

75g
Saturated Fat:

24g
Trans Fat:

0g
Unsaturated Fat:

46g
Cholesterol:

220mg
Sodium:

436mg
Carbohydrates:

4g
Fiber:

1g
Sugar:

1g
Protein:

56g
Nutrition information is a guideline only, is calculated automatically by third-party software, and absolute accuracy is not guaranteed.