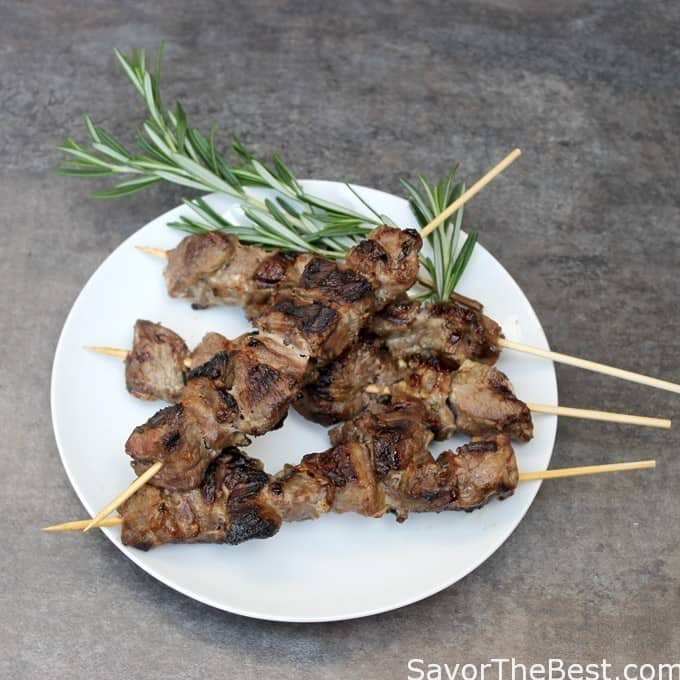 With all the reports of this winter's snow storms in the Eastern part of the country I feel fortunate that we, in the Western part have had such a mild winter. Today, spring is in the air, the sun is shining and we are doing our very first outdoors barbecue on the deck. I just couldn't resist whipping up these grilled lamb kabobs. So much better than grilling them on my indoor grill!
There is such simplicity in preparing this recipe for grilled lamb kabobs. The marinade is made with fresh oregano, thyme and garlic all mixed with freshly squeezed lemon juice. The rich charred flavor from the grill makes this a big winner at our house. I love the flavor from char-grilling these outdoors on our deck but they are also super wonderful grilled indoors when the weather is not cooperating.
Our poor deck is so winter-ravaged, with moss growing in the shady parts, weed sprouting in the untended flower pots and the usual gifting of pine cones and pine needle debris covering the entire deck . That is a little depressing. We have been having several days of drizzly, cool weather and just being in the sunshine is an inspiration!
While I was waiting for the coals to get ready for the lamb kabobs I began scoping out the backyard and all that needed to be tackled to put the winter-blues aside. I see my rhubarb is several inches tall, my chives have started to grow and the slugs are munching my herbs. I was able to pick some oregano and thyme and will use them in the marinade for the grilled lamb kabobs along with some minced garlic and lemon juice.
It didn't take long to grill these babies and I served them with sliced tomatoes, quinoa and a garlic aioli that I made, which is very similar to my lebanese garlic sauce. What a delicious dinner!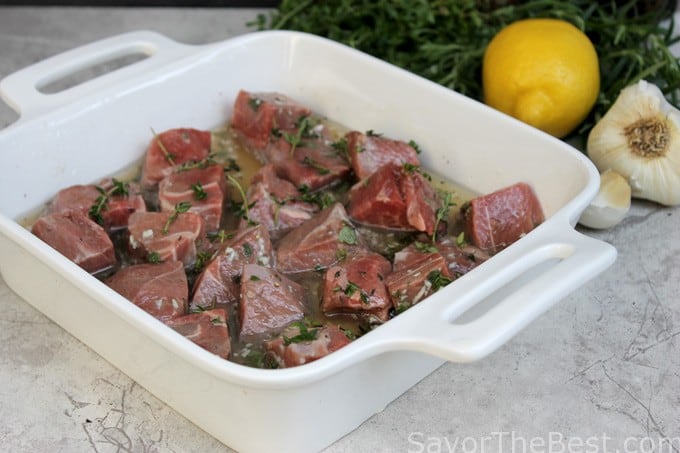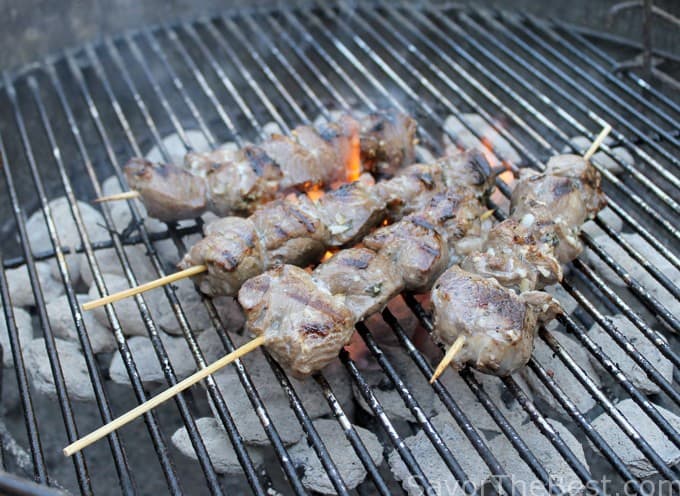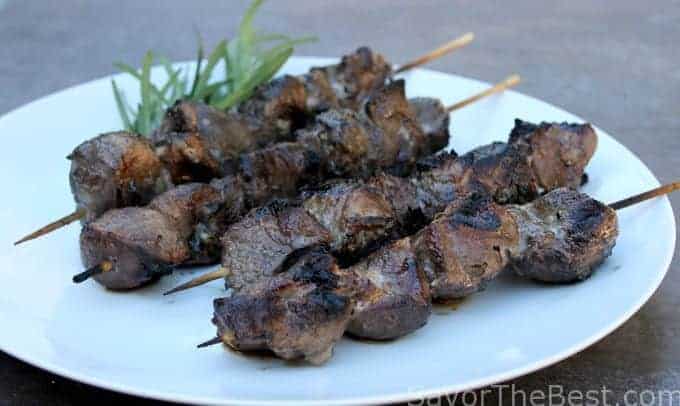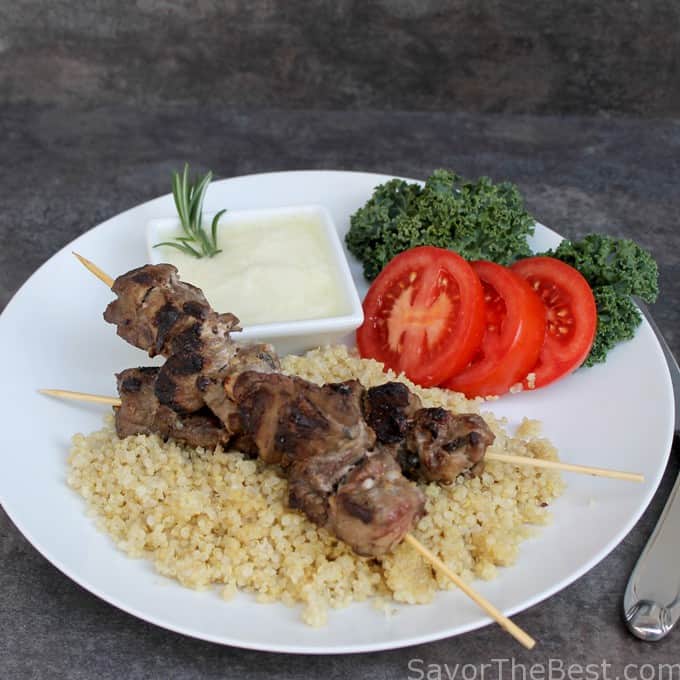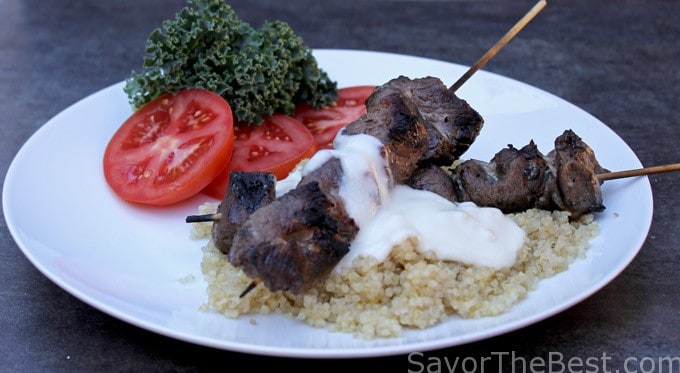 Yield: 4 servings
Grilled Lamb Kabobs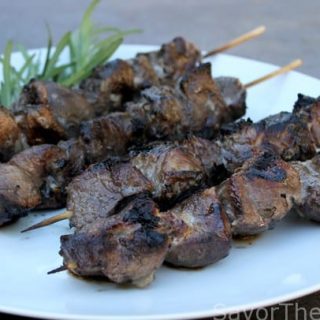 Grilled lamb kabobs that have been marinated in fresh herbs, garlic and lemon juice.
Prep Time 30 minutes
Cook Time 15 minutes
Total Time 45 minutes
Ingredients
4-long bamboo skewers
2 pounds lamb, cut into 2-inch pieces. (I used leg of lamb)
For the Marinade:
3-4 garlic cloves, minced
1 tablespoon fresh oregano, finely chopped
1 tablespoon fresh thyme, finely chopped
1 tablespoon fresh rosemary, finely chopped
1/2 cup freshly squeezed lemon juice
1/2 cup olive oil
1/2 teaspoon kosher salt
1/4 teaspoon freshly ground black pepper
For the garlic aioli:
12 large garlic cloves, peeled
2 egg yolks
1 teaspoon Dijon mustard
1/4 teaspoon sea salt
pinch of white pepper
1 cup olive or vegetable oil
Instructions
Soak the bamboo skewers in water for at least 30 minutes.
Prepare a hot charcoal grill
For the Marinade:
Add the garlic, fresh herbs, lemon juice, oil salt and pepper to a 8x8 dish and whisk to combine. Add the lamb chunks and toss to coat completely. Refrigerate for 30 minutes. When the lamb is well marinated, thread the chunks of meat onto the bamboo skewers, brush the lamb skewers with additional olive oil and transfer them to the hot grill when it is ready. Cook for 5 minutes and turn the skewers. Continue to cook and turn every 5 minutes until done to your likeness, about 12-15 minutes for medium-rare.
For the Garlic Aioli:
Add the garlic to a small food processor and process until finely minced, stop the machine and add the egg yolks, mustard, salt and pepper. Process for 30 seconds. With the motor still running, slowly, add the oil and as the mixture starts thickening, add the oil a little more quickly and continue processing until all the oil is incorporated.