Super Bowl Sunday! Go, Seahawks!!! I am not a football fan but I can tell you this is a game that I plan on watching. This is a big deal for Seattle, and we support our home team! I am bringing a these Moroccan Lamb Meatballs in Spicy Tomato Sauce as an appetizer.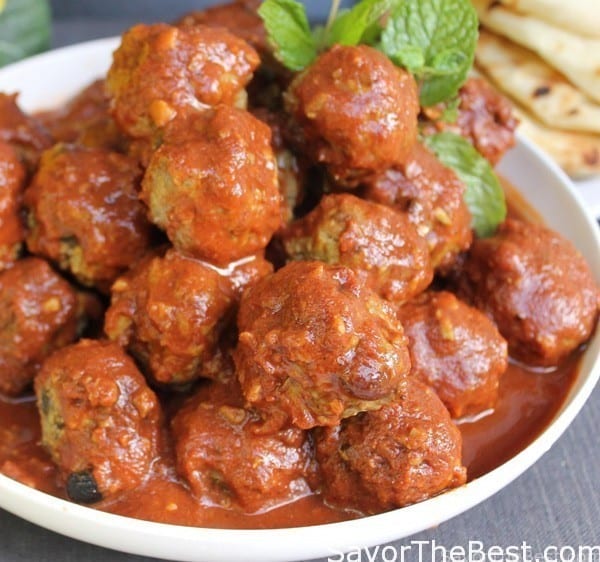 There will be a get together at Dahn and Jon's house to watch the game on their huge TV screen. These meatballs are spicy little nibbles drenched in a tomato sauce. The spice mix and the raisins give them a nice balance of savory and sweet. There is a little heat in the meatballs and just a hint of mint while the tomato sauce adds another layer of flavor.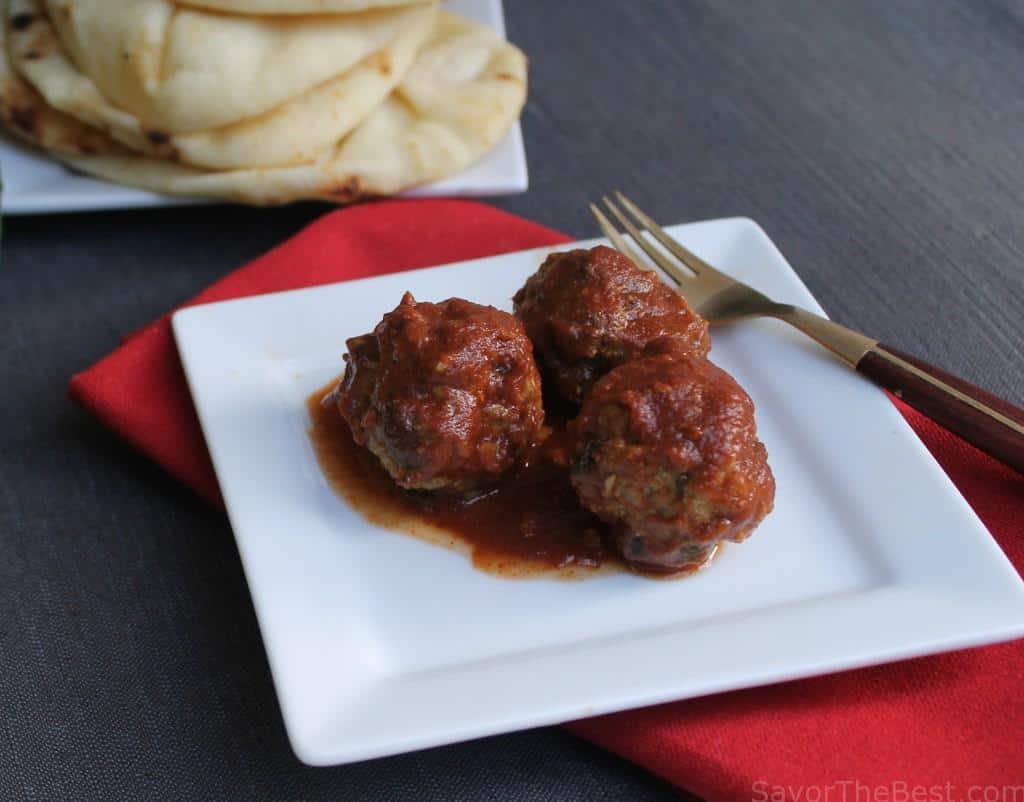 About Ras El Hanout:
The spice mix, Ras El Hanout, is a North Africa spice blend used in Moroccan cooking. It is a complex blend and has many variations and can include as much as 30 ingredients of spices, roots and leaves. Most Ras el Hanout mixes include:
Cardamom
Nutmeg
Anise
Mace
Cinnamon
Ginger
Dried Chills
Turmeric
I purchased my supply from the bulk foods section of the local grocery store. I don't know exactly what spices are in it but it is hot, and I jazzed it up a little in the sauce by the addition of cinnamon and cumin. If you would like to make your own Ras El Hanout, try this recipe.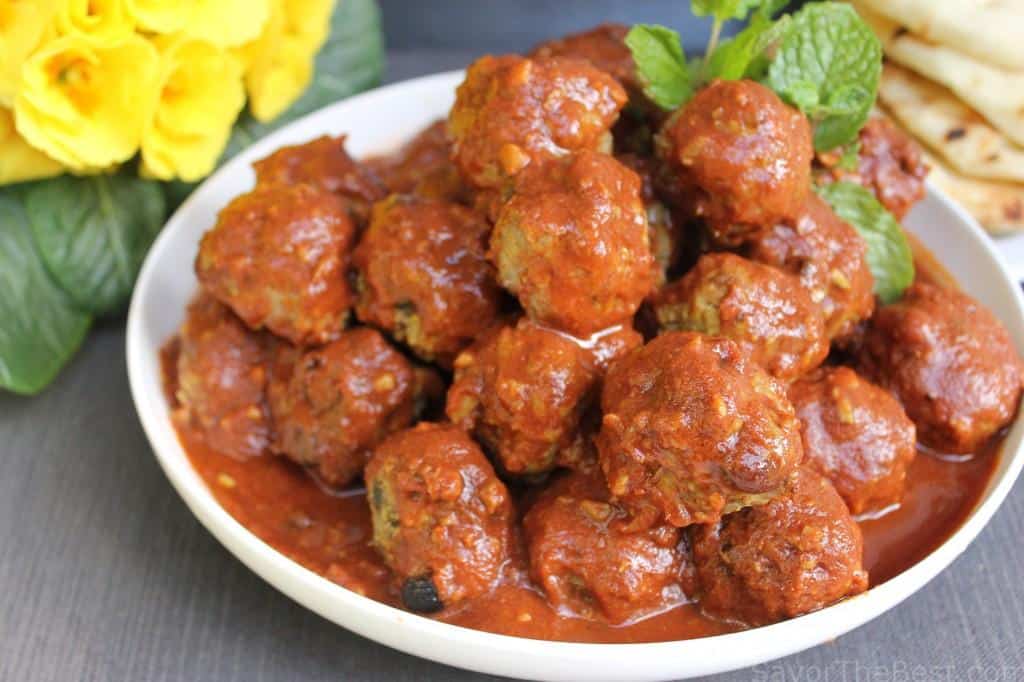 These meatballs can be served as a main entree with rice, couscous or quinoa. I will be serving it as an appetizer with some naan bread to sop up that sauce.
Try These Appetizer Recipes:
Asian Teriyaki Meatball Appetizers
CONNECT WITH SAVOR THE BEST!
Be sure to follow us on our social media accounts
Facebook | Twitter | Youtube | Pinterest | Instagram
If you make one of our recipes, snap a photo and tag it @savorthebest on Instagram and hashtag it #savorthebest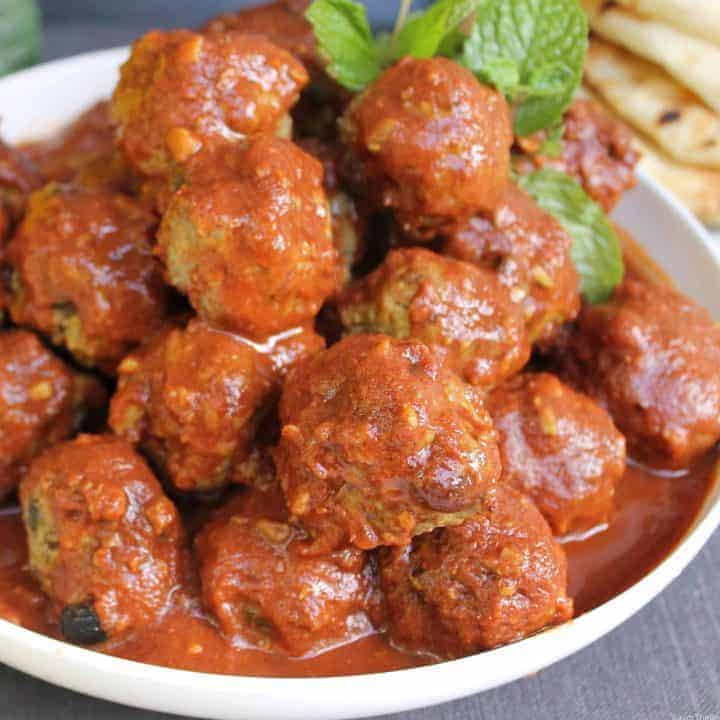 Moroccan Lamb Meatballs in Spicy Tomato Sauce
Moroccan lamb meatballs in a spicy tomato sauce.... a delightful balance of savory and sweet.
Ingredients
1 egg, lightly beaten
2 cloves garlic, minced
1 tablespoon lemon zest
2 teaspoons Ras El Hanout, Moroccan Spice Mix
1/3 cup raisins
1/4 cup chopped fresh mint
1-1/2 pounds ground lean lamb
1/2 cup fresh bread crumbs
Tomato Sauce:
2 tablespoons olive oil
3 cloves garlic, minced
8 ounces tomato sauce
1 cup dry red wine
1/2 cup chicken stock
1 1/2 tablespoon grated fresh ginger
1 tablespoon Ras El Hanout, moroccan spice mix
2 teaspoon brown sugar
1 teaspoon cinnamon
1 1/2 teaspoon cumin
Instructions
Preheat the oven to 450°F. Line a baking sheet with foil and place a wire rack on it. Spray the rack with non-stick spray to prevent meatballs from sticking.
In a large bowl combine the eggs, garlic, lemon zest, spice mix, raisins and the mint. Using a fork or your hands, mix in the lamb and the bread crumbs until well combined. With a tablespoon form mixture into balls about 1 inches in diameter. There should be about 20 meatballs. Place the meatballs on the wire rack over the foil lined baking sheet and brush the top of the meatballs with oil. The wire rack will ensure even cooking of the meatballs. Transfer the meatballs to the middle of the oven. Bake for 15-20 minutes, remove and transfer to a serving bowl.
While the meatballs are in the oven make the sauce:
Add the olive oil and garlic to skillet over medium-low heat and mash the garlic with a fork while it is cooking, about 2 minutes. Add the tomato sauce, wine and chicken stock. Bring the sauce to a boil over medium high heat and stir in the ginger, spice mix, brown sugar, cinnamon and cumin. Reduce the heat to low and simmer for 15 minutes. Spoon the hot sauce over the hot meatballs and serve. The remaining sauce may be served in a side dish for dipping with naan bread
Nutrition Information:
Yield:

10
Serving Size:

1 (2 meatballs)
Amount Per Serving:
Calories:

289
Total Fat:

19g
Saturated Fat:

7g
Cholesterol:

23mg
Sodium:

207mg
Carbohydrates:

10g
Sugar:

5g
Protein:

13g