These juicy Moroccan Lamb Meatballs are mixed with a medley of sweet and savory flavors. They are hearty enough for a main course, but they also make great appetizers for a dinner party.
Serve them over a bed of creamy polenta or wrap them in tender naan bread. You can also skewer them and serve them with our spicy tomato sauce.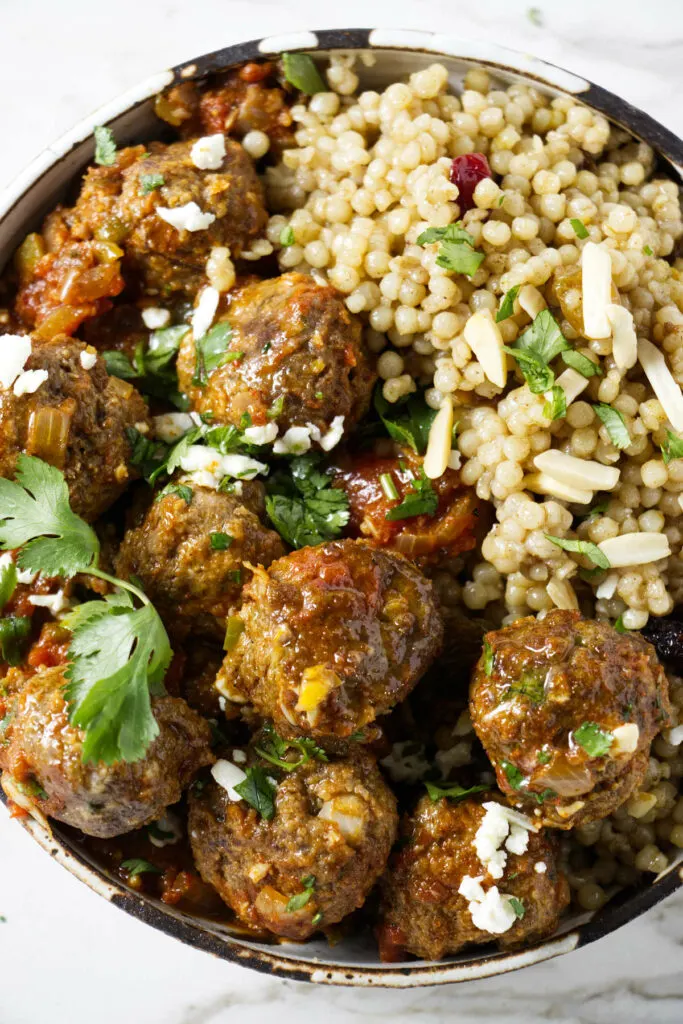 Moroccan food is a diverse and flavorful cuisine that draws from a variety of cultural influences. Lamb is very popular in Moroccan cuisine and this meatball recipe is a great way to try it out. If you like this recipe, you will love our Persian lamb, Moroccan carrot salad, Moroccan lamb shanks, or our Moroccan chicken.
These meatballs are incredibly juicy and full of flavor. The zesty flavors are perfect with lamb, and the result is a truly delicious dish. Serve these meatballs with a Greek salad and a rice pilaf for a delicious weeknight meal.
Here is Why This Recipe Works
Cooking the meatballs in the oven frees you up to make the spicy tomato sauce (or another dish).

Ras el Hanout seasoning mix gives the meatballs a lovely Moroccan flavor.

Raisins add a subtle sweetness to the meatballs (similar to how we used dates in our chicken tagine and pork and beef meatloaf).

Fresh mint adds a bright flavor that compliments the lamb.

Eggs and breadcrumbs act as binders and keep the meatballs tender and juicy.

The spicy tomato sauce compliments the sweet and savory lamb meatballs.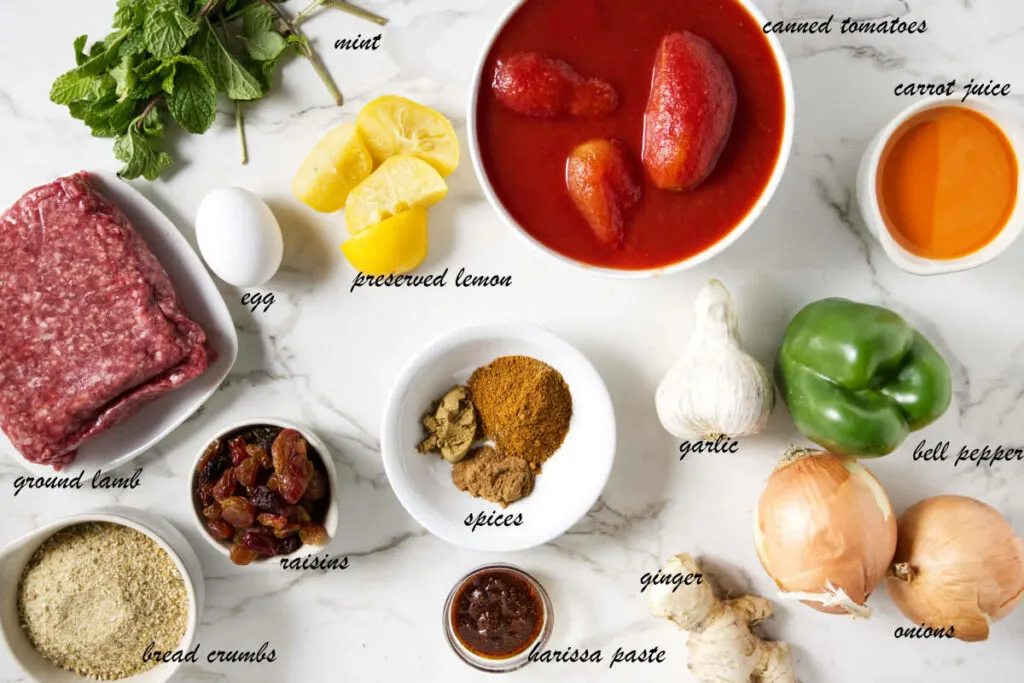 The Ingredients for Lamb Meatballs
Here is a list of the ingredients you will need for this recipe. Scroll down to the printable recipe card for all the details.
Egg
Garlic, minced
Preserved lemons
Ras El Hanout, Moroccan Spice Mix
Raisins
Fresh mint
Ground lamb. You can substitute lamb for ground beef.
Bread crumbs
We added a Moroccan tomato sauce to the meatballs. The sauce is mildly spicy from harissa paste and has a slight sweetness from carrot juice.
About Ras El Hanout:
The spice mix, Ras El Hanout, is a North African spice blend used in Moroccan cooking. It is a complex blend and has many variations. It can include as many as 30 ingredients of spices, roots, and leaves.
We like the Ras el Hanout from Spiceology, but you can find great blends in your local grocery store or on Amazon.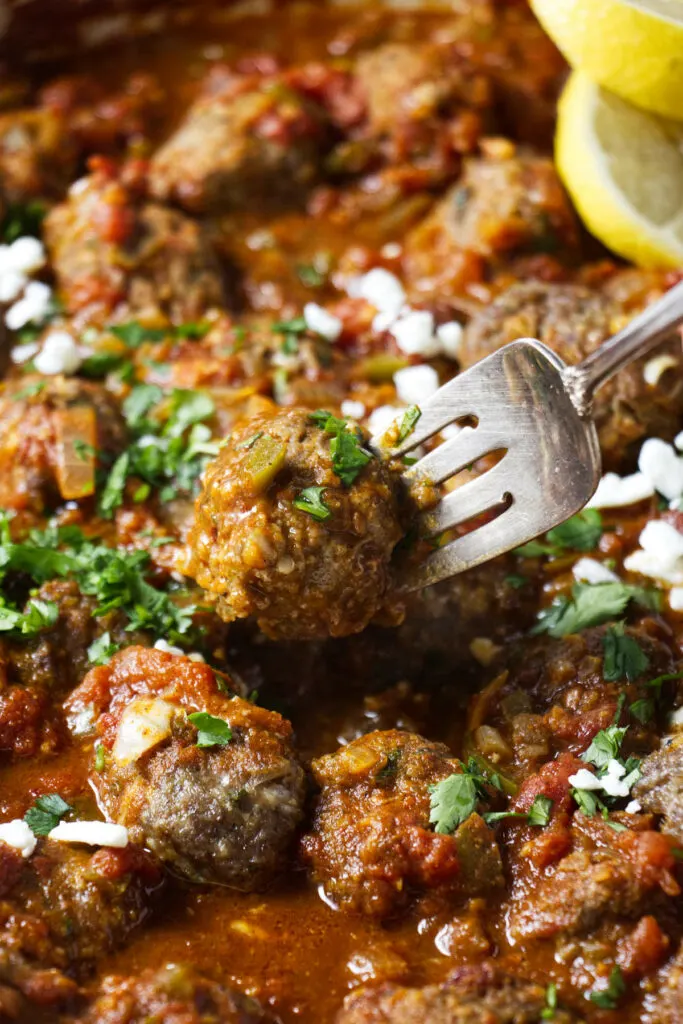 How to Make It
Here is a brief overview to get an idea of what to expect with these Moroccan lamb meatballs. Scroll down to the printable recipe card for all the details.
Mix the ingredients for the meatballs and form it into small, bite-sized balls.
Place the meatballs on a wire rack set over a baking sheet. Brush them with a bit of oil and stick them in a preheated oven.
While the meatballs are in the oven, make the spicy tomato sauce in a large skillet.
Add the meatballs to a serving bowl and spoon the tomato sauce on top or serve it on the side.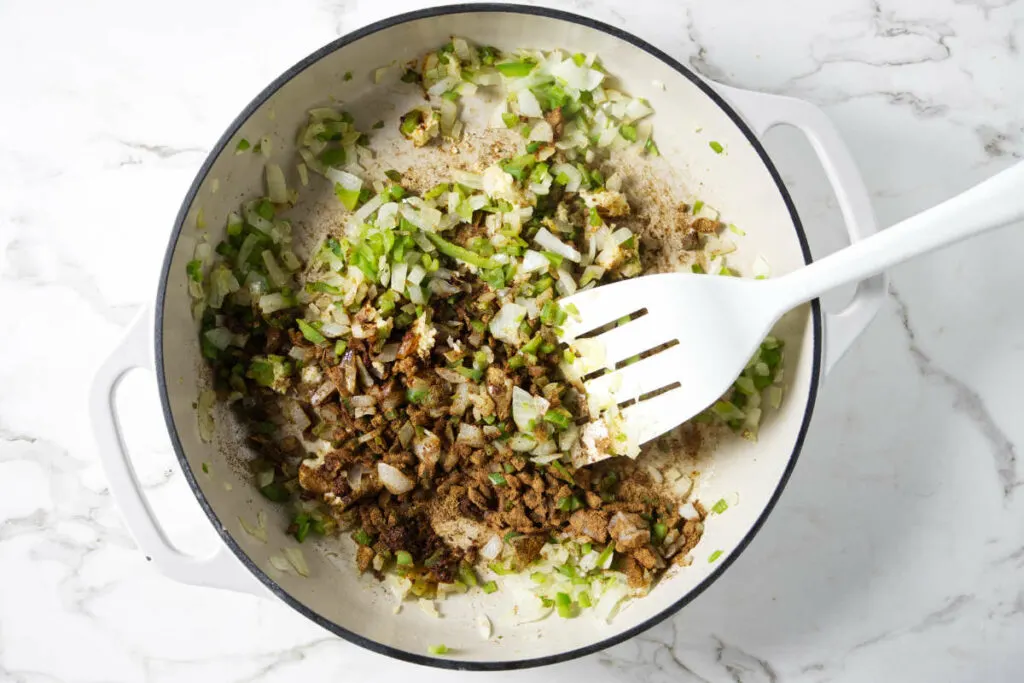 Saute the onion and bell pepper until soft, then add the spices.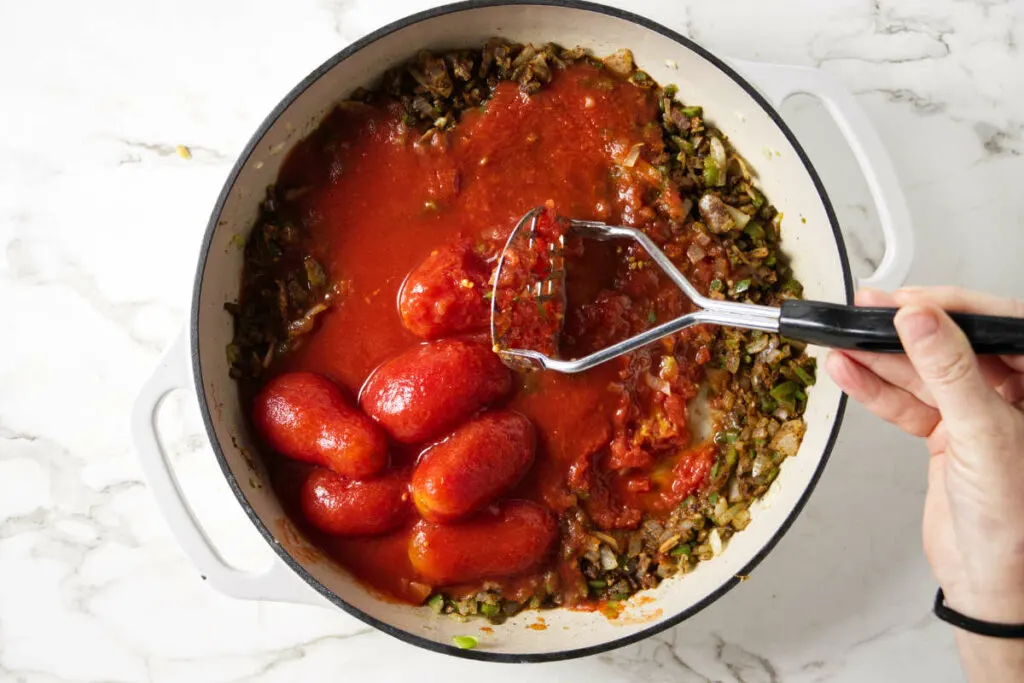 Add the tomatoes and crush them. Pour in the carrot juice and simmer the sauce for 45 minutes to 1 hour.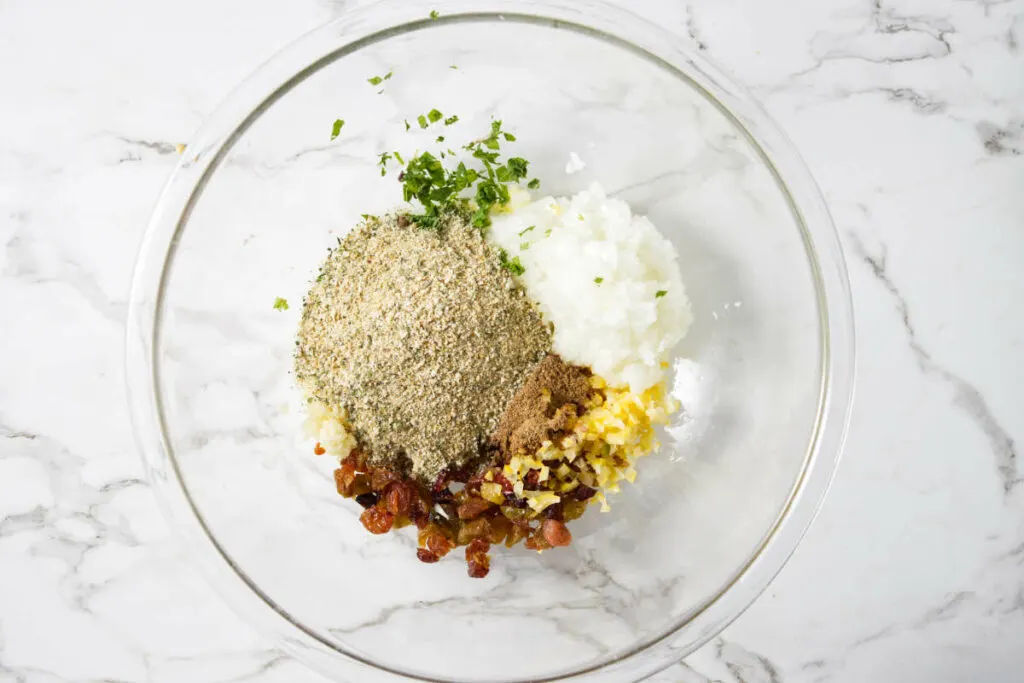 Use a large bowl to combine all the ingredients for the meatballs except for the ground meat. Let the breadcrumbs absorb the moisture for a few minutes.
Add the ground lamb and mix until well combined.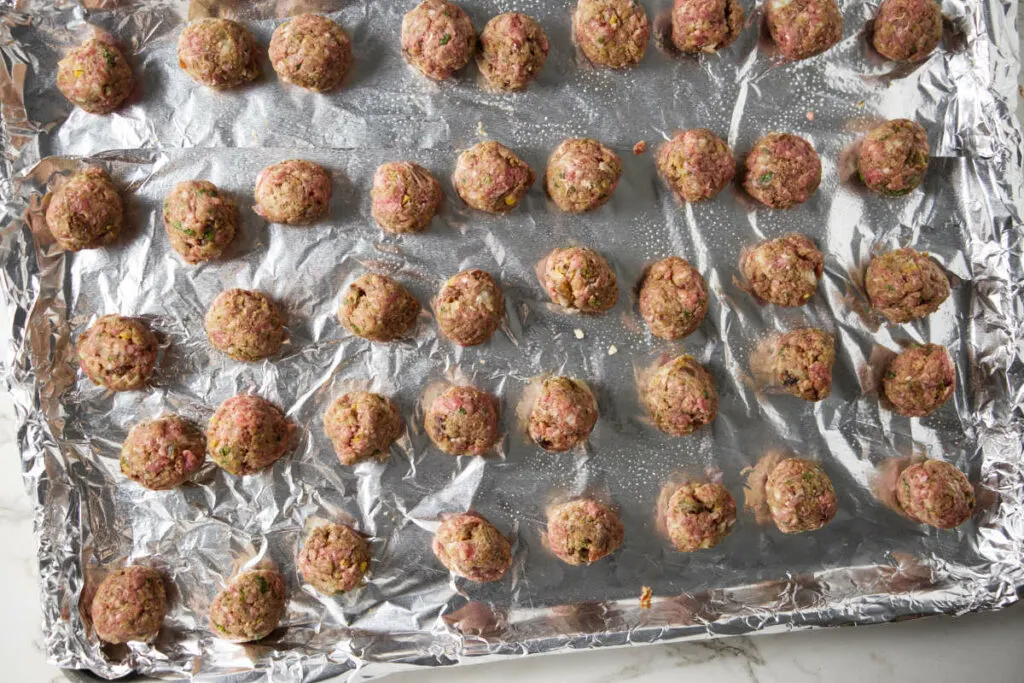 Form the meatball mixture into small balls and place them on a baking sheet.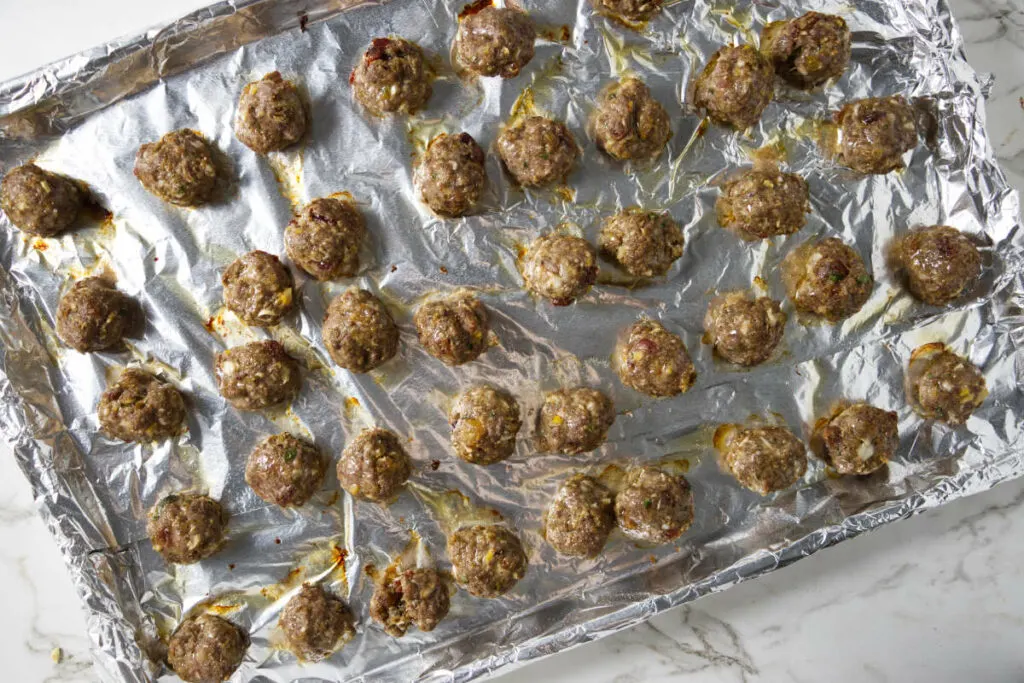 Bake the meatballs until they get a golden brown crust.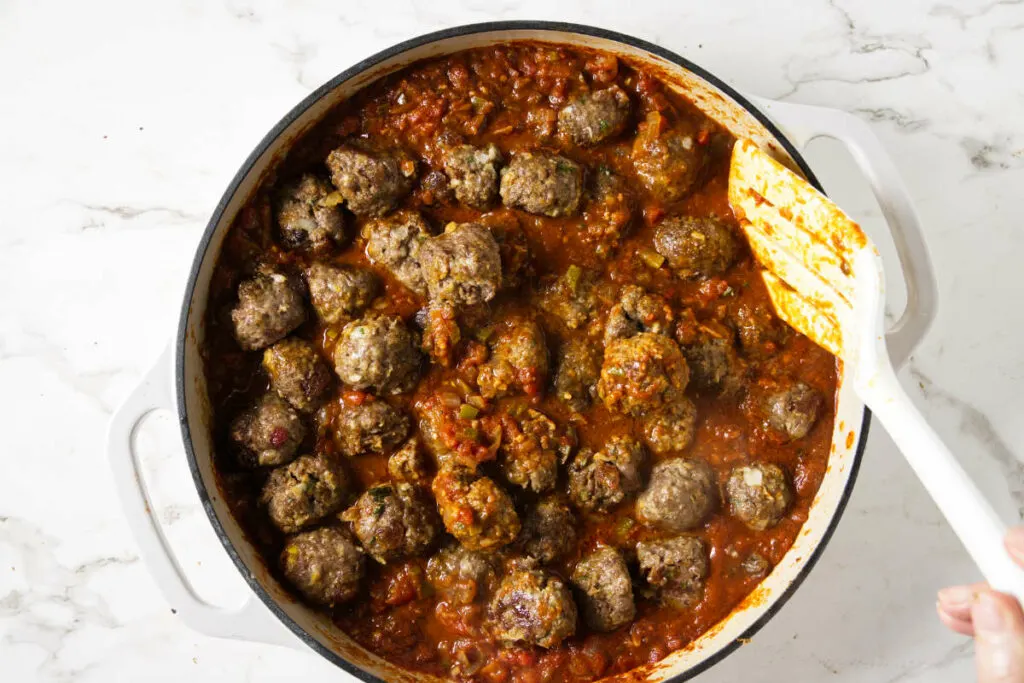 Add the lamb meatballs to the tomato sauce and simmer for a few minutes.
If you like this recipe, check out our lamb Osso Bucco casserole.
More Appetizer Recipes
Tips for Success
Keep the ingredients cold. Cold ingredients will keep the fat in the lamb from melting or getting soft while you form the meatballs.

There are times you want room-temperature ingredients (like our Greek bread), but when you make meatballs and meatloaf, it is best to have cold ingredients.

Don't overmix the lamb mixture, or the meatballs will get dense and tough. You want to make sure everything is thoroughly combined but be careful not to overdo it.

Use your hands to mix the lamb meatball mixture. If you stir the mixture with a spoon, you may crush or overwork the meat. If you don't like the idea of touching the raw lamb mixture, wear some gloves.

Add a light coat of oil to your hands when you roll the meatballs. The oil will prevent the lamb mixture from sticking to your hands.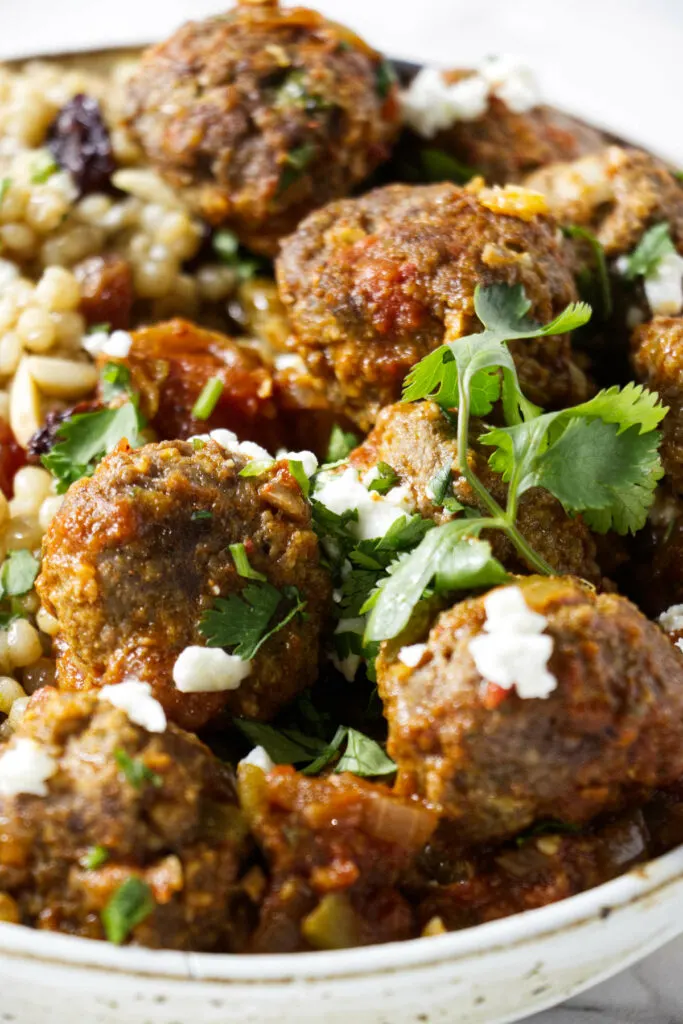 Frequently Asked Questions
Is it better to bake or fry meatballs?
You can bake or fry meatballs. Either technique will deliver great results. In this recipe, we bake the lamb meatballs on a rack so they get a nice crust on them. Baking the meatballs is easier and less time-consuming.
Should meatballs have breadcrumbs?
Traditional meatball recipes call for breadcrumbs because it acts as a binder and helps the meatballs stay tender and juicy. If you don't have breadcrumbs, you can use crushed crackers.
These Moroccan Lamb Meatballs are tender and juicy, with a crusty exterior. The flavors are unique and full of flavor, making them a real crowd-pleaser.
You can serve them as a main entree with wild rice, couscous, or quinoa pilaf. I will be serving them as an appetizer with some garlicky einkorn naan bread to sop up that sauce.
Try These Appetizer Recipes:
These tiny Stuffed Mini Peppers are simple to make and a wonderful addition to any appetizer spread. Add them to a tapas spread along with stuffed grape leaves and cheese stuffed phyllo pies.
The beef and pork in these Asian teriyaki meatballs give them a unique, extra-tender texture and savory flavor.
Our Lemongrass Chicken Satay gets grilled over hot coals for a delicious fire-roasted flavor. We served them with a spicy peanut sauce for a delicious meal.
More Meatball Recipes
Connect With Savor the Best:
Please follow us on our social media accounts
Facebook * Instagram * Pinterest * Youtube * Twitter
Did you make this recipe? We would love to hear from you. Drop us a comment below.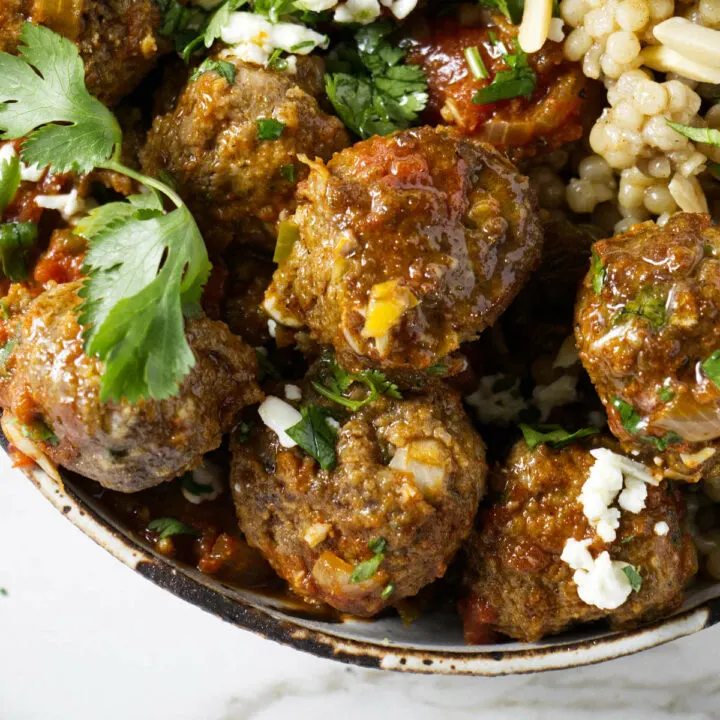 Moroccan Lamb Meatballs
Total Time:
1 hour
15 minutes
These delectable Moroccan Lamb Meatballs are combined with a mix of sweet and savory flavors. Baking the meatballs makes this recipe easy and it frees you up to make the spicy tomato sauce on the stove.
Ingredients
Moroccan Tomato Sauce:
2 tablespoons olive oil
1 onion, chopped
1 green pepper, seeds removed and chopped
5 to 6 garlic cloves, mince
1 tablespoon grated fresh ginger
1 tablespoon Harissa paste
1 tablespoon Ras El Hanout (or see notes)
1 teaspoon cinnamon
1 teaspoon cumim
1 can (28 ounces) plum tomatoes
½ cup carrot juice
½ teaspoon salt
½ teaspoon pepper
For the Meatballs
1 onion, grated or finely chopped
1 egg, lightly beaten
2 cloves garlic, minced
rind of a preserved lemon, chopped
2 teaspoons Ras El Hanout, Moroccan Spice Mix
1/3 cup raisins
1/4 cup chopped fresh mint
1-1/2 pounds ground lean lamb
1/2 cup fresh bread crumbs
Instructions
Spicy Tomato Sauce
Heat the oil in a deep skillet over medium-high heat. Add the onion and green pepper and sauté until they get soft. Stir in the garlic, ginger, Harissa paste, Ras El Hanout, cinnamon, and cumin. Cook for 30 seconds to release the aromas of the spices.
Add the tomatoes along with the juices to the skillet and crush them with the back of a fork or a potato masher. Add the carrot juice, salt, and pepper. Bring the sauce to a boil then reduce the heat to a gentle simmer.
Let the sauce simmer for 45 to 60 minutes while you make the meatballs.
Lamb Meatballs
Preheat the oven to 450°F. Line a baking sheet with foil and place a wire rack on it. Spray the rack with non-stick spray to prevent meatballs from sticking.
In a large bowl, combine the onion, egg, garlic, preserved lemon, Ras el Hanout, raisins, and mint. Stir well and let the mixture sit for 5 minutes so the bread crumbs have time to absorb the moisture.
Add the ground lamb to the mixture. Using your hands, mix in the lamb until well combined.
Form the mixture into balls about 1 inch in diameter. Place the meatballs on the foil-lined baking sheet and brush the top of the meatballs with oil.
Transfer the lamb meatballs to the middle of the oven. Bake for 12-18 minutes or until no longer pink inside when you cut them open.
Transfer the meatballs to the tomato sauce and let the mixture simmer for 5 to 10 minutes. Serve with orzo or rice.
Notes
Sometimes I add a splash of lemon juice or some lemon zest to brighten the flavors in the tomato sauce.
If you can't find Ras el Hanout you can make your own blend with the following spices.
¾ teaspoon cumin
¾ teaspoon ginger
¾ teaspoon cinnamon
½ teaspoon salt
¼ teaspoon coriander
¼ teaspoon cayenne
¼ teaspoon allspice
⅛ teaspoon cloves
Nutrition Information:
Yield:

10
Serving Size:

1 (2 meatballs)
Amount Per Serving:
Calories:

289
Total Fat:

19g
Saturated Fat:

7g
Cholesterol:

23mg
Sodium:

207mg
Carbohydrates:

10g
Sugar:

5g
Protein:

13g
This recipe was originally published on January 27, 2014.