Basmati rice pilaf is a fluffy, aromatic dish made with long-grain basmati rice and toasted almonds. Middle Eastern spices give this dish its characteristic flavor, making it perfect for special occasions or dinner parties. Serve basmati rice pilaf with your favorite protein for a complete meal.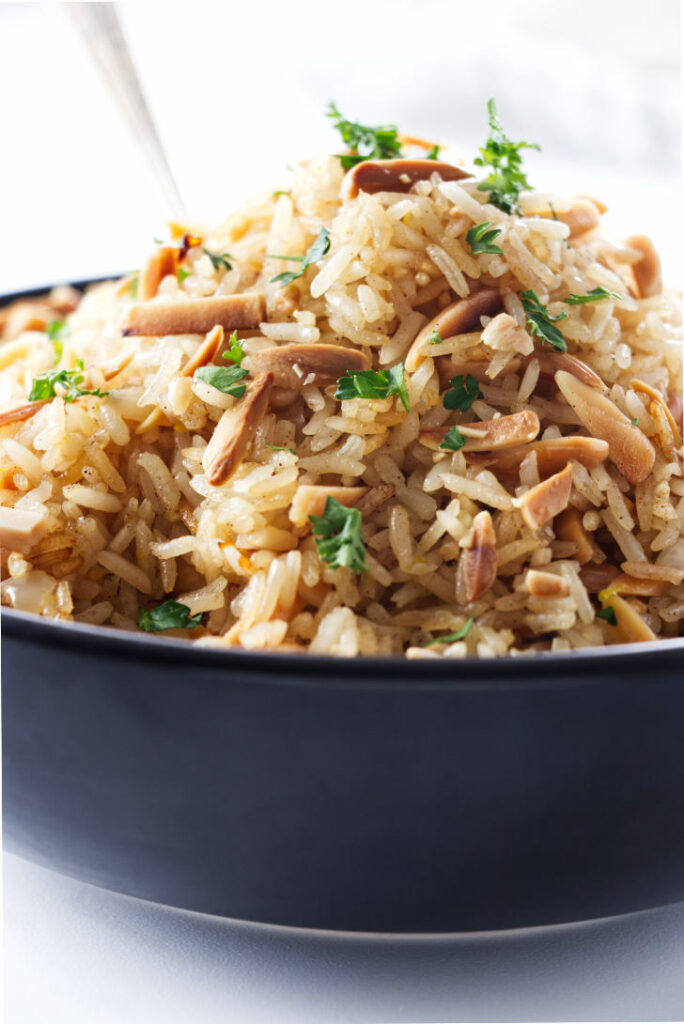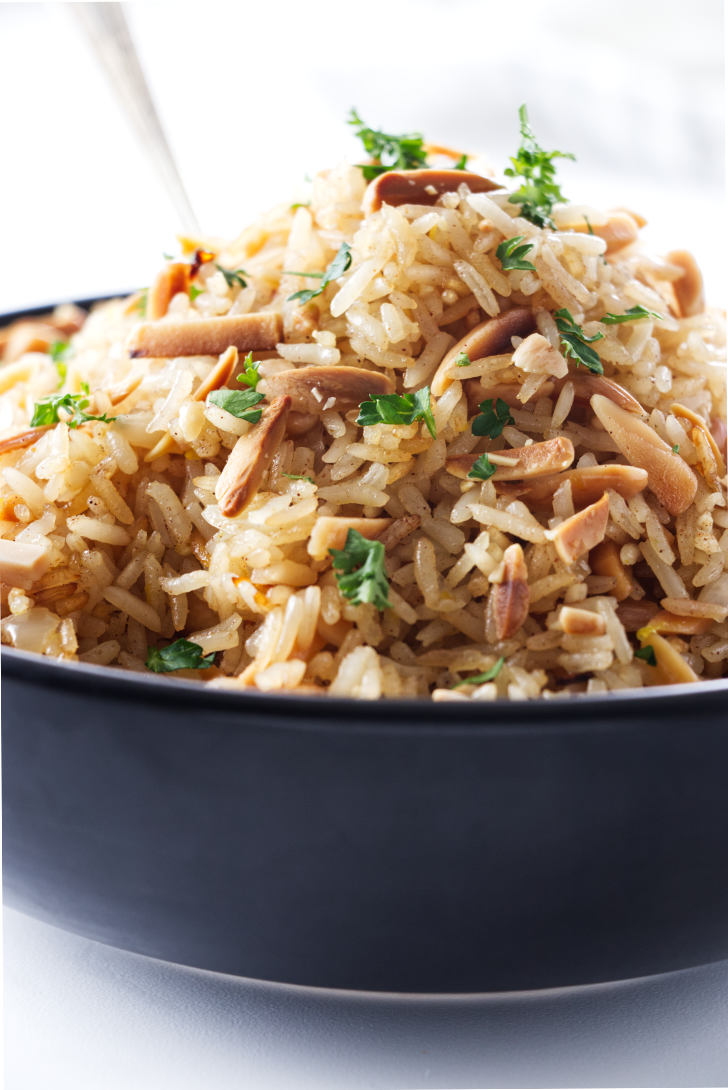 Why You Will Love Basmati Pilaf:
Basmati rice pilaf is a nice switch from your regular rice side dish, spices of cumin and cinnamon give the rice a wonderful fragrance and taste. A generous measure of toasted almonds adds crunch to the dish. This side dish is wonderful served with moist, tender Oven Roasted Chicken Thighs or with our quick and easy Pan Fried Cod with Lemon-Garlic Sauce.
Rice is a great way to add healthy grains and fiber to your diet. And…if you have an instant pot, you will also enjoy our rice recipes for Instant Pot Wild Rice Blend and Instant Pot Basil Lime Rice which is wonderful served with a taco Tuesday theme. And for a real treat make a batch of Instant Pot Black Rice to serve with Salmon and Yellow Curry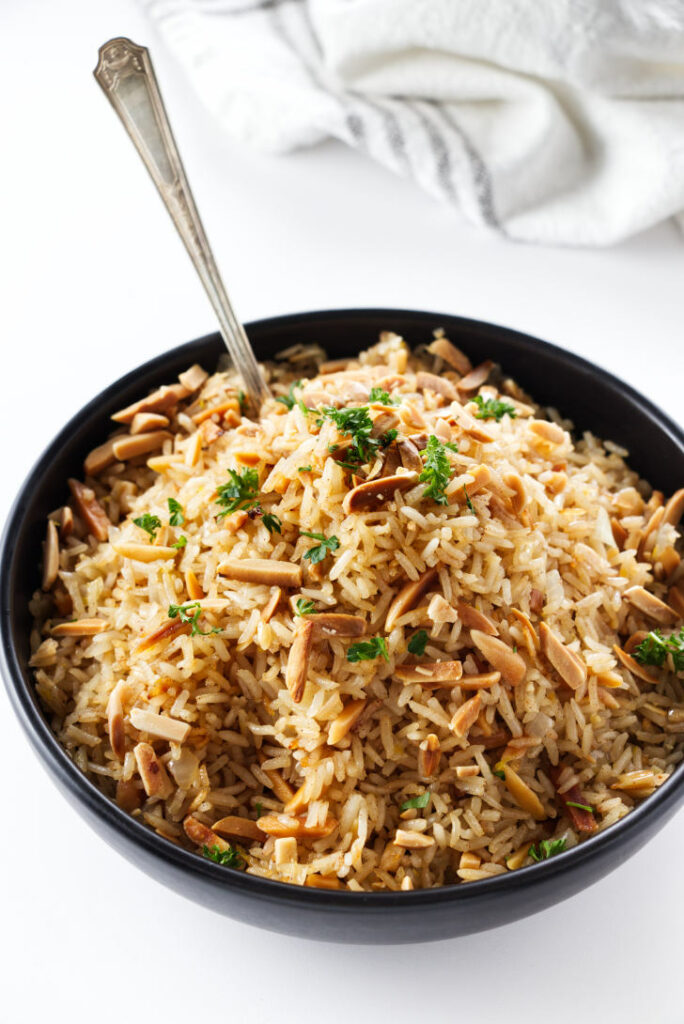 Ingredients for Basmati Rice with Almonds:
Basmati rice is more fragrant than plain rice and cooks up fluffy. The grains expand more than twice during cooking and only expand lengthwise, which allows them to stay long and slender when cooked. Here is all you need for this easy side dish.
Butter
Onion
Basmati rice
Chicken broth
Salt
Cumin powder
Cinnamon powder
Zest of one lemon
Toasted slivered almonds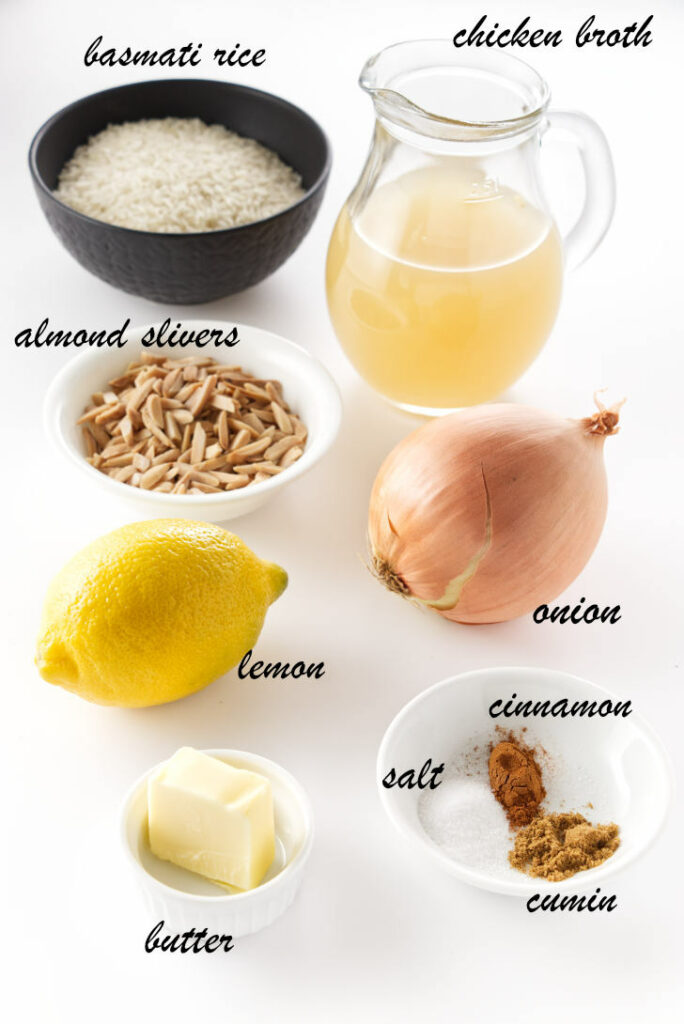 How to Make Basmati Rice Pilaf:
Just a quick sauté on the stove-top and the oven does the rest. You will love this fluffy rice with its unique spice blend and crunchy almonds. This is a brief how-to of the process, please scroll to the printable recipe card at the bottom of the post for the full measurements and instructions:
Sauté the butter and onions in a heavy-bottomed pan. Add the rice and stir until the grains are well coated with butter.
Boil the broth and pour over the rice.
Cover the pot and transfer to the oven.
Remove from the oven, sprinkle with cumin, cinnamon, lemon zest and almonds.
Fluff the rice with a fork, recover the pot and let rest for 10 minutes.
Serve with cedar plank salmon or halibut Provencal for an amazing meal.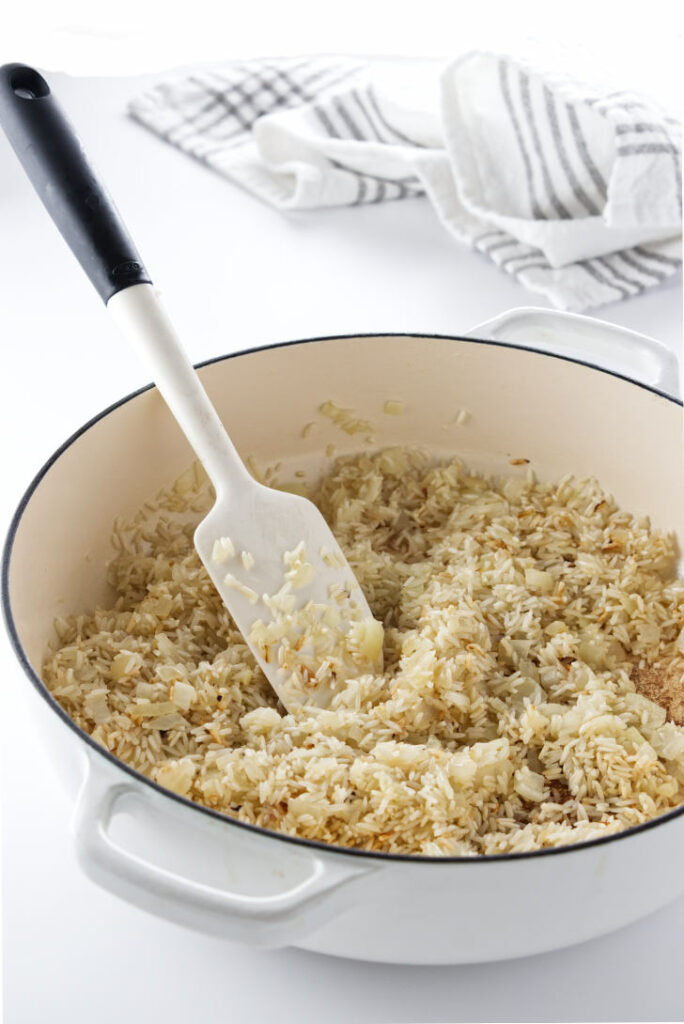 Tips for Success:
There is no need to rinse the rice before cooking.
The correct proportion of rice-to-broth is 1-1/2 cups of broth/water to 1 cup of rice.
Sauté the rice before you add the hot broth. Toasting the grains of rice will add extra flavor to the dish and bring out the nutty, floral flavors.
Remove the broth from the heat as soon as it boils. If you let it continue to boil then some of the liquid will evaporate.
Let the basmati rice pilaf rest before you serve it. The resting time will make the rice fluffier.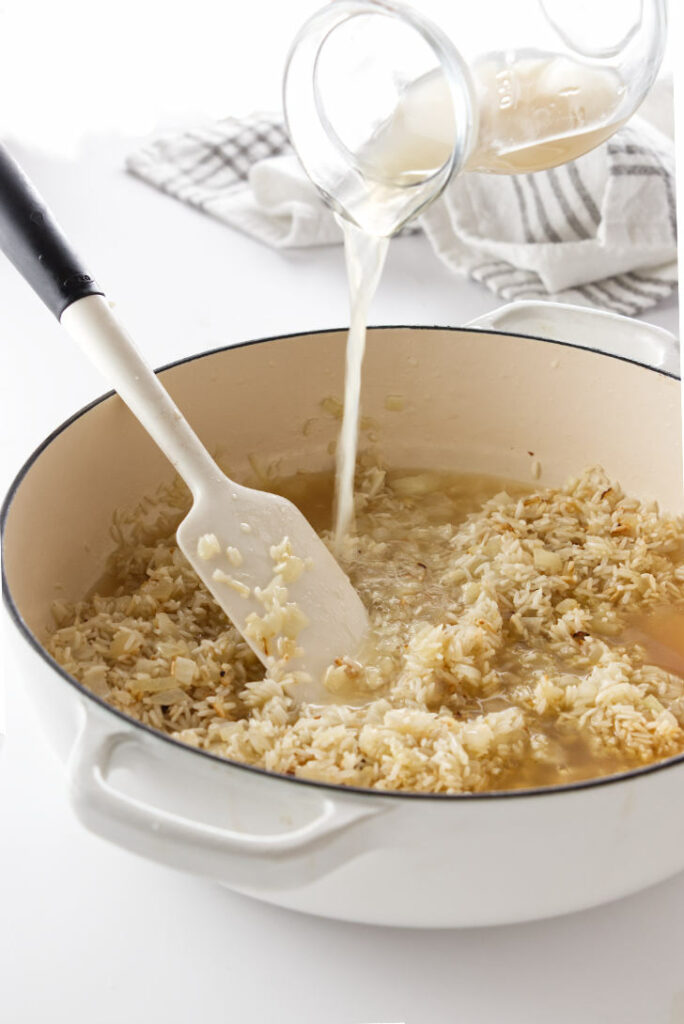 What to Serve with Basmati Pilaf
Basmati rice pairs well with many different flavors, making it a versatile side dish. Here are some recipes to help you get started.
Frequently Asked Questions
What is so special about basmati rice?
Basmati rice is a long slender grain that expands lengthwise when it cooks. That feature lets it retain its shape and stay soft and fluffy. Basmati is also uniquely aromatic with a slight floral scent. It has a sweet nutty flavor and chewy texture.
What is rice pilaf?
Rice pilaf is a dish made from rice, vegetables, and spices instead of simply plain rice.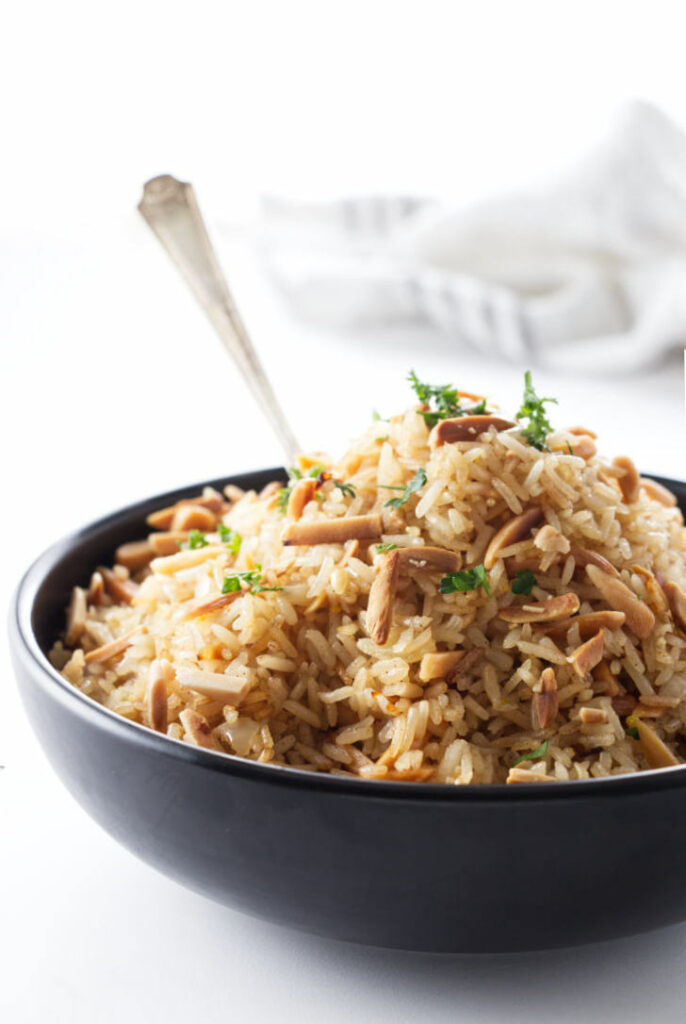 Initially, we made this rice pilaf for Don's 80th birthday. We served it with a prime rib roast, a spinach salad, steamed green beans, and eggless tiramisu. We also made a wine barrel cake for the birthday boy.
Some Other Recipes We Are Sure You Will Love:
Coconut cream gives a delicious flavor to this Yellow Thai Chicken Curry one-pot meal. Serve the curry over a mound of steaming hot black rice or coconut rice and enjoy!
Our Pan-Seared Salmon with Hollandaise Sauce is a rich, elegant dinner that you can have on the table in 30 minutes! The creamy dill hollandaise sauce is made in a blender in just five minutes and tops the tender salmon for a delicious treat!
For a little Southern comfort food, we suggest this delicious recipe of Cheesy Shrimp and Grits. Large, tender grilled shrimp adorn a mound of creamy, white cheddar grits in a spice Creole sauce and andouille sausages.
This twist on chicken cordon blue has a creamy Dijon sauce. Tarragon complements the flavor of the chicken and gooey Gruyere cheese oozes out when you slice into this masterpiece.
Connect With Savor the Best:
Please follow us on our social media accounts
Facebook * Instagram * Pinterest * Youtube * Twitter
Did you make this recipe? We would love to hear from you. Drop us a comment below.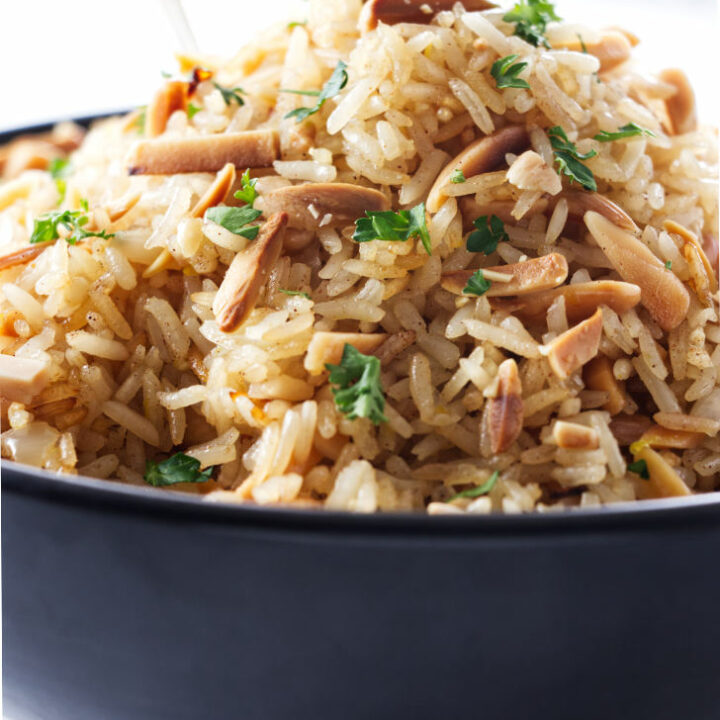 Basmati Rice Pilaf with Almonds
A fragrant rice pilaf with crunchy toasted almonds and a touch of cinnamon, cumin and lemon zest.
Ingredients
2 Tbsp butter
1/2 cup diced onion
1 cup basmati rice or long-grain white rice
1 1/2 cups chicken broth
1/2 teaspoon salt
1/8 teaspoon cumin
1/8 teaspoon cinnamon
Zest of one lemon
1/2 cup toasted slivered almonds, plus 2 tablespoons for garnish
Instructions
Preheat oven to 350°F.
Optional: For a fluffier texture, rinse the rice under cold water for a few minutes. Drain the water from the rice but don't worry about drying the rice.
Heat a heavy-bottomed saucepan over medium heat, then add the butter and chopped onions. When the onions are just soft and translucent add the uncooked rice and sauté, stirring constantly, for 3 to 5 minutes or until the rice is slightly toasted and you can smell a nutty aroma.
Meanwhile, in a small saucepan, bring the broth and salt to a boil and pour into the rice, bring it back to a boil, then cover with a lid or foil and place the entire pot in the oven.
Cook the rice pilaf in the oven for 20 minutes or until all the liquid is absorbed. If after 20 minutes there's still liquid in the pot or the rice is still too moist, re-cover and return the pot to the oven for another 2 to 4 minutes.
Remove the pot from the oven sprinkle the cumin, cinnamon, lemon zest and the toasted almonds on top and gently fluff the rice pilaf with a fork. Then place a paper towel across the top of the pot, replace the lid and let the rice pilaf stand for 10 minutes. To serve, transfer the rice to a serving bowl and sprinkle with additional reserved almonds.
Notes
Remove the broth from the heat as soon as it boils. If you let it continue boiling then some of the liquid will evaporate.
Use a tightly fitting lid. If the lid does not fit snuggly on the saucepan, cover the saucepan with aluminum foil then place the lid on top. The foil will help seal the lid better.
Nutrition Information:
Yield:

4
Serving Size:

1
Amount Per Serving:
Calories:

223
Total Fat:

12g
Saturated Fat:

4g
Trans Fat:

0g
Unsaturated Fat:

7g
Cholesterol:

17mg
Sodium:

526mg
Carbohydrates:

28g
Fiber:

2g
Sugar:

2g
Protein:

6g
Nutrition information is a guideline only, is calculated automatically by third party software, and absolute accuracy is not guaranteed.
This recipe was originally published on June 27, 2014. We updated the post with new photos and added some helpful tips.
View our Web Story here.