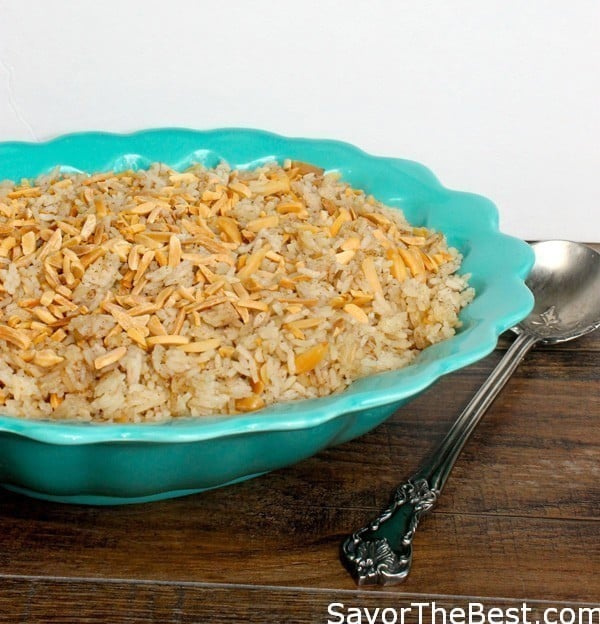 Rice pilaf is one of the easiest ways to prepare rice. I served this as a side dish for Don's 80th birthday party, which was a family gathering of 18 people.
We also had a prime rib roast, tarragon chicken cordon blue, a spinach-strawberry salad with blue cheese and balsamic dressing, a caesar salad, and green beans with sliced almonds.
Dahn made a fantastic birthday cake in the shape of a wine barrel for her daddy and I made, at his request, a tiramisu dessert. You will find recipes in our index for the prime rib, chicken and the tiramisu dishes. We had a wonderful birthday party.
I have a six-quart cast iron pot with a lid that was perfect for this big batch of rice and even though the lid fits tightly, I covered the pot with a piece of foil and then placed the lid on it and popped it into the oven.
The basmati rice has a wonderful fragrance but different types of rice may be used, jasmine rice is delicious also.
Rice pilaf refers to rice that is cooked by the "pilaf method," in which the uncooked rice is first sautéed in butter, and then the boiling hot water or broth is added, and then the pot is covered and cooked in the oven until all the liquid is absorbed.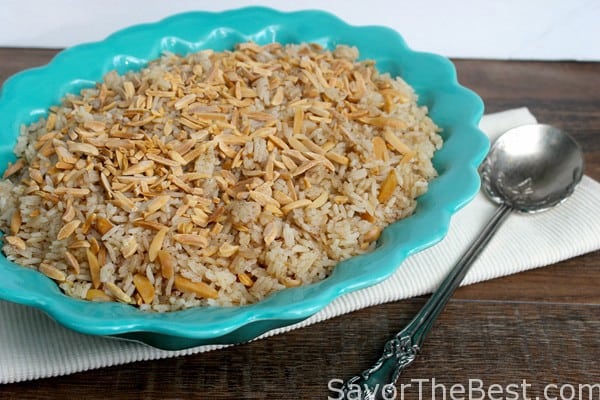 CONNECT WITH SAVOR THE BEST!
Be sure to follow us on our social media accounts
Facebook * Instagram * Pinterest * Twitter * Youtube
Did you make this recipe? We would love to hear from you. Drop us a comment below.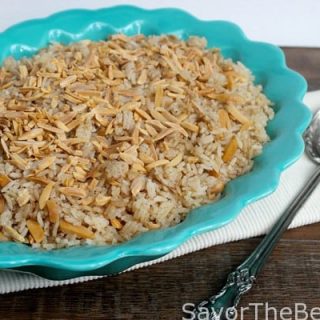 Basmati Rice Pilaf with Toasted Almonds
Yield: 4 servings
Prep Time: 5 minutes
Active Time: 25 minutes
Total Time: 30 minutes
A fragrant rice pilaf with crunchy toasted almonds and a touch of cinnamon and cumin.
Ingredients
2 Tbsp butter
1/2 cup diced onion
1 cup basmati rice or long-grain white rice
1 1/2 cups chicken broth
1/4 teaspoon Kosher salt
1/8 teaspoon cumin
1/8 teaspoon cinnamon
1/2 cup toasted slivered almonds, plus 2 tablespoons for garnish
Instructions
Preheat oven to 350°F.
Heat a heavy-bottomed saucepan over medium heat, then add the butter and chopped onions. When the onions are just soft and translucent add the uncooked rice and sauté, stirring constantly, for about a minute or until the rice is fully coated with the melted butter.
Meanwhile, in a small saucepan, bring the broth to a boil and add it to the rice, bring it back to a boil, then cover with a lid or foil and place the entire pot in the oven.
Cook the rice pilaf in the oven for 20 minutes or until all the liquid is absorbed. If after 20 minutes there's still liquid in the pot or the rice is still too moist, re-cover and return the pot to the oven for another 2 to 4 minutes.
Remove the pot from the oven sprinkle the cumin, cinnamon and the toasted almonds on top and gently fluff the rice pilaf with a fork. Then place a paper towel across the top of the pot, replace the lid and let the rice pilaf stand for 10 minutes. To serve, transfer the rice to a serving bowl and sprinkle with additional reserved almonds.
Nutrition Information:
Yield: 4
Serving Size: 1
Amount Per Serving:
Calories: 223
Total Fat: 12g
Saturated Fat: 4g
Trans Fat: 0g
Unsaturated Fat: 7g
Cholesterol: 17mg
Sodium: 526mg
Carbohydrates: 28g
Fiber: 2g
Sugar: 2g
Protein: 6g
Nutrition information is a guideline only, is calculated automatically by third party software, and absolute accuracy is not guaranteed.