Prime Rib Roast! This is a tender, juicy and flavorful main course cut of beef that is reserved for special events and holidays. It can be a budget-buster and not a 'spur-of-the-moment' purchase but it is easy to prepare, wonderfully delicious and well worth the expense.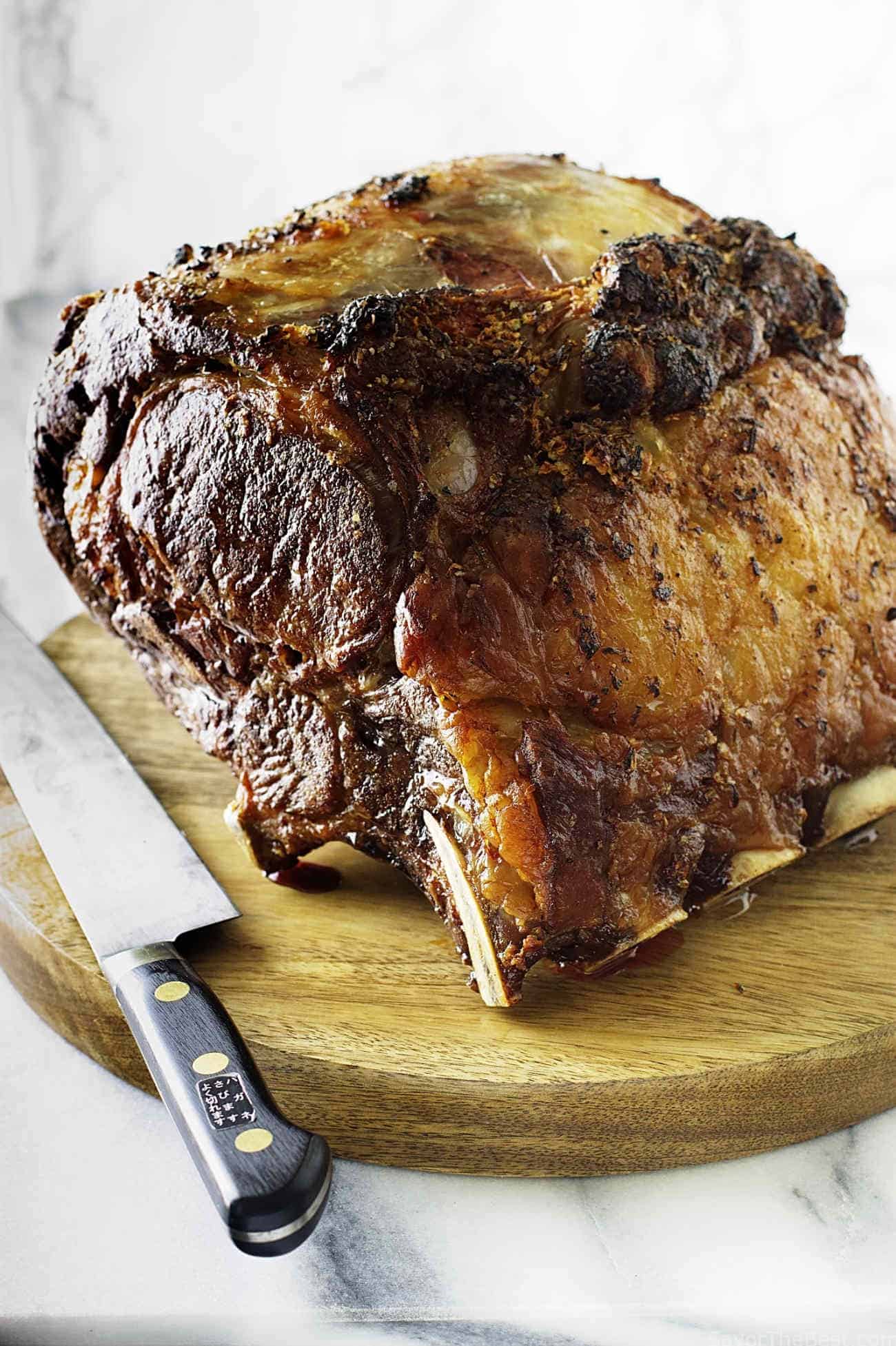 It is a tradition at our house to have a standing prime rib roast beef for Christmas dinner. At Thanksgiving it is all about the turkey and the trimmings; but at Christmas dinner the big, flavorful prime rib roast beef is the star of the show.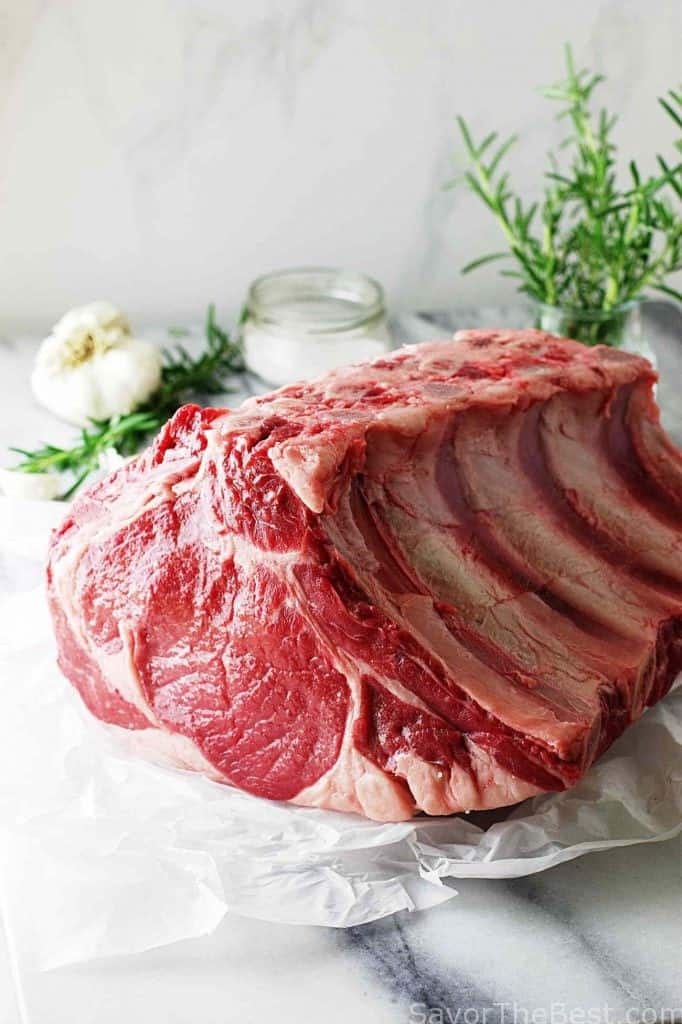 Tips For a Great-Tasting Prime Rib Roast:
This recipe has been adapted from the 2013 Cook's Illustrated Holiday magazine and has a couple techniques that I used in preparing this year's bounty of prime rib roast.
Salt the beef and let it sit in the refrigerator for several days.
Cook the roast at 200°F until it reaches the desired temperature.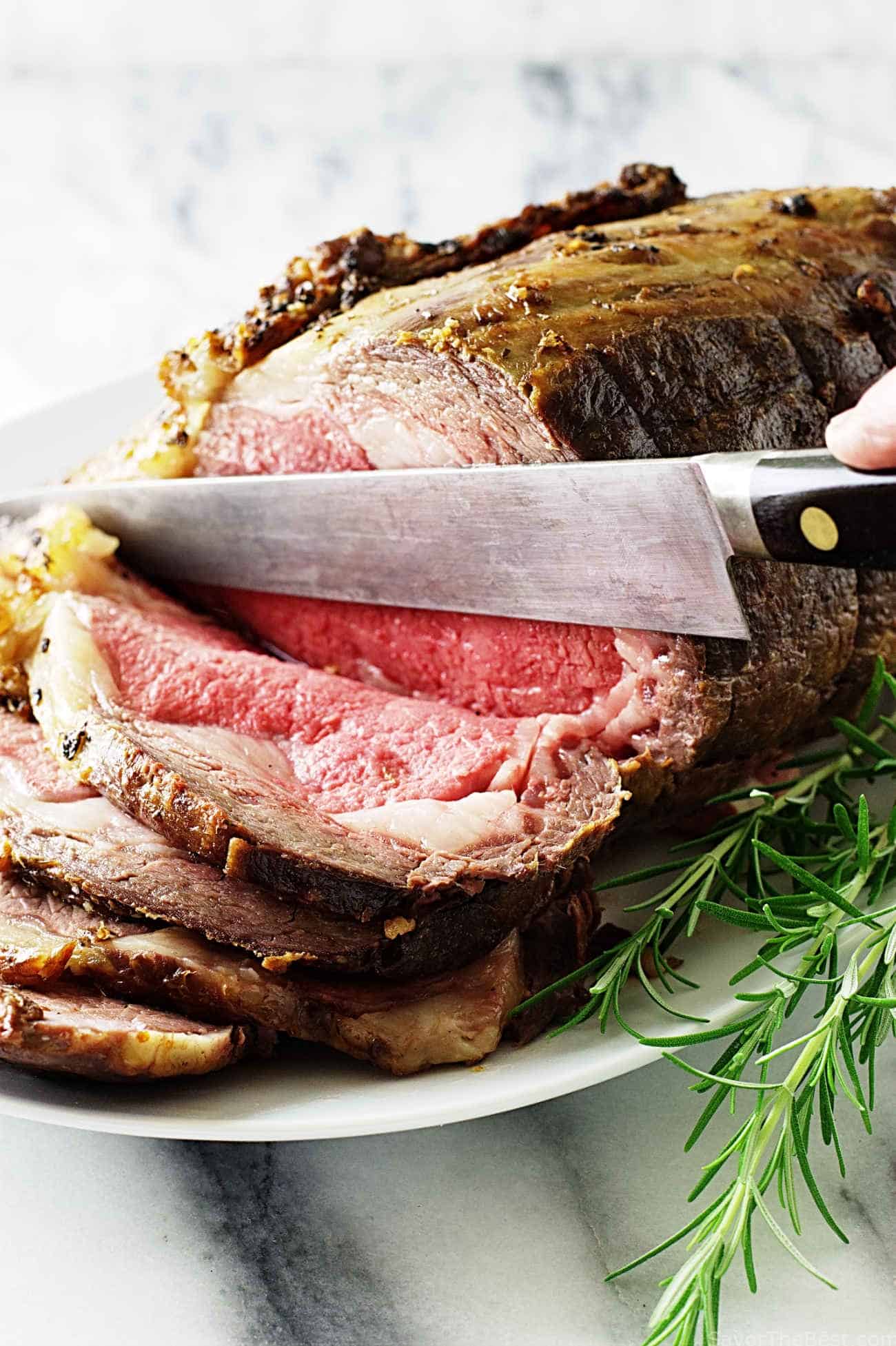 I will admit to having just a little anxiety about departing from my regular recipe as this is an investment of a 9-pound roast and I surely did not want to ruin it; but then I can't really ruin it unless I over cook it.
Advantages of A Dry-Brine For Your Prime Rib Roast:
The roast was salted and then refrigerated for 3 days. This dry brine ages and tenderizes the roast and drys out the exterior which provides for better browning during the searing process. The roast was seared on all sides to give it color then allowed to rest ten minutes before roasting. After searing and resting a bit it is roasted low and slow at 200°F until it is within 10° of the desired doneness.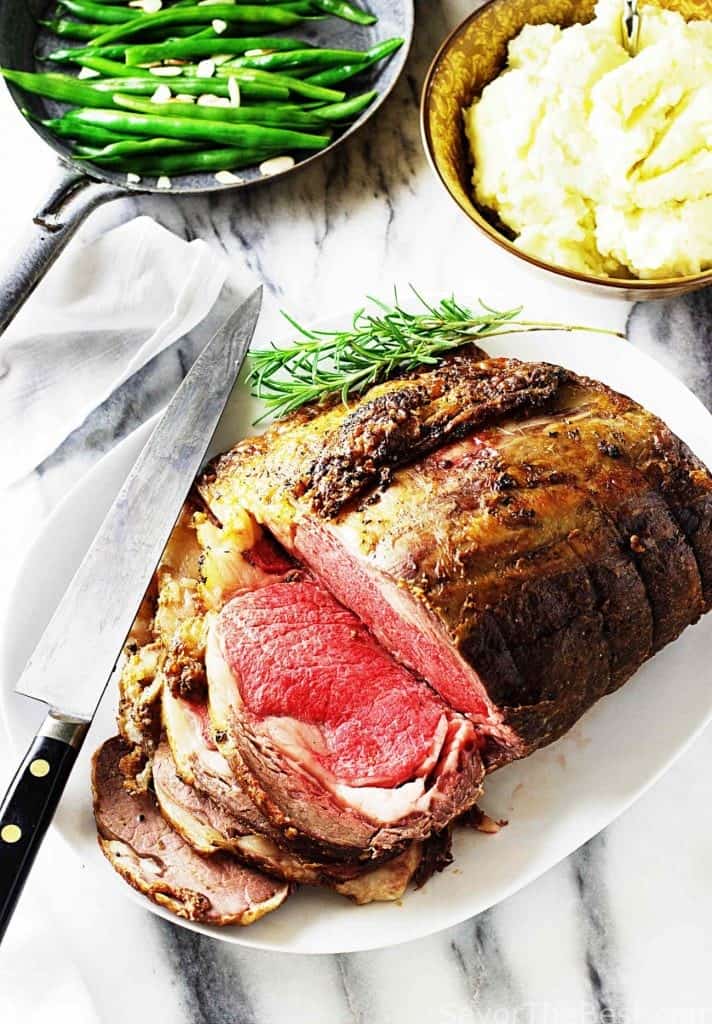 I used a meat-probe thermometer to monitor the temperature while it was cooking and removed the roast from the oven when the temperature probe registered 120°F. It was tented and after 25-minutes it had reached 135° and was ready to carve and serve.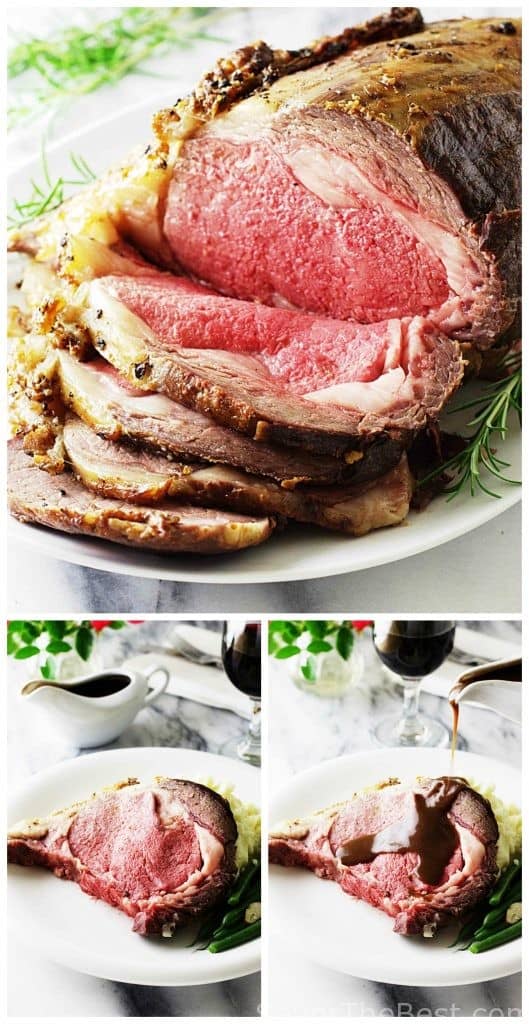 We all like our prime rib roast beef rare to medium-rare and when it was carved and served it was a nice rosy pink from the end slice to a nice rare at the center. There was very little drippings in the roasting pan, and I mean, very little! Just a couple tablespoons of melted fat and some crispy garlic-rosemary nubs.
No Drippings For Gravy? No Problem!
To make a gravy we used some beef broth, chicken broth and red wine plus flavor boosters of garlic and fresh rosemary. This concoction was reduced to two cups, then a paste of soft butter and flour was whisked in and it was cooked to a smooth sauce. The paste is a French technique known as Beurre Manié and is great for a last-minute thickener.
This classic roast beef was served with fluffy mashed potatoes, a beefy-wine sauce, green beans, fruit salad and an epic home-crafted Syrah red wine 🙂
For more special event dinner recipes:
Have you made this recipe? Tag us on instagram!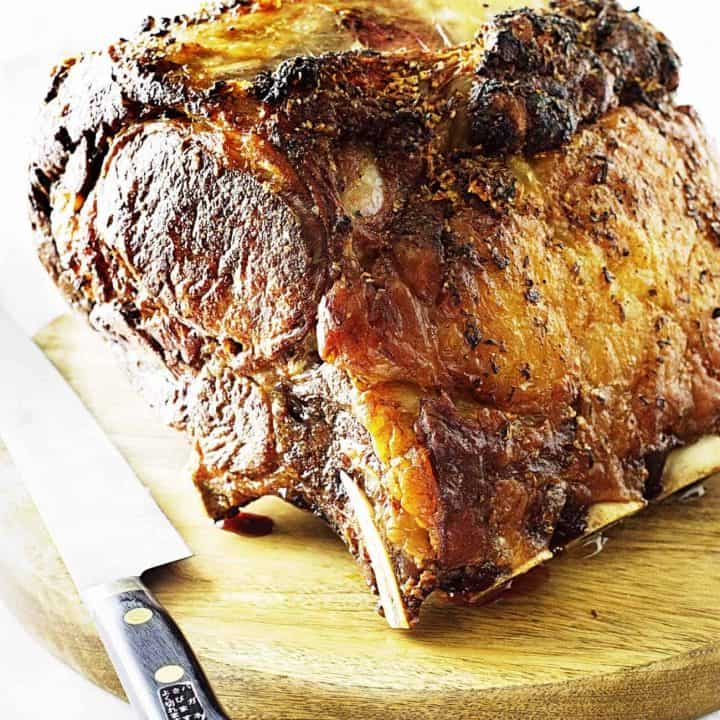 Prime Rib Roast
Yield: 12 servings
Prep Time: 30 minutes
Cook Time: 6 hours 30 minutes
Total Time: 7 hours
A Prime rib roast that is tender, juicy and delicious. This roast is cooked low and slow at 200°F with an internal temp of 130°F to bring out the natural flavors and retain the juices.
This process takes longer than traditional methods but it gives spectacular results. Make sure you plan the time accordingly. See the chart in the notes for general timelines.
Ingredients
1 (9-pound) prime or choice cut of beef standing rib roast (4 bones)
Kosher salt
2 teaspoons vegetable oil*
Fresh ground black pepper
2 cloves garlic, finely chopped
2 tablespoons finely chopped fresh rosemary
For the Sauce: (Beurre Manié)
2 cups beef broth
2 cups chicken broth
1/2 cup red wine
1 large garlic clove, grated or crushed
1 tablespoon minced fresh rosemary
2 tablespoons butter, softened
2 tablespoons flour
Instructions
Using a sharp knife, cut slits, spaced 1 inch apart, in the surface layer of fat cap in crosshatch pattern, being careful to cut down to, but not into, the meat. Rub 2 tablespoons kosher salt over entire roast and into the slits. Transfer to a large plate, and refrigerate, uncovered, for at least 24 hours or up to 4 days.
Take the roast out of the refrigerator and let it sit on the counter for an hour to raise the roast temperature. To help cook the roast evenly, tie the roast with kitchen twine parallel to the rib bones at least at each end or tie between each pair of ribs.
Adjust oven rack to middle position and heat the oven to 200°F. Set a wire rack in a rimmed baking sheet. Heat oil in a 12-inch skillet until just smoking. Sear sides and top of the roast until browned, 6 to 8 minutes total. Let meat cool for 10 minutes. Transfer roast, fat side up, to a roast pan with a wire rack and season with pepper, garlic and rosemary. Insert thermometer-probe in the center of the roast without touching any bone. I roasted it until the meat registered 120°.
Remove roast from oven but leave it on the baking sheet, do not remove the thermometer-probe, tent loosely with aluminum foil, and let rest for another 20-30 minutes. The heat carry-over will bring the meat to 135 for medium-rare and will be tender and juicy.
For the Sauce: (Beurre Manié)
Add the beef broth, chicken broth and red wine to a saucepan and over medium-high heat bring it to a boil, decrease the heat to low and simmer until the mixture is reduced to 2 cups.
In a small dish add the butter and flour and mash them together with the back of a tablespoon to make a paste. Remove the reduced broth mixture from the heat and add the paste, whisking together to melt the paste. Set the saucepan back on the heat and boil briefly, whisking continuously for another minute until thickened. Transfer to a serving pitcher and pass to guests.
Notes
For easier carving have your butcher remove the bone section and then tie it back on with twine.
I use avocado oil or coconut oil when cooking with high heat because they have high smoke points.
We prefer our prime rib medium-rare at 135°F and you will need to adjust the cooking time according to your taste. For rare it will be 125°F; and 145°F for medium;
The Beurre Manié can be made in advance and reserved
Approximate cooking times for a rare Prime Rib at 200°F

These are approximate times for a rare roast. Add additional time if you want your roast cooked medium to well done. Results will vary based on your oven and temperature fluctuations.
4 lb. --2 hr. 30 min.
5 lb. -- 3 hr. 10 min.
6 lb. -- 3 hr. 50 min.
7 lb. -- 4 hr. 30 min.
8 lb. -- 5 hr. 10 min.
9 lb. -- 6 hr. 30 min.

Recommended Products
As an Amazon Associate and member of other affiliate programs, I earn from qualifying purchases.
Nutrition Information:
Yield: 12
Serving Size: 1
Amount Per Serving:
Calories: 439
Total Fat: 32g
Saturated Fat: 13g
Cholesterol: 107mg
Sodium: 1058mg
Carbohydrates: 3g
Protein: 29g