Roasted duck legs with orange sauce and wild rice is a classic and elegant entrée to be reserved for a special occasion. This is definitely not for your everyday or standard week-night dinner menu.
If I had to get my shot gun and go duck hunting in order to put this on the table we would probably just be eating chicken instead.
Where to Buy Duck:
Fortunately, we don't have to go on a duck-shoot as duck is available in the frozen poultry section of most grocery stores. It is usually parceled into packages of whole ducks, duck breasts or duck legs.
Duck is a little on the pricey side at $11 for a package of two legs but then how does that compare to a couple of good beef steaks or fresh halibut?
And, if we ordered this at a high-end fancy restaurant? Out of site! This is for a special dinner so let's do something out of the ordinary!
Duck Legs vs. Chicken Legs:
The meat on duck legs is a lot different than chicken legs as it is denser and much richer in flavor. Plus, duck legs take longer to roast taking as much as one-and-a-half hours in a 350°F oven to fully cook.
They are fattier than chicken legs and by pricking the skin before roasting, the fat oozes out, basting them as they roast.
Duck legs have their own unique taste, they are rich, tender and have an intense, succulent flavor that pairs well with our zesty orange sauce.
The sauce is prepared with fresh squeezed orange juice, white wine vinegar, garlic, honey, a pinch of red pepper flakes and a touch of Grand Marnier for elegance. It is the white wine vinegar that causes all the flavors to shine.
In my mind, wild rice is the ideal accompaniment for these roasted duck legs with orange sauce. Technically, wild rice is a grass but it is prepared and served the same as a rice.
It takes much longer to cook than a typical white rice and will take as long as one hour to cook if you want it to be soft.
We like it best cooked tender with still a little crunch to it and 45 minutes does it for us. Wild rice has been around for eons and it is one of my favorite ancient grains.
This menu was chosen for Don's 82nd birthday dinner and as I am not aware of any age limit on romance, I am pulling out the white tablecloth, candles and a good bottle of red wine! 🙂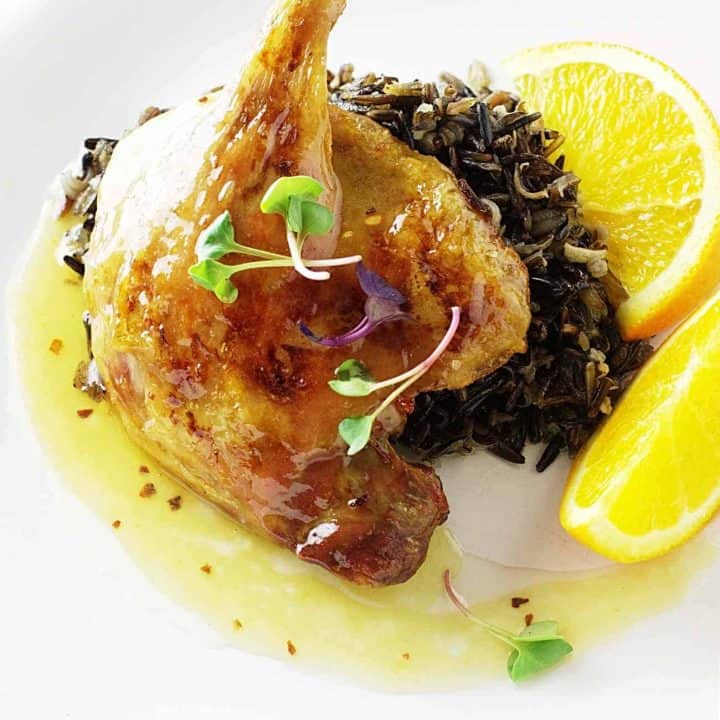 Roasted Duck Legs with Orange Sauce and Wild Rice
Yield: 4 servings
Prep Time: 10 minutes
Cook Time: 1 hour 30 minutes
Total Time: 1 hour 40 minutes
Roasted duck legs with orange sauce and wild rice is an elegant entree for a special event. The duck legs are moist, succulent and the flavors shine with the zesty orange sauce. This entree pairs well with the slight crunch from the wild rice.
Ingredients
For the Duck Legs:
4 duck legs
2 tablespoons olive oil
1/2 teaspoon table salt
1/4 teaspoon white pepper
For the Orange Sauce:
1 1/2 cups White Wine Vinegar
1 1/2 cups orange juice (about 4 oranges)
2 tablespoons orange zest
1 clove garlic, grated
3 tablespoons honey
1/4 teaspoon table salt
Pinch of red pepper flakes
3 tablespoons butter
2 tablespoons Grand Marnier or other orange flavored liquor
Orange wedges for garnish
Fresh microgreens or mint for garnish
For the Wild Rice:
1 cup wild rice
3 cups chicken broth
1 clove garlic grated or finely chopped
1/2 teaspoon table salt
Instructions
For the Duck Legs:
Preheat oven to 350°F Spray a baking sheet with cooking oil and add a wire roasting rack on it.
Using the sharp end of a wooden skewer, prick several small holes in the duck legs. This allows the rich fat to be released while roasting.
Brush the duck legs with olive oil and season with salt and white pepper. Add to the wire rack on the prepared baking sheet and transfer to the middle rack of the preheated oven. Roast for 1-1/2 hours, the internal temperature should be 175° F when fully cooked. Begin checking the temperature after roasting for 1 hour and 15 minutes. Remove, cover with foil and allow to rest for 10 minutes.
For the Orange Sauce:
While chicken is roasting, make sauce:
In small saucepan, bring wine vinegar and orange juice, orange zest and garlic to a boil over medium-high heat, then adjust heat to low and simmer. Allow the sauce to reduce to 1-1/2 cups, about 20-30 minutes. Stir in honey, 1/4 teaspoon salt and the pinch of red pepper flakes. Cook until syrupy and reduced to about 1 cup. Whisk in the butter and orange liquor and cook for 30 seconds to burn off the alcohol taste. Remove from the heat, cover and reserve.
To Cook the Wild Rice:
Add the chicken broth to a medium saucepan set over medium-high heat and when it begins to boil add the rice, garlic and salt. Reduce the heat to low, cover and simmer for about 45-60 minutes, or according to your taste preference. Remove from the heat, drain off any remaining liquid, fluff, keep covered and reserve until ready to serve.
To Serve, Spoon a portion of wild rice on each of four plates, arrange one duck leg on the rice and spoon 2 or 3 tablespoons of the orange sauce over the duck legs. Add orange wedges and microgreens for garnishment.
Nutrition Information:
Yield: 4
Serving Size: 1
Amount Per Serving:
Calories: 547
Total Fat: 27g
Saturated Fat: 9g
Trans Fat: 0g
Unsaturated Fat: 15g
Cholesterol: 132mg
Sodium: 1411mg
Carbohydrates: 40g
Fiber: 2g
Sugar: 25g
Protein: 29g
Nutrition information is a guideline only, is calculated automatically by third party software, and absolute accuracy is not guaranteed.