If you're a fan of black truffle, or you'd love to try it, you're in for a treat! This black truffle butter is simple to make at home, and just a fraction of the cost you'll spend at a high-end store. It's uniquely earthy and nutty, and can transform any dish into a flavorful and elevated meal.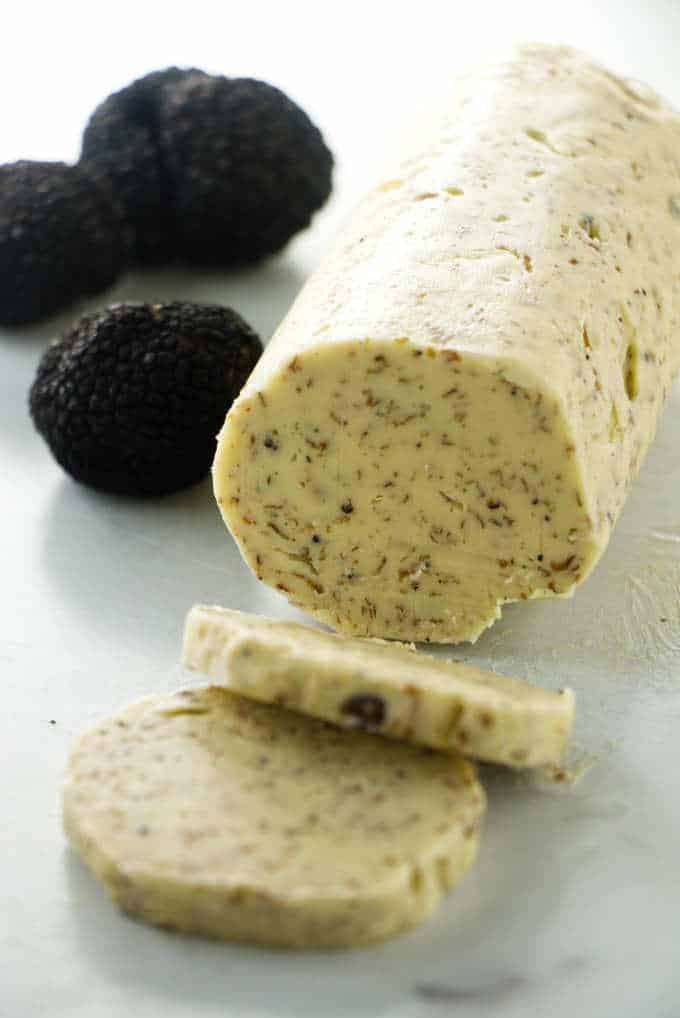 All about black truffles
We popped down to Eugene recently for the Oregon Truffle Festival and it was a great experience! Truffles galore- as in truffle hunts, workshops and cooking classes (also, a truffle dog competition!). We came home with a couple of truffles and some culinary inspiration.
Is truffle a mushroom?
Truffles are a fungi, like mushrooms, but they grow underground. In the Pacific Northwest, they're being harvested under Douglas Fir Trees. They're not as abundant or as easy to find as mushrooms, hence their rarity (and the truffle dogs!).
What does black truffle butter taste like?
Black truffles have a distinct earthy or woods-y taste with nutty and sometimes even garlic-y tones. Black truffle butter is all of that delicious flavor infused into rich and creamy butter – a luxurious combination!
Where to buy black truffles
You most likely won't find fresh whole black truffles at your corner grocery store unless you're shopping at a specialty store. These days, you can find truffles online and have them shipped to your house. While black truffles are expensive, a little bit goes a long way so you don't have to splurge too much to indulge in this little culinary luxury.
You can make this black truffle butter with two tablespoons of pre-minced truffle sold in jars. However, most jars of pre-minced truffles are mixed with other mushroom varieties and only have a small amount of black truffle.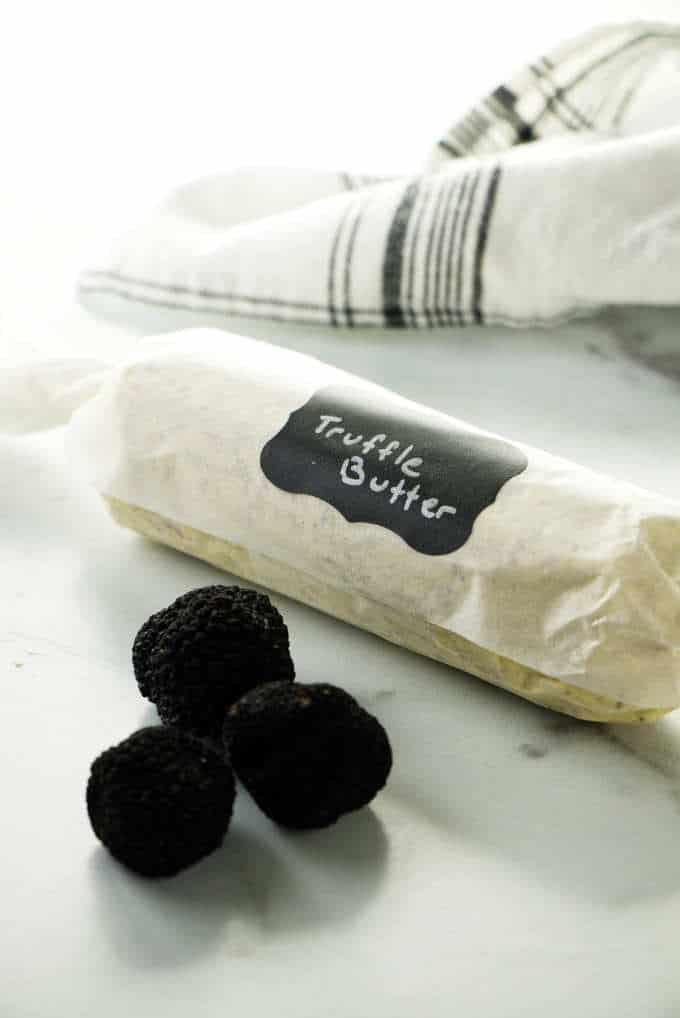 How to make black truffle butter
Our black truffle butter recipe only requires two ingredients, with an optional third ingredient for extra flavor. You will need:
Here's how to make it (don't forget to scroll all the way down to the bottom of the page to check out the full recipe):
Mince the black truffles up very finely (a microplane will work great for this too!).
Combine the minced truffles with the butter using a fork to thoroughly mix it in. If you're using truffle oil, stir that in at this time too- this will make your truffle butter extra spreadable.
Place the butter on a piece of parchment or wax paper, then roll the paper around it, shaping it into a log. Twist the ends to seal it.
Refrigerate for 1-2 hours and then enjoy!
Can truffle butter be frozen?
Yes- You can store black truffle butter in the refrigerator or freezer, the same way you'd typically keep and store regular butter.
If you want to keep your truffle butter longer than 2 weeks then you should freeze it.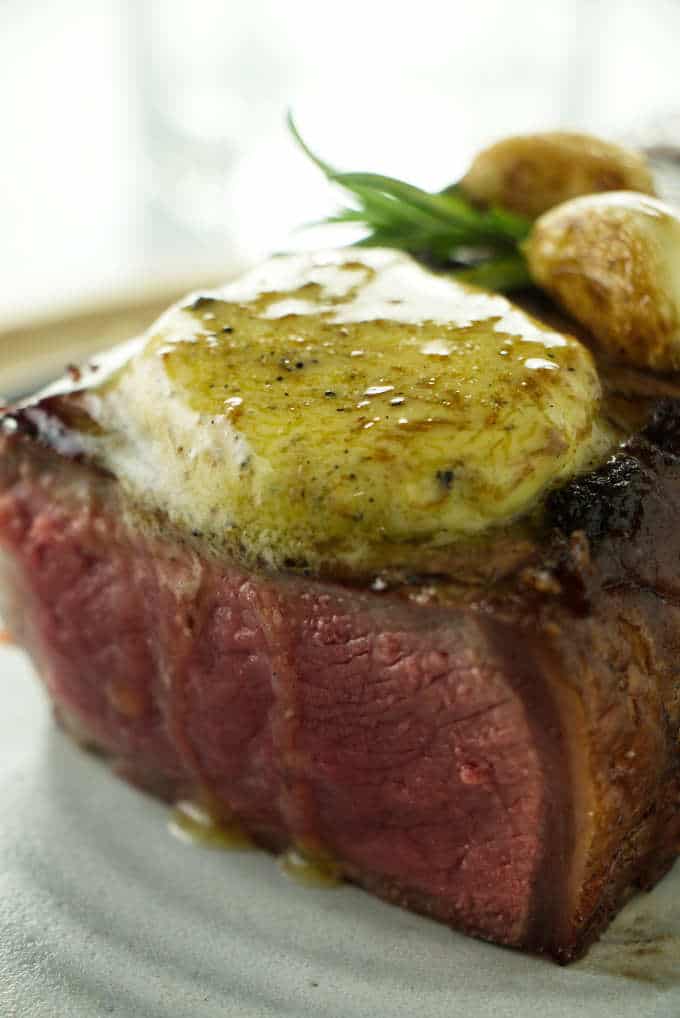 What do you put black truffle butter on?
Black truffle butter can add a whole new and uniquely-truffle flavor to a variety of dishes, from steak to chicken to pasta or sides. Here are a few of our favorite ways to enjoy black truffle butter!
Top your hot, seared steak with a dollop of black truffle butter .
Place a dollop on steamed vegetables.
Stir black truffle butter into noodles for an easy and elegant dinner.
Mix it into risotto for a black truffle-infused side dish.
Whip it into your mashed potatoes for a unique spin on a classic.
Blend it into some hot farro. The nutty flavor in farro is a great complement with truffles.
Enjoy this recipe for black truffle butter! It's a culinary treat that is perfect for any special occasion! Once you try it, you'll be hooked!
SOME OTHER RECIPES WE ARE SURE YOU WILL LOVE:
CONNECT WITH SAVOR THE BEST!
Be sure to follow us on our social media accounts:
Facebook * Instagram * Pinterest * Twitter * Youtube
Did you make this recipe? We would love to hear from you. Drop us a comment below.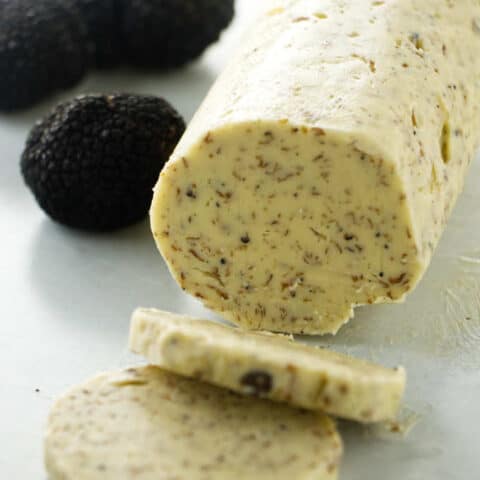 Black Truffle Butter
Yield: Makes 8 ounces of black truffle butter
Prep Time: 10 minutes
Total Time: 10 minutes
Make your own black truffle butter for a fraction of the cost of high-end stores. The earthy, nutty flavor of black truffles infuses into the butter and turns any dish into a luxurious culinary experience.
Ingredients
2 small black truffles (1/4 ounce each)**
1 cup (2 cubes) salted butter, room temperature
1 teaspoon black truffle oil** (optional)
Instructions
Mince the black truffles up very finely. A microplane works well.
Use a fork to combine the minced truffles with the butter and oil (if using).
Place the butter on a piece of parchment or wax paper and roll it into a log. Twist the ends to seal.
Refrigerate for 1 to 2 hours.
Notes
1 small (1/4 ounce) truffle will give you about 1 tablespoon of finely minced truffle.
In place of whole truffles, you can use 2 tablespoons of pre-minced truffle sold in jars. However, most jars of pre-minced truffles have other mushrooms mixed in and only have a small percentage of black truffles in them.
Truffle butter with fresh truffles will keep for 1-2 weeks in the fridge. To store it longer, freeze it for up to 3 months.
If you want the butter to be softer and more spreadable, add the additional truffle oil or some olive oil.
If you use unsalted butter, add a pinch of salt and adjust to taste.
Recommended Products
As an Amazon Associate and member of other affiliate programs, I earn from qualifying purchases.
Nutrition Information:
Yield: 16
Serving Size: 1 tablespoon
Amount Per Serving:
Calories: 102
Total Fat: 12g
Saturated Fat: 7g
Trans Fat: 0.5g
Unsaturated Fat: 1g
Cholesterol: 31mg
Sodium: 2mg
Carbohydrates: 0g
Fiber: 0g
Sugar: 0g
Protein: 0g
Nutrition information is a guideline only, is calculated automatically by third-party software, and absolute accuracy is not guaranteed.