The delicate flavors of pasta strands with black truffle sauce has a nice balance of flavors with the garlic and anchovies. This is a wonderful dish to serve for a special occasion or romantic dinner.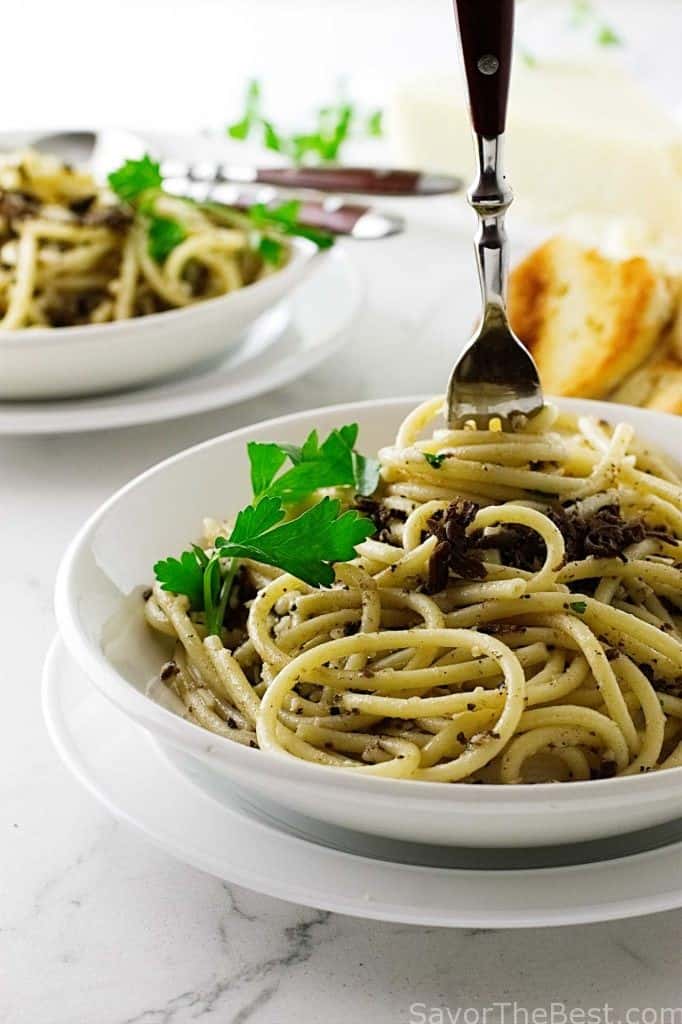 My friend, Julie, gave me a lovely gift with a nice fresh Oregon black truffle inside. What a nice gift and what a nice friend! That was really special as these little guys are like gold! It was packaged up in a bed of white rice to keep it fresh.
Not knowing for sure how long this delicacy would keep in my refrigerator I got right to work making pasta strands with black truffle sauce from my Il Fornaio pasta book.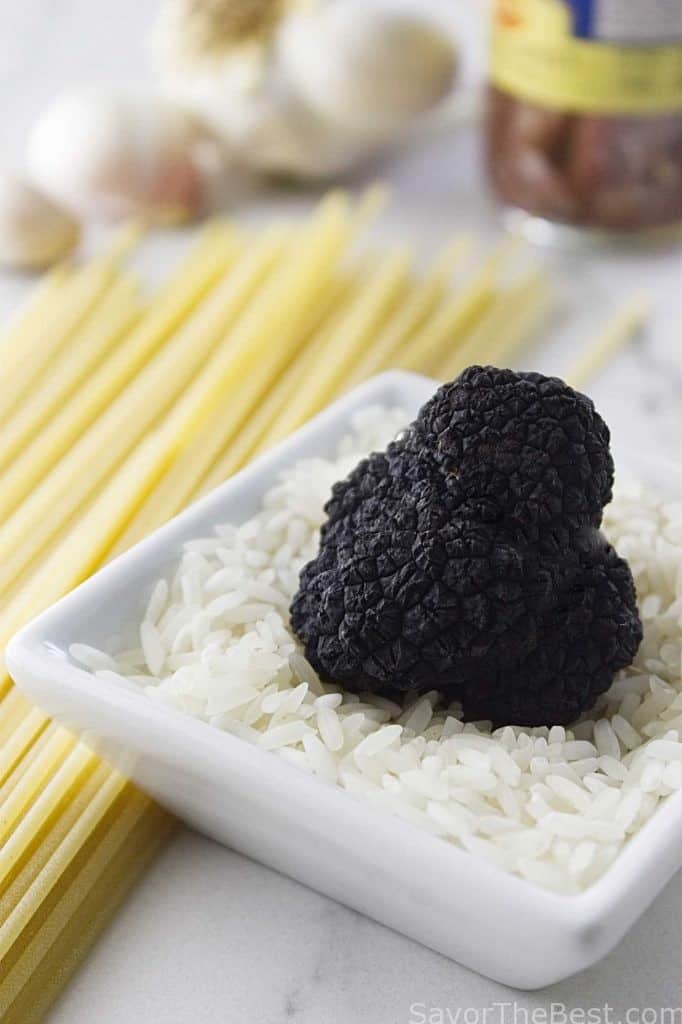 I had never tasted a truffle and was anxious to cook up a romantic dinner for Don with this truffle. Actually, it looks a little like a lump of coal but it was fragrant and had just a little spongy feel to it when squeezed slightly.
Truffles are a fungi, like mushrooms, but they grow underground and they are being harvested from the ground under Douglas Fir trees in the Pacific Northwest.
They are also difficult for us humans to locate and in Oregon hound dogs are used to sniff them out. There is a truffle farm in the Portland, Oregon area where you can go truffle hunting and hire their dog as your helper. It is only a three-hour drive from my house to Portland and I think that would be a great fun-adventure to put in my bucket list.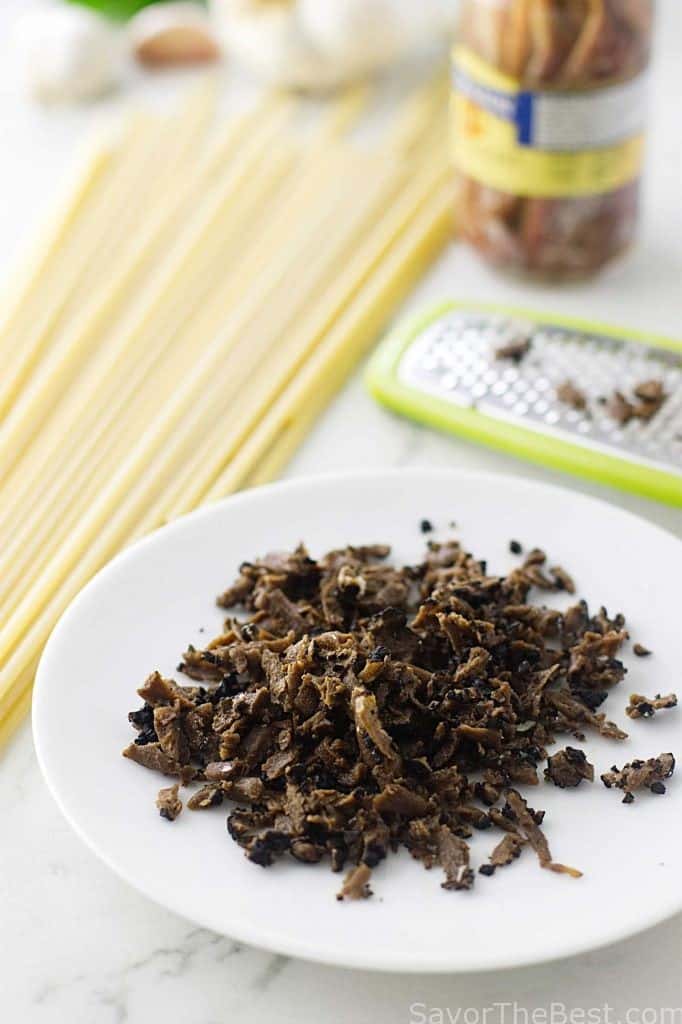 Our recipe for pasta strands with black truffle sauce listed as the truffle ingredient, 3-medium truffles of about 1-ounce each and the recipe makes six servings. I had one truffle weighing 0.11 ounce so I adapted the ingredient portions to prepare the recipe for just the two of us.
When I cut the truffle it was light brown inside with a little marbling to it. The fragrance was a little musty, earthy with a slight pleasant perfume aroma.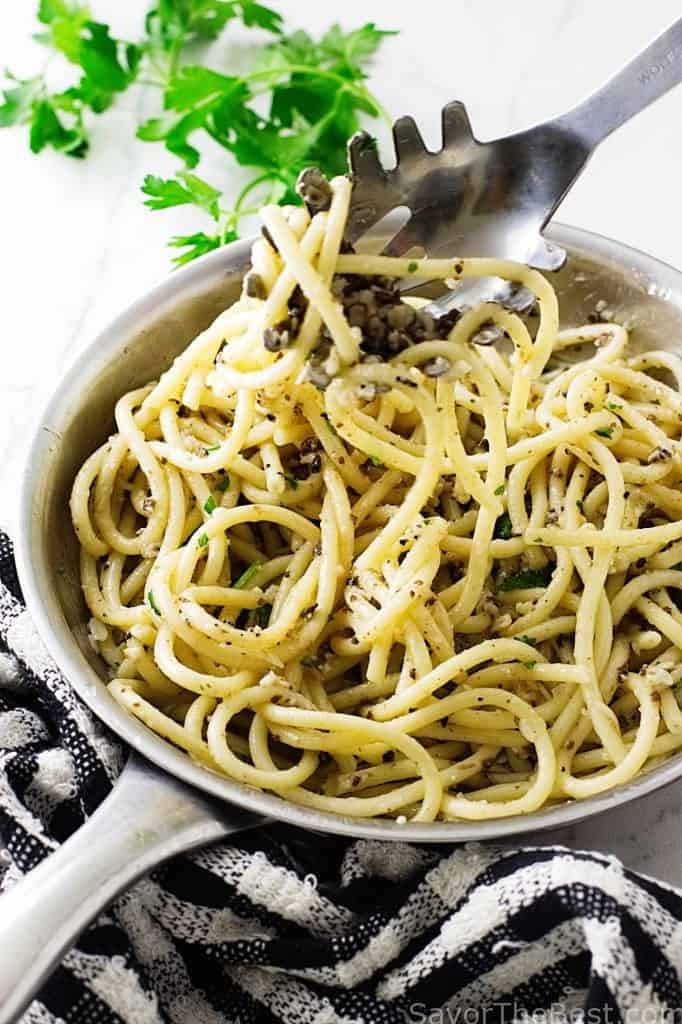 To get the most from this delicate treasure I used a fine-shred grater to grate two-thirds of the truffle, it looked a bit like shaved milk chocolate after it was grated. I used two-thirds of the truffle to make the sauce by mashing it with a fork and mixing in some olive oil.
I learned that the flavor and aroma of the truffles can be destroyed by heat which is why the sauce is only 'tossed' with the hot pasta.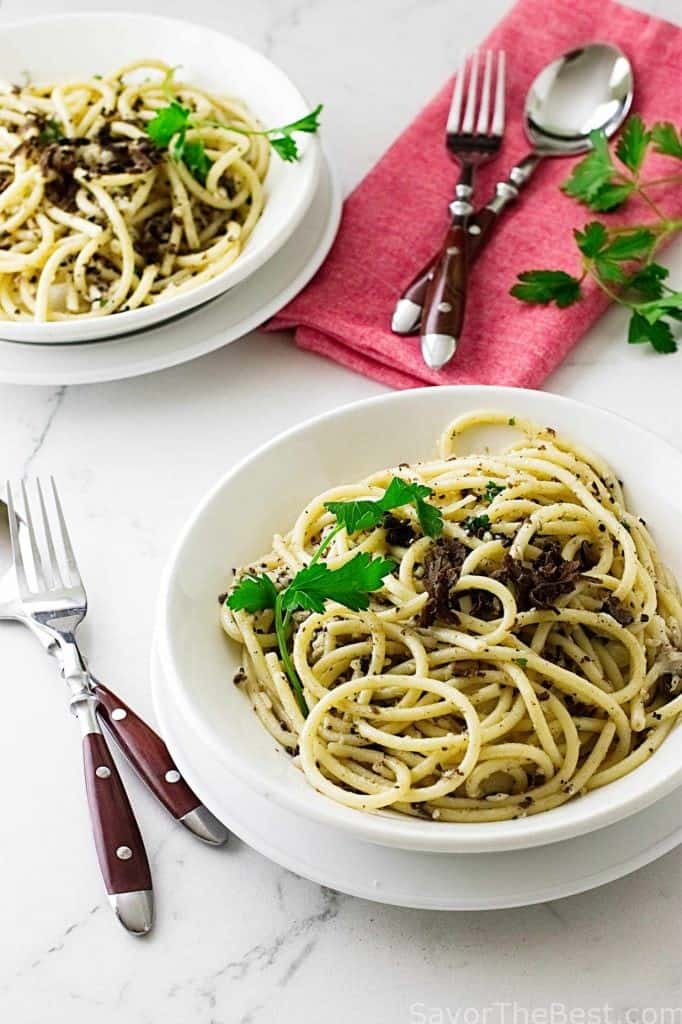 The remaining one-third of the truffle was grated over the top of each serving. It tasted lovely, there was a nice balance of flavors with the addition of the anchovies and we lit the candles and opened a bottle of chardonnay wine. A big hug and thank you to my friend, Julie. 🙂
You might also like:
Yield: 2 servings
Pasta Strands with Black Truffle Sauce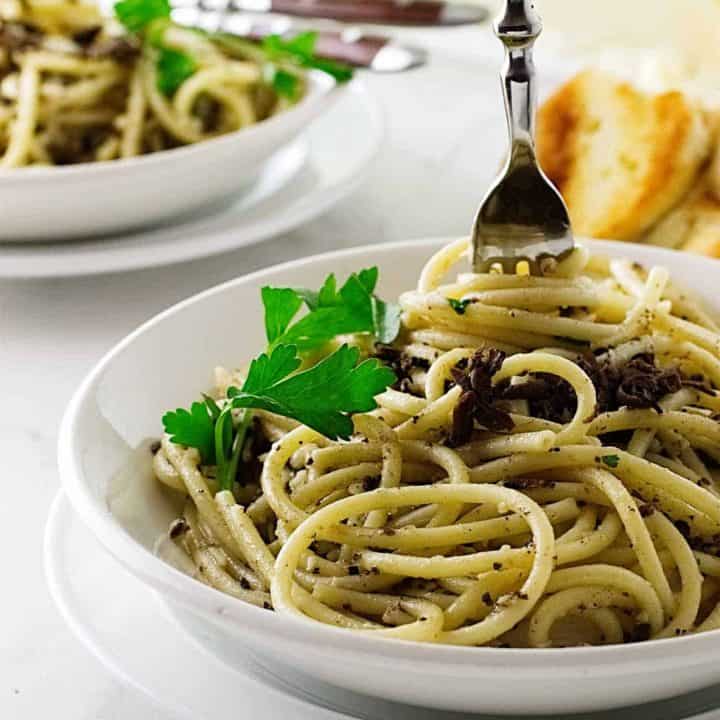 The delicate flavors of pasta strands with black truffle sauce has a nice balance of flavors with the garlic and anchovies. This is a wonderful dish to serve for a special occasion or romantic dinner.
Prep Time 30 minutes
Active Time 15 minutes
Total Time 45 minutes
Ingredients
1 medium black truffle
1/3 cup extra-virgin olive oil
2 anchovy fillets, minced
1 garlic clove, minced
1/4 cup dry white wine
4 ounces dry pasta strands such as spaghetti or bucatini
1/2 cup freshly grated Parmigiano-Reggiano
1 tablespoon chopped fresh Italian parsley
Freshly ground black pepper
Instructions
Clean the truffle with a mushroom brush, it may be necessary to pick out any dirt stuck in the ridges with a toothpick. Rinse the truffle under cold water to remove any dirt, pat dry and set aside.
Bring a large pot of water and 5 teaspoons of sea salt to a boil over high heat. Add the pasta and cook according to the package directions.
While the water is heating and the pasta is cooking, cut one-third of the truffle off and reserve. Using a fine grater, grate the remaining 2/3 of the truffle into a small dish and combine with 2 tablespoons of the olive oil, mash with a fork until a smooth consistency is reached. Reserve until needed.
Combine the remaining olive oil, the anchovies, and garlic in a large sauté pan. Heat over medium heat. Add the wine and cook until nearly evaporated, 1 to 2 minutes.
When the pasta has reached al dente, transfer to a colander to drain, reserving 1/4 cup of the cooking water. Add the hot pasta to the sauté pan with the anchovy mixture and toss to coat well. Add the truffle puree, parmigiano, parsley and a pinch of pepper and gently toss to combine. If the sauce seems too thick, add some of the reserved pasta water and mix well. Plate the pasta and shave the remaining truffle over the top of each serving. Serve immediately.
Notes
Fresh truffles are usually available in the Winter season, they are also available in small jars on the grocery selves.
Nutrition Information
Yield
2
Serving Size
1
Amount Per Serving
Calories 583
Total Fat 38g
Saturated Fat 7g
Cholesterol 13mg
Sodium 380mg
Carbohydrates 43g
Fiber 2g
Sugar 2g
Protein 13g
Nutrition information is a guideline only, is calculated automatically by third-party software, and absolute accuracy is not guaranteed.