Steamed broccoli: This is the most nutritious way to cook broccoli. Since you are cooking with vapor, the vegetable does not come into contact with the water and it retains more nutrients. Learn how to steam broccoli to perfection so it stays vibrant green and retains all of its nutrients.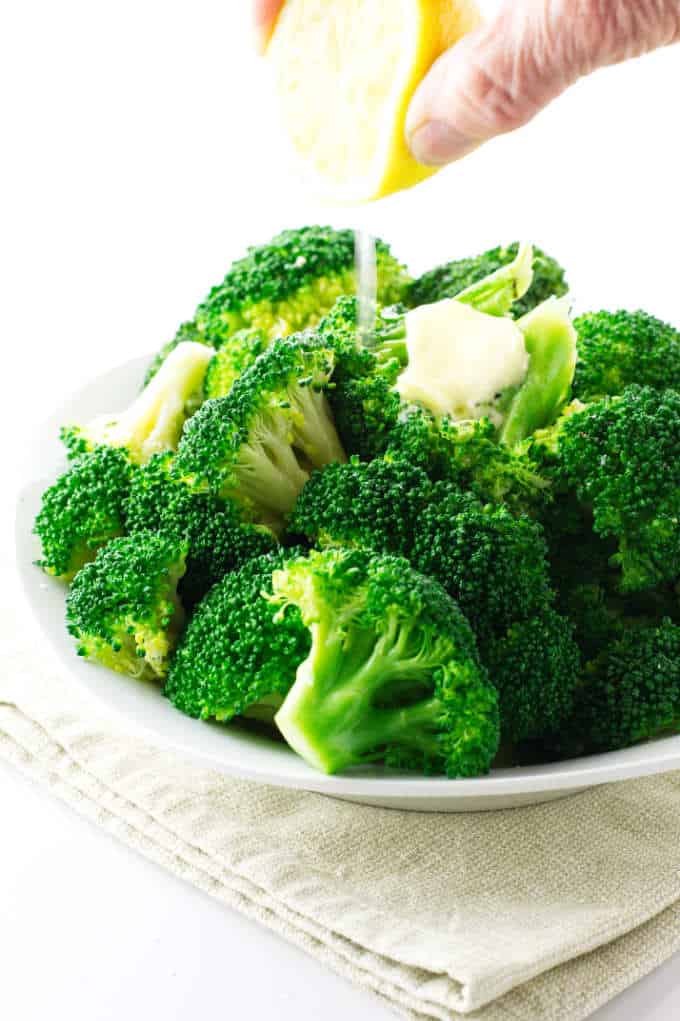 Steaming vegetables is the best cooking method from a nutritional standpoint. It helps retain more nutrients and you do not need oil or other fats that would add calories.
Steaming broccoli is fast and easy but best of all, it leaves the broccoli with a delicate pure, unadulterated flavor.
Traditionally, steaming is done on the stove-top with a steamer but it can also be done in the microwave without any extra equipment. Learn the proper method for steaming broccoli on the stovetop or in the microwave and have perfect broccoli every time.
Tips for how to steam broccoli perfectly:
Cut the broccoli in small, bite-sized florets that are equal in size.
Use a large pot so the broccoli is not packed tightly and steam can circulate around the food.
Bring the water to a boil before you add the broccoli.
Cover the pot with a snug-fitting lid so steam does not escape and the broccoli cooks faster.
Use caution when you remove the lid so you do not get burned by the steam.
Start on high heat to get the water boiling then turn it down to maintain a simmer.
Season the broccoli after it is finished cooking.
Steaming works best when the broccoli is cut into smaller sizes. Larger chunks will not cook evenly. You also want to give the broccoli florets plenty of room for the steam to circulate around them. If you pack them in tightly, the steam will not penetrate the center as easily and some of them will be under-cooked.
Make sure you let the water boil and start steaming before you add the broccoli. If you add the broccoli sooner it can overcook. Steam is an exact temperature and it makes it easy to know when the broccoli starts cooking
Types of steamers and alternatives:
Steaming broccoli on the stovetop does require an additional piece of equipment but there are several affordable options. The goal is to keep the broccoli above the water while steam penetrates through the vegetables. Here are some options: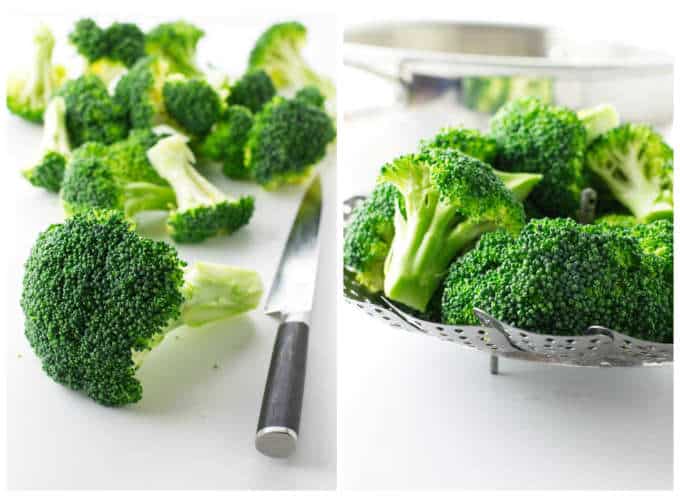 How long does it take to steam broccoli?
It only takes a few minutes to steam broccoli. It will vary slightly based on the size of the broccoli florets and how much broccoli you put in the steamer. I like steamed broccoli that is slightly firm or al dente so I only steam it for 3 to 4 minutes.
If you like your broccoli softer, cook it for 5 to 6 minutes. Steaming it much longer than that will cause it to lose its vibrant green color and a lot of nutrients. If you are looking for a mash-able baby food consistency, it will take about 7 to 8 minutes.
How to steam broccoli in the microwave:
Yes, you can steam broccoli in the microwave. Just place the broccoli florets in a bowl along with a splash of water. Cover the bowl with a plate or some plastic wrap and pop it in the microwave. Give the broccoli a quick blast on high power for 2 to 4 minutes until it is cooked to your liking.
The microwave is a bit faster than the cooktop method but I think there is a difference in flavor. I feel like the microwave distorts the flavor a bit and I prefer the "clean and bright" flavor of steamed broccoli on the stovetop.
I do however use the microwave method on occasion. The microwave saves time, space, and dishes.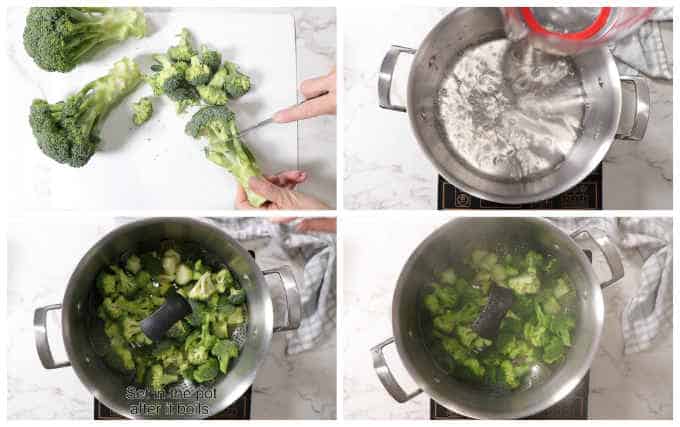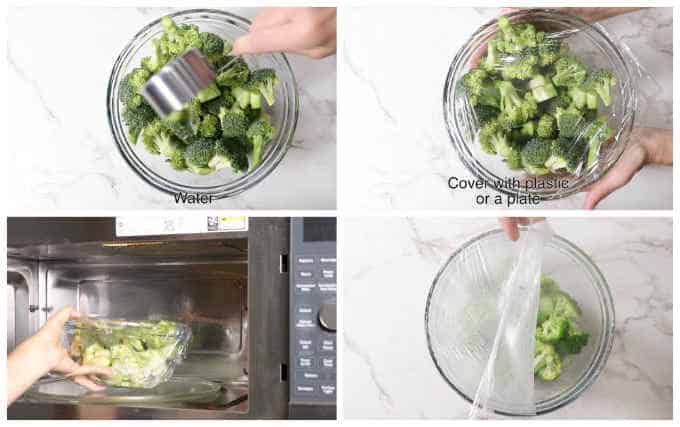 How to steam broccoli without a steamer insert:
You can steam broccoli without a steamer insert by placing it directly into the pot with the water. If you do it this way, not ALL the broccoli will get steamed. The veggies on the bottom of the pot will sit directly in the water and become water-logged and overcooked while only the broccoli on the top will get steamed.
A better way to steam broccoli without a steamer insert is to pop it in the microwave. You don't need as much water when you use the microwave so it doesn't sit in a lake of boiling water and get soggy.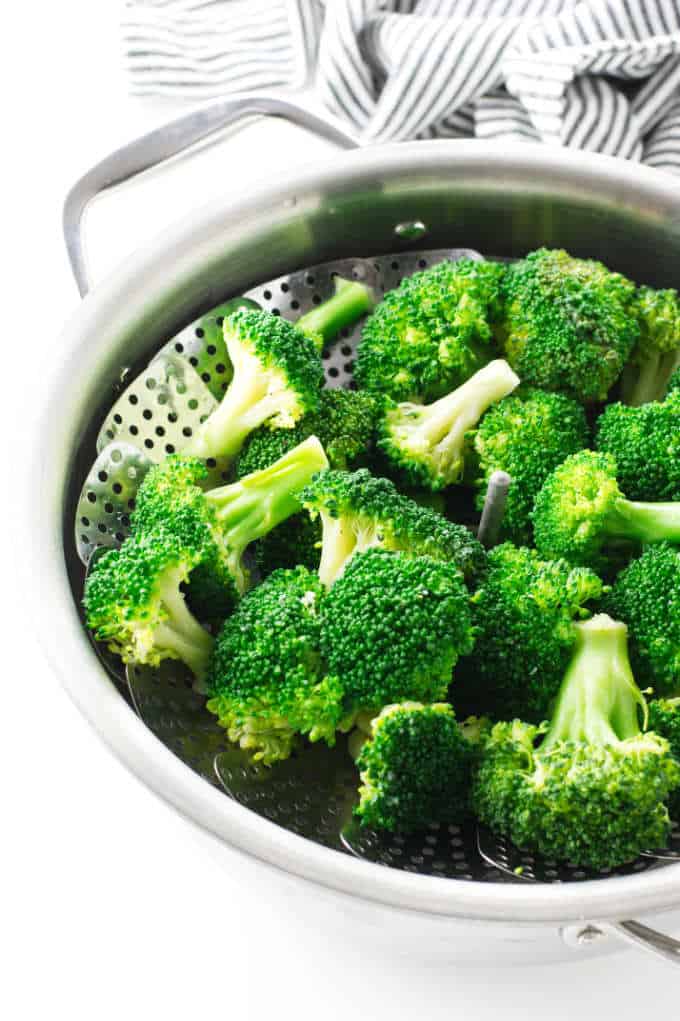 Seasoning for steamed broccoli:
If plain steamed broccoli tastes boring to you then add some seasoning and flavorings after it is finished cooking. A simple dash of salt and pepper will go a long way to add pop to the flavor but we have some other quick tips that won't add fattening calories to your broccoli.
A squeeze of lemon juice or lemon zest
A splash of soy sauce
Shaved parmesan cheese
Seasoning salt
Herbal seasoning blends
A drizzle of balsamic or rice wine vinegar
There are only 40 calories in a large serving of steamed broccoli. However, if you are not concerned about the calories and fat then add one of these toppings. They will transform your broccoli and your tastebuds ?
SOME OTHER RECIPES WE ARE SURE YOU WILL LOVE:
You are going to love this Roasted Asparagus with Curry Sauce! The asparagus gets cooked until it is crisp and tender then it gets topped off with a low-fat curry sauce and some toasted cashews.
Roasted Brussels Sprouts with Balsamic vinegar is one of our favorite side dishes. The crisp, caramelized flavor of these Brussels sprouts combined with the sweetness of aged balsamic is a sweet combination.
This fast and easy roasted lemon chili broccoli is another great way to prepare broccoli. The lemon juice adds a nice bright flavor to this recipe while the chili and garlic give it depth and intensity
Connect With Savor the Best:
Please follow us on our social media accounts
Facebook * Instagram * Pinterest * Youtube * Twitter
Did you make this recipe? We would love to hear from you. Drop us a comment below.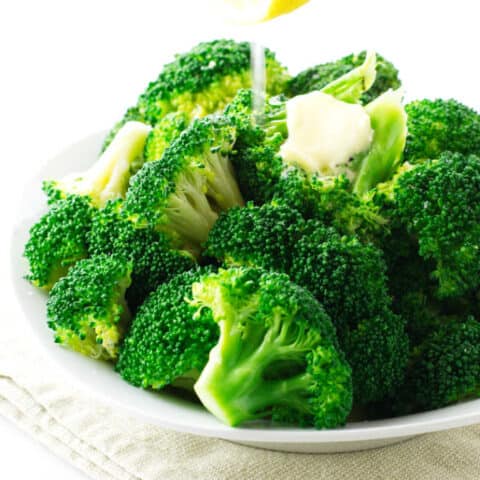 How to Steam Broccoli
Yield: serves 4
Prep Time: 5 minutes
Cook Time: 5 minutes
Total Time: 10 minutes
Steaming broccoli is a fast, easy, and nutritious way to prepare this glorious vegetable. Since the broccoli is cooked with vapor and doesn't sit in the water, it will retain it's nutrients.
Ingredients
1 bunch of broccoli (about 1-1/2 to 2 pounds)
Seasoning suggestions
Salt and pepper to taste
Butter or olive oil
A squeeze of lemon juice or lemon zest
A splash of soy sauce
Grated parmesan cheese
Instructions
Steaming broccoli on the stove-top:
Break the crown up into bite-sized florets. If you are using the stem, peel the outer layer with a vegetable peeler and slice it. (Peeling the outer layer will make it more tender to eat).
Pour 1 inch of water into a large pot and bring the water to a boil.
Place a steamer basket into the and add the broccoli then cover it with a lid.
Cook for 3 to 6 minutes. Check the broccoli after 3 minutes and cook longer if desired.
Steaming broccoli in the microwave:
Place the broccoli florets in a microwavable bowl and add 3 to 4 tablespoons of water.
Cover the bowl with plastic wrap or a plate and cook on high for 2 to 6 minutes.
Notes
Try to cut the florets the same size so they all finish cooking at the same time.
Make sure the water is steaming before you start cooking the broccoli.
The stem is edible but the outer layer of the stem is tough. If you peel the outer layer of the stem it will be more tender.
Perfectly cooked broccoli is vibrant green, slightly firm but tender enough to pierce with a fork. If you want it really soft, cook it for 7 to 8 minutes. However, If you cook it that long it will lose its vibrant green color and a lot of nutrients.
If you don't have a steamer you can place the broccoli directly into the pot with the steaming water but the florets on the bottom will be poached in the water (not steamed) and get over-cooked.
Additional seasoning is not calculated in the nutrition information.
Nutrition Information:
Yield: 4
Serving Size: 1
Amount Per Serving:
Calories: 40
Total Fat: 0g
Saturated Fat: 0g
Trans Fat: 0g
Unsaturated Fat: 0g
Cholesterol: 0mg
Sodium: 46mg
Carbohydrates: 8g
Fiber: 4g
Sugar: 2g
Protein: 3g
Nutrition information is a guideline only, is calculated automatically by third party software, and absolute accuracy is not guaranteed.