This is a lusciously-silky-smooth and incredibly easy hollandaise sauce made right in your blender. Yes, you really can make a blender hollandaise sauce that tastes just like the classic recipe but in a quarter of the time. It's so easy you are going to want to make eggs Benedict every morning. We even show you 4 different variations so you can switch up the flavor.
This blender hollandaise sauce has been adapted from Julia Child's Mastering the Art of French Cooking, Vol. 1. It makes a silky smooth hollandaise sauce in a matter of seconds.
Traditional hollandaise sauce is often considered time consuming and temperamental. Not this sauce. It is fast, easy, and flawless.
Flawless, unless you have a blender with a large gap between the bottom of the blender jar and the blades. For some of the larger blenders, 3 egg yolks did not have quite enough volume to reach the blender blades.
We modified the recipe so it will work even in larger blenders that have a bigger gap under the blades.
It works well in a mini food processor or with an immersion blender. The hollandaise sauce we made for these smoked salmon eggs Benedict was made in a mini food processor.
It won't work quite as well with many standard food processors because there is a pretty tall gap below the blades of most processor bowls
4 variations of hollandaise sauce:
We stepped things up a notch further and had some fun with 4 different variations of this sauce.
Here are the variations you can make with this sauce:
Classic Hollandaise sauce. That lemony, buttery, goodness that you see on eggs Benedict.

Lemon garlic hollandaise sauce. That extra bite of garlic goes so well with shrimp and lobster. You can even slather it on a steak and lobster sandwich.

Thai curry hollandaise sauce. Curry goes well with so many things. We love this version on steamed vegetables and salmon but it makes a terrific Thai curry eggs Benedict.

Dijon blender hollandaise sauce. Add a little dijon and the flavor switches up again. We think this is amazing drizzled over baked chicken or steamed broccoli.

Garlic-herb hollandaise sauce. What's not to love about fresh garlic and herbs in a hollandaise sauce? Try it on steak or with chicken and potatoes.
Tips for perfect blender hollandaise sauce.
Use warm butter. If the butter cools down, warm it back up but don't get it boiling hot.

Make sure the blender is running when you start to drizzle the warm butter into the blender

Drizzle the butter very slowly and in a steady stream.

If the sauce starts to break up, stop pouring the butter and let the blender whizz for 20 or 30 seconds then start drizzling the butter again.

If you don't serve it right away keep it warm by pouring it in a pitcher and then set that pitcher in hot water.
Is blender hollandaise sauce safe to eat?
This recipe calls for raw egg yolks. You will add warm butter to the eggs however the butter will not be hot enough to completely cook the eggs.
The USDA advises against consuming undercooked eggs unless they are pasteurized. So if you are concerned about this, buy pasteurized eggs.
If you do not have pasteurized eggs and are concerned about eating them undercooked, you could heat the sauce. After blending the sauce, place the mixture in a saucepan and heat it over medium heat while constantly whisking the mixture for 3-5 minutes.
I eat undercooked egg yolks all the time. I like dipping my toast into a runny yolk or letting the yolk run over fried rice. Yummy! But that doesn't mean you should. If you have health concerns or you are pregnant, you should use caution.
How long will hollandaise sauce keep?
You can store this sauce for up to 2 days in the refrigerator. We have seen people say that you can not keep hollandaise sauce in the refrigerator but we have done it with good results. Just warm it up slowly.
Don't let it sit out for longer than 2 hours at room temperature.
Can you freeze hollandaise sauce?
You can freeze hollandaise sauce. Let it thaw in the fridge overnight and if you want to warm it up, use low heat or it may curdle if you heat it too quickly.
SOME OTHER RECIPES WE ARE SURE YOU WILL LOVE:
These sweet potato waffles are topped with smoked salmon and a duck egg. They would be delicious with a drizzle of garlic-herb blender hollandaise sauce.
This breakfast potato skillet with bacon and mushrooms is a great start to the day. No one will complain if you top it off with some of this hollandaise sauce.
Or try it on this Farro Breakfast Risotto with a poached egg. This sauce isn't just for eggs Benedict.
CONNECT WITH SAVOR THE BEST!
Be sure to follow us on our social media accounts
Facebook * Instagram * Pinterest * Twitter * Youtube
Did you make this recipe? We would love to hear from you. Drop us a comment below.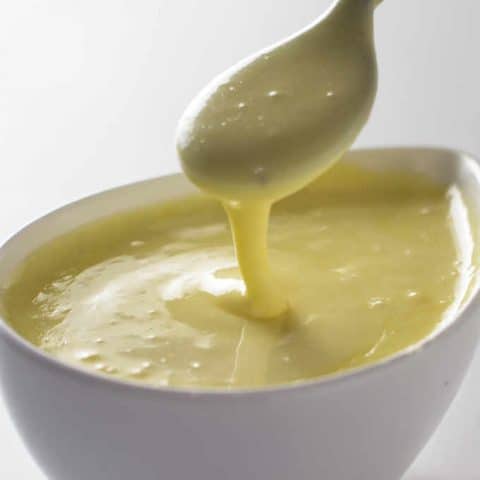 Easy Blender Hollandaise Sauce
Yield:
18 tablespoons of sauce
A fast, fuss-free, and easy hollandaise sauce made right in the blender. This sauce comes together in minutes and has 4 variations to switch up the flavor.
Ingredients
10 tablespoons butter
4 egg yolks
2 tablespoons + 2 teaspoons lemon juice
1 dash of Tabasco sauce (optional)
pinch of salt
Instructions
Melt the butter in a saucepan or in the microwave and set aside.
Place everything except the butter into a blender and blend on medium speed for 30 to 40 seconds.
Lower the blender speed to low and slowly drizzle the warm melted butter into the blender. Continue blending for 30 to 40 seconds.
Variations:
Lemon Garlic Blender Hollandaise Sauce
Add 2 garlic cloves to the blender before you add the butter. Make sure the garlic cloves are finely minced/blended before drizzling in the butter.
Thai Curry Hollandaise Sauce
Add 1-1/2 teaspoons Thai Yellow Curry Paste (or substitute curry powder) to the blender before you blend in the butter.
Dijon Hollandaise Sauce
Add 1-1/2 tablespoons dijon mustard to the blender before adding the butter.
Garlic-Herb Hollandaise Sauce:
1 garlic clove
2 teaspoons diced fresh tarragon
2 teaspoons diced fresh parsley
2 teaspoons diced fresh chives
Add the garlic clove to the blender before adding the butter and blend well. Finish making the hollandaise sauce then stir the fresh herbs in at the end.
Notes
Make sure the butter is warm but not boiling hot when you add it to the blender.
Keep the blender running while you drizzle the butter.
Drizzle the butter in a slow, steady stream.
For the variations:
Lemon Garlic Hollandaise sauce is delicious on seafood, sandwiches, and steak.
Thai Curry Hollandaise Sauce is perfect with steamed vegetables, shrimp and salmon.
Try dijon hollandaise sauce with baked chicken and steamed broccoli.
Garlic-herb hollandaise sauce goes well with grilled salmon, tuna, swordfish, and shellfish.
Nutrition Information:
Yield:

18
Serving Size:

1 tablespoon
Amount Per Serving:
Calories:

69
Total Fat:

7g
Saturated Fat:

4g
Trans Fat:

0g
Unsaturated Fat:

3g
Cholesterol:

58mg
Sodium:

61mg
Carbohydrates:

0g
Fiber:

0g
Sugar:

0g
Protein:

1g
Nutrition information is a guideline only, is calculated automatically by third party software, and absolute accuracy is not guaranteed.