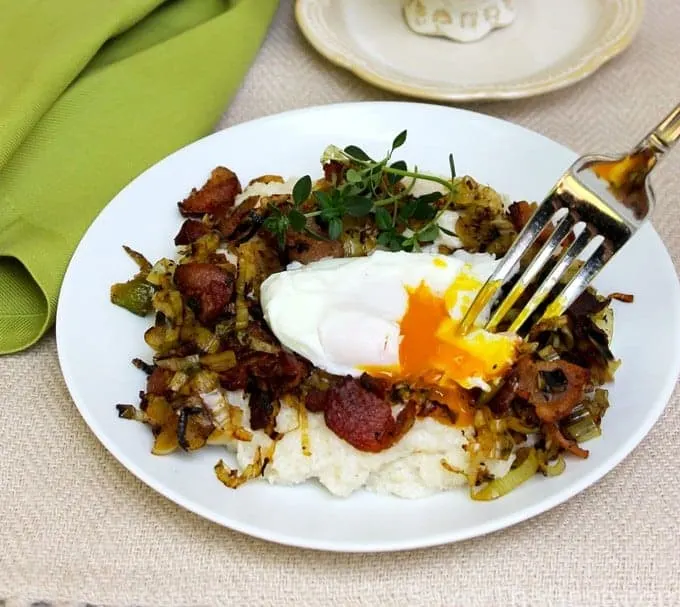 This cream of rice cereal is milled rice that is cooked into a porridge that looks similar to grits but is smoother. It is a great twist on corn grits or cream of wheat and of course is corn and gluten free. Don't think this is just for folks that are sensitive to corn or gluten, it makes a deliciously savory breakfast that anyone will love. I used Bob's Red Mill Creamy Rice but if you can't find it or another brand of cream of rice then you can blitz some rice grains in the blender until they become the texture of cornmeal.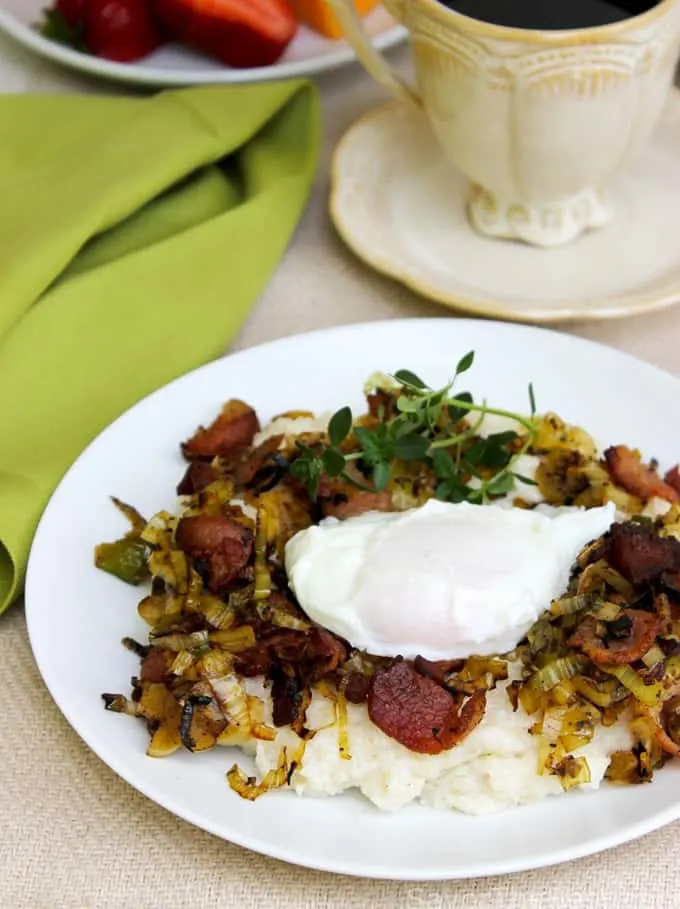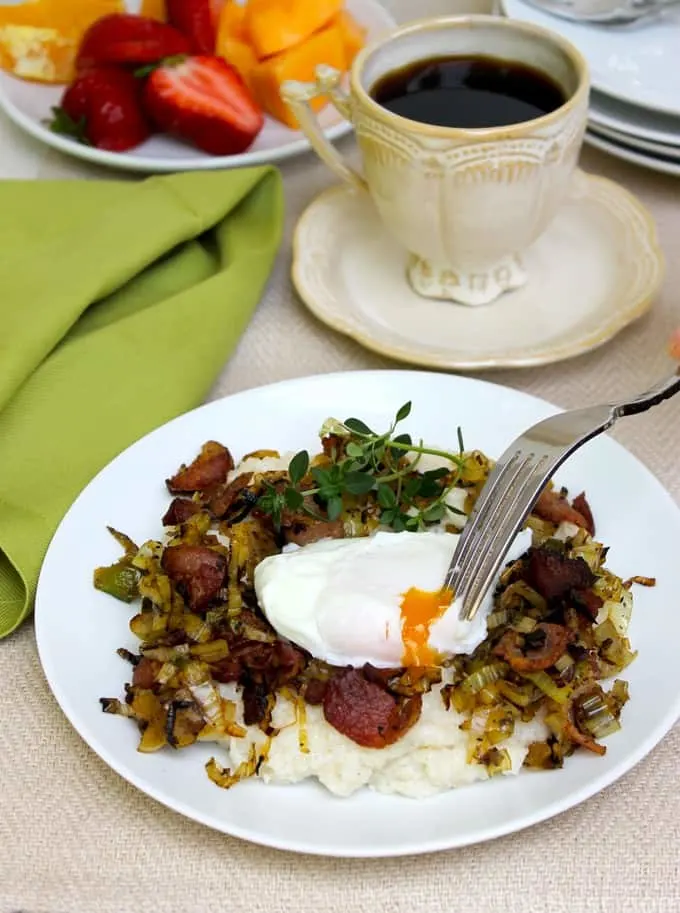 Topping the rice porridge with the leeks, bacon and an egg makes for a hearty and filling breakfast. You just may want to make this one of your regular stand in's for breakfast.
Poaching eggs can be a bit intimidating for some folks. Preventing the whites from falling apart and creating a milky soup of egg whites can be the most frustrating part of poaching eggs. Using super fresh eggs works best but I don't always get a chance to pluck an egg away from Chicken Little's nest. Adding vinegar to the water helps but I don't care for the faint vinegar taste on my egg. Techniques like swirling the water is usually hit and miss for me but this technique that I learned from my mom works every time for me, even with eggs that are not fresh from the hen.
Once you get the water to a gentle simmer, spray a ladle with non-stick cooking spray and crack an egg into the ladle. Lower the ladle into the hot water for a few seconds until you see the edges start to turn white. This helps get the whites coagulated before dropping the egg into the water and prevents an older egg white from breaking away and spreading to the edges of the pan. The trick to this and any technique for poaching an egg really is about the water temperature. If the water is too cool, the egg won't have time to firm up and hold together. If the water is too hot then the egg whites will be tough. Be sure to keep the water at a gentle simmer, or the point when small bubbles are just starting to come up to the surface.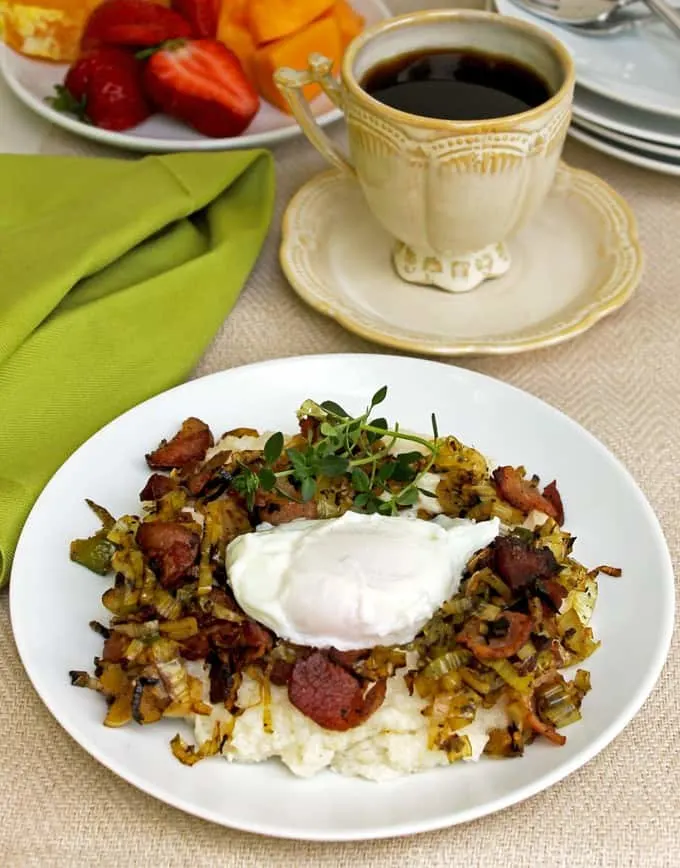 CONNECT WITH SAVOR THE BEST!
Be sure to follow us on our social media accounts
Facebook * Instagram * Pinterest * Twitter * Youtube
Did you make this recipe? We would love to hear from you. Drop us a comment below.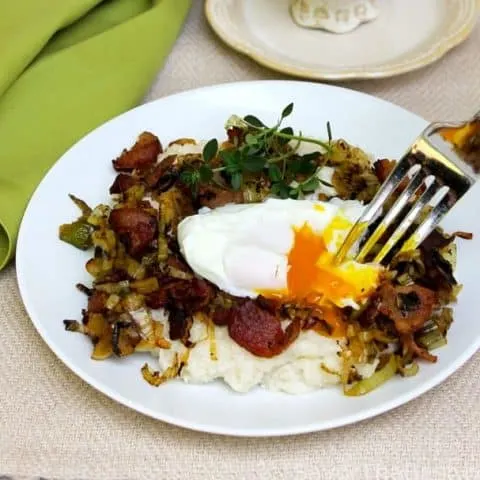 Cream of Rice with Bacon, Leeks and Poached Eggs
Savory creamed rice cereal with leeks, bacon and poached eggs. A hearty and filling breakfast that is gluten and corn free.
Ingredients
Cream of Rice
3 ½ cups milk
½ teaspoon salt
1 cup milled rice cereal**
Leek and Bacon Sauté
8 slices of bacon cut into ½ inch chunks
3 to 4 leeks, finely sliced, rinsed and drained
Poached Eggs
Instructions
Cream of Rice
In a medium saucepan, bring the milk and salt to a simmer over medium-high heat. Add the milled rice cereal and reduce the heat to medium. Cook for 6 to 8 minutes, stirring occasionally until thick. Remove from heat, cover, and set aside.
Leek and Bacon Sauté
Cook the bacon in a large skillet over medium-high heat until crispy, about 6 minutes. Remove to a plate lined with paper towels to sop up the grease. Drain off all but a tablespoon of bacon grease from the skillet. Add the leeks to the skillet and cook until tender, about 7 to 8 minutes. Return the bacon into the skillet and toss with the leeks. Set the bacon and leeks aside while you poach the eggs.
Poached Eggs
Add about 1 to 2 inches of water to a sauté pan and bring to a gentle simmer. Spray a metal ladle with non-stick cooking spray and crack the egg into the ladle. Dip the ladle into the hot water and hold it there for 4 to 5 seconds until you see the egg white just start to turn white (this will keep the egg white from falling apart when dropped into the water) then tip the ladle so the egg slides into the water. Cook for 2 to 3 minutes for a semi-soft yolk or 3 to 4 minutes for a medium yolk. Remove from water and drain on a towel.
To Serve
Divide the cream of rice onto four plates then top with the sautéed bacon and leeks and then a poached egg. Season with salt and pepper if desired.
Nutrition Information:
Yield:

4
Serving Size:

1
Amount Per Serving:
Calories:

353
Total Fat:

17g
Saturated Fat:

7g
Trans Fat:

0g
Unsaturated Fat:

9g
Cholesterol:

226mg
Sodium:

883mg
Carbohydrates:

27g
Fiber:

1g
Sugar:

3g
Protein:

23g
Nutrition information is a guideline only, is calculated automatically by third party software, and absolute accuracy is not guaranteed.