Spicy, tender pork chop slices with a mix of fajita-style peppers, onions and delicious toppings and condiments, these zesty pork fajita bowls are dinner dreams come true.
With a short prep time and only 15 minutes to cook, our fajita bowls make a quick, healthy dinner any night of the week! They're packed with freshness, flavor, and just the right amount of spice.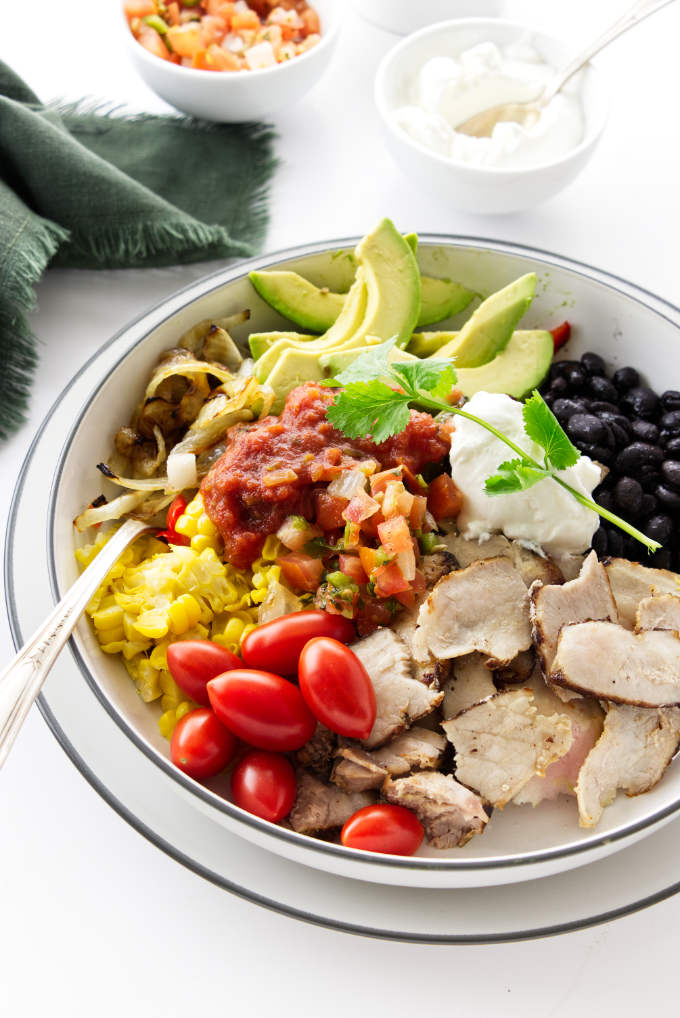 This dish has everything we love about traditional fajitas, but with no assembly required! Serve all those yummy pork chop fajita ingredients in a bowl and enjoy fuss-free fajita eating that's a little lighter on the carbs, too. It's basically a fajita salad
The Best Pork Fajita Salad Bowl:
Tender, seasoned pork slices make the meaty base of this fajita bowl recipe. But that's just one thing to love about it. Healthy fresh vegetables are also where the flavor is at! That includes a mix of red, yellow, and green sweet peppers, onions, corn, and black beans.
And the condiments. No fajita bowl is complete without them.
Creamy avocado, tart lime wedges, pico de gallo, and rich sour cream are all a must when it comes to topping our pork fajita bowls. But you can choose your own favorites and serve this dish however you'd like!
Why this Recipe Works:
simple to prepare

a great family dinner recipe that's healthy and nutritious

quick to make and get on the table (with only 15 minutes of actual cook time!)
If you love this easy fajita bowl recipe, you will love our sheet pan chicken fajita bowls and our taco salad in tortilla bowls.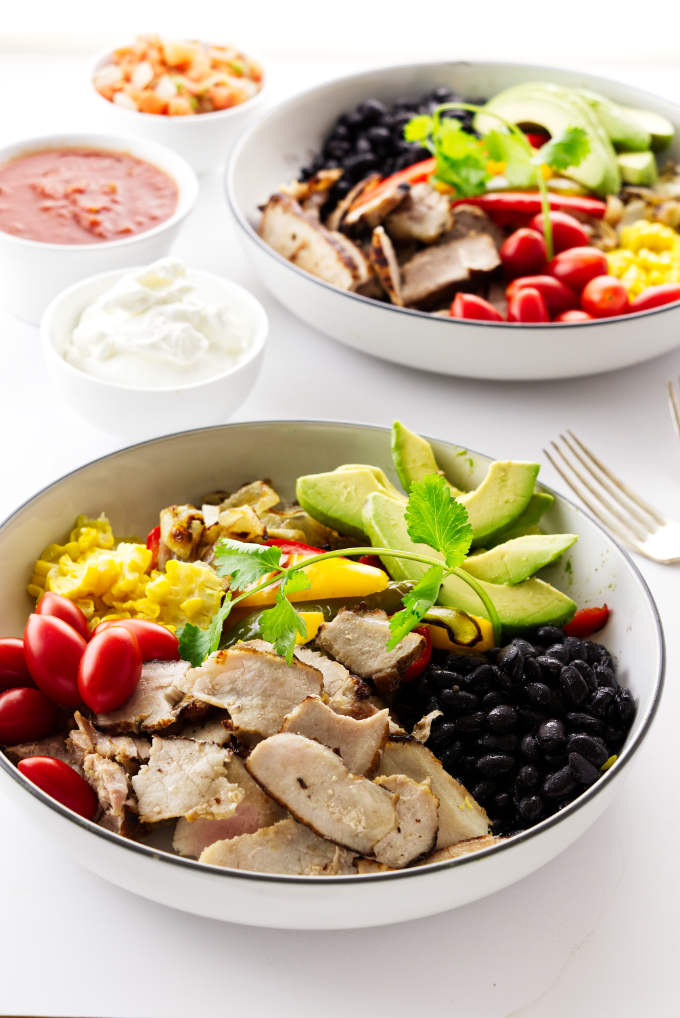 The Ingredients:
Here is the shopping list of ingredients you will need for your shopping list. Scroll down to the printable recipe card for all the details. For this easy fajita bowl recipe, you will need:
Vegetable oil
Limes
Ground cumin
Garlic cloves, grated or minced
Adobo chipotle pepper, mashed
Pork chops (choose thick ones!)
Salt and pepper
Onion, sliced
Red, yellow and green bell peppers, sliced
Cooked corn
Grape tomatoes
Canned black beans, or make your own Instant Pot black beans
Cilantro
Optional toppings, like lime wedges, avocado, pico de gallo and sour cream
When you buy your corn, grab a bit extra so you can make a quick Chipotle corn salsa to serve alongside these fajita bowls.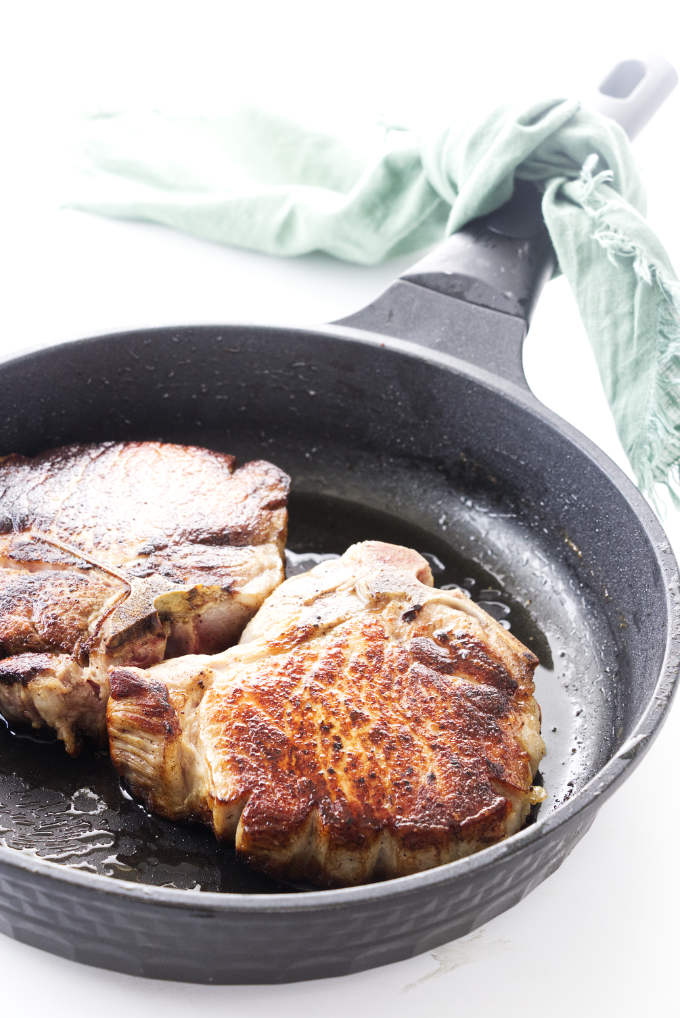 How to make Pork Fajita Bowls:
Don't you love easy, healthy dinner recipes? Especially when there are Tex-Mex flavors involved?!
While we're big fans of chicken fajitas and our flank steak fajitas, there's something so low maintenance about this fajita bowl situation.
Here's how to make it:
Prepare the fajita seasoning: Combine the ingredients in a dish and set aside.

Sear the pork chops: Season them on both sides and sear them until golden brown.

Sauté the veggies: Cook the onions and bell peppers until they are still a tad crisp.

Dish up: Portion the vegetables equally between serving bowls. Slice the pork chop and arrange on each serving. Garnish with cilantro and your condiments of choice!
We love serving these pork fajitas bowls with warm tortillas on the side. It feels extra special and also gives everyone the chance to assemble traditional-style fajitas, too.
You could make your own kamut flour tortillas or sweet potato flatbread if you have some extra time. The sweet potato flatbread is flat enough to use as a tortilla.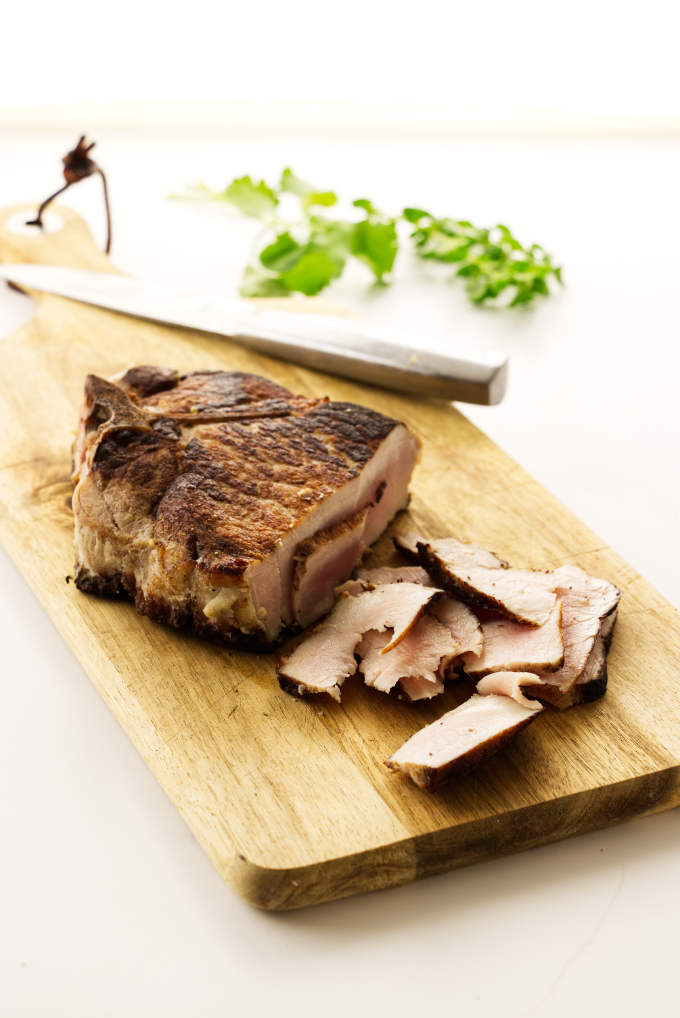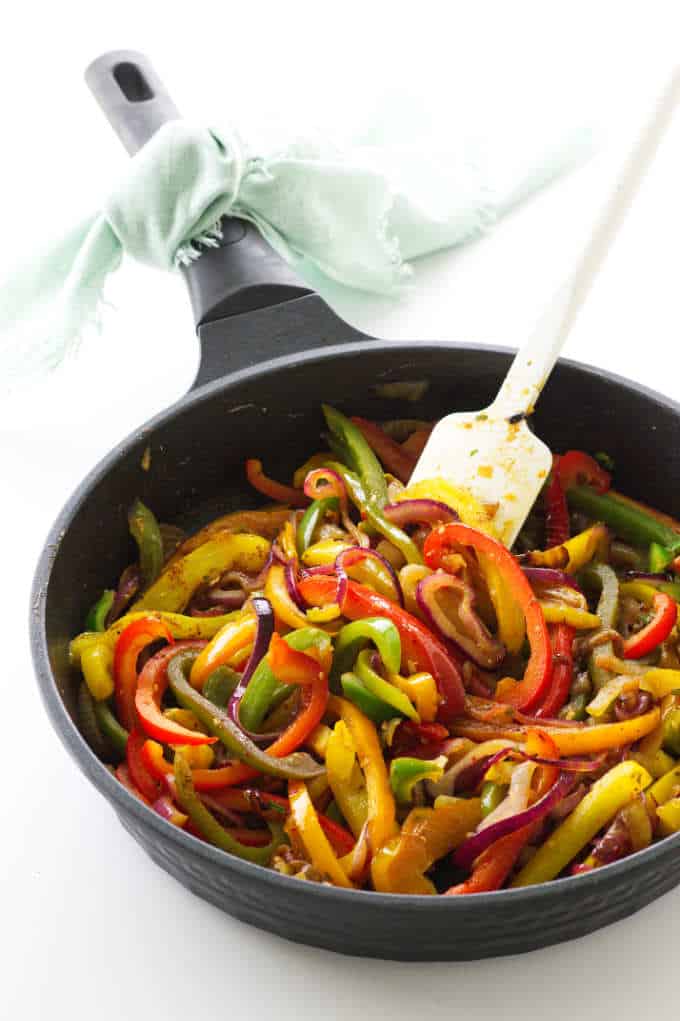 Recipe Tips For The Best Results:
When you make these pork fajita bowls, keep these tips in mind to ensure you get the best results!
About chipotle peppers: Canned chipotle peppers are very spicy and you will not need the entire can for this recipe. You can freeze the remainder of the can for later use. I like to blend them up and portion them in ice cube trays.

If you want to use chipotle powder instead of canned chipotle, use 1/2 teaspoon of chipotle powder for every whole pepper.

If you brine the pork chops, do not add additional salt when searing them.

Cooking the pork chops. We made slash marks around the rim of the pork chops to prevent them from curling up while they cook. Refer to the photos in our stove top pork chops and mushrooms to see how we slashed them.

To cook the corn: Place an unshucked ear of corn into the microwave and cook on high for 4 minutes. Remove, cool for 2-3 minutes then shuck the corn.

Rinse the can of beans and drain well to eliminate as much moisture as possible. You could replace the black beans with pinto beans or mayocoba beans.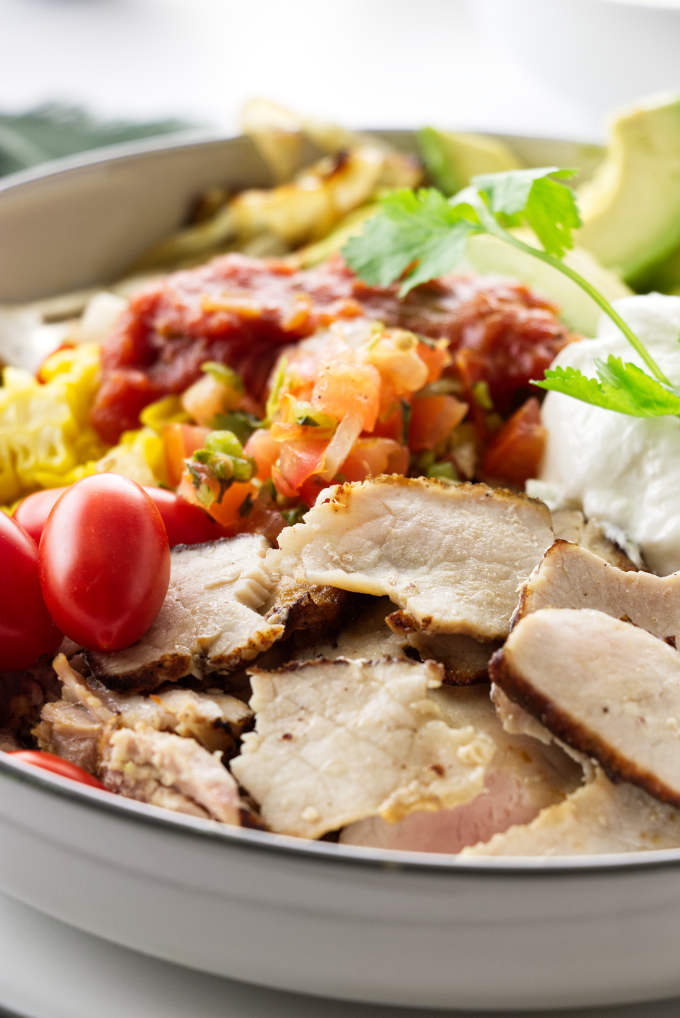 Pork fajitas in a bowl make the ultimate fast and healthy dinner! We know you'll appreciate this recipe, especially on those nights when dinner inspiration is lacking and you're in a pinch to get something yummy on the table. Enjoy
Some Other Recipes We Are Sure You Will Love:
If you're a fan of a traditional Hawaiian poké, you will love this quick and easy Ahi tuna bowl Ahi Tuna Poké Bowl We packed sushi rice in a deep bowl and topped it off with rich, marinated sushi-grade Ahi tuna, avocado, and pickled ginger. It is delicious and healthy!
Pull out your sheet pan and roast up an easy Sheet Pan Chicken Fajita Bowl for dinner tonight! Tender chicken strips, red and green peppers and thick slices of onion rings are roasted on a sheet pan then added to a bowl with crisp salad greens.
Take a little trip to Thailand with this Thai Spicy Shrimp Rice Bowl Succulent jumbo shrimp are sautéed in coconut and hot chili oil adding BIG flavor! A healthy mix of fresh veggies are heaped over hot jasmine rice then topped with a spicy peanut sauce.
Connect With Savor the Best:
Please follow us on our social media accounts
Facebook * Instagram * Pinterest * Youtube * Twitter
Did you make this recipe? We would love to hear from you. Drop us a comment below.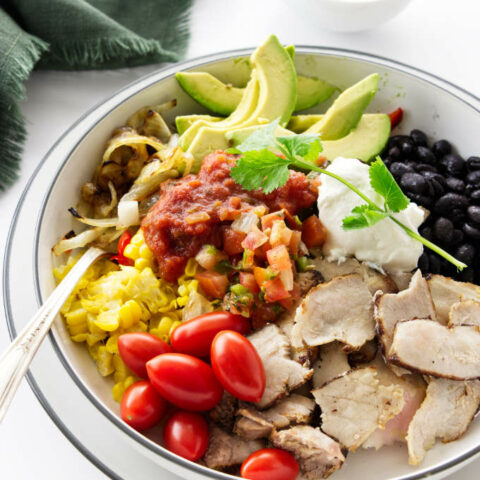 Pork Fajita Bowls
Spicy Pork Fajita Bowls featuring tender pork slices, healthy fresh vegetables of red, yellow and green sweet peppers, onions, corn and black beans. Serve with an assortment of condiments.
Ingredients
For the Fajita Seasoning:
For the Pork:
2 thick pork chops, about 1-1/2 pounds total
Salt/pepper
3 tablespoons vegetable oil (divided)
The Vegetables:
1 large onion, sliced
3 bell peppers, 1 each of red, yellow and green, sliced
3/4 cup frozen corn (or 1 ear of fresh corn)
12 ounces mini or grape tomatoes
1 can (14.5 oz.) black beans, rinsed and drained
Cilantro sprigs
Condiments, optional:
Lime wedges
Avocado slices
Pico de Mayo
Sour cream
Instructions
For the Fajita Seasoning:
Add all the ingredients to a small dish. Whisk to combine and set aside.
Sear the Chops:
Using a sharp knife, cut through just the fat rim of the pork chop in 1-inch intervals. (As the pork chops cook the cuts will expand, keeping the pork chop lying flat in the pan and not hump in the center. See Notes)
Sprinkle both sides of the pork chops lightly with salt and pepper
Heat 2 tablespoons of the oil in a large non-stick skillet set over medium-high. Add the pork chops and sear until well browned, 4-5 minutes per side. Transfer to a plate, cover with foil and set aside while you prepare the remaining ingredients. The pork chops will continue cooking from residual heat.
Heat the remaining oil in a large skillet set over medium-high; then add the onions and bell peppers. Sprinkle with 3-4 tablespoons of the reserved seasoning mix and cook until the onions and peppers are lightly cooked (al dente) and slightly crisp. Remove from the heat.
Add the corn to the skillet and sear until lightly charred. If you are using fresh corn, leave the corn on the cob while you char it in the skillet.
To Assemble:
Portion the vegetables equally between shallow bowls such as pasta bowls, or soup plates. Cut the corn from the cob (if using fresh corn) and add to each bowl, add the tomatoes and the black beans to each bowl.
Slice the pork chop into thin strips and arrange on top of each serving. Garnish with fresh cilantro and serve with additional condiments and warm tortillas.
Notes
Canned chipotle peppers are very spicy and generally, you will not use the entire can in one recipe. To reserve the remainder of the can for future use I like to process them in my mini-food processor; then portion them with a tablespoon each into tiny, lidded plastic containers and freeze.
See our 'how to" photo in our Stove Top Pork and Mushrooms post for reference on how we cooked the pork.
If you have brined the pork chops, do not add additional salt when searing them.
If you want to cook the corn in the microwave, place an unshucked ear of corn in the microwave and cook on a high setting for 4 minutes. Remove, cool for 2-3 minutes then shuck the corn.
Rinse the can of beans and drain well to eliminate as much moisture as possible.
Nutrition Information:
Yield:

6
Serving Size:

1
Amount Per Serving:
Calories:

822
Total Fat:

24g
Saturated Fat:

5g
Trans Fat:

0g
Unsaturated Fat:

16g
Cholesterol:

46mg
Sodium:

1085mg
Carbohydrates:

138g
Fiber:

20g
Sugar:

33g
Protein:

31g
Nutrition information is a guideline only, is calculated automatically by third-party software, and absolute accuracy is not guaranteed.