These hearty Instant Pot Mayocoba beans make for one of the most fulfilling meals. This dish will keep you full for hours since it is packed with fiber and protein. Serve over rice for a vegetarian meal or incorporate it into other recipes for a delicious side dish.
If you have been following Savor the Best for a while, you will know that one of our favorite uses for the Instant Pot is cooking dried beans. Instant Pot Pinto beans, red beans and ham, or Instant Pot black beans are a few of our favorites.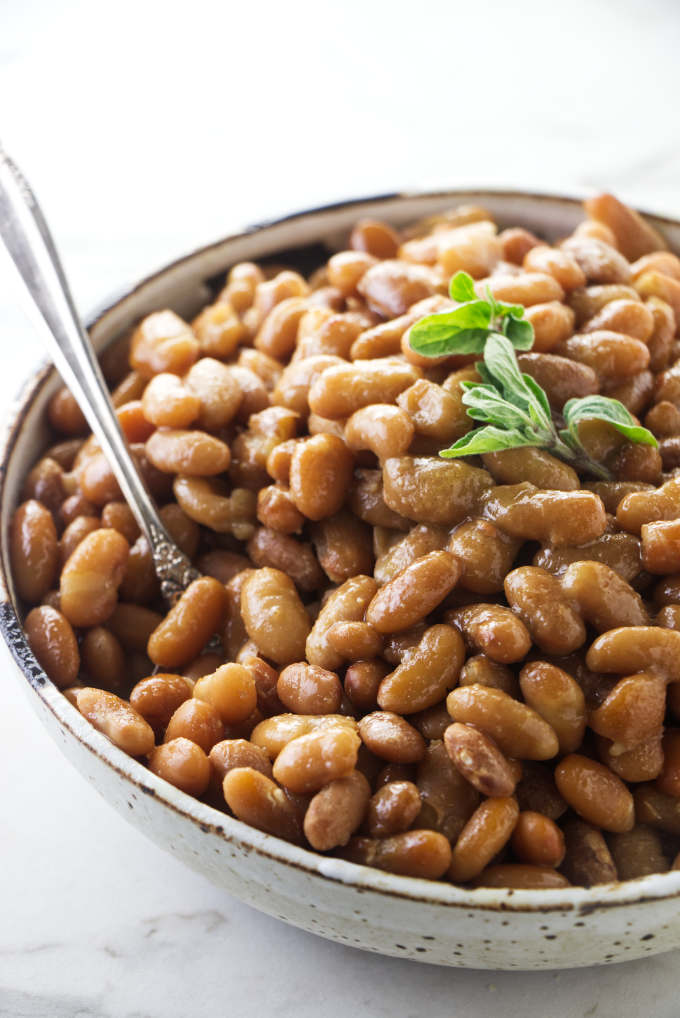 Mayocoba beans, also referred to as Canary, Peruano, or Peruvian beans, are known for their creamy consistency. Originating in Peru, the legumes have a mild flavor. These beans are typically ivory or pale yellow when dry but turn tan once cooked.
Their smooth, buttery texture works exceptionally well for preparing refried beans. You can also puree them with roasted veggies to make a delicious dip like our carrot hummus.
Mayocoba beans are also an excellent substitute for pinto beans in various Latin American dishes.
Why You Will Like This Instant Pot Recipe:
There are so many reasons to love these tasty mayocoba beans but to name a few:
Simple and quick to prepare in the instant pot!
Low-fat content and cholesterol-free.
Very filling alone or as a side dish.
It can be used as a base for so many dishes like soup or refried beans.
Ingredients Needed
This recipe only requires a few elements that you may already have on hand, such as broth or spices. Mayocoba beans are pretty easy to find at most local grocery stores or online retailers.
We used dry spices in this recipe which makes it a great pantry recipe that you can make any day of the week.
Chicken or vegetable broth. You can even use water if you don't have any broth but the broth will give the beans more flavor.
Dry Mayocoba beans. Make sure the beans have not been sitting on the shelf for too long. If they are older than 5 years old then they may not get soft (no matter how much you cook them).
Whole bay leaves. Fresh or dried bay leaves add a subtle earthy flavor.
Ground cumin. We love the flavor of cumin with these beans.
Garlic powder. Garlic powder is milder in flavor than fresh garlic and it has a mild hint of sweetness.
Onion powder. Onion powder is less pungent than fresh onions but still add a great flavor to the beans.
Salt. There is an old myth that salt will make your beans tough. That isn't true. Salt actually helps the beans cook more evenly.
That's all you need to make these buttery Instant Pot Mayocoba beans. Give them a try and let us know how you like them.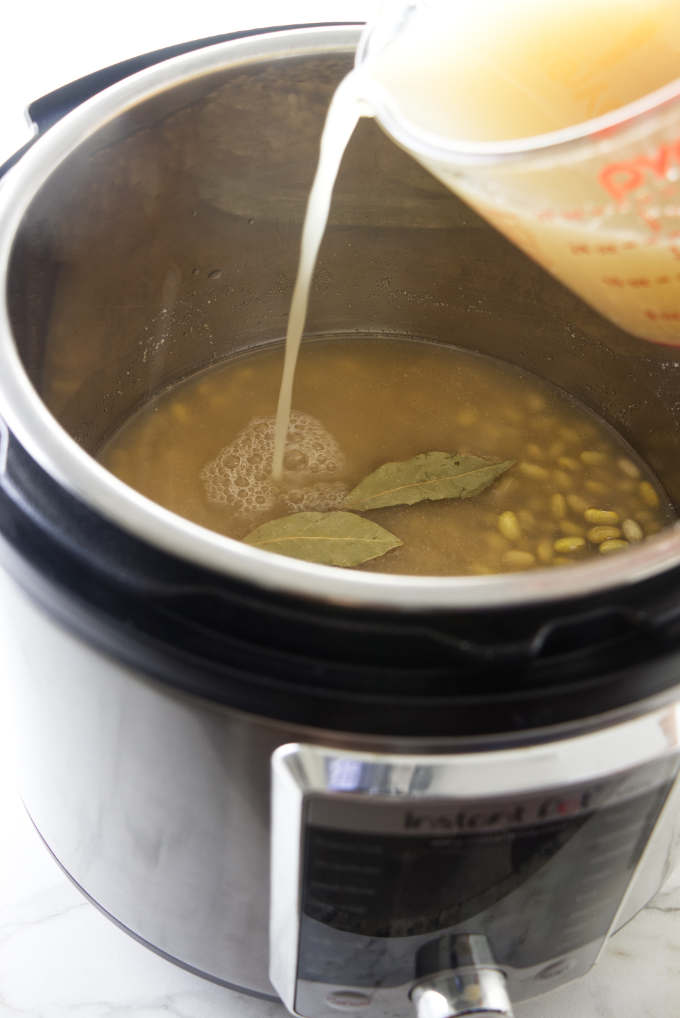 How To Make Instant Pot Mayacoba Beans:
These easy-to-make beans will be ready in no time if you follow the steps below:
Rinse the dried beans and pick out any pebbles if you find them.
Add everything to the pot. Seal the lid and make sure the valve is in the sealed position.
Cook on high pressure.
Let the Instant Pot release pressure naturally.
Remove the bay leaves, taste the beans and add more salt if needed.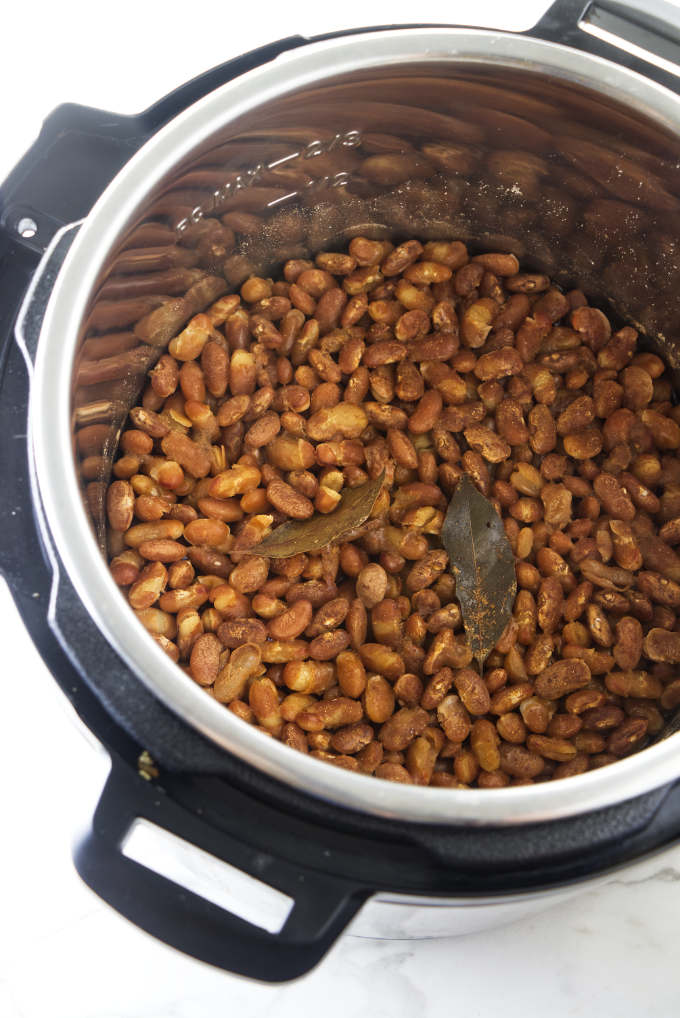 Chef's Tips & Tricks for Recipe Success:
Soaking the beans is optional. The Instant Pot will cook the beans quickly even if you don't soak them.
Feel free to switch up the spices based on your personal preference. Cayenne pepper, coriander, chili powder, and smoked paprika are all excellent additions to this recipe as well. This recipe for Instant Pot Mayocoba beans was made for flexibility.
Frequently Asked Questions:
Can I make this recipe without an instant pot?
Yes, you can still make these fiber-packed beans without an instant pot. Make these beans on your stovetop after you soak them in water for at least 8 hours. Rinse the beans then put them in a pot and cover them with water. Bring the water to a boil then reduce the heat and simmer for 2 hours or until soft.
How do I prevent my beans from getting mushy?
Make sure you do not over cook the beans. It is easier to add more cooking time if the beans are not soft enough but if you over-cook them they will get mushy.
How long do Mayocoba beans last?
Once cooked, these beans will last in the refrigerator for up to five days in a sealed container. They may also be stored in the freezer for about six months before they begin to lose their flavor and nutritional value.

It is great to keep these in the freezer to reheat the instant pot or stovetop for future meals quickly. Allow the frozen beans to thaw before reheating or cooking in a new meal.
Do Mayocoba beans need to be soaked before cooking?
You do not have to soak the beans. Soaking them will help them cook faster and it will make them easier to digest. If you find that you get bloated after eating beans, try soaking them to see if that prevents the bloated feeling. You can also try adding a pinch of baking soda to the water.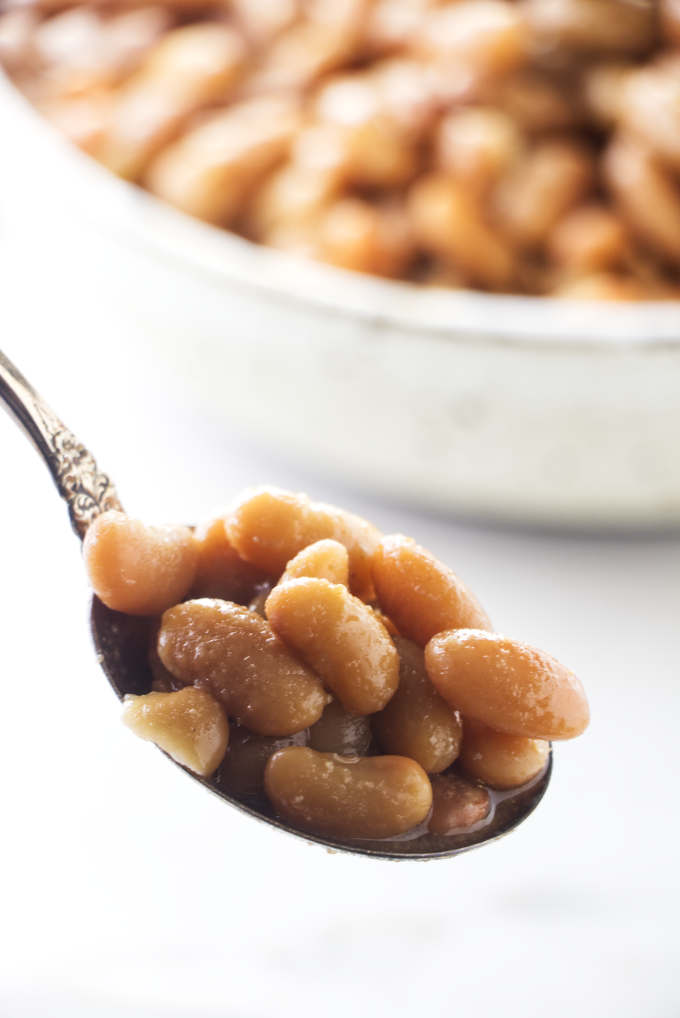 Helpful Tools
Some of the following links are affiliates. If you click on these links and purchase something, we may receive a small commission. You don't pay any extra but it will help us keep the lights on.
Some Other Recipes We Are Sure You Will Love:
Instant Pot Lebanese braised green beans are a version of stewed beans in a rich, tomato broth. They are fast and easy to make in the pressure cooker.
Chipotle pork chili beans are hearty, warm, and filling. The spicy chipotle flavor adds a nice zip to the beans.
Good old fashioned baked beans just like grandma used to make. These are always a favorite at picnics.
Connect With Savor the Best:
Please follow us on our social media accounts
Facebook * Instagram * Pinterest * Twitter * Youtube
Did you make this recipe? We would love to hear from you. Drop us a comment below.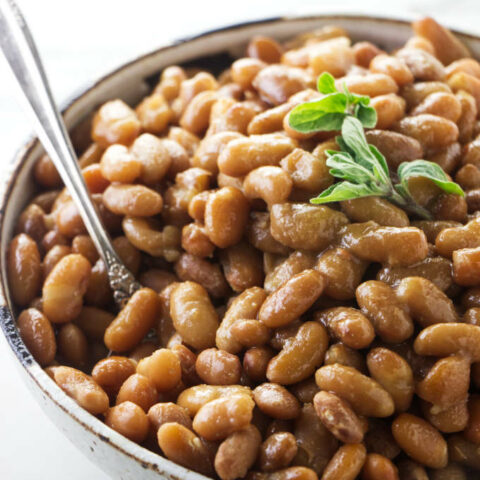 Instant Pot Mayocoba Beans
Yield: 8 to 10 servings
Prep Time: 5 minutes
Cook Time: 45 minutes
Additional Time: 15 minutes
Total Time: 1 hour 5 minutes
This recipe works with soaked or unsoaked beans. Mayocoba beans have a creamy, buttery texture and a mild flavor. They make a great side dish with just about anything.
Read the notes if you want to soak the beans first.
Ingredients
4 cups broth (vegetable or chicken broth)
1 pound dry Mayocoba beans (aka Canary beans)
2 whole bay leaves
2 teaspoons ground cumin
2 teaspoons garlic powder
1 teaspoon onion powder
1 teaspoon salt
Instructions
Rinse the dried beans and pick out any pebbles if you find them.
Optional step: cover the beans in salted water and let them soak for 8 hours.
Add the broth, beans, bay leaves, cumin, garlic powder, onion powder, and salt. Seal the lid and make sure the valve is in the sealed position.
Cook on high pressure for 45 minutes if unsoaked and 20 minutes if soaked.
Let the Instant Pot release pressure naturally, about 15 to 20 minutes.
Remove the bay leaves, taste the beans and add more salt if needed.
Notes
Most dry beans have dust and sometimes pebbles mixed into the package. Rinse them well and sort through them to make sure there are no pebbles.
If you want to soak the beans first, place them in a large bowl and cover them with cold water. Place them in the fridge for 8 to 12 hours. Drain and rinse them before cooking.
Old beans that have been sitting on the shelf for longer than two years will take much longer to cook. If your beans are older than 5 years, they may not soften up completely even with extra cooking time.
Once cooked, store them in the fridge for 5 to 7 days or in the freezer for 3 months.
Nutrition Information:
Yield: 12
Serving Size: 1
Amount Per Serving:
Calories: 87
Total Fat: 1g
Saturated Fat: 0g
Trans Fat: 0g
Unsaturated Fat: 1g
Cholesterol: 2mg
Sodium: 294mg
Carbohydrates: 13g
Fiber: 4g
Sugar: 1g
Protein: 6g
Nutrition information is a guideline only, is calculated automatically by third-party software, and absolute accuracy is not guaranteed.