This Sriracha Carrot Hummus is seriously delicious and we can't get enough of it! The roasted carrots give this creamy-smooth dip a sweetness while the Sriracha adds a spicy edge to it. And….it is diet-friendly 🙂 With only 77 calories per serving, it is the perfect snack.
Bring this appetizer dip to your next party and watch how fast it gets gobbled up. But don't wait for a party to enjoy this Sriracha carrot hummus….keep some in the fridge to slather on a sandwich wrap or a burger bun. It is better than mayo!
Do you love traditional hummus but find yourself passing it up because of the high calorie/fat content? Well, let not your heart be troubled….you can enjoy this incredibly flavorful carrot hummus guilt-free! This is a low-calorie, low-fat and high-flavor dip that will fit into anyones diet plan. Plus, it is wonderful as a dip with fresh vegetables!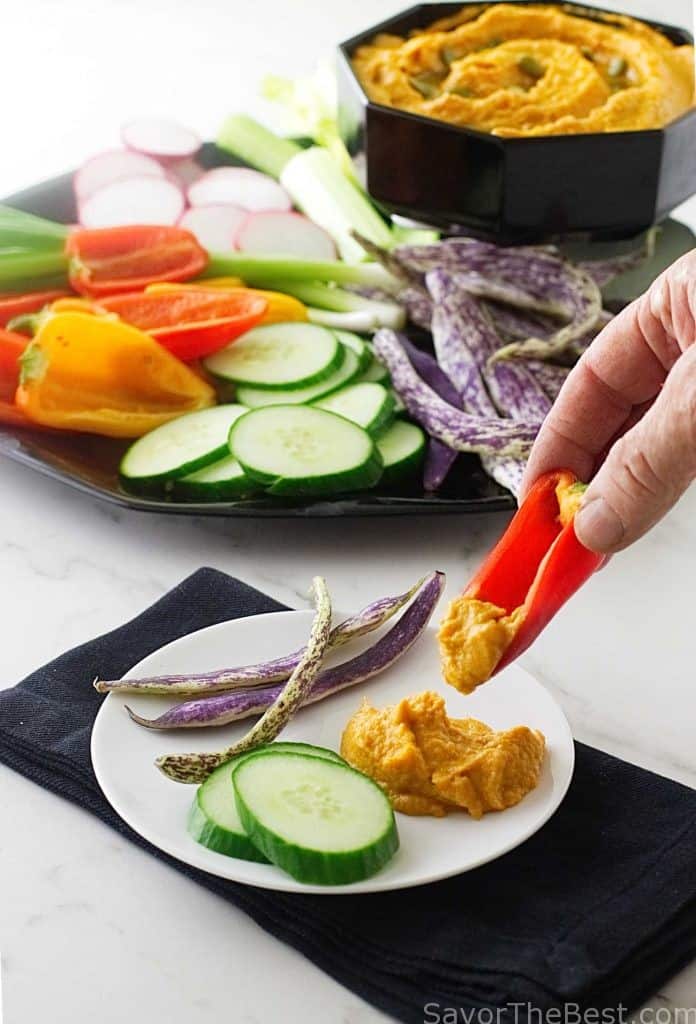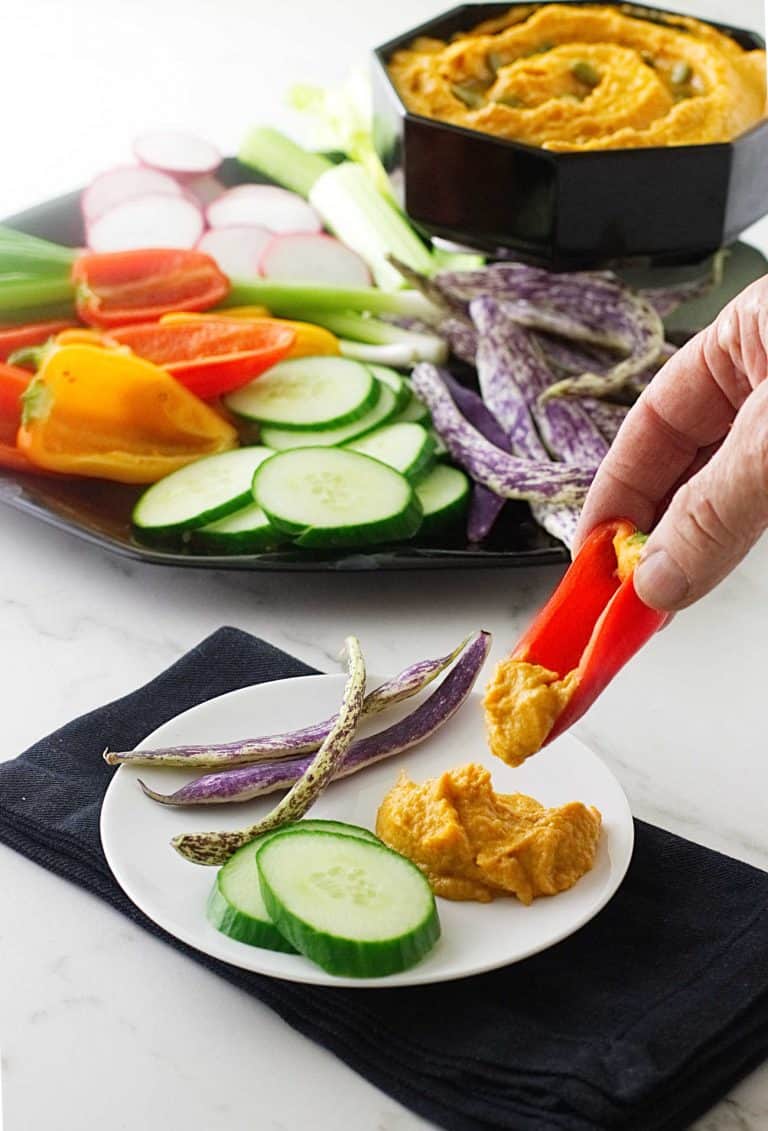 Don't spend your money buying a commercial carrot hummus, you can do this yourself! Watch our video below to see how easy it is to prepare. We roasted the carrots, garlic and jalapeños just until soft and tender. Then, after they cooled they were blended in the food processor with canned/drained white beans, lemon juice, tahini paste, Sriracha and spices. That's it!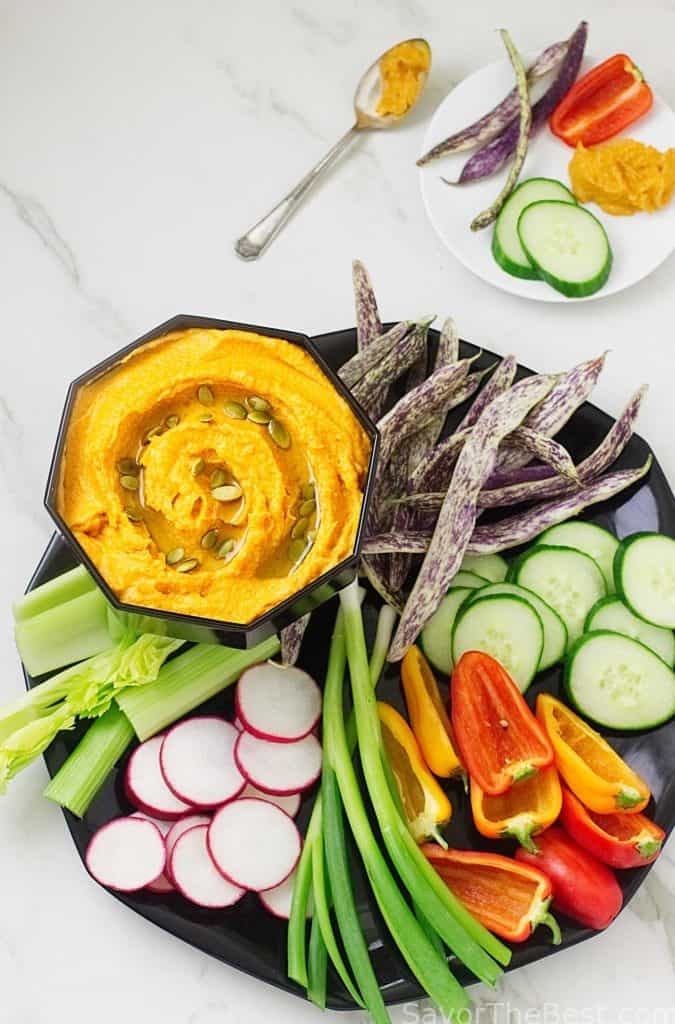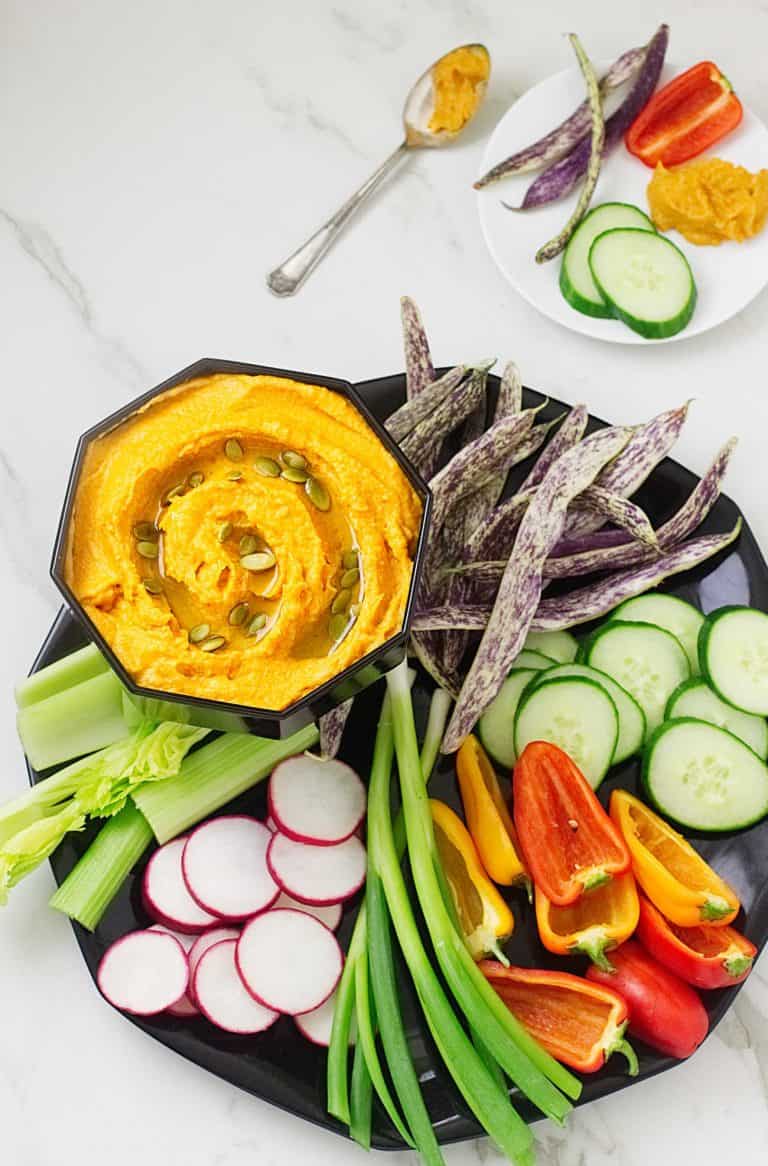 Check out more dips and spreads: Labneh-Middle East Fresh Yogurt Cheese, Baba Ganoush Red Beet Labneh,
Are you looking for recipes for Slimming World or Weight Watchers? This Sriracha Carrot hummus is perfect. Add this to your recipe box for all your healthy, low-fat recipes. It is low-fat, low-calorie, and gluten-free.
Video: How to make Sriracha Carrot Hummus: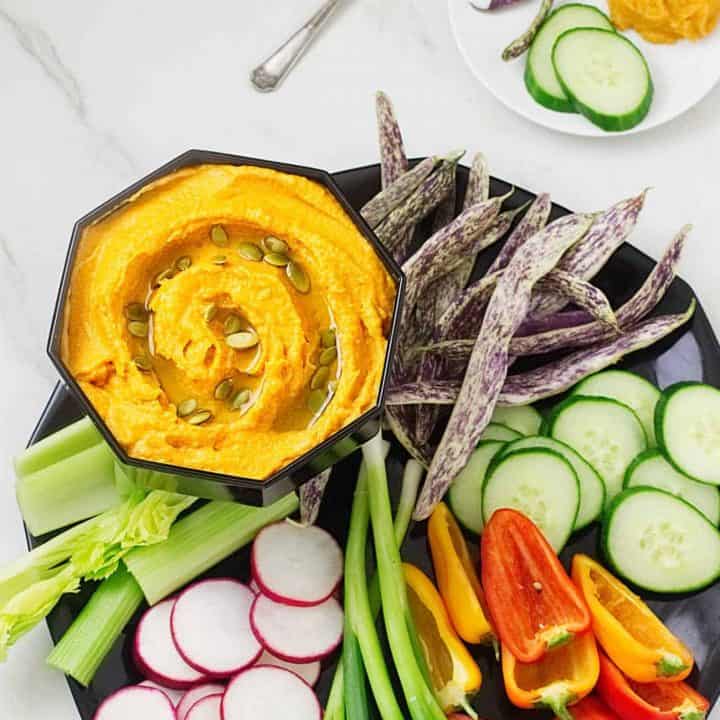 Sriracha Carrot Hummus
Yield: 12 servings
Prep Time: 10 minutes
cook Time: 25 minutes
Total Time: 35 minutes
This creamy and smooth Sriracha Carrot Hummus makes an incredible dip and spread. The roasted carrots give it a sweetness while the Sriracha gives it a bit of a spicy kick
Ingredients
6 medium carrots (about 1 1/2 pounds)
6 garlic cloves, peeled
2 jalapeños, seeds removed
1- 15 ounce can of white beans, drained
1/4 cup lemon juice
3 tablespoons tahini
2 tablespoons Sriracha sauce
1 teaspoon salt
1/2 teaspoon ground cumin
Instructions
Preheat the oven to 425°F. Peel and slice the carrots into 1 inch chunks and place on an aluminum lined baking sheet. Scatter the garlic cloves and jalapeños onto the baking sheet with the carrots then drizzle everything with a little olive oil. Cover the carrot mixture with aluminum foil and seal the edges.
Bake for 25 to 30 minutes until the carrots are very tender.
Allow the carrot mixture to cool enough to handle safely then toss them into a food processor.
Add the white beans, lemon juice, tahini, Sriracha, salt and cumin. Process until the mixture is smooth, about 2 minutes.
Taste and season with additional Sriracha if desired.
Transfer to a serving dish and garnish with paprika, pumpkin seeds and olive oil.
Nutrition Information:
Yield: 12
Serving Size: 1/4 cup
Amount Per Serving:
Calories: 77
Total Fat: 2g
Saturated Fat: 0g
Trans Fat: 0g
Unsaturated Fat: 2g
Cholesterol: 0mg
Sodium: 264mg
Carbohydrates: 13g
Fiber: 3g
Sugar: 2g
Protein: 4g
Nutrition information is a guideline only, is calculated automatically by third party software, and absolute accuracy is not guaranteed.