This Lebanese Baba Ganoush recipe is a creamy and flavorful dip made from four simple ingredients – eggplant, lemon, garlic, and tahini. Sprinkle fresh parsley and drizzle olive oil on top for a healthy and delicious dip for pita, veggies, and grilled meat.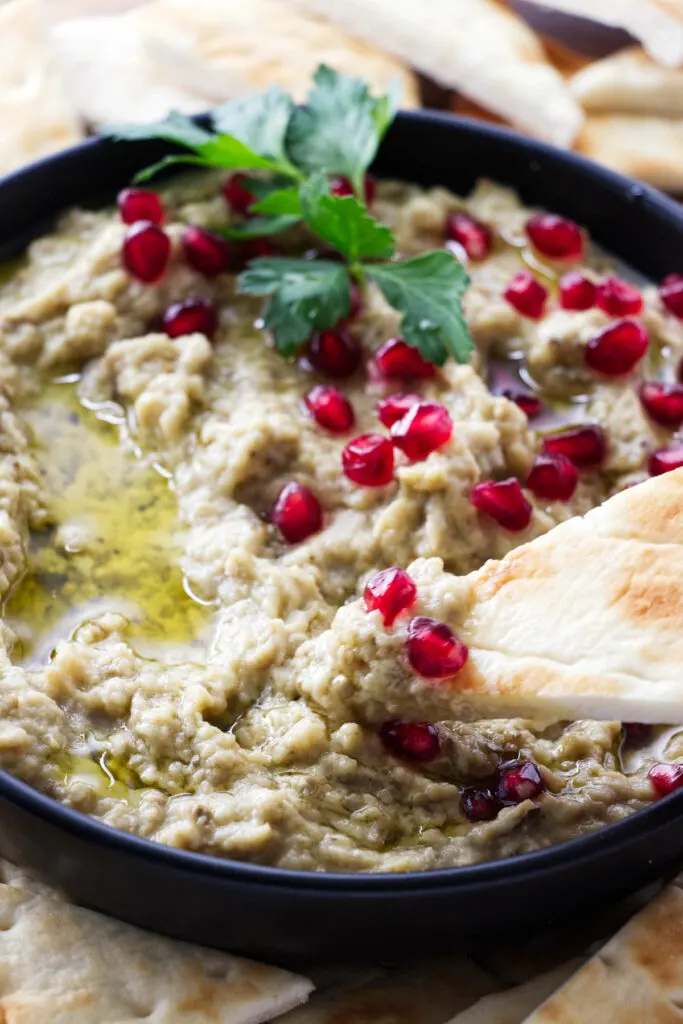 Eating more vegetables is easy when you have a velvety smooth savory dip to serve with them. While we love a good hummus recipe, this Lebanese baba ganoush recipe isn't far behind! Not to mention that this entire dip is made from eggplant! If you want to try some more Middle Eastern dips, check out our labne or Lebanese garlic sauce.
Baba Ganoush is a traditional Lebanese dip made from eggplants (aka aubergines). It's easy (with only 4 main ingredients) and quick to make if you need a last-minute appetizer or side for dinner. It is excellent with bread, vegetables, and roasted meats. But nowadays, this dish is served and eaten all over the world in a variety of cuisines.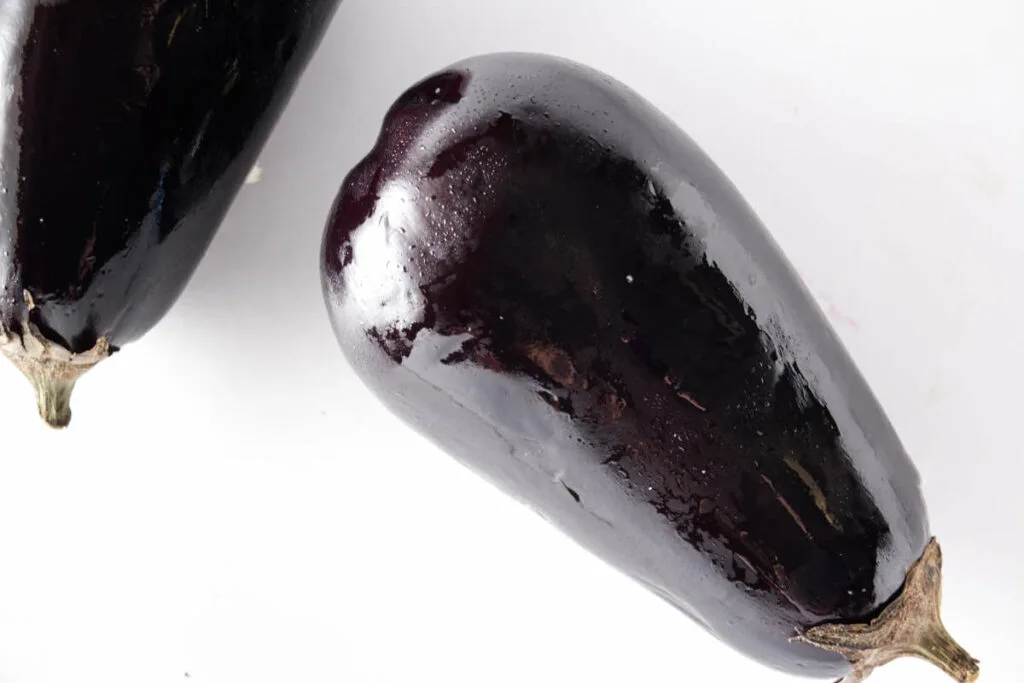 Why This Baba Ganoush Recipe Works
Simple. After broiling or grilling the eggplant, everything gets mashed in a bowl! It doesn't get much easier than that!

Only 4 main ingredients. Besides olive oil and salt, all you need to make this dish is eggplant, lemon, garlic, and tahini.

Flavorful. This Lebanese dip adds a robust flavor to anything you dip in it. Take raw veggies and pita from boring to delicious with this creamy, smoky dip.

Healthy recipe. The base for this dip is eggplant, and you can't get much healthier than that! One whole peeled eggplant has 14 grams of fiber and only 27 grams of carbohydrates, making this dip high in fiber and low in carbs.
Ingredients Needed
Here is a list of the ingredients you will need for your baba ganoush. Scroll down to the printable recipe card for all the details.
Eggplant. Two large eggplants. Choose an eggplant that's deep purple in color and free from blemishes and soft spots.
Lemon juice. Freshly squeezed lemon juice will taste better than bottled, but bottled will work in a pinch.
Tahini. This sesame seed paste adds a nutty flavor and creaminess to the eggplant. If there's a sesame allergy, you can substitute the tahini for almond butter or sunflower seed butter.
Garlic. Fresh garlic cloves for the most intense flavor. Feel free to use more or less, depending on how much garlic you like.
Parsley. Optional for garnish
Olive oil. Use extra virgin olive oil.
Salt.
Pomegranate seeds. This is optional, and we use it as a garnish. You can also drizzle the top of the creamy eggplant dip with pomegranate molasses.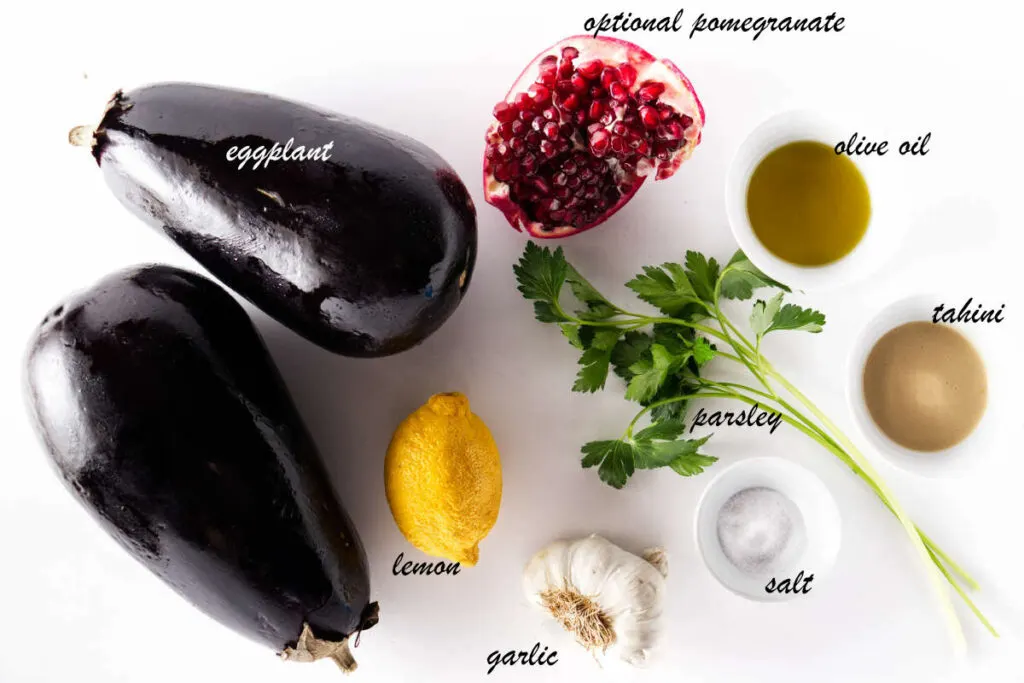 How to Make Lebanese Baba Ghanoush
This baba ganoush is simple to make and only requires a couple of steps: roasting and blending.
For the full printable recipe card, scroll to the bottom of the page. Here's a quick look at the process: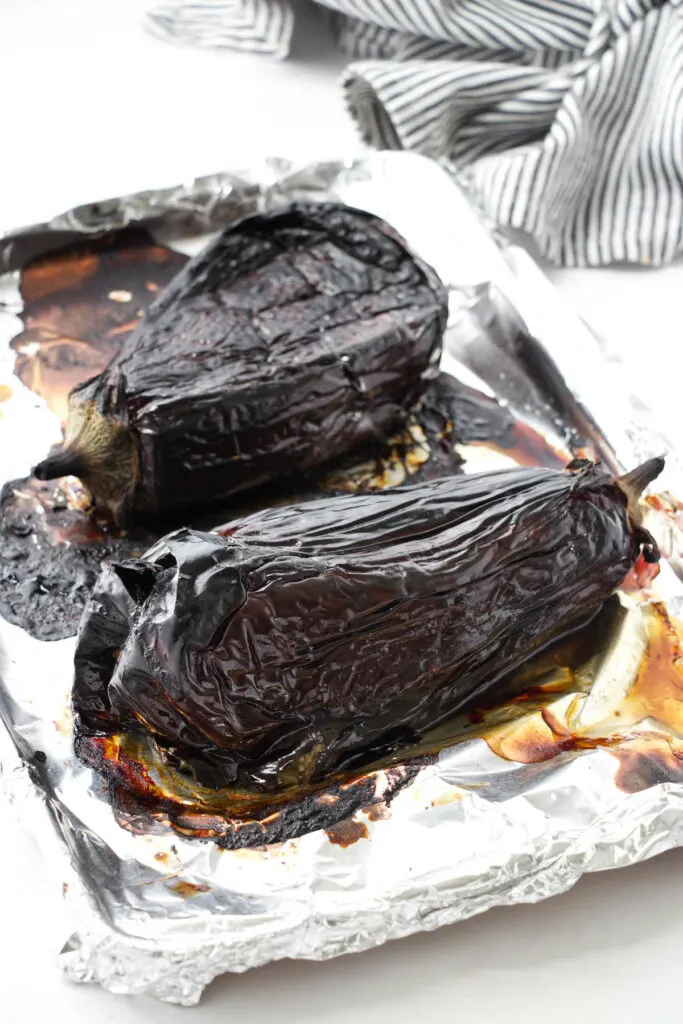 Poke some holes in the eggplants and place them on the baking sheet. Optionally, you can roast the eggplants over an open flame to give them a smoky flavor.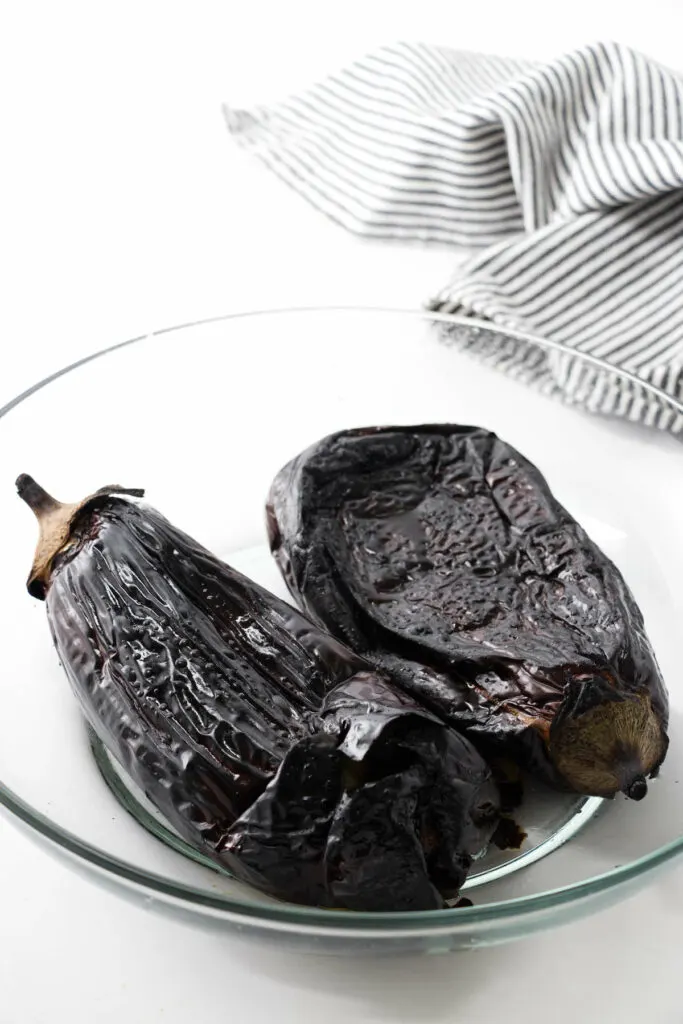 Once the pulp is soft, transfer the eggplants to a bowl and cover them to let them steam.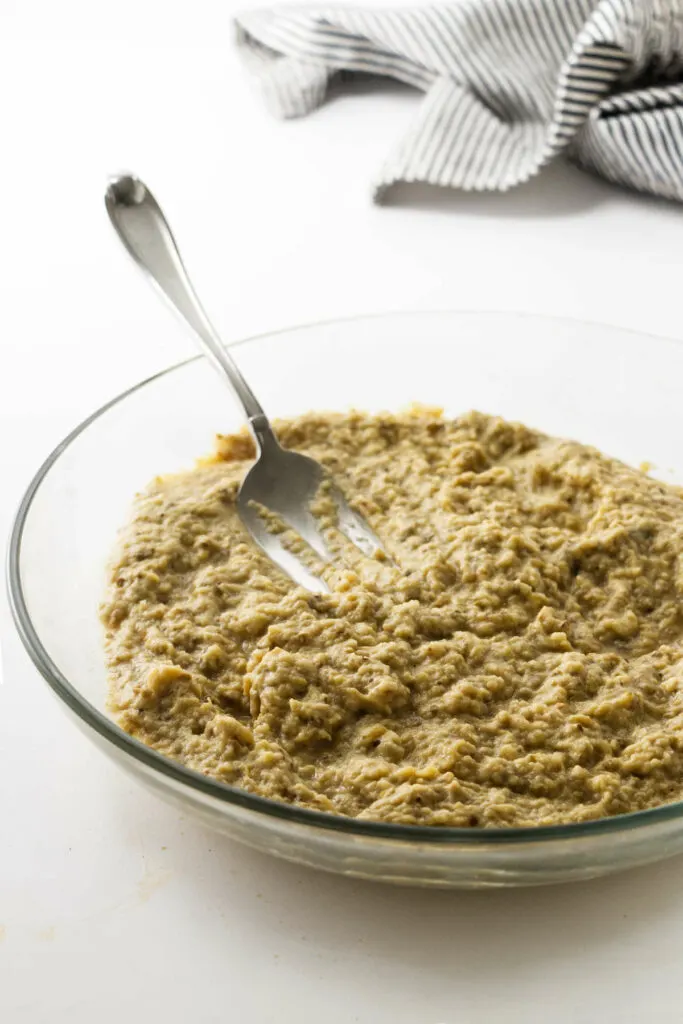 When the eggplant is cool enough to handle, peel the skin from them by scraping the eggplant flesh with a spoon. Mash the cooked eggplant with a fork, then stir in the rest of the ingredients.
More Appetizer Recipes
Tips for Success
Use fresh lemon juice instead of the bottled stuff. While you can use bottled lemon juice, the flavor will be more intense and fresh if squeezed directly from a lemon.

The oven-roasted eggplant is easy and hands-free but you can also grill the eggplant for a smokier flavor. Place the eggplant whole on the grill grates and grill for 30-40 minutes, flipping every 5 minutes until the center is soft.

A chunky texture is the traditional way that this eggplant dip gets served in Lebanese cuisine. You can process the dip in a food processor if you want a smooth, creamy texture.

Line the baking dish with aluminum foil or parchment paper to make cleanup easy.

Choose a high quality tahini. Some brands of tahini have a bitter flavor and will ruin the taste of the baba ganoush.

If you have extra tahini, use it to make honey tahini cookies, or lemon herb tahini sauce.
Substitutions and Variations
One to two teaspoons of smoked paprika will enhance the smokiness, especially if you are not grilling the eggplants over an open flame.
A pinch of cumin gives the dish a richer, hearty flavor.
Cayenne pepper will add a spicy kick.
Other topping suggestions: Red pepper flakes, smoked paprika, toasted pine nuts, za'atar, or sumac.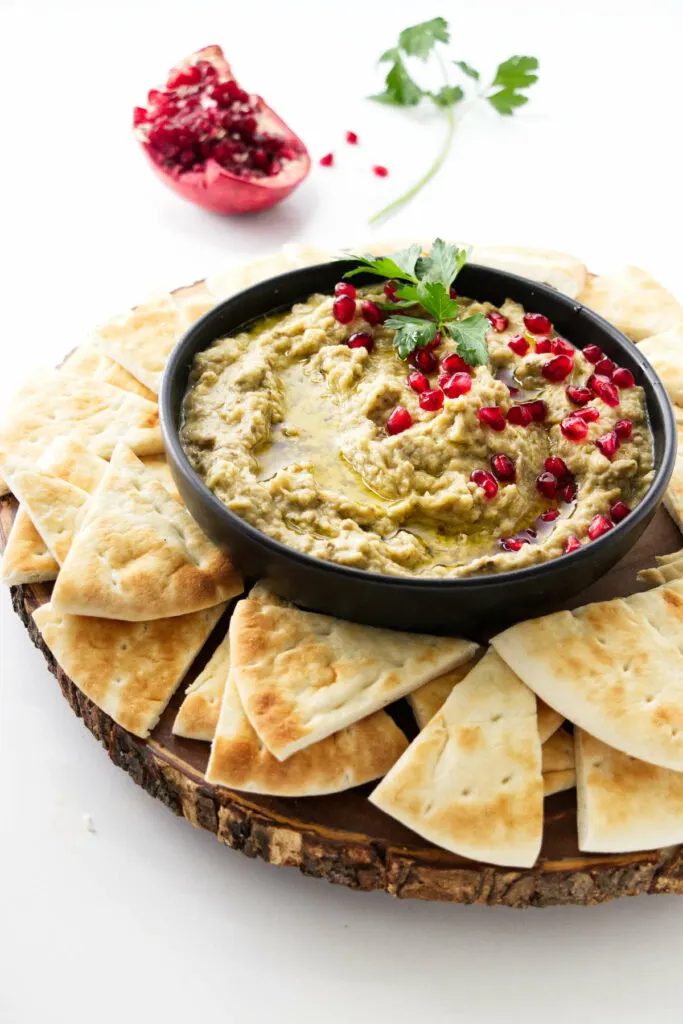 How To Serve Lebanese Eggplant Dip
This recipe makes about two cups of dip. To serve your Lebanese Baba Ganoush, mound the puree in a bowl, drizzle with olive oil and sprinkle with minced parsley. It can be eaten at room temperature or cold.
Serve with pita bread and raw vegetables or as a side or appetizer along with:
Storing Instructions
Once your baba ganoush is pureed, serve immediately or store for later. Once it's cooled in the refrigerator for an hour or two, the texture will thicken some. It can be stored for 5 to 7 days in an airtight container in the refrigerator.
For longer storage, you can freeze this Lebanese eggplant dip for 3 months if kept in an airtight container. Just take out of the freezer and let the dip thaw in the refrigerator.
Frequently Asked Questions
What is the difference between baba ganoush and hummus?
While both have middle eastern origins and often include tahini, lemon juice, and garlic, baba ganoush is made from eggplant while hummus is made from garbanzo beans.
Do you eat baba ganoush hot or cold?
Baba ganoush is best served at room temperature or cold.
Is baba ganoush healthier than hummus?
Both dishes are made from healthy ingredients and can be part of a balanced diet. Baba ganoush is lower in calories than hummus, but both are great sources of protein and fiber. Ultimately, it comes down to personal preference.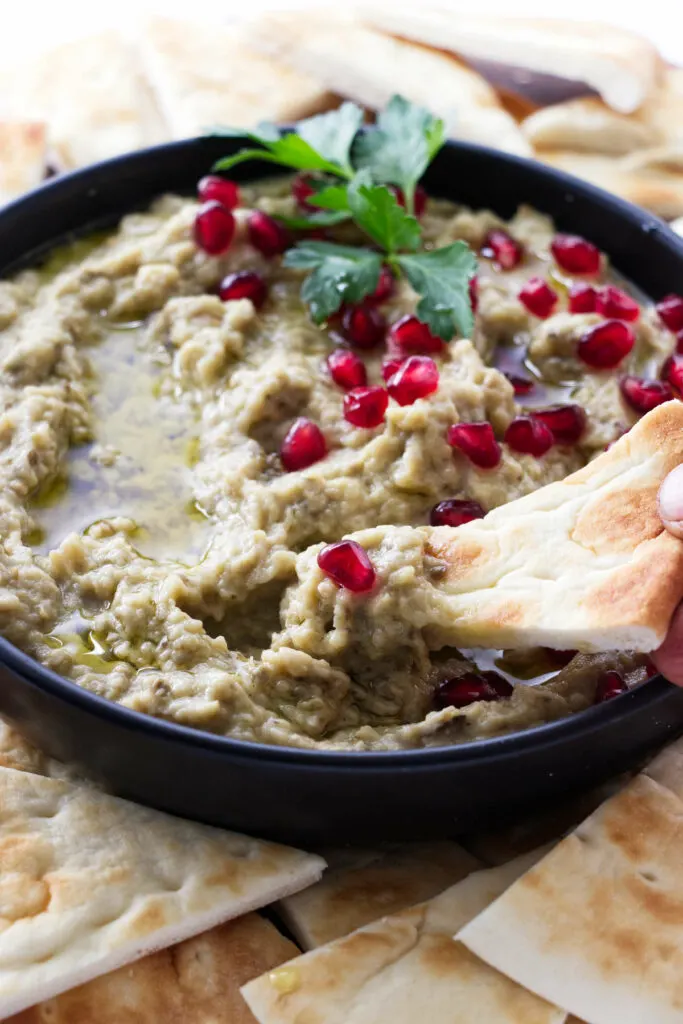 This baba ganoush is an authentic Lebanese recipe inspired by the Lebanese Cuisine cookbook.
Helpful Tools
Some of the following are affiliate links. We may receive a small commission if you click on these links and purchase something. You don't pay any extra, but it will help us keep the lights on.
More Eggplant Recipes You'll Love
If you love baba ganoush but want something just a little different, try Eggplant Caviar! This eggplant dip has broiled eggplant but also includes sauteed tomatoes, onions and peppers for a savory flavorful veggie dip.
Eggplant makes a the perfect lasagna noodle substitute in this Eggplant Lasagna. Sliced eggplant is luscious and soft just like a noodle, but lower in carbs and higher in fiber!
This Baked Eggplant with Goat Cheese is an amazing meat substitute. While eggplant isn't high in protein, it has a savory flavor and meaty texture when sliced. Coated in a crispy panko breading and topped with creamy goat cheese for a decadent dinner or side dish that everyone will love.
Connect With Savor the Best:
Please follow us on our social media accounts
Facebook * Instagram * Pinterest * Youtube * Twitter
Did you make this recipe? We would love to hear from you. Drop us a comment below.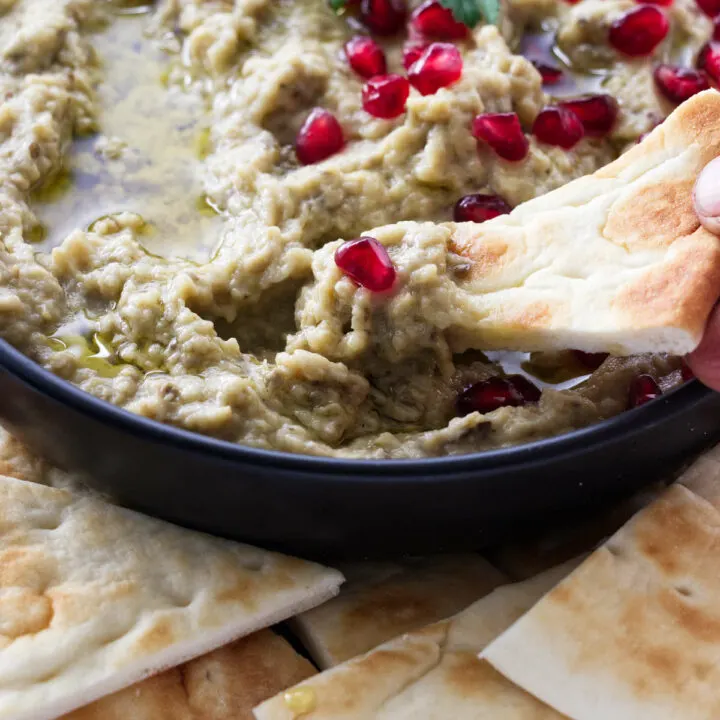 Lebanese Baba Ganoush
This Baba Ganoush is a traditional Lebanese recipe. It is a creamy and flavorful eggplant dip that makes a healthy side dish or appetizer.
Roasting the eggplant in the oven frees you up to prep the other ingredients. However, if you want a smokier flavor, light a fire on the grill and char the eggplant over open flames. The second option requires a bit more patience and hands-on time. Either method will give you delicious results.
Ingredients
2 medium eggplants
3 tablespoons freshly squeezed lemon juice
⅓ cup tahini
2-3 garlic cloves, grated or minced
1 teaspoon salt
2 tablespoons olive oil
Optional garnish
2 tablespoons pomegranate seeds (arils)
Flat-leaf parsley sprigs
Instructions
Preheat the oven to 400°F and line a rimmed baking sheet with aluminum foil.
Using a skewer, fork, or knife, pierce the surface of the eggplants in 5 or 6 areas. This step will prevent the eggplants from exploding in the oven.
Place the eggplants on the baking sheet and transfer them to the oven. Roast for about 25-35 minutes or until they collapse and look very charred. See the notes for alternate methods of cooking the eggplant.
Transfer the hot eggplants to a large bowl, then cover them with plastic wrap. Let them steam for 10 to 15 minutes until you are able to handle them (this will help loosen the skin from the flesh).
When the eggplants are cool, peel the charred skin from the eggplants or scoop the flesh out with a spoon. Mash them with a fork until chunky.
Add the lemon juice, tahini, garlic, salt, and olive oil. Stir to combine. Taste the dip and adjust the seasoning.
Transfer to a serving dish and garnish with a drizzle of olive oil, pomegranate seeds, and parsley sprigs.
Serve at room temperature with warm pita bread wedges or crunchy pita chips.
Notes
Be sure to pierce the eggplants as it will release the steam as they cook and prevent them from exploding in the oven.
Traditional Lebanese baba ganoush has a chunky texture. However, if you like a smoother dip, feel free to process it in a food processor or blender to the texture of your liking.
Add additional lemon juice for a more tangy dip.
A small amount of ground cumin stirred into the dip gives additional flavor.
Try a drizzle of pomegranate molasses in place of olive oil.
Other topping suggestions: Red pepper flakes, smoked paprika, toasted pine nuts, za'atar, or sumac.
To store baba ganoush: Place in the refrigerator in an airtight container for up to 4 days. This dip can also be frozen for up to 3 months. Allow it to thaw in the refrigerator overnight before serving.
Alternate Cooking Method for the Eggplant
Place the eggplant over an open flame (either a gas stove or an outdoor grill).
Use tongs to turn them every 3 to 5 minutes until charred all over and very soft. It should take 25 to 30 minutes, depending on the size of the eggplants. This method will give them a smokier, more authentic flavor, but it requires more 'hands-on' time.
Nutrition Information:
Yield:

8
Serving Size:

1
Amount Per Serving:
Calories:

24
Total Fat:

2g
Carbohydrates:

2g
Fiber:

0.7g