If you're looking for a hearty side dish or a meatless meal, this recipe for baked eggplant with goat cheese is sure to satisfy. These eggplant steaks are truly filling. The crisp panko coating gives the perfect crunchy texture and the hint of garlic adds just enough flavor without being overpowering.
The marinara sauce and goat cheese brings together all the flavors into one satisfying bite that will have your whole family asking for seconds!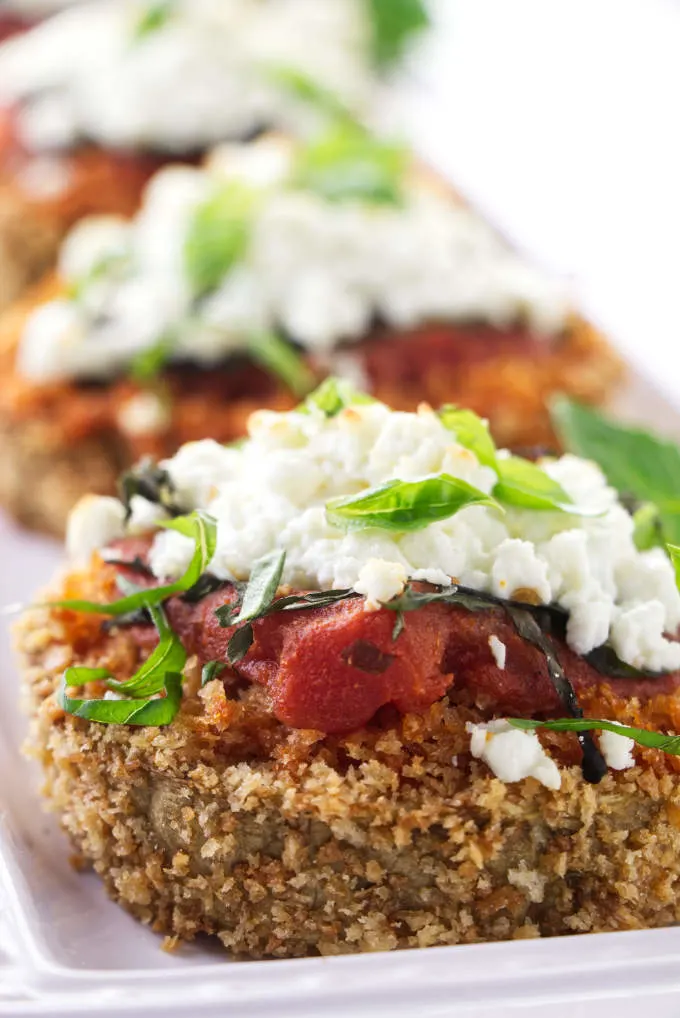 This dish is a great way to introduce eggplant to your diet if you've never had it before. The mild flavor of the baked eggplant makes it easy for newbies to enjoy, and it blends well with just about any ingredient! For this recipe, we are using some classic flavors in order to make an incredible side dish that will be loved by vegetarians and meat-eaters alike. The thick eggplant slices can be eaten like a steak with a knife and fork.
If you want some more eggplant recipes, try our eggplant caviar, a hearty eggplant lasagna, herb-roasted eggplant, or a grilled eggplant salad.
The Ingredients
Eggplant. Check our helpful tips below for tips on choosing eggplants at the market.
Salt
Panko breadcrumbs
Garlic
Butter
Eggs
Marinara sauce. You can use a storebought brand or make your own. Try our tomato, basil, garlic sauce or Italian tomato sauce.
Fresh basil
Goat cheese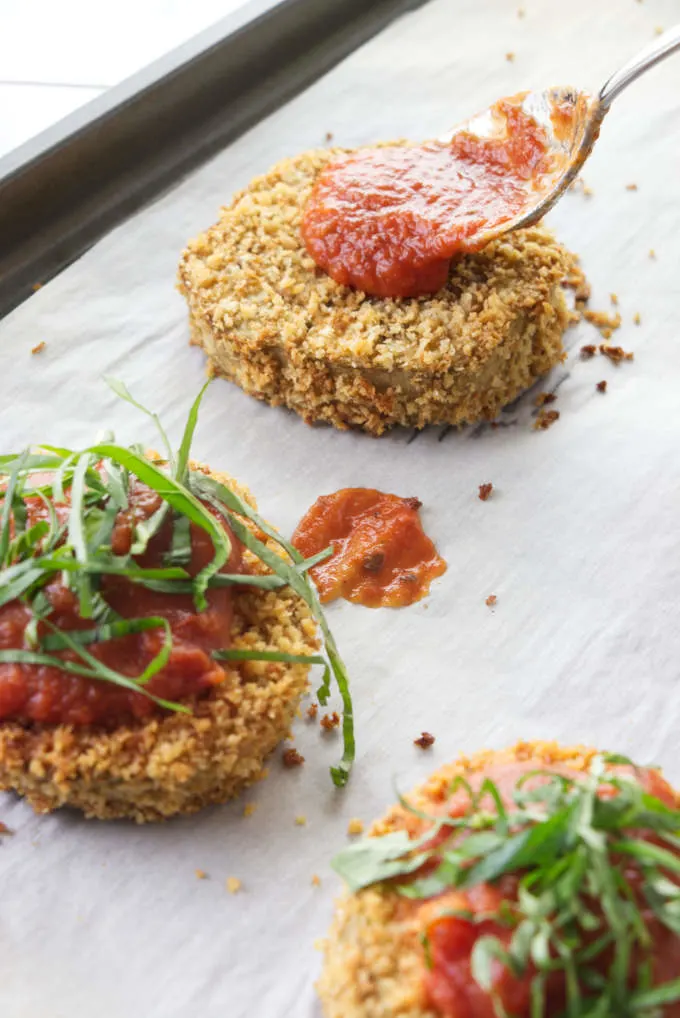 Making the Recipe
Here is a brief overview of the process for these eggplant steaks. Scroll down to the printable recipe card for all the details.
Prepare the eggplant. Slice the eggplant into 1-inch slices so they look like thick steaks. Sprinkle with salt and let them sit for 30 minutes.
Toast the Panko. Saute the butter and garlic in a skillet then add the Panko and cook until golden brown.
Whisk the egg. Combine the egg and the egg white with some salt and whisk well.
Coat the eggplant slices. Rinse and dry the eggplant slices. Dip them in the egg mixture then transfer them to the toasted Panko and cover them in the breadcrumbs.
Bake until golden. Roast the eggplant slices in the oven until they are golden brown on the top.
Flip and bake some more. Flip the eggplant slices over. Top them with the basil, marinara, and goat cheese. Bake until soft and golden brown.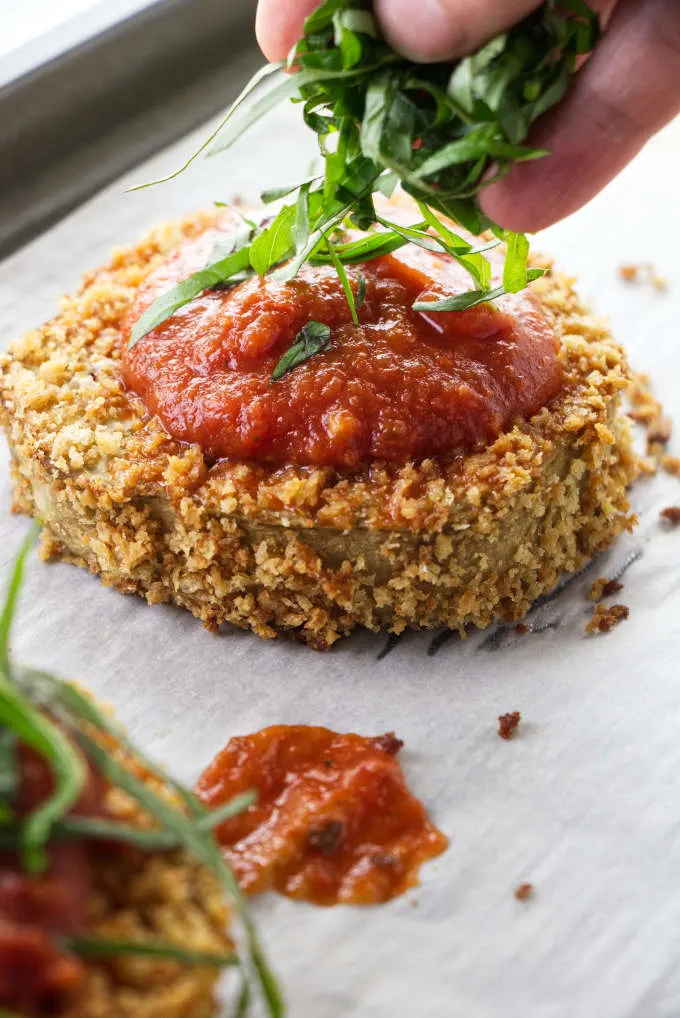 Bake the eggplant steaks until tender then top them with marinara, basil, and goat cheese.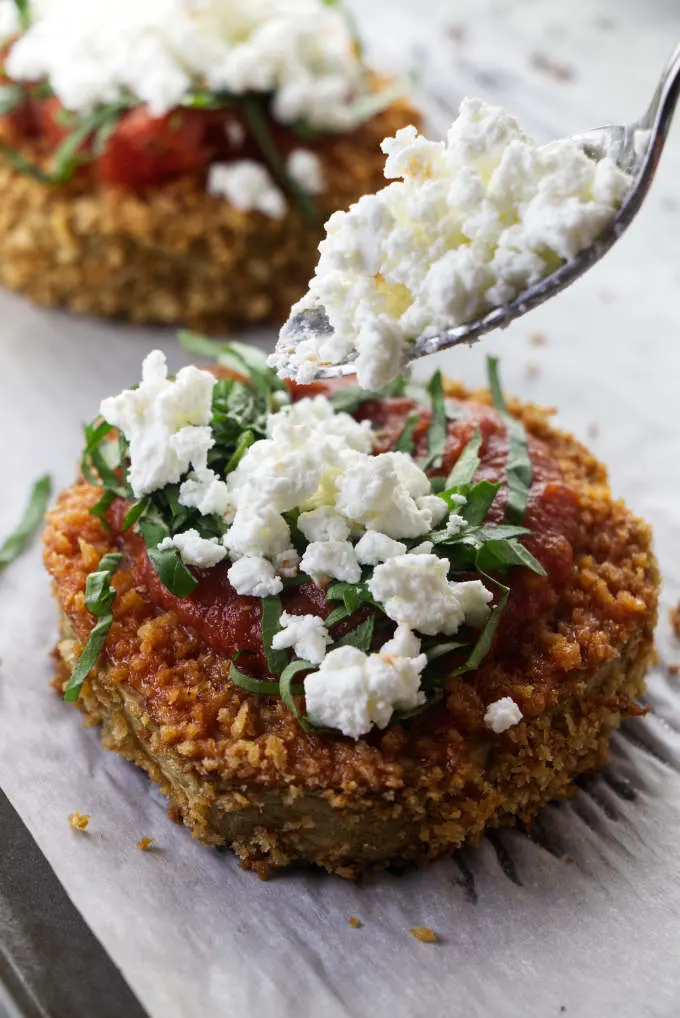 Helpful Tips
Salting the eggplant slices and letting them sit for a while will remove the bitterness and drain off excess water in the fruit.
Any variety of eggplant will work with this recipe. Choose an eggplant that is firm to the touch and has a shiny glossy skin.
Purchase medium to small eggplants for the best flavor. Larger, more mature eggplants can get bitter and have more seeds.
Choose eggplants with fewer seeds. Look at the bottom of the eggplant. They will either have a round dimpled area or a oval-shaped dimple. The eggplants with the round dimple will have fewer seeds and more "meat".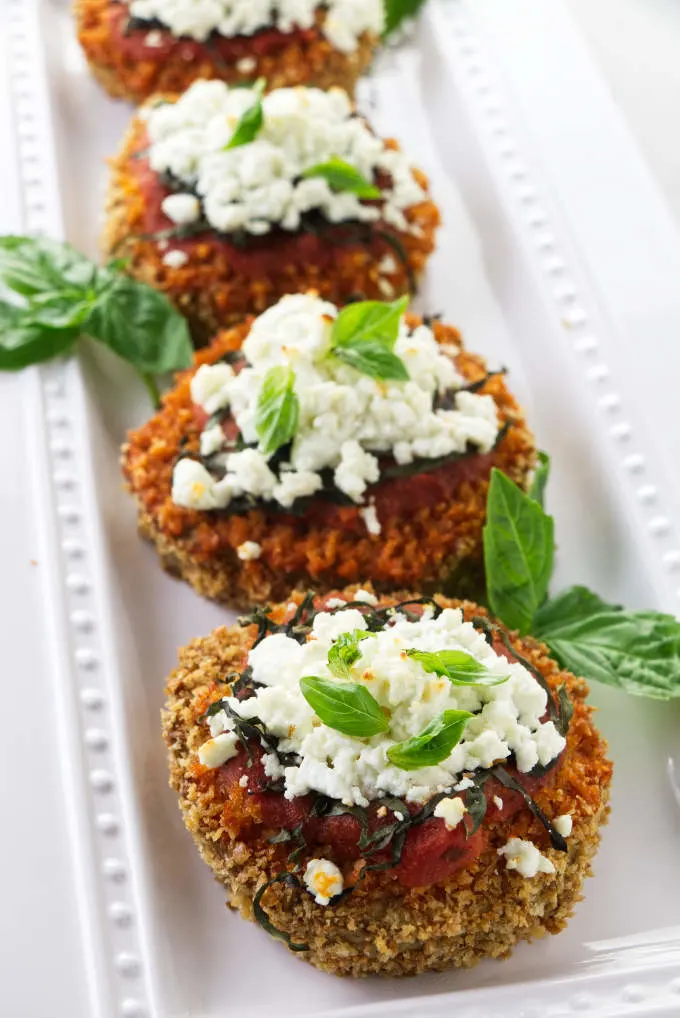 This healthy recipe for eggplant steaks is a must-try. Baking the eggplant brings out a mild, sweet flavor and creaminess. The marinara sauce offers a rich and tomatoey flavor while the goat cheese ties everything together with its creamy, sharp taste.
Seasoned Panko bread crumbs give a crunchy texture to this dish and make it a hearty side dish or meatless meal. We served it along with a ribeye steak and a side salad.
Some Other Recipes We Are Sure You Will Love:
Our roasted beet salad and fried goat cheese discs are a salad match made in heaven. The natural marriage of goat cheese and beets is excellent, but we take it a step further by giving these delectable tiny goat cheese discs a crispy, golden crust.
Warm, Roasted Apples with Aged Goat Cheese is a decadent dessert for after dinner. The Fuji apples are sweetened by roasting, and they mix perfectly with the slightly salty and creamy aged goat cheese.
Mushroom Goat Cheese and Thyme Tartlettes are delicious served as an appetizer or a light meal. Each pastry casing is filled with a delicious custard of eggs, cream, and goat cheese, as well as mushrooms and shallots.
Connect With Savor the Best:
Please follow us on our social media accounts
Facebook * Instagram * Pinterest * Youtube * Twitter
Did you make this recipe? We would love to hear from you. Drop us a comment below.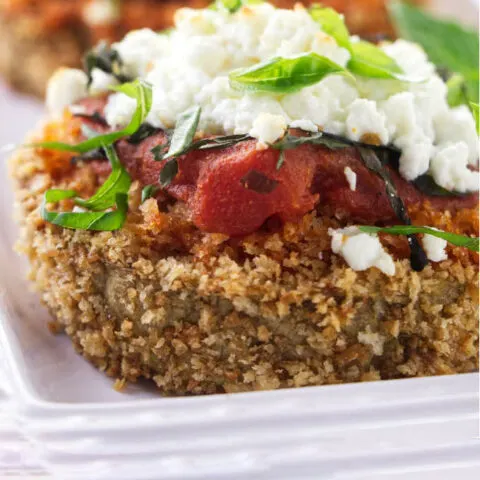 Baked Eggplant with Goat Cheese
Crispy slices of baked eggplant smothered in marinara sauce, basil and goat cheese.
Ingredients
1 eggplant, 1 to 1-1/2 pounds*
1 tablespoon kosher salt
1-1/2 cups toasted panko bread crumbs
2 tablespoons minced garlic
4 tablespoons butter
1 egg white
1 large whole egg
1 cup bottled marinara pasta sauce
1/2 cup chopped fresh basil
4 ounces goat cheese, crumbled and softened
Instructions
Preheat oven to 400*.
Spray a baking sheet with a non-stick spray or brush with oil for the eggplant slices.
Wash the eggplant and slice it into thick, 1-inch slices. You should have 4 to 6 nice slices. Optional step: With a sharp paring knife, remove the peel from each slice. The skin is edible but it can be tough in larger, more mature eggplants.
Sprinkle the eggplant slices with the salt on both sides and place them in a colander or on a plate. This will draw away the excess water and remove any bitterness from the eggplant. Let the eggplant slices sit in the salt for 30 minutes.
While the eggplant is draining add the butter and garlic to a small skillet and cook over medium heat until the garlic is fragrant. Add the bread crumbs to the skillet and stir to coat them in the butter. Continue to cook, stirring frequently until the Panko crumbs become golden brown (about 4 to 5 minutes). Transfer the breadcrumbs to a plate.
Rinse the eggplant slices under cold water to remove the salt. Wipe each slice dry with a paper towel and set on a plate.
In a shallow dish or pie plate, mix the egg white, whole egg, and salt. Set aside
Arrange the plate with the eggplant slices, the plates of eggs, and bread crumbs for assembly.
To assemble:
Dip one eggplant slice into the eggs and then the bread crumbs, pressing down so the crumbs adhere. Place on the baking sheet, repeat with the remaining slices.
Transfer the baking sheet to the middle rack of the oven and bake for 20 minutes or until slightly soft.
Remove from the oven and flip each slice over. Top each slice with basil and marinara sauce. Finally, add a slice of the softened goat cheese to each eggplant slice.
Return the baking sheet to the oven and bake for an additional 10 minutes. If you want to brown the tops further, turn the oven temp to broil for the last 2 to 3 minutes. Serve immediately
Notes
If you have extremely soft goat cheese, you can place it in a piping bag and pipe it on top of the eggplant.
Nutrition Information:
Yield:

4
Serving Size:

1
Amount Per Serving:
Calories:

201
Total Fat:

12g
Carbohydrates:

15g
Protein:

10g
This recipe was originally posted on August 11, 2014. We have updated the post with new photos.