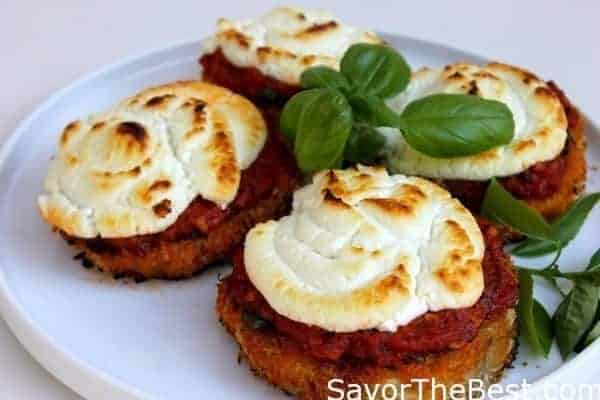 A couple of years ago, Dahn and I entered an online recipe contest sponsored by an olive oil company. I created a casserole with eggplant, tomatoes, basil and goat cheese. It was very good but unfortunately, it was not a winner. They did send me an apron and a shopping bag though, but then everybody that entered the contest also received one.
So, it is eggplant season again and the produce man at my favorite market was setting up a display of beautiful, fat eggplants and I just could not resist. As I was reaching for a pretty purple beauty he said: "that is a female eggplant and it will have more seeds than the male eggplant and the seeds are bitter". At first, I thought he was joking but he was dead serious and showed me how to tell the difference. At the bottom of every eggplant there is an indentation, it's brownish and looks like a scar. On the female, this mark is elongated but on the male, it is a smaller, round mark. Now isn't that interesting!
On the way home, with my two male and one female eggplants, I began thinking about that recipe for the contest and all the lovely ingredients and decided to re-create it. I have adapted my original recipe from a casserole to individual slices and with the addition of a garlic panko breadcrumb coating.
Don was my tester and he said it was 'outstanding', the best eggplant dish he has ever eaten and that he could eat the entire dish of it. What a nice review, I just love that man! I hope you try the recipe and enjoy it as much as he did.
Incidentally, I googled male and female eggplants and the produce man wasn't joking. I was afraid that maybe he was just telling me a funny and later had a good laugh at my gullibility.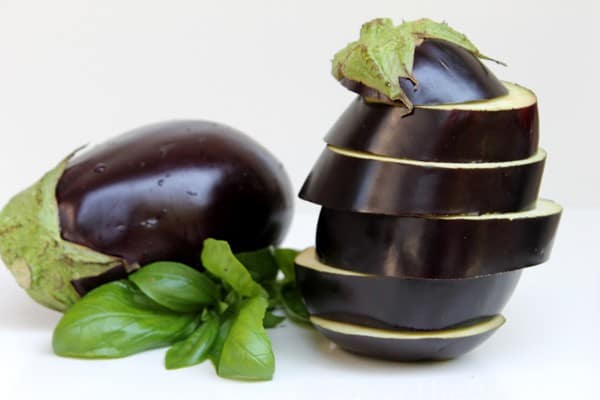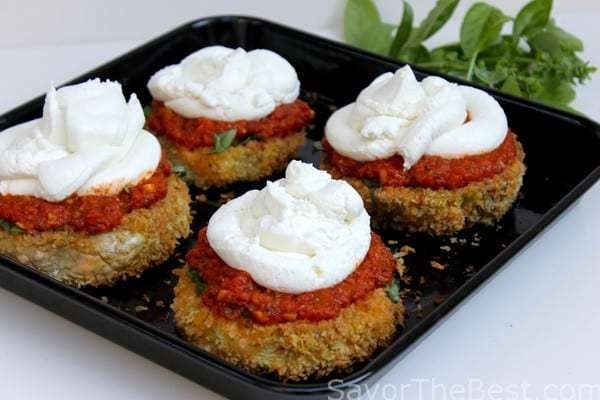 CONNECT WITH SAVOR THE BEST!
Be sure to follow us on our social media accounts
Facebook * Instagram * Pinterest * Twitter * Youtube
Did you make this recipe? We would love to hear from you. Drop us a comment below.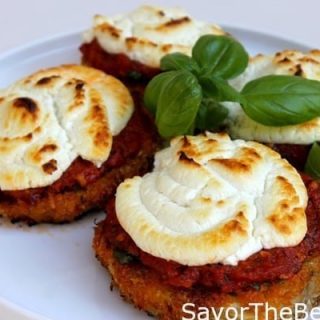 Baked Eggplant with Goat Cheese
Yield: 4 servings
Prep Time: 20 minutes
Cook Time: 30 minutes
Total Time: 50 minutes
Crispy slices of baked eggplant smothered in marinara sauce, basil and goat cheese.
Ingredients
1 eggplant, 1 to 1-1/2 pounds*
1 tablespoon kosher salt
1-1/2 cups toasted panko bread crumbs
2 tablespoons minced garlic
4 tablespoons butter
1 egg white
1 large whole egg
1 cup bottled marinara pasta sauce
1/2 cup chopped fresh basil
4 ounces goat cheese, softened
Instructions
Preheat oven to 400*
Prepare one baking sheet with parchment paper for toasting the bread crumbs.
spray a second baking sheet with a non-stick spray or brush with oil for the eggplant slices.
Wash the eggplant and slice it into thick, 1-inch slices. You should have at least 4 nice slices. With a sharp paring knife, remove the peel from each slice and place the slices on a baking sheet. Sprinkle with the kosher salt on both sides, cover with a plate and weight down. This will drain away the bitterness and some excess water.
While the eggplant is draining add the butter and garlic to a small skillet and cook over medium heat just to melt the butter and lightly cook the garlic. Add the bread crumbs to a large bowl and drizzle the butter-garlic while tossing to combine. Transfer the bread crumbs to a baking sheet that has been lined with parchment paper and bake in the oven for 5-8 minutes until lightly browned. Set aside to cool.
After the eggplant has rested for the 30 minutes, rinse under cold water to remove the salt. Wipe each slice dry with a paper towel and set aside.
In a shallow dish or pie plate, mix the egg white, whole egg and salt together and set aside
Transfer the bread crumbs to a shallow dish or pie plate, set aside.
Arrange the plate with the eggplant slices, the plates of eggs, and bread crumbs for assembly.
To assemble:
Dip one eggplant slice into the eggs and then the bread crumbs, pressing down so the crumbs adhere. Place on the baking sheet, repeat with the remaining slices.
Transfer the baking sheet to the middle rack of the oven and bake for 20 minutes or until slightly soft. Remove from the oven and flip each slice and add 1/4 of the sliced basil and 1/4 cup of the marinara/pasta sauce to each eggplant slice. Finally, pipe on or spread 1/4 of the softened goat cheese to each eggplant slice. Return the baking sheet back to the oven and bake an additional 10 minutes. Turn the oven temp to broil and toast the cheese to a golden brown. Serve immediately
Notes
If you are using the male eggplant it isn't necessary to salt the eggplant prior to cooking it and this step can be omitted.
Nutrition Information:
Yield: 4
Serving Size: 1
Amount Per Serving:
Calories: 201
Total Fat: 12g
Carbohydrates: 15g
Protein: 10g