Oh, don't we all just love a sweet, decadent dessert to finish off our dinner! Today we are going to change our focus to a fruit and cheese dessert. This simple presentation of Roasted Apples and Aged Goat Cheese is a refreshing option to those high-calorie desserts.
Warm, roasted, apples combined with the creaminess of aged goat cheese is a luxuriant dessert without adding an outrageous amount of calories to an expanding waistline.
Cheeses come in all flavors and textures from a soft, creamy French Chevre to the salty Asiago, the tangy English Stilton or thin slices of a rock-hard Parmesan. You can not go wrong with cheese, although I have not yet tried the Limburger cheese. I have been told that Europeans enjoy cheese for dessert much more frequently than Americans.
Most high-end restaurants list their fancy, heavy-duty desserts at the top of their dessert menu and way down at the bottom there will probably be a listing for a fruit and cheese selection. To be honest, I very seldom get to the bottom of the list because I am a creature of habit. You can bet that I will choose something chocolaty, crunchy or icy-cold. However,…. I have been re-thinking my options lately!
The warm, sweet, roasted apples and aged goat cheese is a delightful dessert plate. We used juicy Fuji apples, and before roasting, we gave them a drizzle of lemon juice and a sprinkling of salt to bring out their natural sweetness.
The Apples for Our Roasted Apples and Aged Goat Cheese:
There are so many different apple varieties on the market. Choose one that you love and taste how wonderful it is when roasted! This is a list of just a few options:
Granny Smith
McIntosh
Rome Beauty
Honeycrisp
Red Delicious
Golden Delicious
Gala
Choosing A Cheese for a Dessert Course:
We chose the creamy, Humboldt Fog® aged goat cheese with its distinctive layer of edible ash in the middle. This mild cheese is made from goat's milk in the foggy Pacific coast of Northern California. This mould-ripened cheese is our first choice for our roasted apples and cheese dessert course, but there are many more options to consider. You might also try:
Soft fresh goat cheese
Brie
Camembert
Beechers Flagship
Kerrygold Dubliner Irish Cheese (Costco)
Stilton Blue Cheddar
Gorgonzola
Roquefort
Manchego
Fruit and cheese is a very satisfying dessert. The cheese is best enjoyed at room temperature to bring out those natural good textures and flavors. Try an assortment of cheeses and maybe a seasonal fresh fruit mix. Accompaniments of crunchy nuts, a dollop of imported fancy chutney or even a dab of something spicy like a creamy chipotle sauce will delight the taste buds.
If this is a fresh new idea for you, I challenge you to be adventurous and prepare a fruit and cheese dessert for your next event. Our warm roasted apples and aged goat cheese is light on the pallet and huge on flavor.
More Desserts You Might Enjoy:
Have you made Roasted apples and aged Goat cheese for dessert or an appetizer? We would love to see a picture. Tag us on Instagram.
Try this after a light lunch of roasted tomato garlic soup. You can't go wrong.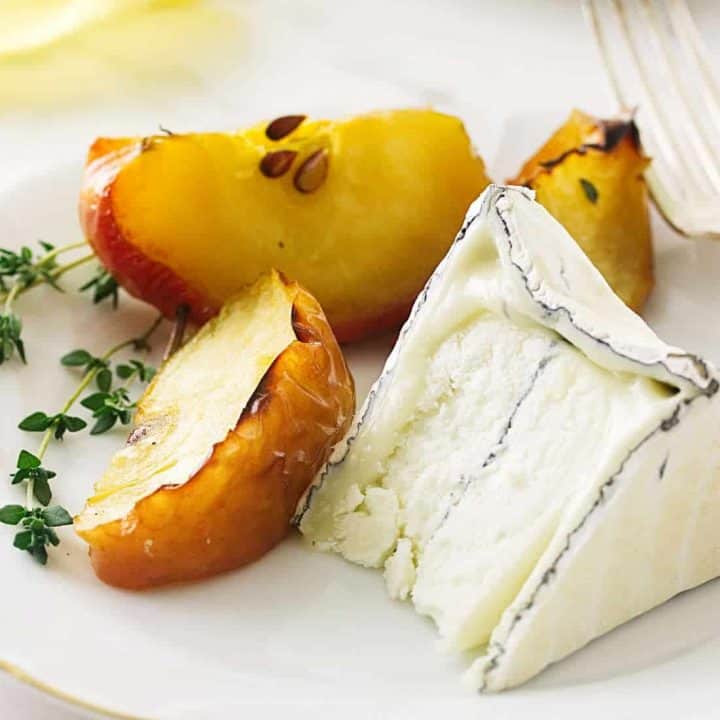 Roasted Apples and Aged Goat Cheese
Yield: 6 servings
Prep Time: 10 minutes
Active Time: 15 minutes
Total Time: 25 minutes
Warm, Roasted Apples and Aged Goat Cheese is a luxuriant after-dinner dessert. Roasting brings out an extra sweetness from the Fuji apples that pair up deliciously with the slightly salty and creamy ash-aged goat cheese. This is a light, refreshing dessert switch from the sweet desserts that we are prone to indulge in.
Ingredients
3 or 4 large apples, your choice, we used Fuji
1/2 of a fresh lemon
2 tablespoons olive oil
Sea salt
6 ounces Humboldt Fog® Aged Goat Cheese
Fresh thyme sprigs for garnish
Instructions
Preheat the oven to 425°F line a rimmed baking sheet with parchment paper
Scrub the apples, cut into thick wedges and place on the prepared baking sheet. Squeeze lemon juice over the apple slices and drizzle with olive oil. Sprinkle with salt and transfer to the preheated oven.
Roast the apple slices just until they are tender—to the al dente stage, about 15-18 minutes, depending on their thickness. Remove from the oven and allow to cool on the baking sheet.
While the apples are roasting, remove the cheese from the refrigerator, unwrap the paper covering and place the cheese on a serving plate to adjust to room temperature, at least 30 minutes.
To Serve:
Place wedges of the roasted apple on individual dessert plates and add a thick 1-ounce wedge of the goat cheese to each plate. Garnish with thyme sprigs and serve.
Notes
Another serving option:
Place the roasted apples and the small wheel of cheese on a serving platter or cheese board with serving utensils and garnish with thyme sprigs.
Nutrition Information:
Yield: 6
Serving Size: 1
Amount Per Serving:
Calories: 214
Total Fat: 11g
Saturated Fat: 5g
Trans Fat: 0g
Unsaturated Fat: 5g
Cholesterol: 13mg
Sodium: 229mg
Carbohydrates: 26g
Fiber: 4g
Sugar: 19g
Protein: 6g
Nutrition information is a guideline only, is calculated automatically by third party software, and absolute accuracy is not guaranteed.