Mangos! That gorgeous, sweet, tropical fruit is back in our markets again and we are so happy! This Mango "Ice Cream" dessert is for all the mango lovers that want a creamy, no-fat, no added sugar, delicious frozen treat that is diet-friendly and guilt-free!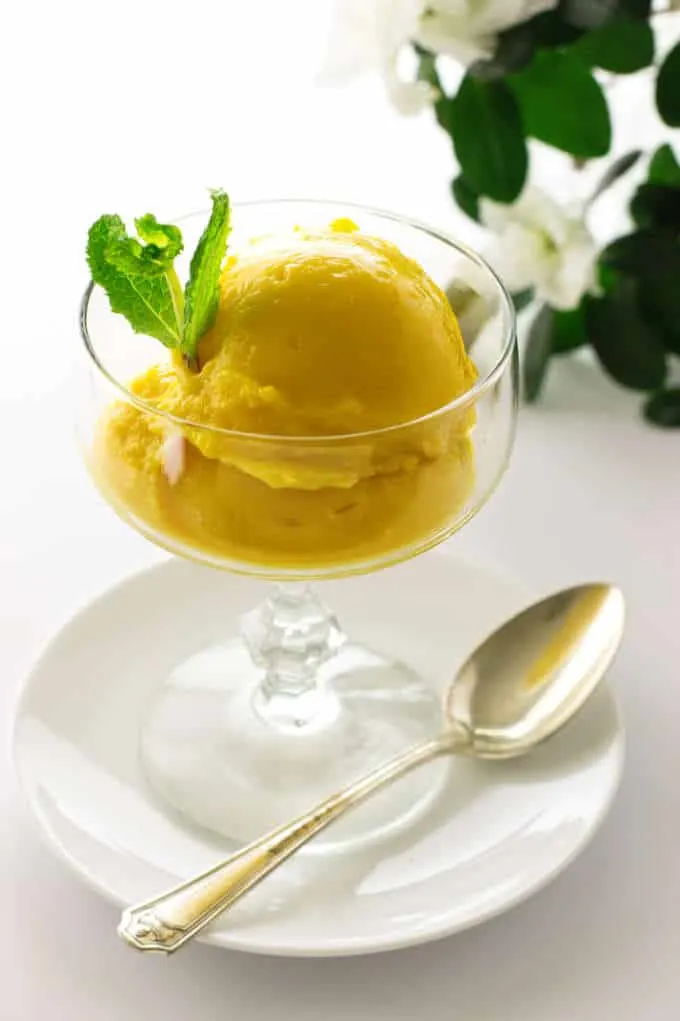 This cool dessert is so simple! It is creamy like the best ice cream.
No artificial flavors or preservatives. No heavy whipping cream, no added sugar and no ice cream machine. Pure bliss!
Mangos are one of my very favorite fruits. When we lived in the Philippines I enjoyed them often and never got tired of them. They grew on huge trees that would be totally loaded with fruit.
They were so abundant we could buy a bag of them for hardly anything. Today, I willingly and painfully pay $2.50 for each mango!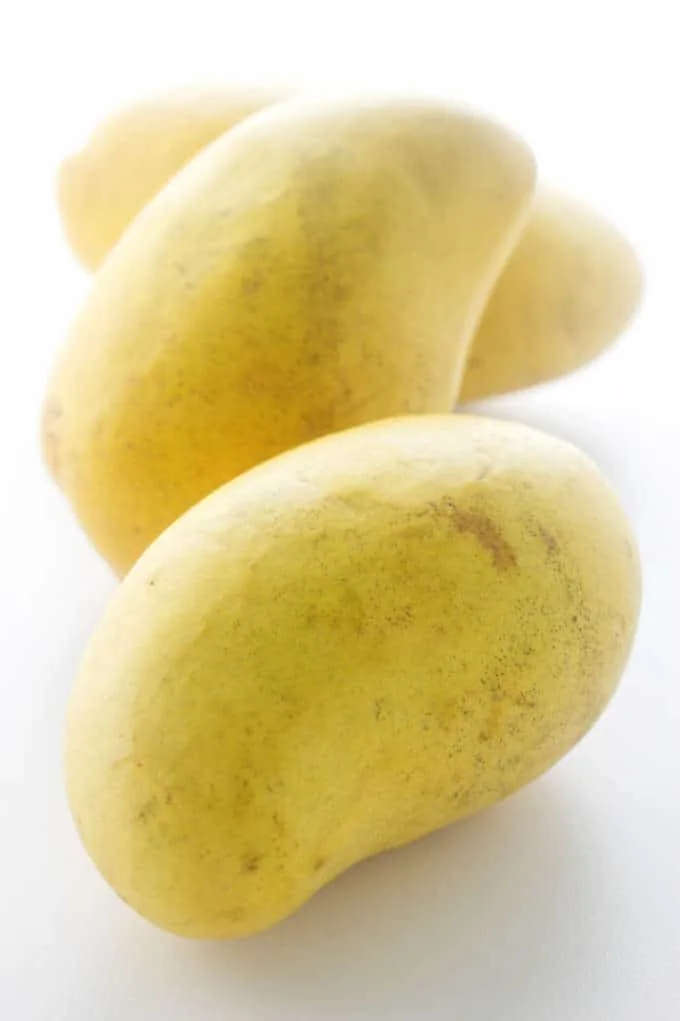 We were not the only ones loving the mangos. The Philippine fruit bats would converge upon the trees when it was mango season.
Mangos are the national fruit of the Philippines as well as the national fruit of the Philippine fruit bat. They have a face like a miniature fox and a keen sense of smell that guides them to the best trees.
We would see huge black clouds of these creatures flying the skies in the early evening searching out their favorite feast.
Mango trees grow in warm tropical climates all over the world. There are many varieties but the one we are most familiar with is the Ataulfo mango.
It is also known as the Manilla mango, the Champagne® mango and the Honey Mango. This oblong, mango is so sweet and juicy when fully ripened it is perfect for this mango "ice cream" which we also call mango sorbet.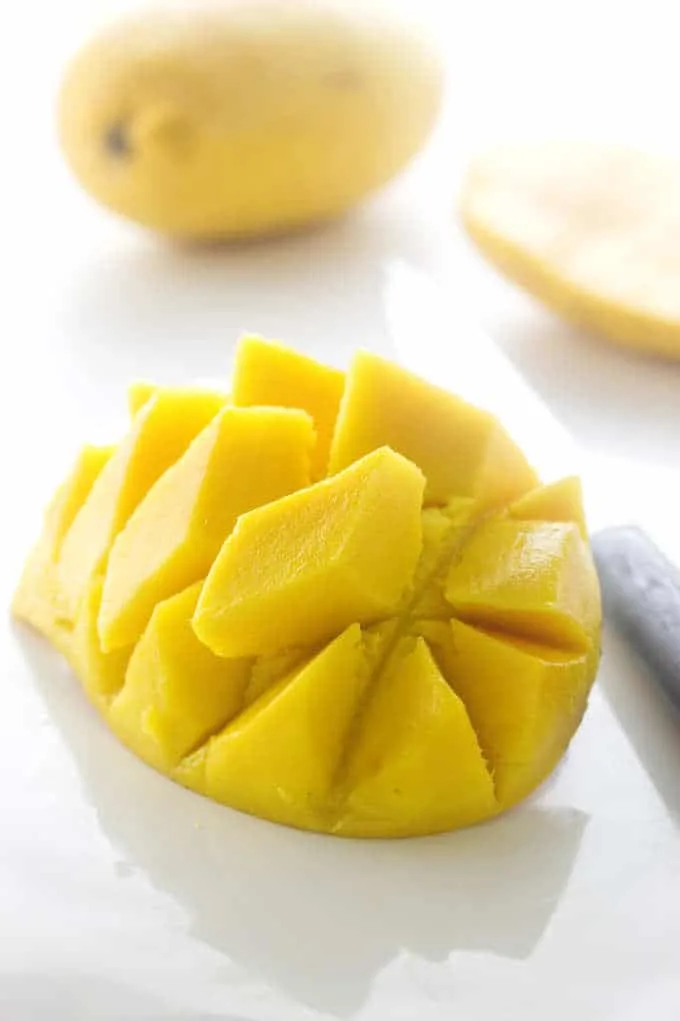 How to make Mango "Ice Cream":
This isn't a real, genuine ice cream as it does not have any cream, eggs or even added sugar. But…I can promise you that you will be just as thrilled over the wonderful taste and texture of this frozen dessert.
It is an all natural, good, healthy frozen treat! All you need are some frozen mangos!
Ripe mangos are sweet enough on their own so you don't need to add any sugar. After you blend the frozen mangos they will have the texture of ice cream or smooth sorbet. Seriously, the easiest dessert you will ever make!!
Choose fully ripe mangos.

Not so much by how they look as by how they feel.

Think avocados and you are on the right track. If you feel a little give when they are lightly pressed, chances are it is fairly ripe. Let it sit on the kitchen counter for a day or so and it will ripen further and become sweeter.
Wash the mangos under cold water then, working with one mango at a time, stand it on end and with a thin, sharp knife slice along the outside of the thin seed inside.

Turn the mango and slice the opposite side along the seed.
Score the exposed mango pulp in a horizontal pattern, then invert the half, pushing the chunks out.

Scoop the chunks and place on a plate or tray lined with parchment paper and freeze solid.
Remove the frozen mango chunks from the freezer and allow to sit at room temperature for five minutes.

Then, place in the bowl of the food processor and process until smooth and creamy.
Scoop into pretty serving glasses and garnish with mint sprigs. Voilà! Mango "ice Cream". Simple, easy and delicious!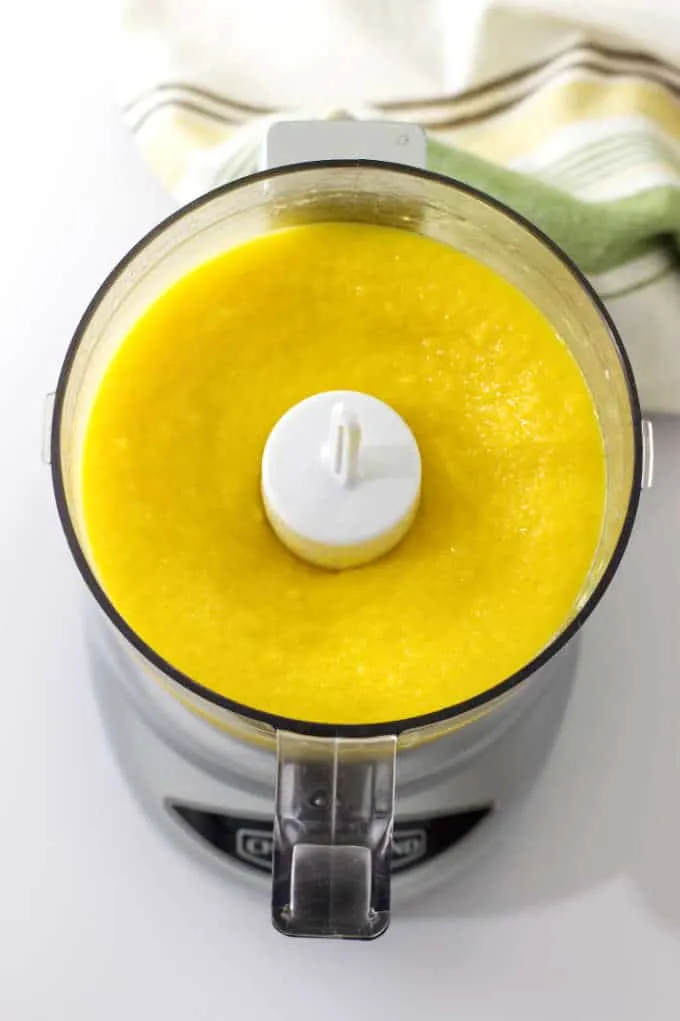 What is the difference between Ice Cream and Sorbet?
Oooh, I am so glad you asked that question! A traditional sorbet involves making a simple sugar-syrup that is added to a fruit purée.
It will also require an ice cream machine or a freezing method. Ice cream is made with sugar, milk, and/or cream and is generally churned during the freezing process.
Our mango "ice cream" is pure fruit, without added sugar. The fruit is frozen and processed into a smooth, creamy and delightful dessert. You can call it ice cream since it has a creamy texture or you can call it mango sorbet because it is so sweet and rich.
Mangos have a buttery texture that is perfect for this faux ice-cream or sorbet. It is AMAZING how creamy a frozen mango will become when you blend it with a food processor or blender.
You don't even need to add sugar to this recipe if you select really ripe mangos. Mangos are already sweet enough so skip the sugar and make this a super healthy dessert.
More Chilled or Frozen Desserts
Is there any dairy products in sorbet?
No, not in a traditional sorbet. Sorbets are almost always dairy and fat-free. A sorbet is simply a sugar-water syrup and fruit purée or fruit juice.
Sorbets are usually icy but can be made as creamy sorbets. To make a creamy, non-icy sorbet the secret is in the amount of sugar added to the fruit.
What fruit can be used for a sorbet?
Your favorite fruit from berries to citrus to melons or combinations of fruits. Just about any fruit can make a delicious sorbet. The more pectin and fiber of the fruit, the creamier and less icy the sorbet will be.
There are some fruits that have a high fiber content which give them a natural creaminess to their flesh. Mangos are one of these fruits. Because of their creamy texture, mangos can be frozen and blended into delicious frozen desserts without adding sugar or a sugar syrup.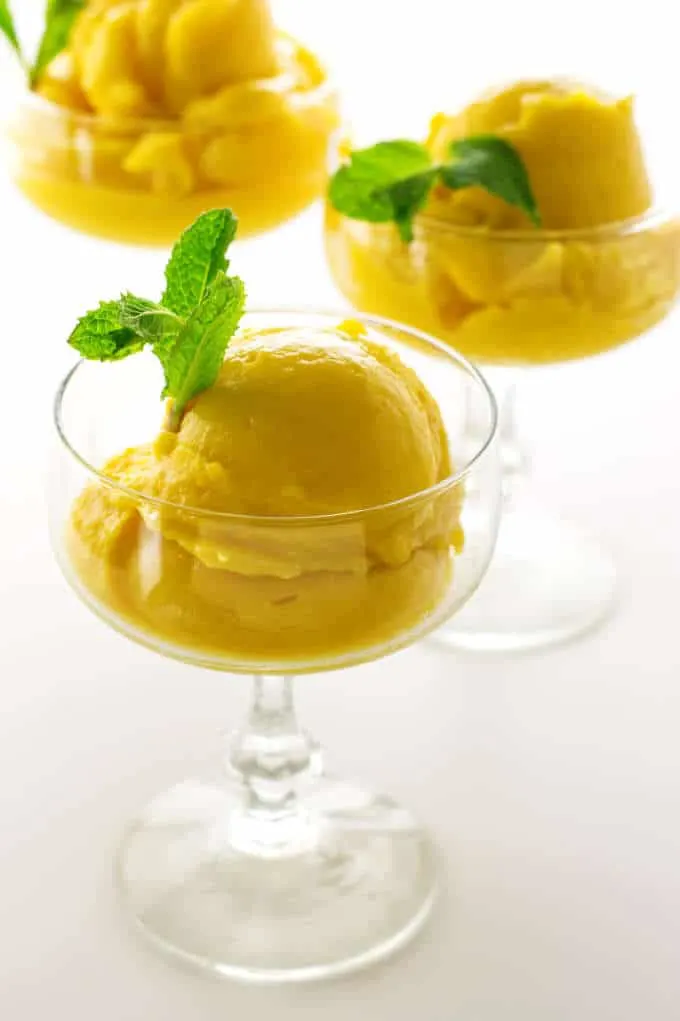 Bananas and avocados also have that same natural creaminess as mangos. Frozen and blended bananas are delicious! I confess that I have not eaten avocado ice cream or sorbet. However, when added to a smoothie, avocados will add an extra bump of creaminess.
Whether you call this mango "ice cream" or mango sorbet, we guarantee it is a delicious and very cool treat! ❤️
MORE COOL RECIPES WE ARE SURE YOU WILL LOVE:
CONNECT WITH SAVOR THE BEST!
Be sure to follow us on our social media accounts
Facebook * Instagram * Pinterest * Twitter * Youtube
Did you make this recipe? We would love to hear from you. Drop us a comment below.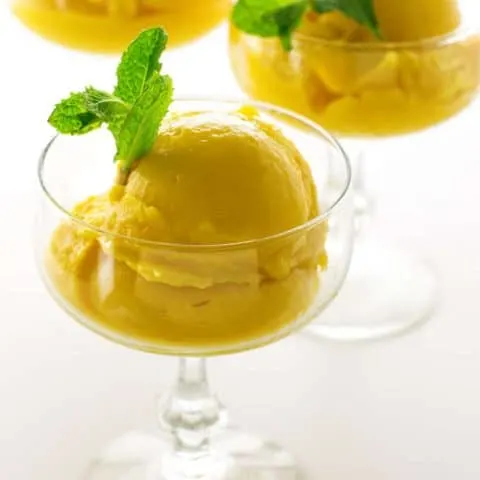 Mango "Ice Cream"
The sweet, creamy deliciousness of pure mango that is better than ice cream
Ingredients
6 ripe mangos, allow one mango per serving
Mint sprigs for garnish
Instructions
Hold the mango on one end and cut down on either side of the seed. You will end up with two large halves and the seed.
Place each half on the cutting board with peel facing down and cut the exposed flesh in a horizontal and vertical pattern.
Invert the half and push out the chunks which can then be scooped out with a spoon.
Place the mango chunks on a plate or tray and freeze solid.
Remove frozen mango from freezer and place in the bowl of a food processor. Process until it is completely incorporated, smooth and creamy.
Divide into serving glases, garnish with fresh mint sprigs and serve immediately.
Notes
NotesIf the mango is so frozen that it doesn't blend well and clings to the sides of the processor bowl, let it sit for five minutes or so to thaw slightly and repeat the processing.
Nutrition Information:
Yield:

6
Serving Size:

1
Amount Per Serving:
Calories:

200
Total Fat:

1.3g
Sodium:

3mg
Carbohydrates:

50g
Fiber:

5.4g
Sugar:

45g
Protein:

2.8g