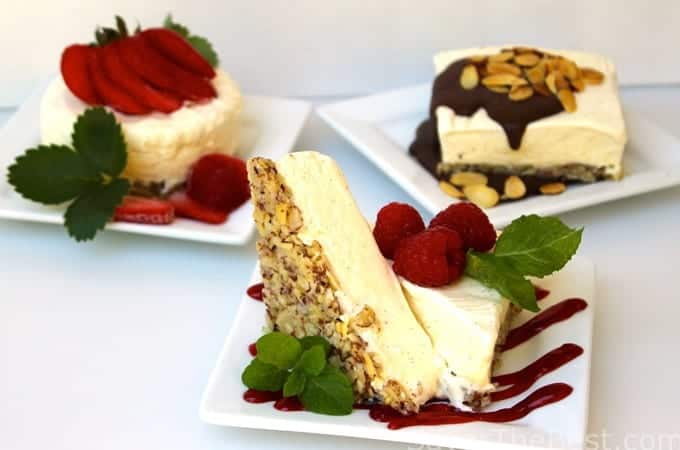 When I was just a kid our family lived in a small town in California's San Joaquin Valley where it gets really hot and even hotter in the summertime. On some of those hot days mom would mix up a pitcher of Kool-Aid for us kids….a package of Kool-Aid was only five-cents then, our family was a little poor so that was a treat for us. A store-bought ice cream cone was rare and a real treat!
I have fond memories when, on occasions, my dad would break out the old-fashioned crank ice cream maker. Mom would cook up a custardy goodness, pour it into the cylinder-shaped container, then Dad would pack the ice around the metal container and sprinkle salt pieces over it.
We would all get a chance to turn the crank and It seemed like it would take forever for the crank to get too hard for us to turn and Dad would take over. Mom would push away the salty ice and remove the metal container. When she would take the lid off and pull the paddles out they would be covered with this sweet, creamy deliciousness and we all wanted a taste. Even then it still wasn't ready to eat as it had to continue to sit surrounded in ice. What torture that was to wait.
Times have sure changed, it is so much easier to go to the store and buy my ice cream now and there is no wait time involved.
In June of this year, Don and I took a three-day mini vacation to Whistler, BC, Canada and we ate dinner at il Caminetto di Umberto in the Whistler Village and had a wonderful dinner with rack of lamb and mint pesto. For dessert we ordered the semifreddo which was a first for both of us. We had to ask our waitress what it was and she told us that semifreddo is an Italian frozen dessert similar to ice cream but not churned like ice cream.
It can be created in any flavor and can include fruit, nuts or a combination. We decided to order it and when it arrived at our table it had a crust on the bottom made with almonds that was sweet and crunchy and the frozen vanilla custard was smooth and delicious. It was garnished with slices of kiwi and strawberries and looked so pretty with a little sprig of mint on top. I was inspired to re-created this Italian frozen delight which has been adapted from The Gourmet Traveler and I did not need an ice-cream maker, it is really pretty easy to put together and tastes like heaven!
When I decided to make this semifreddo I couldn't seem to decide on a flavor so I created a semifreddo trio with a plain vanilla bean base and made three different toppings. The chocolate has an Amaretto liqueur and sliced toasted almonds but the liqueur may be substituted with almond extract, the raspberry topping is a raspberry puree with fresh raspberries and a sprig of mint and the third of the trio is strawberry, which is my personal favorite. I used my four-inch round cookie cutter to make this one and it has sliced fresh strawberries, no mint on this one as I picked a strawberry stem from my yard. Yum….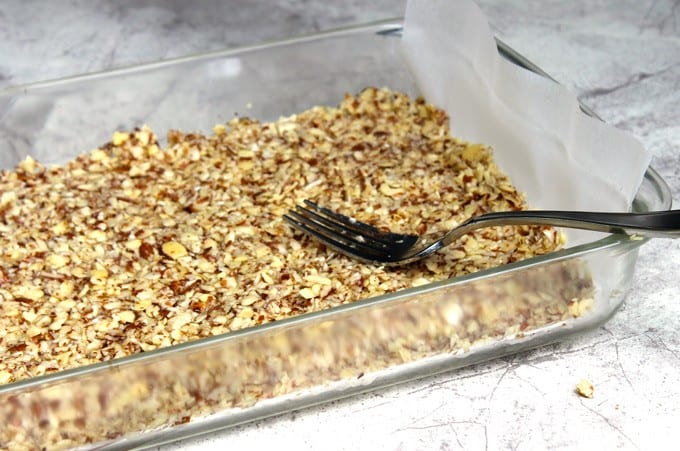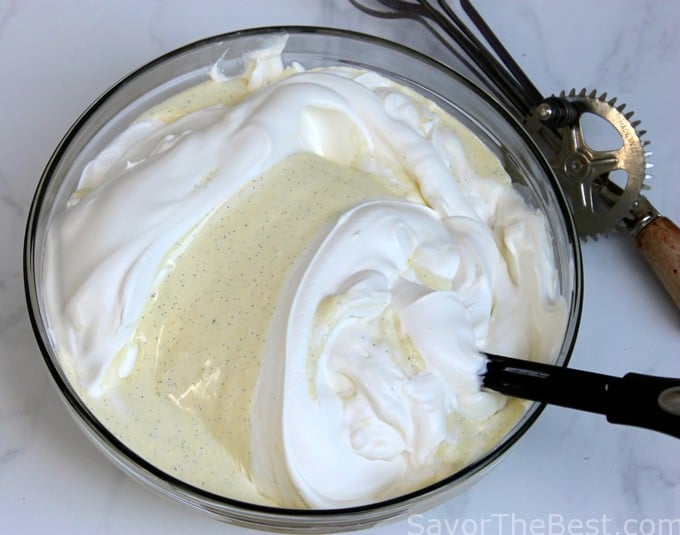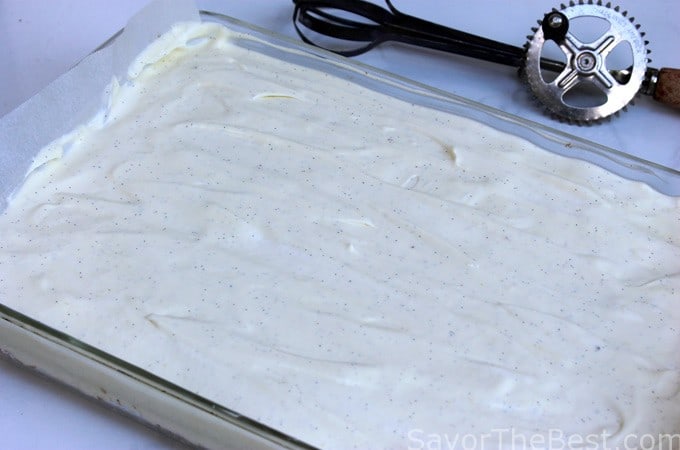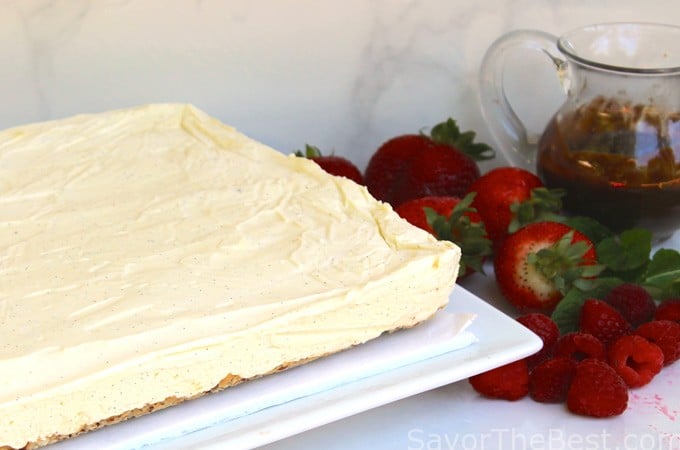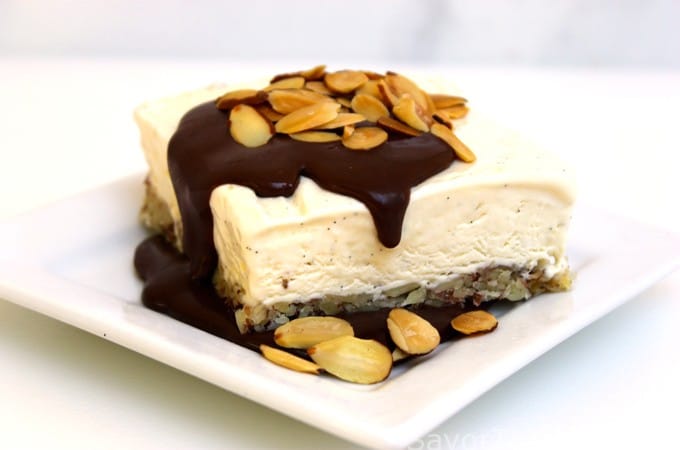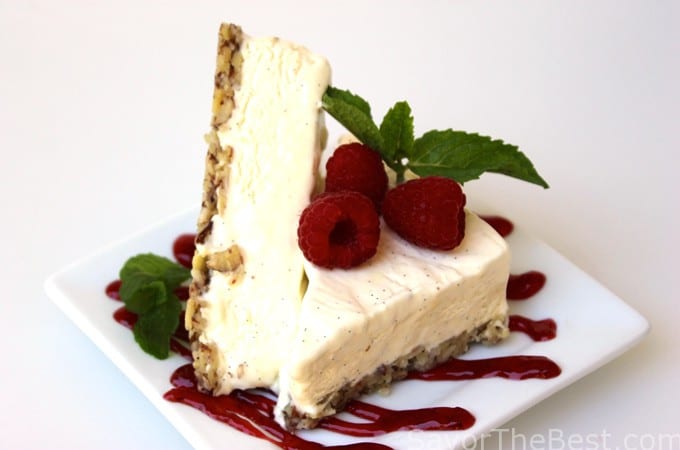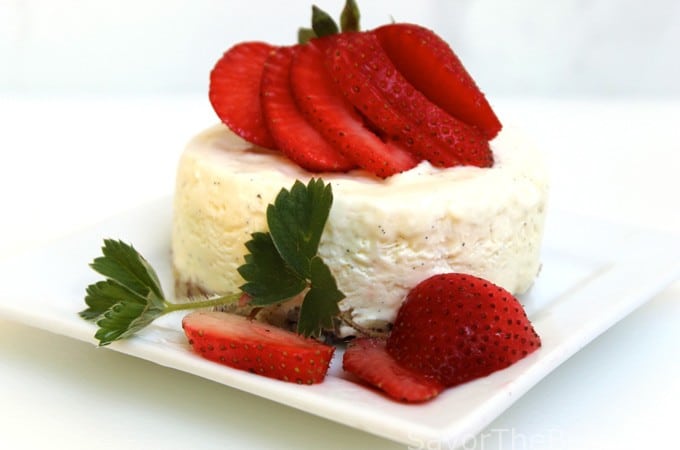 Don't they look beautiful!! And they are so delicious! One thing for sure…..these little goodies melt very quickly. I cut them into serving sizes and kept them in the freezer until ready to serve then added the sauces and garnishes.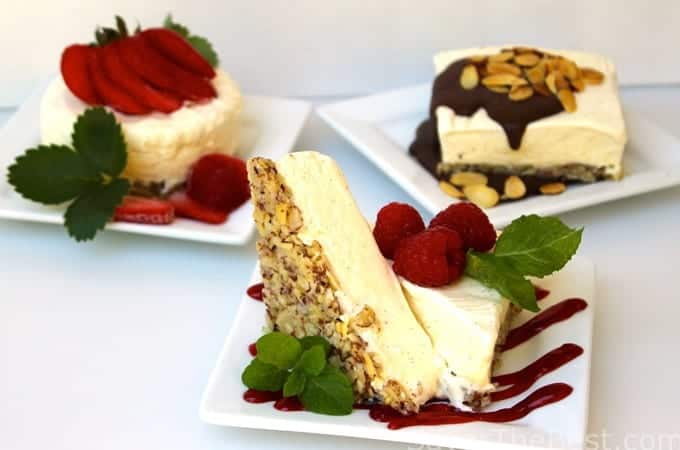 CONNECT WITH SAVOR THE BEST!
Be sure to follow us on our social media accounts
Facebook | Twitter | Youtube | Pinterest | Instagram
If you make one of our recipes, snap a photo and tag it @savorthebest on Instagram and hashtag it #savorthebest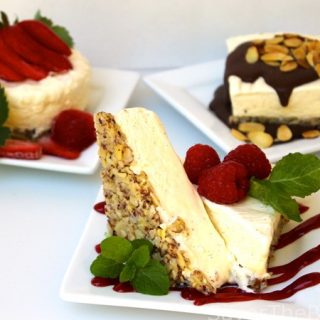 Semifreddo Trio
Yield: 12 servings
Prep Time: 10 minutes
Cook Time: 20 minutes
Total Time: 30 minutes
The texture of semifreddo (Italian for "half-cold") lies somewhere between ice cream and mousse. Cut this freezer treat into three different shapes creating a Semifreddo Trio of Chocolate Amaretto, Raspberry Puree and Fresh Strawberries.
Ingredients
For the Crust:
2 cups sliced almonds
1/4 cup sugar
2 egg whites
For the Custard
9 egg yolks
1 cup fine granulated sugar
Scraped seeds of 1 vanilla bean or 1 tsp vanilla
2-1/2 cups heavy cream
1 cup crème fraîche (I used sour cream)
For the Raspberry Top
2 pints Raspberries
1/2 cup sugar
mint leaves for garnish
For the Strawberry Top
2-3 strawberries for each serving
strawberry leaves for garnish
For the Chocolate Top
1/2 cup heavy cream
8 ounces chocolate, chopped or chocolate chips
2 tablespoons Amaretto liqueur or 1/2 teaspoon almond extract
1 tablespoon toasted almonds for garnish
Instructions
Preheat the oven to 350°F
For the crust:
Line a 9 x 12 dish or pan with parchment paper, allowing a couple inches of overhang on each end to lift the frozen dessert from the dish.
Add the sliced almonds to the food processor and process until they are fine crumbs. Transfer the processed almonds to a mixing bowl and stir in the sugar. In a separate bowl add the egg whites and whip just enough to break them up. Add the eggs to the sugar and almonds and toss to combine.
Spread the mixture evenly on the bottom of the baking dish and transfer to the middle rack of the oven and bake for 10-15 minutes until light brown. Remove from the oven and allow to cool completely. After it cools, put it into the freezer while you prepared the custard.
For the custard:
Whisk yolks, sugar, vanilla seeds and 1 tbsp water in a heatproof bowl over a saucepan of simmering water until mixture is tripled in volume, thick and pale and holds a ribbon (4-5 minutes).
Transfer to stand mixer fitted with the whisk attachment and whisk until cooled to room temperature (2-3 minutes).
Meanwhile, in a separate bowl with a hand mixer whisk the cream and crème fraîche or sour cream until soft peaks form.
Carefully fold into egg mixture. Spoon the custard over the top of the cooled almond crust, cover with plastic wrap and freeze until firm (overnight is best). Makes about 2 quarts.
For the Raspberry sauce:
In a medium size saucepan, combine the and sugar. Place the pan over medium heat and cook, stirring occasionally, until the berries have given up their juices. Bring the liquid to a boil and continue cooking, reducing in volume until the mixture has thickened.
Pour the berry mixture into a strainer that is set over a bowl. Stir the mixture to allow it to drain through the strainer. Press down with a spoon or rubber spatula to remove the seeds.
Transfer to a pint-size jar with a lid and refrigerate until ready to serve. The puree will keep well for several days.
For the chocolate sauce:
Add the cream and the chocolate to the top of a double boiler set over simmering water, stirring until smooth. Remove from the heat and allow to cool. Stir in the ameretto or almond extract. Transfer the chocolate to a small jar or dish, cover and refrigerate until ready to serve.
For the strawberry top:
Slice the strawberries and arrange as desired.
To serve, cut into squares, or any shape you like and serve with sauce and garnish.
Notes
When separating the egg yolks, add each egg white to a compartment of a plastic ice cube tray, freeze them and then remove them from the ice cube tray and store them in a zip top bag until needed.
Nutrition Information:
Yield: 12
Serving Size: 1
Amount Per Serving:
Calories: 392
Total Fat: 30g
Saturated Fat: 14g
Cholesterol: 204mg
Sodium: 240mg
Carbohydrates: 48g
Sugar: 49g
Protein: 9g