This passion fruit ice cream has an intense sweet-tart flavor of passion fruit that will transport you to the tropics. It is incredibly creamy and smooth with a bold fruity flavor. You are going to LOVE this ice cream.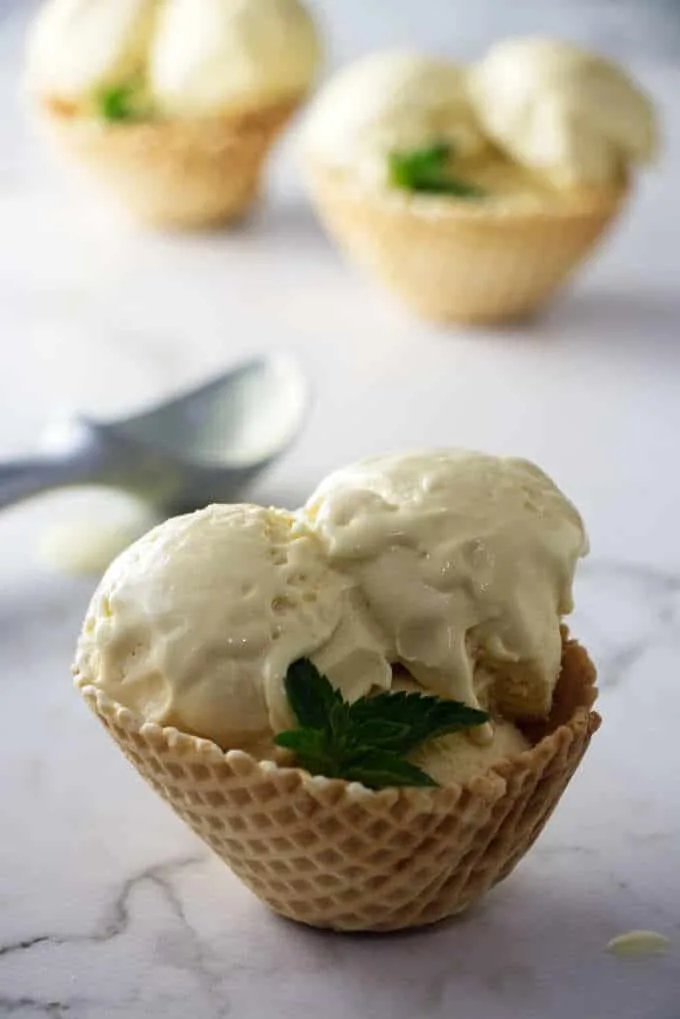 You won't believe how much passion fruit flavor there is in this ice cream. Store-bought ice cream just doesn't match up to the flavor and texture of this homemade decadent dessert. This is a passion fruit ice cream recipe for an ice cream maker that you'll want to make again and again.

It is a great way to cool off on those hot summer days, and this tangy fruit ice cream also makes an elegant dessert for dinner parties. Serve it in a glass bowl or scoop it into dishes topped with a sprinkle of toasted coconut or a dollop of passion fruit curd.
Passion Fruit Ice Cream Ingredients:
You only need 7 ingredients for this ice cream. The most difficult ingredient to find is the passion fruit puree. We got ours on Amazon but I have seen it in Whole Foods and in Asian markets. You want to make sure it is REAL passion fruit. Don't buy artificially flavored juices, it's just not the real thing, and we are after real passionfruit ice cream here.
Watch our full video on YouTube.
So here is what you need:
Whole milk

Heavy Cream

. Heavy cream has more fat content than whipping cream, but either one will work.

Sugar

Salt

Egg yolks

Vanilla extract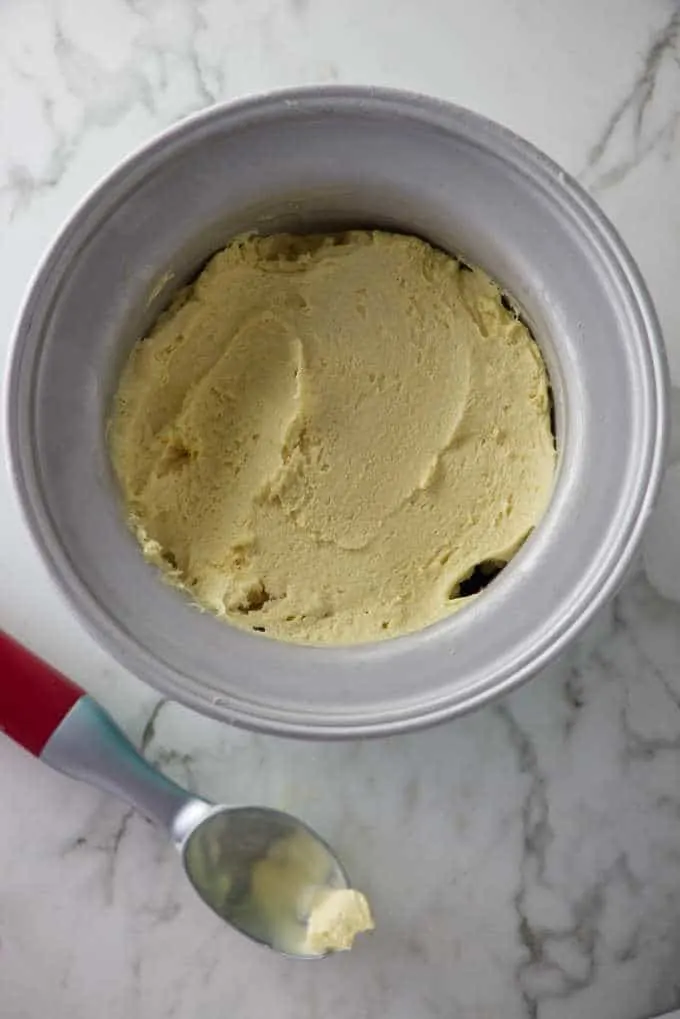 How to make passion fruit ice cream:
This passion fruit ice cream starts with a custard base which relies on egg yolks for incredibly smooth and creamy ice cream. The egg yolks give the ice cream a rich, velvety texture and it doesn't develop as many ice crystals during the freeze.
Step 1: Concentrate the passion fruit puree.
To start with, we reduced the passion fruit puree to give the ice cream more "passion." Think about it, the passion fruit gets diluted when you add it to the other ingredients. We wanted the passionfruit to stand out but if you double up on the juice you will have too much liquid in the ice cream.
The solution is to reduce the puree which concentrates the flavors and makes this ice cream 'scream' passion fruit. You won't regret the extra time it takes to make the fruit concentrate.
Step 2: Warm up the milk mixture:
Once the passion fruit is concentrated, add the milk, cream, and sugar to the saucepan. Add a pinch of salt to give the ice cream more 'depth' and round out the flavors.
Step 3: Temper the egg yolks.
You don't want to add egg yolks straight into the warm milk mixture or you will end up with some clumps of scrambled eggs. When you temper the eggs, you dilute them to spread the proteins apart and make them less likely to clump together when they cook. The process also warms the eggs very slowly which is another key step to prevent clumps of cooked eggs in the ice cream mixture.
Step 4: Cook the ice cream base.
After you temper the egg yolks, pour them into the saucepan with the milk mixture and heat the batch up to between 160°F to 180°F. The mixture really only needs to heat up to 160°F in order to bring it to a safe temperature to eat. However, if you heat the mixture a bit more it will get thicker and the ice cream will be richer. I want to caution you not to overdo it though. Don't heat the mixture beyond 185°F or the eggs could coagulate.
If you don't have a thermometer then stick a spoon in the mixture. When you pull the spoon out, the ice cream custard should cling to the spoon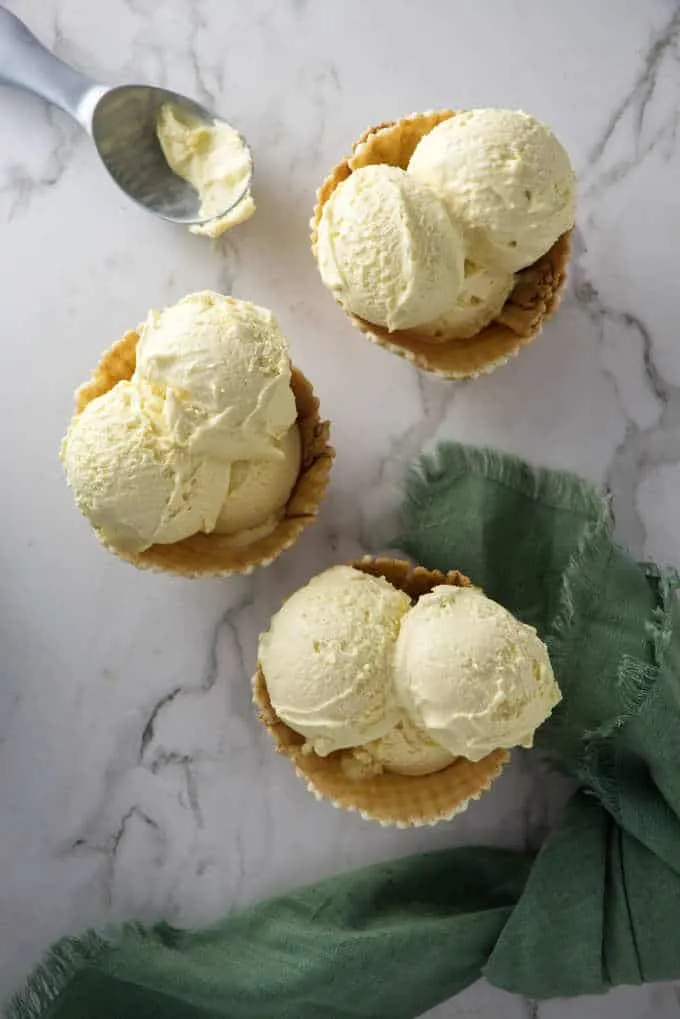 Step 5: Strain the custard then cool it down.
Once the custard is finished cooking pour it over a strainer and into a bowl. Even when you temper the egg yolks, there is still a chance that you will get a few small clumps of eggs in the mixture. Pour it through the strainer to get the clumps out then stick the custard in the fridge for a few hours or overnight to cool down completely.
Step 6: Make the Tart Fruit Ice Cream:
Now for the best part! Get out your ice cream churner and make some incredible passion fruit ice cream. You have a couple of choices here. You can use an old fashioned ice cream maker just like my grandpa would use. That is actually my favorite way to make ice cream. Maybe because it brings back nostalgic memories of my childhood.
If you want to go for a more convenient method then the modern ice cream churners work fabulously. The drawback is that you have to remember to stick the canister in the freezer overnight. Either method will give you some incredible churned ice cream.
A third method is to turn your kitchen into a food science lab and use liquid nitrogen. It is definitely less convenient to source the liquid nitrogen and there are some safety issues you will need to consider but it sure is fun. If that sounds like something you want to try, please see our post on how to make liquid nitrogen ice cream and read about the safety recommendations.
We made this recipe for passion fruit ice cream a few times this summer and I captured a video of my son and daughter-in-law helping me in the kitchen. The day they came over we were making a bunch of liquid nitrogen ice cream so that's how this video shows us freezing it. The video is about 6 minutes long but for this post, I cut it down to the highlights and sped it up so it is only 1 minute long. If you want to watch the entire video, head on over to our YouTube channel and take a peek at it there.
Choose your ice cream churning method and go make some decadent tropical ice cream.
More Chilled or Frozen Desserts
SOME OTHER RECIPES WE ARE SURE YOU WILL LOVE:
Want more ice cream? Try this chocolate stout ice cream. The rich, decadent flavor of chocolate is enhanced by the dark stout beer. It is a grown-up flavor but honestly, kids love it too.
This decadent mango mousse cake has a cloud-like layer of mango sitting on top of a coconut sponge cake. It's a tropical treat that is perfect for a special occasion.
This lemon cream icebox cake is fast and easy to make but the best part is that it can be made in advance. Make it a day or two before you plan to serve it and bring it out when dinner is done.
CONNECT WITH SAVOR THE BEST!
Be sure to follow us on our social media accounts
Facebook * Instagram * Pinterest * Twitter * Youtube
Did you make this recipe? We would love to hear from you. Drop us a comment below.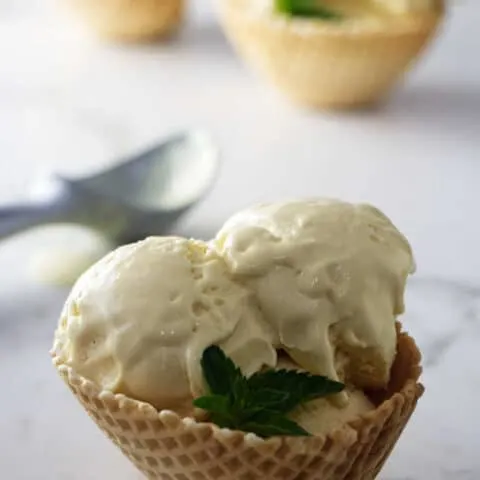 Passion Fruit Ice Cream
Creamy passion fruit ice cream has a bold passion fruit flavor after reducing the juice to concentrate the passion fruit.
Ingredients
2 cups thawed frozen passion fruit juice
1-1/2 cups whole milk
1-1/4 cups heavy cream
1 cup sugar (divided, see recipe)
1/4 teaspoon salt
5 large egg yolks
1-1/2 teaspoons vanilla extract
Instructions
Pour the passion fruit juice into a large saucepan and cook over medium heat, stirring constantly. Continue to cook for about 15 to 20 minutes until it reduces to 1 cup. Set aside while you prepare the custard.
Place a strainer on top of a bowl and set aside.
Add the milk, cream, 3/4 cup of sugar, and the salt to a saucepan over medium heat. Stir until the mixture is warm.
In a separate bowl beat the yolks with the remaining 1/4 cup sugar.
Whisk a cup of the warm milk mixture into the yolk mixture. Continue whisking until well combined then pour it into the saucepan with the rest of the warm milk mixture.
Stir the mixture constantly while you heat it over medium heat. Continue heating and stirring until an instant-read thermometer reads 160°-180°F. (make sure the mixture does not boil).
Pour the custard into the strainer that is set over a bowl to remove any bits of cooked egg yolk.
Stir in the vanilla and the passion fruit then cover the mixture and place it in the fridge to chill.
Ice cream machine:
Pour the custard into an ice cream maker and follow the manufactures instructions for churning ice cream.
Transfer the ice cream to an airtight container and freeze for 3 to 4 hours.
Notes
Simmering the passion fruit juice will concentrate the flavors and make the ice cream scream "passion fruit". It will take close to 20 minutes to reduce the juice by half. If you reduce it more than that, it will be even better. You can speed the process up a bit by cooking it in a large saucepan which has more surface area.
Recommended Products
As an Amazon Associate and member of other affiliate programs, I earn from qualifying purchases.
Nutrition Information:
Yield:

8
Serving Size:

1
Amount Per Serving:
Calories:

342
Total Fat:

19g
Saturated Fat:

11g
Trans Fat:

0g
Unsaturated Fat:

7g
Cholesterol:

186mg
Sodium:

145mg
Carbohydrates:

38g
Fiber:

0g
Sugar:

37g
Protein:

7g
Nutrition information is a guideline only, is calculated automatically by third party software, and absolute accuracy is not guaranteed.