This chocolate stout ice cream has a rich malty flavor from the dark stout beer. The stout enhances the flavor of the chocolate and gives the ice cream a sensational complex flavor.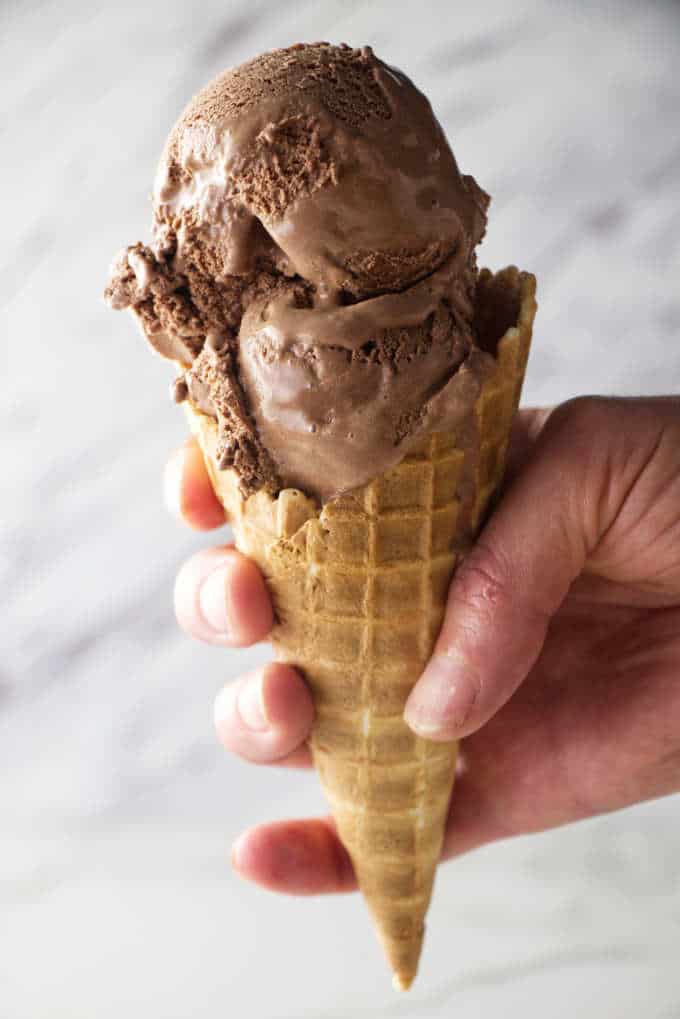 This recipe calls for a traditional ice cream maker but if you want to get fancy and have fun, we also made it using liquid nitrogen. If you want to see how to make liquid nitrogen ice cream check out our post and video.
We certainly had some fun making liquid nitrogen ice cream but we also know it isn't practical or safe to keep liquid nitrogen in your home. So don't worry, just pull out your trusty old ice cream churner and get ready for some of the most amazing ice cream you will ever taste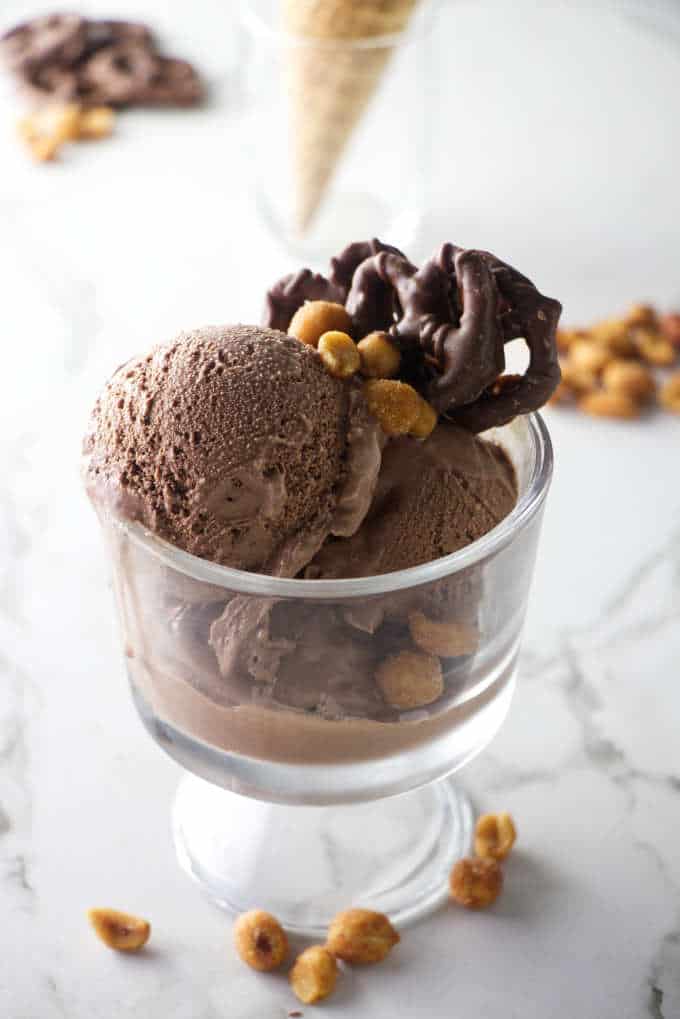 How to make chocolate stout ice cream:
This chocolate stout ice cream is made with a rich custard base which makes an ultra-luxurious, rich and creamy ice cream. Making the custard base takes a bit more time but it is totally worth the effort.
Step 1: Reduce the stout.
The special ingredient in this recipe is the stout and we concentrated the flavors of the strong brew by reducing it. It's a tip I used in our Chocolate Guinness Cake with Baileys Cream Cheese Frosting.
To reduce the stout, pour it in a medium to large saucepan. You want to have plenty of room in the saucepan because when the stout heats up, it will foam quite a bit. It will take between 10 to15 minutes to reduce the stout down to 6 ounces. Make sure you stay close to the stove and stir the brew occasionally to prevent the foam from bubbling out of the saucepan.
Step 2: Add the dairy.
Next, you will add the milk, cream, sugar, and salt to the reduced stout and give it a stir until it gets nice and warm.
Step 3: Add the chocolate.
Pour the chocolate into the warm cream mixture and stir it until the chocolate melts. A tip here is to get some good chocolate. The deep, malty, roasted flavors in stout beer pair very well with dark chocolate.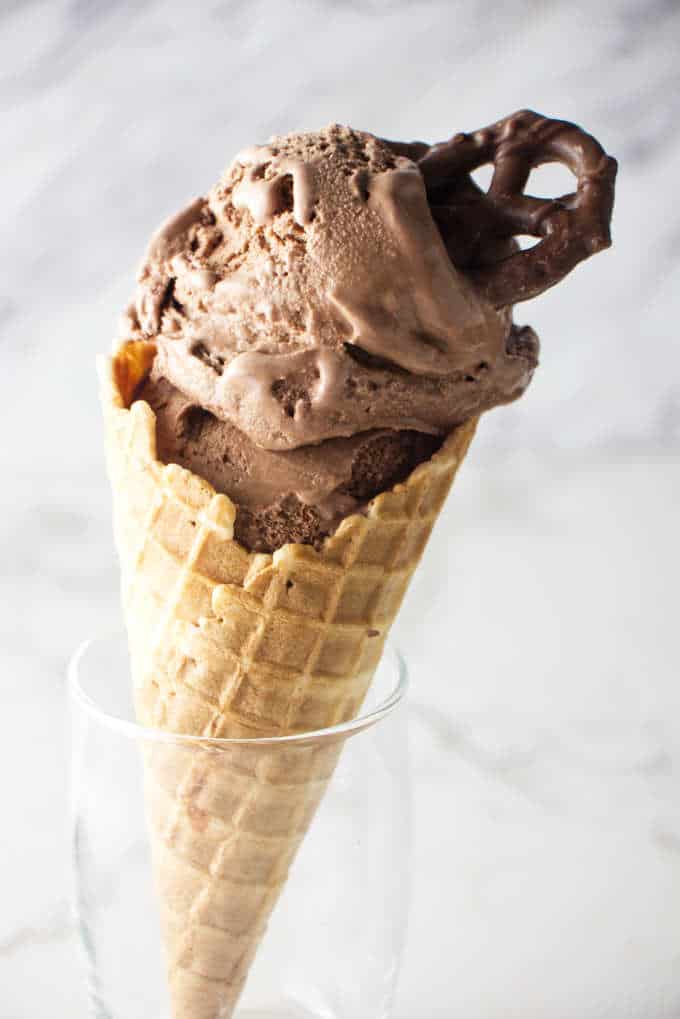 Step 4: Temper the egg yolks.
When the chocolate is thoroughly melted then it is time to add the egg yolks. The problem here is that it doesn't take much heat to scramble the yolks and ruin your ice cream. To avoid having scrambled eggs in your ice cream you need to temper the yolks.
First whisk a little sugar into the yolks then slowly pour a cup of the hot chocolate cream mixture into the yolks. Make sure you whisk the yolks constantly while you pour the hot mixture. If you place the bowl on a towel then it won't slide around and you can use both hands to whisk and pour.
After you warm the yolks up with a bit of the hot cream mixture, you can pour the tempered yolks into the saucepan but make sure you continue to stir constantly.
Step 4: Cook the custard base.
Heat the mixture until it reaches at least 160°F to ensure you cook the eggs completely. We heated the mixture to 180°F. It helps to have a digital thermometer for this step but it isn't essential. If you don't have a thermometer then cook it until it is thick enough to coat your spoon or spatula.
Step 5: Strain the custard.
Have a strainer sitting over a bowl and keep it near the stove. As soon as the custard is warm enough then pour it into the strainer. This will strain out any bits of egg yolk that may have cooked too fast.
Step 6: Cool the custard down.
Let the custard chill out in the fridge for a couple of hours. Place some plastic wrap directly on top of the custard base so it doesn't form a 'skin' then stick it in the fridge until it is completely cool.
Step 7: Churn your chocolate stout ice cream.
Once the ice cream custard cools off, pour it into your ice cream churner and follow the manufactures instructions.
We served this brewery style ice cream with pub snacks. Try topping it with chocolate-covered pretzels and honey roasted peanuts for an amazing combination.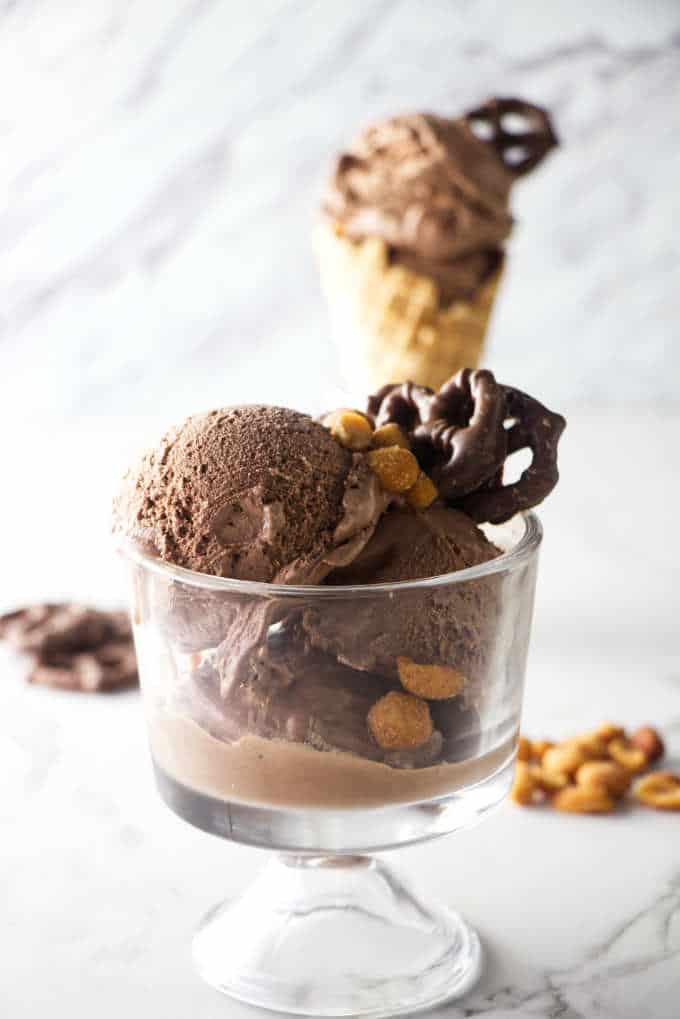 SOME OTHER RECIPES WE ARE SURE YOU WILL LOVE:
These molten chocolate lava cakes are rich, decadent and irresistible. When you dive into these individual chocolate cakes, you will find the center is filled with an ooey, gooey fudge sauce. Serve them with ice cream and you have all the components to an amazing chocolate brownie sundae.
This lemon dessert sauce is made for drizzling over desserts but frankly, I spoon it right into my mouth. Shameless confession!
With all the rich, decadent desserts we make around here, sometimes we have to balance it with something healthy and low in fat. This Mango "ice cream" checks off those requirements but the taste and texture will fool you into thinking it is real ice cream.
CONNECT WITH SAVOR THE BEST!
Be sure to follow us on our social media accounts
Facebook * Instagram * Pinterest * Twitter * Youtube
Did you make this recipe? We would love to hear from you. Drop us a comment below.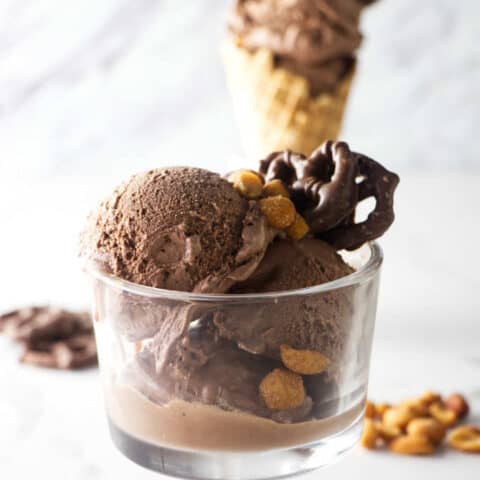 Chocolate Stout Ice Cream
Yield: 8 servings
Prep Time: 20 minutes
Cook Time: 15 minutes
Total Time: 35 minutes
The rich malty flavors in dark stout beer pairs very well with chocolate and brings this chocolate stout ice cream to a whole new level of delicious.
Ingredients
12 ounces Stout Ale
1-2/3 cups whole milk
1-1/3 cups heavy cream
1 cup sugar (divided, see recipe)
1/4 teaspoon salt
8 ounces bittersweet chocolate, finely chopped
5 large egg yolks
1-1/2 teaspoons vanilla extract
Instructions
Place a strainer on top of a bowl and set aside.
Pour the stout into a saucepan and heat over medium heat for 10 to 15 minutes until it is reduced by half. If the stove is too hot, it will boil over so watch it closely.
Add the cream, milk, 3/4 cup of sugar, and the salt to the reduced Stout. Stir until the mixture is warm then stir in the chopped chocolate and stir until melted.
In a separate bowl beat the yolks with the remaining 1/4 cup sugar.
Whisk a cup of the chocolate stout mixture into the yolk mixture. Continue whisking until well combined then pour it into the saucepan with the rest of the warm chocolate stout.
Stir the mixture constantly while you heat it over medium heat. Continue heating and stirring until an instant-read thermometer reads 180°-185°F. (make sure the mixture does not boil).
Pour the custard into the strainer that is set over a bowl to remove any bits of cooked egg yolk.
Stir in the vanilla and salt then cover the mixture and place it in the fridge to chill.
Ice cream machine:
Pour the chocolate custard into an ice cream maker and follow the manufactures instructions for churning ice cream
Notes
Reducing the stout will concentrate the flavor but it won't be too strong or overpower the chocolate. It will give the chocolate a rich, malty flavor with just a mild hint of stout beer.
Nutrition Information:
Yield: 8
Serving Size: 1
Amount Per Serving:
Calories: 542
Total Fat: 34g
Saturated Fat: 20g
Trans Fat: 1g
Unsaturated Fat: 12g
Cholesterol: 190mg
Sodium: 155mg
Carbohydrates: 39g
Fiber: 5g
Sugar: 29g
Protein: 11g
Nutrition information is a guideline only, is calculated automatically by third party software, and absolute accuracy is not guaranteed.