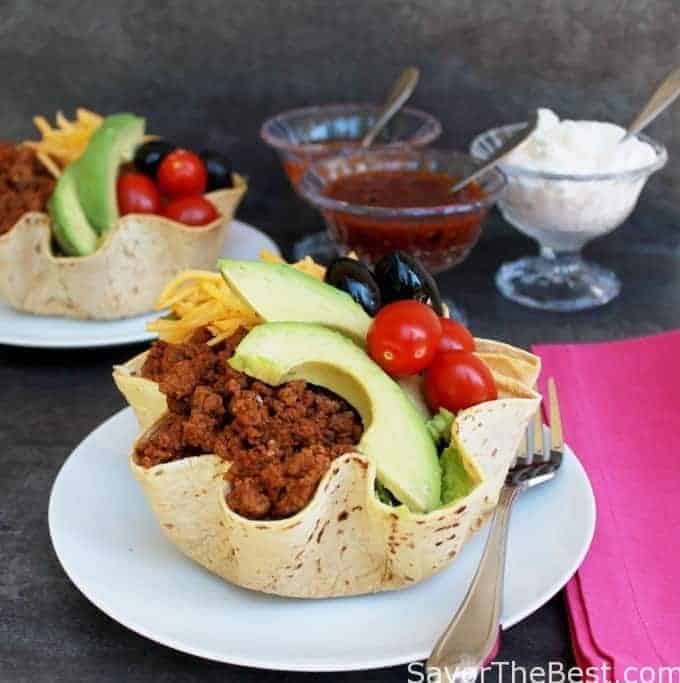 Holy Moly! It seems like Christmas was just a few weeks away now here it is almost May already. Where does the time go! In a salute to cinco de mayo this is a recipe for a beef taco salad in tortilla bowls.
Taco salad is a Texas-Mexican-inspired dish that was very popular in the late 1960's era and continues to this day. But it is not just for a cinco de mayo holiday as it can be enjoyed any time of the year. The tortilla bowls are pretty easy to make but I did have to experiment with different size bowls until I got it the shape I wanted. I found that the oven temperature was the best at 350°F for 20 minutes for a nice crisp bowl.
The first time I ever tasted a taco salad I was 26 years old. That experience has been on-going as it has turned into my love for the taco salad. It is a salad that adapts well to many flavors and can be spicy or mild and with whatever is on hand in the refrigerator, cupboards and freezer. Chicken, fish, shrimp, they are all doable and delicious.
Tortilla bowls can be purchased at most supermarkets but why spend the money when they are so easy to make? Monica, at The Yummy Life has several ideas on how to make bowls from tortillas and have adapted one of her ideas here. These beef taco salad bowls are made by using a large burrito-size tortilla inside an oven-proof bowl and crisped up in the oven. It is filled with the seasoned beef, lettuce, black beans, avocado, and a few other flavor enhancers. A vinaigrette with chipotle, spicy salsa, and a dollop of sour cream tops it off.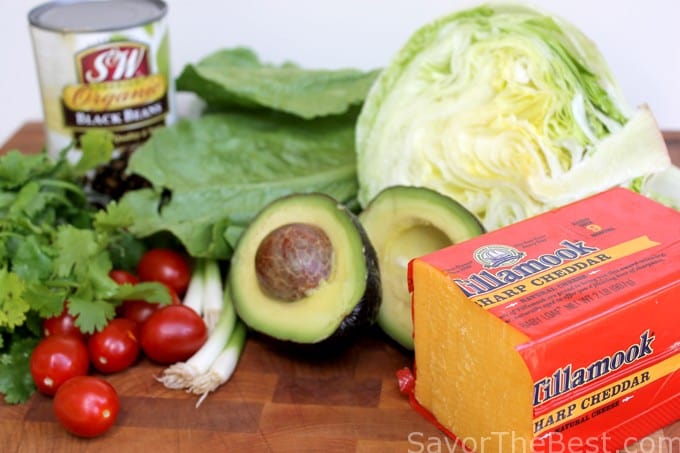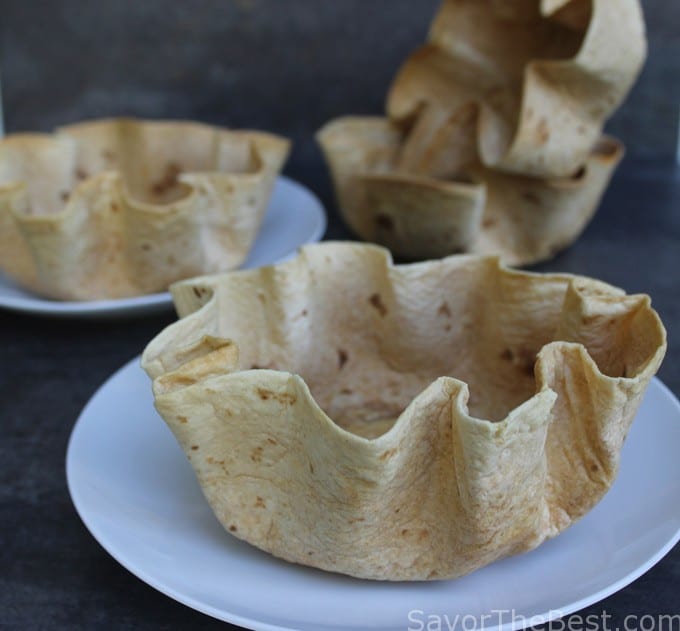 CONNECT WITH SAVOR THE BEST!
Be sure to follow us on our social media accounts
Facebook * Instagram * Pinterest * Twitter * Youtube
Did you make this recipe? We would love to hear from you. Drop us a comment below.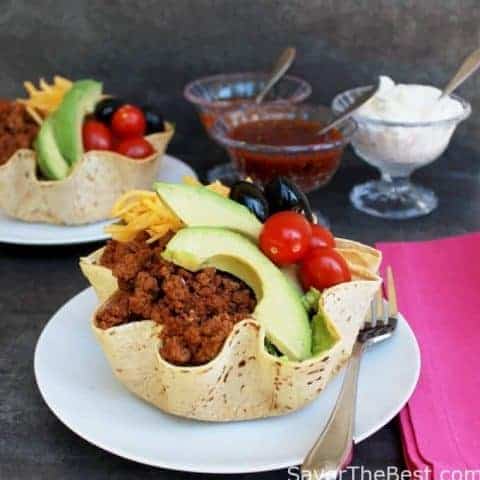 Beef Taco Salad in Tortilla Bowls
Yield: 6 servings
Cook Time: 20 minutes
Total Time: 20 minutes
The versatile beef taco salad is served in homemade tortilla bowls. It is full of flavorful seasoned beef, lettuce, black beans, cheddar cheese, tomatoes and avocado with a spicy chipotle vinaigrette.
Ingredients
For the Tortilla Bowls:
6 oven-proof bowls
2 tablespoon olive oil
6 extra-large burrito size flour tortillas
For the Chipotle Vinaigrette:
1/4 cup olive oil
1/2 cup white or red wine vinegar
1/4 teaspoon sea salt
1/4 teaspoon chipotle powder
For the Salad:
1 pound lean ground beef
1/2 teaspoon sea salt
1 tablespoon ground cumin
1 teaspoon dried oregano
1 tablespoon chili powder
1/8 teaspoon chipotle powder
3 tablespoons tomato paste
1/2 cup hot tap water
6-8 romaine lettuce leaves, torn into small pieces
1/2 head of Iceberg lettuce, torn into small pieces
1 can (14.5 ounce) black beans, rinsed and drained
5 green onions, chopped into 1/4-inch pieces
12 ounces cheddar cheese, grated
1 avocado, sliced
1/2 cup black olives
1 pint grape tomatoes
1/2 cup chopped cilantro (optional)
1 jar store-bought salsa
1/2 cup sour cream
Instructions
Preheat the oven to 350°F
For the Tortilla Bowls:
Using a pastry brush, thinly coat the inside of each bowl and gently press a tortilla into the bowl, shaping it to fit. Place the bowls on a baking sheet (3 bowls on each of 2 baking sheets) and transfer to the oven and bake for 15 minutes.
For the Chipotle Vinaigrette Dressing:
In a small dish, add the oil, vinegar, salt and chipotle powder and whisk until well combined. Set aside.
For the Beef Taco Salad:
In a medium-size skillet over medium heat, add the ground beef, breaking it up with a fork and cook, stirring often, until no longer pink and the liquid has evaporated. Drain off any accumulated grease, if any.
While the meat is browning, mix the salt, cumin, oregano, chili powder, chipotle powder and tomato paste together in a small bowl. Slowly add the hot tap water, stirring to a smooth consistency, about the consistency of applesauce.
When the meat has cooked and the liquid evaporated, remove from the stove and stir in the tomato mixture. Transfer the meat to a serving bowl and allow to cool. Tear the lettuce and combine in a salad spinner to remove excess water. Mix both types of lettuce together in a bowl. To individual bowls, add the remaining prepared vegetables, beans and cheese and arrange for assembling the tortilla bowls.
To Assemble the Salads:
Divide the beef, vegetables and cheese evenly to each tortilla bowl in layers, beginning with the lettuce then add the beans, beef, onions, cheese, avocado, olives, tomatoes and cilantro.
Spoon 1-2 tablespoon of the vinaigrette dressing over the top of each salad and pass the salsa and sour cream to each guest.