Celebrate a comfort classic with this retro recipe for Salisbury Steak swimming in a rich mushroom gravy! Lean ground beef gets a flavor boost from ingredients of onion, garlic, herbs and spices. The beef is shaped into patty "steaks", seared briefly, then finished cooking in the rich, umami-packed mushroom gravy.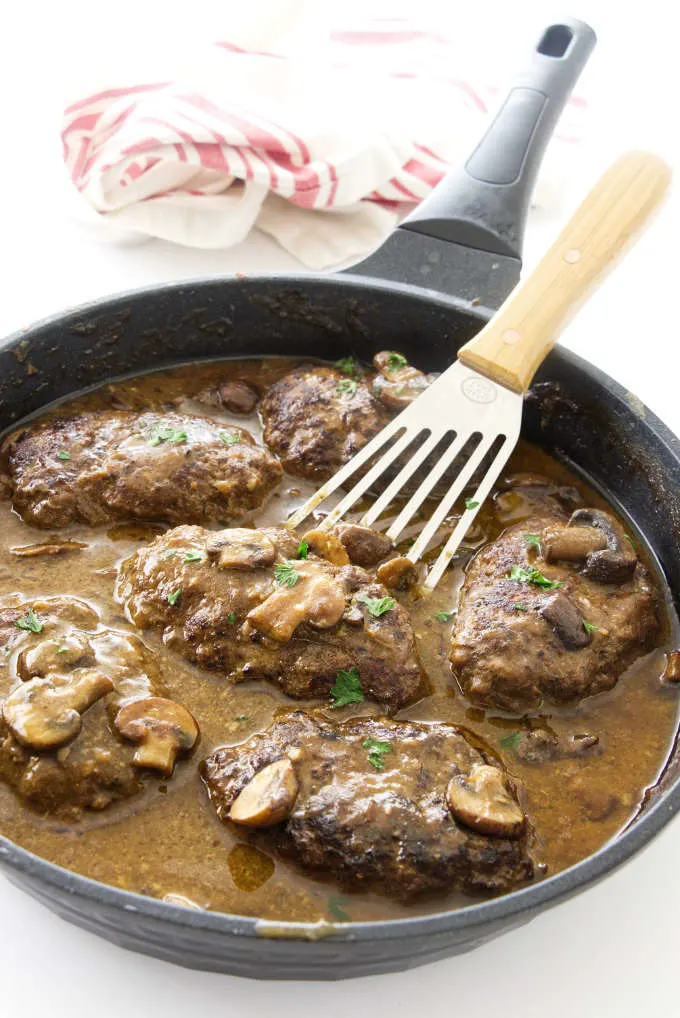 This nostalgic comfort dish rates a lot of love! It is budget-friendly, easy to prepare and will have your family asking for a repeat! Who knew that old-time could taste so good!
For a bit of a variation in the mushroom gravy recipe, you can make our mushroom marsala gravy or our white wine mushroom sauce. And if you love this recipe, you will love our chicken in mushroom sauce.
What is a Salisbury Steak?
Salisbury steak is ground beef mixed with seasoning, breadcrumbs or cracker crumbs then shaped into steak-size patties and browned in a skillet. The beef patty steaks simmer in a mushroom gravy until cooked through. Salisbury steak and mushroom gravy are typically served over mashed potatoes or hot noodles.
If you grew up in the 1950 era as I did, Salisbury steak may have been a dinner feature on a regular basis. My mom only added salt and pepper with the ground beef and made the mushroom gravy with canned mushroom soup (we have a homemade condensed mushroom soup).
She usually served this dish with mashed potatoes but occasionally with noodles. Salisbury steak was, and still is, a budget-friendly, meal stretcher dinner option. I think you will like this reimagined, old-time favorite.
Here's What You Need to Make this Salisbury Steak Recipe:
All the ingredients are either in your pantry or readily available in the supermarket. We used a 80-20% ratio to our ground beef as a little fat adds more flavor.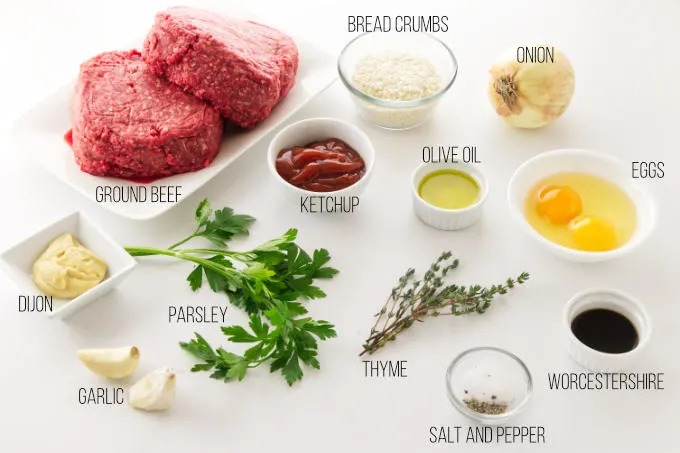 Yellow onion
Panko breadcrumbs
Lean ground beef (80% to 20%)
Garlic cloves
Ketchup
Worcestershire sauce
Dijon mustard
Herbs: Fresh parsley and thyme
Salt and pepper
Eggs
Olive oil or vegetable oil
And you just can't have salisbury steak without the luscious gravy! We have a separate post giving the full recipe and instructions for the Mushroom Gravy, however, we are including the directions with this post as well.
What You Need for the Mushroom Gravy:
Oh, the taste of this flavor-packed gravy! It is smooth and the only lumps in this gravy are the generous amount of sliced mushrooms. Any type of mushroom may be used but the most economical will be the white button or brown crimini mushrooms.
Olive oil or your choice of cooking oil
Mushrooms
Chopped onion
Fresh garlic cloves
Butter
Flour
Beef broth
Dijon mustard
Although you can easily make this mushroom gravy in advance, our favorite way to prepare it is to use the same skillet the Salisbury steaks are seared in as the drippings add extra flavor to the gravy.
Let's Get Started With This Salisbury Steak Recipe!
We will be preparing this recipe in two parts. We begin with the Salisbury steaks; then we set them aside and use the delicious drippings in the gravy! We are giving brief instructions of the complete dish, but please, scroll to the bottom of the post for full instructions on the recipe card.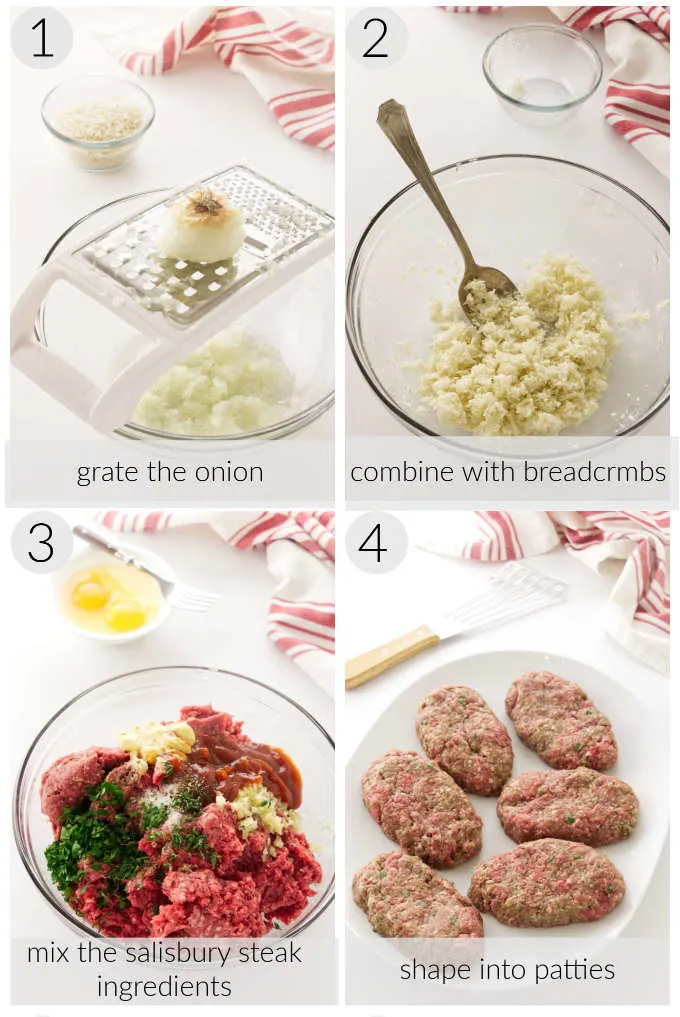 Part 1….The Steaks:
Grate the onion into a large bowl

Stir in the breadcrumbs and let sit for 5 minutes

Add the rest of the steak ingredients to the bowl and mix well.

Divide the meat mixture into 6 equal portions and shape each portion into thick, oblong patties.

Sear the patties on each side until nicely browned then transfer to a plate and reserve.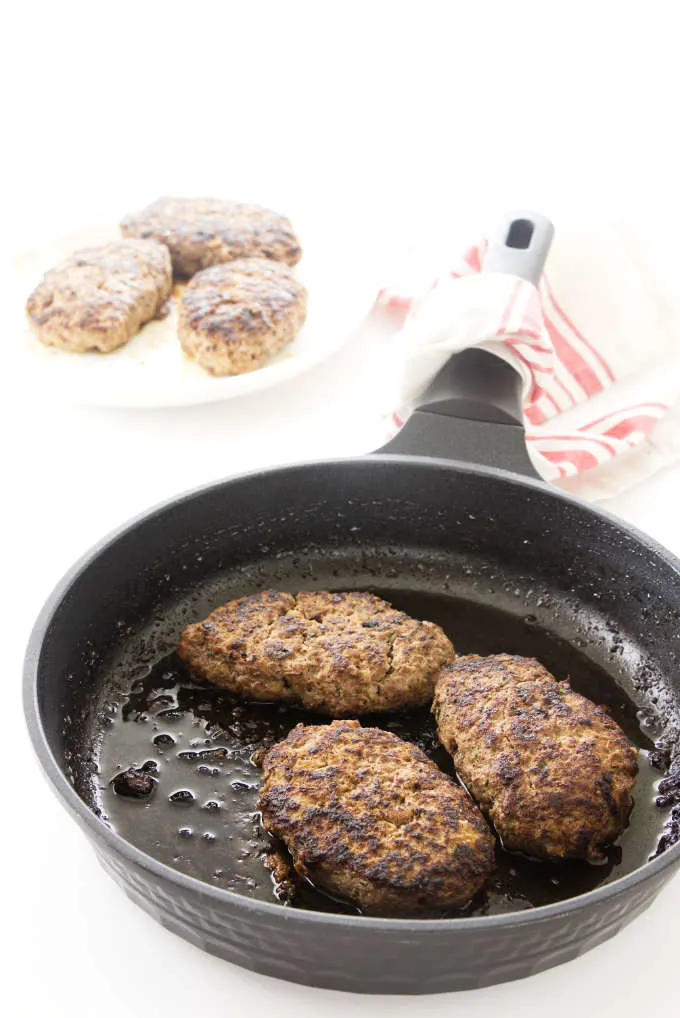 Part 2…..The Mushroom Gravy:
Saute the onions until translucent then toss in the mushrooms and the garlic.

Make the roux. Melt the butter in the skillet. Sprinkle the flour over the mushrooms and stir to combine.

Slowly, pour the beef broth into the skillet while stirring continually, scraping the bottom of the skillet to loosen any bits stuck on the bottom. Cook until the gravy thickens then stir in the mustard.

Return the seared patties to the skillet snuggling them down into the hot gravy. Adjust the heat to medium-low and finish cooking the Salisbury steak patties.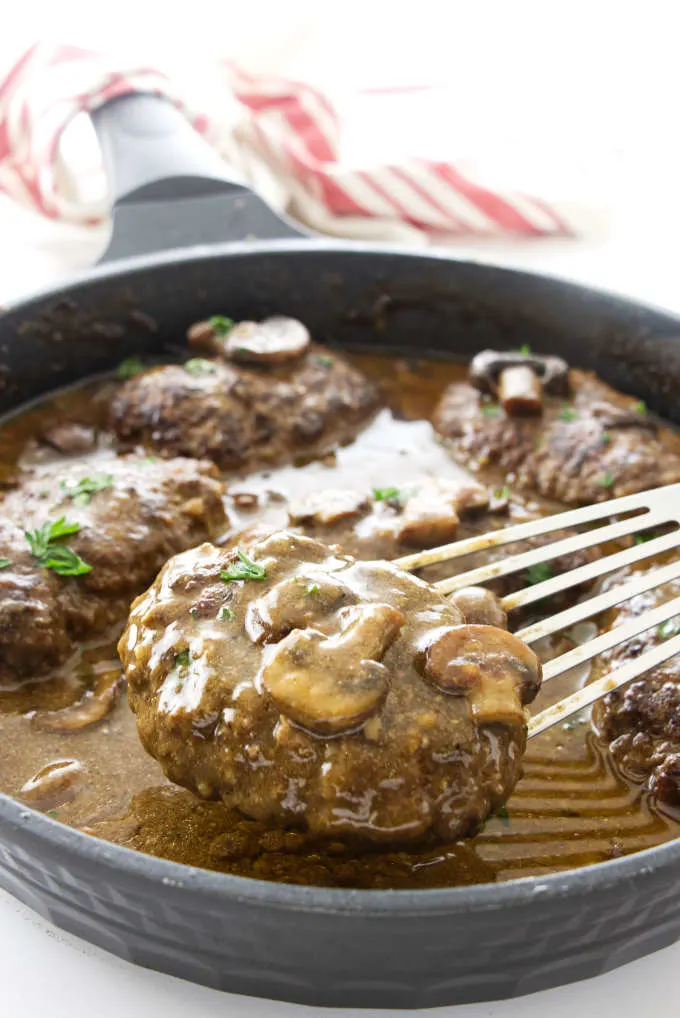 What to serve with Salisbury Steak and Mushroom Gravy?
I cannot imagine anything tasting as good as mashed potatoes or egg noodles with this classic comfort dish. However, instant pot wild rice blend, polenta, or mashed cauliflower is certainly an option.
Other side dish choices would be something green as in, sautéed beet greens or steamed green beans or an easy salad with a creamy dressing.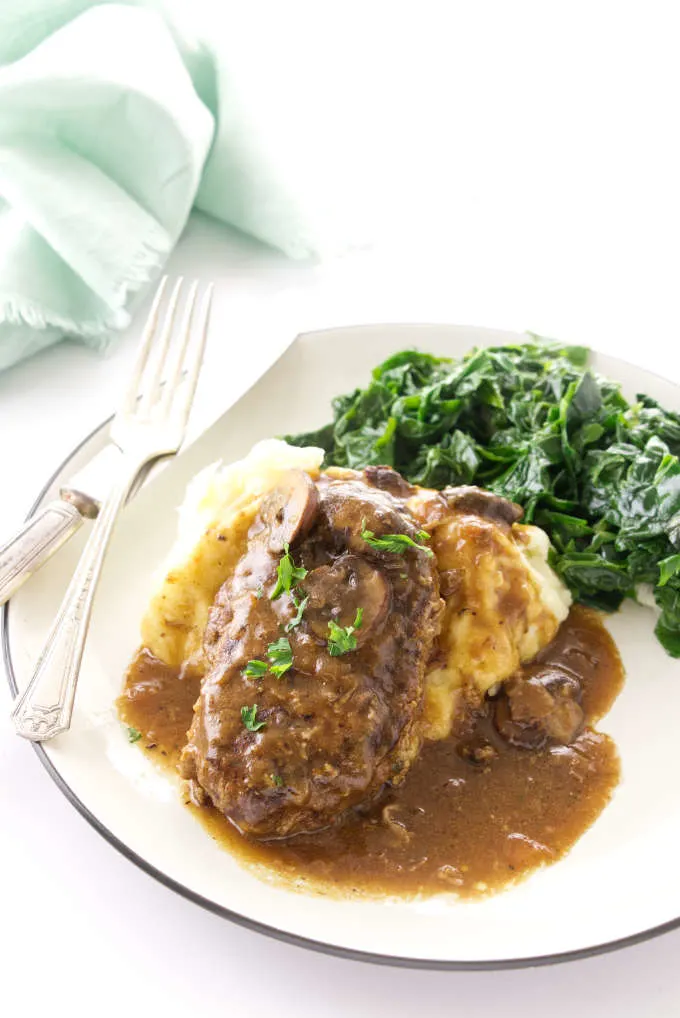 As you can see, this comforting, old-fashioned dish is very doable. Plus, it is budget-friendly and may become a family favorite.
Frequently Asked Questions
What is the difference between Salisbury steak and hamburger steak?
Hamburger steak only consists of hamburger and seasonings. Salisbury steak on the other hand includes seasonings as well as fillers like bread crumbs and eggs, similar to how meatloaf gets mixed. Furthermore, Salisbury steak is always served with gravy.
Why is my Salisbury steak tough?
If you overmix the ground beef mixture, the steaks will become dense and tough. You only need to stir the mixture until all the ingredients are well blended.
How do you keep Salisbury steaks from falling apart?
The eggs and breadcrumbs in this recipe will act as binders and prevent the steaks from falling apart.
Some Other Recipes We Are Sure You Will Love:
A light, oil, and honey glaze gives these crispy chicken thighs the ultimate flavor. They are tender and moist inside and pop with flavor! This is a perfect weeknight dinner.
Acorn halves make a perfect bowl for stuffed acorn squash and we filled it up with a flavor-packed sage seasoned pork sausage cornbread stuffing mix! The individual servings are a delightful one-bowl entree.
Cheese stuffed Pasta Shells: This could be on your menu for your next meatless Monday! Jumbo pasta shells, filled with a blend of ricotta, mozzarella and parmesan cheese, then nestled into a marinara sauce and baked to perfection!
Connect With Savor the Best:
Please follow us on our social media accounts
Facebook * Instagram * Pinterest * Youtube * Twitter
Did you make this recipe? We would love to hear from you. Drop us a comment below.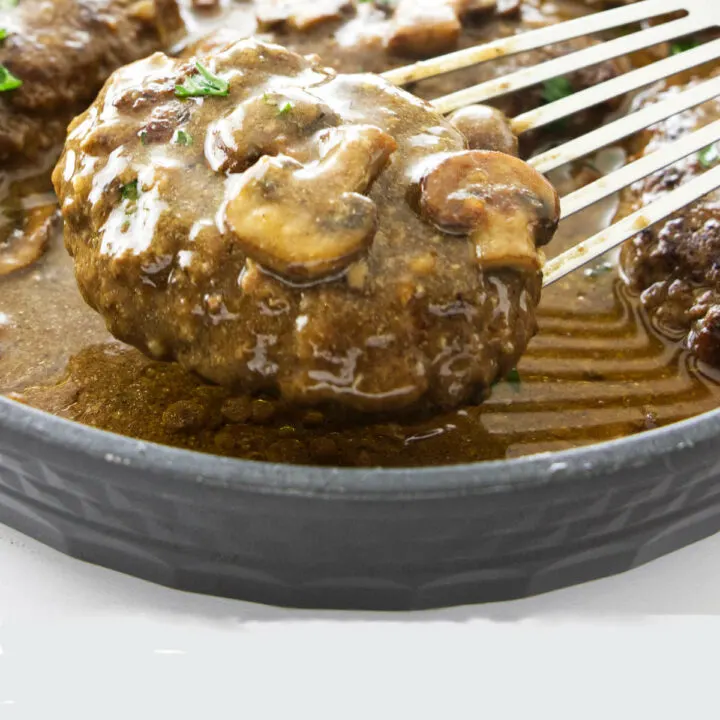 Salisbury Steak
Salisbury Steak is an old-time comfort classic that is gaining in popularity again! Lean ground beef gets a flavor boost from a mix of onion, garlic, herbs and spices. The beef is shaped into patty "steaks", seared briefly, then finished cooking in a rich, umami-packed mushroom gravy.
Ingredients
For the Salisbury Steak:
1 medium onion
1/2 cup Panko breadcrumbs
2 pounds lean ground beef (85% to 15%)
3 garlic cloves, grated or minced
4 tablespoons ketchup
1 tablespoon Worcestershire sauce
2 tablespoons Dijon mustard
2 tablespoons chopped fresh parsley
1 tablespoon fresh thyme leaves
1/2 teaspoon salt
1/8 teaspoon black pepper
2 eggs
2 tablespoons olive oil or vegetable oil
For the gravy:
2 tablespoons olive oil or vegetable oil
8 ounces mushrooms, thinly sliced (white or brown)
1/2 cup chopped onion
2-3 garlic cloves, grated or minced
2 tablespoons butter
1/4 cup flour
3 cups beef broth
1 tablespoon Dijon mustard
Instructions
For the Salisbury Steaks:
Grate the onion into a large bowl, stir in the breadcrumbs and let sit for 5 minutes, stirring at least once.
Add the beef, garlic ketchup, Worcestershire sauce, mustard, herbs and seasonings.
In a small dish, lightly whip the eggs with a fork and pour over the mixture.
Blend the mixture together with your hands just until combined. Do not over-mix or the beef will be tough.
Divide the beef into 6 equal portions and shape each portion into a thick, oblong-size patty.
Add the olive oil to a large skillet set over medium-high heat and brown the patties on both sides, about 1 minute per side. Do not cook the patties completely as they will finish cooking in the gravy.
Remove the patties and reserve on a plate.
For the Gravy:
In the same skillet set over medium heat, add the oil and onions and cook for 2 minutes. Add the sliced mushrooms and sauté until the mushrooms are lightly browned and the onions are translucent, about 2 minutes. Stir in the garlic and cook briefly until fragrant.
Add the butter to the skillet and when it has melted sprinkle the flour over the mushrooms, stir and cook for 30 seconds to cook the flour.
Slowly add the beef broth while stirring continually until the gravy has thickened. Stir in the mustard and taste for seasoning.
Transfer the beef patties back into the skillet, reduce the heat to low and simmer for 8-10 minutes.
Serve the salisbury steaks with mashed potatoes or hot noodles, topped with the mushroom gravy.
Notes
Use a box grater or the coarse disc grater of a food processor to grate the onions.
The beef patties will be about half-way cooked when removed from the skillet. They will finish cooking while simmering in the hot mushroom gravy.
Any type of mushrooms may be used, wild, white or brown mushrooms or a mixture.
Nutrition Information:
Yield:

6
Serving Size:

1
Amount Per Serving:
Calories:

637
Total Fat:

39g
Saturated Fat:

12g
Trans Fat:

1g
Unsaturated Fat:

23g
Cholesterol:

207mg
Sodium:

1205mg
Carbohydrates:

21g
Fiber:

2g
Sugar:

6g
Protein:

50g
Nutrition information is a guideline only, is calculated automatically by third-party software, and absolute accuracy is not guaranteed.