These oven roasted chicken thighs are crispy on the outside with moist and tender meat on the inside!
A lightly sweetened glaze of olive oil and honey mixed with the perfect seasoning blend gives these crispy baked chicken thighs the ultimate flavor. Plus, this chicken thigh recipe is so simple to follow, making it ideal for your busy weeknight dinner rotation.
If you like this recipe, check out our farro chicken bake and our sheet pan chicken dinner.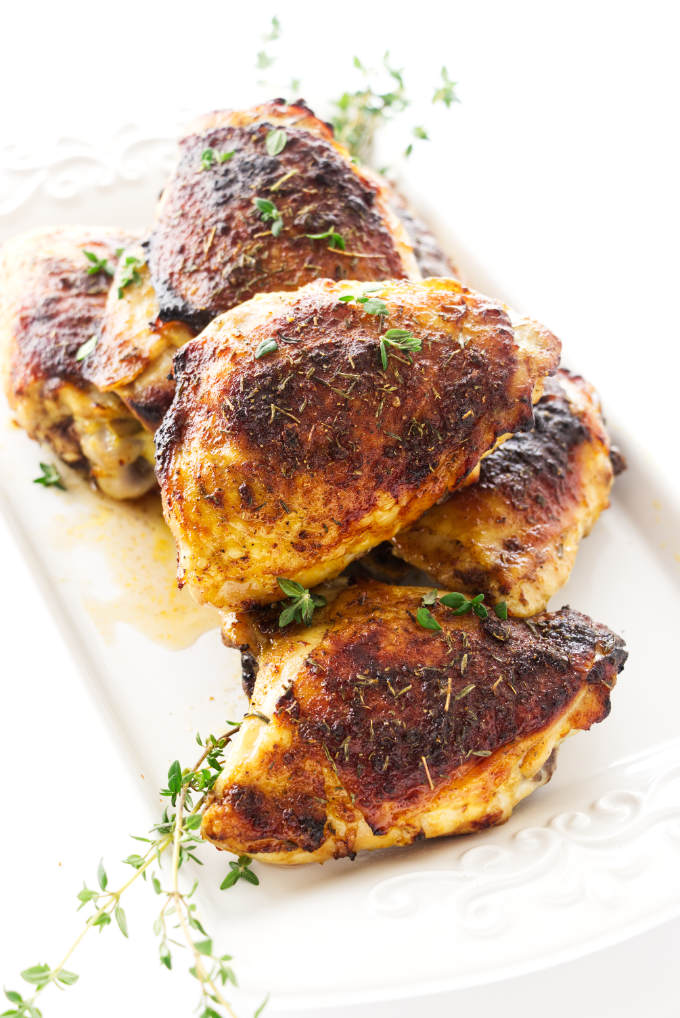 Why we Love These Oven Roasted Chicken Thighs!
Honestly, there are so many reasons why you should save this chicken thigh recipe! Our oven roasted chicken thighs are incredibly delicious and a healthy protein choice. They are meaty. They're full of flavor. And they pair well with almost anything!
These crispy baked chicken thighs are:
simple to make
low-carb and paleo friendly!
kid-approved
affordable
Use bone-in chicken thighs (with skin) for this recipe to get the best results. The skin crisps to perfection in the oven for an incredible taste and texture. The bone-in chicken thighs stay extra tender and juicy.
All in all, chicken thighs have a rich and succulent flavor that is simply hard to beat!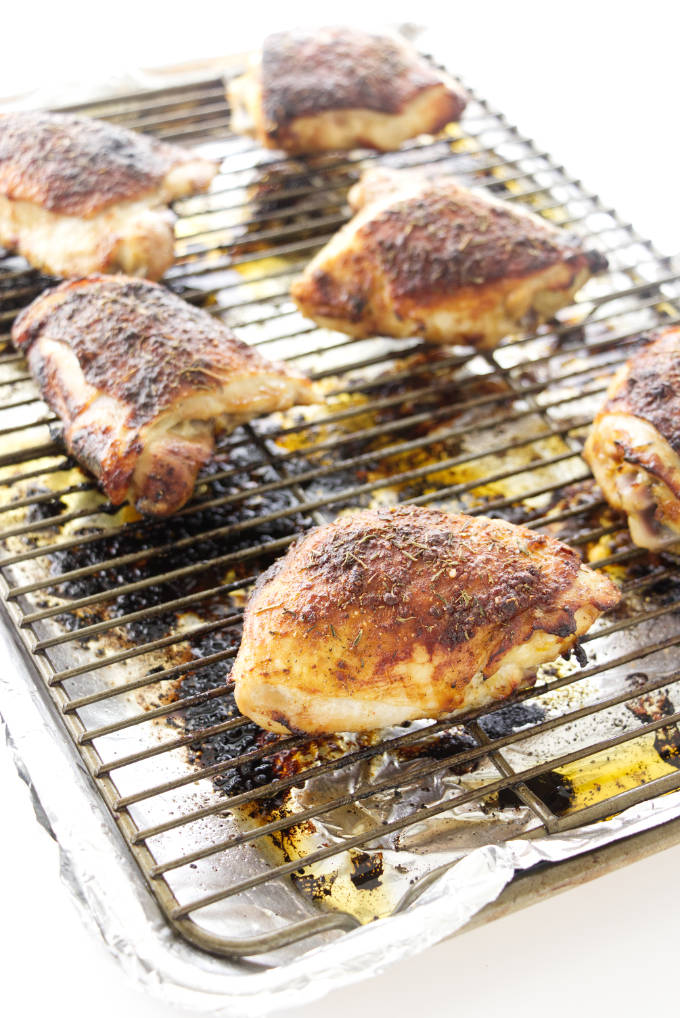 Ingredients for Oven Toasted Chicken Thighs:
To make these crispy baked chicken thighs, you will need:
Chicken thighs (bone-in, skin-on).
Olive oil
Honey
Garlic powder
Paprika
Dried thyme
Salt
Black pepper
Fresh thyme leaves and sprigs for garnish
You will also need a baking sheet with a baking rack that fits inside (like this) and a basting brush to get that glaze nice and even on top of the chicken.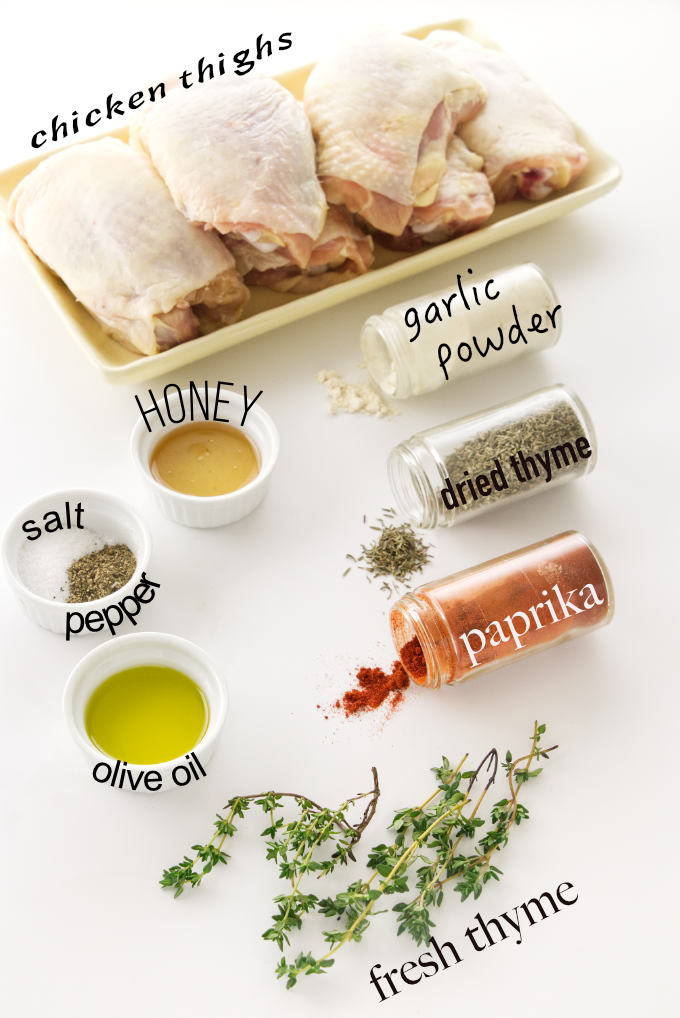 Our Crispy Chicken Thigh Recipe:
Did we mention how easy it is to make these chicken thighs!? Because that might just be our favorite thing about this chicken recipe…
Make sure you scroll down to the printable recipe card for all the details and recipe notes.
Prep the chicken: Preheat the oven to 400°F and set the rack over a foil-lined sheet pan. Trim any excess fat and skin from the chicken and dry each piece with paper towels.
Make the seasoning and glaze: Combine the garlic powder, paprika, thyme, salt and pepper in a small dish. In a separate dish, combine the oil and honey and warm it for 10 seconds in the microwave.
Coat the chicken thighs: Brush the oil/honey mixture on the fleshy side of the chicken thighs. Sprinkle them with half the seasoning and place on the wire rack, seasoned side down. Repeat the other side.
Roast: Roast the chicken thighs for 30-35 minutes. Remove the pan from the oven and allow it to rest for 5 minutes, then transfer the chicken to a serving platter and garnish with the fresh thyme leaves and sprigs.
Tips for Perfect Baked Chicken Thighs:
Line the baking sheet with aluminum foil for easy clean-up.
Use a rimmed baking sheet so the juices don't run off the sheet and spill in the oven.
Pat the chicken thighs dry before you add the spice rub.
If the thighs are small you will need to reduce the cooking time a bit.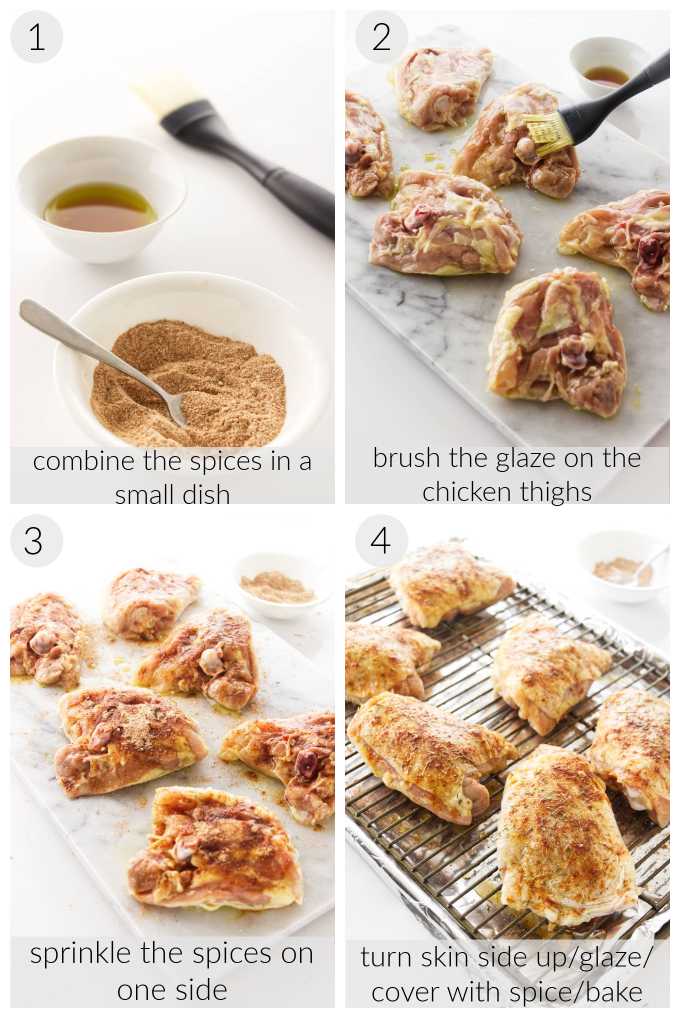 What Temp Should Chicken Thighs Be Cooked To?
Chicken thighs should reach an internal temperature of 165°F when done. Use a meat thermometer to check the chicken after it roasts for 30 minutes.
We recommended removing the chicken from the oven once it reaches an internal temp of 160°F.
The residual heat will continue to cook the chicken as it rests for 5 minutes before serving and should bring the internal temp up by about 5-10 degrees. You are guaranteed to have juicy chicken thighs with crisp skin.
How do you keep chicken thighs from drying out in the oven?
Chicken thighs are almost like a wonder meat because of their flavor and possibilities! Unlike chicken breasts which can easily turn from tender to stringy and dry, bone-in chicken thighs stay juicy.
The crispy skin is not only very tasty, but it also protects the meat from drying out. But one of the most important ways to get perfect, oven-roasted chicken thighs, is to make sure you're roasting them at 400°F.
A lower temperature will lead to a longer cook time and the meat is more likely to lose some of its moisture.
One other trick we do is remove the chicken BEFORE it reaches the target temperature. We like to rely on the carry-over heat to continue cooking the chicken thighs. That way we know the chicken will be tender and juicy… never dry and tough from over-baking.
For the best results, use an instant-read meat thermometer and check the meat intermittently or use a leave-in meat thermometer so you don't have to open the oven frequently. The above links are affiliate links from ThermoWorks. They make the best thermometers we have ever used and we highly recommend them.
Chicken thighs done right are amazing! If you're looking for more chicken thigh recipes, we've got you: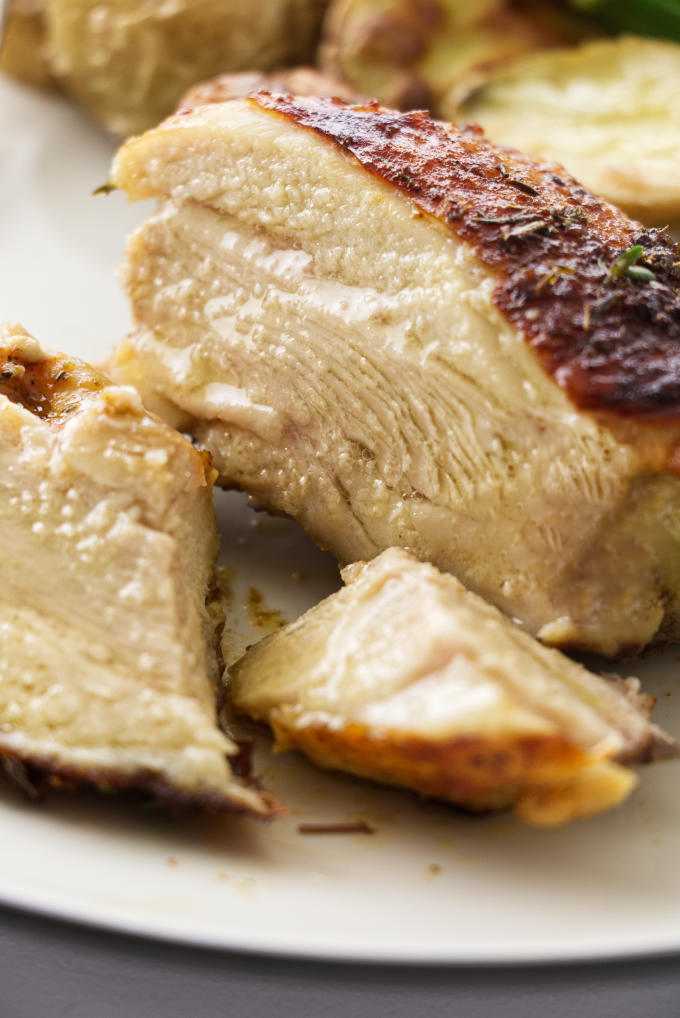 Oven roasted chicken thighs are one of those main course dishes that will be on the "dinner requests" list in no time!
That light honey glaze adds just the right amount of sweetness and it pairs wonderfully with the savory seasonings. Plus, crispy chicken skin. Need we say more?! There's so much to love.
Finish the meal with some crisp asparagus and roasted potatoes on the side for a healthy, wholesome dinner that's doable even on the busiest of days!
Another idea for a delicious meal is to serve the chicken with mashed potatoes, sautéed mushrooms, and a tossed green salad with gorgonzola.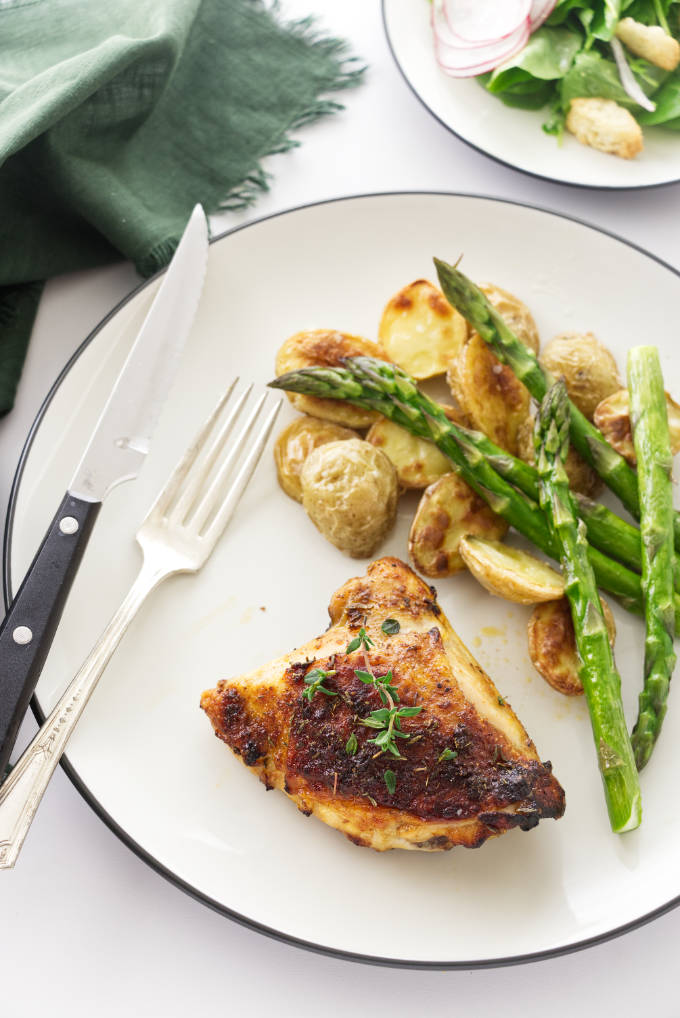 SOME OTHER RECIPES WE ARE SURE YOU WILL LOVE:
Chicken and Rice Bake: Just perfect for a quick and easy dinner! Nice and crispy chicken thighs, seasoned with herbs and spices and baked in a fluffy rice. You will love this one-pot meal.
Chicken in Mushroom Cream Sauce: An easy weeknight dinner. Tender chicken thighs nestled in a creamy mushroom sauce that is loaded with thick sliced mushrooms.
Parmesan Chicken: Crispy Parmesan Crusted Chicken! A thick coat of crispy parmesan creates a golden, crunchy crust for these juicy, tender chicken breasts.
For more chicken recipes, try our panko chicken, cast iron chicken, tender baked chicken quarters, Traeger whole smoked chicken, or chicken stuffed peppers.
Connect With Savor the Best:
Please follow us on our social media accounts
Facebook * Instagram * Pinterest * Youtube * Twitter
Did you make this recipe? We would love to hear from you. Drop us a comment below.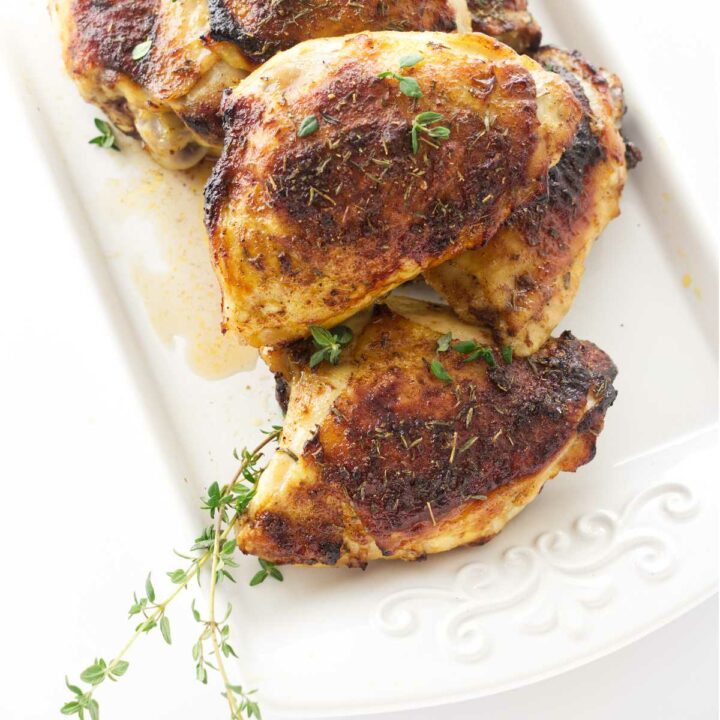 Oven Roasted Chicken Thighs
Crisp and tender oven roasted chicken thighs! A glaze of olive oil and honey add a touch of sweetness and a seasoning mix of garlic powder, paprika and dried thyme. adds ultimate flavor! Tender, moist chicken breasts that are easy to prepare on a busy weeknight.
Ingredients
6 chicken thighs, bone-in, skin on
2 tablespoons olive oil
1 tablespoon honey
2 teaspoons garlic powder
1 teaspoon paprika
1 teaspoon dried thyme
1 teaspoon salt
1/2 teaspoon black pepper
Fresh thyme leaves and sprigs for garnish
Instructions
Preheat the oven to 400°F Set a wire cooling rack over a foil-lined, rimmed sheet pan.
Trim off any large globs of fat and excess skin from the chicken.
Pat the chicken with a paper towel and place on a work surface, skin side down.
In a small dish combine the garlic powder, paprika, thyme, salt and pepper.
In a small microwaveable dish add the oil and honey and zap in the microwave for 10 seconds until the honey is syrupy then stir to combine. Brush the oil-honey mixture on the exposed fleshy side of the chicken thighs.
Sprinkle the glazed chicken thighs with half of the seasoning mix and place on the wire rack, seasoned side down.
Brush the exposed skin side of the thighs with the oil-honey and sprinkle the remaining seasoning mix on the chicken thighs.
Transfer the sheet pan to the oven and roast for 30-35 minutes or until the internal temp reaches 160°F
Remove the sheet pan from the oven and allow to rest for 5 minutes, transfer the chicken to a serving platter and garnish with fresh thyme leave and sprigs.
Notes
Chicken thighs usually have an excess of fat, trimming off some of that excess will help keep the smoke down.
To insure moist, juicy chicken, check the temperature of the chicken at 30 minutes using an instant-read thermometer, the chicken will continue to cook by 5-10 degrees during the rest time.
Nutrition Information:
Yield:

6
Serving Size:

1
Amount Per Serving:
Calories:

334
Total Fat:

23g
Saturated Fat:

6g
Trans Fat:

0g
Unsaturated Fat:

16g
Cholesterol:

166mg
Sodium:

580mg
Carbohydrates:

4g
Fiber:

0g
Sugar:

3g
Protein:

31g
Nutrition information is a guideline only, is calculated automatically by third-party software, and absolute accuracy is not guaranteed.
Frequently asked questions
How long should you bake chicken thighs in the oven?
For bone-in and skin-on chicken thighs, it usually takes about 30 minutes if you bake them at 400°F. The cooking time can vary depending on your oven and how often you open the door. The best way to know if your chicken is done is to use a thermometer.
Can you overcook chicken thighs?
Yes, you sure can. Chicken thighs are pretty forgiving since they have more fat to them than chicken breasts. However, you can turn them into dry leather if you leave them in the oven too long.
How do you know when chicken thighs are cooked?
As we mentioned above, the best way to know when your chicken thighs are fully cooked is to use a meat thermometer. If you don't have one handy then you can make a slit in the meat with a sharp knife. If the juices run clear then the chicken is done.
Should you flip chicken thighs in the oven?
You do not need to flip the chicken thighs when you cook them in the oven the way we did it in this recipe.
How do you make crispy chicken thighs without frying?
This is the best recipe to make crispy chicken thighs in the oven. Instead of placing the chicken in a baking dish, you set it on a rack that sits over a baking sheet.
The rack allows air to circulate under the chicken to get crispy on the bottom and the top. Make sure you keep them in a single layer and space them apart. If the chicken thighs are too crowded then they will just steam instead of roast.