If you have not yet been introduced to the joys of sheet pan dinners, you really need to get out that sheet pan and create this easy Sheet Pan Chicken Dinner. Roasted chicken thighs, small Yukon potatoes and tender fresh asparagus. Dinner on the table in thirty-minutes flat!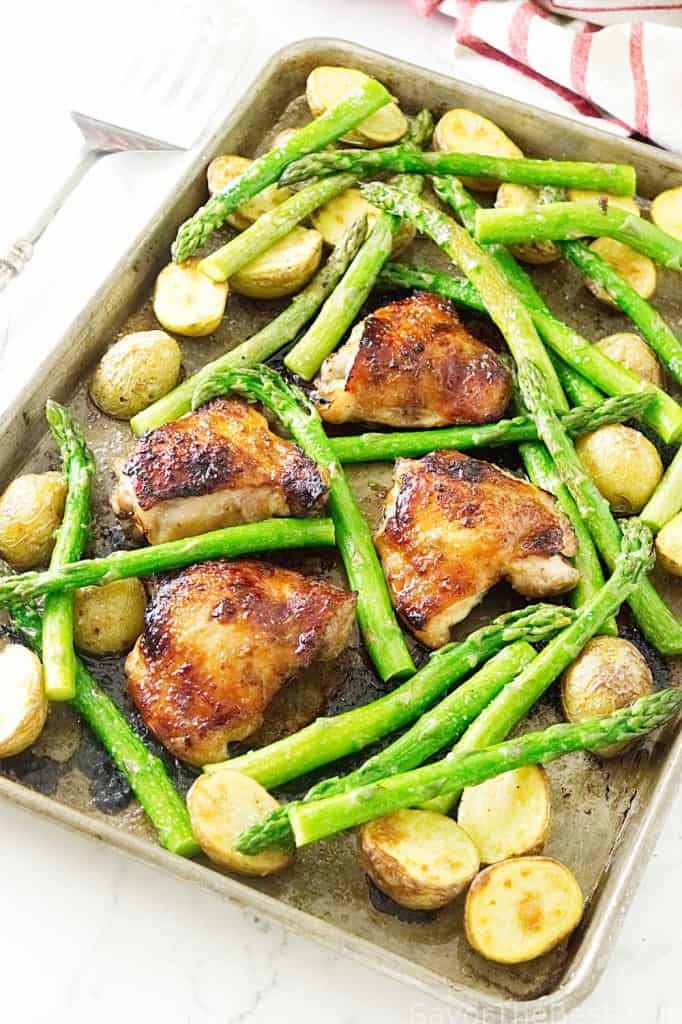 What do you cook when you finally get home from a long day at work but still have to make a great dinner for the family? The kids are whiny, the husband is grumpy and everyone is hungry. All you want to do is sit down, put your feet up and relax. I've been there, done that. Many times! Bless the genius that got these sheet pan dinners going.
OUR SHEET PAN CHICKEN DINNER IS EASY:
This sheet pan chicken dinner is so easy. Glaze-brushed chicken thighs and oiled potatoes with a little seasoning are added to a sheet pan and popped into a hot oven. Just before the cooking time is up the oiled and seasoned asparagus is scattered on top for a quick roasting.
Easy weeknight dinner fix, easy clean-up! And, if you line the sheet pan with foil and use a closable plastic bag to oil the veggies you save washing another dish. This dinner is delicious, healthy and diet-friendly too. Everybody's happy!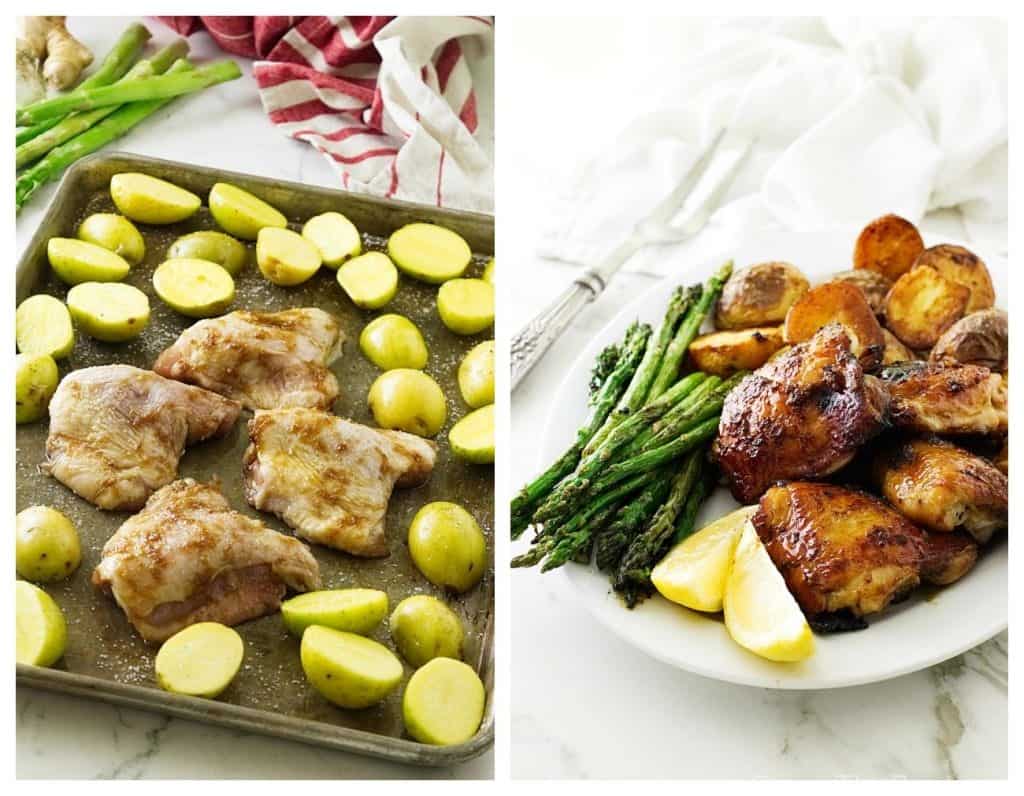 WHAT SIZE PAN?
You probably already have the standard half-sheet pan in your kitchen. It will measure 18-inches by 12-inches and have a one-inch rim. This is my favorite sheet pan but for just a small two-person dinner I use my 15 1/2-inch by 10 1/2 jelly-roll pan.
Chicken with Potatoes and Asparagus:
The chicken thighs get coated in a honey, soy, and ginger marinade which gives them a delicious flavor. The potatoes soak up some of the marinade as well as the juices from the chicken as they cook. Top it all off with the asparagus and you have a super flavorful dinner.
Ingredients for this sheet pan dinner.
Chicken thighs, potatoes and asparagus are the highlights in this dinner but the quick marinade gives it all the flavor. Here is what you will need.
Chicken thighs
Soy sauce
Honey
Garlic
Ginger
Baby Yukon potatoes
Asparagus
You will also want a splash of olive oil and some salt and pepper.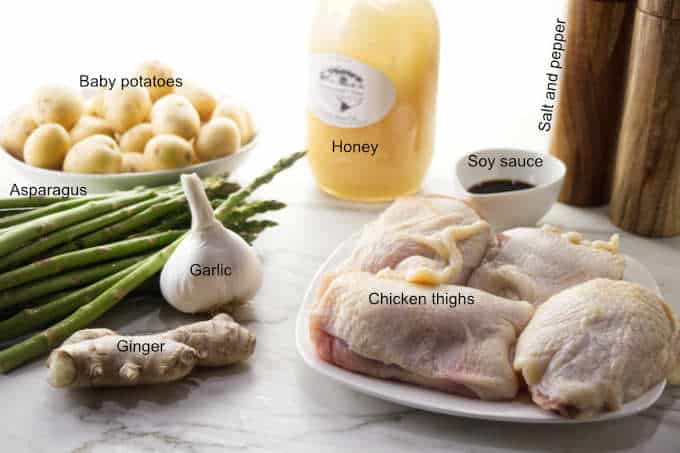 How To make this Easy dinner.
You only need about 5 minutes to get everything ready for the oven. Here is a quick glance at how to put it together but make sure to scroll all the way down to the printable recipe card.
Toss the marinade together in a bowl.
Coat the chicken thighs in the marinade then place them on the sheet pan.
Toss the potatoes in some olive oil and toss them on the sheet pan.
Season the potatoes with salt and pepper then stick the pan in the hot oven.
Toss the asparagus with some olive oil while the chicken and potatoes roast.
Scatter the asparagus on top of the chicken and potatoes toward the end of the roasting time.
Remove the sheet pan when the asparagus is roasted to your liking.
Tips to make this dinner even easier.
If you line the sheet pan with aluminum foil, it will make clean-up easier.
If you have time to let the chicken sit in the marinade for 20 to 30 minutes they will have even more flavor.
Pre-heat the oven. You want to start everything in a hot oven.
Save the asparagus for the last 6 minutes of the roasting time. It only takes a few minutes for the asparagus to cook.
WHAT ARE THE BEST VEGETABLES TO ROAST?
If you want to substitute some of the veggies you can do that too!
The best vegetables are the ones you love! Nearly all vegetables can be roasted. Determine which veggies need the longest roast time and add them first. The softer veggies will cook faster and should be tossed on after the more dense veggies have had some roasting time.
Some of my personal favorites are carrots, potato chunks, butternut squash and especially parsnips. I had never been too keen on parsnips until I roasted them! So, try roasting some of the veggies that you are not too crazy about as you may find they have a new flavor.
Roast up a batch of thick slices of sweet potatoes, small yellow onions, colorful bell peppers, and toss on a handful of cherry tomatoes. In our sheet pan chicken dinner, we chose small Yukon Gold potatoes, cut in half and fresh asparagus.
ABOUT THE OIL FOR OUR SHEET PAN CHICKEN DINNER
As the vegetables are going to be roasted in a high heat at 425-450°F, I believe in using a high smoke point oil. Here's a list of oils suitable for high-temperature roasting:
Olive

Avocado

Grapeseed

Sunflower
A good rule of thumb is to toss two pounds of cut vegetables with one tablespoon of oil. It's ok to use more though. Just be sure the veggies are all oiled up nicely.
I am all for saving on dishwashing and in our recipe for sheet pan chicken dinner the potatoes went into a plastic bag with oil. The bag was closed and massaged until the veggies were coated. The bag gets tossed out! No extra bowl to wash, no messy hands. Or, you could just put those veggies in a bowl, drizzle with oil and get your clean hands in there.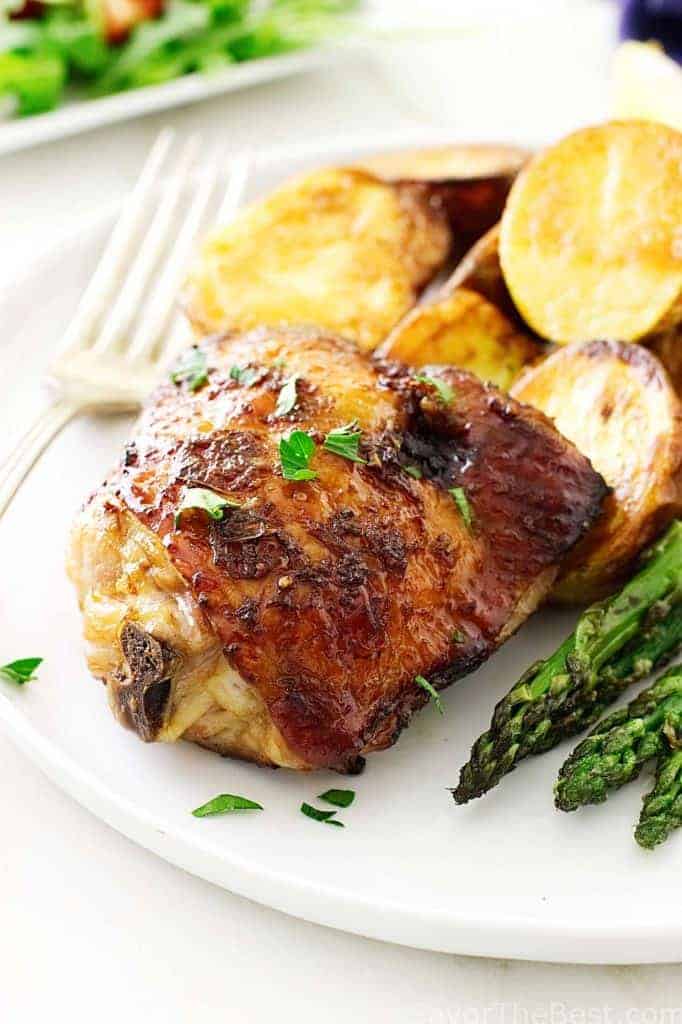 I roasted the potatoes and chicken for 20 minutes before adding the asparagus which roasted for just six minutes. Normally, we like our roasted veggies with some yummy char on them, except for asparagus. We keep the roasting time shorter to have some crunch to them. The main thing to remember is to roast to your own likeness whether it be a light golden crunch or a dark char.
This is a fast and easy dinner all in one pan. So, why not try this sheet pan chicken dinner tonight and make cooking week-night dinners great again! We have more sheet pan dinners to make your meal prep fast and easy.
CHECK OUT THESE RECIPES:
CONNECT WITH SAVOR THE BEST!
Be sure to follow us on our social media accounts
Facebook | Twitter | Youtube | Pinterest | Instagram
If you make one of our recipes, snap a photo and tag it @savorthebest on Instagram and hashtag it #savorthebest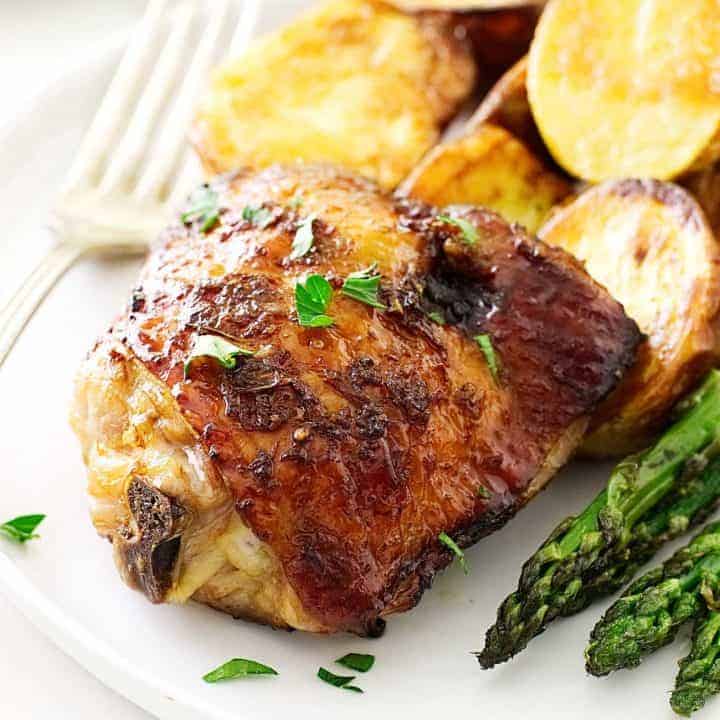 Sheet Pan Chicken Dinner
Try this easy Sheet Pan Chicken Dinner! Roasted chicken thighs, small Yukon potatoes and tender fresh asparagus. Dinner on the table in thirty-minutes flat!
Ingredients
2 tablespoons soy sauce
2 tablespoons honey
2-3 cloves garlic, grated or crushed
3 tablespoons fresh ginger root, peeled and grated
4 chicken thighs, trimmed, skin on-bone in
2-3 tablespoons olive or vegetable oil
1 pound small Yukon Gold potatoes, cut in half
1 pound asparagus, trimmed
Salt and Pepper
Instructions
Preheat the oven to 425°F
Line a baking sheet with foil and spray with cooking oil
In a small dish whisk together the soy sauce, honey, garlic and ginger.
Dip the chicken thighs into the dish of glaze, coating each side, allow excess to drip off then arrange them on the sheet pan.
In a closable plastic bag add the potatoes and a drizzle of oil, close the bag. Rub the potatoes to coat each one, then arrange them on the sheet pan, cut side down.
Add the asparagus to the same bag with the oil, coating them well. Set the asparagus aside.
Sprinkle salt and pepper on the potatoes and the chicken. Transfer the sheet pan to the middle rack of the oven and roast for 25 minutes.
Remove the sheet pan from the oven and add the asparagus spears. It's ok if they are on top of the chicken and veggies.
Return the sheet pan to the oven and roast for 5-6 minutes and the chicken is cooked through to a temperature of 165°F
Transfer from the oven and serve.
Nutrition Information:
Yield:

4
Serving Size:

1 thigh - 1/4 vegetables
Amount Per Serving:
Calories:

381
Total Fat:

15g
Saturated Fat:

4.6g
Cholesterol:

151mg
Sodium:

605mg
Carbohydrates:

32g
Fiber:

3g
Sugar:

11g
Protein:

30g
Are you following Weight Watchers or Slimming World? This recipe has 7 SmartPoints for Weight Watchers and 4 Syns for Slimming Worl