You can make easy pork fried rice with leftovers and just 10 minutes of your time. You don't need any 'hard to find' Asian ingredients either. If you have soy sauce in your pantry, you can make this dinner tonight. This is a fast and easy recipe that is especially great for a week-night dinner!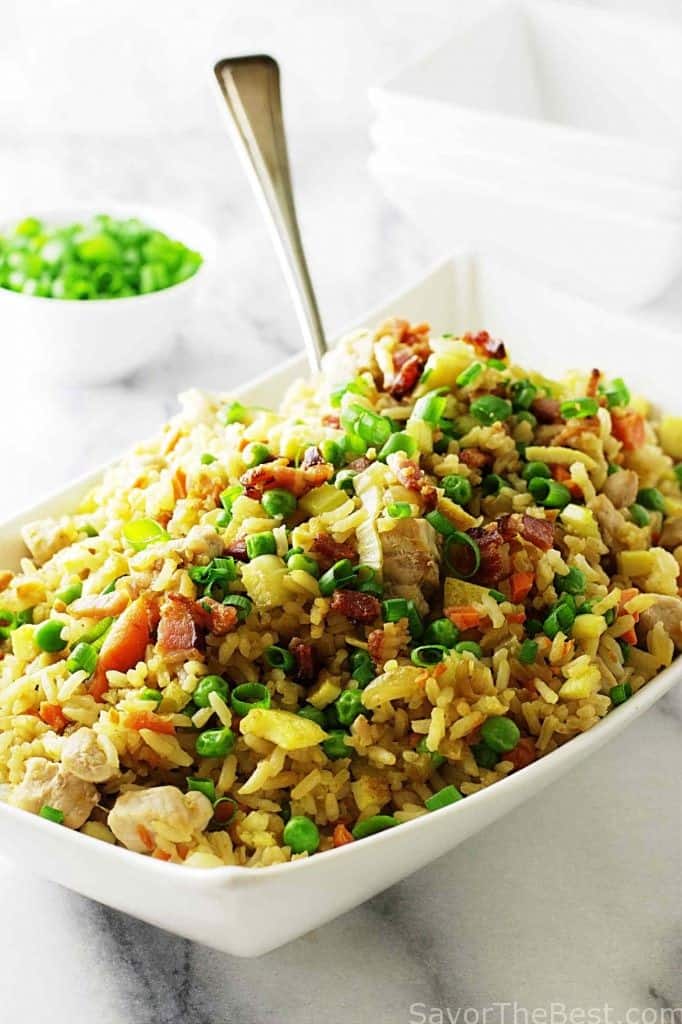 Fried rice is one of the best recipes for using leftovers. You don't need very much of any of the ingredients to make an amazingly flavorful and filling meal.
The great thing about this recipe is that you don't need any special ingredients. It comes together with a handful of 'this' and a handful of 'that'. If you're down to just a few straggly vegetables, a small piece of last night's pork chops, a couple of slices of bacon, and a splash of soy sauce, then you are in luck!
Yes, you definitely can get fancy with the sauce in pork fried rice but I'm going to show you that you can make it without all the extras.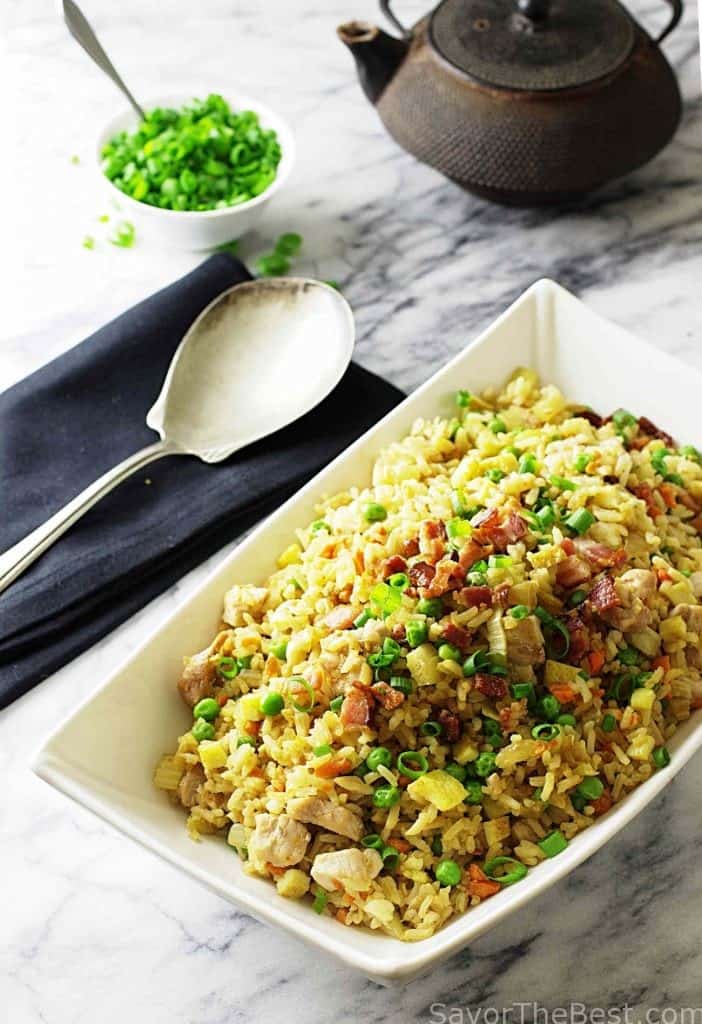 Ingredients for pork fried rice:
Here is a quick preview of the ingredients but keep reading because we have tips and ideas for substitutions.
Rice. The best fried rice is made with leftover rice. Sometimes I make an extra-large batch of rice just so I can make fried rice the next day.
Cooked pork. I used 2 leftover pork chops in this recipe but you don't even need that much. This recipe will make a small amount of meat stretch enough to feed a whole family.
Bacon. Bacon adds a TON of flavor to this meal and all you need is 2 or 3 strips.
Veggies. If you only have 1 or 2 carrots and a stalk of celery, don't throw them away. Alone, they won't even feed one person, but dice them up and toss them into fried rice, bam! Dinner is done. If you have frozen peas, toss those in too.
Eggs. The eggs add extra protein and give the fried rice a special texture and flavor.
Onion, garlic, ginger. These ingredients are flavor bases that really add an extra layer to the dish. There is something about fresh ginger and garlic that makes the flavors pop. I realize that a lot of people do not always have fresh ginger, but if you do have it, you will love the flavor it adds.
Soy sauce. Sometimes I add some other flavors along with the soy but I am keeping it simple for this recipe. Most kitchens have a bottle of soy sauce stashed in the back of the pantry. It adds a great umami flavor and kicks things up a notch.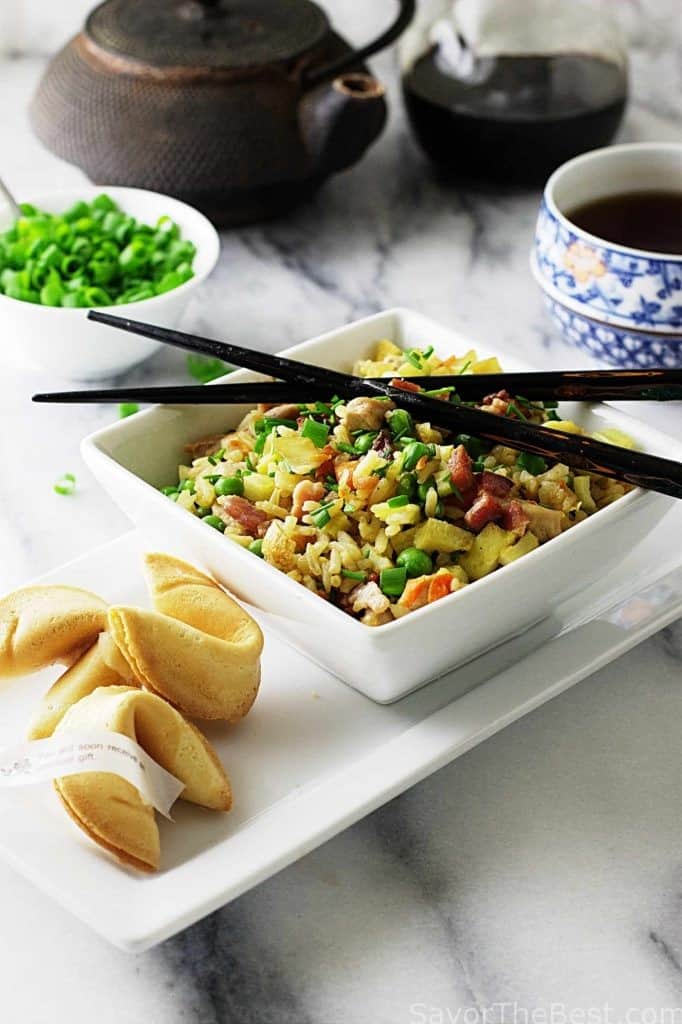 Substitutions:
Pork fried rice is so customizable. If you don't have some of the ingredients don't worry. There are so many ways to make this work.
This recipe calls for fresh carrots and celery but if you want to toss in some frozen vegetables then that works as well. Keep in mind that it doesn't take very much. All you need is about 1-1/2 to 2 cups of frozen veggies. It is easy to get carried away and add a whole bag of veggies but if you do that then you will quickly run out of room in the skillet.
If you don't have any bacon then toss in some ham or some prosciutto. It will do just fine in a pinch.
Best Rice for Pork Fried Rice:
Day-old rice makes the best fried rice since it has time to dry out. If you use fresh, hot rice it will taste fine but it can turn mushy. However, here is a trick if you cook the rice fresh: spread the fresh rice out on a baking sheet and stick it in a 200°F oven for 10 to 15 minutes then let it cool completely in the refrigerator or freezer. That will help the rice dry out so the texture will be right.
Tips for Making Fried Rice:
Use a large wok or skillet. You want one large enough to toss everything around.
Cut the scrambled eggs into large chunks. Large, fluffy chunks of scrambled eggs help make this fried rice 'meaty' and give it a great texture.
Dice the veggies small. Fresh veggies will take a bit longer to cook than the frozen ones so chop them up small and they will cook quickly.
Add frozen peas last. The frozen peas will cook from the residual heat so you can even take the skillet off the stove when you add them.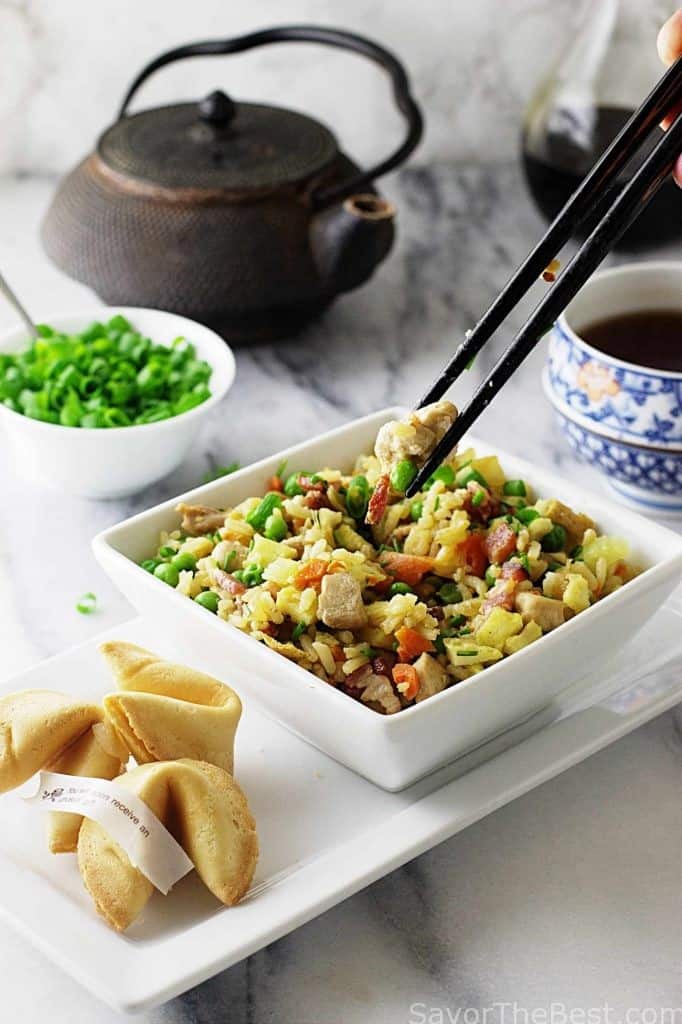 What to Serve with Pork Fried Rice.
Pork fried rice is a one-pot, full meal deal. You really don't need to serve anything else with it. We eat this as a main dish all the time. However, if you want to serve something alongside, it goes great with egg drop soup or a simple cucumber salad.
Check out these rice recipes:
CONNECT WITH SAVOR THE BEST!
Be sure to follow us on our social media accounts
Facebook * Instagram * Pinterest * Twitter * Youtube
Did you make this recipe? We would love to hear from you. Drop us a comment below.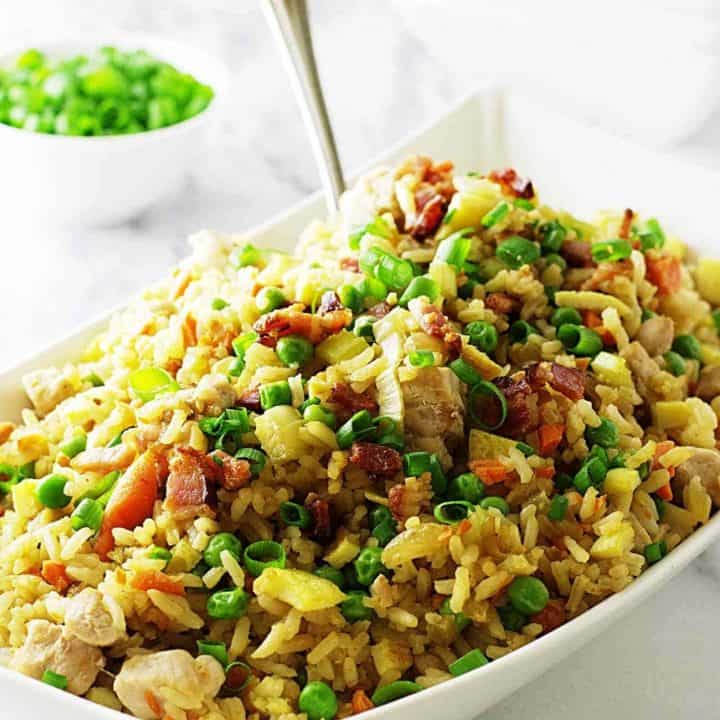 Pork Fried Rice
Yield: 4 to 6 servings
Prep Time: 20 minutes
Cook Time: 10 minutes
Total Time: 30 minutes
A delicious mix of pork, rice, eggs and vegetables with soy sauce for an Asian taste. This is a fast and easy recipe that works well for lunch or dinner.
Ingredients
1 tablespoon olive oil
3 eggs
1/2 teaspoon salt
1/4 teaspoon fresh ground pepper
3 strips of bacon, cut into small dice
1/2 cup chopped onion
2 cloves garlic, minced
1/2 cup chopped carrots
1/2 cup chopped celery
2 tablespoons grated fresh ginger
2 tablespoons soy sauce
8 oz. cooked, diced pork (I used 2 leftover pork chops)
4 cups cooked rice, cold
1/2 cup frozen peas, defrosted
2 scallions, thinly sliced for garnish
Instructions
Break the eggs into a small bowl, add the salt and pepper and whip gently with a fork as if you are making an omelet.
In a wok or large skillet over medium-low heat add the oil and use a pastry brush to coat the skillet (or non-stick spray). Add the eggs and tilt the pan so the eggs cover the skillet bottom completely. Remove the skillet from the heat when the eggs are set and firm. Cut the eggs into small pieces and reserve.
Using the same skillet/wok add the diced bacon and cook over medium heat till crisp. Push to the far side of the skillet and add the onions, garlic, carrots, celery, and grated ginger and the soy sauce. Cook for 2 minutes, they should still be firm.
Add the pork and rice, breaking any clumps of rice loose, and continue cooking for another 2-3 minutes. Add the peas and toss to combine. Remove from heat, the peas will continue to cook in the hot mixture. Add the reserved eggs and toss them together with the rice mixture.
Transfer the rice to a serving dish and garnish with the chopped scallions.
Nutrition Information:
Yield: 6
Serving Size: 1
Amount Per Serving:
Calories: 410
Total Fat: 16g
Saturated Fat: 5g
Trans Fat: 0g
Unsaturated Fat: 10g
Cholesterol: 157mg
Sodium: 670mg
Carbohydrates: 37g
Fiber: 2g
Sugar: 3g
Protein: 27g
Nutrition information is a guideline only, is calculated automatically by third party software, and absolute accuracy is not guaranteed.
This post was originally published on October 3, 2016. We updated the photos and added a video. Part of the original post is below.
It wasn't until 1975 when Don accepted employment to the U.S. Naval Shipyard Repair Facility at Subic Bay, Philippines that I finally learned to cook rice without it being mushy or gluey.
Our entire family re-located to the Philippines for five years; our four kids were 15, 13, 11 and 7 years of age. We returned to the U.S. in 1980 and by 1987 Don and I were empty-nesters and we returned to the Philippines for another five years.
It was during that first tour in 1975 that I learned to cook rice properly. We had this really nice local lady by the name of Naty that helped me in the home and she taught me how to cook rice. She couldn't understand how I could have any problems with something so simple. But then she had been cooking rice most of her life.
We survived that huge volcano eruption of Mt. Pinatubo in 1991 and returned to the U.S. one year after that event when the U.S. base closed. The Filipino people are gracious, loving and kind-hearted people and we will always treasure our friendships, experiences and memories while living in their country.